JetBlue 65th Blue City: Minneapolis St Paul May 3, 2018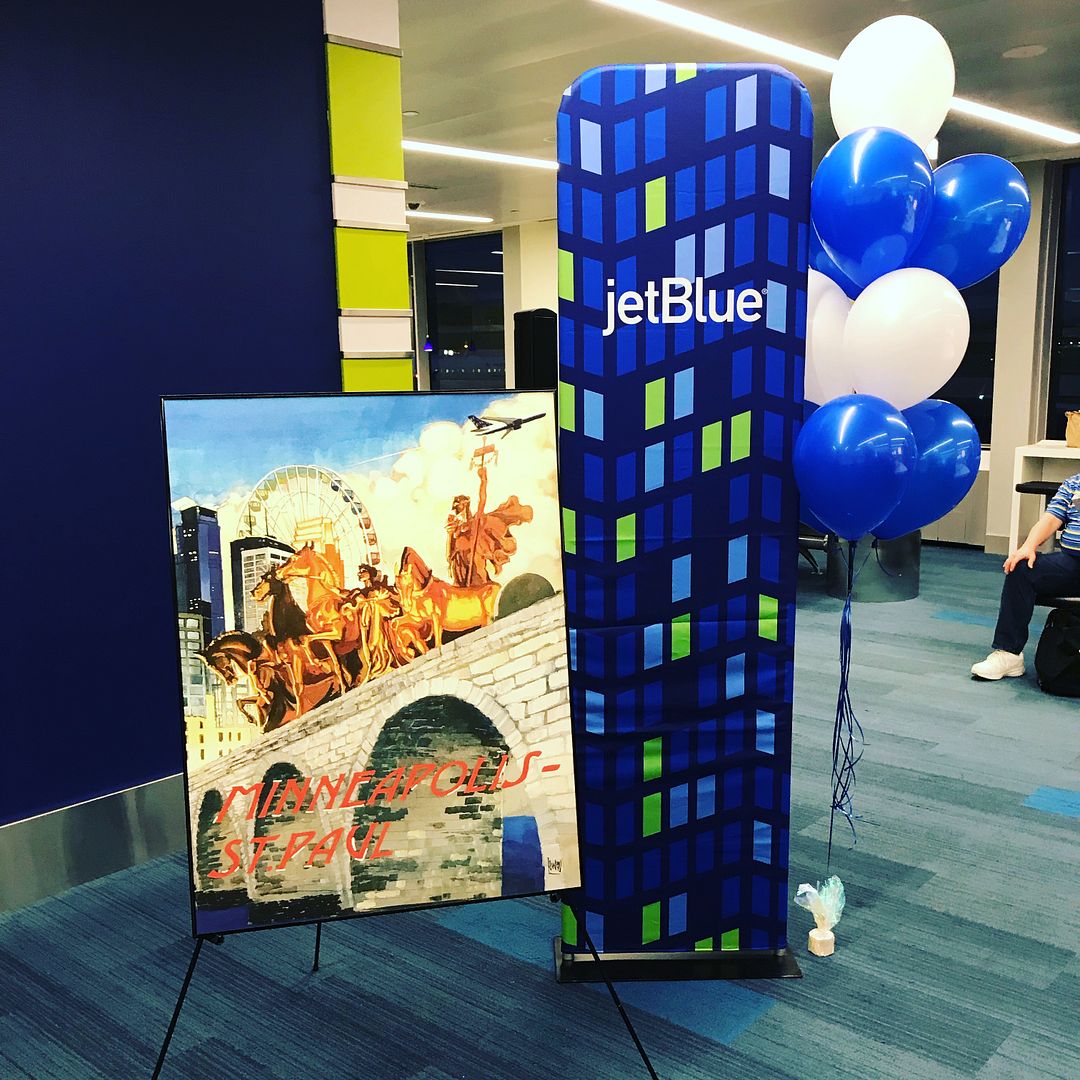 MSP has long tried to get JetBlue to fly to Minneapolis/St. Paul and according to the speeches, they have chased after JetBlue for the past decade. After the first disastrous Atlanta experience, I understand why JetBlue wants to avoid these Delta's hubs. However, after JetBlue's return to Atlanta and its aggressive plan to expand Boston Logan airport, Minneapolis St Paul makes sense especially fare on this city fare has been high because the only competition basically comes from Delta and with the changing strategy of Sun Country, this market really has little competition till now. My neighbor complained to the F/A that the fare of this flight could go as high as $1000 if you traveled last minute. Given the load on these inaugural flights (not 100% full but remember they got switched to the 162-seat version), the flights were good. I was in many JetBlue's inaugural flight and these flights have lots of revenue passengers. For the return leg, I was surprised at the huge amount of JetBlue's first-time fliers. Given the healthy loads, JetBlue possibly scores a winner, and hopefully it will expand a bit more with flights to New York and Florida, as Sun Country transits into an ULCC. JetBlue uses Terminal Two, aka the Humphrey Terminal at Minneapolis, which is a more compact and convenient terminal to get in and out.
But one of the most important aspects for this inaugural flight is that JetBlue uses their new 162 seats Airbus A320 aircraft on this flight. N646B6 will join 11 other Airbus A320s in receiving this Phase 1 cabin refits. Other A320s will feature a brand-new seat design, but these 12 A320s feature the same seats as the A321 with the expanded and touch screen PTV, along with power ports under each seat at the "Even More Space" section, and for regular main cabin, they get two power ports per three seats. There are both USB port and regular power outlets. They also feature the new Space Flex galley and lavatory including two tiny bathrooms in the aft, along with a much smaller galley. The front galley is a big larger now and there is now a table for beverages and snacks on longer flights, with more drawers under the table.
May 3, 2018
B6 835 BOS-MSP Lv0625 Arr0839 Airbus A320-200 N646JB "Bravo Lima Uniform Echo" Highrise livery
Full Album:
http://s1213.photobucket.com/user/Carfi ... 0Inaugural
I used the Mosaic check-in, as I wanted to get the boarding pass for my return flight. I like to keep a real paper boarding pass for these inaugural flights. TSA Pre was extremely busy this morning and the queue was longer than regular security line. Of course, things moved much faster here though. I headed straight to gate C9 to see if there was any celebration.
There was a small press setup with podium and the unveiling the new JetBlue's poster for Minneapolis St. Paul.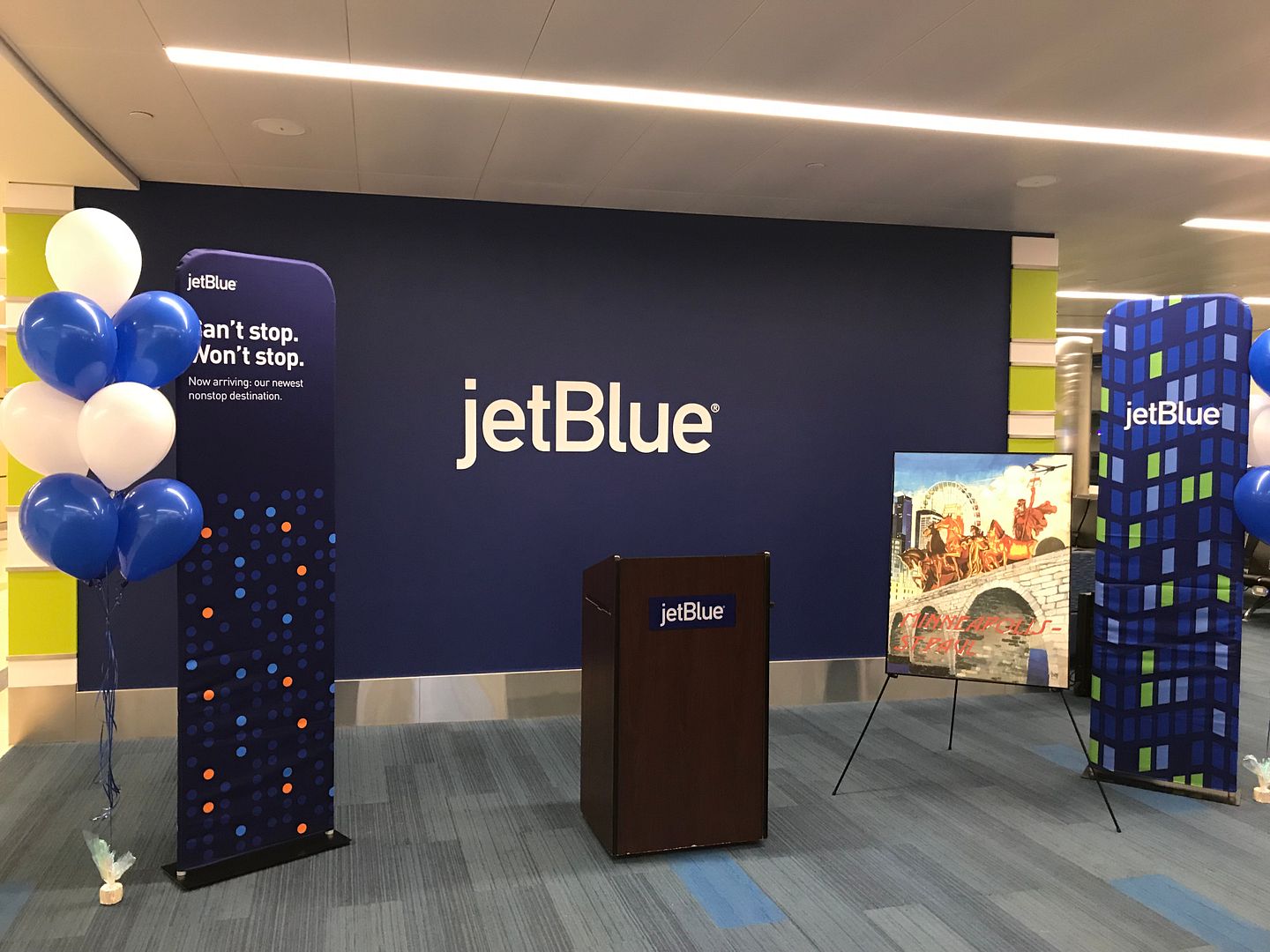 Newest tail design for JetBlue – Highrise
"Bravo Lima Uniform Echo" was ready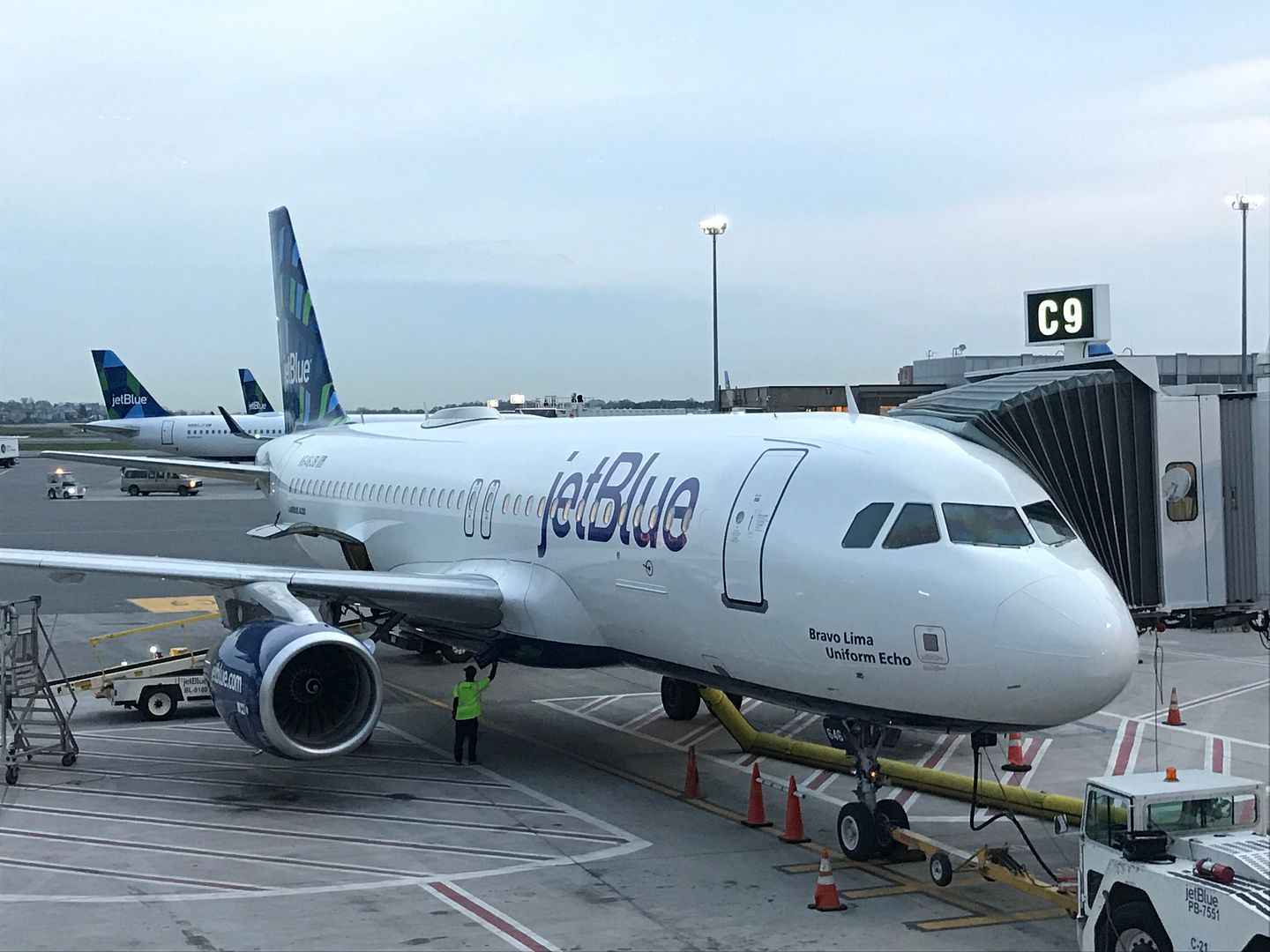 In terms of beverage and refreshment, JetBlue really did not do much this time. There were basically Dunkin Donuts' Coffee and cookies with the commemoration for today's flight. Thankfully there was a better gift bag on arrival.
Actual cookie:
About an hour prior to departure, there was a brief ceremony celebrating this inaugural. There were three speeches (really short ones) by JetBlue including Marty St. George, who is a familiar face on all these inaugural flights, and the Massport executives. Yes, they mentioned about the Worcester's inaugural flight to JFK as well.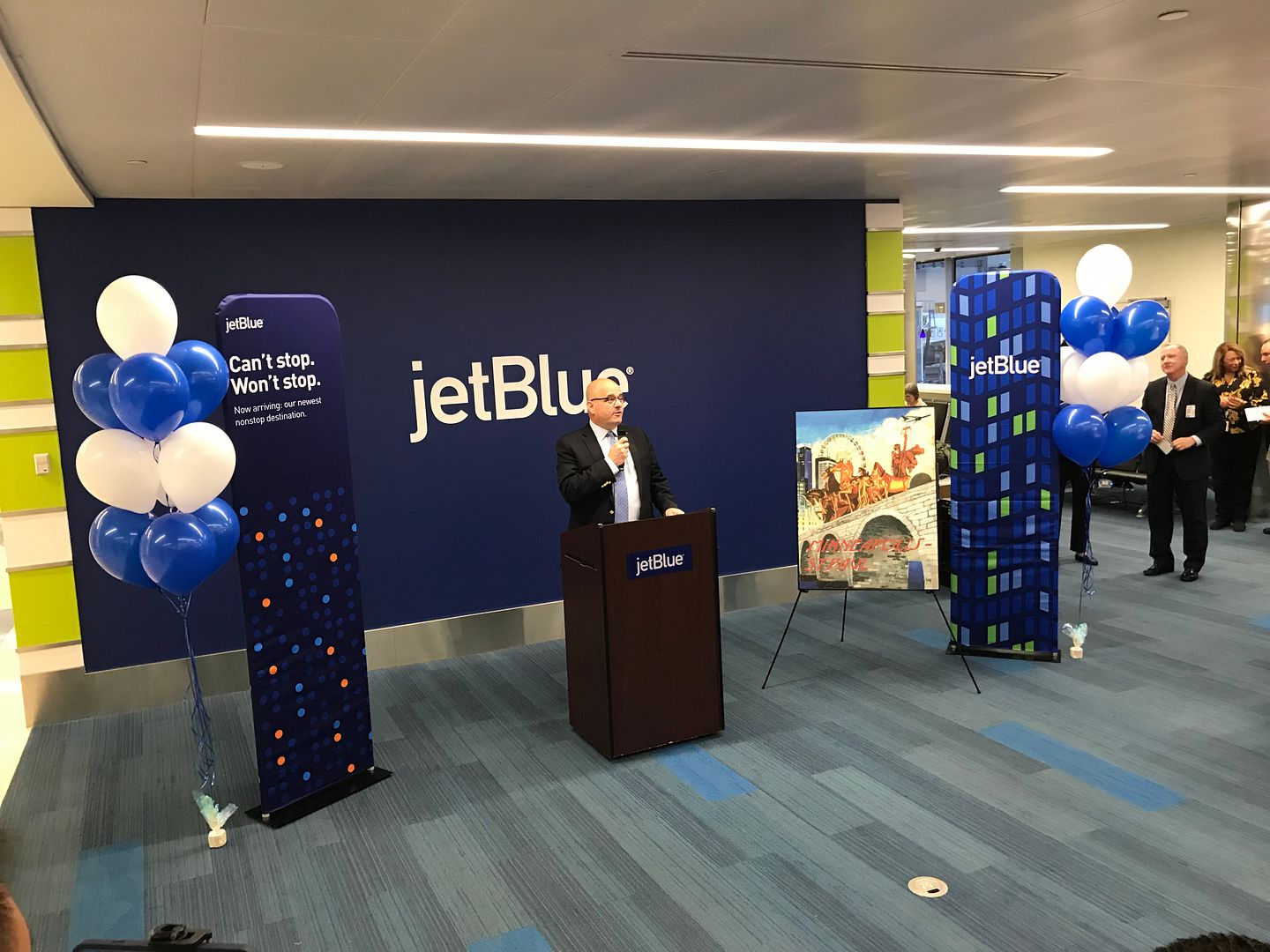 I missed the ribbon cutting ceremony but there was one! I managed to snap this short after they cut the ribbon.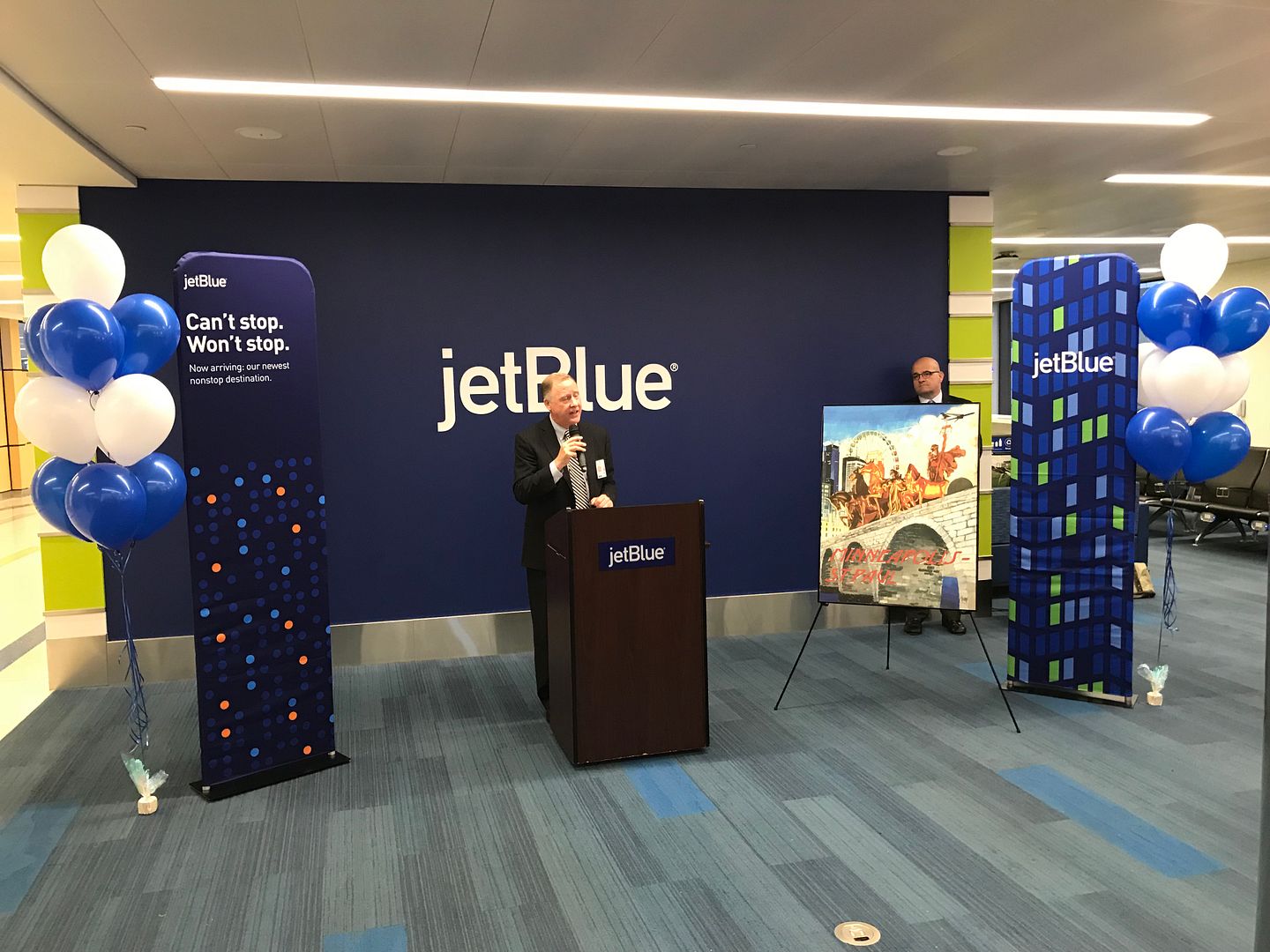 Boarding began at 5:51am and I overheard that there were 100 revenue passengers, which was good for inaugural flights.
Fly-Fi Plane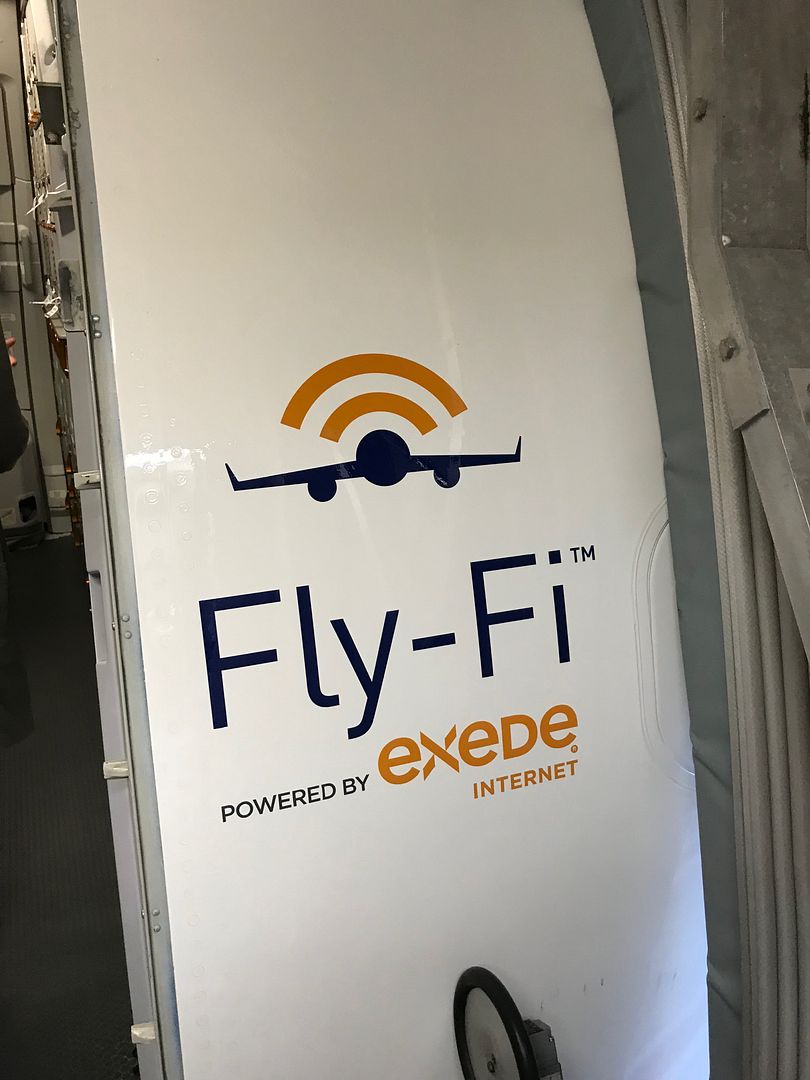 Here is the new cabin and you will immediately notice the Space Flex galley in the front.
Jen & Alexio were busy prepping the galley.
More galley space in the front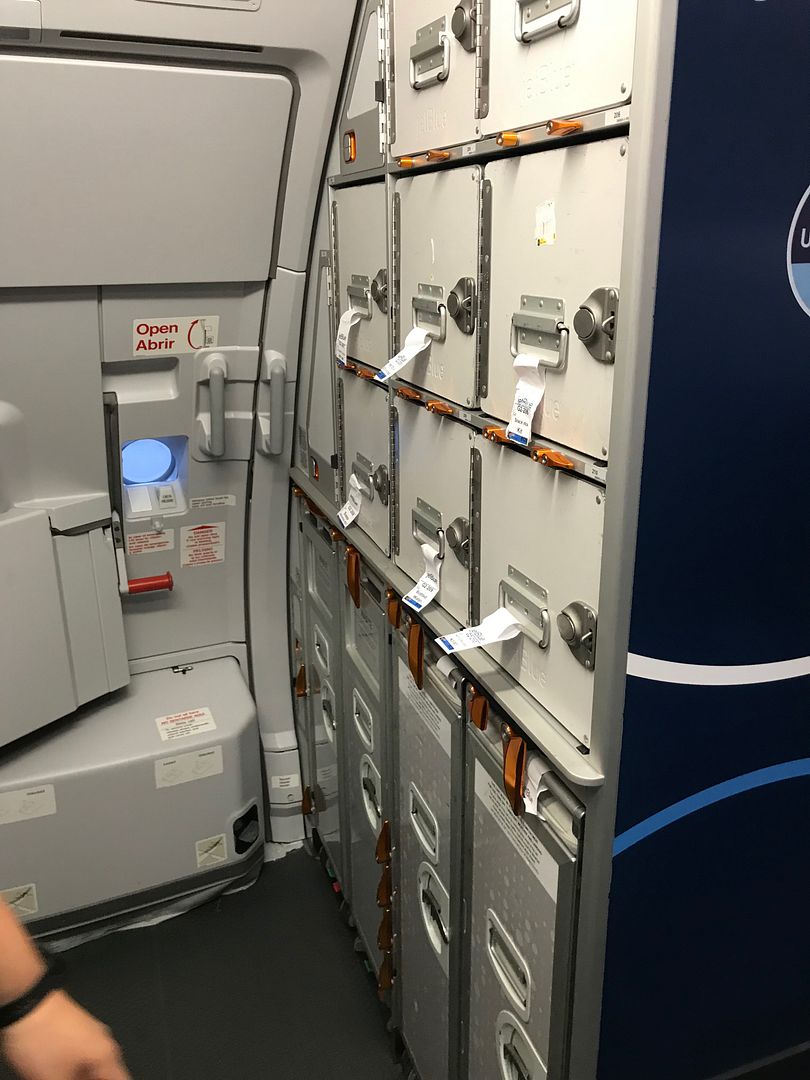 Now the name of the plane is proudly displayed on the cabin itself
There is a flat table for possibly beverage & snack station on transcontinental flights.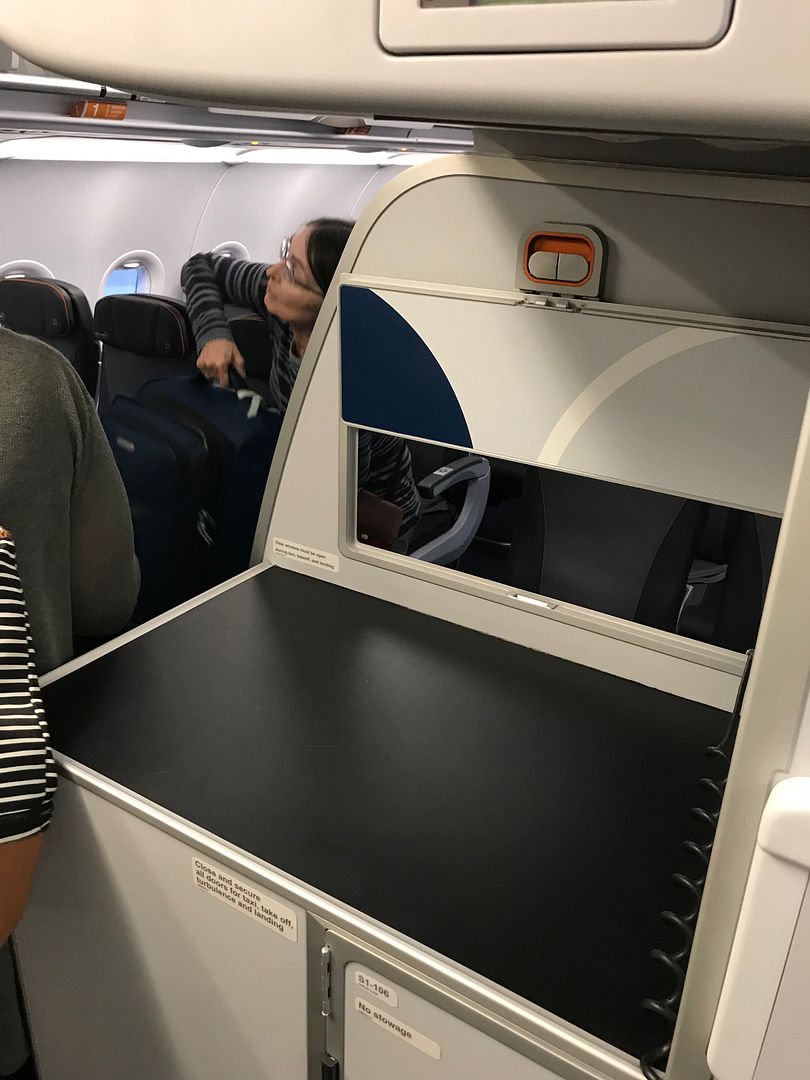 More drawers below the table
Cabin interior
As I said before, it was a temporary setup for the 162 seats A320. These seats are the same as A321s but they will have newer seats next year.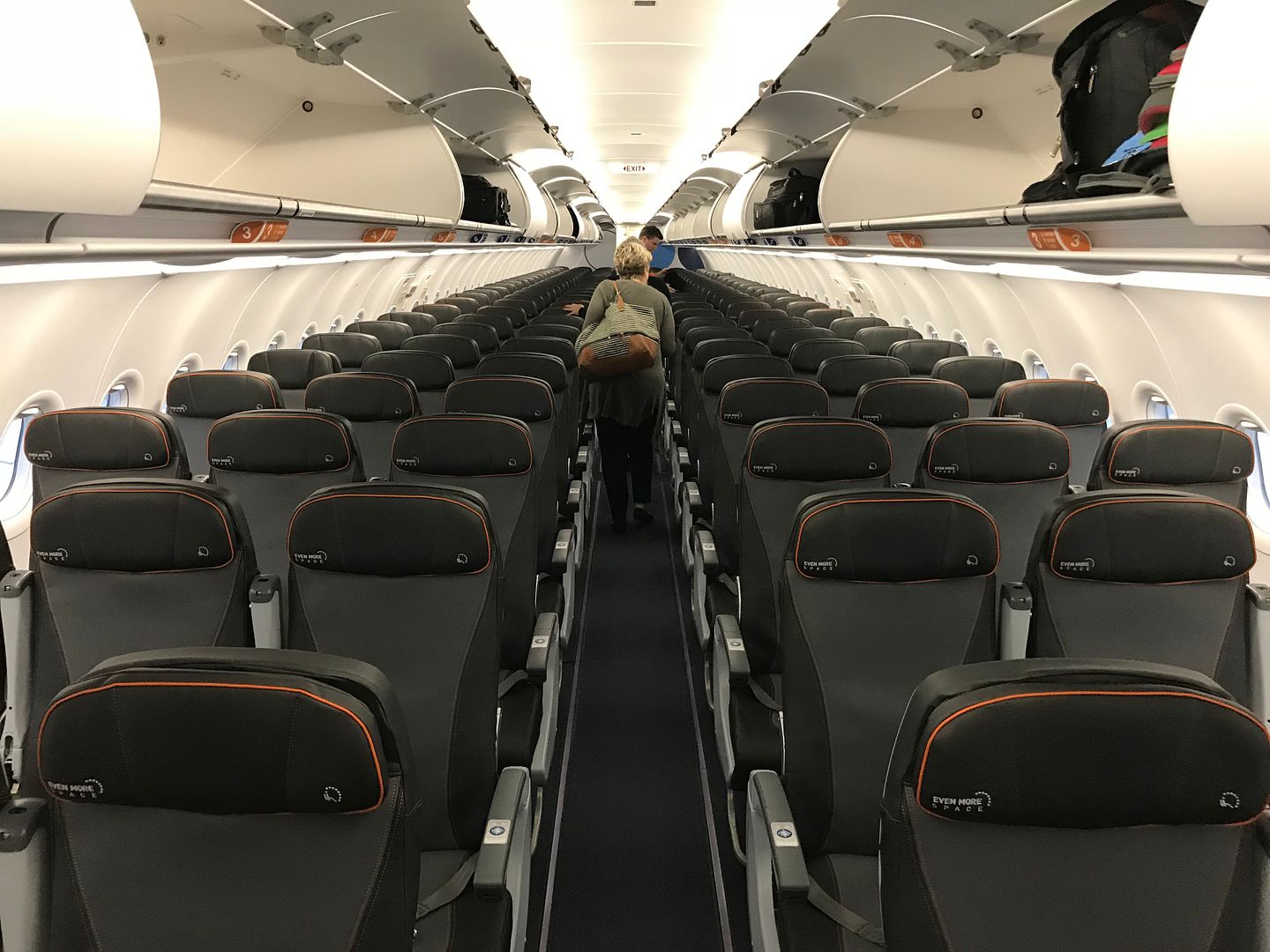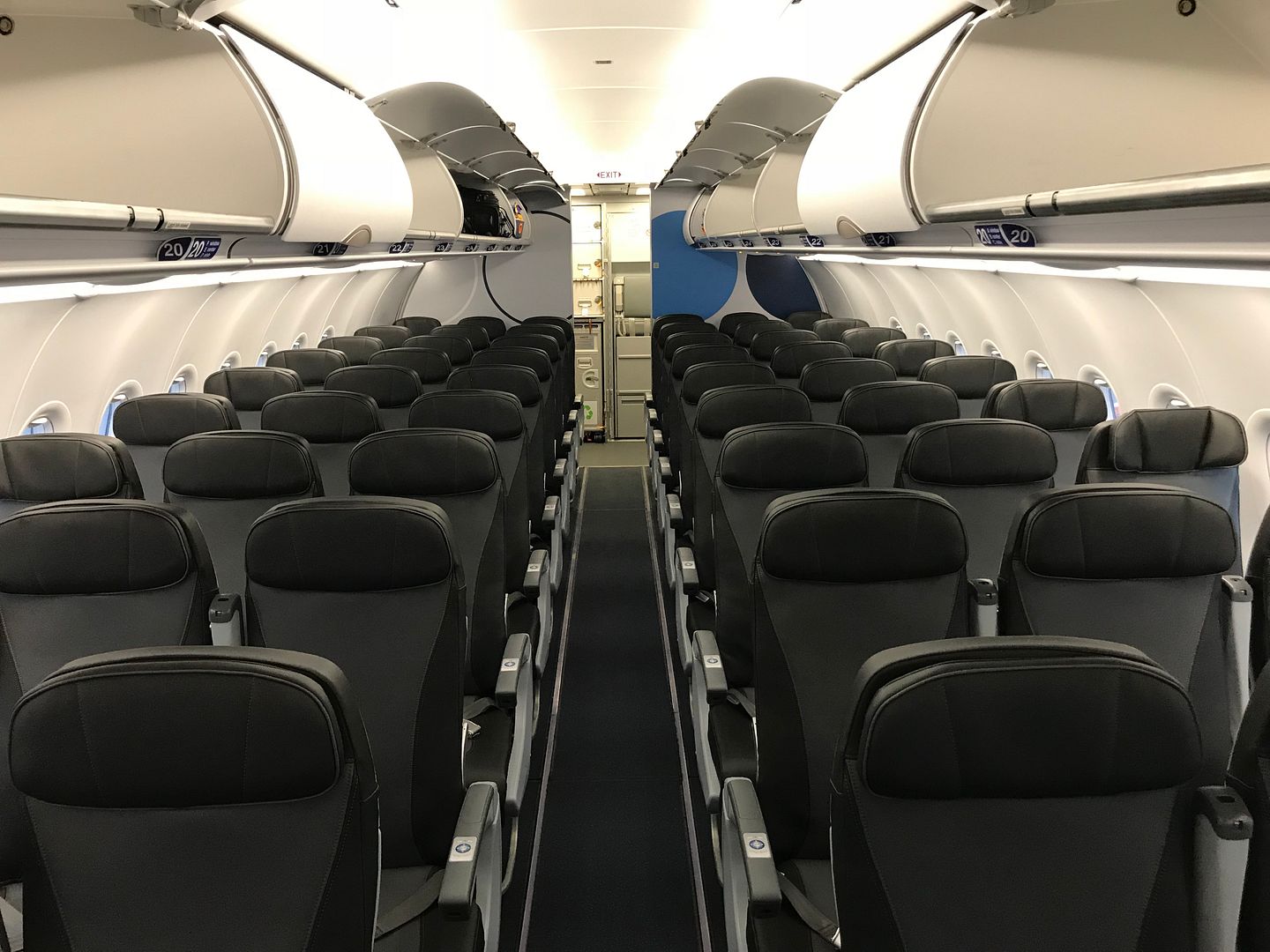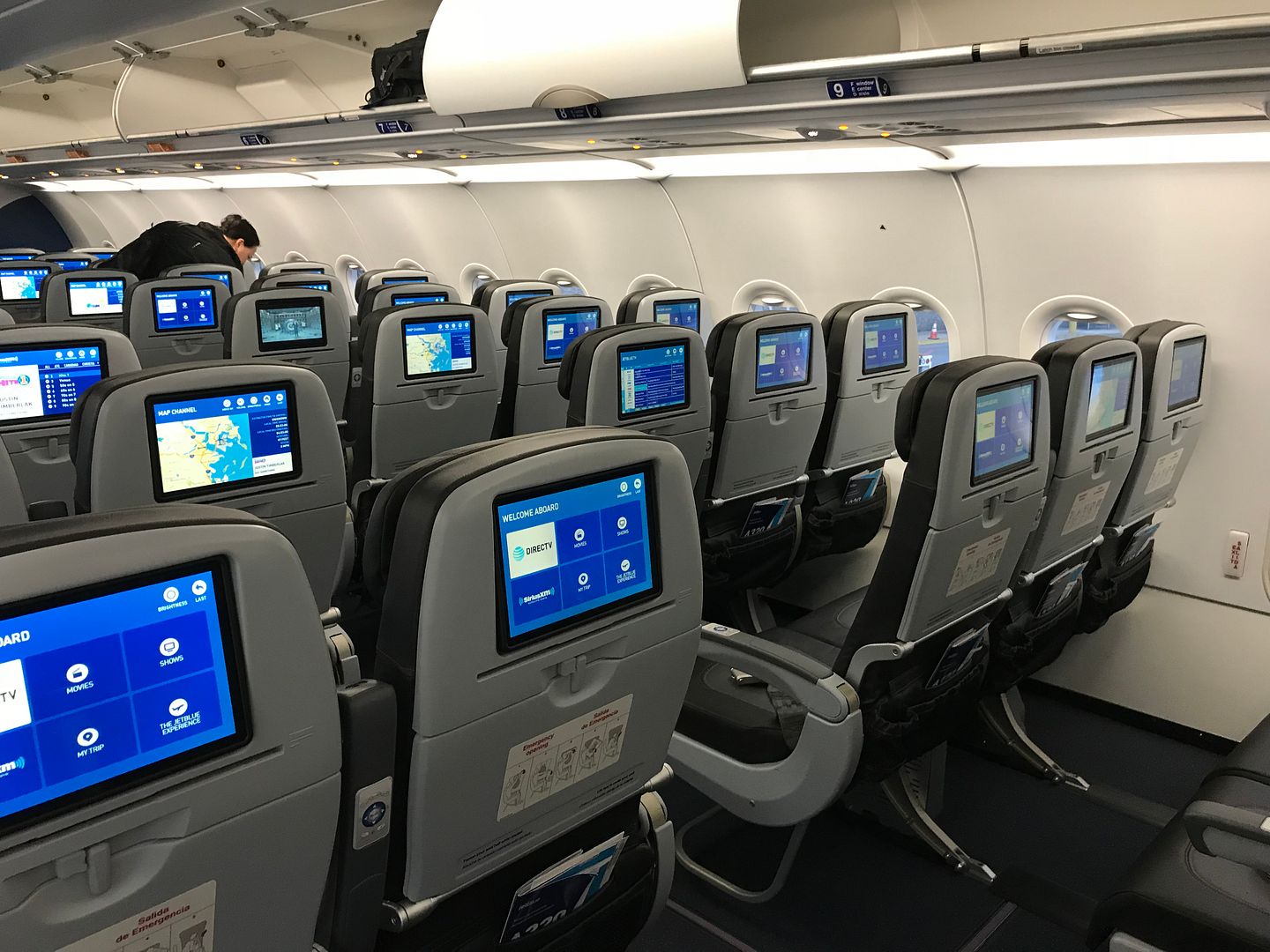 EMS section
Regular rows with 32" of legroom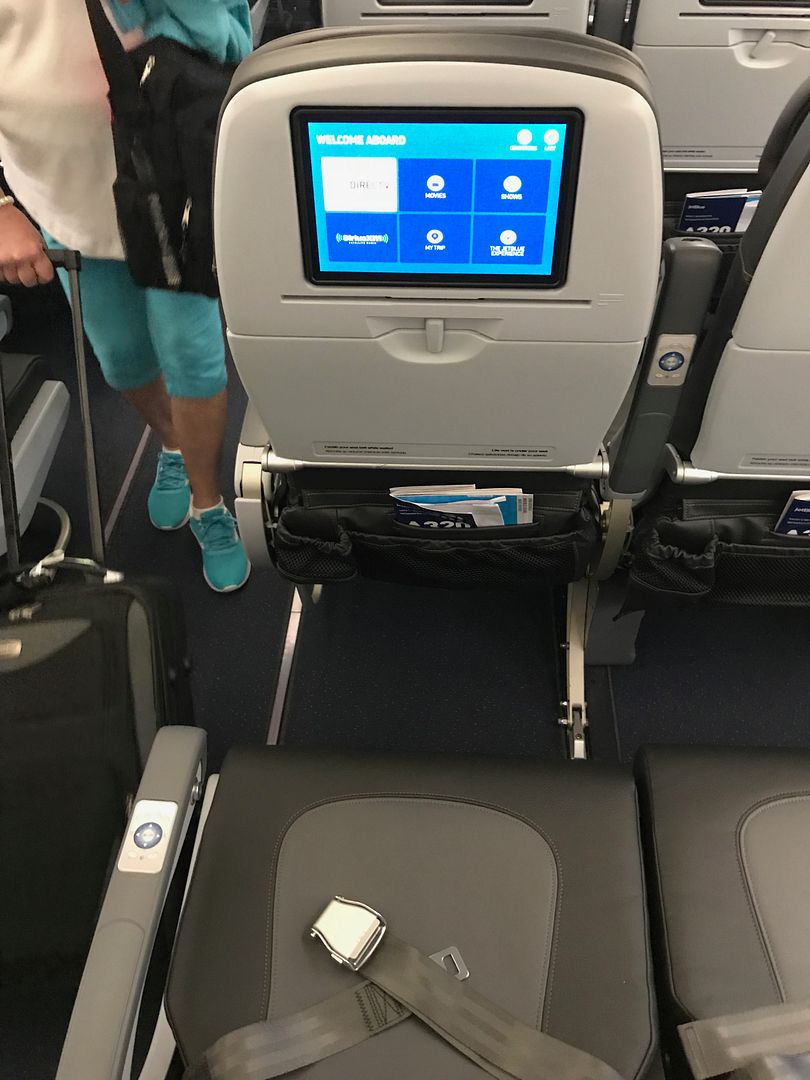 Row 27 to be avoid at all costs, as there are no windows, but legroom is still okay.
Aft galley – really small now
The new seat with an updated touchscreen TV and the same Direct TV system used at the current A321s.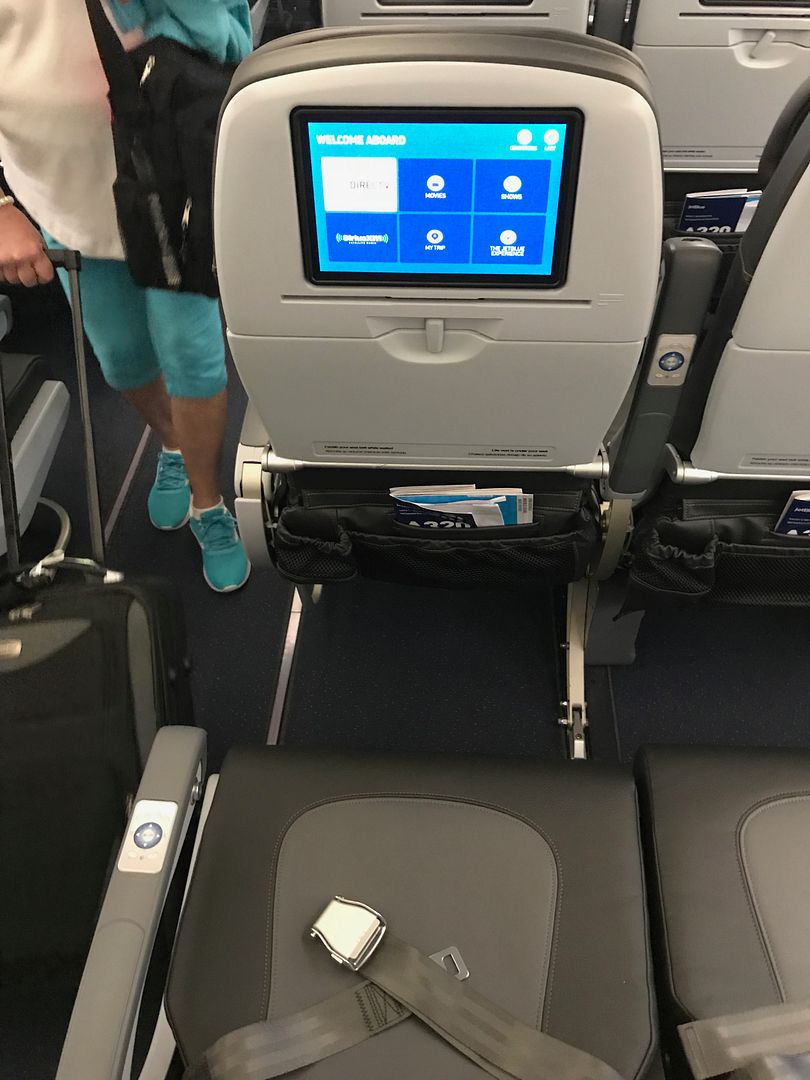 The seat pocket including a mesh pocket for bottled water:
Hidden Power outlet under the seat
Yes, there were two bathrooms here
Today's flight was staffed by all Minnesotan natives. Our pilot on this segment is a Minnesotan native and he even brought along his son on this trip. Of course, he was so honored to be flying this inaugural flight to MSP.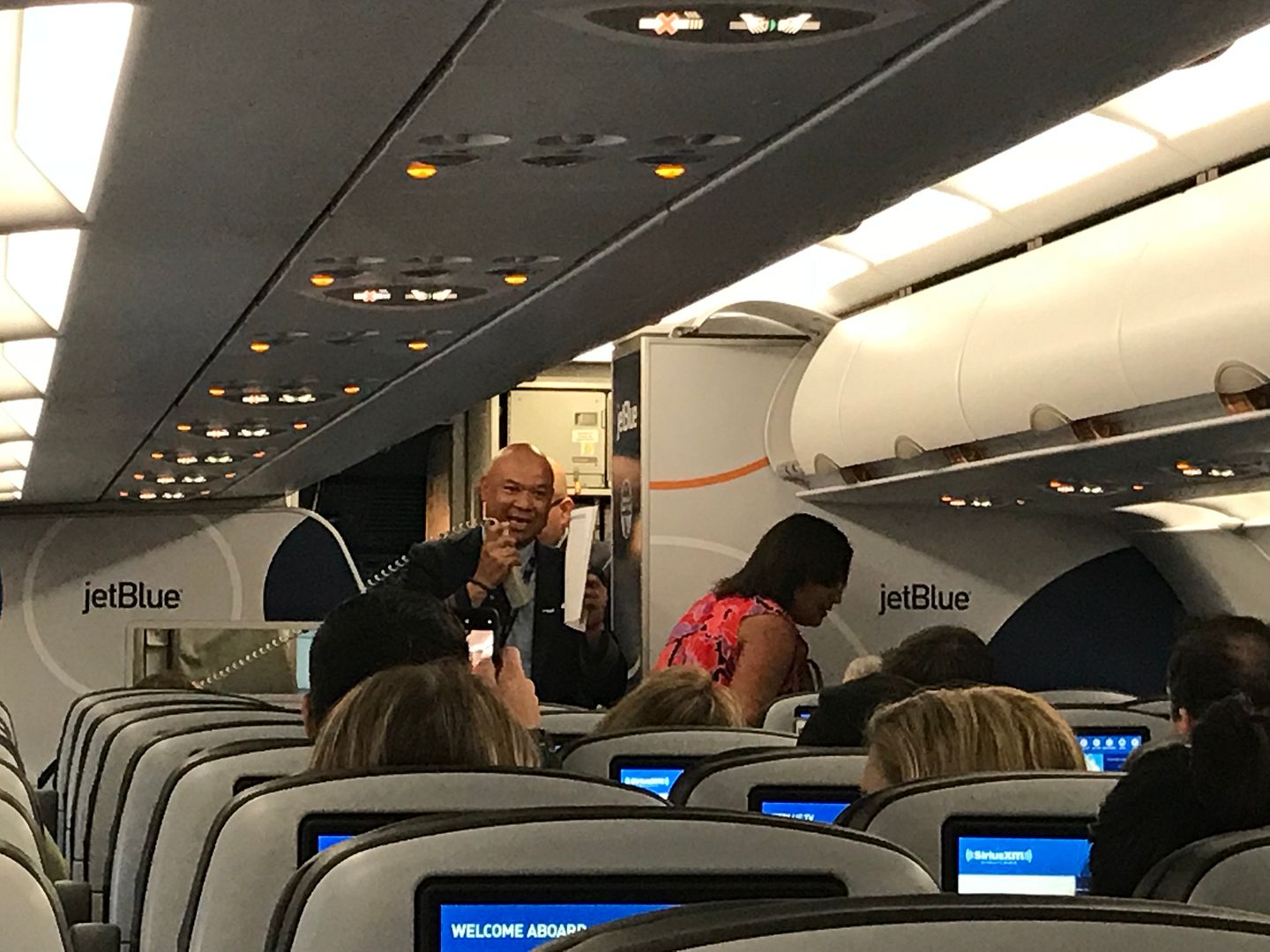 Marty St. George was on board this flight too. He made a "thank you" announcement.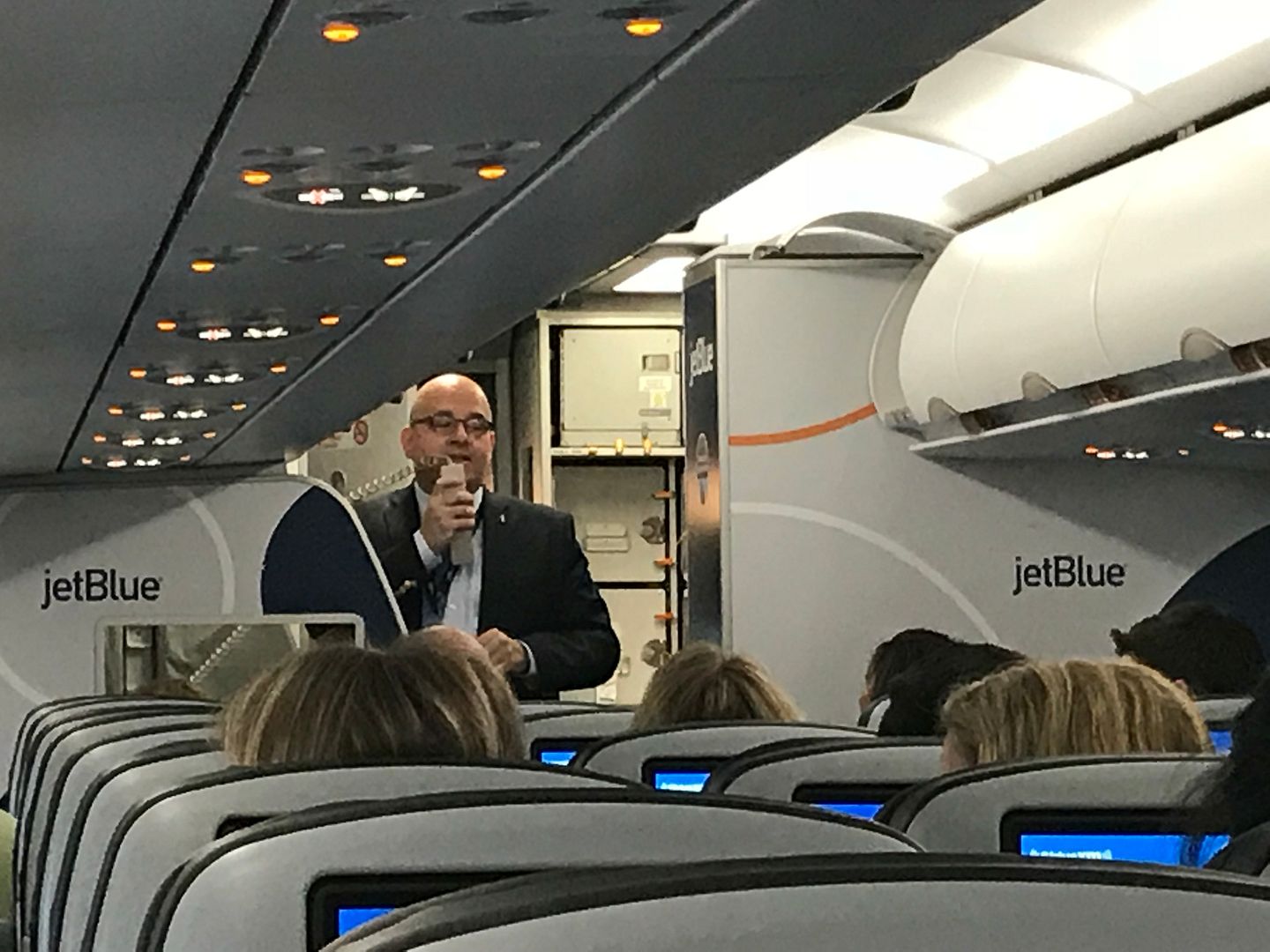 Door was closed early at 6:18am. We pushed back four minutes later.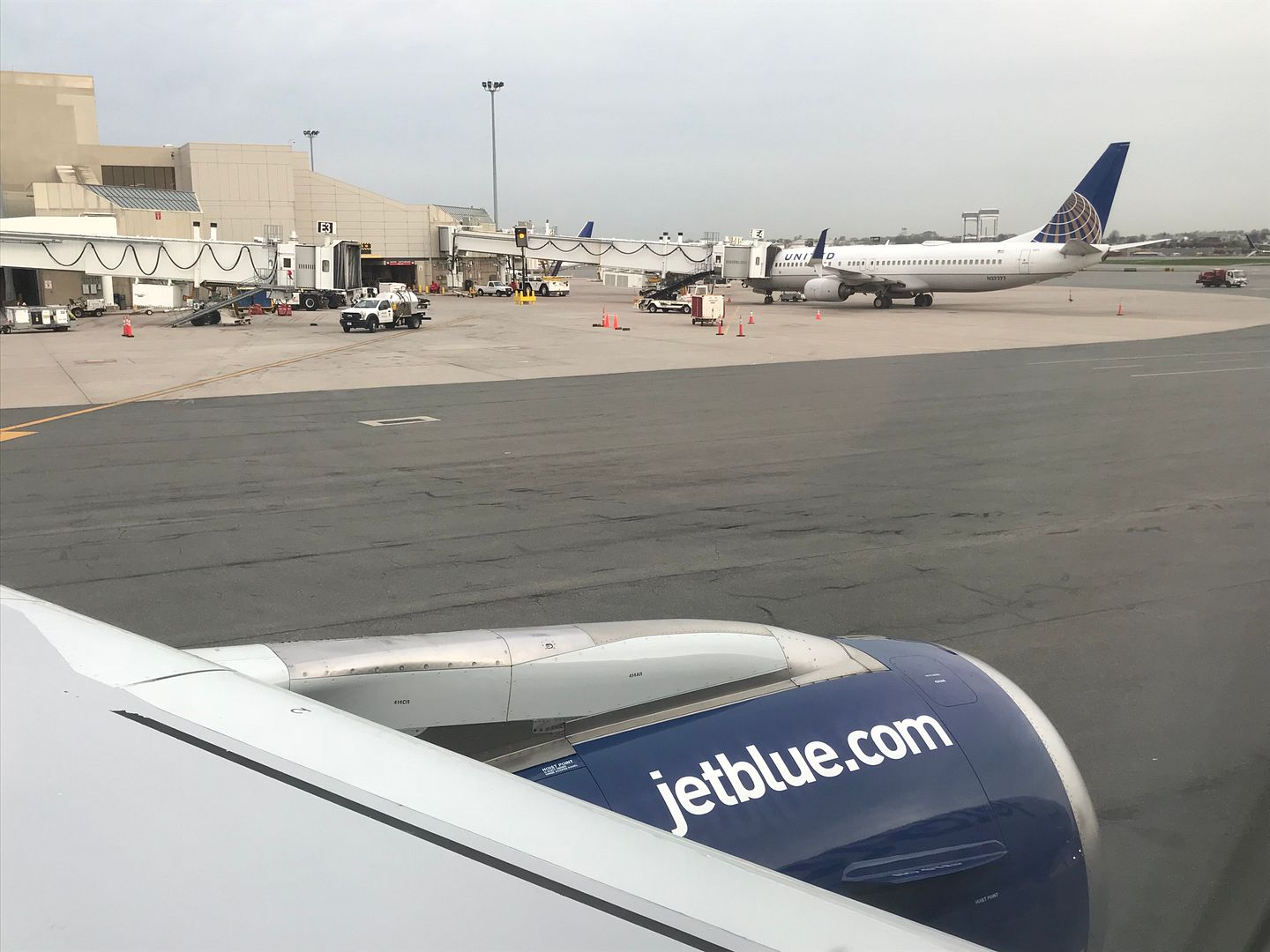 It was a very busy morning here at Boston.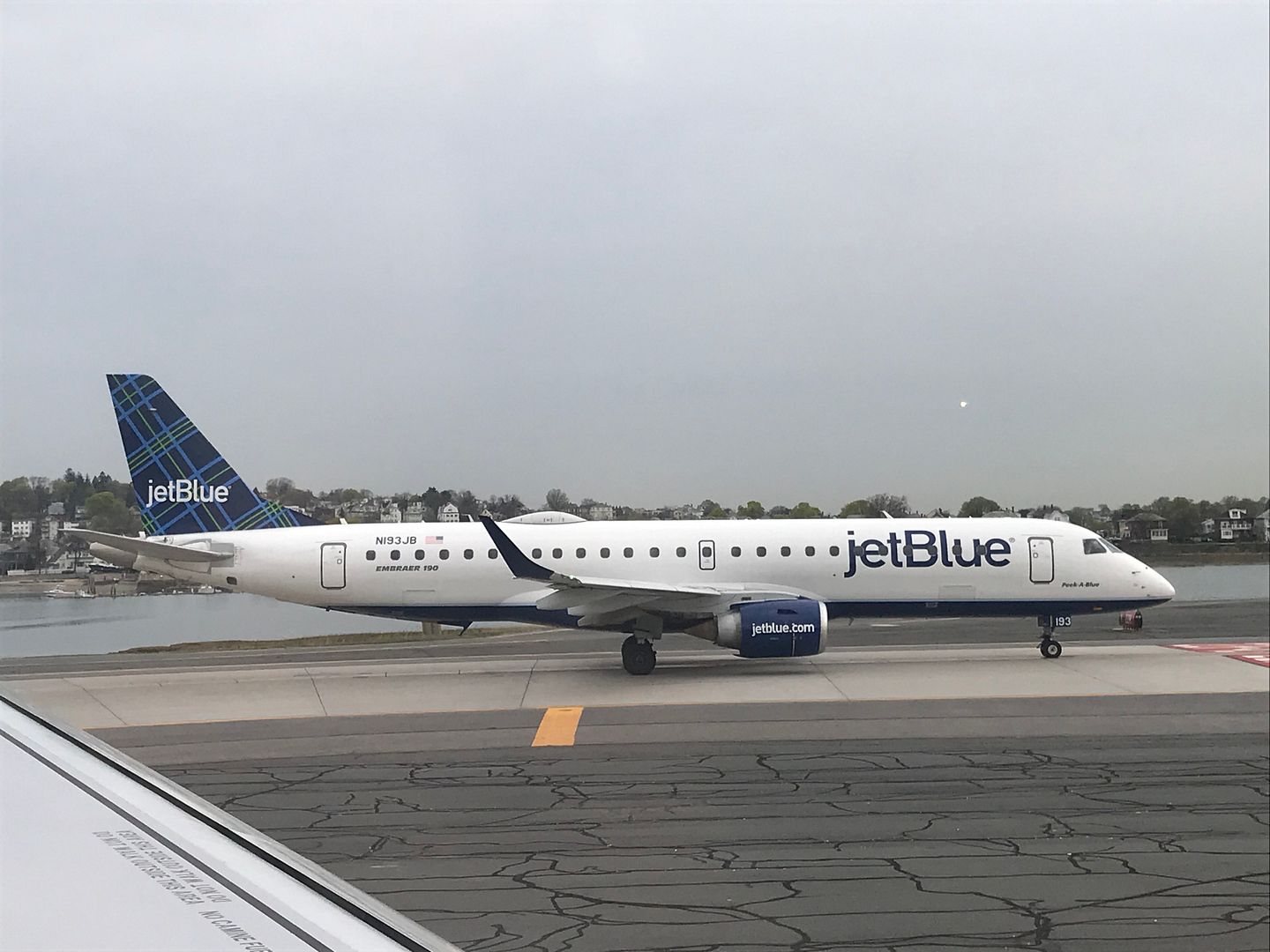 We took off from R/W22R at 6:47am.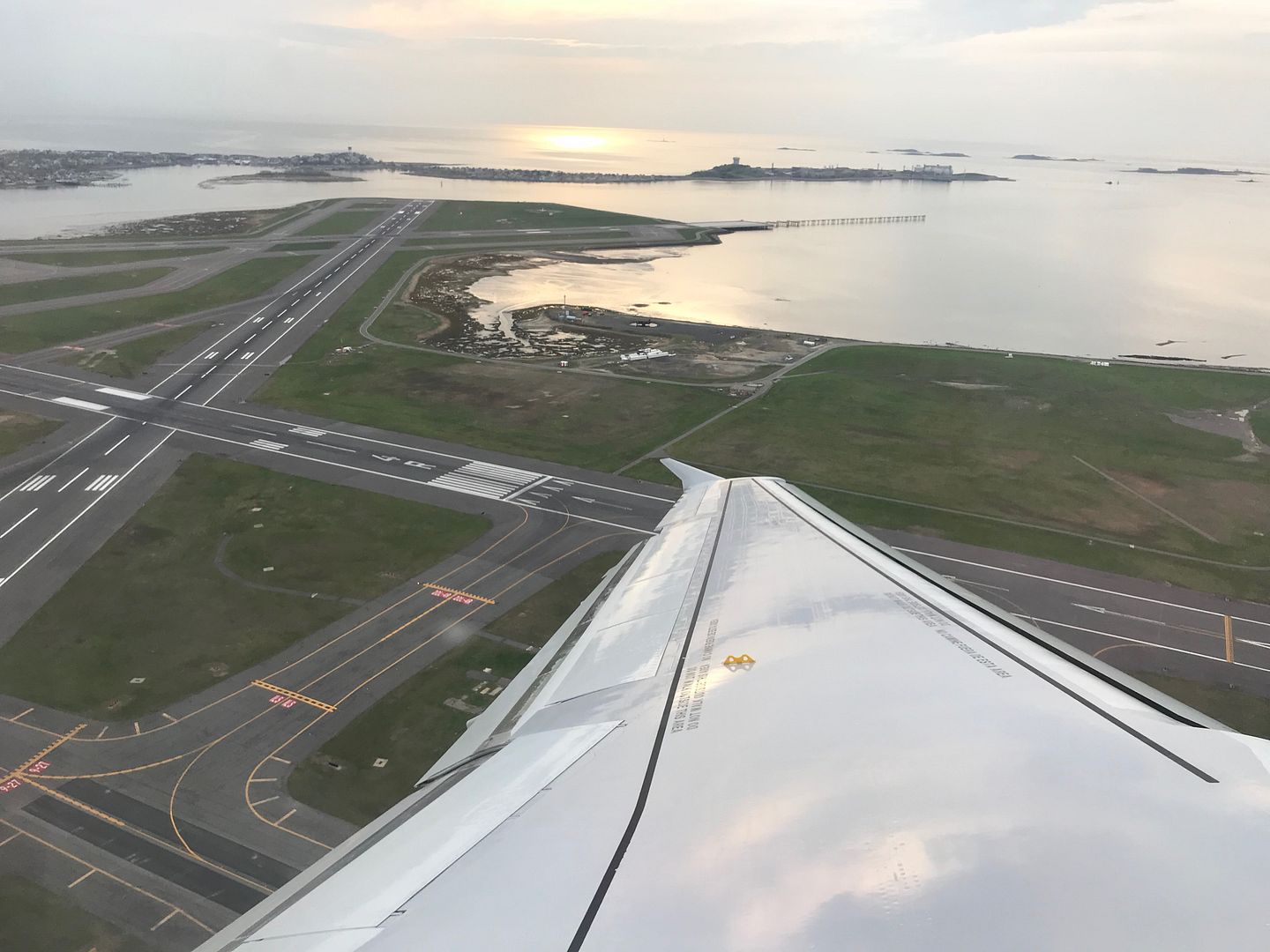 Flying time was two hours and fifty-two minutes, and we basically stayed at 36,000 feet most of the time.
Shortly after takeoff, Marty St. George thanked passengers again and started passing out free tickets between BOS and MSP, as well as free tickets, and hotel stays at Radisson hotels near Mall of America. One lucky crew got a pair of positive space revenue tickets too.
This was the first time I experienced the new trolley service. Basically, they all start from the middle of the plane, and then one cart going forward and then one cart going backward. I was surprised that they even used the cart for the buy on board service, but I guess it made sense especially on longer flights. I actually like the new service especially it is more efficient now. There are less running back and aft between seats and galley. After the BOB service was completed, the other two F/As rolled out a beverage cart too, which started from the front and aft. Therefore, folks in the forward part of the plane don't need to worry about waiting too long for service. After beverage service was completed, we get the usual snack basket service.
For this flight, I purchased the "Mix It Up" snack box, which includes ranch crackers, granola bars (soft), turkey sausage, and fruit snacks. For $6 and with the 15% discount from the JetBlue credit card, it is reasonable.
As I mentioned earlier, I used both of the new space flex bathrooms in the back. As you are reading my reviews, please note that I am a pretty big guy – 200 pounds 5'10" tall. They are tiny for sure and I tried both positions, but basically it was hard to turnaround. The location of the amenities is different for both bathrooms, and the trash bins are smaller now. It did not matter much for our flights, but on a 6 hours flight to LA, it might be an issue. The F/As possible had to empty the bins at least once. Originally, I thought the bathroom in the middle would be larger, but in reality, both bathrooms are small, but the mid-bathroom was just taller and deeper, but it was narrower. I could barely turn around. If you need to do the #2 business, it will take some skills to turn around and clean yourself. For the bathroom closer to the door, it was shorter but was slightly wider. I could turnaround easier, but the sink is closer to your knee. If you do the number two business, your knee might hit the sink especially if you are tall. The infant changing table was there at lavatory number two, but honestly, I can't imagine anyone find it useful unless your infants are young and small. Now I stop blaming parents for changing their infants in the seats because these bathrooms are really too small and babies & infants actually move around. The designers most likely did not have kids. Regardless, these new bathrooms are basically unrealistic especially folks are getting bigger. I expect longer queues for the front bathroom because if you are over 250 pounds, you literally can't fit into the bathroom especially if you need to turn around to do your business.
Space Flex Bathrooms:
Bathroom 1 – the middle lavatory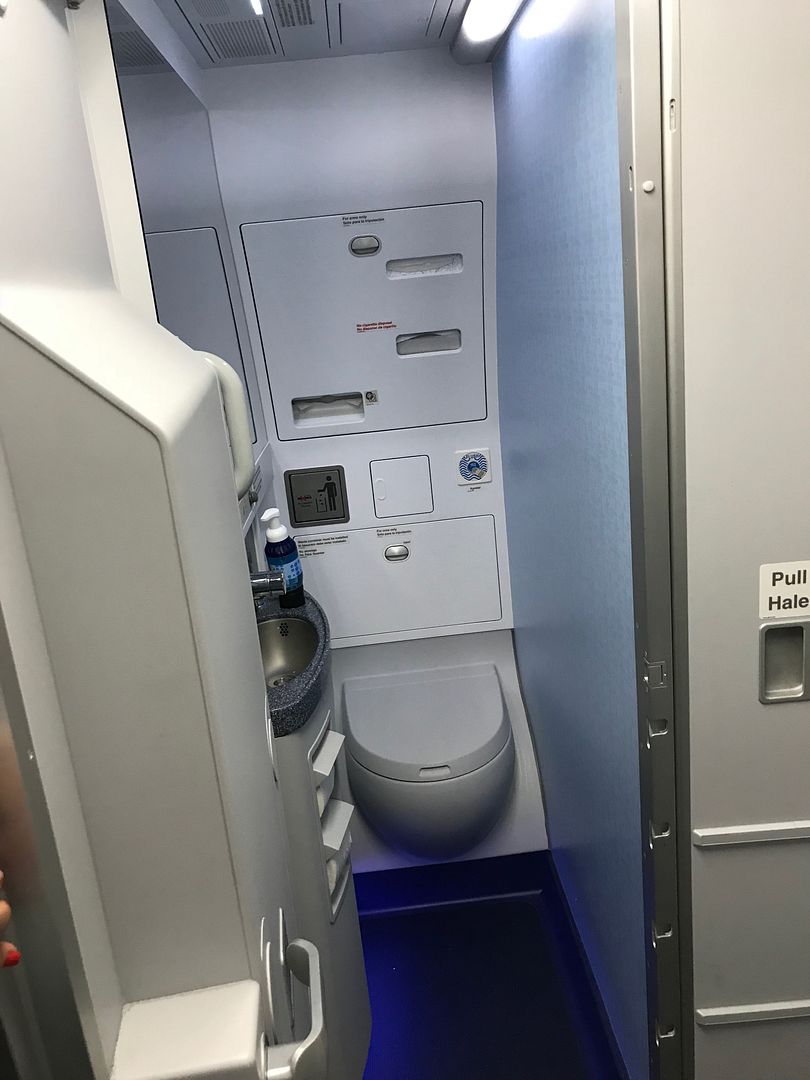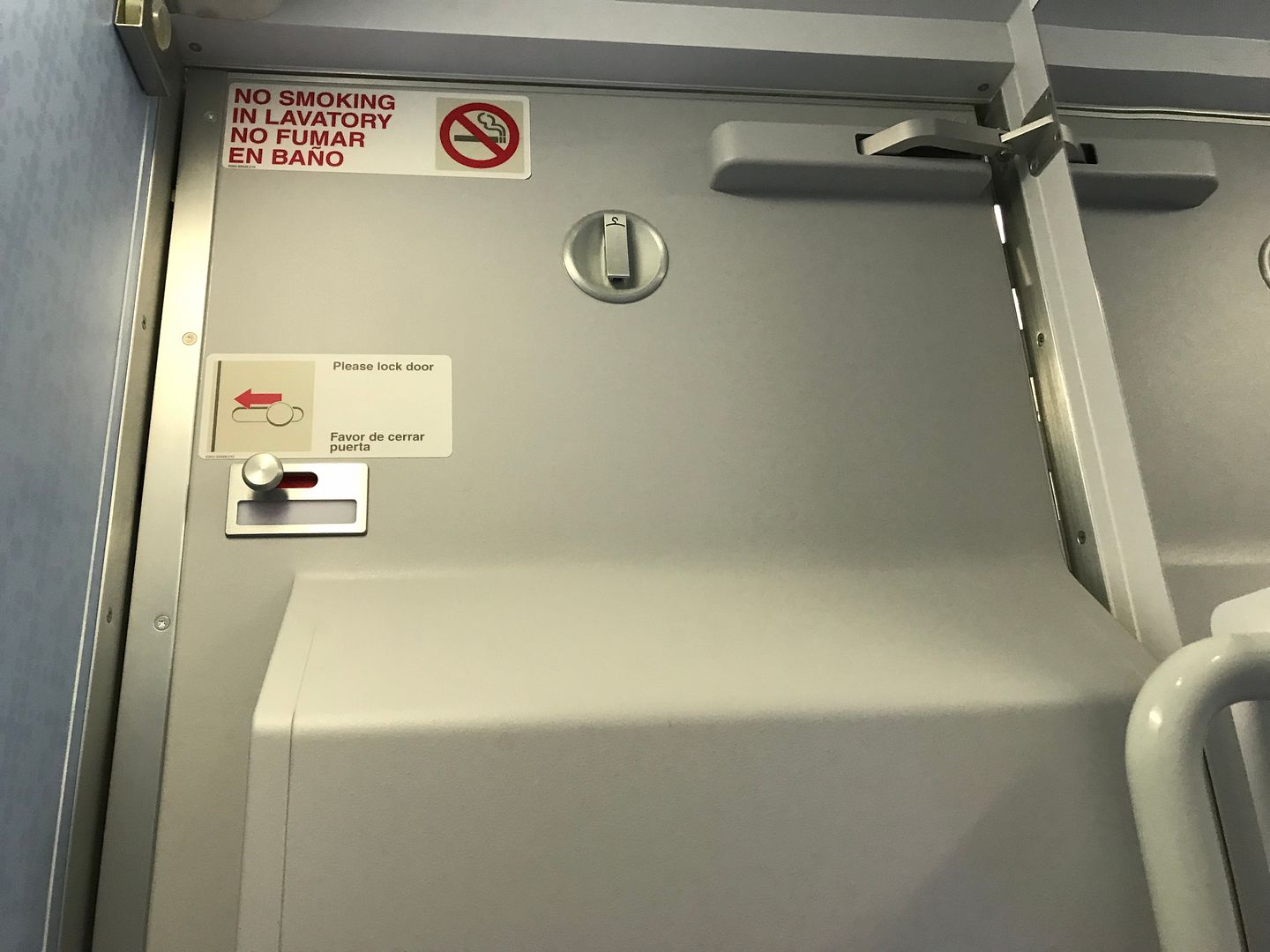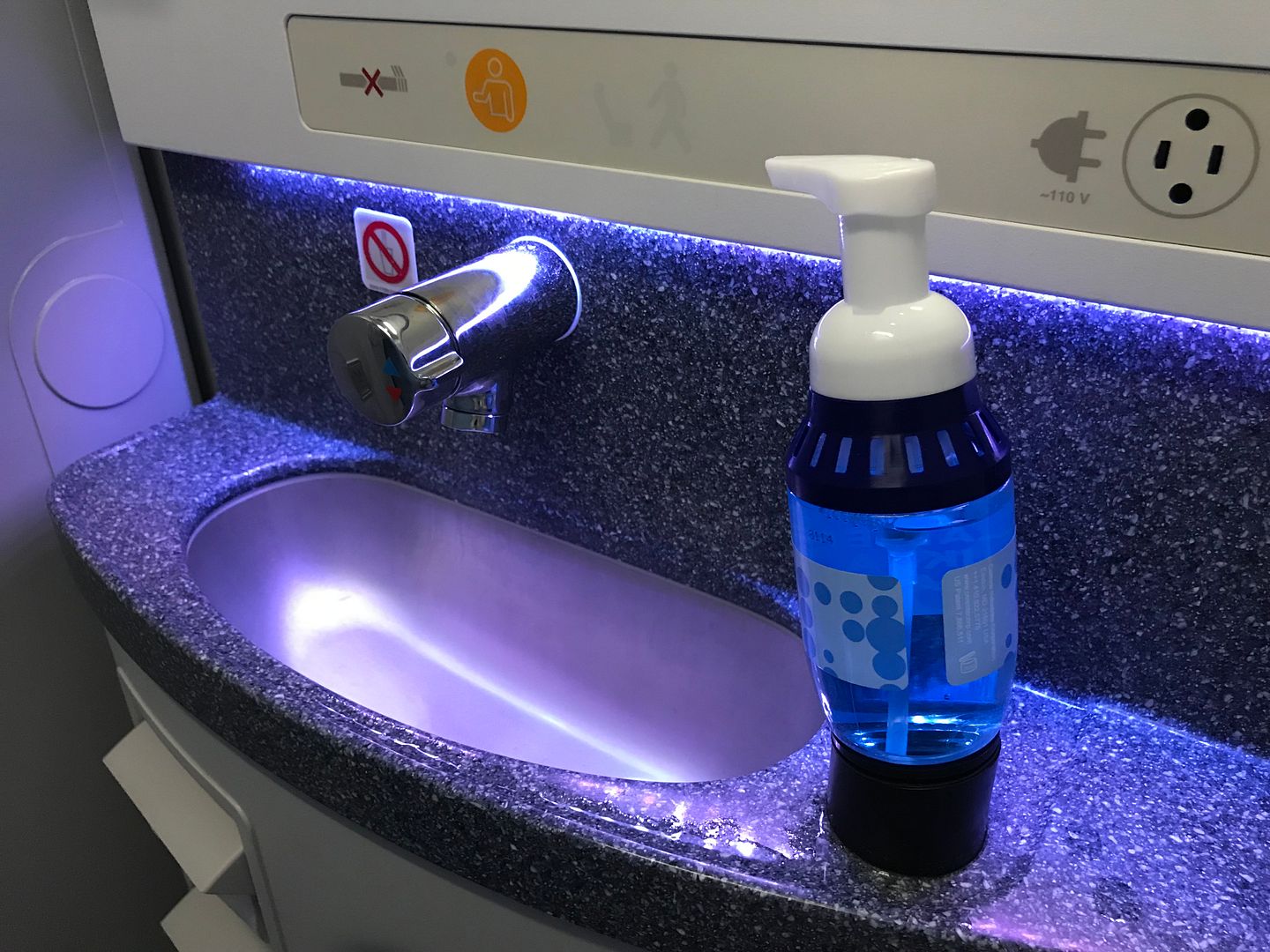 Bathroom 2 – the lavatory closer to the entrance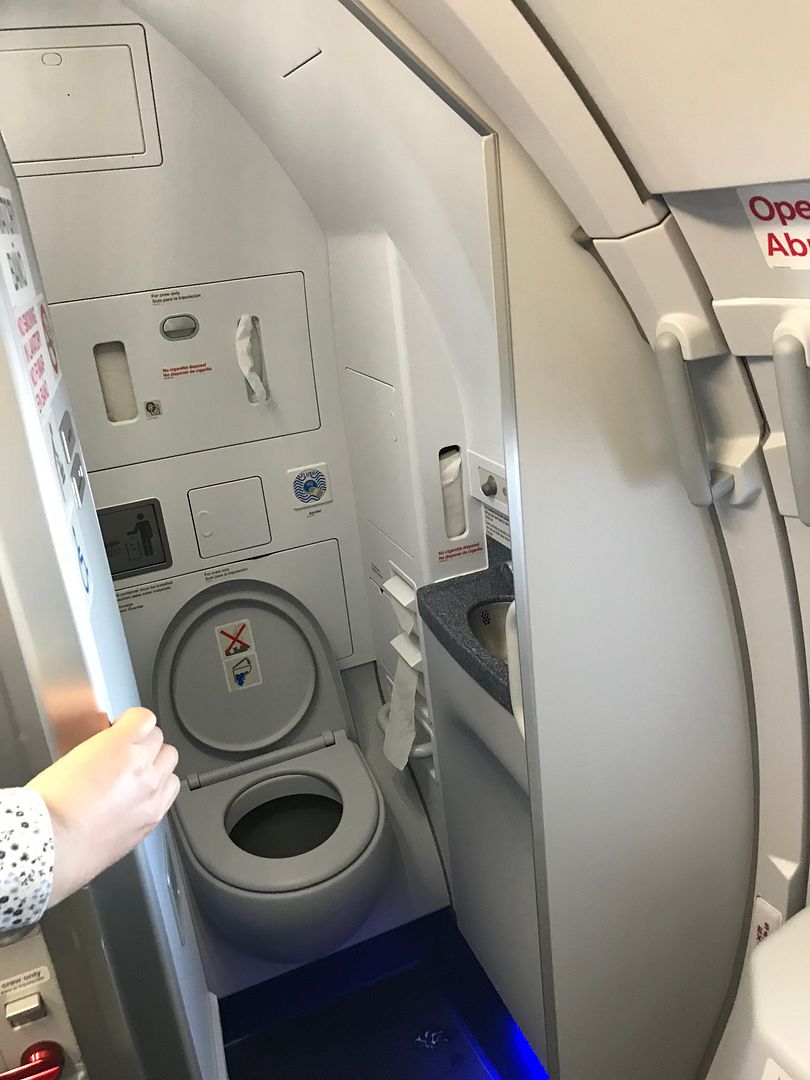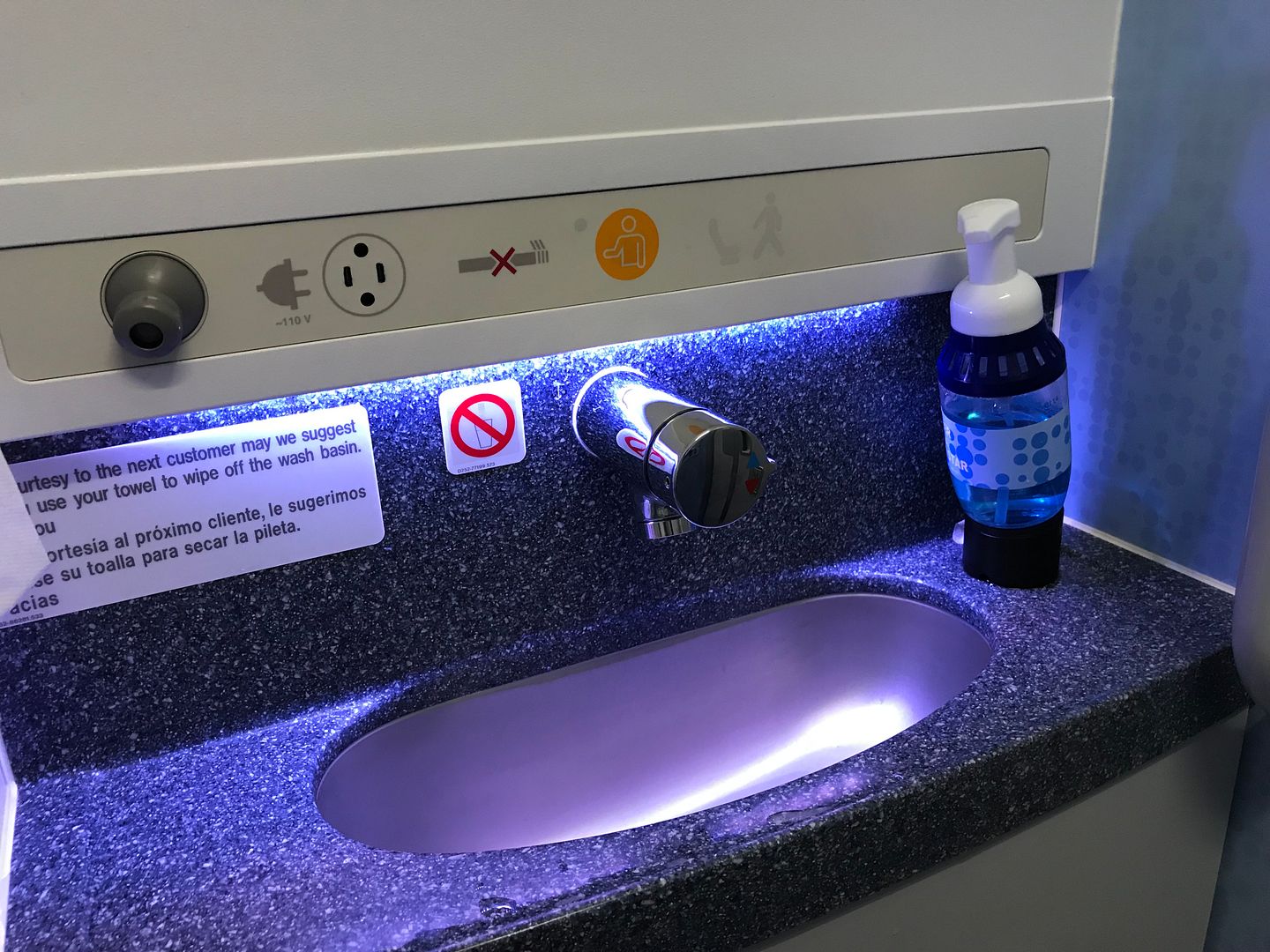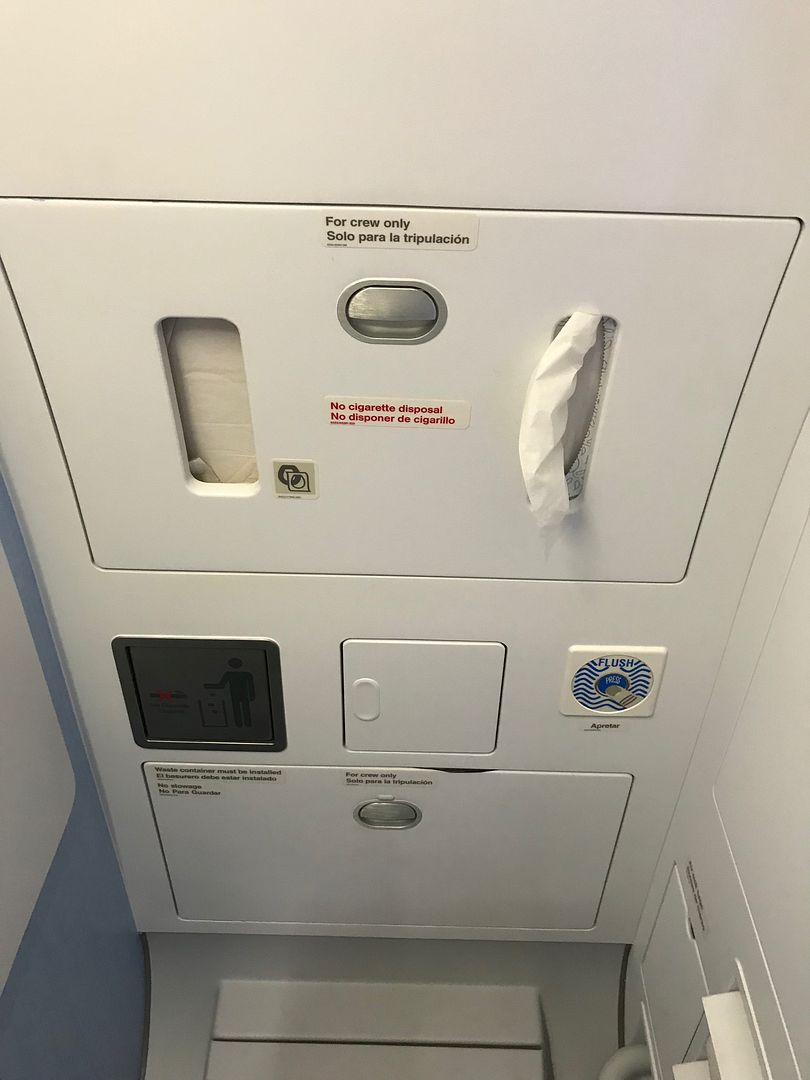 Descent soon began at 8:05am, Minneapolis local time, which is in the Central Time Zone.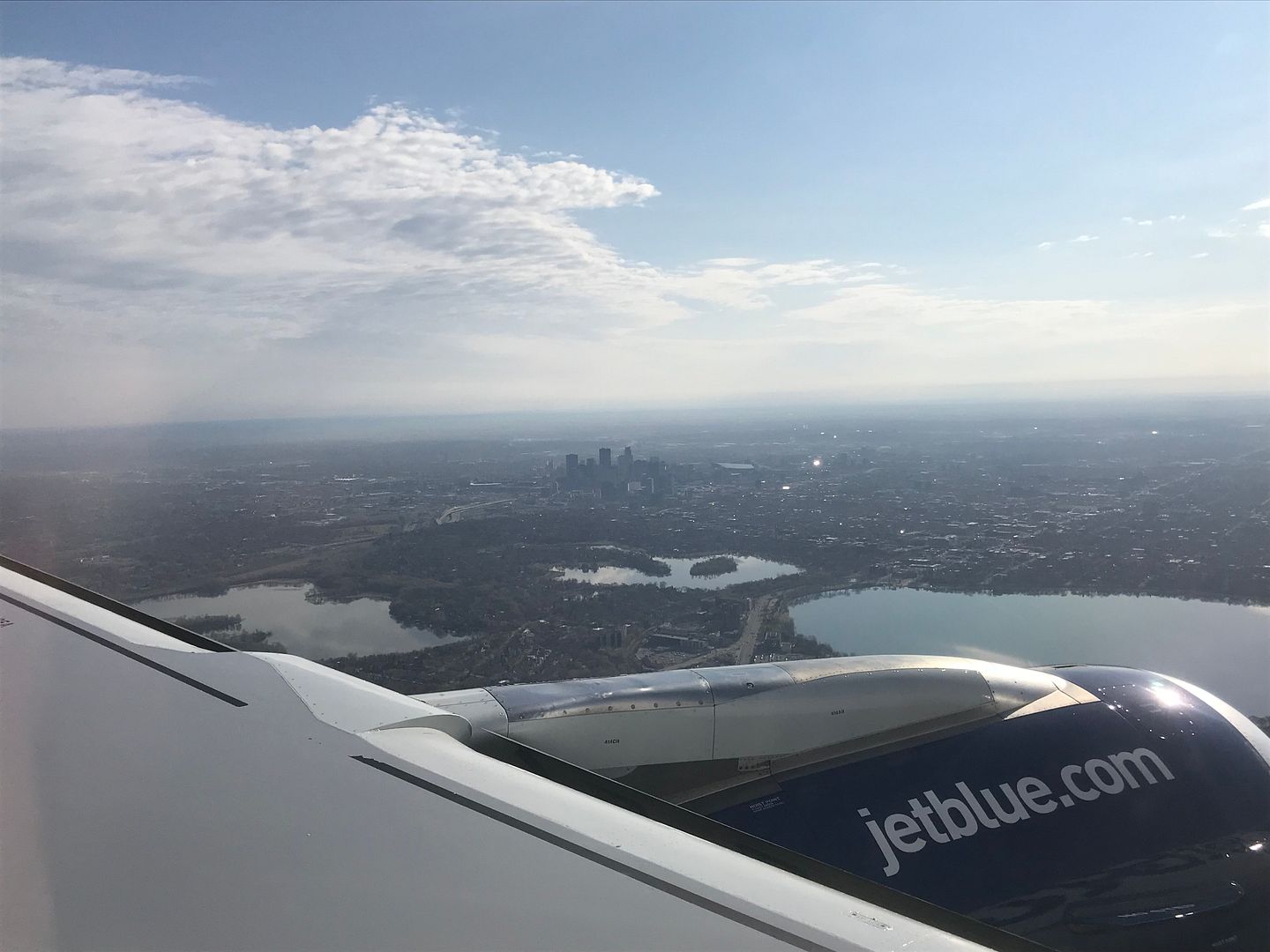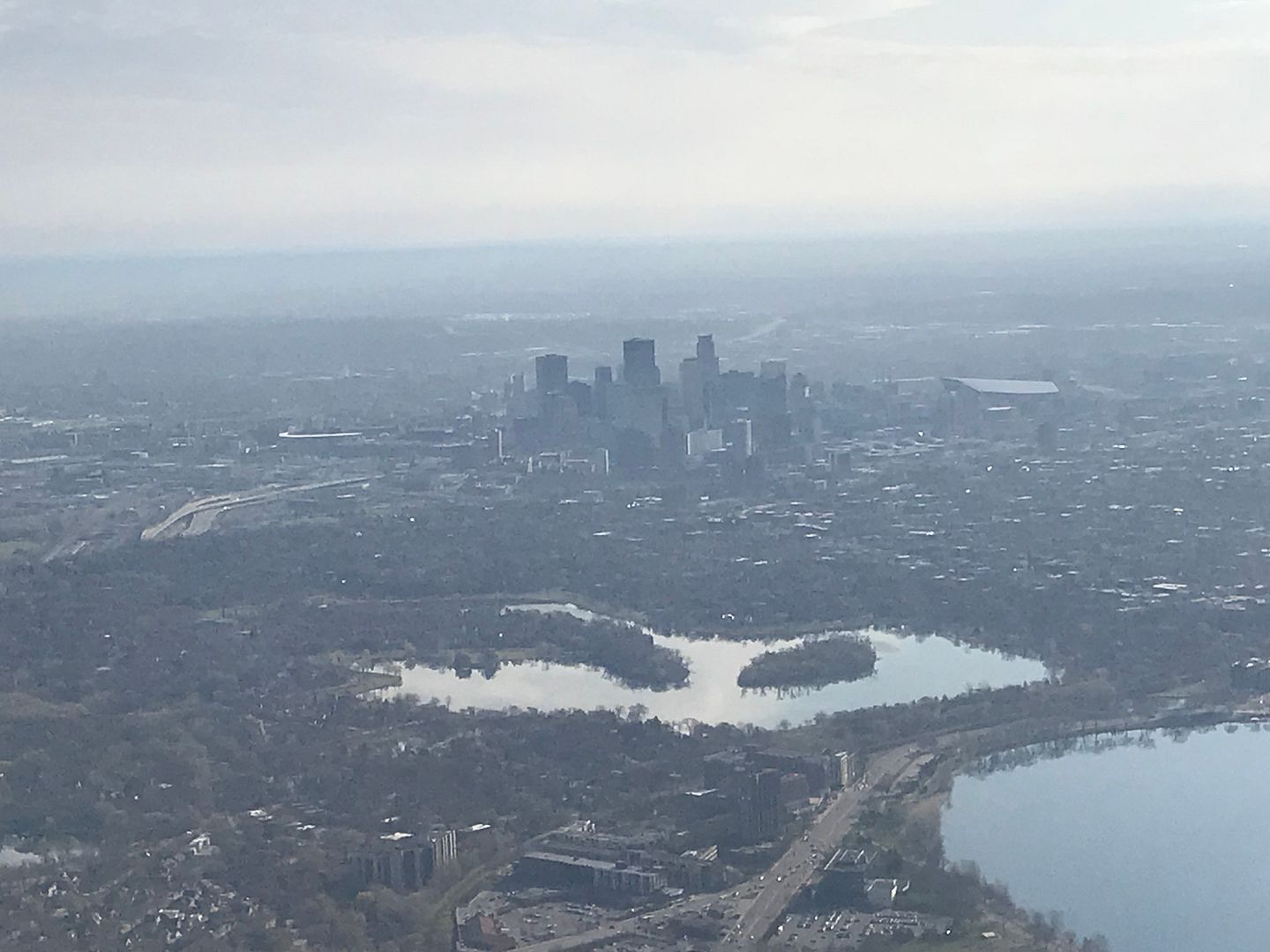 We landed on R/W12R at 8:39am and our taxiing was sort of slow, as we needed to wait for the local firetruck to get ready for our water canon welcome.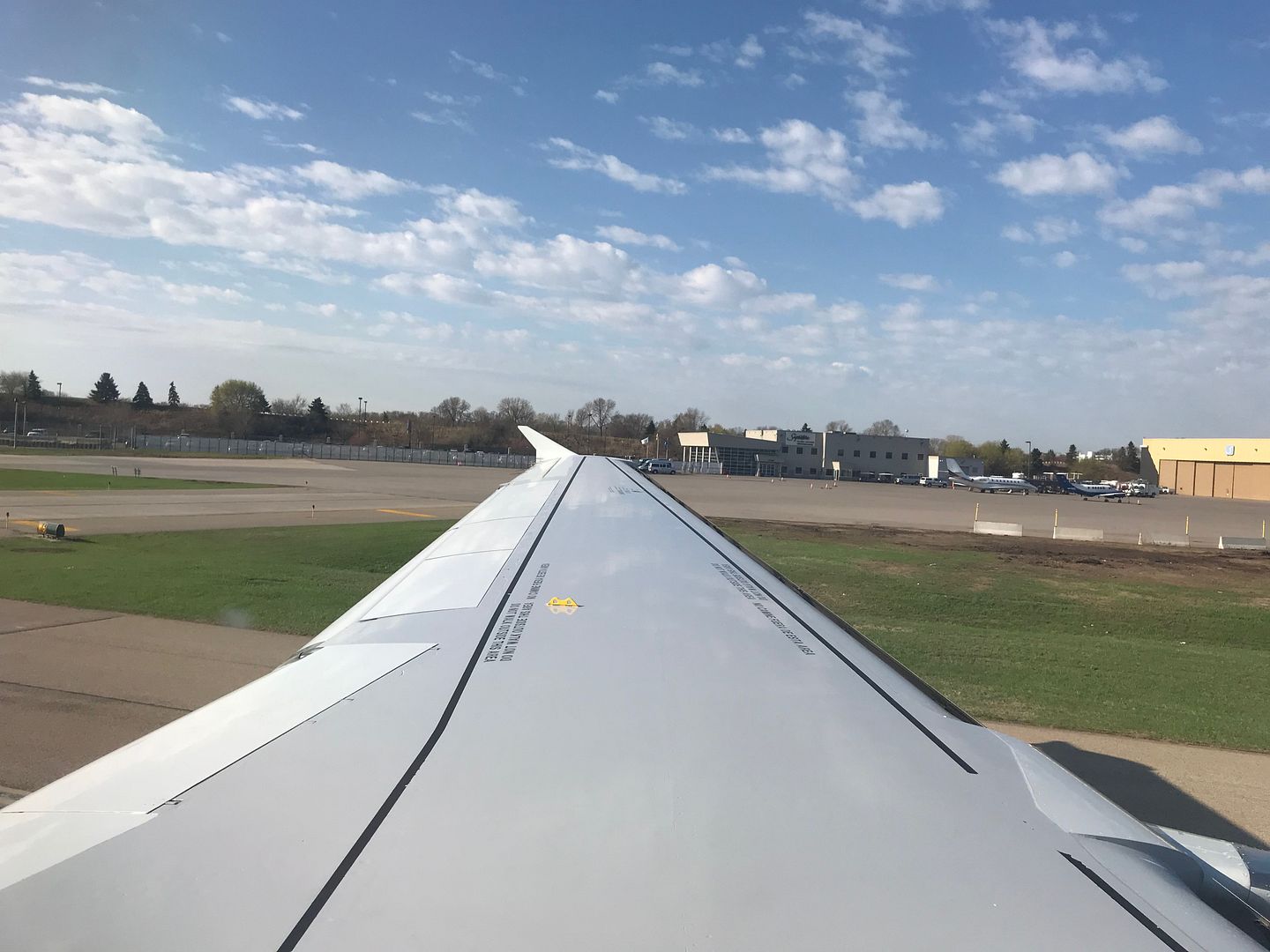 You are never tired of experiencing a water canon salute.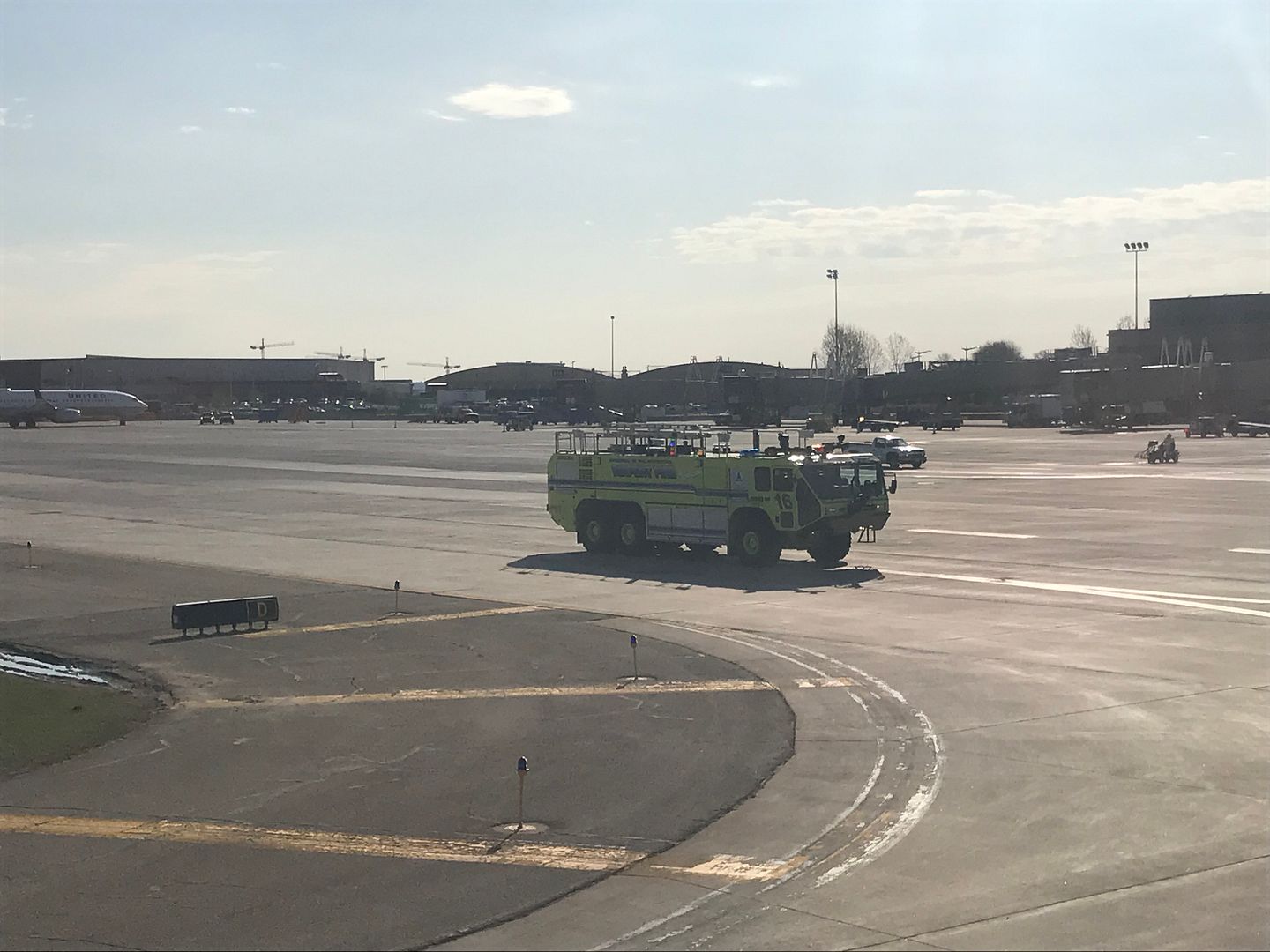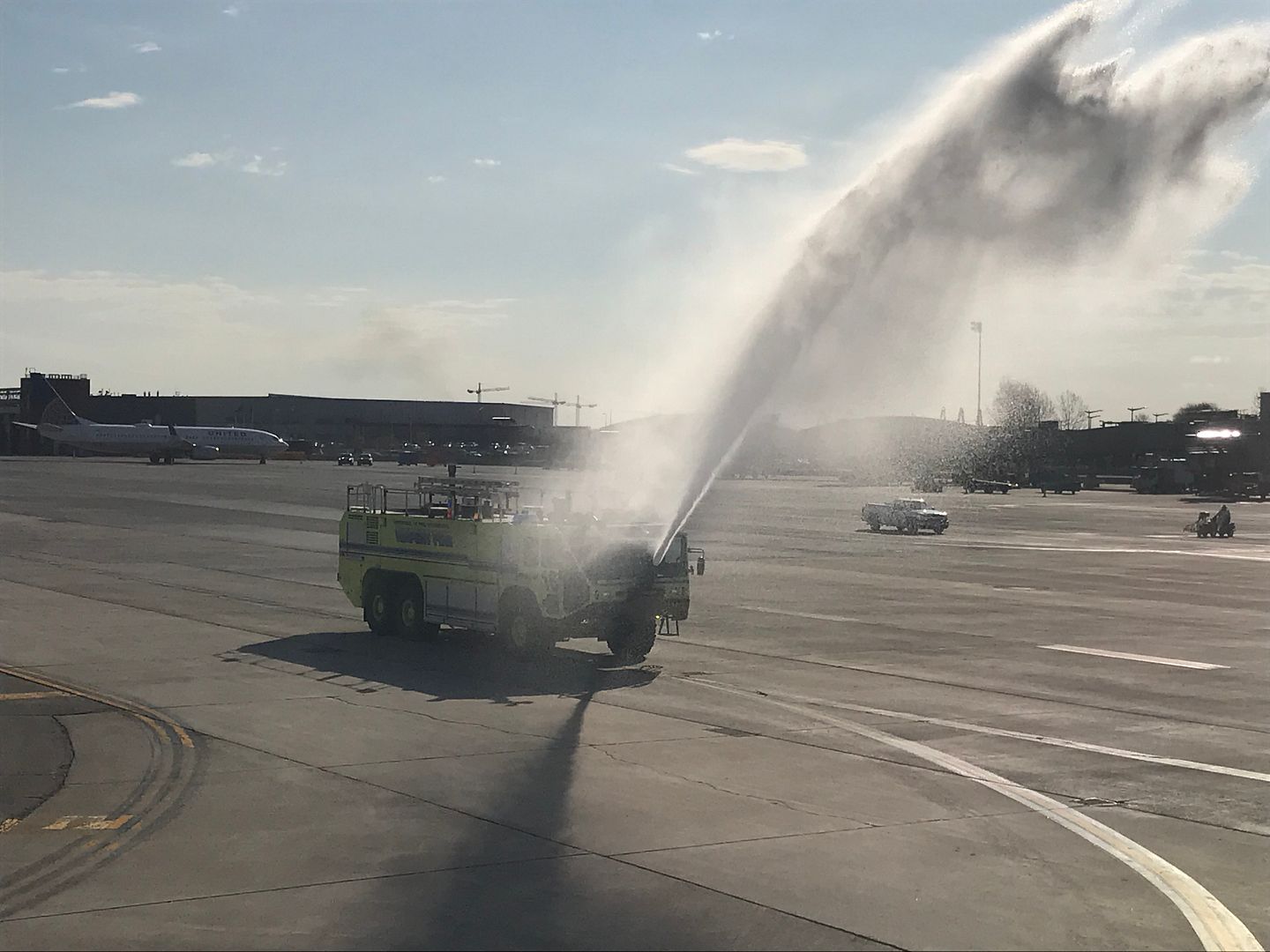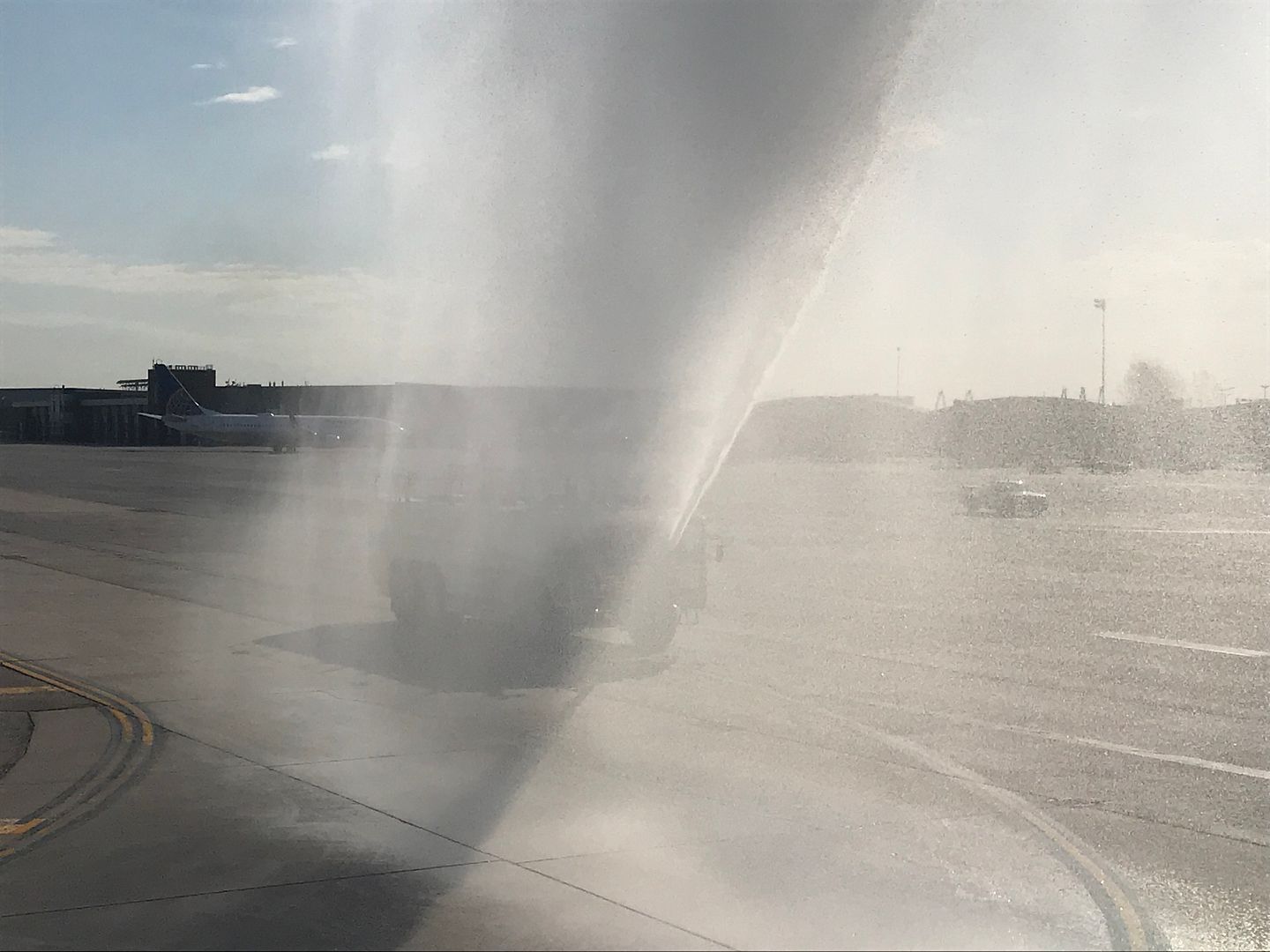 We parked at gate H9 in the Humphrey Terminal, aka Terminal Two at 8:45am.
Gate H9 will be the new home for JetBlue at MSP.
The new JetBlue manager for MSP made our welcome announcement and they used Carousel C for checked baggage.
There was a welcoming party, as the new MSP hired passing out "Mall of America" goodie bags. There was a prep rally performing. It was a festive atmosphere.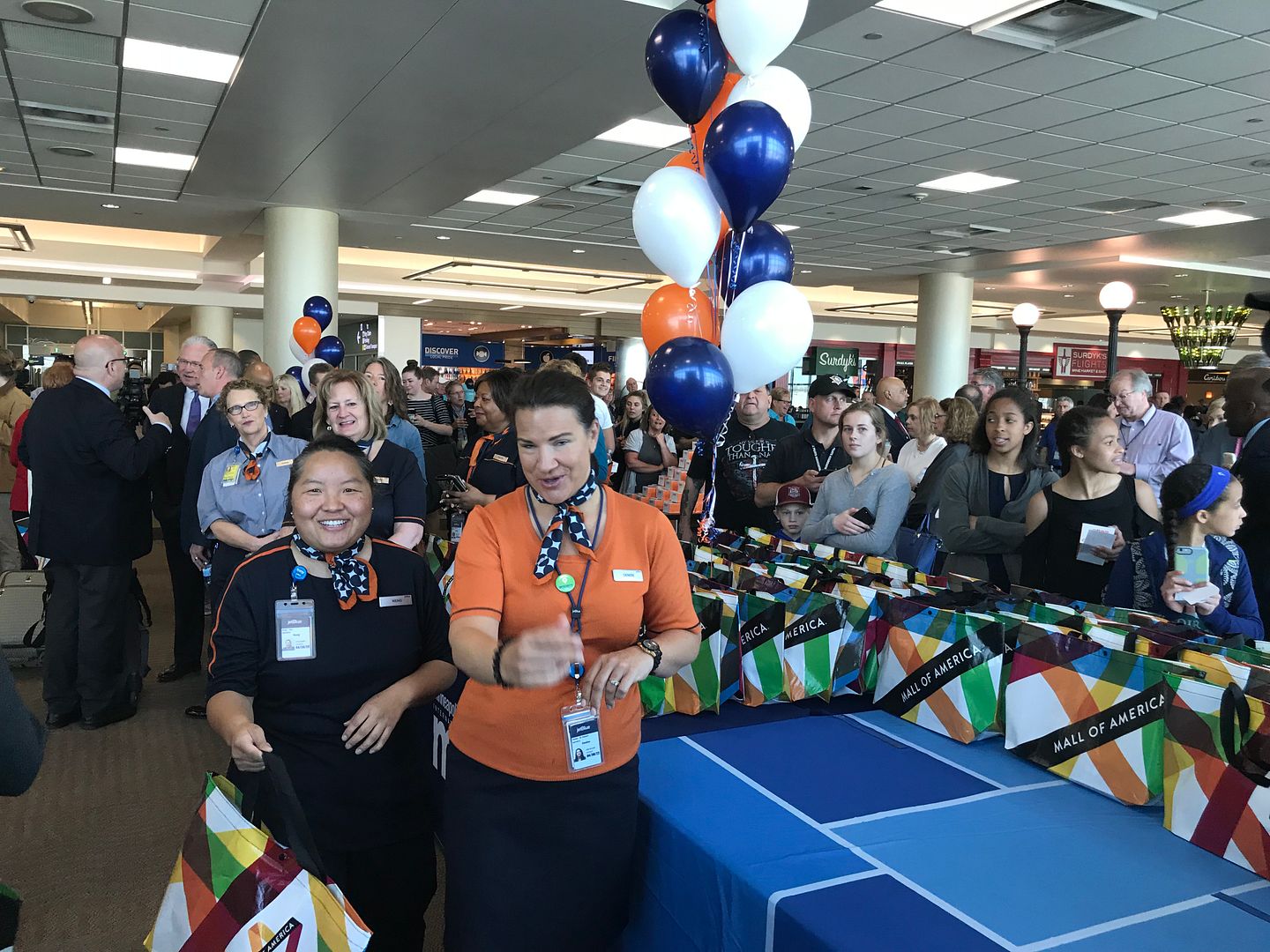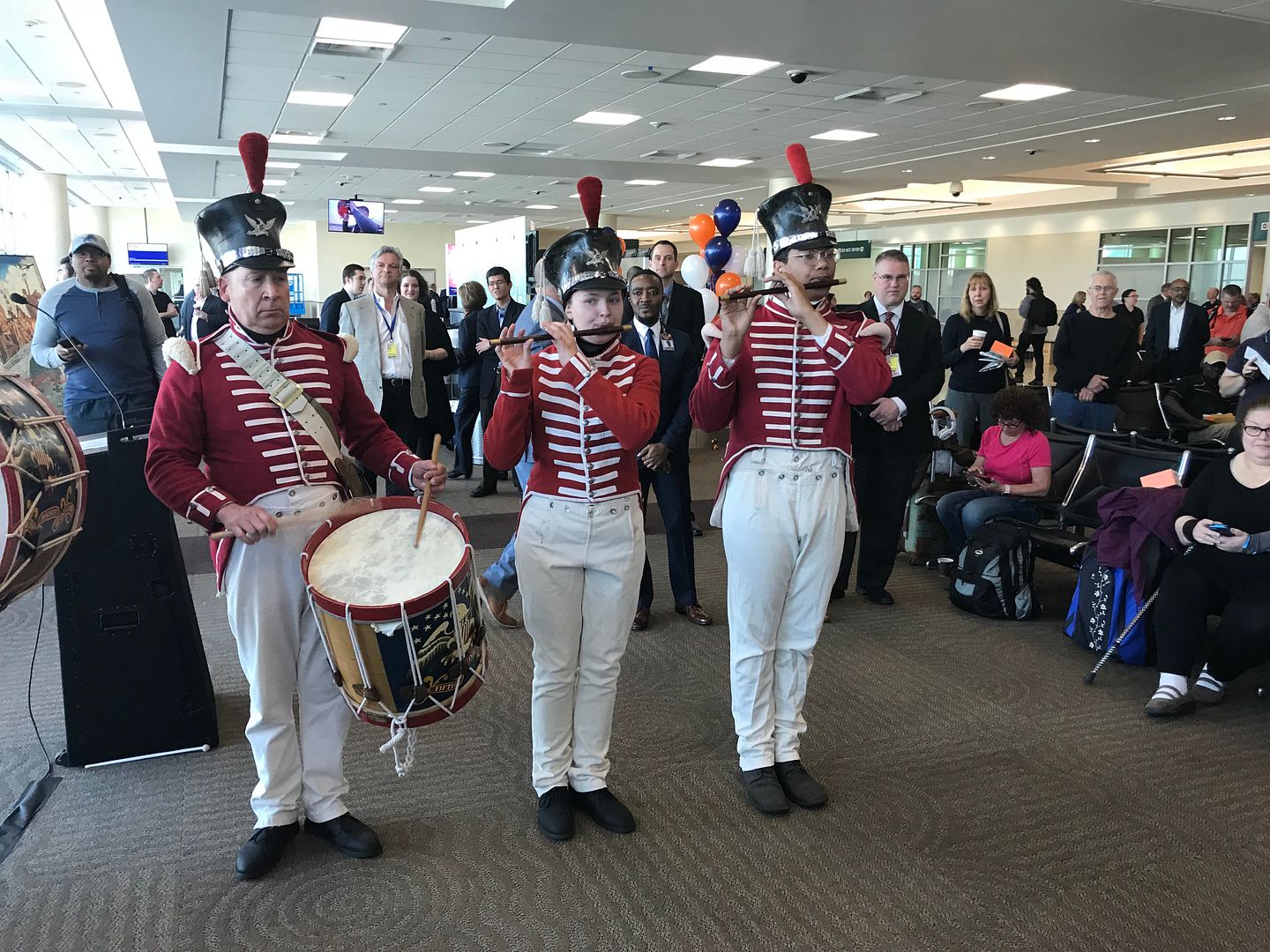 I got photo bombed by the first officer on the inaugural flight.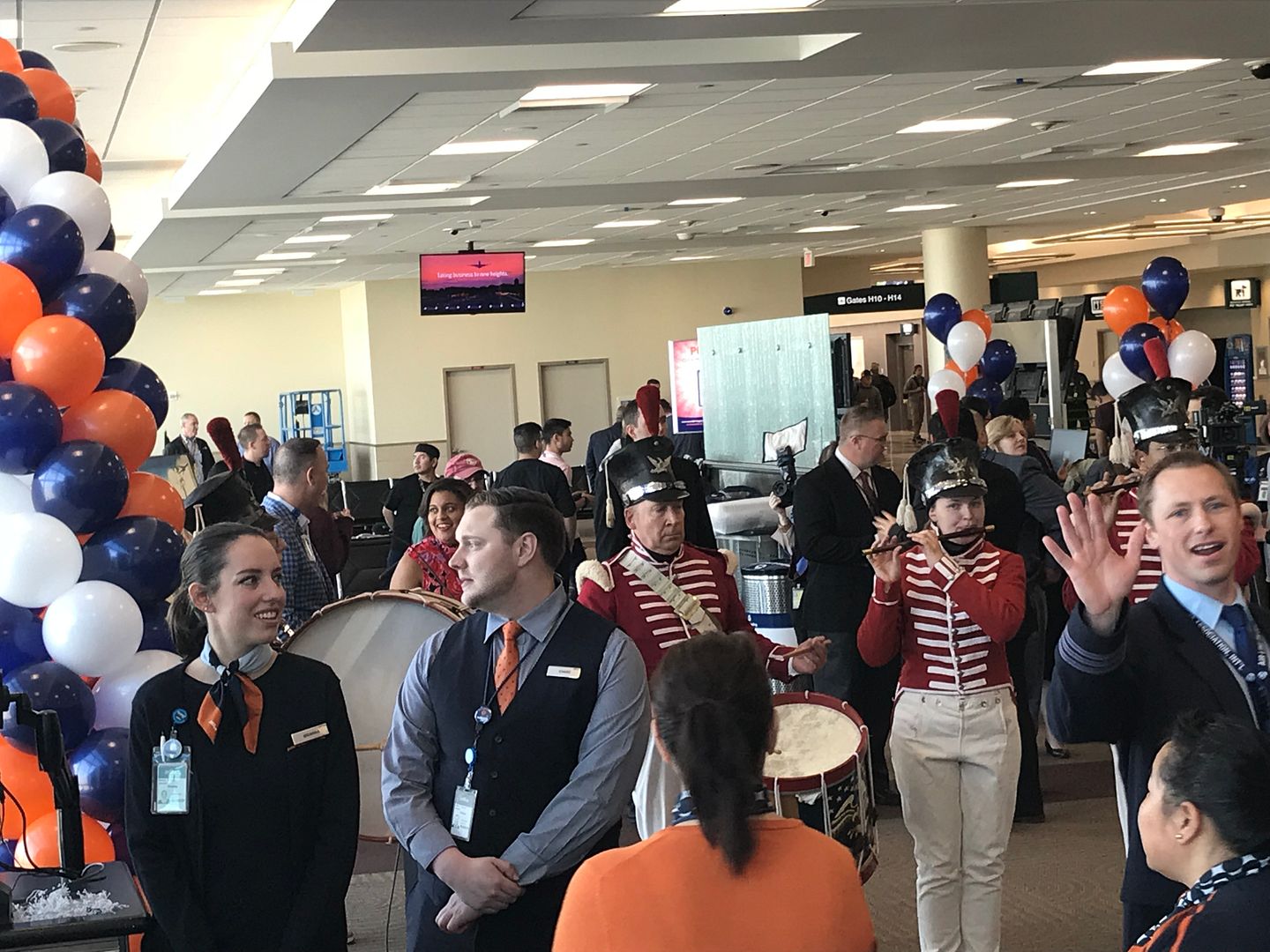 Content of the gift bag:
JetBlue blanket, a pair of sunglasses by MSP, a $5 Dunkin Donuts' coupon, and a Mall of America coupon book