Virgin America's Final Act: Sad to Say Goodbyes but it's time to move on…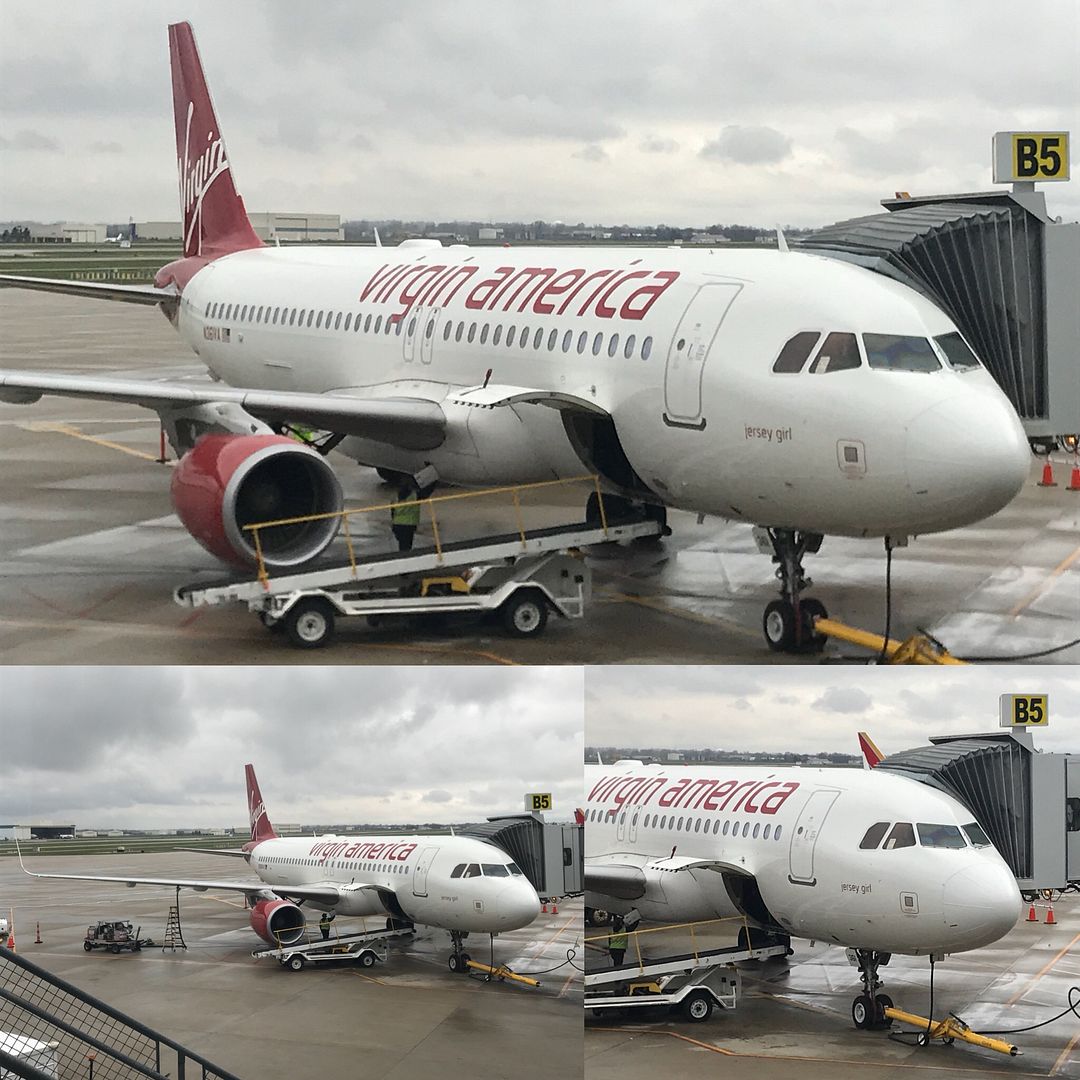 On August 8, 2007, 100 plus guests joined me on Virgin America's first revenue flight (third flight), VX 34, from San Francisco to New York JFK. Despite it was a late afternoon takeoff with a midnight arrival, everyone was excited and had so many hopes for this airline, which finally paid more attention to passengers with a comfortable leather seat with an inflight entertainment system. As N621VA, a Virgin America's A320 named "Air Colbert," landed at 11:37pm, a new generation of flying had officially started. Throughout the decade, I flew 123 Virgin America segments covering 170,000miles, including many memorable inaugurals, such as Dallas Love Field, Denver, Fort Lauderdale, Honolulu, Seattle, and Washington DC National, along with the first commercial flight on Airbus A321-200 NEO and a diversion to Syracuse on 2008. There are plenty of memories and although things are heading south towards the end of the journey, Virgin America has truly tried to provide American public a different type of flying. Unfortunately, the American public's obsessed with low airfares and a not so friendly operating environment preview its eventual demise. On one hand, its demise will be less painful if it is merge with JetBlue, but when Alaska Airlines purchases Virgin America, it is only time that all the great amenities setup by its original founds will be dismantled. In some way, my flight from Indianapolis to San Francisco has already hinted on how Virgin America's brand is quickly tarnished under Alaska's management. I personally don't mind Alaska Airlines, as it is a basic carrier with limited frill and have mostly good experiences with Alaska's F/As. Fortunately, I am thankful to the folks at flyertalk especially Brendan, Nate and Carolyn to give Virgin America a proper farewell, as Alaska is desperate for the Virgin America to disappear into thin air. After flying VX 1948, I am pretty convinced that Alaska Airlines would not even bother to do anything, without the initiatives taken by flyertalk. I am thankful for the souvenirs and the safety cards (before the FT police came out and attacked me, those safety cards were provided by Virgin America), and most importantly a proper goodbye to a great airline. Thanks to all the great Virgin America staffs for making flying a better experience during the past decade! I hope Alaska will treat you right.
Photo link to the full album:
http://s1213.photobucket.com/user/Carfi ... Flight2018
I first want to apologize for the lack of photos during the event, since I arrived pretty late at the gate. There were lines everywhere and it was hard to get great pictures. However, I am sure there will be many trip reports coming out soon.
My day began at Indianapolis!
April 24, 2018
VX 1255 IND-SFO Lv1630 Arr1828 Airbus A320-200 Sharklet N361VA "Jersey Girl"
I have been planning to do a flight on Virgin America on April 24, regardless of whether there are any special events. I manage to find a really good first-class fare on the Indianapolis flight, so that's why I decide to pick this flight. For a while, I have set my eyes on the Palm Springs flight, but in the end, I settle on LAX flight. Just a side note, the Palm Springs flight actually ended as the final flight because there was a delay and the flight departed at 10:30pm. But I know our flight carried only the callsign VX 1948, so we were still technically the last VX revenue flight. Anyway, the folks at Indianapolis are Swissport agents, so Alaska or Virgin America did not matter to them. They were all wearing Alaska's uniform.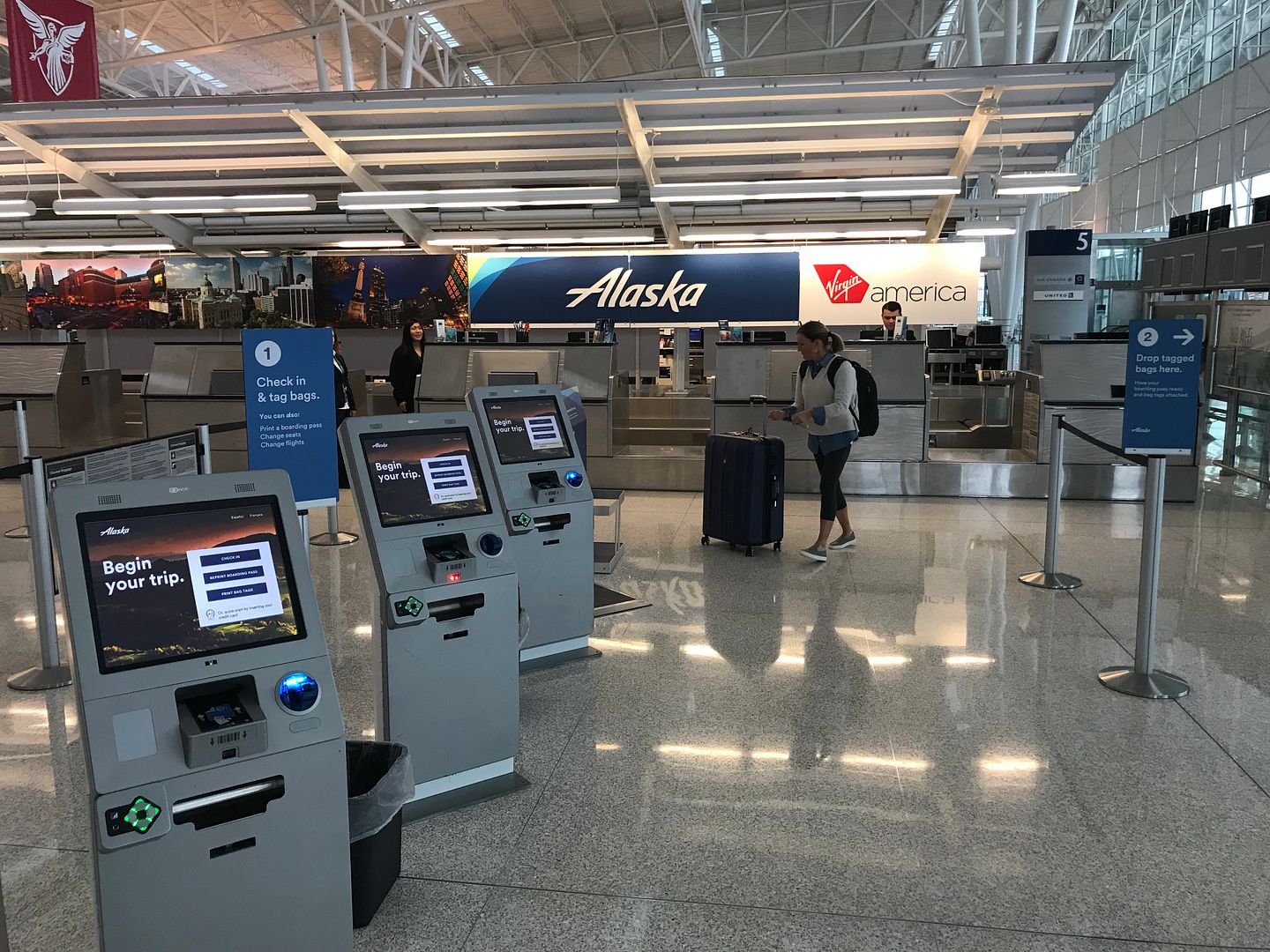 There was no lounge here at Indianapolis and I went to a nearby restaurant for a late lunch, as I knew VX catering had already transitioned to AS. I was so glad that I had a full meal before flight.
Gate B5 is the designated Alaska/Virgin America's gate, and today was the last day that this San Francisco flight was known as Virgin America flight 1255. It is already Alaska flight 1255 by now. There were still plenty of Virgin America baggage tags around.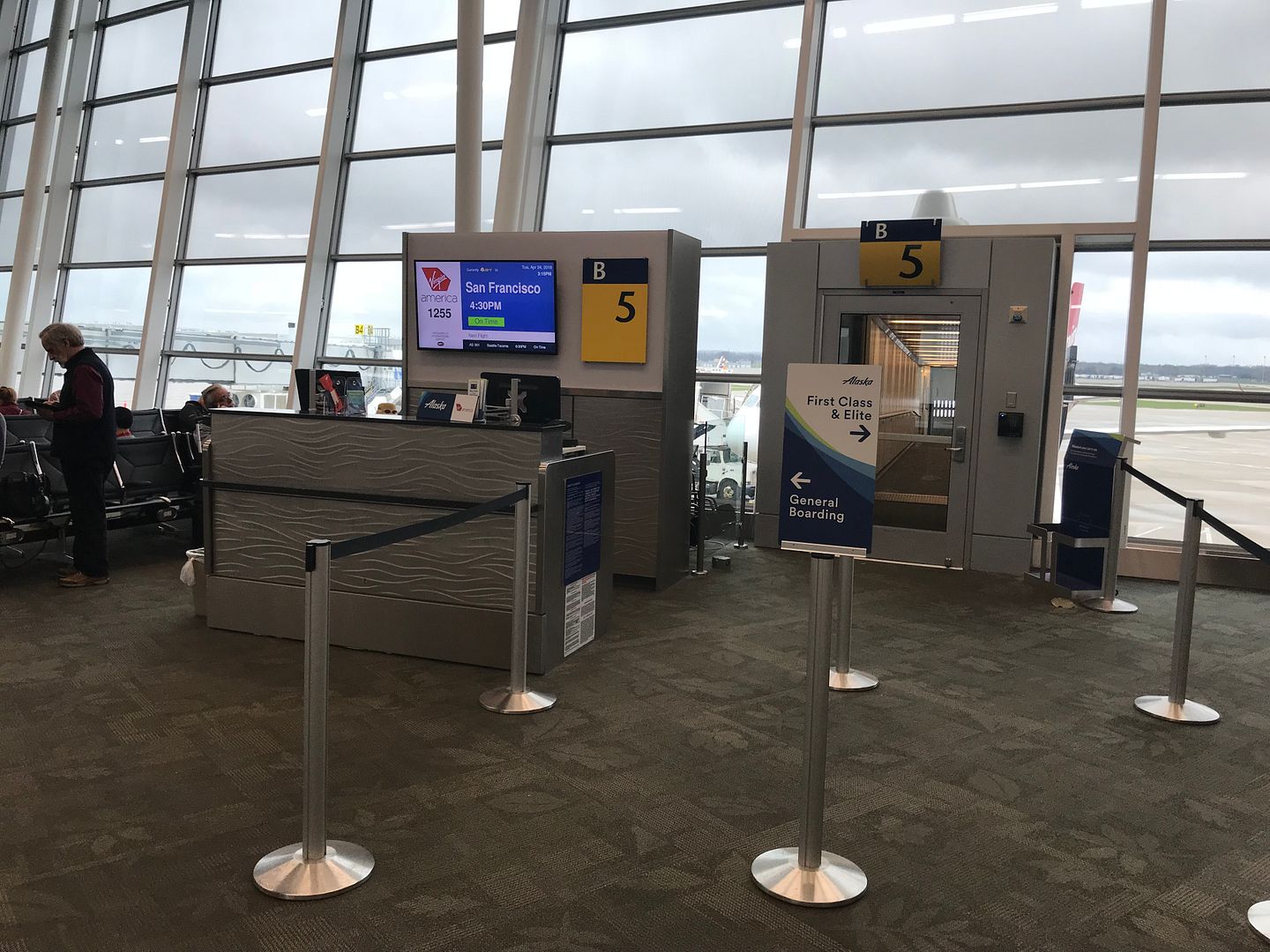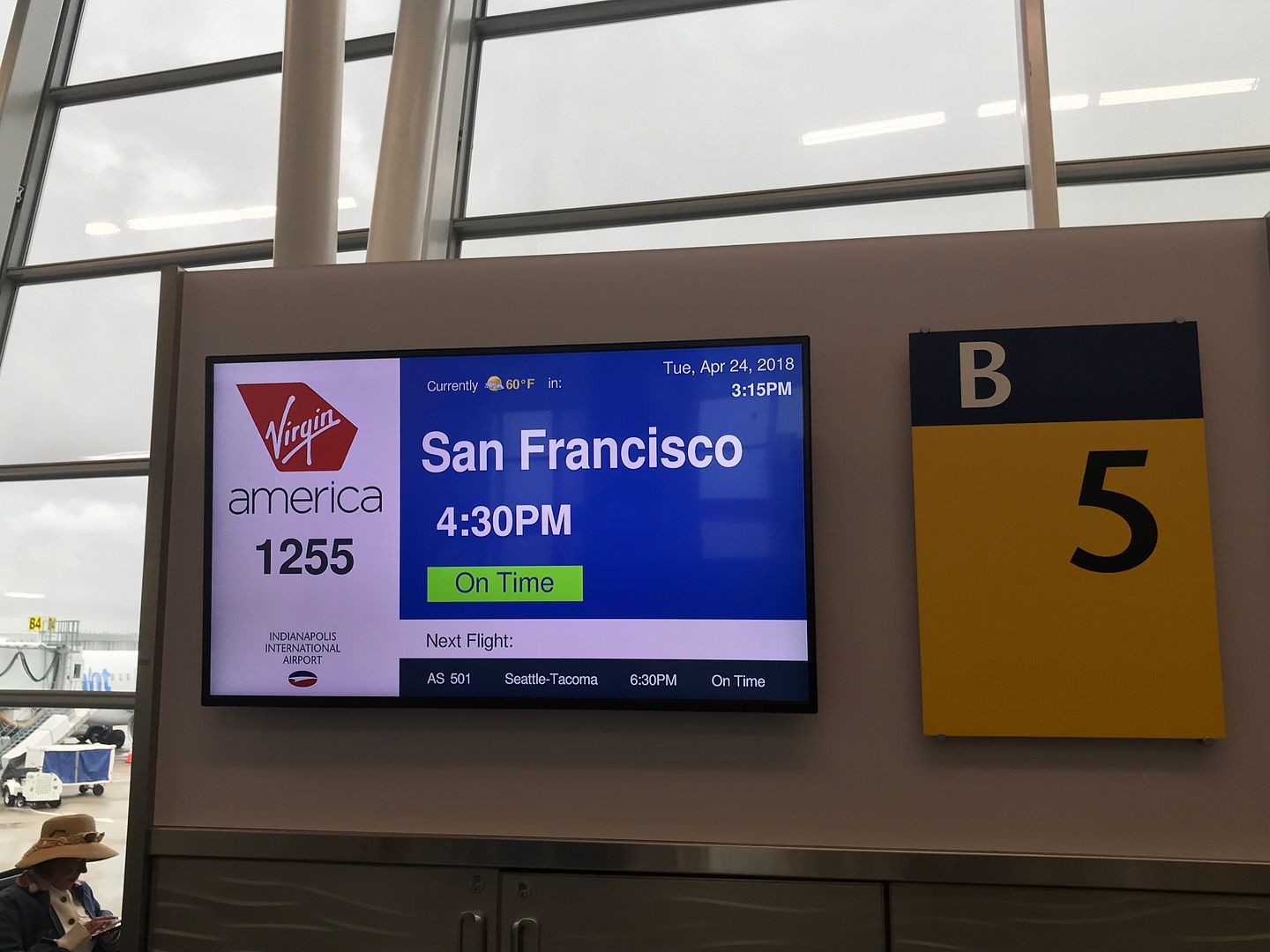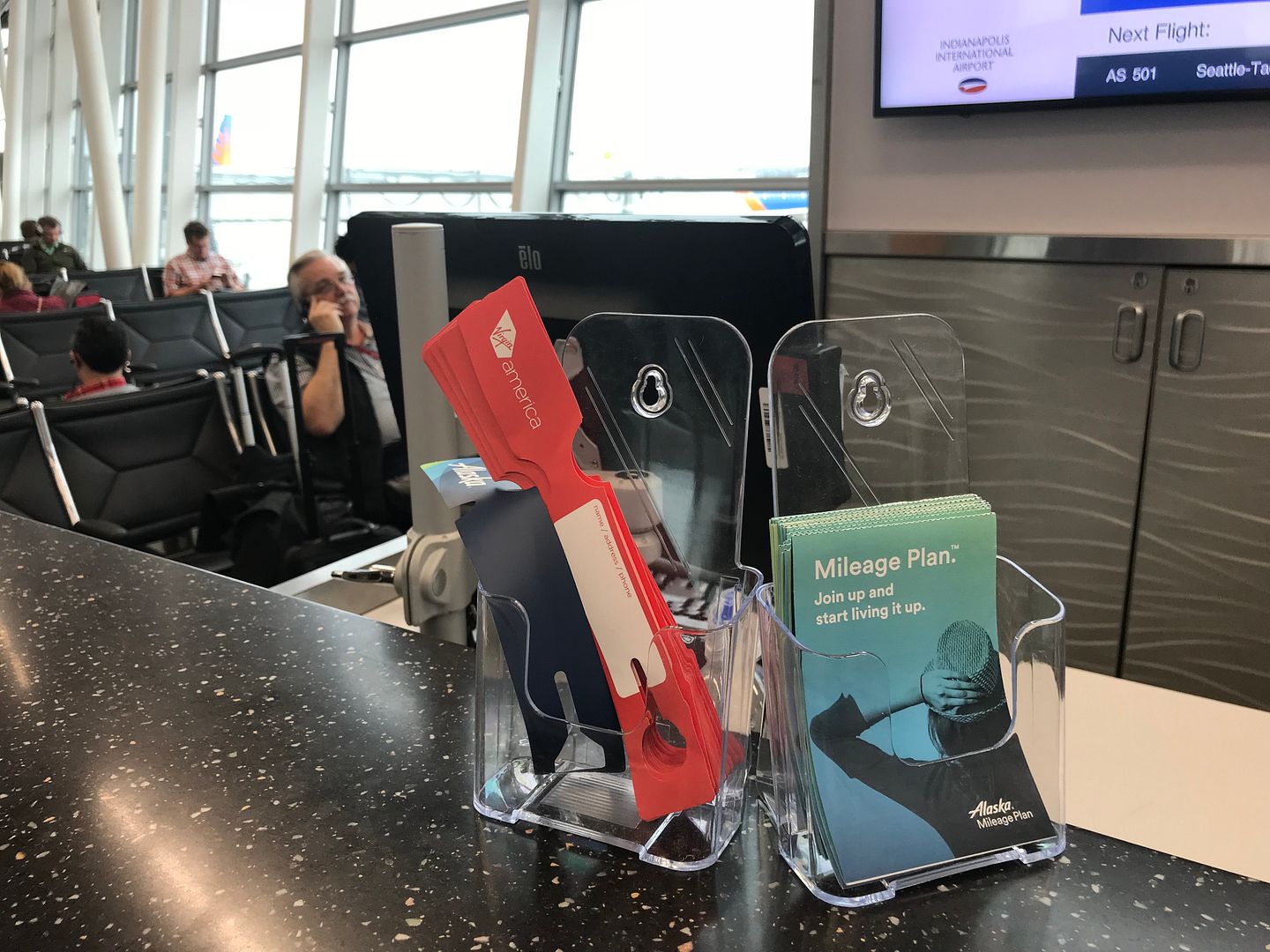 N361VA was early today and it was quietly sitting at gate B5 getting ready for its return flight to SFO.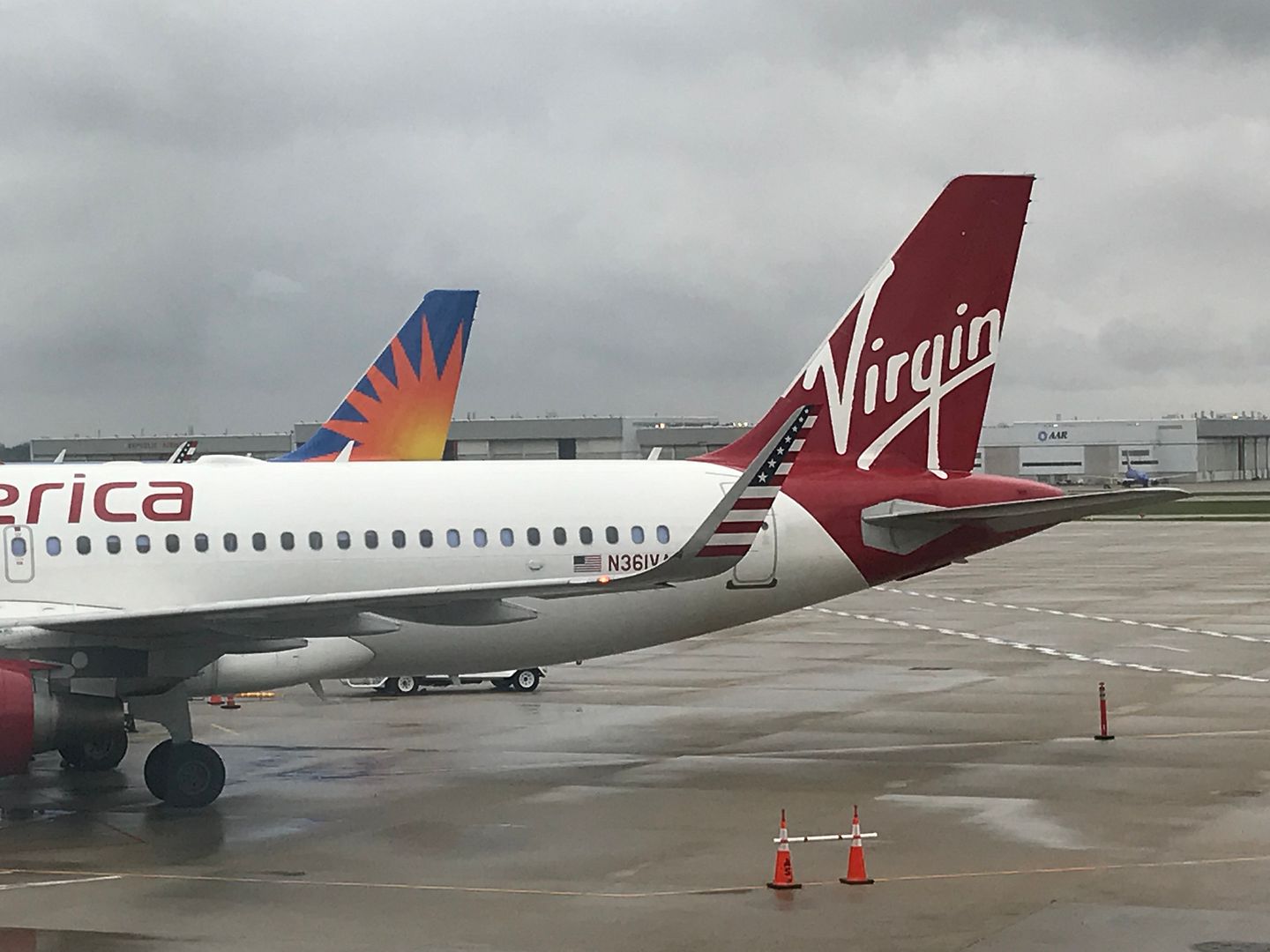 Catering
With an early arrival and a light load, boarding began at 3:44pm. The F/A was a bit unexpected to see me showing up but she quickly got to her station in the front.
My seat 1A
The F/A offered me a choice of pre-takeoff beverage and I picked bottled water.
Dasani water now…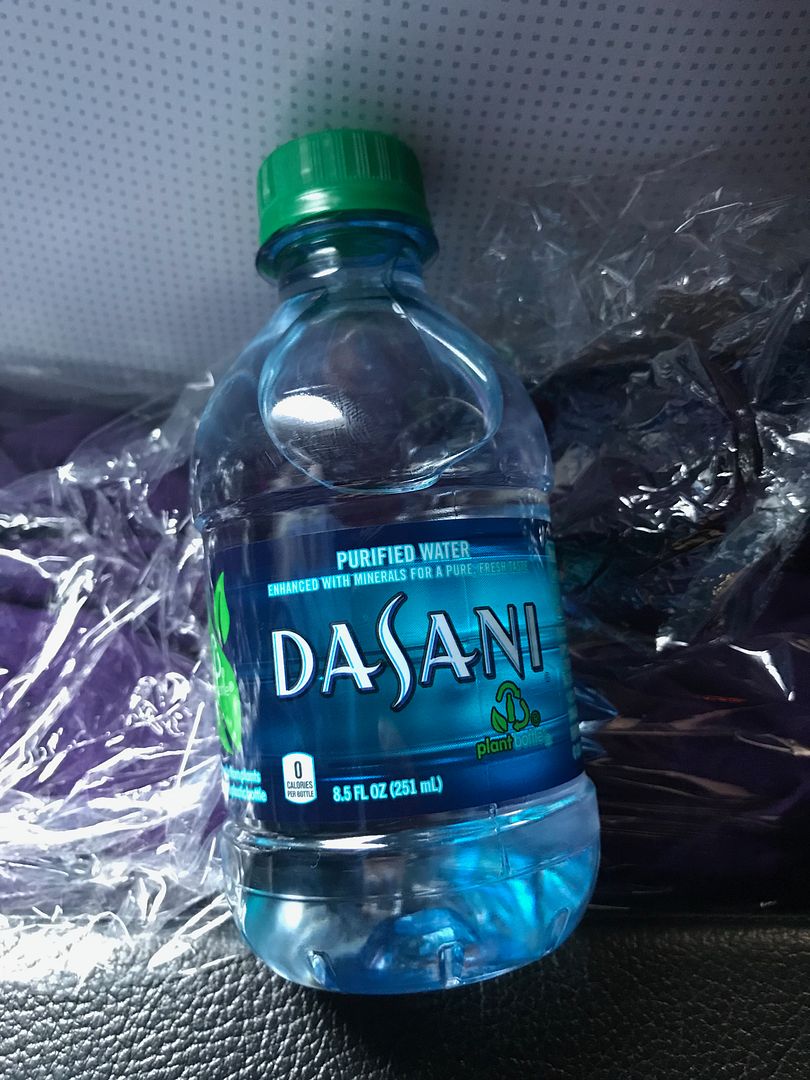 As you saw, the purple duvet blanket with pillow was still available on these medium haul flights.
Photos were limited from this point because 1A had very bad windows due to its positions.
We pushed back really early at 4:15pm and took off from R/W5L at 4:26pm for our short four hours and thirty-five minutes flight towards SFO. We stayed at 38,000ft throughout the flight.
Today's first-class flight had a total of four passengers and each of us got a pair of seats to ourselves. When you thought you would get good services, you were so wrong. The F/A was a bit lost about the service. Everything was disorganized and she was definitely not trained for the new Alaska inspired service. Plus, her attitude was not great so it made this flight particularly awful. She did not refill drinks between courses and I got the impression that she was a bit clueless.
Alaska inspired menu – yuck
Let's be frank that other than transcontinental and Hawaiian flights, Alaska Airlines' catering is lackluster to say the least. The food was weak. The biggest different is the much smaller portion now. The simple salad is really simple. The chicken entrée was average but at least edible.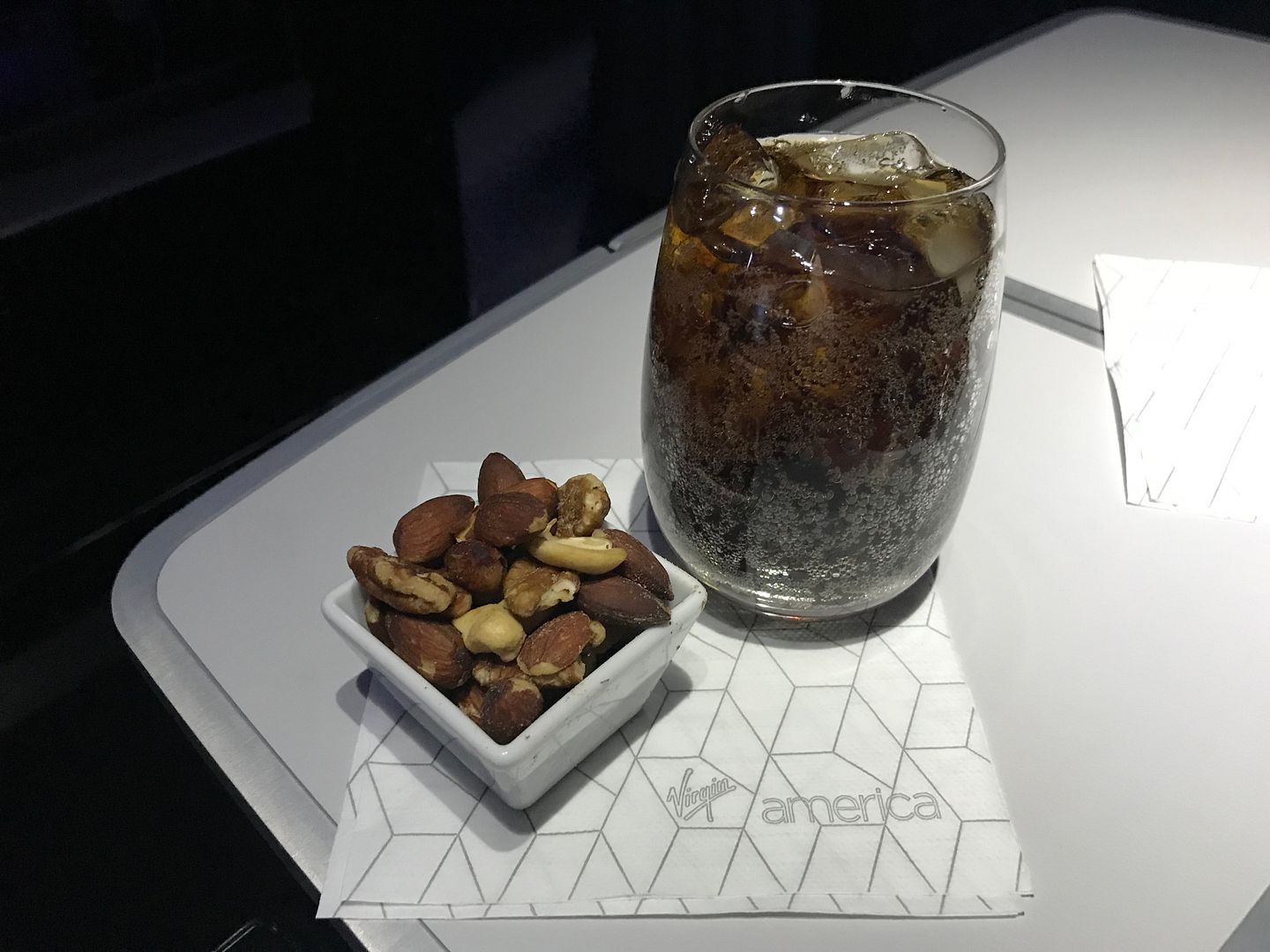 Sad to see the Virgin America brand going away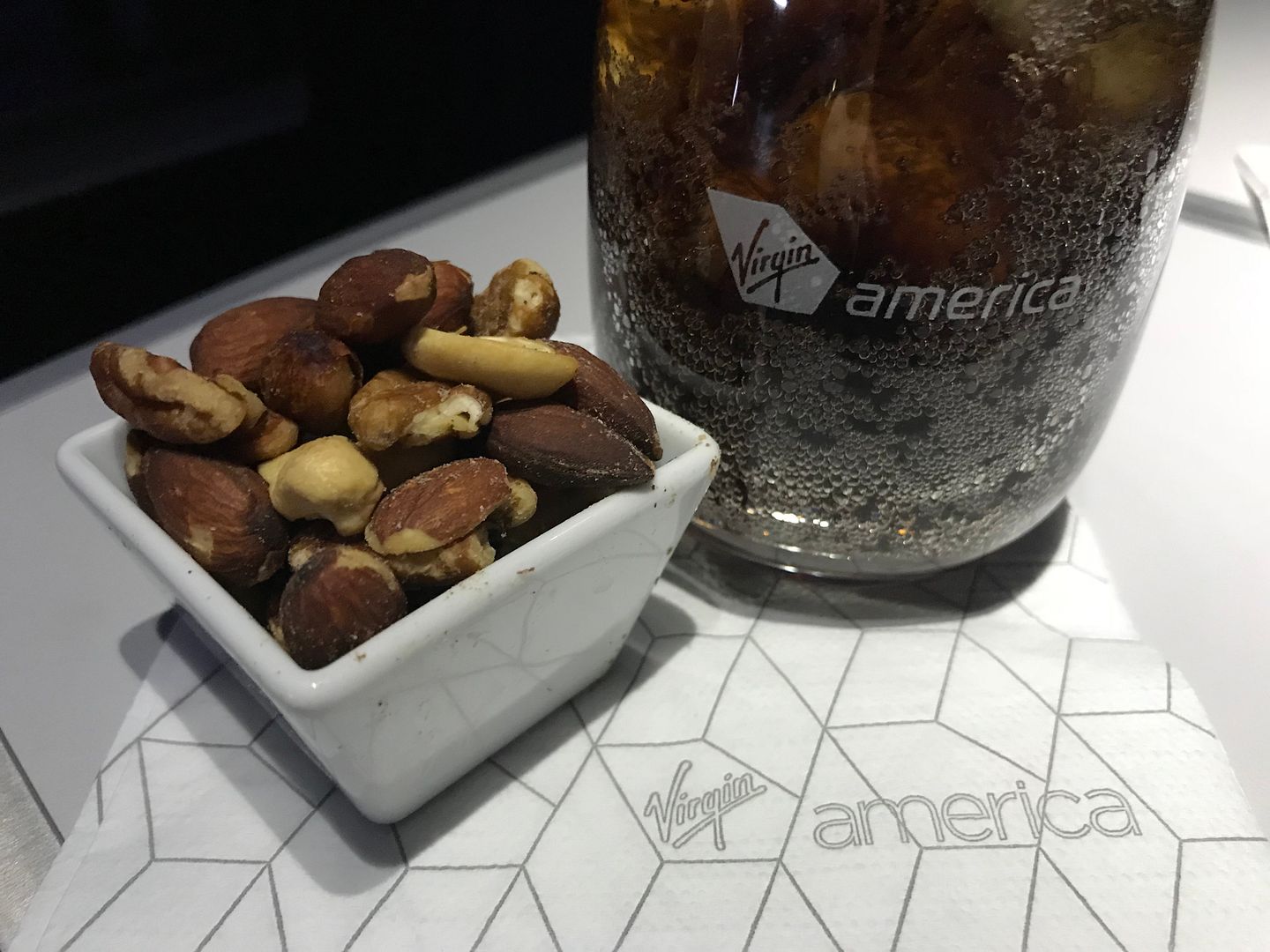 Bread to start
The plane salt and pepper shaker is still here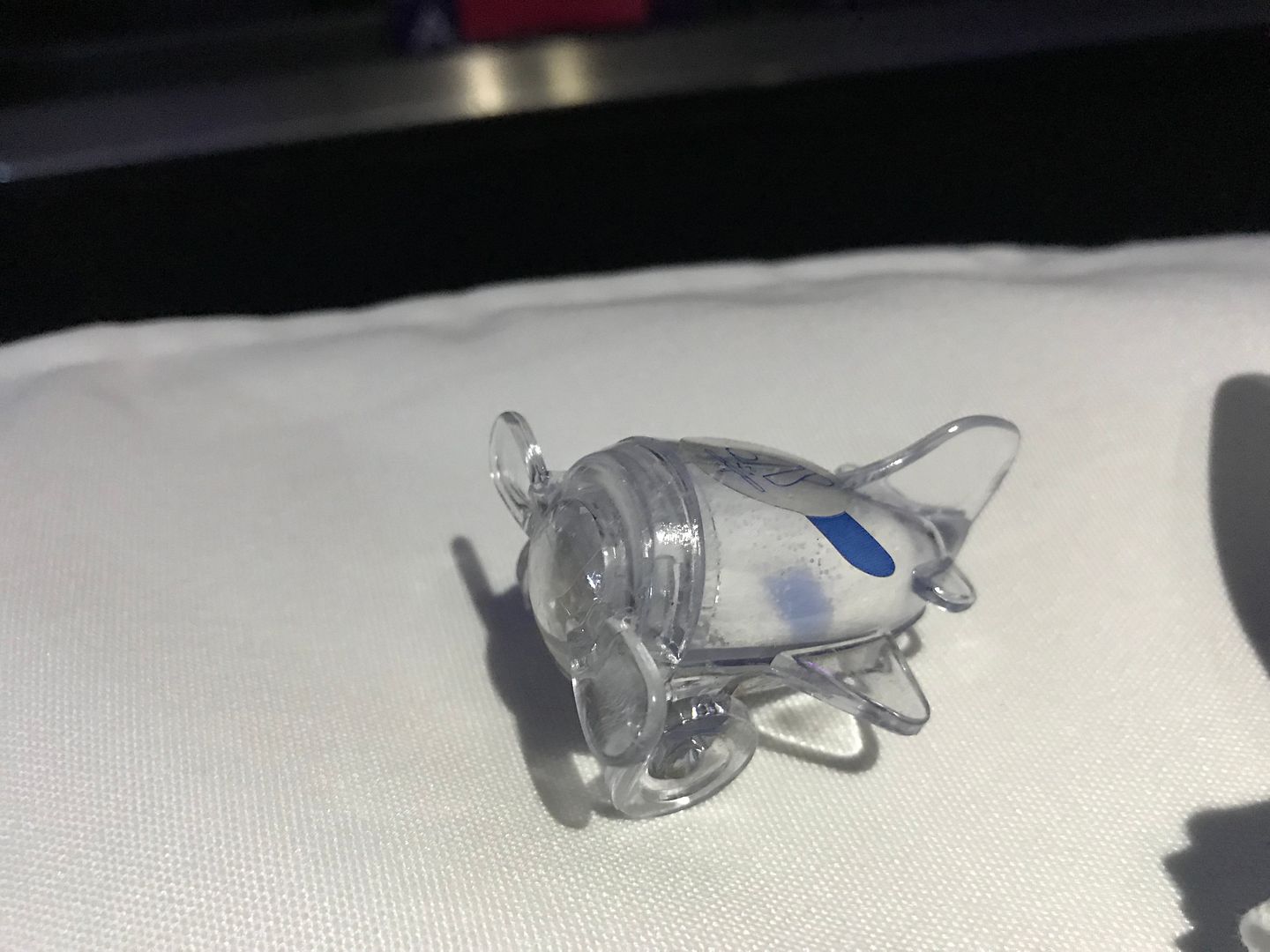 Salad next
Chicken
The fried rice side was particularly nasty. It was too hard to chew on and lacked seasoning.
Then the F/A strangely took away all the linen before serving dessert. The purpose of using a linen is sort of to prevent the table from getting dirty.
This lemon tart was simply bad and I could not finish it. It had a strange texture to it. It was a major failure.
After dinner, the F/A decided to sit down and began doing her own paper work. She sat in the jump seat alternating from playing on her phone, to shuffling papers, and then the two F/As in the aft joined her in the front for a fun chatting session. They were pretty loud, considered I had my earphones on.
About entertainment, personal TV is still here but much of the useful contents are gutted. I need the Live TV the most, as the WIFI was painfully slow to do any streaming. The Live Map thankfully was still there and it was a good airshow program. The TV was another reminder on how Alaska is going to transform Virgin America into something bland. As of this point, the TV serves little function. I did sign up for WIFI for this flight, and despite its light load, it was pretty slow, but strangely I could watch some videos on youtube. At the same time, I had difficulties loading facebook, emails and flightradar24. The VIASAT is much better.
Descent soon began at 5:37pm and we landed on R/W28R at 6pm. Despite the pilot warning us that there might not be gates, we parked at gate 54A a few minutes later. Alaska basically had slashed most of the redeyes on April 24, so gates would not be an issue this particular afternoon. On the final P/A, the F/A mentioned that today was Virgin America's last day. I felt sad for her for a few seconds, but then the whole flight left me in a pretty bitter taste. As of this point, I am a bit worried about flying these former Virgin America flights because all these F/As were displaying attitude and seemed pretty disgruntled. Yes I understand the uncertainties and the loss of seniorities but Alaska actually did not lay off anyone. However, those disgruntled attitude might get them into troubles. Alaska is not a fancy airline, but the F/As with their friendly attitude are sort of the brand. Alaska, you should read through the comments in the flyertalk section and there are plenty of warning signs. I emailed them about this F/A and given their lame form letter type response, I am not sure if Alaska is ready for handling these disgruntled employees, as this attitude problem seems to persist.
Fun pictures of the tarmac featuring all these Alaska subsidiaries – Skywest, Horizon, and Virign America
To the fun part:
VX 1948 SFO-LAX Lv2132 Arr2301 Airbus A321-200N N922VA "frances"
Our aircraft arrived on time from Chicago O'Hare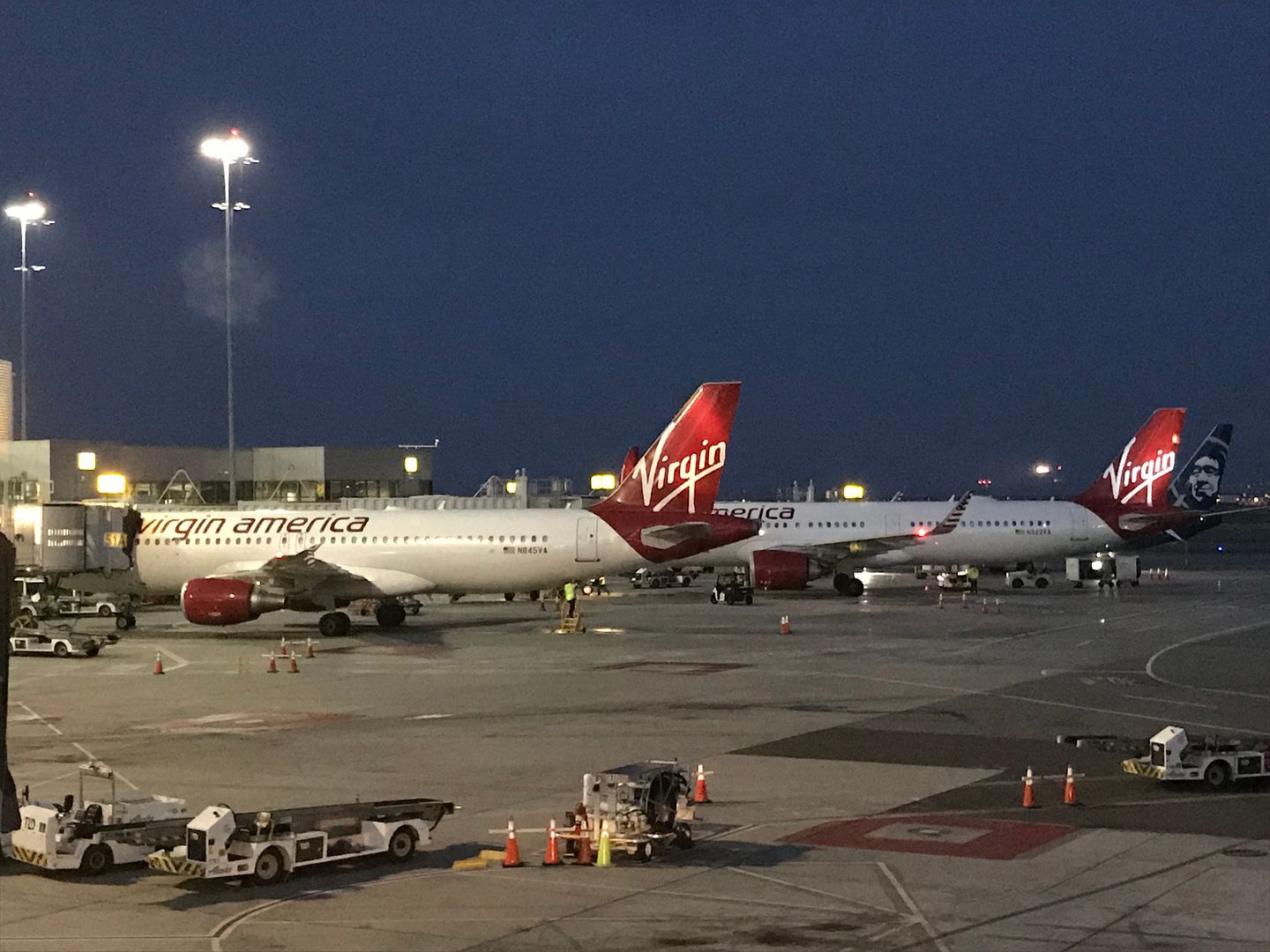 Gate 51B was where the final flight would depart from this evening.
The gate area was pretty crowded when I arrived.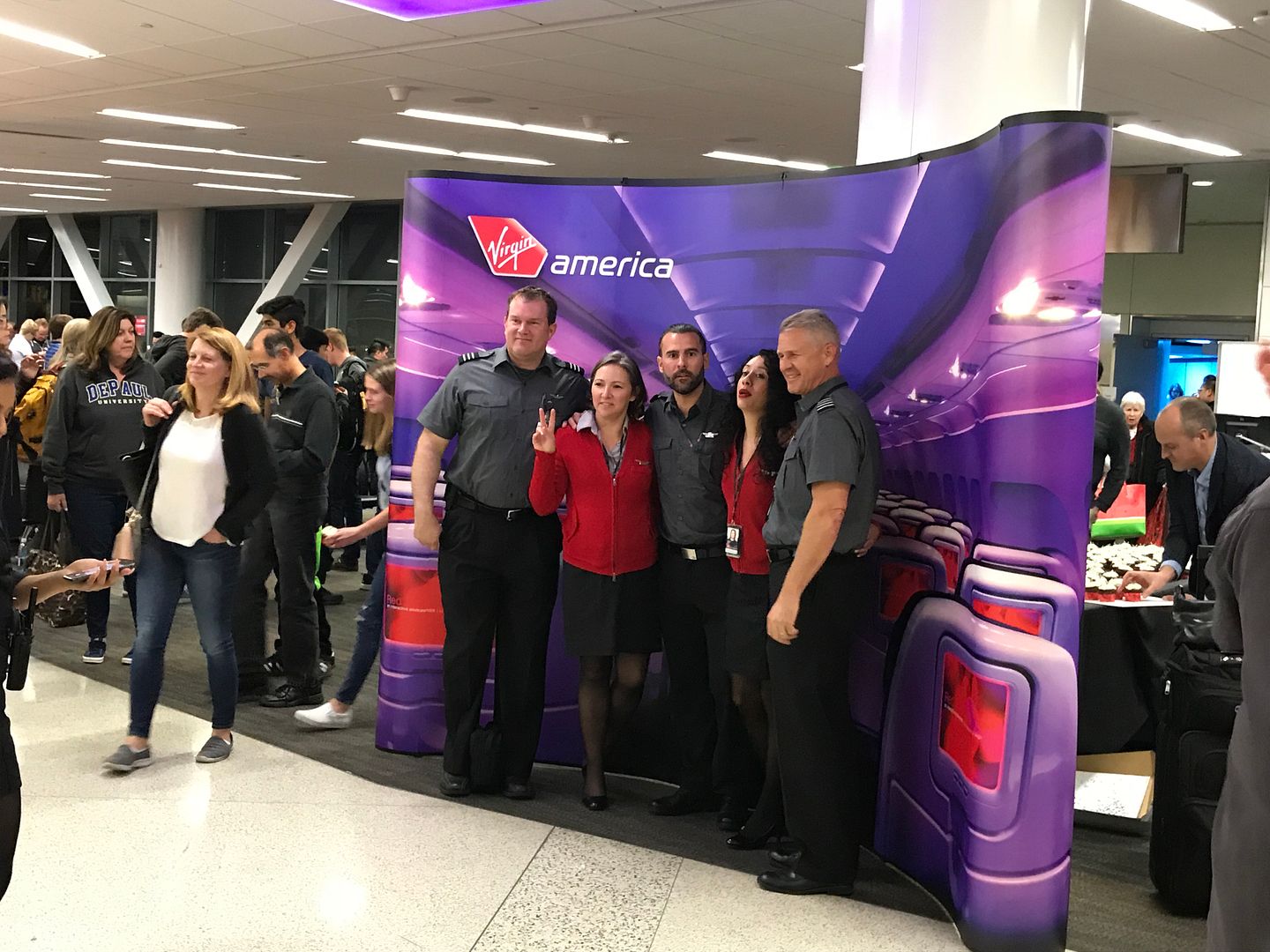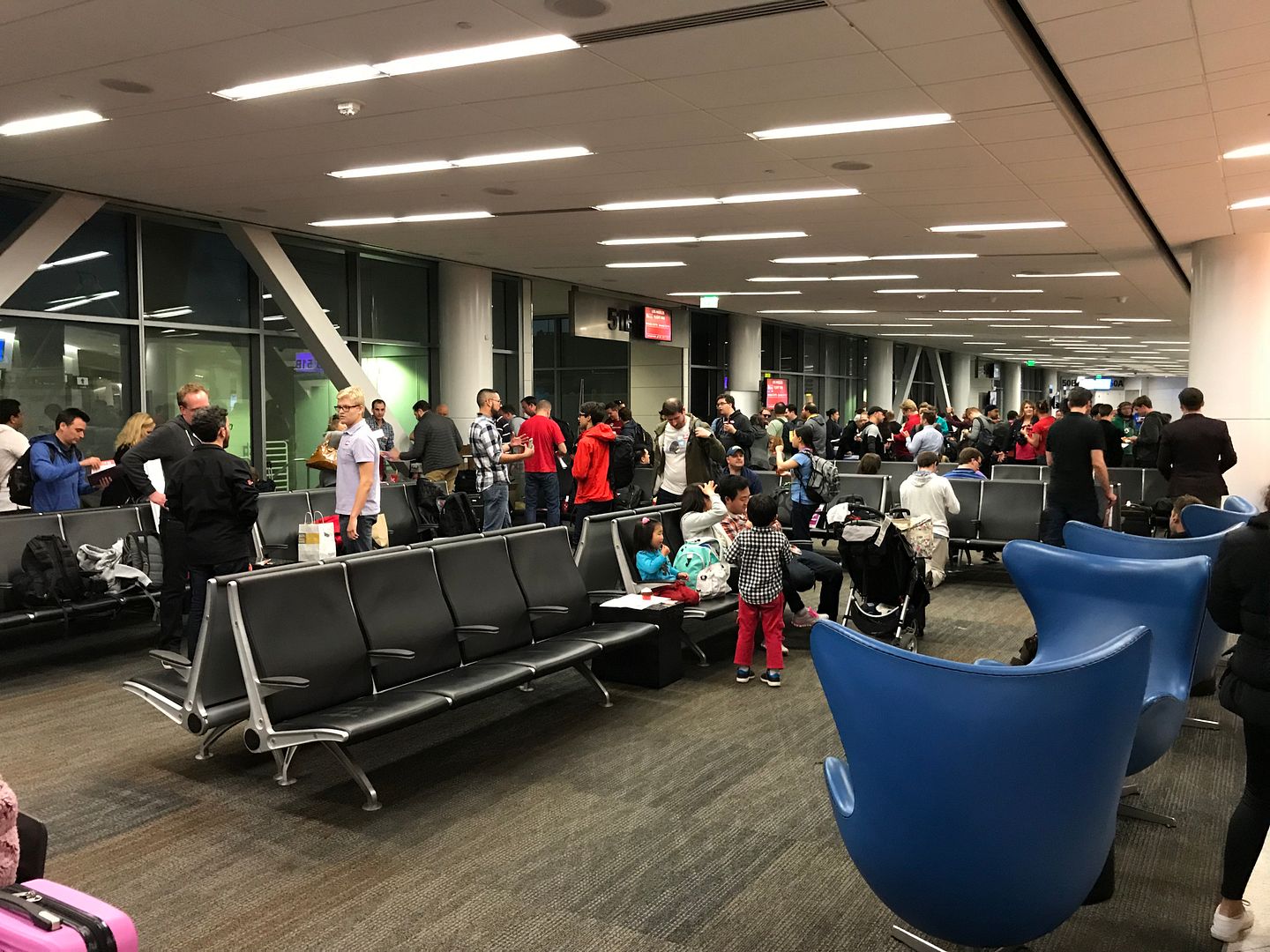 There is the part where I need to apologize. I arrived at the gate really late so there was already a long queue to claim our swag bag and posters. So I did not really have a chance to take pictures, but at the same time, there were many enthusiasts here, so I am pretty sure that many will post pictures soon.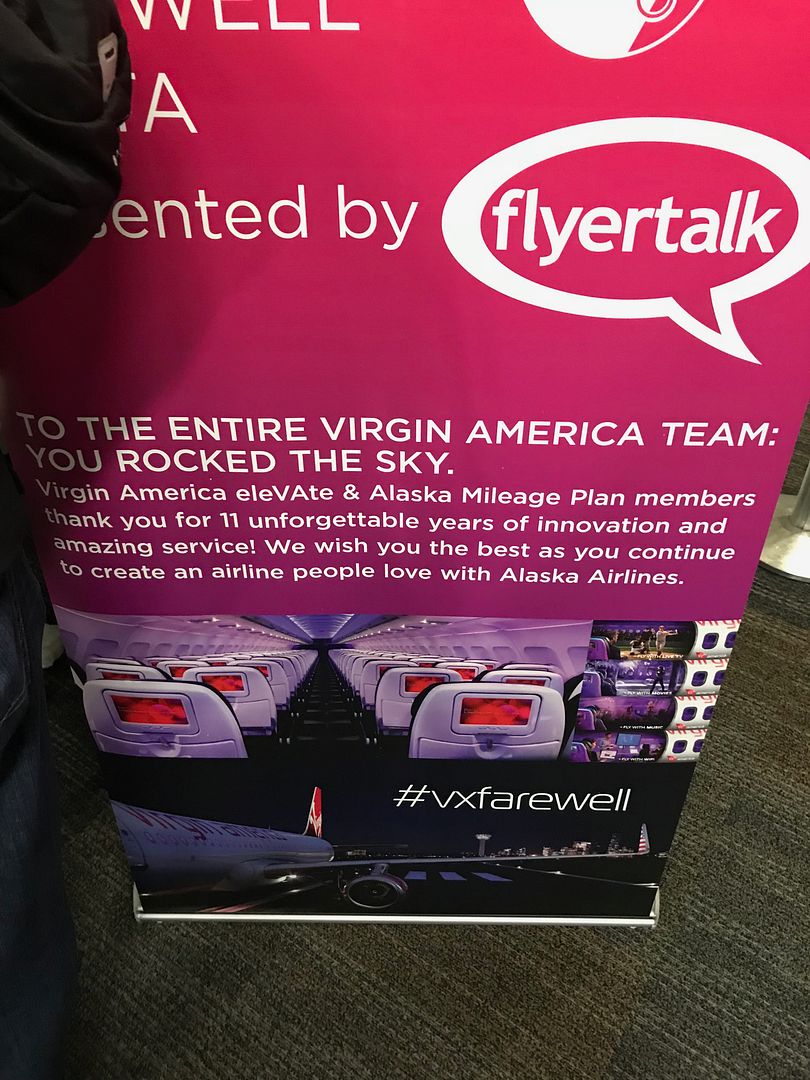 Here are the contents of the swag bags. Only things missing were the posters!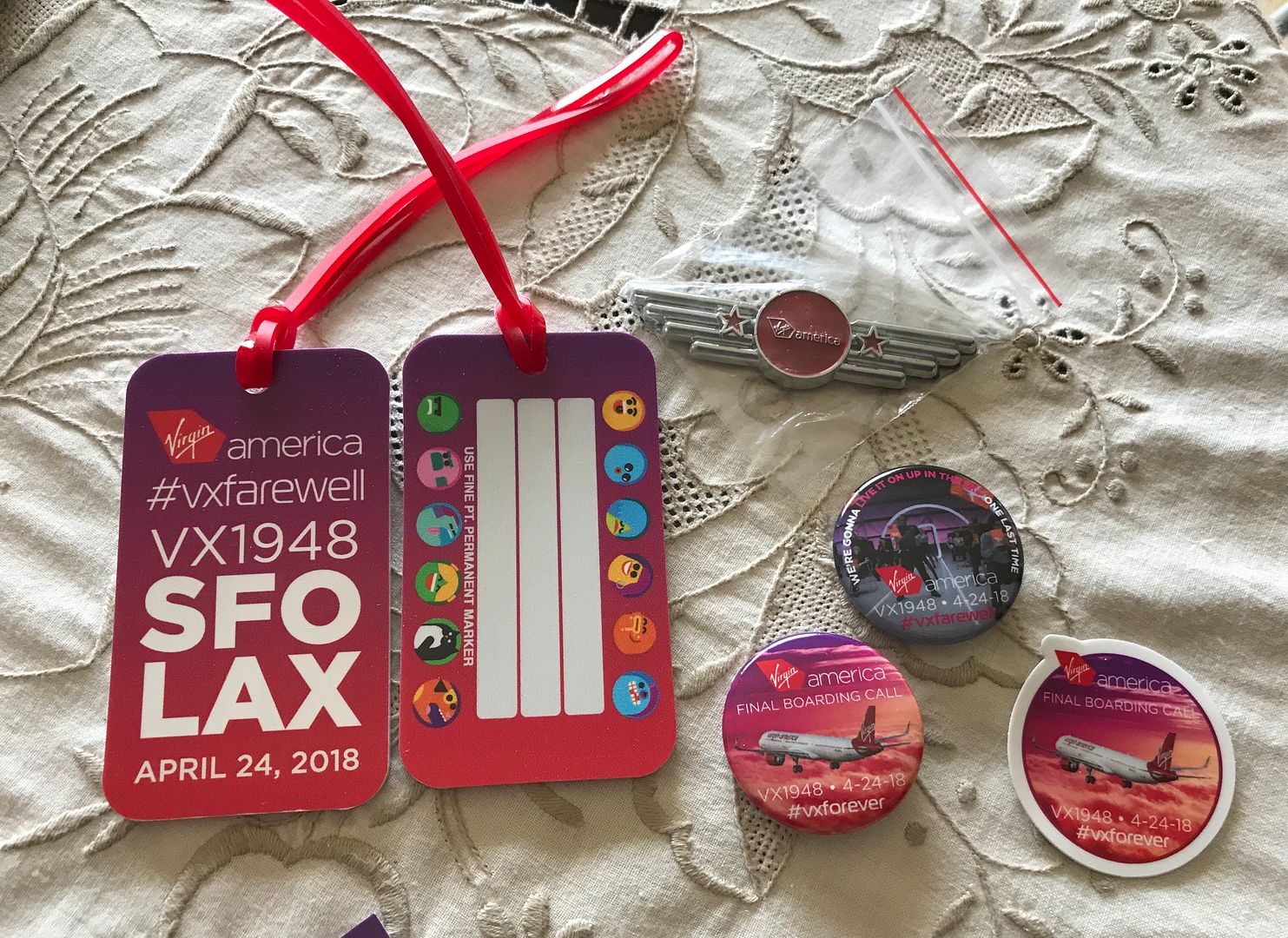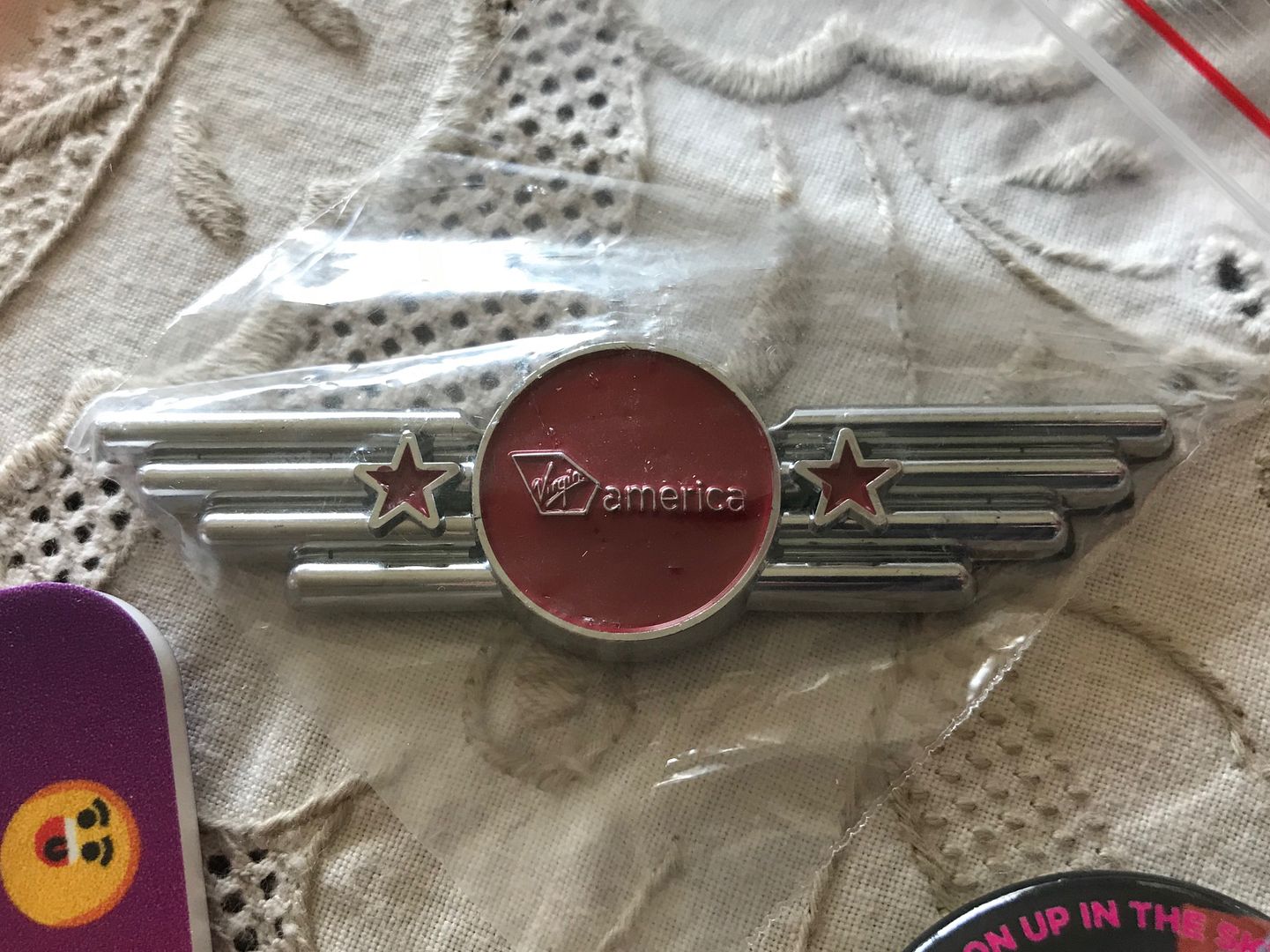 All the Virgin America's SFO team was present during this historic moment, and the gate agent was pretty emotional at times. There were some shouts… "Alaska sucks…" which honestly reflected some of my personal sentiments after seeing how much Alaska has gutted the whole Virgin America's experience. It is not unexpected but still hurts when you experience them. However, the notecards provided to all guests by FT specifically asked folks to refrain from booing Alaska, so the rest of the event was filled with claps, rather than boos. The Virgin America team also did a song and dance routine to the famous safety video too. There were both Alaska and Virgin America staffs taking pictures.
Boarding began at 8:44pm and it was rare that people were not rushing to get on board.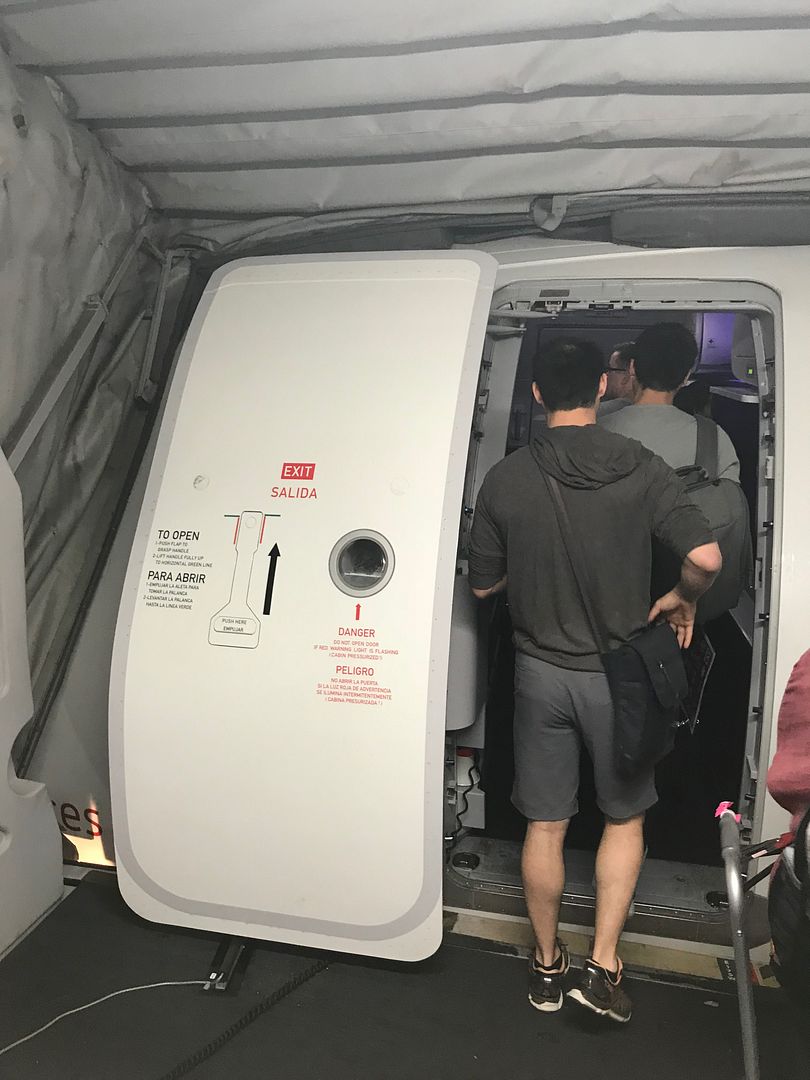 I am going to miss these sleeper seats the most, given how most Alaska first class seats are. As of this point, I am happy that Alaska finally gives first class seats 41 inches of legroom and power ports.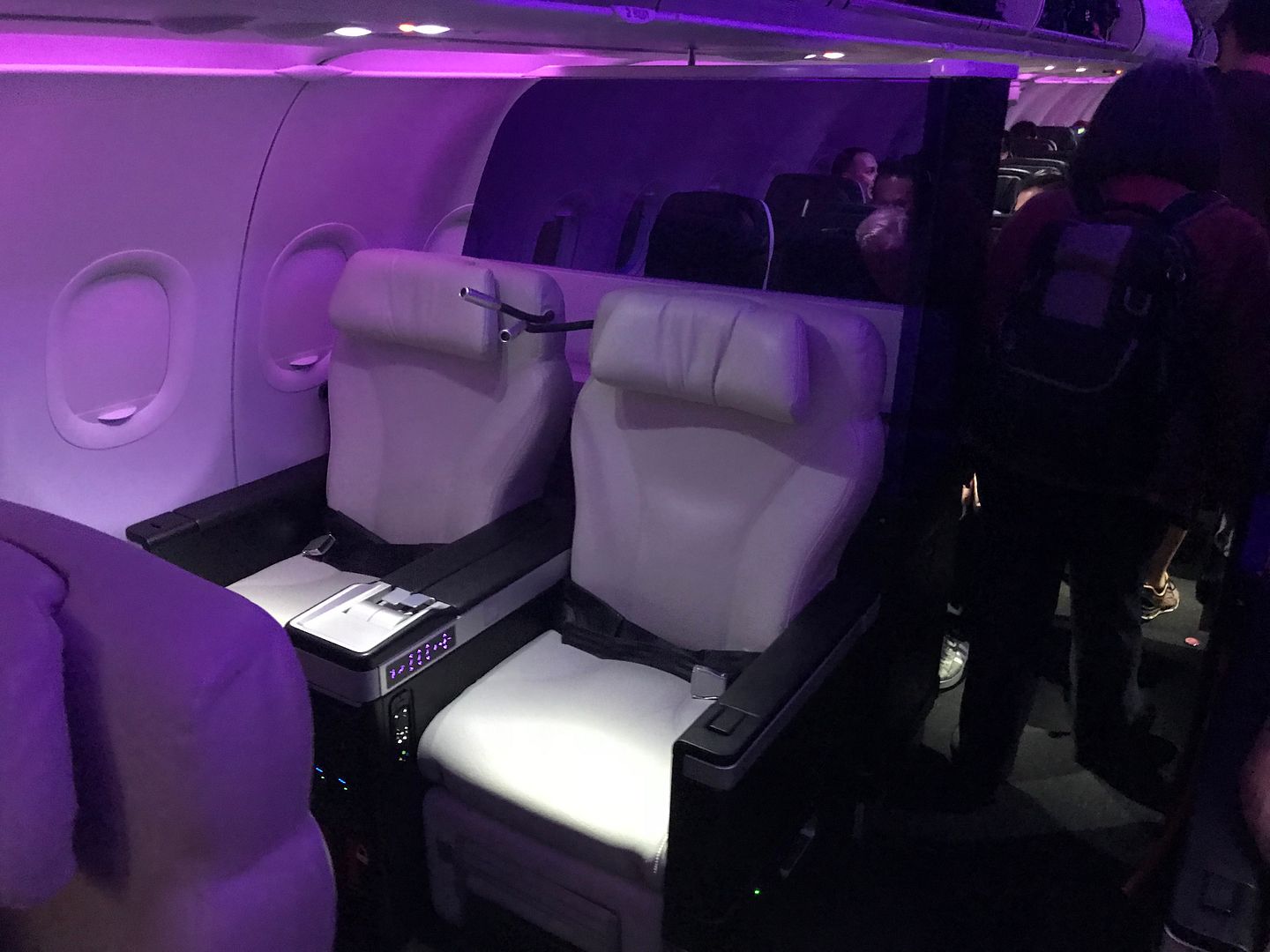 A lonely Virgin America's A320 sitting in the tarmac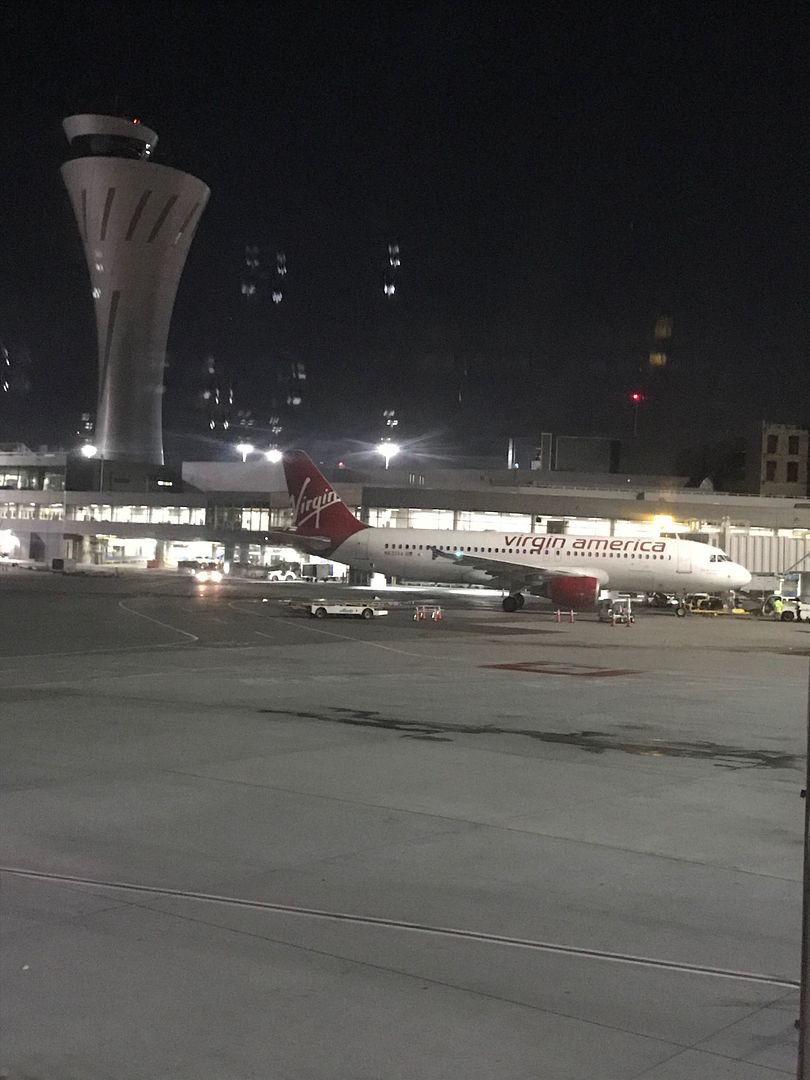 David, the first-class F/A and head purser, served us pre-takeoff beverage in of course, Virgin America's branded plastic cup.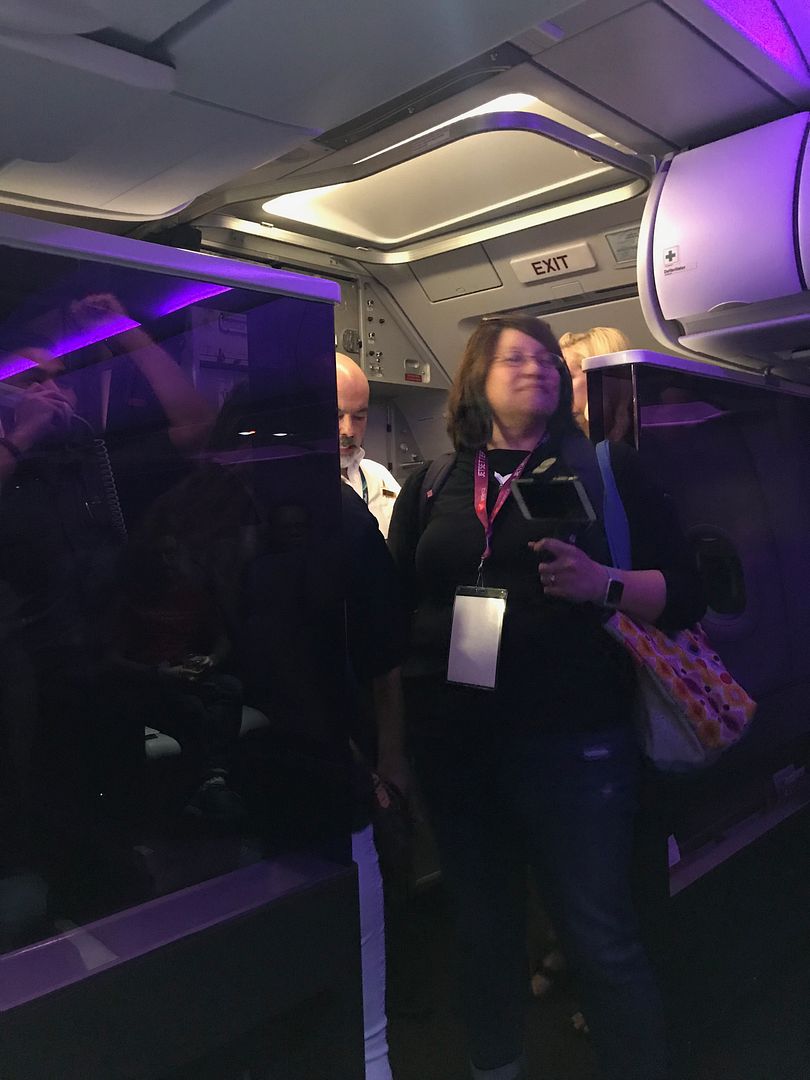 Door was closed early at 9:23pm and we pushed back four minutes later.
Farewell from ground crew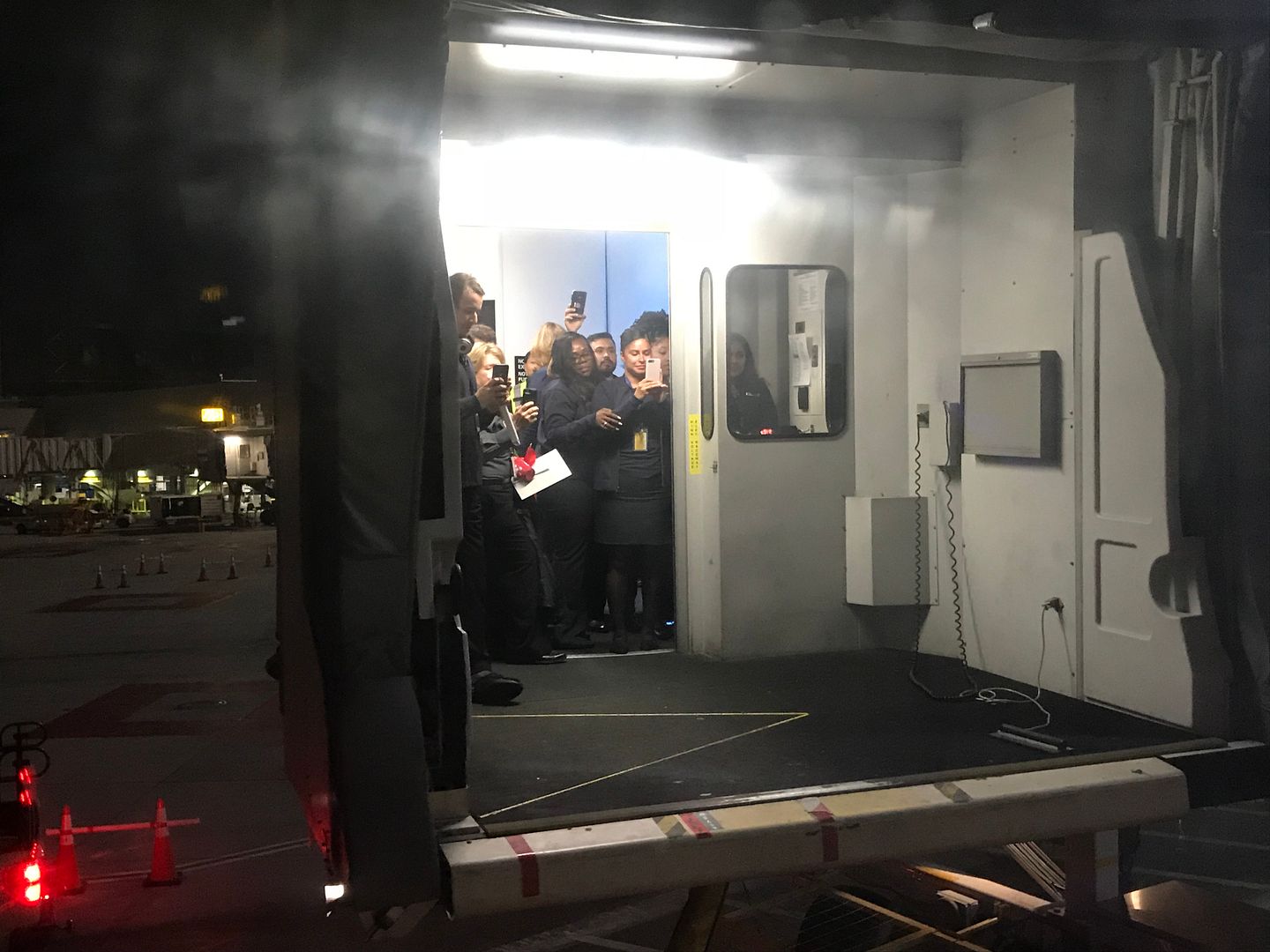 The other Virgin America's final flight to Newark also pushed back a few minutes before us. They would take off before us, so we would be the last revenue flight.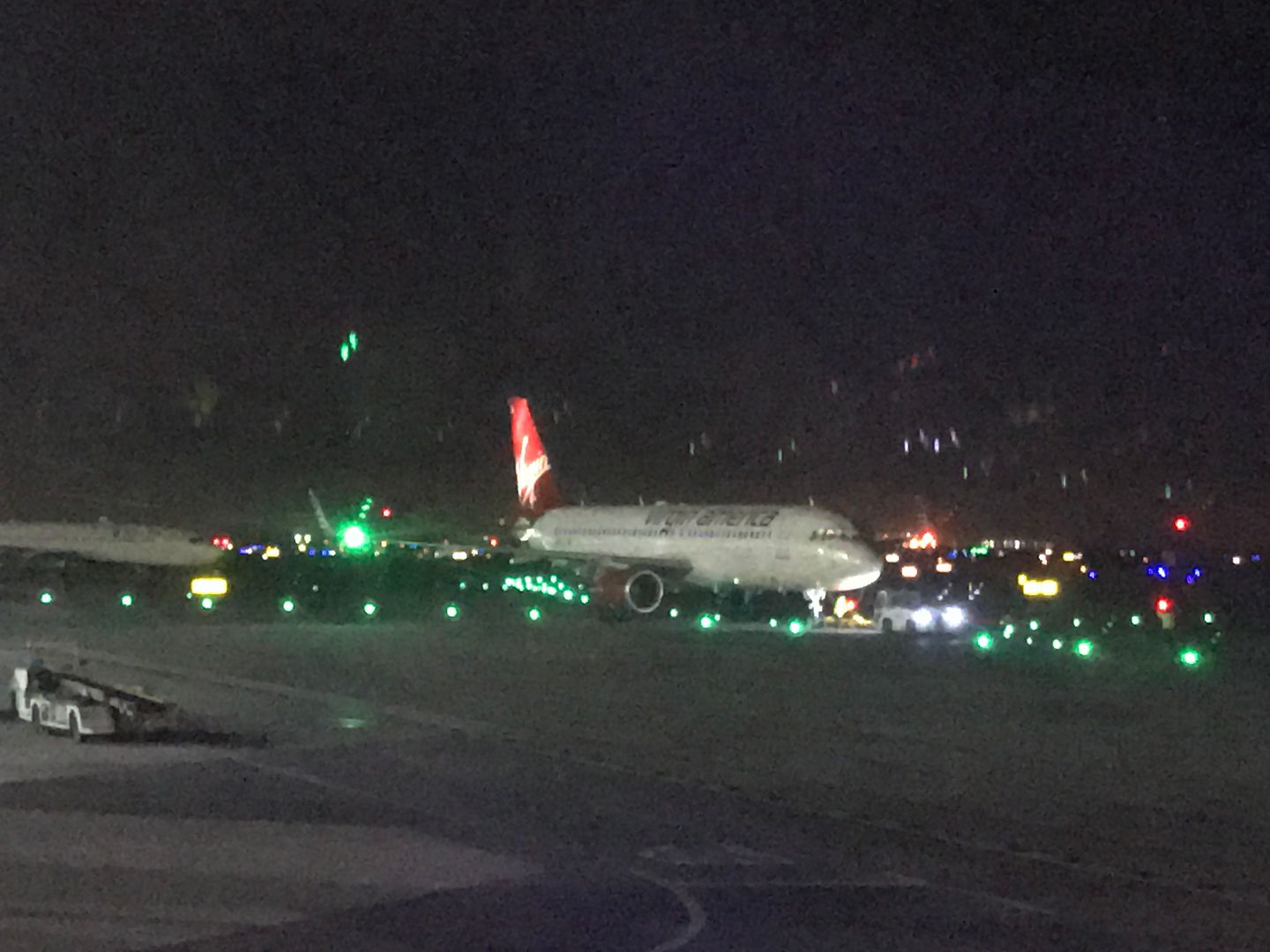 We took off from R/W1L at 9:41pm for our quick fifty-six minutes flight to LA. We stayed at 35,000ft.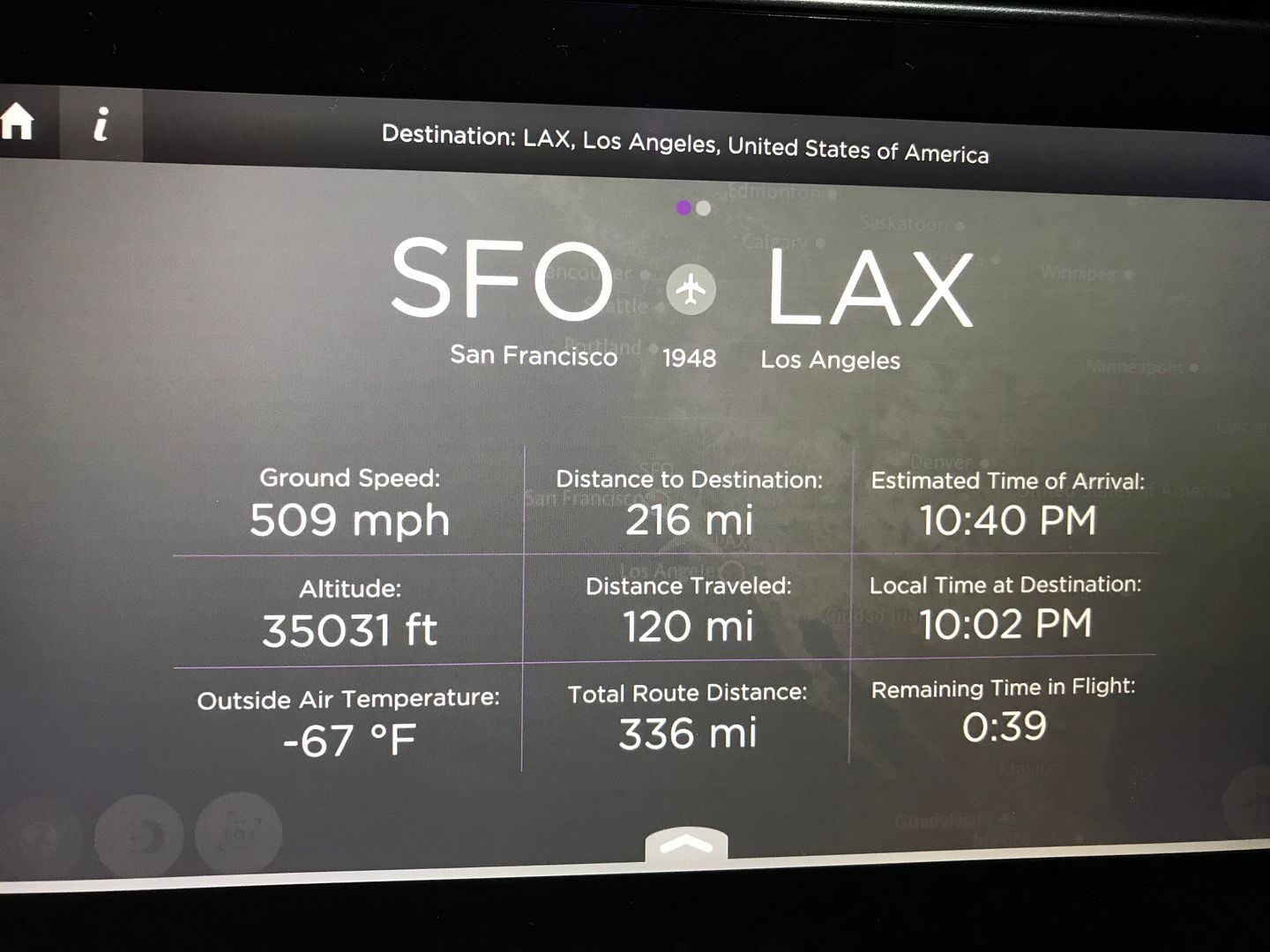 For first class passengers, we each got a hummus plate with crudité. I prefer the old Dean & Deluca snack basket to these quickly becoming tiresome hummus. I am even fine with warmed mixed nuts and cookies.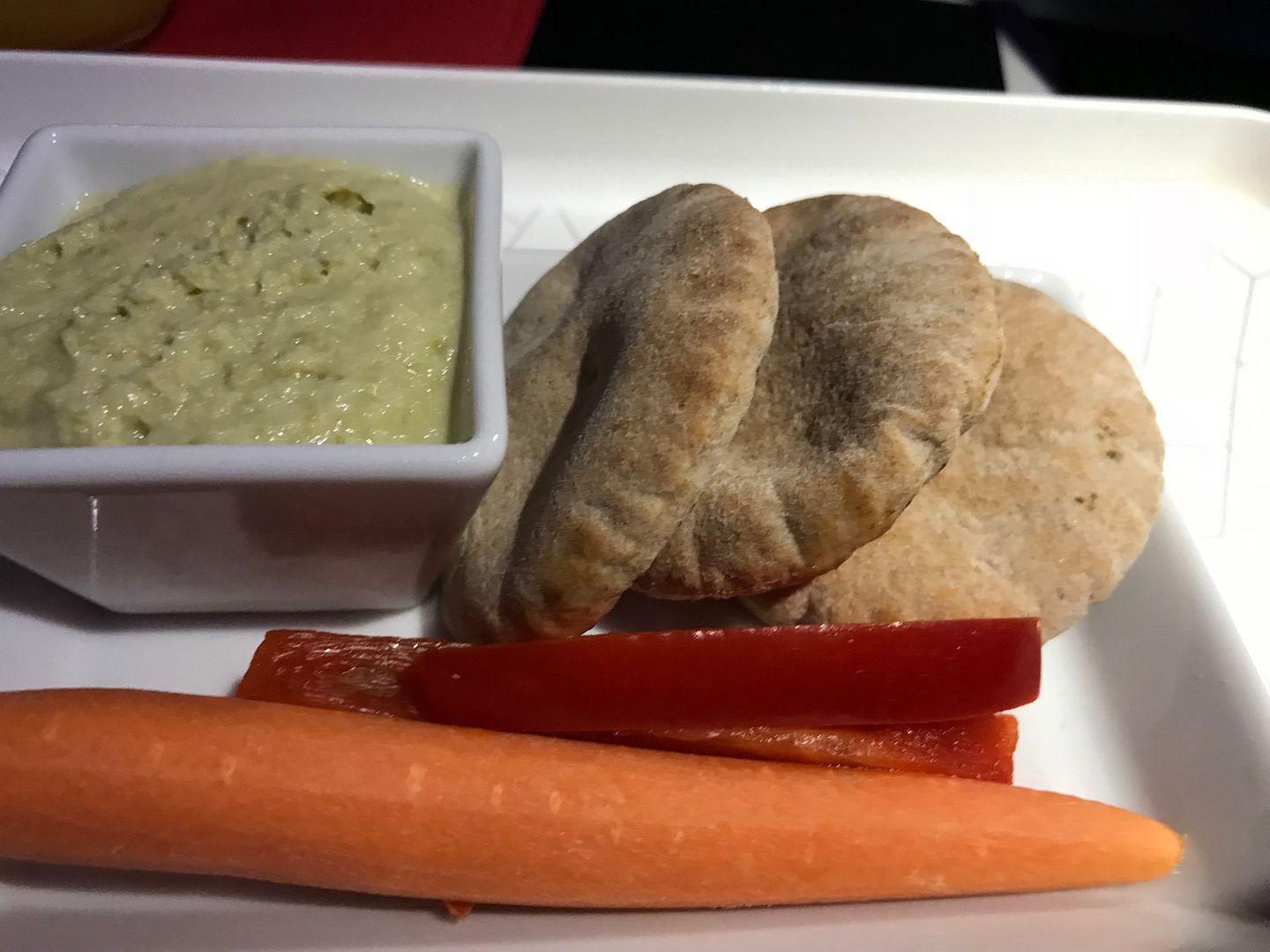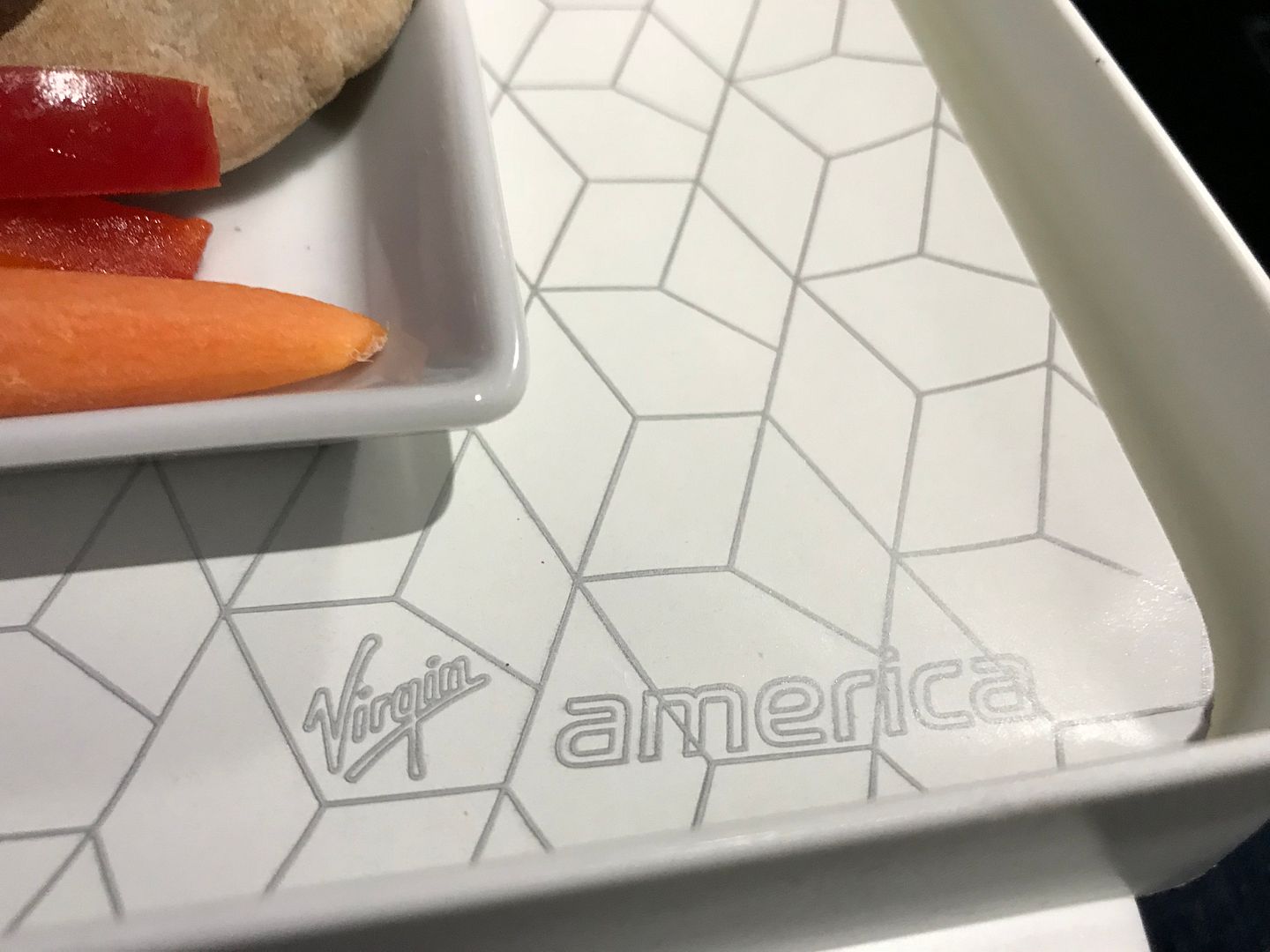 Mimosa on real Virgin America's glass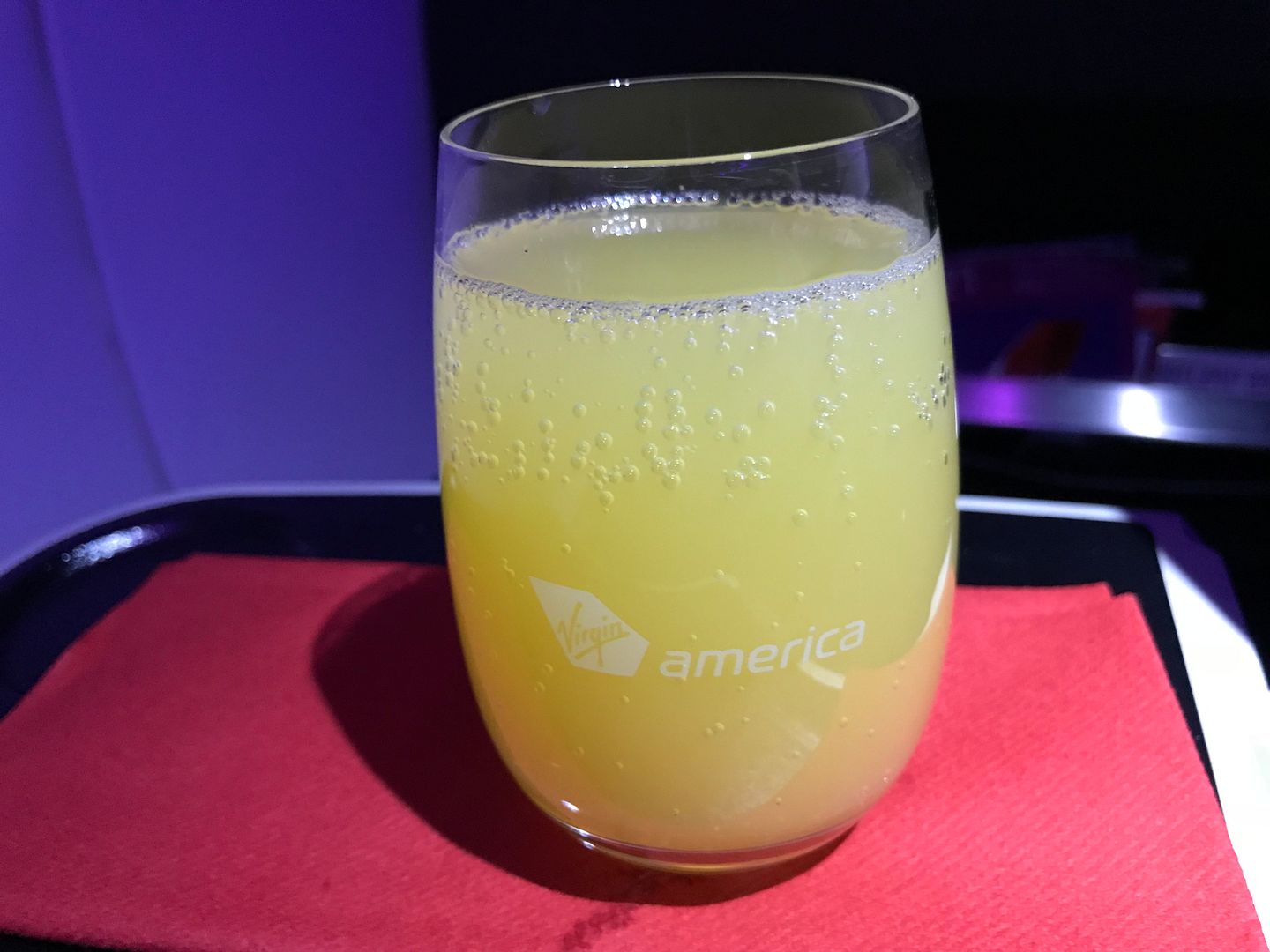 However, I wonder if those Virgin America's flights continue to features these Virgin America's dining ware after April 24…
Descent soon began at 10:12pm and "frances" landed in LAX last time as Virgin America on R/W24R at 10:37pm. Our call sign this evening reverted back to VX 1948, instead of the AS 1948, which had already taken place for a few months.
Taxiing time was a bit longer tonight, due to congestion in the taxiway. However, nobody seemed to mind the long taxi time. David played the safety video again, which made a great finale for the flight.
N922VA at gate 63
There was a midnight toast at the Alaska lounge later in the evening. I rarely saw the AS lounge this crazy.
Thank you to all the donors and flyer talkers in organizing this great event.
Originally, I have a feeling that this would just be a quiet farewell, as it was evidenced that many Alaska staffs were getting ready for the midnight switch. Although Alaska actually did great inaugural parties, they are practical, rather than extravagant. As I walked out at LAX, I noticed that all the kiosks were already replaced by Alaska kiosks, and all the Alaska signs were already up. Without the initiatives by flyertalk, it would just be a quiet goodbye. At least Virgin America went out with a bang, just like its inaugural flight ten years ago.
My journey with Virgin America is not always perfect, but most of the times, it was fun. I sincerely hope all the staffs will continue to have a career with Alaska Airlines. Despite Alaska Airlines has already gutted all the good aspects of Virgin America, its speedy ending perhaps is a good thing. It will help us and their staffs to move on. Alaska Airlines indeed has some positive aspects, such as a great mileage program, along with great website and great phone services, which I unfortunately cannot say the same for Virgin America. One thing that I will not miss is the website, especially many issues with their payment system. Once again, many thanks to the great flyertalk team in organizing this farewell! I have tons of fun and Virgin American got a great and well-deserved farewell too!
Thank you for reading, and happy flying!
Carfield