Virgin Australia Hong Kong Trip Report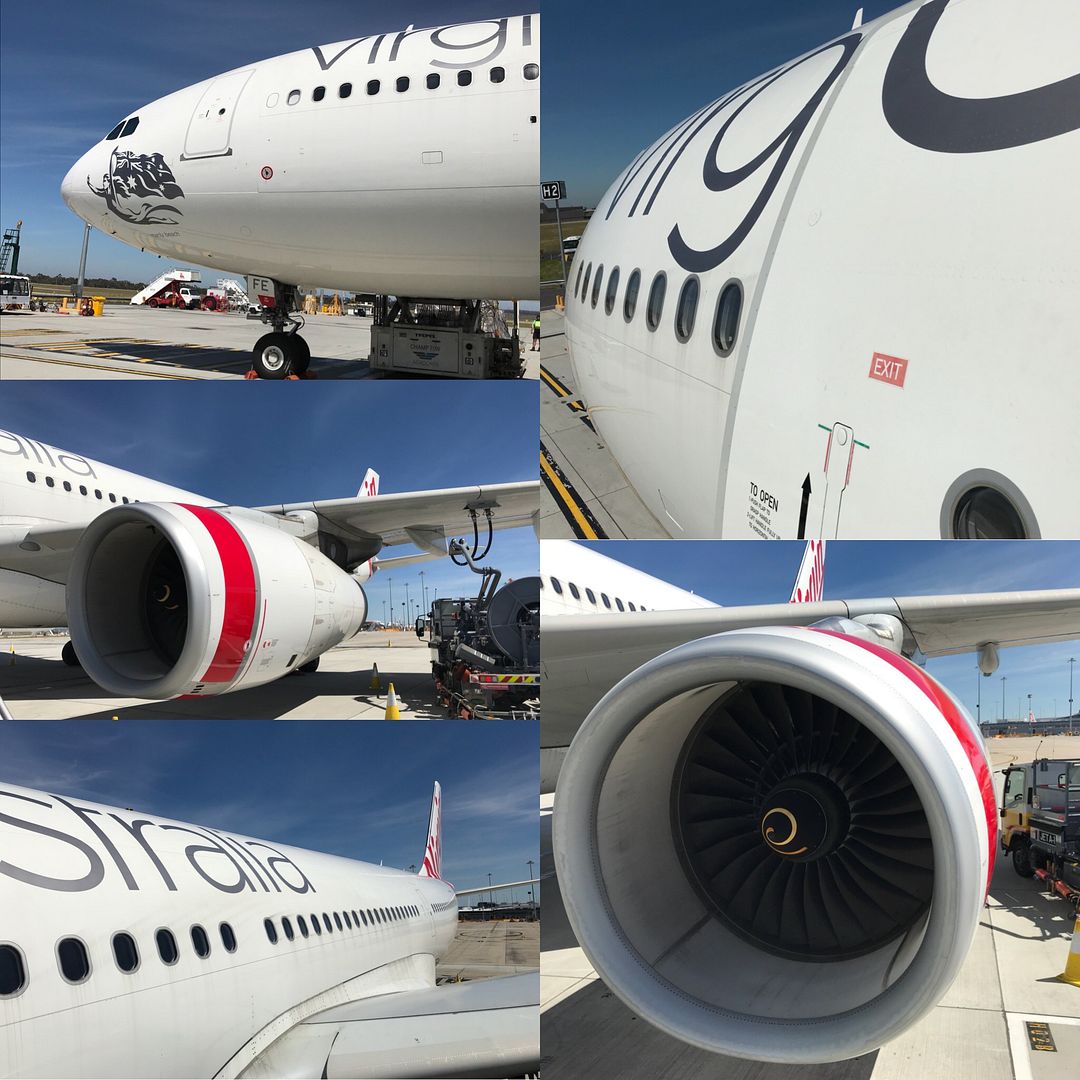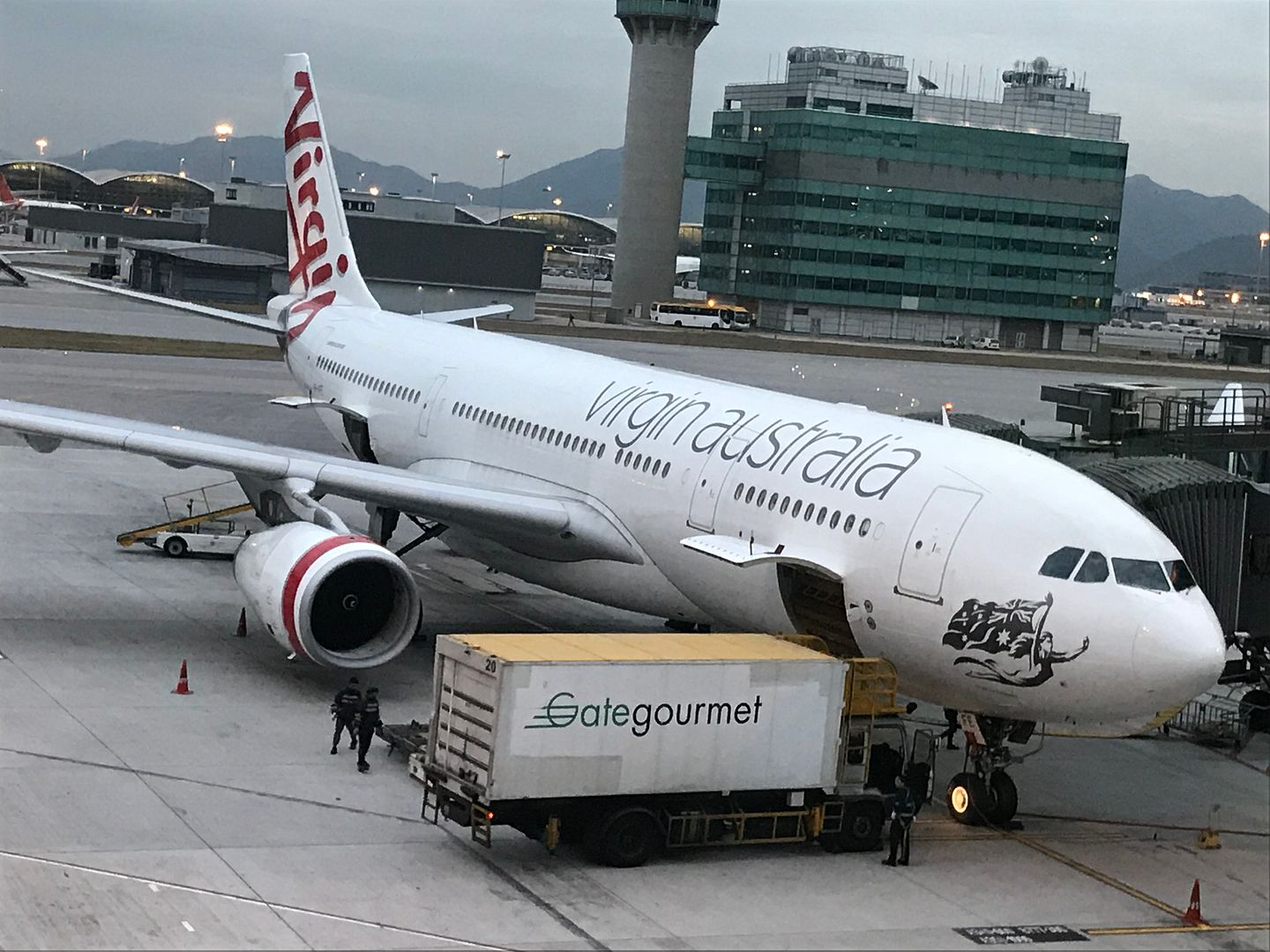 Since there has been little detailed reports on the six months old's Virgin Australia flight between Hong Kong and Melbourne, I have decided to share my experiences in Virgin Australia's business class on this roundtrip. Virgin Australia obviously tries very hard to establish itself as a formidable competitor, especially both Cathay Pacific and Qantas offers a decent onboard product in all cabin classes. It is fair to say that Virgin Australia easily beats both CX and QF, in terms of catering, amenities (pajamas included even in day flights on the return segment), and service. In terms of the individual suites, three of them are comparable and have pros and cons, but both three offer individual aisle access and a good suite product. However, Virgin Australia's A330s are definitely showing signs of wear and tear, despite being five years old or less. It is common among this new generation of seats that are easily scratched. Despite of its superior service, the arrival and departure experience in Melbourne was anything but stellar. I was lucky enough that we had to use bus gates for both flights, and it was just utterly disorganized. I don't know if Virgin Australia is a late gamer or has to switch the aircraft use between domestic and international flights, but parking the plane in the domestic pier and then busing passengers to international terminal is a hassle, not to mention they like to cram those buses. When low cost airlines such as Scoot and Air Asia X are using real gates with jetway, it is just a poor impression when full service premium airlines, like Virgin Australia, have to use a bus gate. My other issue is relatively minor, which is more of a cultural issue. All the written Chinese communications, including entertainment system and printed menu, are in simplified Chinese, despite Hong Kong people use traditional Chinese characters. It is clear that Virgin Australia has its eyes on China, but as of now, they are only flying to Hong Kong, and it is only respectful to use the written form of Chinese that Hong Kong people actually read and write. There is still a Hong Kong Airlines' ambassador [basically interpreter] on each flight and I wonder how long that will last, and I guess it depends when Virgin Australia will start using its own Chinese speaking F/As soon.
January 10, 2017
VA 86 Hong Kong to Melbourne Lv1950 Arr0815 Airbus A330-200 VH-XFE "Manly Beach"
Check-in:
Hong Kong Airlines handles all the ground services for Virgin Australia in Hong Kong, but VA has a supervisor here. Airport Express service was offered at counter 16, which was shared with Hong Kong Express. I believe that you can do early check in but if you have to check in a bag, you cannot do check in the night before, only on the day of the flight. At HKG, it uses aisle G. The HX agent was friendly but it was clear that she was not over familiarized with VA's system. In the end, she managed to enter my SQ Krisflyer's number and checked my bags all the way to Auckland with the priority and international transfer label. She gave me an invitation card to use Hong Kong Airlines' Club Autus in the Midfield Concourse, and addressed me by my last name throughout the check-in.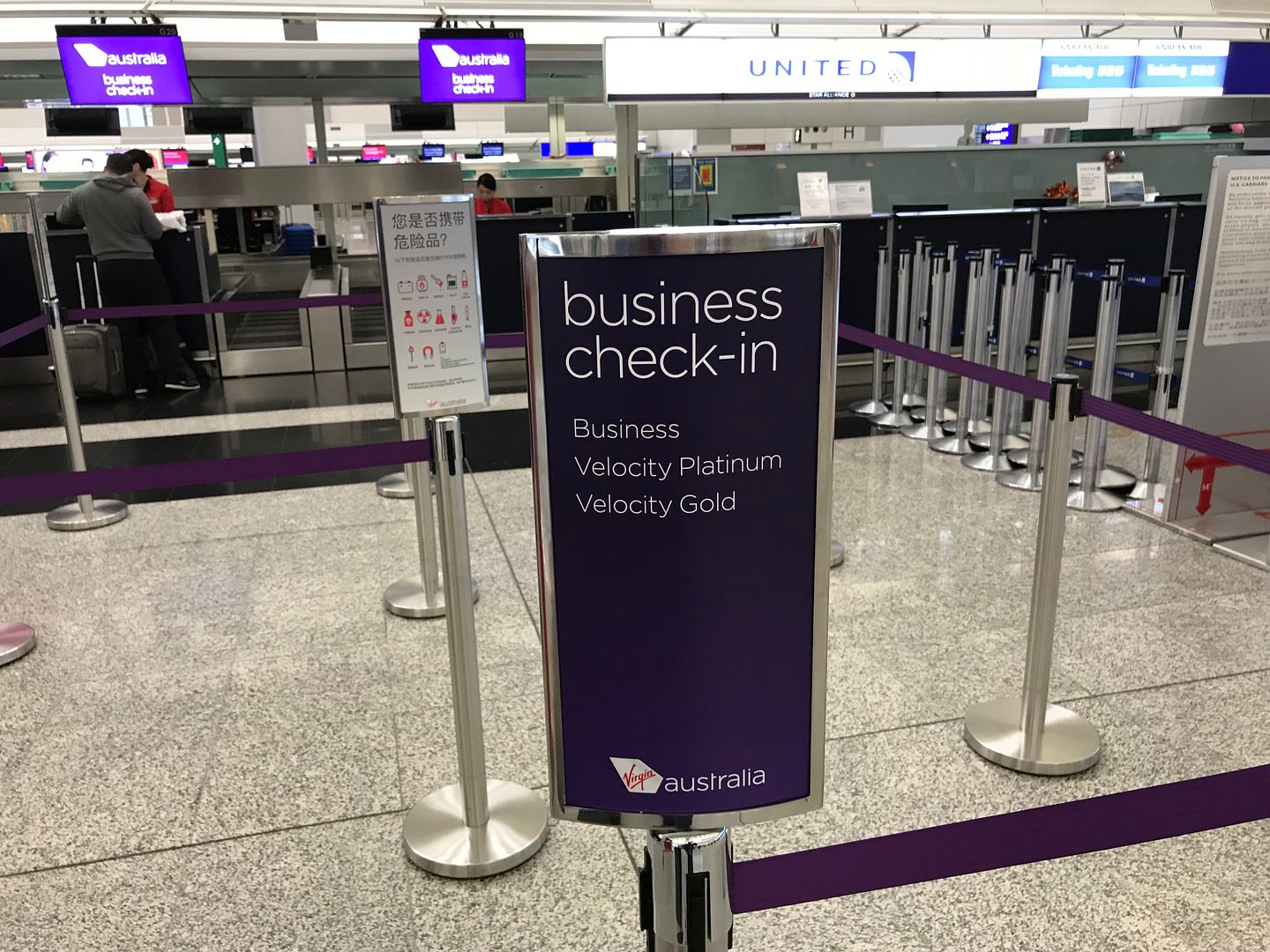 Lounge:
Club Autus was basically the official lounge for most of the airlines operating in the Midfield Concourse, except the Star Alliance carriers, which use the lounges in the main terminal building. I wonder if the Lufthansa group has plan to build its own lounge here at the Midfield Concourse. HX's new Club Autus is really a nice lounge with plenty of seating area and an open view of the apron and the parallel run ways. In terms of food, it is still oriented towards Chinese passengers and I like the theme of Hong Kong local food. As a local, the noodle bar is nice and, in some ways,, the variety and portions are better than Cathay Pacific. However, Cathay Pacific is superior in all other areas, including more international selection, better beverage selection, including both alcoholic and non-alcoholic, and better variety of fresh fruit and salad. Service wise, Hong Kong Airlines' lounge staffs are some of the friendliest people you can find, which is better than CX. The staffs are super helpful and are more approachable. They are more proactive. It is clear that they have more to prove than CX, which is suffering from low morale and more subcontracting.
All HX partners use this lounge too.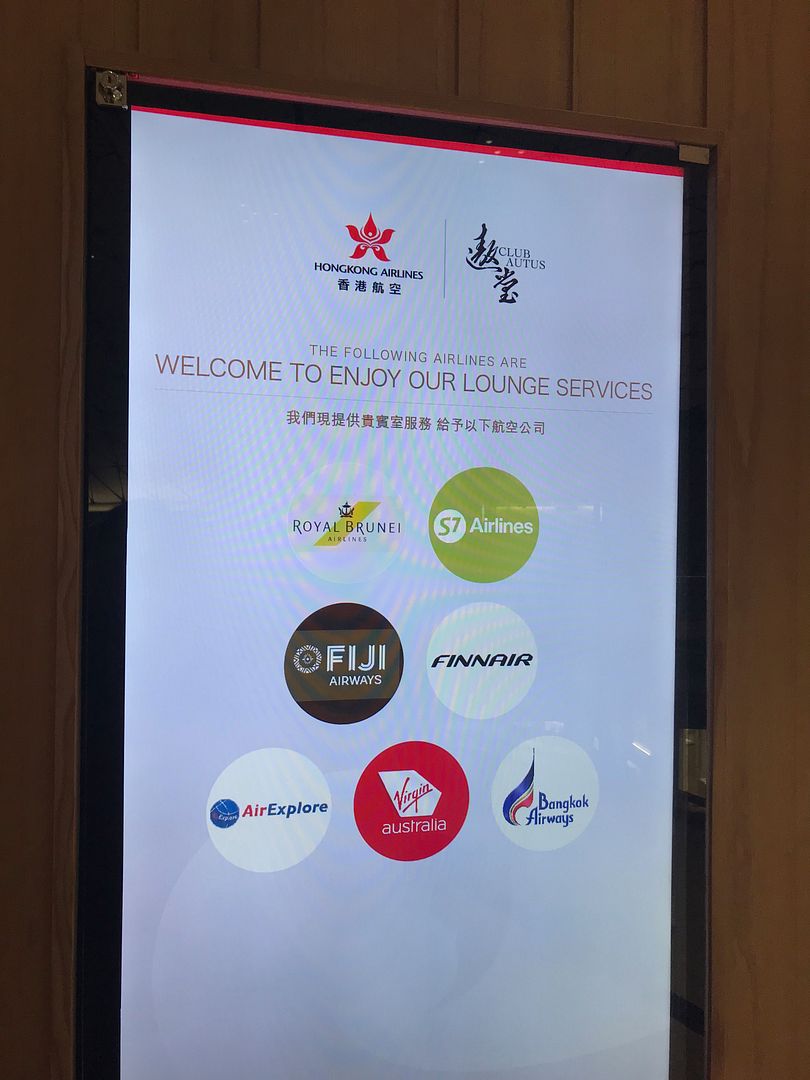 Full bar: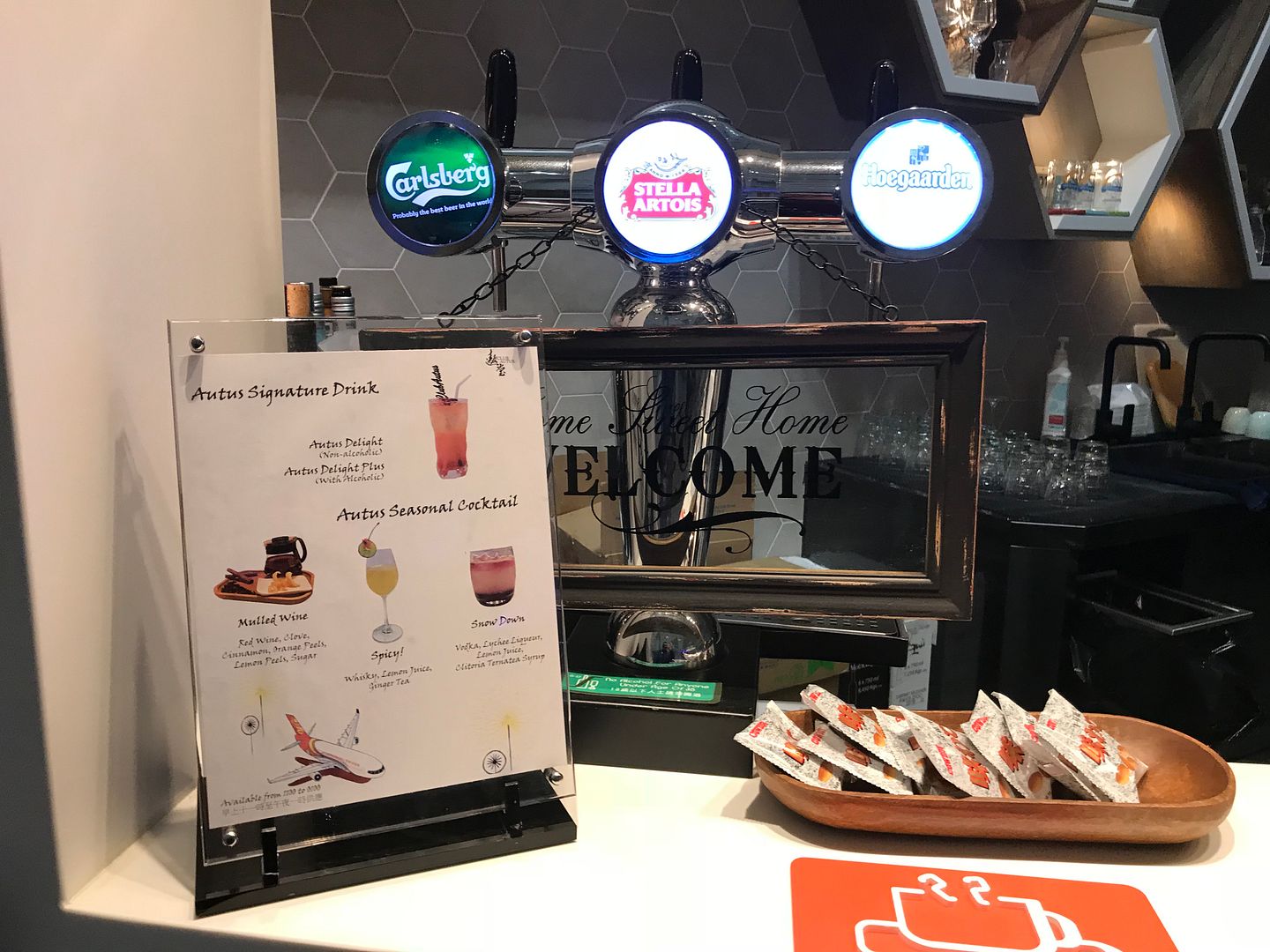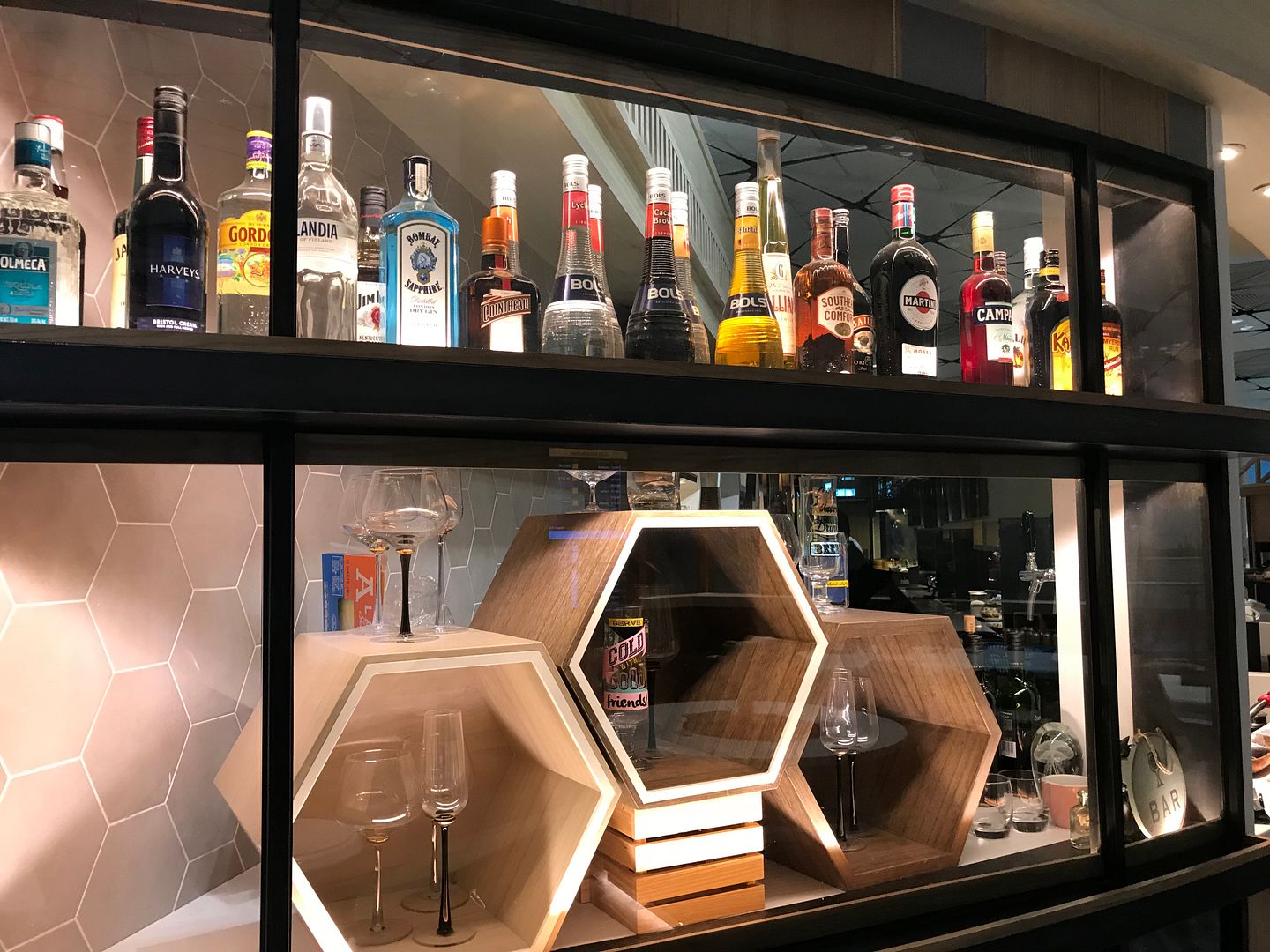 Noodle bar:
Food buffet: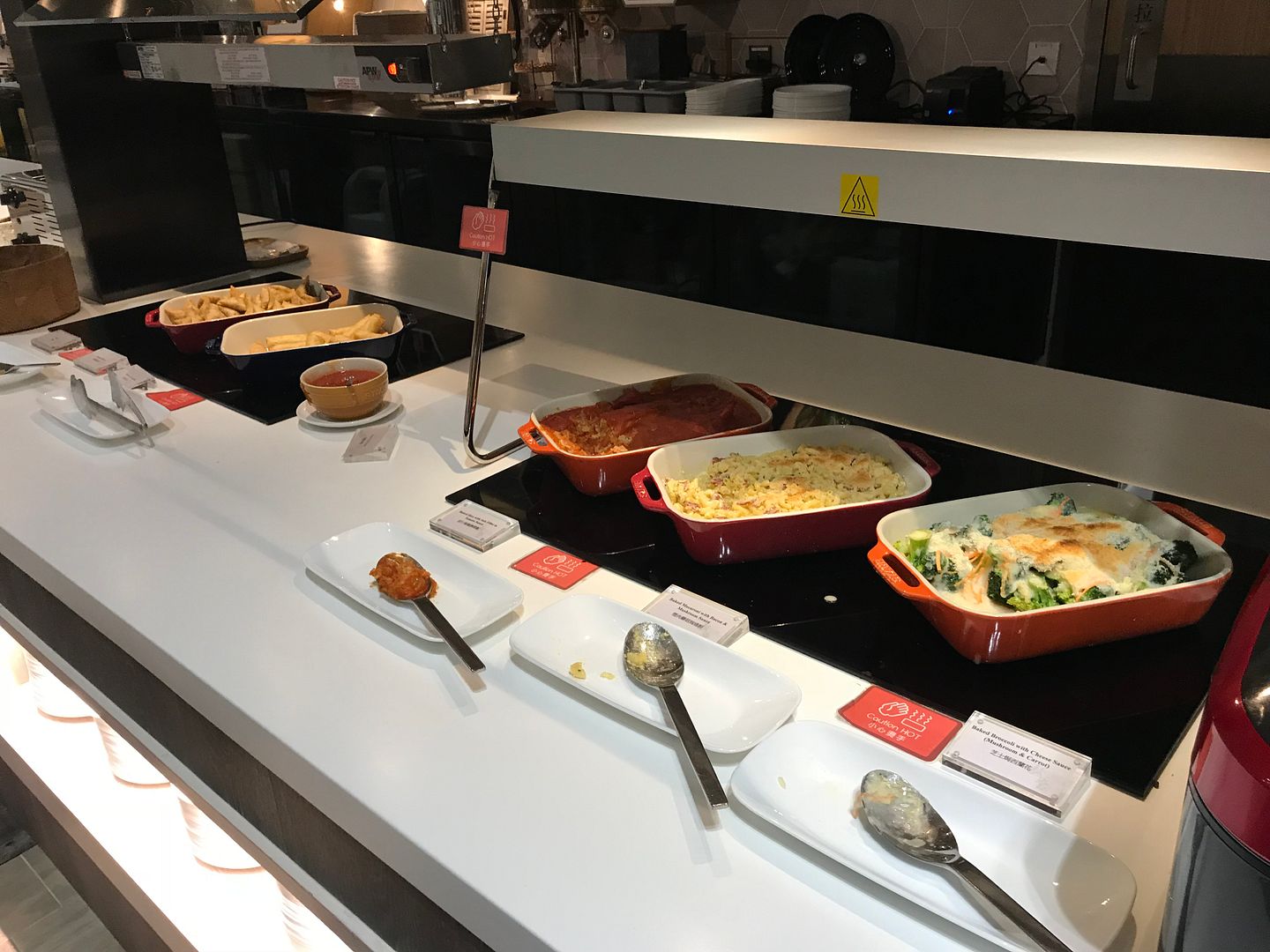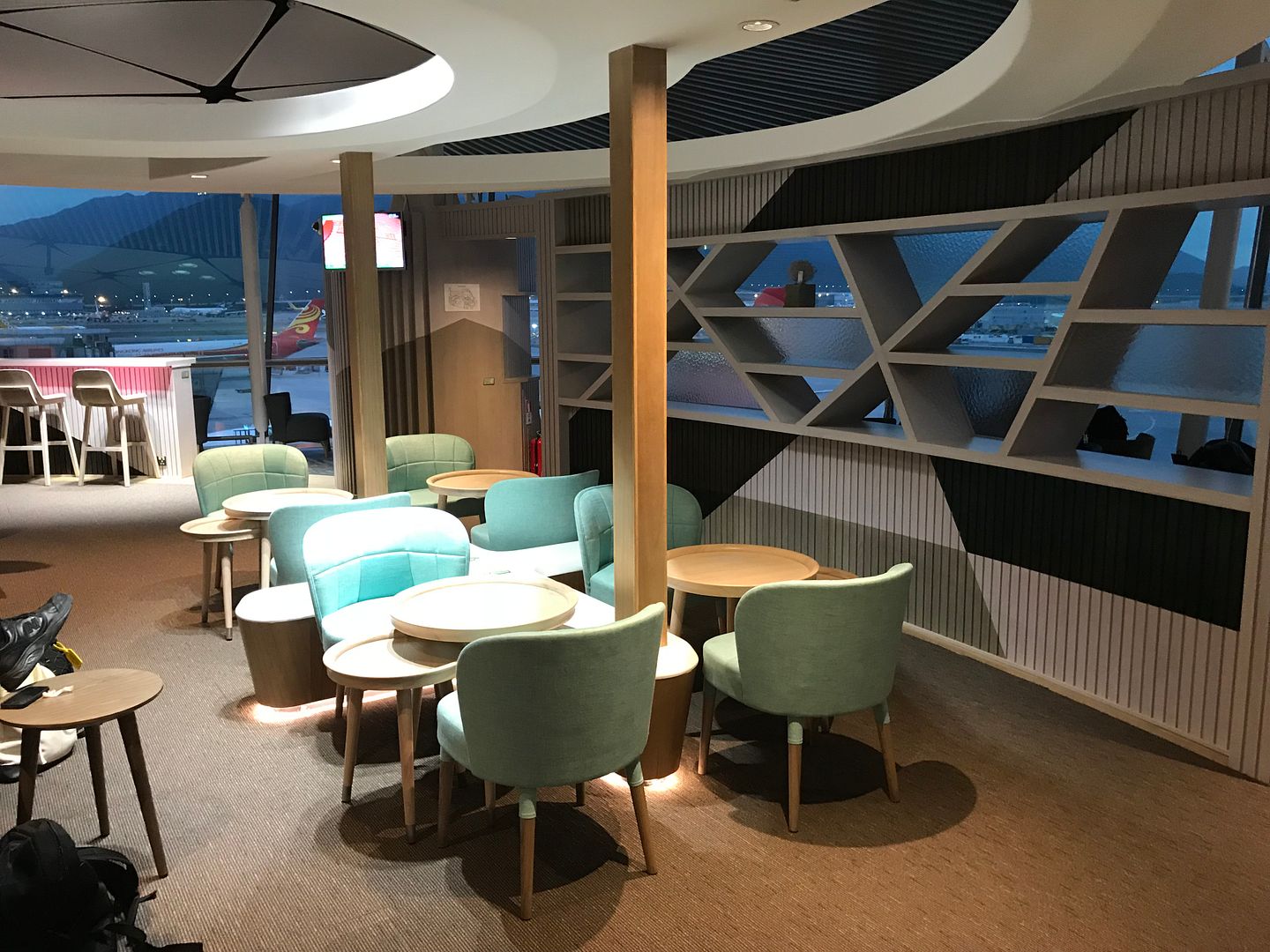 View by windows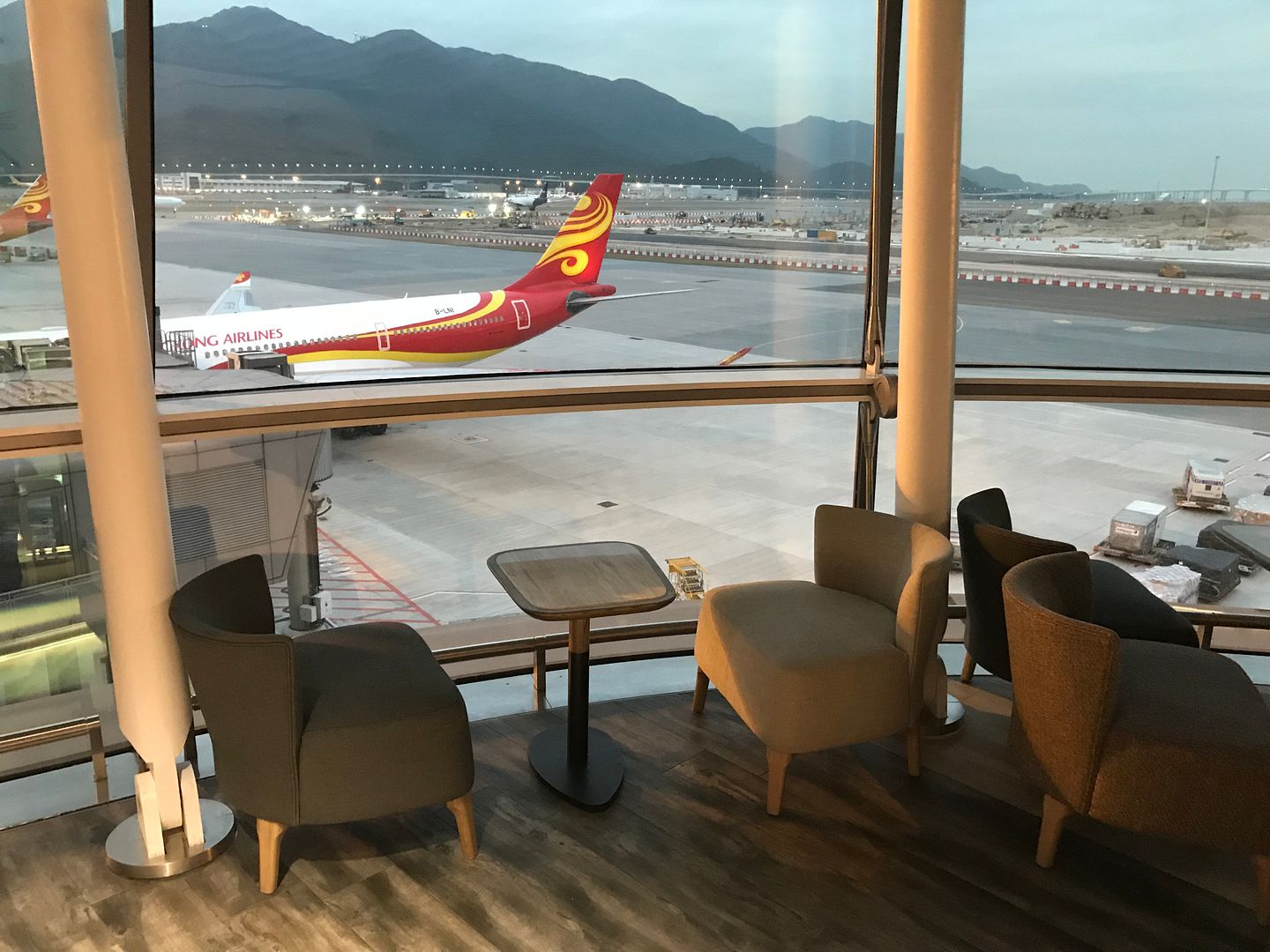 Gate:
The aircraft arrived early from Melbourne and I took some pictures before it got dark at gate 209.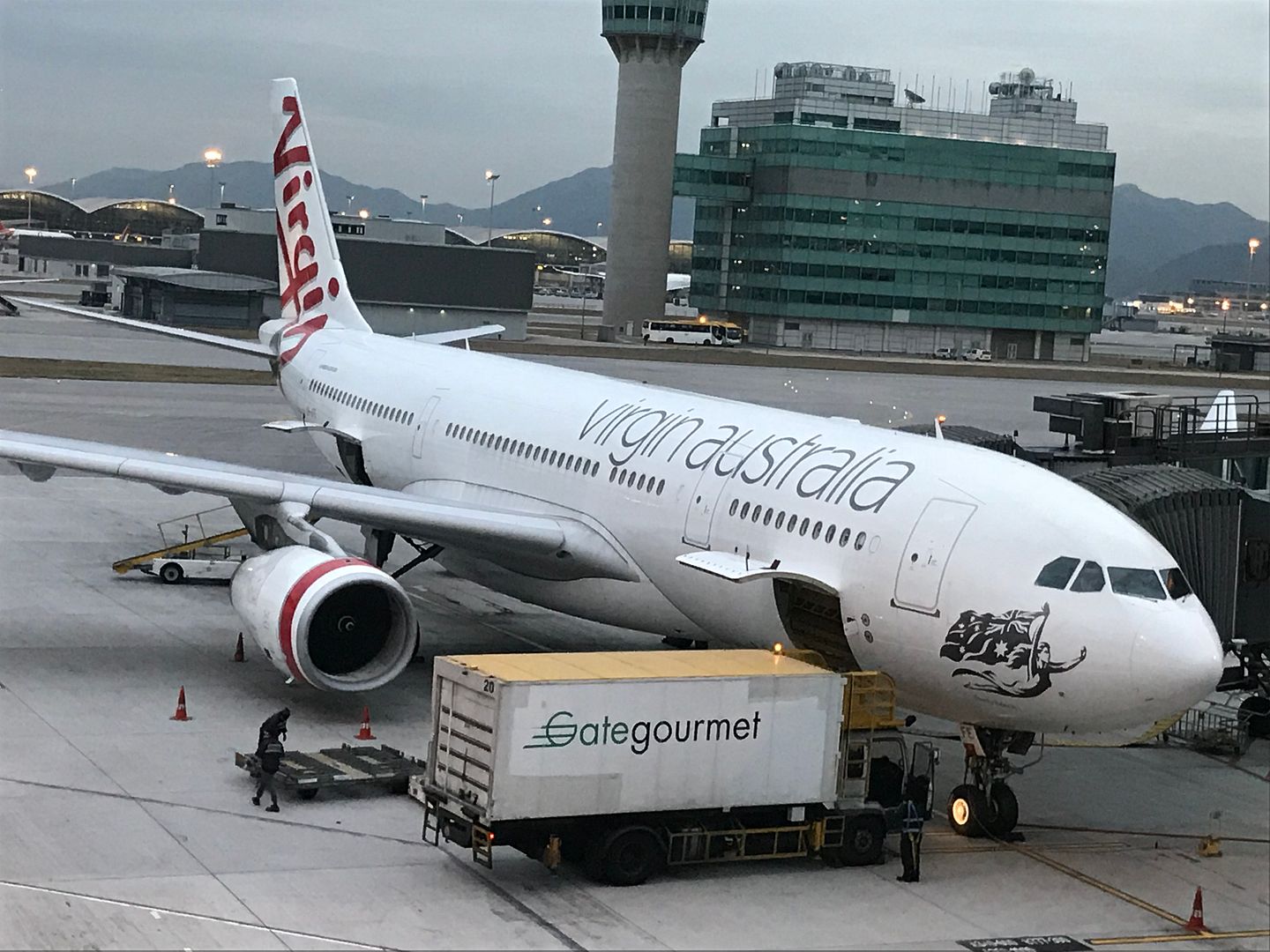 I went back to gate 209 around 7pm, and "Manly Beach" was getting ready.
Boarding was very organized with separate priority lanes. The first passenger boarded at 7:08am.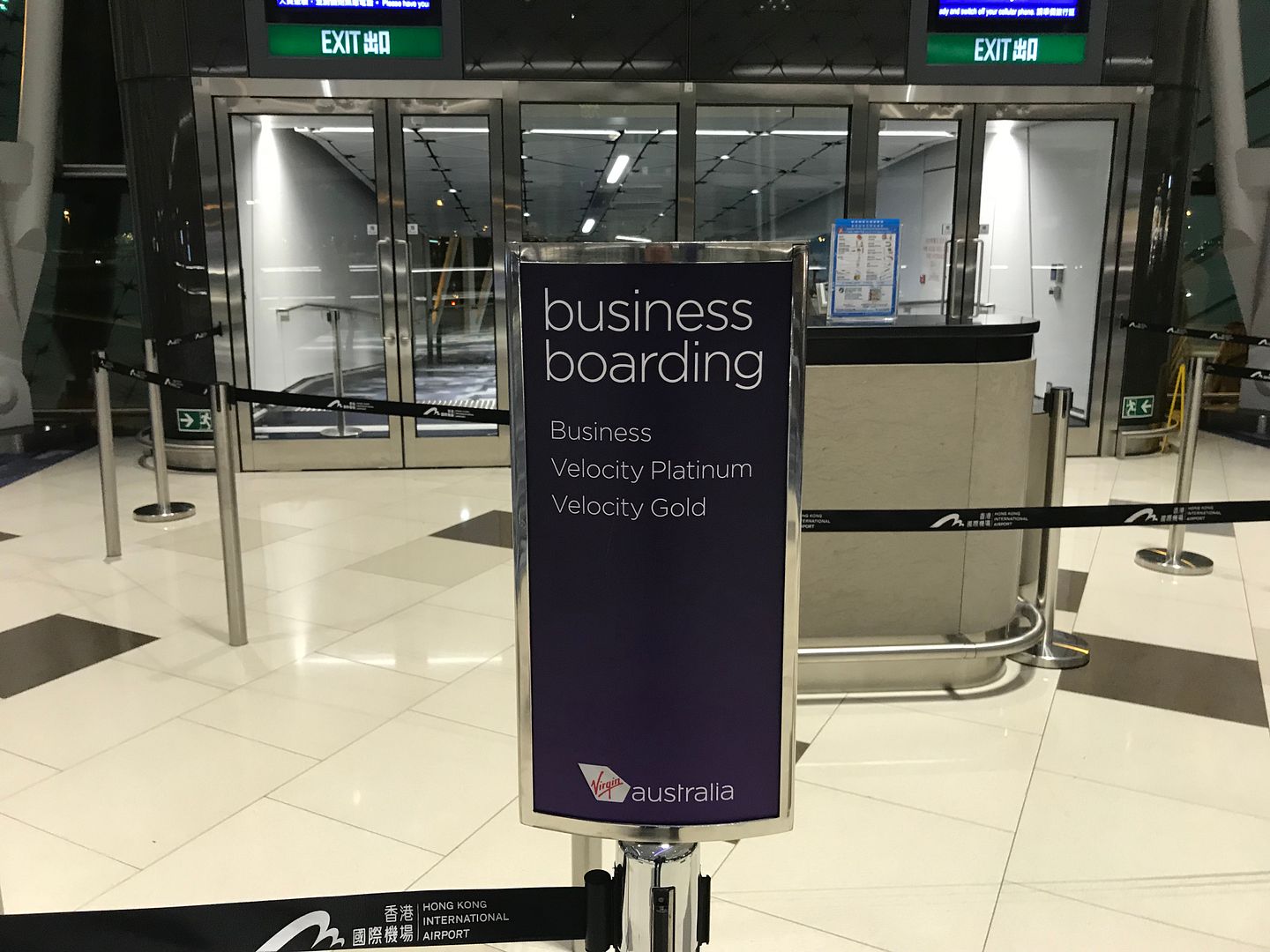 Cabin:
The inflight manager was already by the door checking boarding passes and I was immediately welcomed back and addressed by my last name. I think there are plenty of Virgin Australia's A330-200 business class cabin reviews out there, so I am not going to say much more. Here are some of the pictures of the cabin the night mode.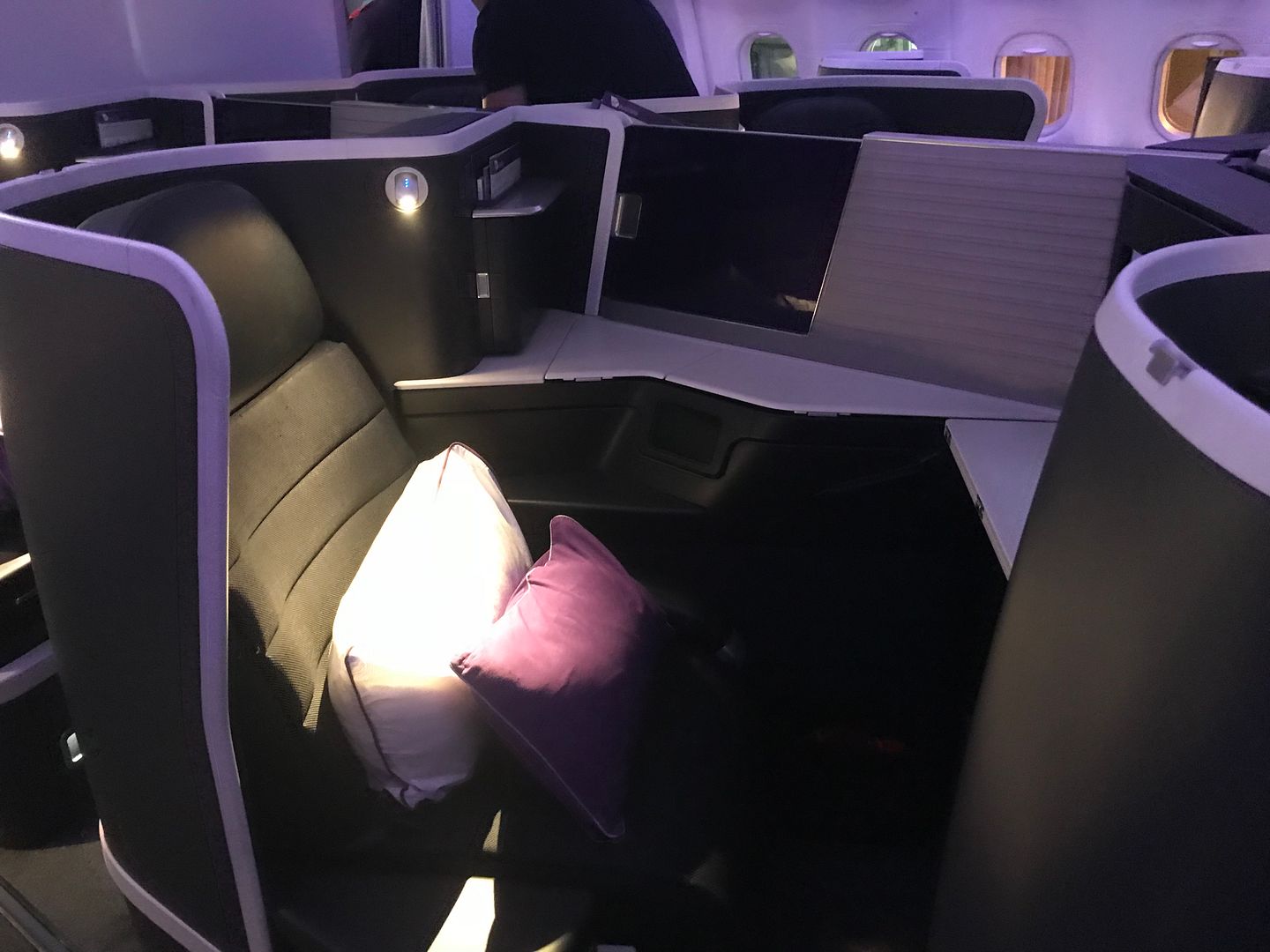 I settled in 3K soon and the flight was pretty full with only one or two empty seats. Brodie was the F/A in charge of my aisle, and immediately approached me with amenity kit and a tour of the suites, as well as taking order for my pre-takeoff beverage, which is served in real glassware. Menus were passed out, along with breakfast card. Since it was a short overnight flight, Brodie was asking if passengers wanted express service or needed him to set the bed after takeoff. He was also a bit more proactive in asking passengers to fill out the breakfast cards.
I had some sparkling wine.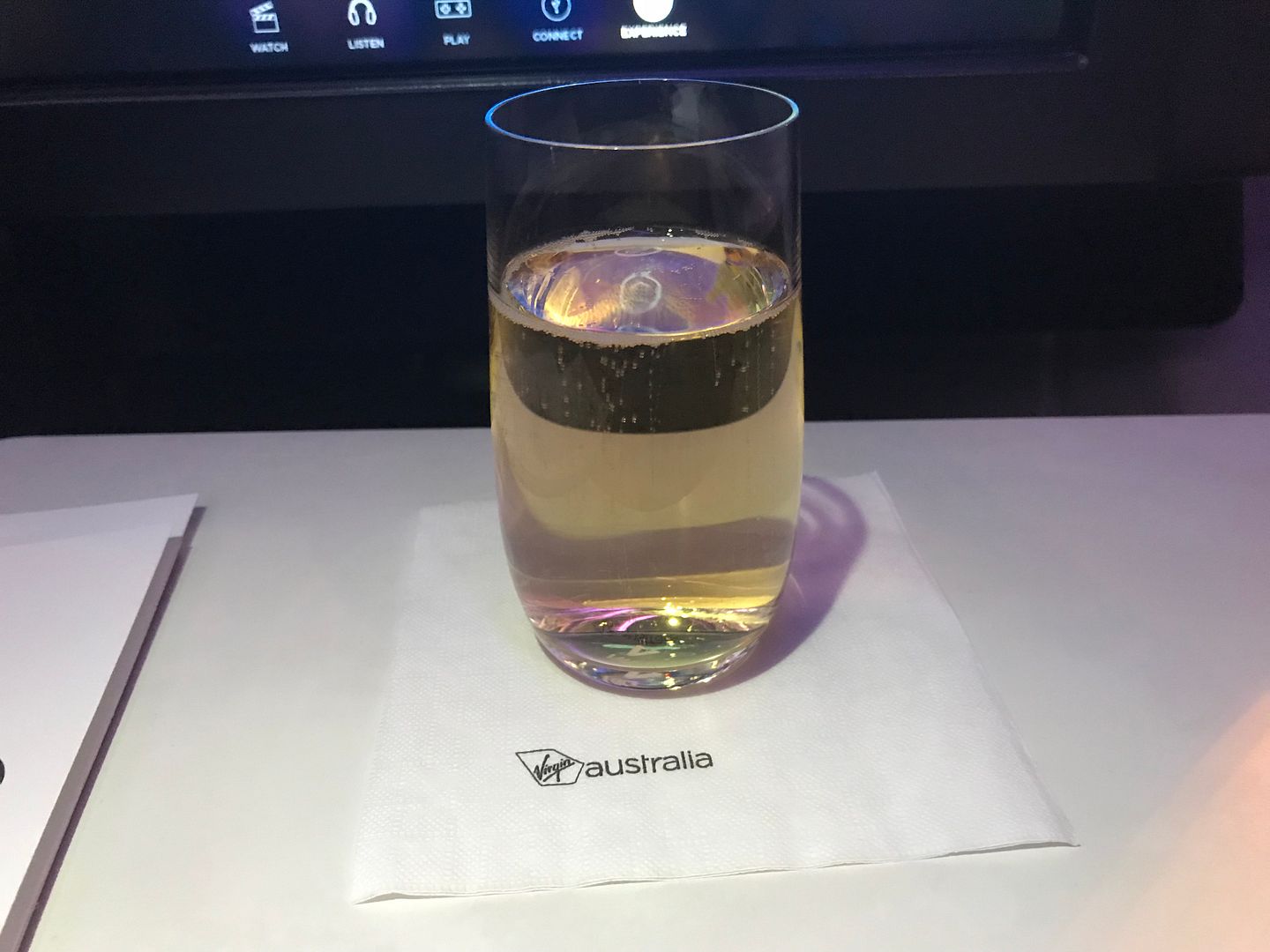 I was happy to report pajamas and a full-sized amenity kit was offered on both Hong Kong to Melbourne and return flights. Here is the amenity kit and its contents. The amenity kit was much better than CX, and designed more towards first class than business class. The bag was pretty sturdy too.
Amenity kit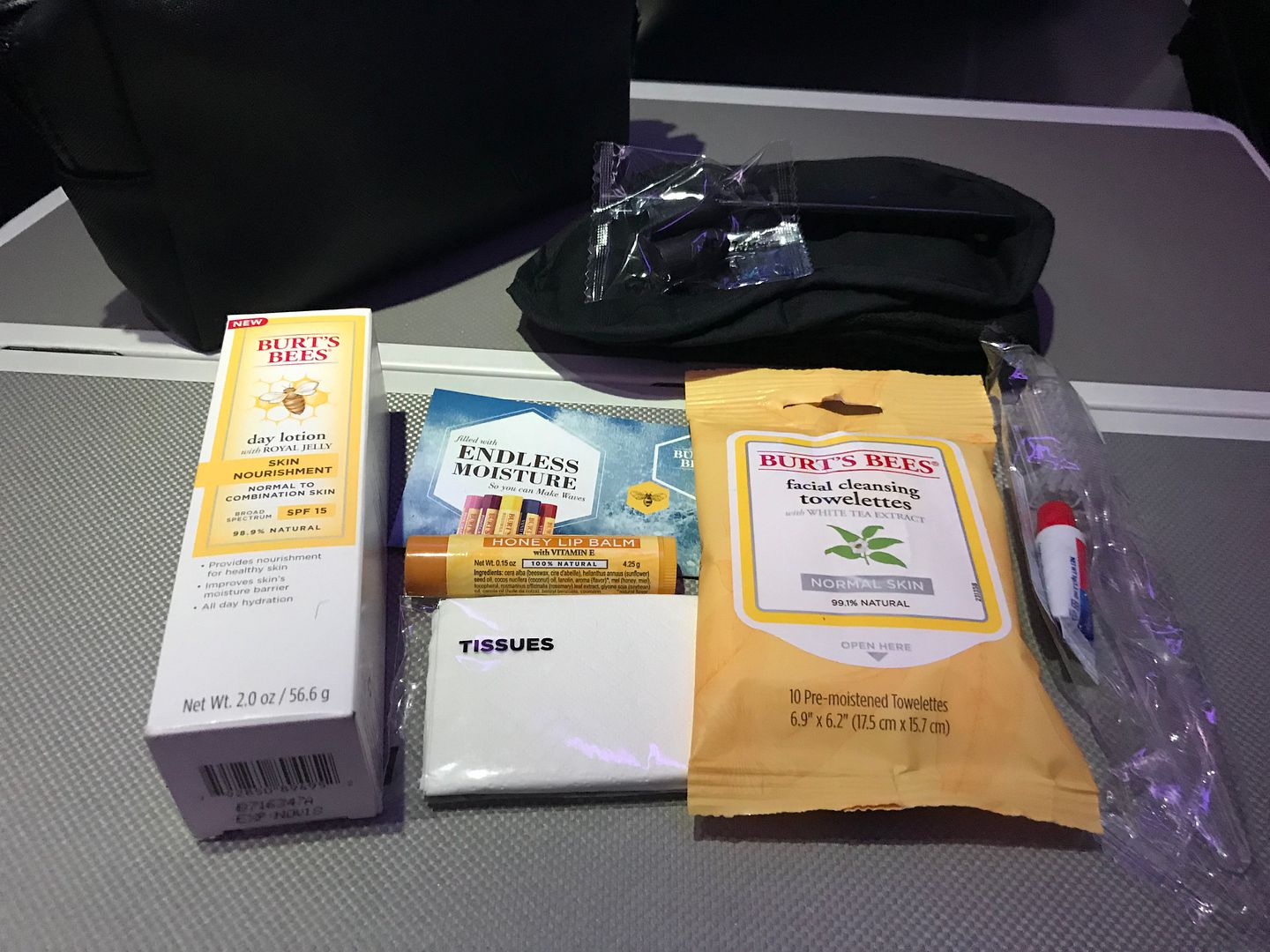 Menu:
Wake up card:
Bottled water and headset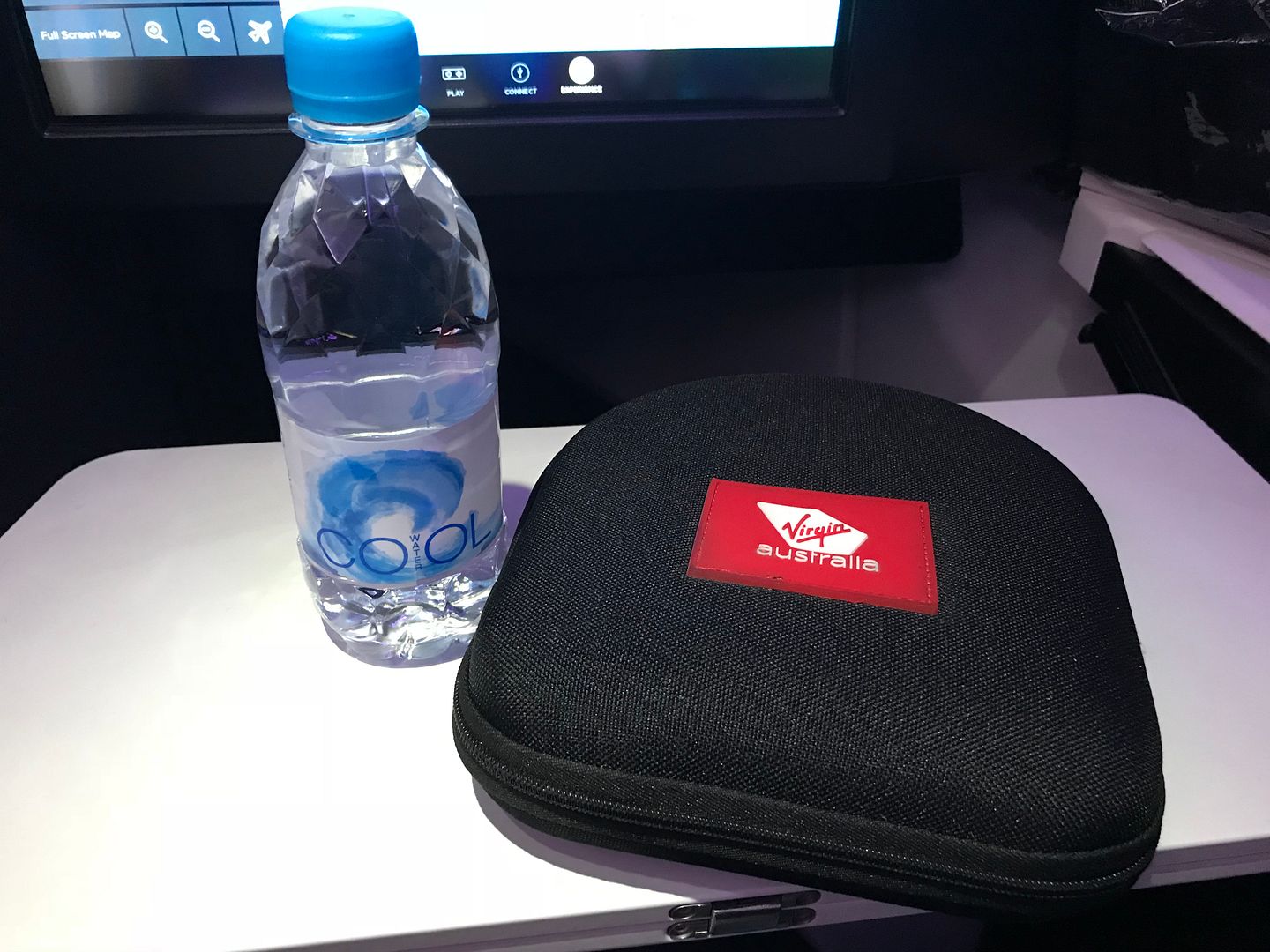 Boarding was completed at 7:52pm and we pushed back six minutes later. The airport was in between the early evening and late-night departures, so the queue was not bad at all. We took off from R/W7R at 8:15pm for our nine hours flight to Melbourne.
The routing was fairly typical of Hong Kong to Australia, as we headed towards South China Sea. We first climbed to 33,000 feet, and then further to 37,000feet before passing the Filipino cities of Linapacan and Zamboanga. Then we headed towards Bitung, Teluk Ambon, Milikapiti, and then reaching the Northern coast of Austrlaia by passing over Wurrrumiyanga Bathurst Island airport, Darwin Airport, and Victoria River before climbing to 39,000feet. Then we passed Atitjere before climbing further to 41,000 feet, and then towards Robinvale and Melbourne.
The only hot towel service happened after seat belt sign was turned off at 8:25pm, and then there is the new canape services, which are basically green olive stuffed almonds and Parmesan cheese biscuits. Not sure if I can call them canape, but more like fancy savories to go with drinks. I honestly can live with a bowl of mixed nuts.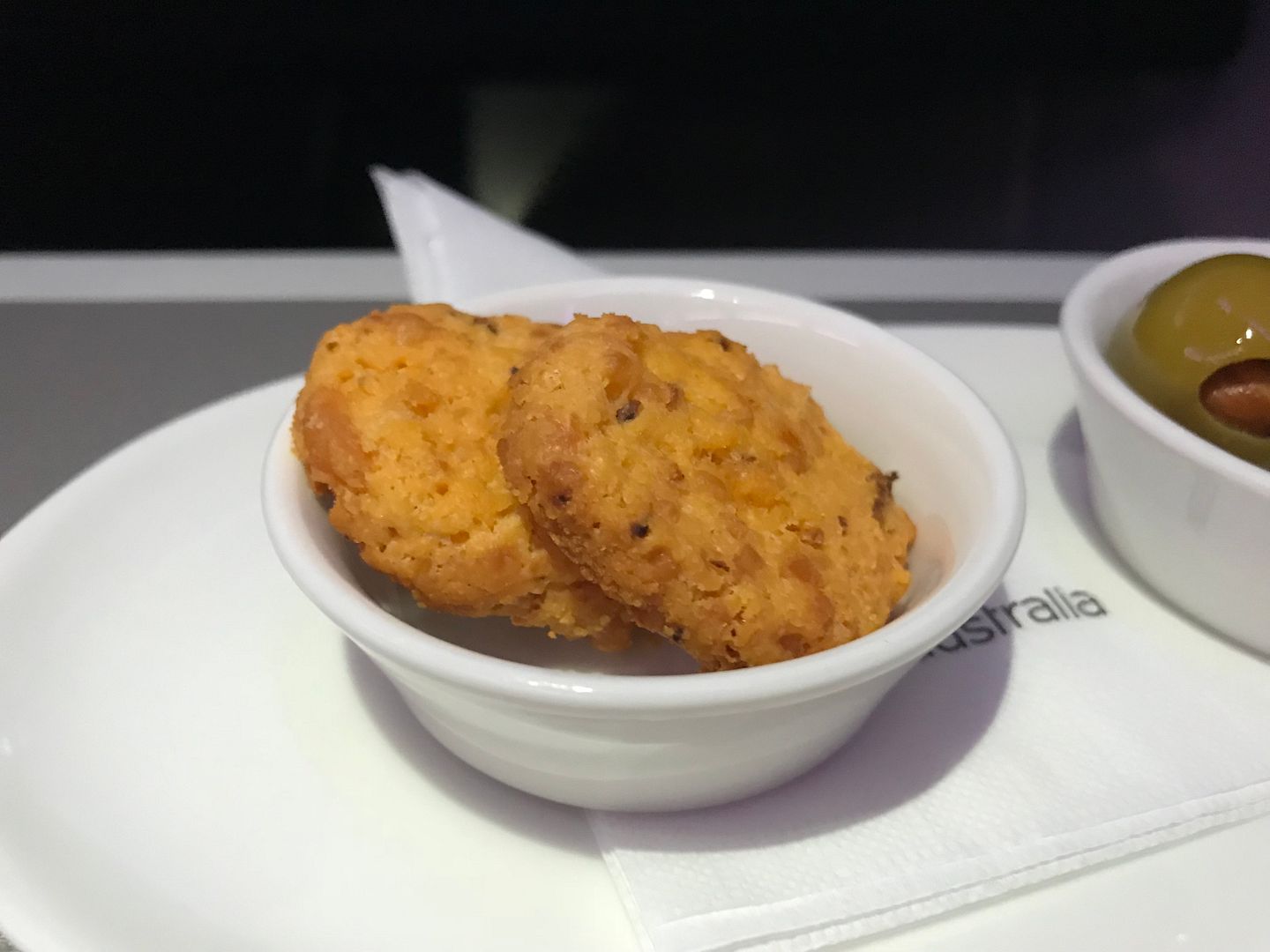 Here is the wine list, which is the same for return flight, so I won't double post.
Champagne
Ayala Brut Majeur, NV France
White Wine
Kirrihill Riesling, 2016 Clare Valley, Australia
Eddystone Point Pinot Gris, 2016 Coal River, Australia
Petaluma 100 Line Chardonnay, 2016 Coonawarra, Australia
Red wine
Kim Crawford Pinot Noir, 2015 Marlborough, New Zealand
St Hallett Duo Shiraz, 2016 Barossa & Eden Valleys, Australia
Billy Goat Hill Cabernet Merlot, 2016 Darling Ranges, Australia
Dessert and Fortified Wines
Grant Burge Aged Tawny NV Barossa Valley, Australia
Petaluma Cane Cut Riesling, 2012 Adelaide Hills, Australia
Dinner service began fifty-five minutes after takeoff, which was pretty impressive, especially each course was served individually.
Here is the a la carte, aka full, dinner menu:
A la carte
Bakery
Your choice of artisan breads
Starter
Pea, broad bean and fennel salad with radish and feta
Salted pork soup with silken tofu, bamboo shoots and ginger
Soba noodles with prawn, wasabi and sesame
Main
Barramundi with Chinese broccoli, shiitake and steamed rice
Barbeque roast duck with vermicelli noodles and mustard greens
Slow-cooked beef short rib with baby potatoes, green beans and paprika butter
Silver beet, globe artichoke and porcini mushroom lasagna
Cheese or dessert
Cheddar, New Zealand
Camembert, Normandy, France
Stilton, Cropwell Bishop, UK
Accompanied with grapes, dried fruit and crackers
Or
A selection of Asian sweets
Vanilla ice cream
Belgian chocolate ice cream
The express menu is basically the same menu without the main course, and everything is served in one single tray.
I love the salt and pepper shakers shaped on Sydney Opera House!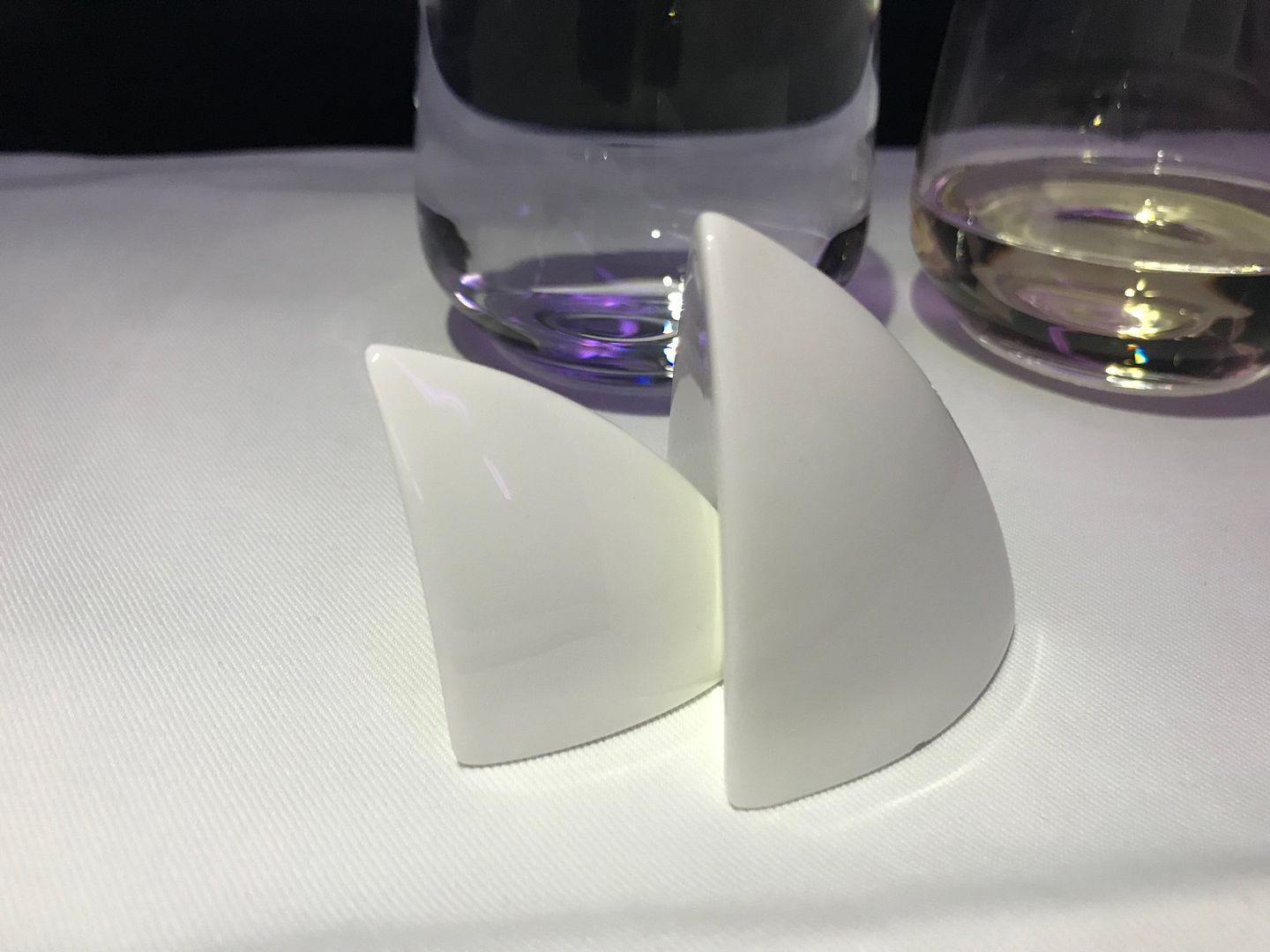 I started with the salted pork soup, since it was pretty cold in Hong Kong [well for Hong Kong standard], which was surprisingly hearty and flavorful. It had a nice spicy kick to it. I could use a second bowl. Virgin Australia serves great soups at 30,000feet.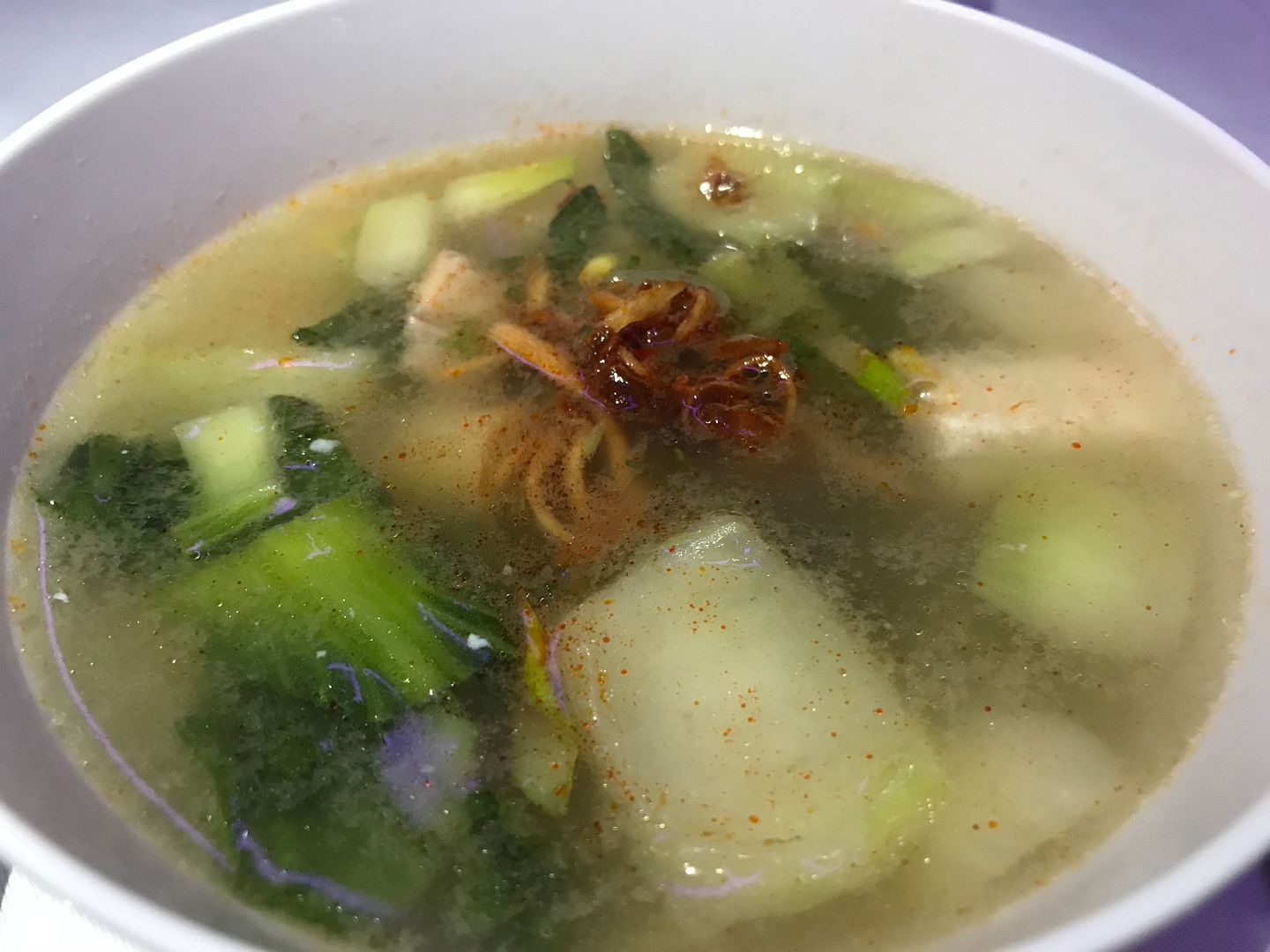 Then for main course, I went with the Chinese duck entrée, since it was Hong Kong made. The noodle dish was great, but honestly it needs a sauce or even a broth. It is basically a noodle soup dish without the soup.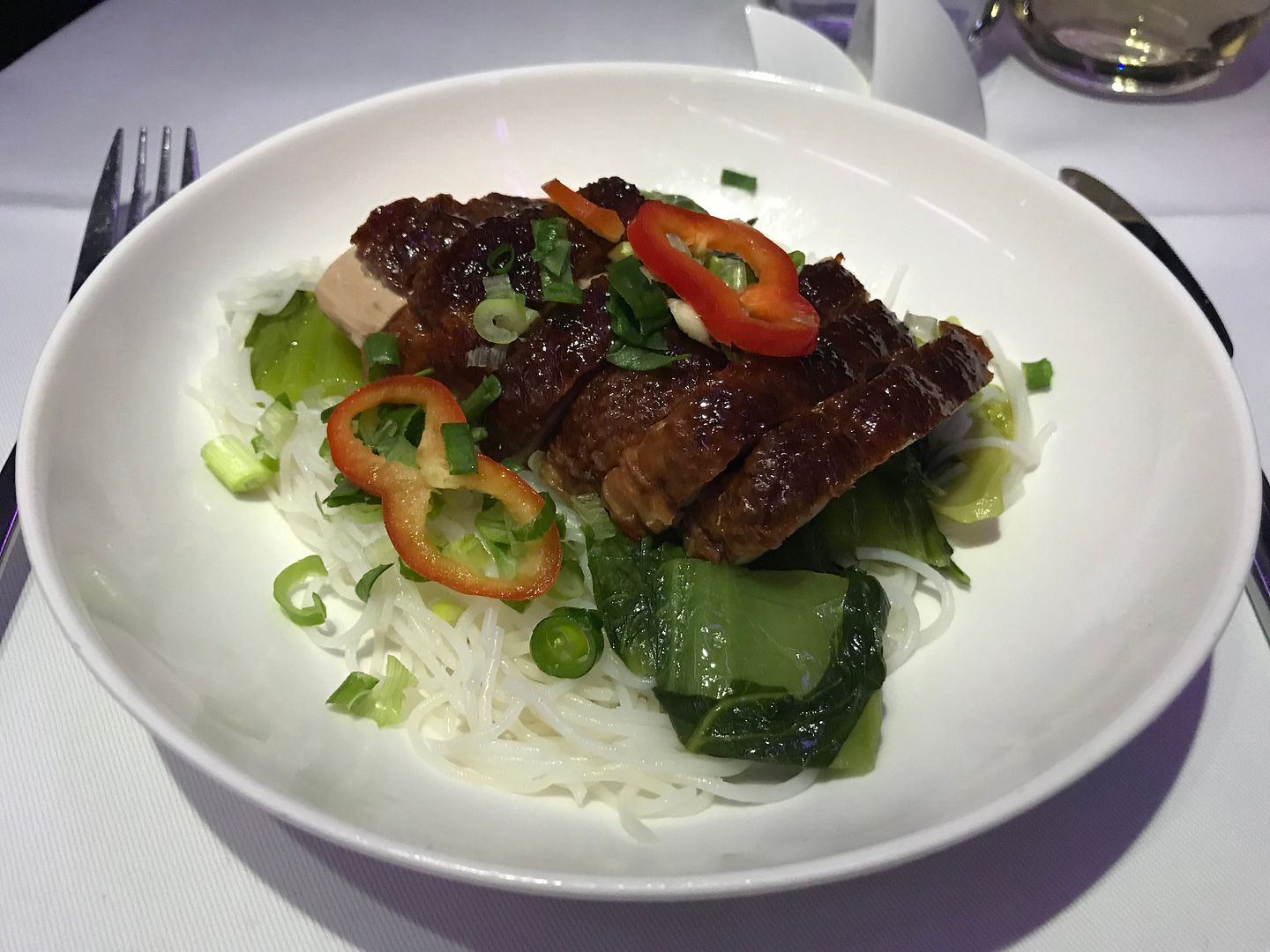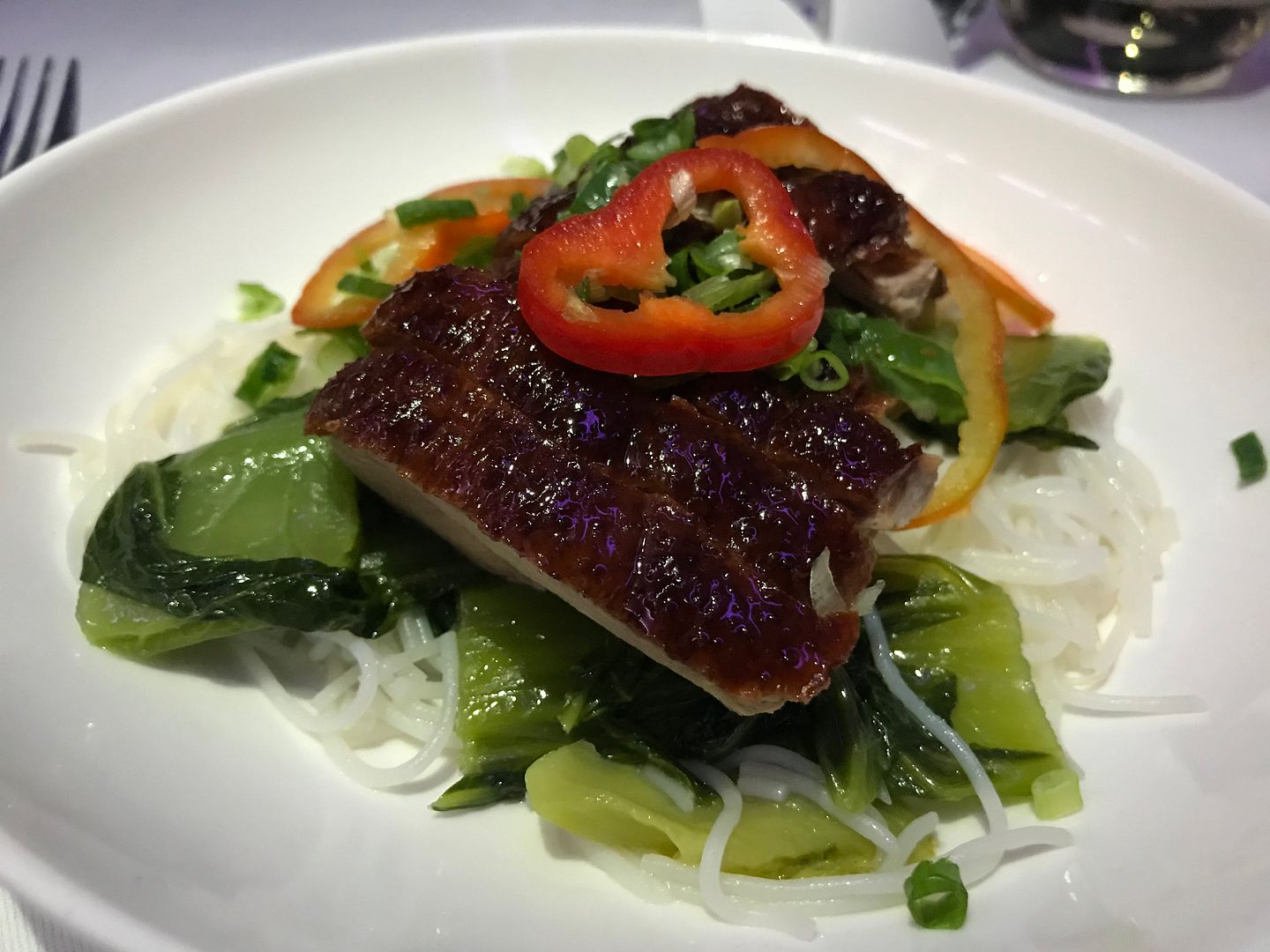 For dessert, I was offered only either the cheese plate or ice cream, so I went with the cheese plate. I still think this is where Virgin Australia can step up. A good airline offers choice of cheese or dessert, but a top-notch airline offers BOTH cheese AND dessert. Within two hours after takeoff, dinner service was completed, which was about right.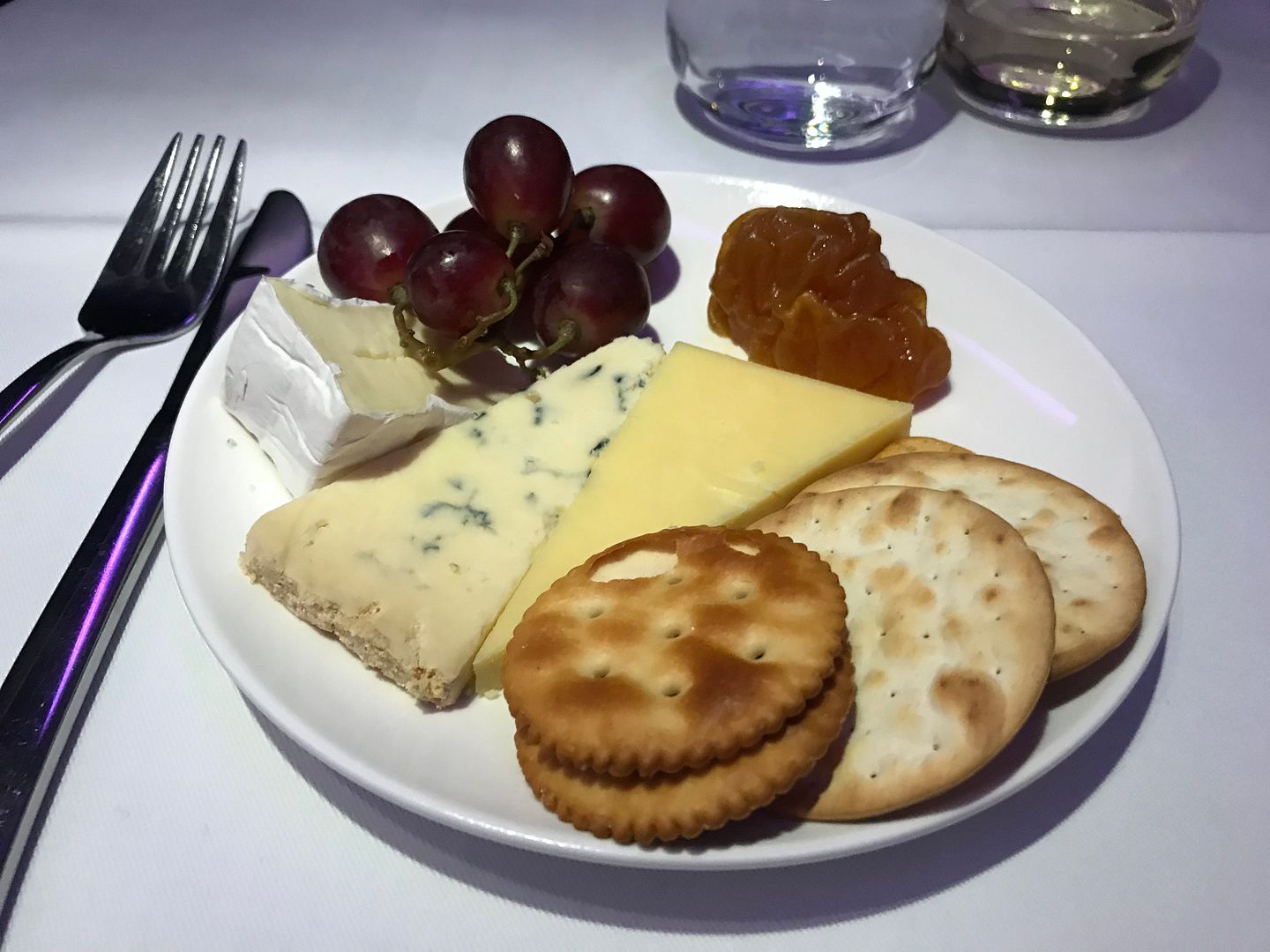 Brodie immediately set up bed for every passenger, who finished their meals. I guess this is the trend now and basically there is a mattress pad, along with duvet blanket, which is still too short. It is one of my pet peeves and I am not even that tall (5 feet 10 inches). Anyway, the pad made the seat more comfortable. I personally just want a bit more room for my feet, and I can notice the narrower suites on the Airbus A330s, compared to Boeing 777s.
I slept pretty well throughout the night, and woke up a little bit before breakfast service was commenced. The cabin looked pretty quiet with most passengers sleeping. There is a full pantry service but I did not order any. However, it is nice to have noodles available. Here is the pantry menu - also similar for both outbound and inbound flights, so I won't double post.
Nibbles
Savory biscuits
Sun-dried tomato and parmesan
Chocolate
Valrhona milk and dark chocolate
Olives
Almond-stuffed olives
Chips
Gourmet potato crisps with sea salt
Noodles
Express cup noodles
Entertainment:
There is no onboard WIFI and not sure if VA has any plan for it in the near future. The entertainment system is pretty good with a nice selection of international movies and television programs. Everything is touchscreen, and it is pretty intuitive. It no longer models after Virgin America's RED system. It has its own interface and everything is different now. I watched some new episodes of "Big Bang Theory" during both meals.
Breakfast:
Virgin Australia offers a breakfast on demand service. A full breakfast has to be served two hours prior to arrival, with continental breakfast a bit later. The breakfast was pretty served in one tray, similar to its American flights too.
Here is the breakfast card:
Juice
Fresh Orange Juice
Passionfruit Smoothie
Fruit
Seasonal Fruit Plate
With
Natural Yogurt
Or
Fruit Yogurt
Cereal
Cornflakes or Sultana Bran
With
Full Cream milk or reduced fat milk or soy milk
Bakery
Savory Roll
Croissant
Blueberry Muffin
With
Strawberry Jam, honey, vegemite, or orange marmalade
Main
Please choose one of the following options:
Bircher muesli with almond, peach, and maple
Or
Chau siu pork congee
Or
Scrambled eggs with your choice of:
Sourdough toast, bacon, smoked salmon, sautéed mushrooms, wilted spinach or fried haloumi
Nespresso
Ristretto, espresso, macchiato, long black, cappuccino, or decaffeinated
Madam Flavor Tea (Mug/Slice of lemon)
English Breakfast, Single Origin Green, Earl Grey, Organic Mint, Or Lemongrass, lime and ginger
Other hot beverages (Mug)
Filter coffee
Decaffeinated Coffee
Hot Chocolate
Milk & Sugar
Full cream milk, reduced fat milk or soy milk
Sugar or low-calorie sweetener
J_HKGKAUS_HB1_WUC_DEC17
VA86
Breakfast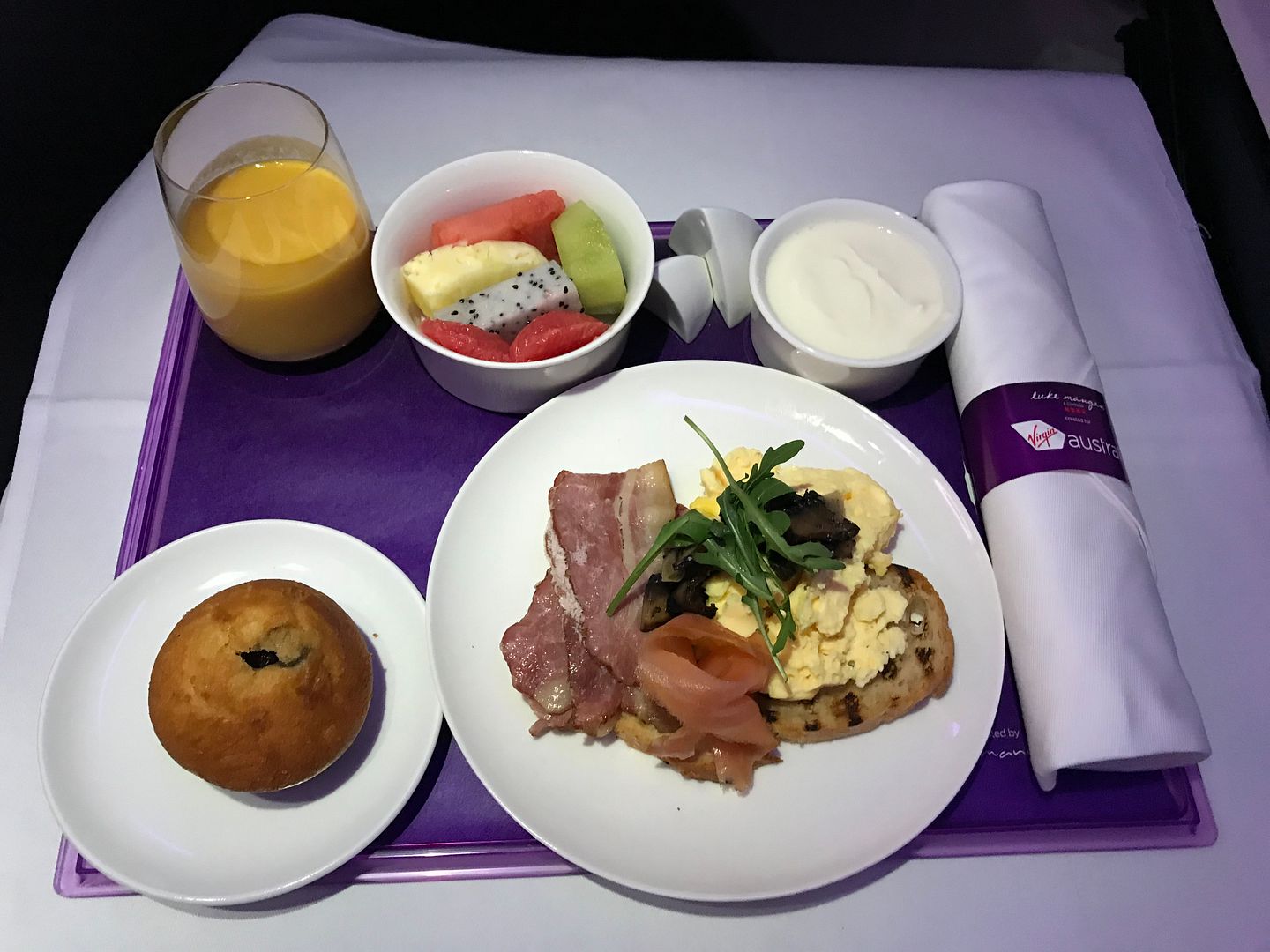 Breakfast was pretty served at 3:30am HK time/6:30am Melbourne time, and everything was lovely. I had the full breakfast experience and like the scrambled egg dish. The only strange thing was that there was no hot towel before or after. I might have missed one because there was a long queue for bathroom in the morning, especially one of the lavatory before door two (I think right hand side) went inoperative, and economy class passengers had to queue for the single lavatory behind door two left.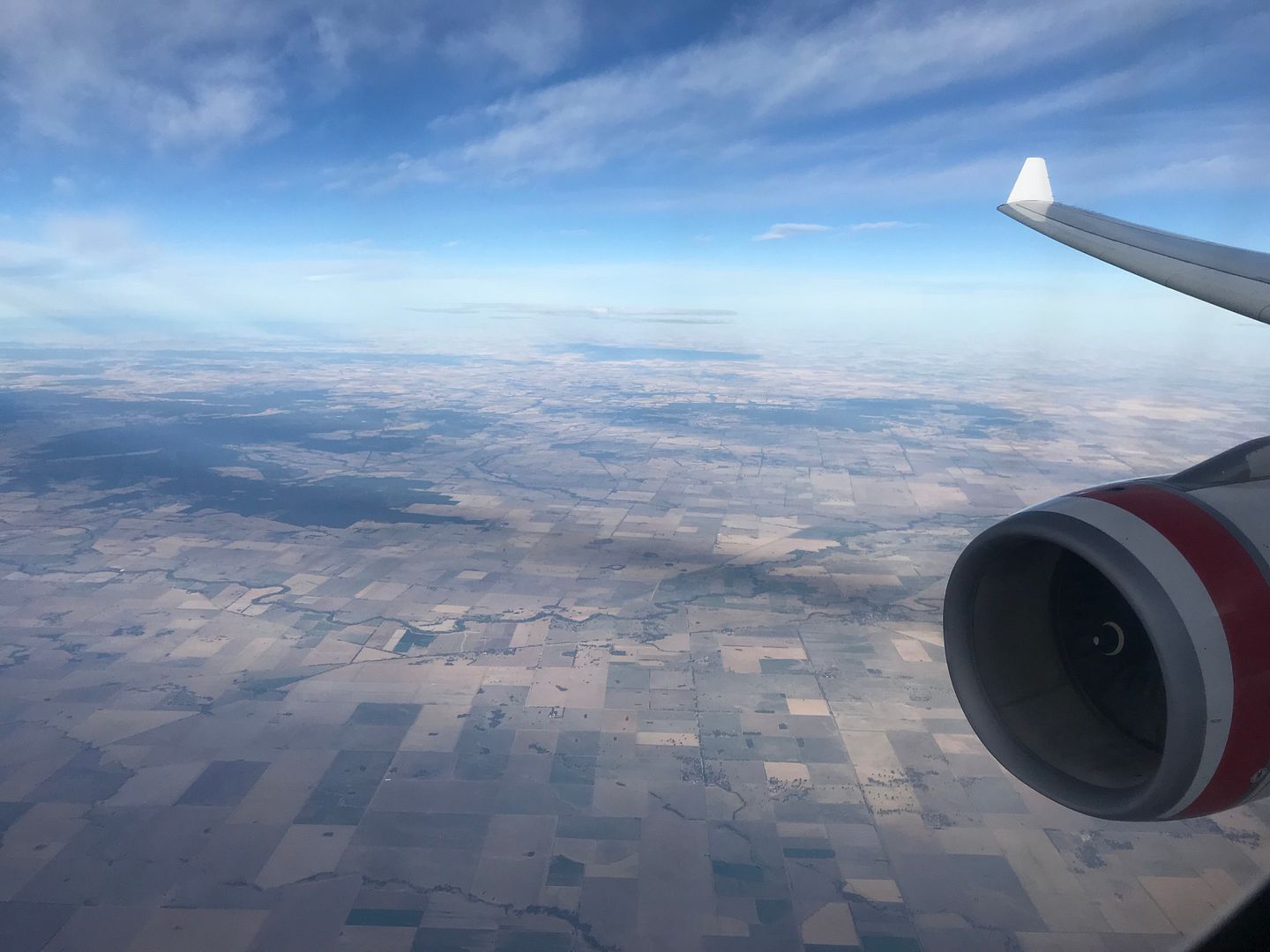 Descent soon began at 7:47am Melbourne's local time, and it was a beautiful morning.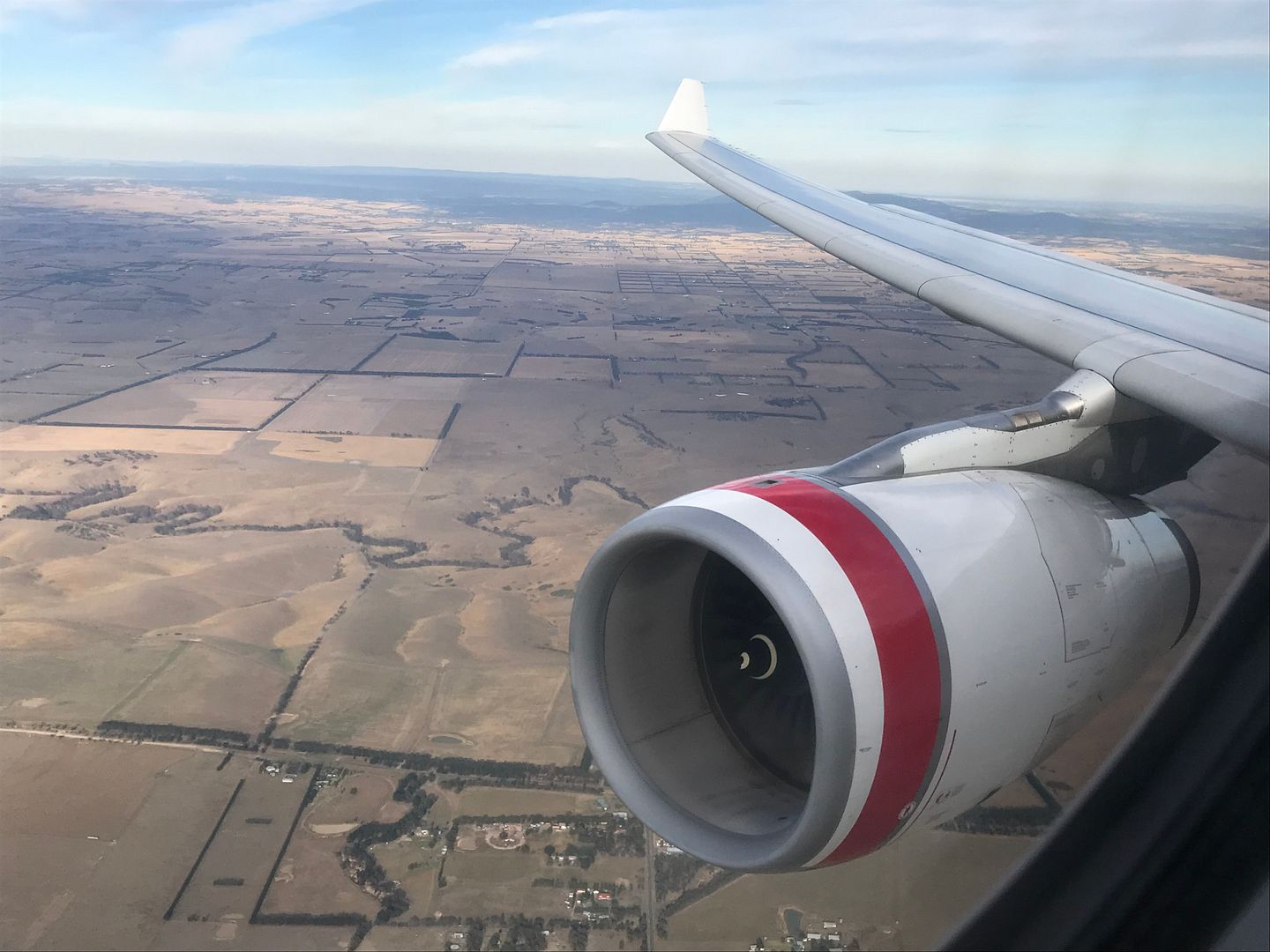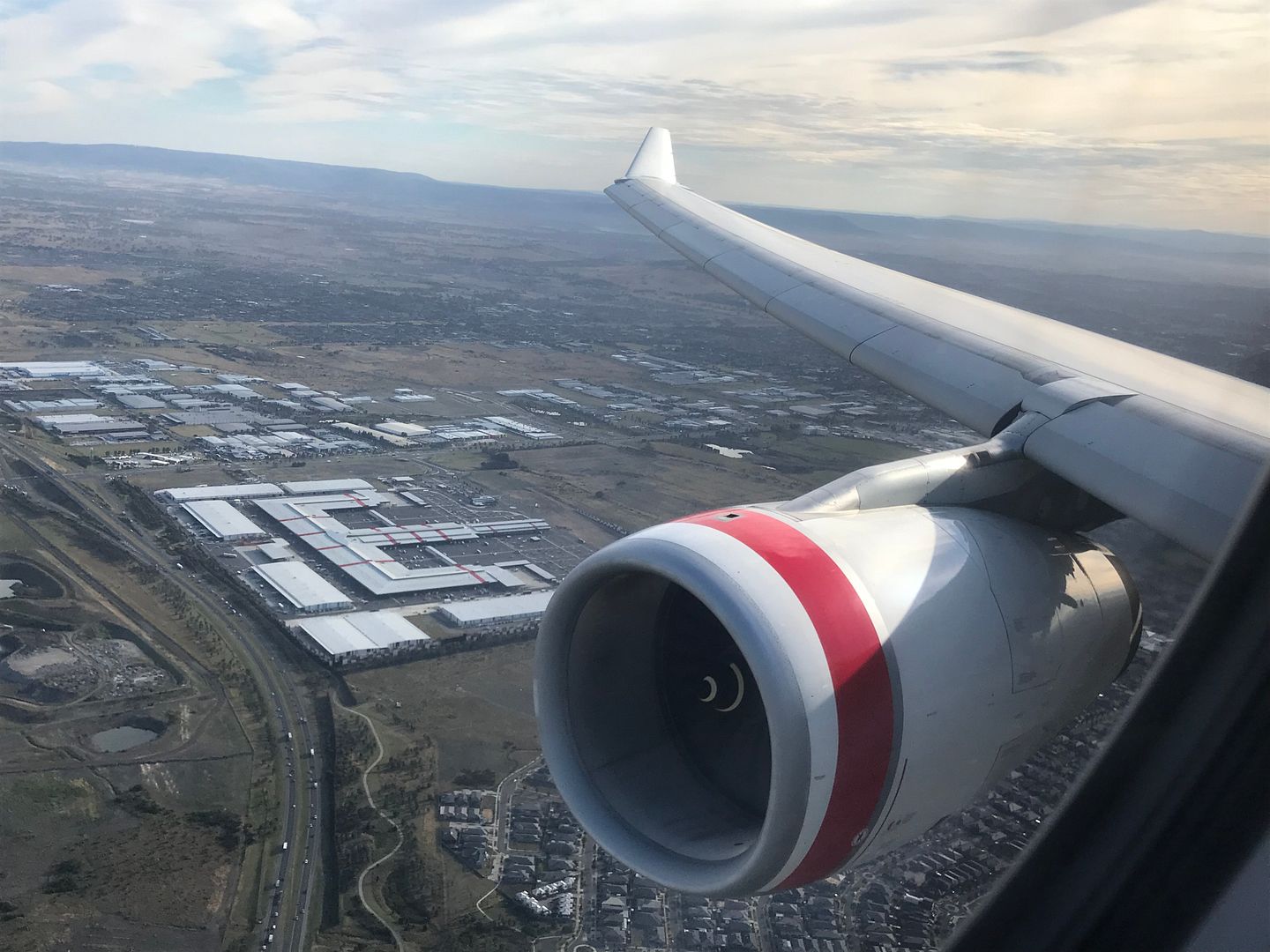 We landed on R/W27 at 8:13am.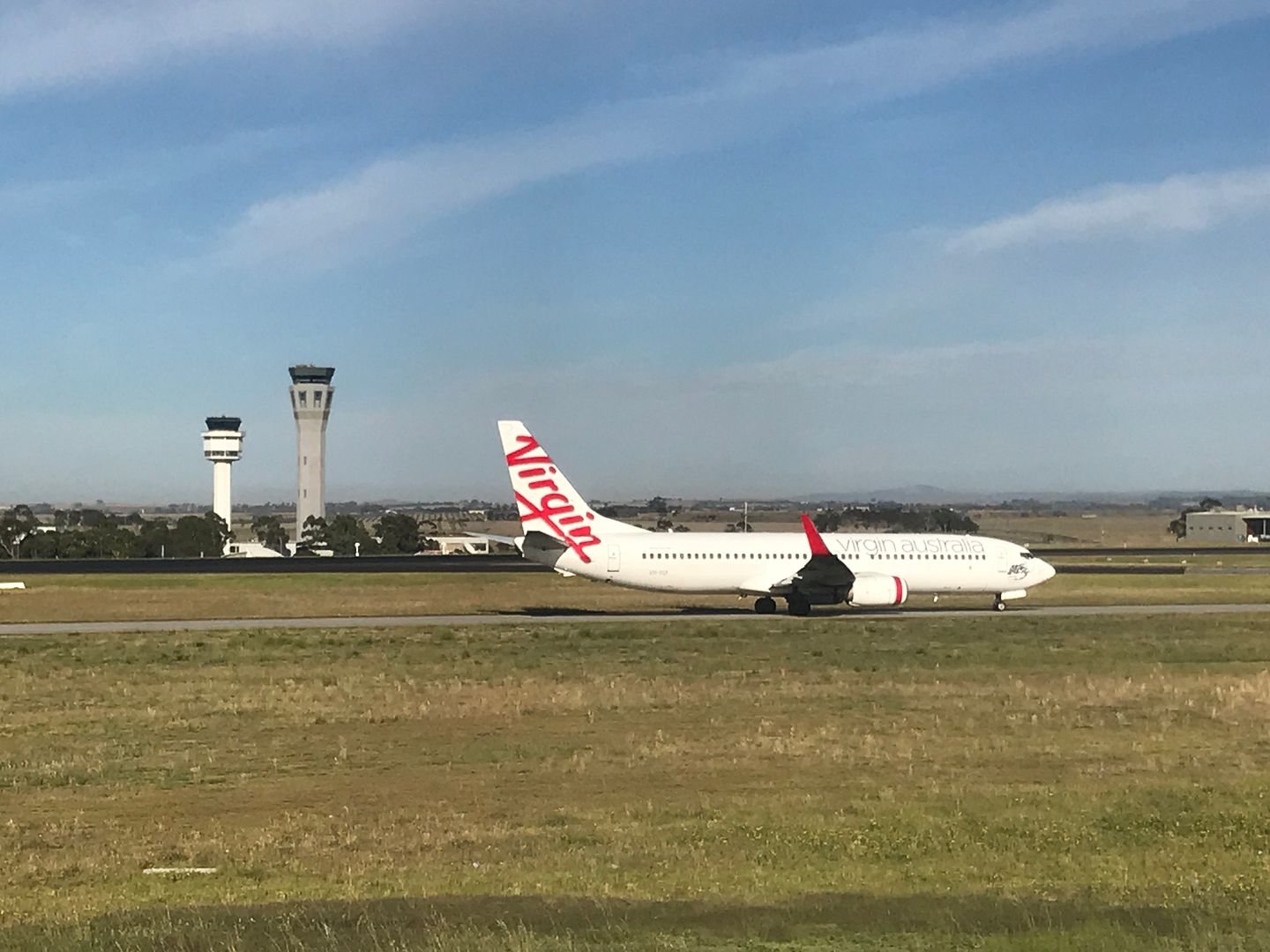 I was pretty relived, as I only had 90 minutes before my connection flight to Auckland. Unfortunately, here was where Virgin Australia truly dropped the ball. For the past month or so, Virgin Australia basically just put one particular A330-200 on the Hong Kong flights, and just swabbed out once every three to five days. I guess it was to avoid this BUS situation. Unfortunately, today was the last day for XFE to be used on the Hong Kong flight, and the plane would be used for a noon Perth flight. Instead of deplaning passengers at international terminal and then towing the plane to domestic terminal like a normal full-service airline (at least in the US), our plane instead went straight to terminal three, Virgin Australia's domestic terminal, and parked at gate F12. Instead of using the jet way, we deplaned through stairs and then bused towards international terminal. It was an inconvenience but if it was arranged correctly, I was fine with it.
Unfortunately, the ground service at Melbourne was not ready for our arrival, despite our sliglty late arrival. Despite the staircase being literally a few meters away from us, no one was operating it. We all waited in the plane, and despite the apologies from the crews, things remained stalemate. It was only twenty minutes later that someone realized that they had to push the staircase towards the plane. As usual, they did not have separate van and bus for premium passengers, and they tried to cram the bus as many people as possible. I understand cramming the bus for Scoot or Air Asia, but not a premium airline. Fortunately, the international transit area was not busy and I made it to my Auckland flight. I am not going to write about those Trans-Tasman flights, except that it was pretty bad. The service was wonderful as usual, but the catering was simply cheap and poor. It was way worse than Qantas and Air New Zealand on the trans-Tasman market.