This trip report is of my return home after three glorious weeks in Europe, with my final destination being Perth. – Apologies for the photo quality / length of report.
Friday 28 July 2017
IB8727 OPO-MAD 12:25 – 14:35
CRJ1000 (Air Nostrum)
After a morning coffee in the hotel garden a caught an uber to the airport (it was very cheap, around 10 euro and took around 20minutes)
I arrived around 1.40 minutes before my flight, the airport was surprisingly busy, and the line at the Iberia counter was fairly long with only two counters open. There was nobody ahead of me in the priority line and the lady was very friendly and checked me through to London. One strange thing was my suitcase weighted 27kg which was above the limit apparently of 24kg, and I had to take 3 kg out and check in another bag, no big deal but obviously health and safety related rather than a cost / weight issue.
I saw a sign for fast track security and tried my luck, but apparently IB passengers are not eligible. I headed to the "regular" line, which was incredible busy, In reality it moved fairly quickly and I was through in about 15 minutes.
The airport was pretty busy and I made my way to the ANA lounge (nothing to do with the airline ANA). I was welcomed in and found a spot out on the balcony area. The lounge was nothing special but perfectly adequate for a regional airport. I had another coffee and a couple of small sandwiches as I waited.
Balcony of the lounge in OPO
IMG_6712
by
jrfsp
, on Flickr
IMG_6716
by
jrfsp
, on Flickr
TAP rules the roost.
IMG_6718
by
jrfsp
, on Flickr
My CRJ1000 arriving an hour late
IMG_6719
by
jrfsp
, on Flickr
I checked the incoming flight on flight aware / flight radar and couldn't see any sign of the inbound aircraft. The monitor said the flight was on time so wasn't too worried. However, continuing to monitor the inbound aircraft, I saw it took off about an hour late. Sure enough boarding time came and went with no update to the screen or announcement. It's quite poor to not inform passengers of the delay. I saw my aircraft land and made my way down to the gate. Interestingly IB and partner BA (I had arrived on BA from LGW 4 days earlier) both park on remote stands in Porto. We boarded the busses and drove over to the CRJ1000 which was still offloading. We had to wait around 5 minutes for the remaining passengers to de board.
This was only my second ever CRJ flight, after flying on another Iberia CRJ 1000 the previous week from Valencia to Madrid.
Great legroom
IMG_6720
by
jrfsp
, on Flickr
The crew gave a "hola" and I made my way to my seat. My window seat was occupied by an older business traveller – one of my bug bears, it's pretty obvious which seat is yours. The flight was around 65% full so I made my way further back to the emergency exit row which was unoccupied. There was nobody next to me, and the legroom was great, it was quite hard to see out of the window however. The crew were not bothered about moving sure emergency exit rows were occupied, as the exit seats across the aisle remained unoccupied, I always thought this was required?
IMG_6721
by
jrfsp
, on Flickr
Beautiful 737-500
IMG_6722
by
jrfsp
, on Flickr
IMG_6723
by
jrfsp
, on Flickr
IMG_6724
by
jrfsp
, on Flickr
IMG_6725
by
jrfsp
, on Flickr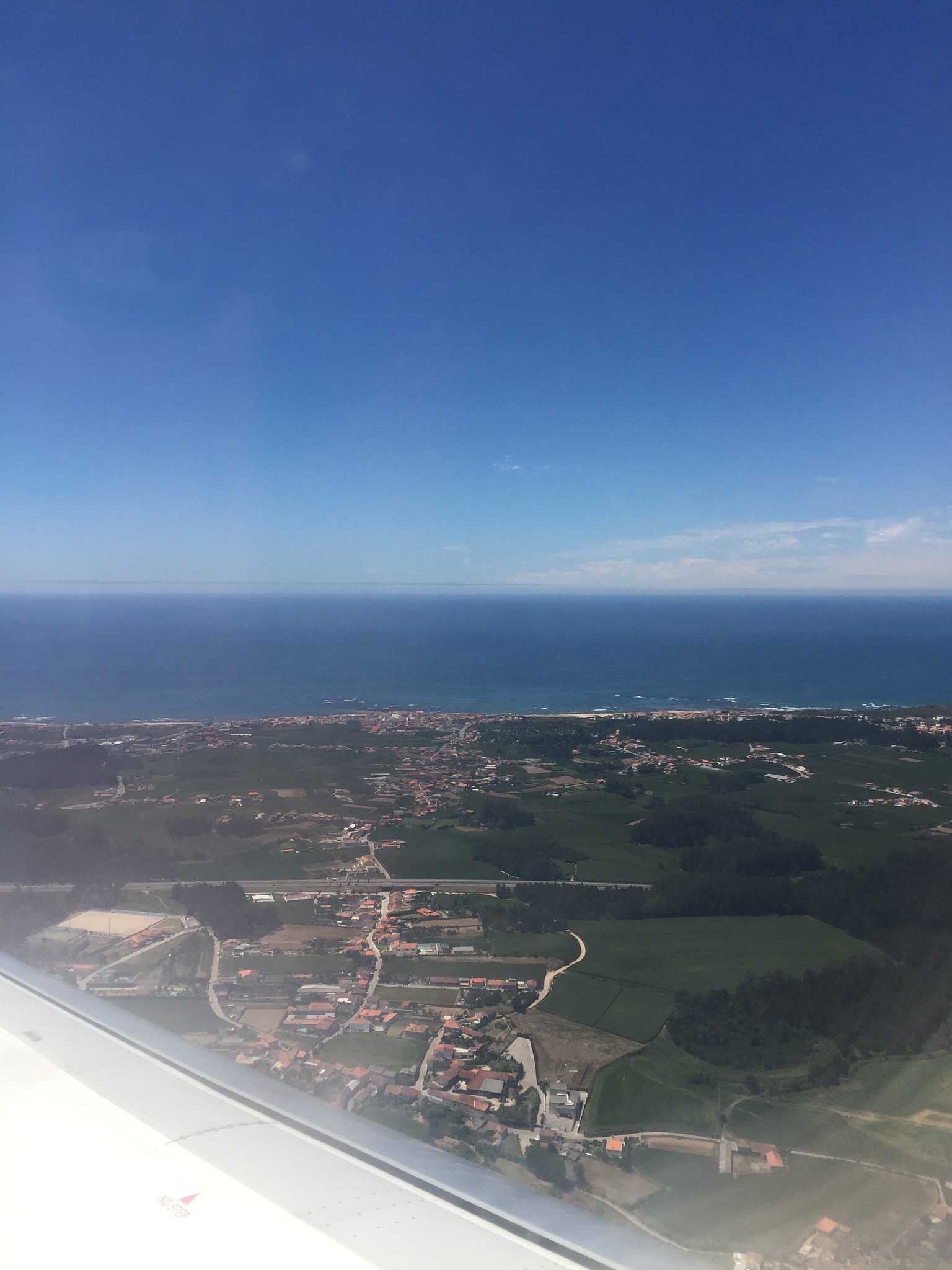 IMG_6726
by
jrfsp
, on Flickr
IMG_6727
by
jrfsp
, on Flickr
Not sure how effective those spoilers are…
IMG_6728
by
jrfsp
, on Flickr
IMG_6729
by
jrfsp
, on Flickr
We ended off taking off around an hour late with a flight time of around 45 minutes. The flight was fairly uneventful with light turbulence for most of the flights, and no takers for the BOB. The crew weren't overly friendly and weren't to be seen too much.
We landed around an hour behind schedule, and knew by that point I had missed my connection especially after a fairly long taxi, and having made a tight connection through T4 the previous week I knew there was no hope. Sadly, I knew this meant I wouldn't be flying on the A340 sadly, luckily I had flown via Madrid the previous week and connected onto the same flight to make sure I had a reasonable chance of flying on the A340-600, so all was not lost.
Before the aircraft had come to a stop, people were standing up and wanting to get off, I was actually pretty relaxed as there is nothing I could do, and there are enough connections to still get me to Heathrow to make my flight. Air Nostrum flights arrive at the K gates at T4 which is at the very northern end of the terminal. While architecturally T4 is beautiful, practically for passengers its just way too long, and connecting with T4 takes a long time considering it's a simple connection within the terminal. As expected there was no staff waiting at the gate for passengers who had missed their connections, so I swiftly walked through the terminal to find some assistance.
Friday 28 July 2017
IB3180 MAD-LHR 17:10 – 18:25 (Originally booked on IB3166)
A319-100
It was now 15:45, and I was hoping to get into the next LHR flight, the IB3164 at 16:30 which was conveniently departing from the main T4. I came across the Iberia desk which was had one staff member and a very long line of people waiting. I decided to head to the IB lounge, as they may be quicker. After a (long) brisk walk I reached the lounge where I was quickly given a new boarding pass for the IB3180 departing at 17:05. I asked if I could be put onto the 4.30 flight as I had another flight from Heathrow to catch, I was told it was already closed. Can only ask I suppose! I was told to hurry over to the satellite T4S as the immigration ling can be long. I replied "I know, I experienced it last week".
Following my experience last week of the chaotic immigration lines at T4S, I made sure I beetled off the train fast and was the first up the escalator to join the fairly short line. I do think they need a priority line here, or more officers at least.
I made a dash for the lounge, being my first time in the Velazquez lounge, I was a bit disappointed. I was expecting a bit more. I had time for a quick beer and a bite to eat, but didn't get time to check out the full offerings.
View from the lounge
IMG_6730
by
jrfsp
, on Flickr
IMG_6733
by
jrfsp
, on Flickr
The impressive T4
IMG_6734
by
jrfsp
, on Flickr
IMG_6735
by
jrfsp
, on Flickr
My A319 in the much nicer old livery
IMG_6736
by
jrfsp
, on Flickr
A330 heading to South America
IMG_6737
by
jrfsp
, on Flickr
I went to the gate where boarding had not yet started, but a long line had already formed. The A319 was still in the old livery, which I much prefer!
I boarded and made my way to my isle seat on the second last row, I had lost my seat selection with my missed connection. The flight was 100% full but managed to fit my bag into the overhead lockers. The legroom is tight on these aircraft but the seats seems to have a reclined angle to them which is a bit strange. This was a fairly standard Intra European flight, the flight was on-time, and there was BOB service which I didn't partake. We landed after a flight time of just over 2 hours and docked at T5C which seems to be the standard for Iberia flights, where my original A340-600 was pushing back for the return to Madrid.
IMG_6738
by
jrfsp
, on Flickr
IMG_6739
by
jrfsp
, on Flickr
It took a few minutes to get over to the main terminal where the line for immigration was short (for the e gates at least), and the baggage was out very quickly.
I made my way down to the Heathrow express to go the one stop over to the central terminals.
Waiting for the left at T5
IMG_6740
by
jrfsp
, on Flickr
T3 forecourt.
IMG_6741
by
jrfsp
, on Flickr
Friday 28 July 2017
UL504 LHR-CMB 21:30 – 12:45 (+1)
A330-300
There was no wait for business class check-in, but they couldn't check my bag through to Perth, only as far as KL (I was on a separate booking). As I had an overnight in SriLanka.
After completing the formalities, I headed for the fast track security and straight to the lounge. A BA lounge pass was provided, however I wanted to check out the much acclaimed new Cathay lounge.
I was welcomed in and pointed to the first class lounge thanks to my Qantas Emerald status. Well unfortunately my experience wasn't particularly good. It was a zoo, while well furnished, the first lounge is rather small, and couldn't cope with the evening rush. The 8 pm Cathay flight had a delay of four hours, so there was two CX flights in the lounge. After finding a seat near the window, I had a self serve of champagne, would be rude not to. There is a small pantry in the lounge, but it seems eating is directed towards the "restaurant" part of the lounge. When I first went I was told to come back in 10 minutes as there was no space! Listening to conversations around me, it seems lots of people were not only on CX but on QF to DXB and SYD and BA to CPT. Hopefully the overcrowding will be alleviated once the QF lounge opens.
My A330 landing from Colombo
IMG_6742
by
jrfsp
, on Flickr
Shorthaul Airbuses
IMG_6743
by
jrfsp
, on Flickr
Nice chicken dish in the CX lounge
IMG_6744
by
jrfsp
, on Flickr
After getting a seat at the restaurant, my experience was again disappointing. It appears the staff were rushed off their feet and sadly the service wasn't great. After 10 minutes waiting for a menu, and ordering, the food took over 30 minutes to come, which would be okay for a restaurant, at an airline lounge most people don't have 30 minutes to wait. This is where a buffet option would also be beneficial, but I appreciate it was exceptionally busy.
I had the chicken dish, I forgot to take a pictures of the menu, which was actually very nice and worth the wait. I retired to the main lounge for another champagne before making my way to the gate.
At gate 30, it was manic as the small ish gate area was packed with people waiting for the flight, and also the next gate where a BA 747 was also boarding for Cape Town with lots of school groups. I can never understand why people rush to board allocated seating flights, especially long haul where you will be sitting for a long time. I strolled on down to the end of the pier which is actually a very nice and modern part of T3, and admired the exotic carriers which would be all heading out to all corners of the globe tonight.
IMG_6745
by
jrfsp
, on Flickr
TAM 77W and PR 343 heading to opposite corners of the globe
IMG_6746
by
jrfsp
, on Flickr
The delayed CX flight.
IMG_6747
by
jrfsp
, on Flickr
IMG_6748
by
jrfsp
, on Flickr
Almost ready for boarding
IMG_6749
by
jrfsp
, on Flickr
IMG_6750
by
jrfsp
, on Flickr
Heading to CPT
IMG_6751
by
jrfsp
, on Flickr
As usual I am one of the last to board. Warm towels and pre-flight drinks are offered, I had a champagne – of course.
The seats are reverse herringbone, the same seat as offered by CX, albeit with less features.
Service commenced promptly after take-off, with dinner orders being taken and warm nuts / drink refill provided.
The catering on Sri Lankan can be average, however I went with the lamb shank and it was very good, very tender, and meat fell off the bone.
I managed to get some shut eye over the 10 and a bit hours to Colombo,
Yes im watching a british classic leaving the UK
IMG_6753
by
jrfsp
, on Flickr
IMG_6754
by
jrfsp
, on Flickr
IMG_6755
by
jrfsp
, on Flickr
IMG_6756
by
jrfsp
, on Flickr
IMG_6757
by
jrfsp
, on Flickr
IMG_6758
by
jrfsp
, on Flickr
IMG_6759
by
jrfsp
, on Flickr
Combining some IFE time and a fairly good sleep, it was time for breakfast. The options were not that appealing however I went with the Omelette. It was fairly bland, and the asparagus was overcooked. The crew were pleasant as always, and I cannot fault the service, which is always a little bit difficult on an overnight flight.
IMG_6760
by
jrfsp
, on Flickr
IMG_6761
by
jrfsp
, on Flickr
IMG_6762
by
jrfsp
, on Flickr
IMG_6763
by
jrfsp
, on Flickr
We touched down on time at Colombo. Unfortunately, I had an overnight here as there was no connection through to KUL. There were some issues with transit visa and lack of hotel provided by UL but I'll save on the detail.
Sunday 30 July 2017
UL314 CMB-KUL 07:45 – 14:05
A330-300
Early the following morning it was back to Colombo airport for the morning flight to KL. After getting checked through to Perth, I proceeded to the packed Serendib lounge. The views are good, but it's a pretty poor offering considering this is the flagship lounge…
IMG_6770
by
jrfsp
, on Flickr
IMG_6771
by
jrfsp
, on Flickr
IMG_6772
by
jrfsp
, on Flickr
IMG_6773
by
jrfsp
, on Flickr
This flight had originally been scheduled as an A320, then upgraded to A321, then A330-200 and finally A330-300 which is great as the hard product is so much nicer.
There was a single meal service on this 3.5 hour flight which was breakfast, I stayed away from the Omelette and went for the cuttlefish , which wasn't bad, but nothing to write home about. The tea however was great, and I had multiple servings. I had a poor sleep the previous night and actually managed to get a few hours sleep on this flight.
IMG_6774
by
jrfsp
, on Flickr
IMG_6775
by
jrfsp
, on Flickr
IMG_6776
by
jrfsp
, on Flickr
IMG_6777
by
jrfsp
, on Flickr
IMG_6778
by
jrfsp
, on Flickr
Sunday 30 July 2017
MH127 KUL-PER 19:50 – 01:12 (+1)
A330-300
I had a fairly long layover at KUL, first stop was the MH first class lounge to shower. Thankfully the a/c wasn't as fierce as previous visits, and the shower was actually hot. I also visited the restaurant area which is quite nice. I ordered the steak which wasn't great, tough meat and overcooked.
IMG_6779
by
jrfsp
, on Flickr
IMG_6780
by
jrfsp
, on Flickr
IMG_6793
by
jrfsp
, on Flickr
IMG_6795
by
jrfsp
, on Flickr
IMG_6781
by
jrfsp
, on Flickr
IMG_6783
by
jrfsp
, on Flickr
IMG_6784
by
jrfsp
, on Flickr
I also went to the CX lounge which is actually quite nice, albeit a bit small.
IMG_6786
by
jrfsp
, on Flickr
IMG_6787
by
jrfsp
, on Flickr
IMG_6788
by
jrfsp
, on Flickr
IMG_6789
by
jrfsp
, on Flickr
IMG_6791
by
jrfsp
, on Flickr
IMG_6792
by
jrfsp
, on Flickr
IMG_6793
by
jrfsp
, on Flickr
For the final flight, I was back with the great unwashed in Economy for the 5 and a bit hour flight back home. The service on MH is always good I have found, and the seats are comfortable. Thankfully the seat beside me was empty which always helps greatly, I didn't see any other free seats so perhaps my status made a difference here.
IMG_6798
by
jrfsp
, on Flickr
Watching "A United Kingdom", would definitely recommend
IMG_6796
by
jrfsp
, on Flickr
IMG_6797
by
jrfsp
, on Flickr
IMG_6799
by
jrfsp
, on Flickr
SQ A330 taking out for the red eye to SIN
IMG_6801
by
jrfsp
, on Flickr
EK 77W also just arrived.
IMG_6802
by
jrfsp
, on Flickr
After a pleasant flight, I was so ready to stop flying!
The arrival process into perth is always easy and I had a collected my luggage and exited the airport without too much hassle.
Conclusion
UL business product is hard to beat for Value, the main let down is the lounge in CMB.
IB is pretty average intra-European product, nothing special.
MH is always good in Economy and I enjoy their