Hello everyone!
Welcome to this new trip report covering a trip taken almost a year ago. It highlights a pretty journey from Niamey, Niger to Paris, France with a stop in Addis Ababa, Ethiopia.
BACKGROUND:
Due to professionnal reasons, I had to travel to Niger. I feel sorry that I couldn't do a trip report covering the journey from France to Niger. Anyway, I will post some photos showing some parts of this poor subsaharian country and, of course, an extensive coverage of the flight with Ethiopian Airlines in business class also called Cloud 9 by ET.
Courtesy of the Great Circle Mapper
Before the actual flight, let me show you some photos of my time in this SOOOOO warm country!
Streets of Niamey, the capital city of Niger
Entrance of a juice company
One of the gates leading to the main market of Niamey
Grasshoppers on sale...just like hot dogs! It's actually not that bad to eat with lots of spices...just a bit too crispy
The ministry of oil, one of the leading sector in one of the poorest country of the world
Charles de Gaulle bridge crossing the river Niger
Niger riverside...yes, it is situated downtown Niamey! I never thought finding such a green place in Niamey
They are not gold vaults...they are just twin watertanks! Water is probably more precious than gold in this country...
Crossing the River Niger
Beware to the camel on the road
Now, let's move further in the countryside...
Nothing but dust
Crossing a donkey or...
...riding a horse
Friendly people waving at me
Crossing some small village
That is Sahel
Something to remind me that it is a dangerous region...huge billboards about disarmament
City Gates are famous in Niger..."bon voyage" (safe travel)
A new way to carry cattle
A cute colorful mosque
and here is the main mosque of Niamey
for all the avgeeks...a slightly worn out Dornier 28 and Tetra ultralight of the Nigerien Air Force...
Now, let's start the actual trip report.
Welcome to Niamey Airport. Heavily guarded by the Nigerien Gendarmerie.
After reaching the airport with a taxi, I had to enter the terminal building. In order to check in, I had to go through a very intrusive control of my bag. At least, the policeman who did that was very friendly. I headed directly to the sole check in counter dedicated to Cloud 9 passengers. Having checked-in online the day before, I secured window seats all the way to Paris. By the way, the whole process from booking to OLCI was quite smooth on the ethiopian website.
Sorry for quality of the pictures but taking pictures at the airport is very sensitive and I didn't want to go to jail...I just wanted to go home!
This is some kind of buffer zone in between the check in and the security checkpoint
Security on the left and duty free on the right
After being greeted by the friendly lounge dragon who took the order for me. I sat on the lounge which was very basic and used by all the airlines serving NIM. Anyway, it was still better than waiting on the common airside area.
Common waiting area
I waited boarding time enjoying a can of bissap juice and reading Air Burkina's inflight magazine.
Soon enought, boarding was called. It was a common call for everyone and we had to go through a third security screening before boarding a bus.
Overlooking the third security screening
It's not obvious on this picture but the load of this flight looks very healthy in both Y and C.
Guess who's hidden?
Good answer...a pretty looking ET's Boeing 737-800 getting prepared for it's flight back to Addis Abeba.
05.04.2017
Flight # : ET936
Departure airport : Niamey Diori Hamani International (NIM/DRRN)
Arrival airport : Addis Ababa Bole International (ADD/HAAB)
ETD : 1255
ATD : 1300
ETA : 2035
ATA : 2010
Scheduled flight time : 05:40
Actual flight time : 05:10
Aircraft type : Boeing 737-800
Reg # : ET-APM
Seat : 04L
View over the control tower
Walking on the apron in order to board my first ET flight
No airbridges in NIM so boarding must be done with airstairs...quite enjoyable
We were greeted by very nice and polite FAs.
Very comfy configuration. My first impression is that the cabin is very bright and comfortable. European airlines must take a look on what is done here! I am fed up of the sardine can we have in Europe!
My seat is waiting for me and no neighbor! Well done! ET provides a small bottle of water, a blanket, a pillow and a small amenity kit
Generous legroom and seat details. Unfortunately, no IFE, only overhead screens.
Here we go!
Seat pocket content. Quite a lot if I may say
The amenity kit
Pre-departure drinks were served. I think it was champagne...what a nice way to start a long journey back home.
As NIM doesn't taxiways, we had to backtrack on the runway which gave the opportunity to spot the military apron full of US C-130s...yes, a war on terror is ongoing in the region...
NIM has only one paved runway hence the 09R...09L is actually a dirt strip...
09R runway threshold
Accelerating on the runway...spotting an interesting wreck...a Il-62! I never saw one!
Almost airborne
Here we are! Back in the skies!
A wall surrounds the airport perimeter as you can see on the photo
Bye Niger, it took quite a long time before going over the thick layer of the subsaharian dirt.
Finally over the clouds
Overflying nothing but gorgeous deserts
A tasteful ethiopian honey wine was offered by the lovely FA. Actually, Ethiopian produces some wine.
I discovered the best...Kolo! Such a nice way to enjoy a great ethiopian honey wine.
Especially with such a view
What's on the menu today? And some explanation on what is Kolo...
Starter
I chose the ginger beef which turned to be very flavorful. It tastes better than it looks
Cheese platter...well, as a frenchman, I'm not used to eat cheese with crackers but I can't blame them!
Dessert with cinnamon tea
It was quite a filling and tasty meal. Added with lovely and chatty FA, I think that ET has a very good on board product.
Overflying Chad
African skies are so beautiful
Cabin is getting ready for landing in ADD
Addis Abeba suburbs. I must pay a visit to this country one day...
Welcome to Bole International, hub of Ethiopian Airlines
Thanks for the ride! Cloud 9 passengers are entitled to get a specific shuttle to reach the terminal. As ADD elevation is above 2300m, the temperature was very chilly not that I dislike cold
Transiting in ADD is very smooth and easy. When the terminal will reach european standard it will greatly improve passenger's experience?
Where does this lead?
Thank you! I wish to visit you next time!
Long and bland corridor
It looks like a line of shacks
This is the place to go...otherwise, there is nothing much interesting to do in the transit area.
The lounge was crowded but there was a wide choice of food and drinks, free wifi and comfortable seating.
The terminal is basically a long line of boarding gates serving a wide range of destination throughout all Africa and some key markets in Asia and Europe (as well as in the Americas)
Lufthansa getting ready for its flight back to Frankfurt via Jeddah if I remember correctly
The boarding gate assigned to the Brussels-Paris-bound flight. The boarding will be very well organized...
Ramp action around a nice looking Boeing 787-8 while the LH's A330-300 is taxiing
China is very active in Africa and in Ethiopia especially. ET has even chinese-speaking counters dedicated for these passengers. Nice touch!
Unfortunately, gate assignement has changed. So, the only thing to do is to go downstairs for a boarding by bus. And a full 788 is a bit too much for the tiny ground floor boarding gate.
Let's go downstairs
No Cloud9 bus this time but priority boarding enforced...anyway, I will finally boarding my last flight
The first time I see an A350-900 in real! How nice it is!
Widebody operation in ADD
06.04.2016
Flight # : ET704
Departure airport : Addis Ababa Bole International (ADD/HAAB)
Arrival airport : Paris Charles de Gaulle (CDG/LFPG)
ETD : 2345
ATD : 0015
ETA : 0630+1
ATA : 0650
Scheduled flight time : 07:45
Actual flight time : 07:35
Aircraft type : Boeing 787-8 "Mountain Nyala"
Reg # : ET-ASH
Seat : 03A
Also my first time boarding a 788! What a gorgeous looking plane!
Exhausted but still excited (as usual) to board a plane!
I was greeted by a rather uninterested FA and I made my way in the crowded Cloud9 cabin. Finally, I settled in my comfortable seat
Ample legroom and nice touchscreen which was very responsive however I prefer to control the screen with a remote controller as I don't need to wake up
Another bottle of water was present.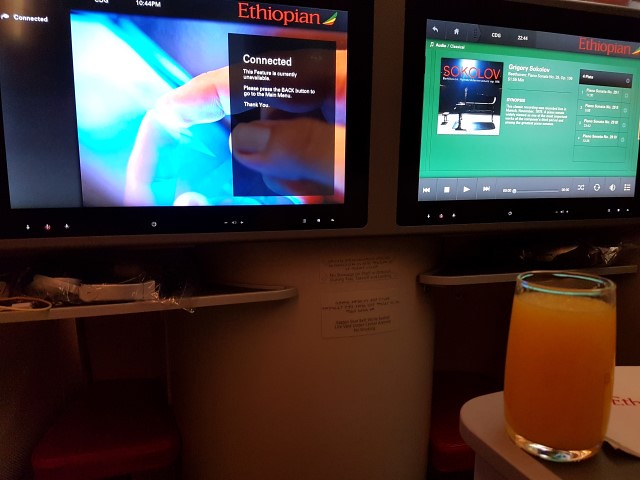 OJ as pre-departure drink
Amenity kit (the same as on the flight from NIM) and oshibori
The famous Dreamliner windowshade controller!
Boarding still in progress. This flight is going to be quite full.
Still a long way from home
Seat pocket content plenty of reading material
Today's flight menu. I chose the meat ravioli for the light meal and the plain omelette for breakfast.
Pushback
Good bye to Bole Int'l
TK's B738 getting prepared for its flight back to IST
Taxiing
Airborne in the cold ethiopian night
Last glimpse of Addis Abeba before overflying a very dark countryside. There was almost no lights on the ground before reaching Europe
Starter : Salmon - average
Main course : Ravioli - awful
Dessert : Madeleine - delicious! Crispy and moist at the same time. Perfect!
After a sleepless-night due to the excitation of being reunited with my loved ones, it was time for breakfast.
There is nothing much to talk about. Average to say the least.
Overflying Milan
Getting closer to home
On approach to Paris CDG
Paris by night
Turning for an eastward approach
Vacating the runway
Taxiing towards CDG Terminal 2A
Almost docked
Deboarding was quite disorganized due to quite unruly passengers...welcome to France...sigh
Last look to my ride. Thank you Mountain Nyala!
Walking towards immigration and baggage claim.
Using PARAFE automated passport control, I was landside very quickly.
CONCLUSION :
NIM - Quite nice African airport. I felt very safe in regard with all the security screenings I went through. Having read many horror stories about african airports, I am very impressed by this airport.
ADD - Very effective hub but doesn't reach european standards in terms of accomodation. It needs to improve a bit comfort-wise. Anyway, I was quite pleased to transit through this airport and look forward to go back there.
CDG - Smooth and effective experience. I was landside very quickly.
ET - Interesting airline connecting Africa to the rest of the world in a very effective way. It just lacks of consistency in terms of onboard product (soft product)
Thank you very much for reading this quite long trip report. I hope you've enjoyed. I look forward to have a feedback on it. Feel free for comment!
Very best regards to all!
LYSflyer
Links to my previous TR :
Swiss Economy LYS-ZRH-EWR
Aegean Airlines A3633/A3632-LYS-ATH-LYS-Inaugural
Brussels Airlines SN3588 - LYS-BRU - Economy
Adria Airways JP395 - BRU-LJU - Economy
Adria Airways JP376 - LJU-BRU - Economy
Brussels Airlines SN3591 - BRU-LYS - Economy
TAP By Portugalia Economy LYS-LIS
Air France Economy MRS-ORY
Turkish Airlines MRS-IST Economy
Ryanair MRS-TUF Low-cost