Hello friends! Welcome to one of my reports.
Firstly, as usual, please apologize for my bad English, and also bad photo quality as I took all shots by my cellphone. Please also not to be surprised if you find similar reports on other sites, I wrote all by myself.
Before to the main story, let me recap all of my reports in Airliners.net:
First Time & Last Time by Air France, Singapore-Jakarta
Short Trip to Malaysia with KLM 810 (777-300ER)
An Indonesian Domestic Flight with Garuda Indonesia, from Jakarta to Pekanbaru (Riau Province)
Jakarta-Medan, Banda Aceh-Kuala Lumpur, and Kuala Lumpur-Jakarta
A Short Jakarta-Singapore Flight with JETSTAR ASIA
From KL to Jakarta with KLM, Boeing 777-300ER
First Time with Malaysia Airlines after 15 years
Another Indonesian Domestic Flight: Sriwijaya Air (Boeing 737-300)
Once again with KLM's 5th freedom route (CGK-KUL)
First time with Tigerair & photo session in Changi Airport
An Indonesian domestic flight with 777 (Garuda)
Jakarta-Kuala Lumpur & return in one day, with AirAsia & KLM
IMPORTANT NOTE
The abbreviation of
KL
here always refers to
Kuala Lumpur
, not KLM's IATA code. Please not to be confused.
BRIEF BACKGROUND
The main purpose of this trip was to watch 2017 ASEAN Para Games in Bukit Jalil National Stadium, Kuala Lumpur. Yes, if the world has Paralympics, then Southeast Asia has also its own Paralympic Games, dedicated for athletes with physical disabilities. It's usually held 1-2 months after the SEA Games.
The last time I watched the ASEAN Para Games was in 2011, which was hosted by Indonesia and held in Solo, Central Java. I was very touched and inspired by how the "disabled" athletes struggle to finish their games. It made me, as a "normal" man, feel shy as sometimes I still keep complaining about my situation and problems, and feeling lazy to do my jobs.
Actually I had also planned to watch the 2015 ASEAN Para Games in Singapore, but due to my hectic school programs, I cancelled the plan. Then the chance to watch the game come this year, when SEA Games and ASEAN Para Games are held in my nearest "negeri jiran" (neighboring country), Malaysia.
As usual, to fly to Kuala Lumpur, I chose none other than my favorite European carrier, KLM, which offers the 5th freedom route from Jakarta to Kuala Lumpur, where it will continue their flight to Amsterdam. It's also currently the only European carrier flying to & from Jakarta regularly.
I spent only a night and a day in Malaysia, only to watch the game, then I chose to leave Malaysia for Medan, North Sumatra, on September 20th by Malindo Air. I will write the report with Malindo later if you're really curious about it.
OK, let's jump to the main story.
KLM
Jakarta Soekarno Hatta (CGK) - Kuala Lumpur (KUL)
September 19th, 2017
Flight no: KL 810
Reg code: PH-BVS (Darien National Park)
Type: Boeing 777-300ER
Dep: 19.10 (UTC+7)
Arr: 22.00 (UTC+8)
From my apartment in Depok, a city in the southern border of Jakarta, I took an express bus to Soekarno-Hatta International Airport. The traffic was quite good.
The National Parliament (DPR) building.
Entering airport area.
Before reaching the Terminal 2, a 777 of Emirates was seen.
The bus bringing me here. The fare was IDR 60,000.
After a security check, I entered the check in area. Here I only needed to print the boarding pass, as I had done the online check in, so that I could choose my favorite seat position.
The boarding pass.
Entering the airside area, with the immigration check as usual.
From the immigration counter, we had to walk through a long way to the Gate D2.
Gate D2. Before entering the gate's waiting room, there was another security check, only for KLM passengers, as the plane would fly to Europe.
When I entered the waiting room, our plane arrived from Amsterdam through Kuala Lumpur. The plane's registration code PH-BVS, titled "Darien National Park", named after a national park in the Panama-Colombia border.
At our left side was Emirates which I saw on the bus before, waiting for departure to Dubai.
A Turkish Airlines just landed.
Then the Emirates started to take off.
A crowded waiting room. People from Indonesia and the West (Europe + the Americas) dominated the passenger composition. Not too many Malaysians joining the flight. I could difference them by their language and accent.
We were called for boarding at 6.30 p.m. (UTC+7), 45 minutes behind the schedule.
Entering the cabin, as usual firstly we would see the business class area.
"Economy Comfort" class, with probably wider pitch than the ordinary economy class.
Then entering our area, the economy class.
Here I sat in about 2 hours.
The seat pitch.
While waiting for the boarding process completed, we had been allowed to operate the IFE. The highlight was "Power Rangers" movie. But as usual I was not too interested in movies, so I chose listening to its great music collection.
The boarding was completed. I could not count exactly the occupancy for this flight, but I guess around 90% of the seats were occupied. Seating beside me was an Indonesian couple going to Kuala Lumpur, the same destination with me.
Then the IFE started showing the safety instructions video with amazing animation.
Some pics before take-off.
The take-off process was very smooth, without any shakes and turbulences. Then the seat-belt lamp was turned off, and we could move freely. I tried to check the lavatory. Very clean and well-maintained.
I went back to my seat and checked anything inside the seat pocket.
"Holland Herald" magazine. I really like this magazine, with nice design and compact size (some in-flight magazines are very "bold" with too many pages). But the flight route shown here was very complicated and difficult to read.
I continued listening to the musics on IFE. This was the album of T.M. Revolution, a Japanese singer who sang many opening songs of anime series, especially "Samurai X" and "Gundam Seed Destiny" (my profile picture is Shinn Asuka, a character of "Gundam Seed Destiny" series).
[/url]
I also checked the interactive flight map, with useful flight info. It also shown the map of KL city and interesting sights there.
Then the cabin crews started to serve our meal. It was "Pie Alooghobi". An Indian food in the Dutch airlines. The "Veggie" sign showed that it did not contain meats and eggs. I also asked the red wine, as I was very curious about it even though I had been on KLM for 5 times. The wine was produced in South Africa.
The weather was nice. We did not face bad weather situation. Unfortunately the flight was too short. At 10.00 p.m. (UTC+8, Malaysian time), about 1 hours and 45 minutes after departure from Jakarta, we had been prepared for landing.
Finally it touched down at Kuala Lumpur International Airport (KLIA) smoothly.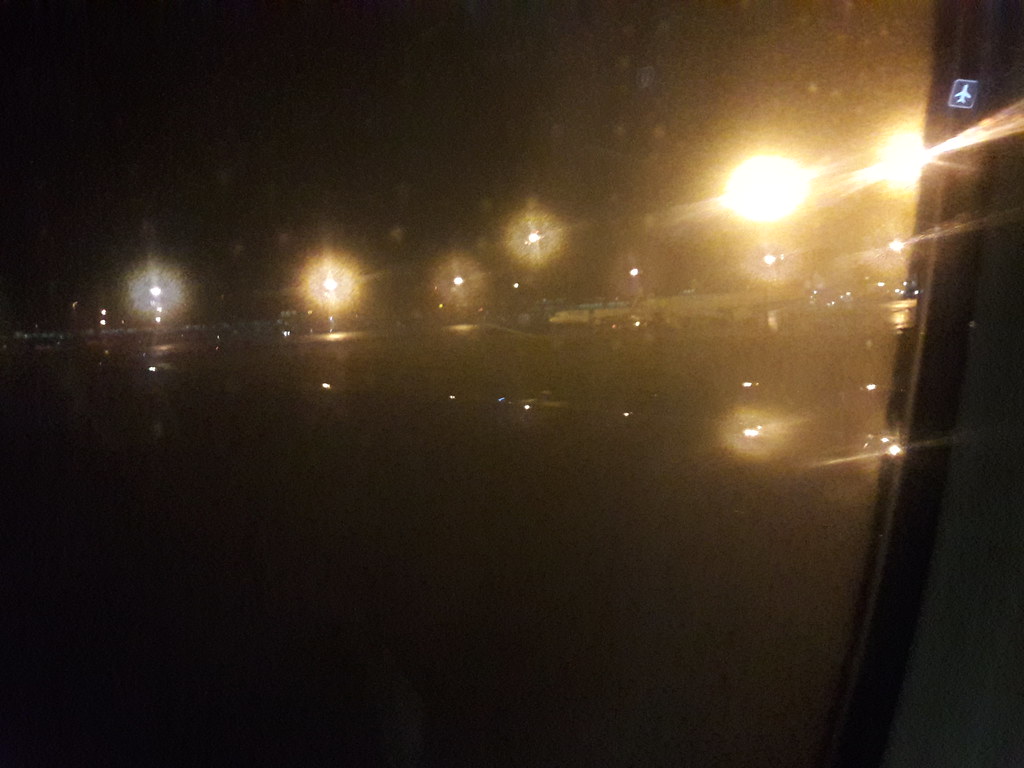 Time to leave the PH-BVS (Darien National Park) plane.
Some passengers entered the boarding gate on the terminal and continued their journey to Amsterdam.
As I was not going to Amsterdam, I spent about 15 mintues on the terminal taking some photos before proceeding to immigration counter. It was "satellite terminal", separated with the main terminal but connected by the aerotrain or people mover.
KLM PH-BVS preparing to fly to its home in Schiphol, Amsterdam.
Other planes.
Then I proceed to the main terminal by train.
Surprisingly, the immigration counter was not crowded, and I did not have to wait on the long queue, unlike the
last time I arrived in KL
.
After the immigration check I passed the baggage belt. I did not have anything to claim here.
The arrival hall was packed by people waiting their relatives and friends who went back after the Hajj pilgrimage in Saudi Arabia.
From here I took the KLIA Express train to klia2, the low cost terminal of KLIA, as I would spent a night there. Klia2 was more comfortable to stay overnight, with many restaurants opening for 24 hours.
Check-in counters at klia2.
"Quizinn" food court. Here I slept for some hours, after eating a plate of "roti canai".
The the morning came and I left the airport by bus to KL Sentral.
To close my story, let me show you some pics of Kuala Lumpur and the 2017 ASEAN Para Games.
KL Sentral, KL's main transport hub. Here I took the LRT train to Dang Wangi to find good place for breakfast.
Yut Kee Restaurant, a popular place for breakfast.
The LRT train to Bukit Jalil National Stadium. The Bukit Jalil LRT station was decorated uniquely for the SEA Games and ASEAN Para Games. There was even a large LCD screen showing local TV channel dedicated for sports.
As I had limited time here, I only watched 2 competitions here: swimming and athletic.
OK, that's my story. Any suggestions and feedback are appreciated. Thanks for reading.