God I hope Google isn't lying to me and that those characters spell Nǐ hǎo which means hello in mandarin or else things could get awkward really quickly.  Google don't fail me now.  Anyways...
It's been about three weeks since I last wrote and it's been quite a hectic time with all the travel, sights and sounds.  That being said, Asia was AMAZING and I've got tons of photos, video and crazy stories to share.  Right now I'm super jet lagged...it's 3:42AM and I've been up since about 2:30AM.  Believe it or not, this is better than yesterday when I woke up at 1:00AM...13 hour time difference is a killer.
When last we left, I had just arrived in New York to attend a work conference and after a great three days of learning, networking and building relationships, it was time for me to head to Hong Kong.  Surprisingly enough, I was shocked when two days prior to my flight leaving, I received an email from Cathay Pacific saying that they allow for check in up to 48 hours prior to departure.  In my experience, it's always been 24 hours, so I was happy to check-in and get it out of the way.
The morning of my departure, I was excited and ready to hit the road.  It felt like I had been counting down to this day for forever, and I was anxious just to get on the airplane.  I don't know why really because 16 hours on an airplane never seems like a great idea but I was ready.After attending the last session of the day at the conference, I headed upstairs for a quick shower and change, and I was off to the airport about an hour later.
IMG_8183
by
Jonathan Hanna
, on Flickr
View from my hotel room. Bringing back that old Kai Tak feeling! Airplane turning on final for LGA.
I left my hotel in Flushing and headed to John F. Kennedy Airport and not soon after, i was sitting in traffic.  What should usually be about a 20 minute ride was really more like an hour.  Thanks New York.  I had built in tons of time in to my trip though and I arrived at a very sleepy Terminal 8.
As apart of the OneWorld Alliance, Cathay utilizes Terminal 8 with American Airlines, Qatar Airways, British Airways and the like.  I was flying Premium Economy on this leg, and I was happy to see that there was a dedicated counter for check-in.  All of the counters were relatively empty at this time and I literally walked right up to the counter.  The airline agent whom was very polite quickly got me on my way and I was headed to security.  Once I got through, I had about 3 hours until my flight was scheduled to leave, so I did what any other avgeek would do.  I explored the airport for a bit and then found the nearest window and began to look at airplanes.
IMG_4377
by
Jonathan Hanna
, on Flickr
All of the American Airline Logos from inception.
IMG_9439
by
Jonathan Hanna
, on Flickr
Quite literally, the Big Apple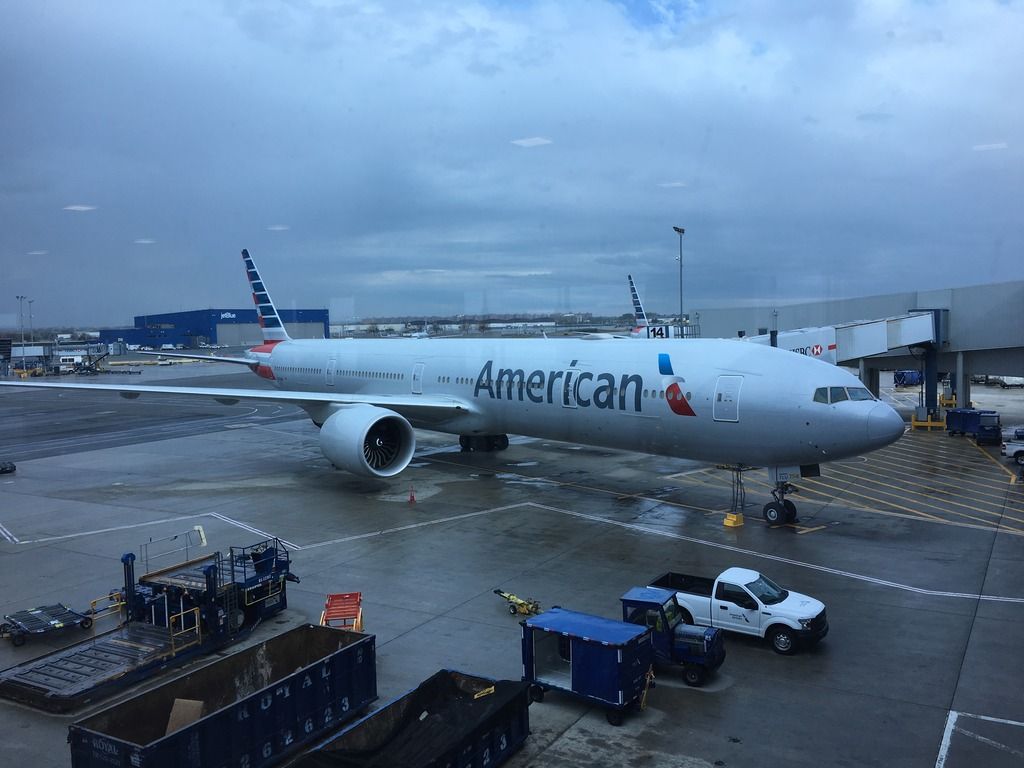 American Airlines Boeing 777-300 similar to the one I'd be flying on.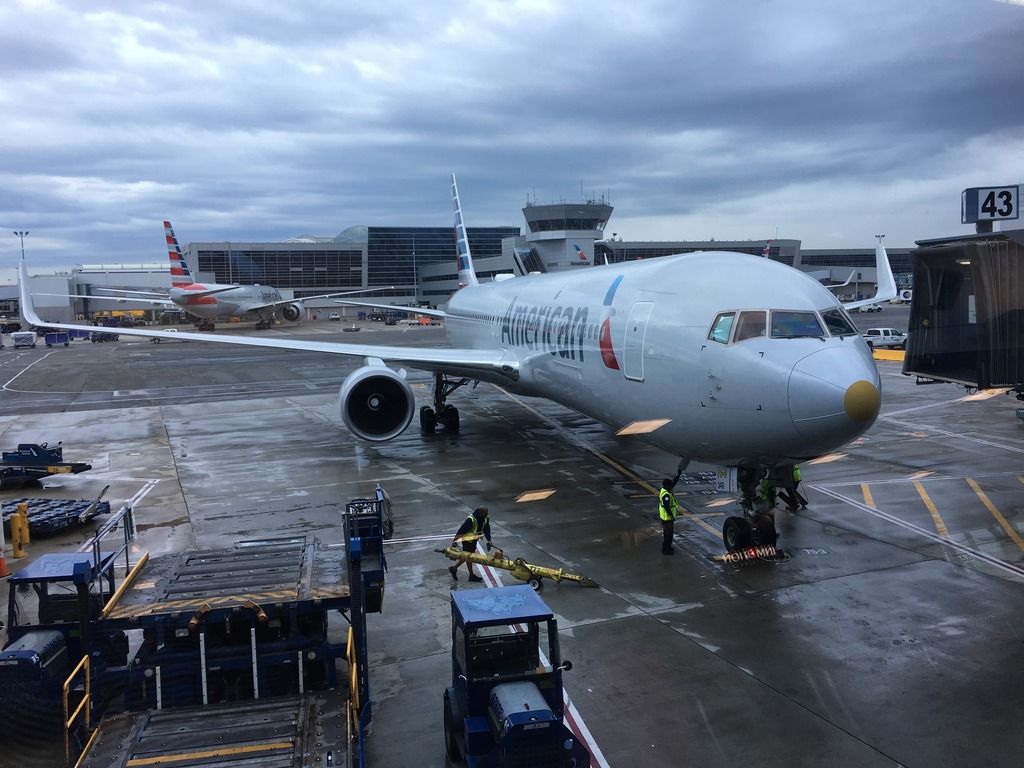 American Airlines Boeing 767-300
After walking around for about two hours and catching up with some friends, I decided to head to the gate, where surprise...no windows.  If you read my last post, this seems to be a reoccurring theme on this trip.  After about 30 minutes, I saw the airline agents begin to set up the boarding area for the flight...only to announce that the flight would be delayed.  No big deal for me, I wasn't in a rush.
About ten minutes later, an announcement was made that they would begin boarding and that everyone should line up in their respective classes.  This was a bit odd for me especially as I'm quite accustomed to an agent speaking out over a PA system identifying zones that could board etc.  This was not to be the case, and as I flew through Asia, seemed to be quite the norm.  But more on that later.
2737548
by
Jonathan Hanna
, on Flickr
My ride to HKG, this Boeing 777-300. Photo Credit to Matt Kostelnick.
Airline: Cathay Pacific
Type: Boeing 777-300ER (Extended Range)
Aircraft Registration: B-KQJ
Initial Altitude: 29,000 Ft.
Distance: 8,066 Miles
Seat: 34K
Now, prior to me taking this trip, I had mentally prepared myself for the differences in culture and in particular, personal space.  What I didn't realize is, that I would experience this cultural change before I even left the United States.  As soon as we lined up to board, there was a lady that could have told me a secret...we were that close.  As I glanced around, this seemed to be the norm on all of the lines.  I shrugged and went on with my business.
Boarding was non-eventful and I quickly found my seat.  I was pleasantly surprised to see what Premium Economy had in store for my 16 hour flight.  For the uninitiated, Premium Economy is like a hybrid between Economy and Business class.  It's a slightly higher level of service with a nicer seat providing more recline, and legroom, with some of the amenities that you would find in business class - hot towels, welcome drink, real cutlery, headphones etc.  We also received the customary pillows, blankets, an amenity kit that contained eye masks, socks, lotion and a toothbrush and toothpaste.
What made my flight even more enjoyable was that there was no one sitting next to me which really translates to, I didn't have to bug anyone to use the restroom at 3AM.  After getting cozy, I was promptly reminded of how long this flight would be.  The good news was, that was an Advantage member, all of these miles would be credited to my account and would count towards my status for 2018.
Shortly after, the very friendly flight attendant came around and asked for my choice of welcome drink, so of course I chose the bubbly.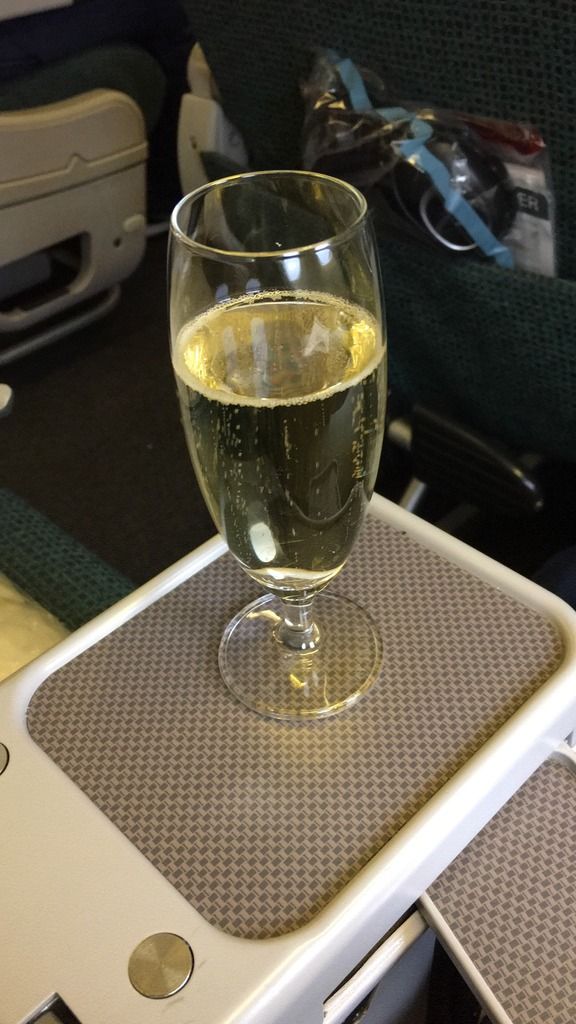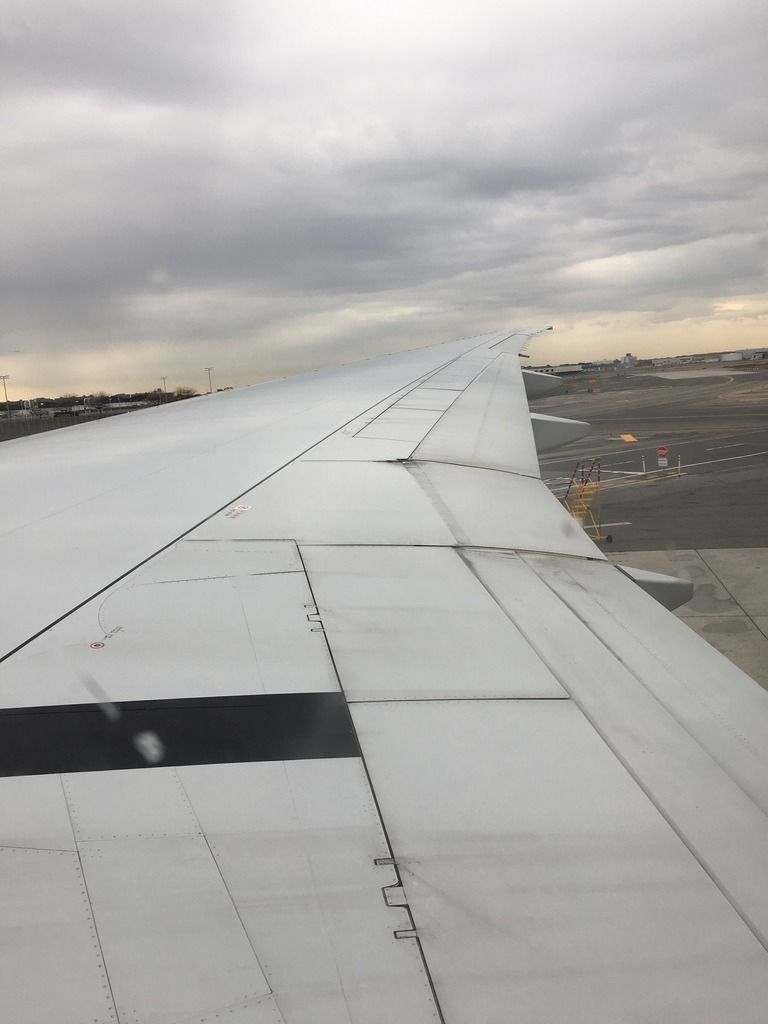 My view for the next 16 hours.
Not too long after, the doors were closed and we were ready for pushback.  The captain came over the intercom and apologized for the slight delay, and informed us of our route which would be a great circle route.  Instead of flying in a straight line, we would be flying over the North Pole, over Russia, and down in to Hong Kong.  He also informed us that our flying time would be just about 14 hours and 44 mins.  In my world, anything over ten hours doesn't make much of a difference.  A long flight is still a long flight.
After push back, we taxied for quite some time (I wanted to ask if we were driving to Hong Kong) and joined the congo line for Runway 31L.  In all actuality, this is normal for JFK Ops, there's such a large influx of flights arriving and departing, it's actually quite cool to see how it all comes together.  From my count and what I could see, we were about number 15 for takeoff.  After about 50 minutes taxiing, we lined up on Runway 31L.
https://www.youtube.com/watch?v=2yxjjYJ3aJA&t=3s
Video of Takeoff
After about a minute, the pilots pushed up the throttles and after a fairly long takeoff roll, we were off into the gloomy skies of NYC.  It was quite an overcast day with rain and so as we climbed out there were a few bumps but overall, the ride was fairly smooth.  We eventually broke out of the clouds to a nice sunny day and not too long after, we were at our initial cruising altitude of 29,000 feet.
https://www.youtube.com/watch?v=CVkDmYLdy6A
Climbing through the soup.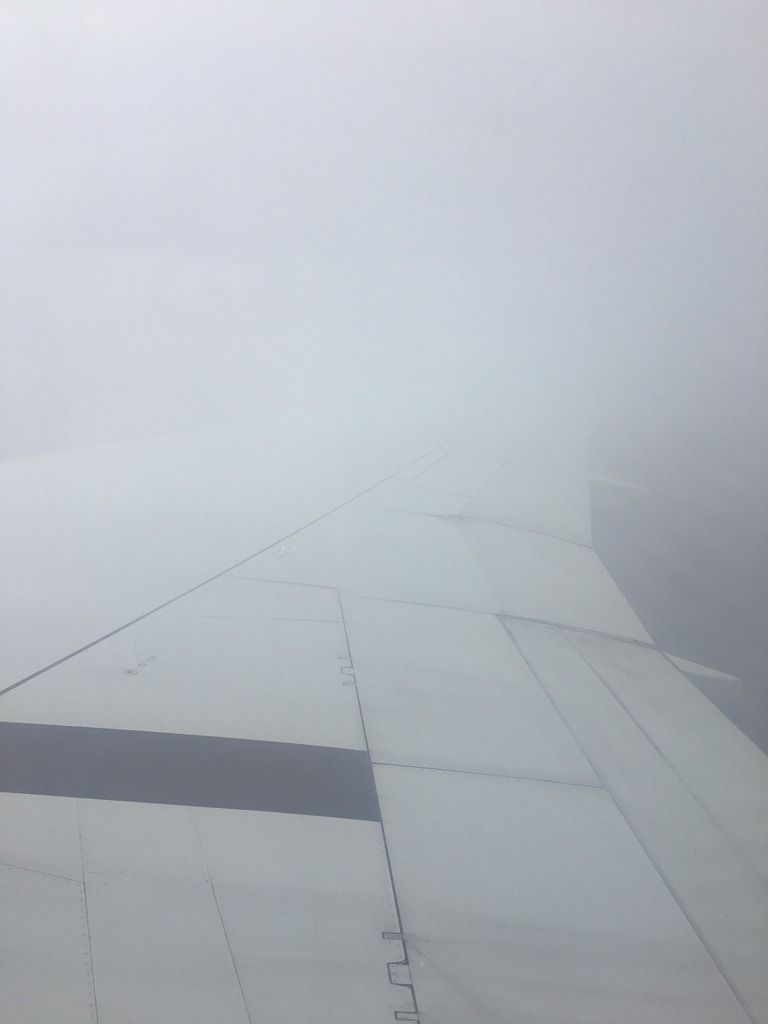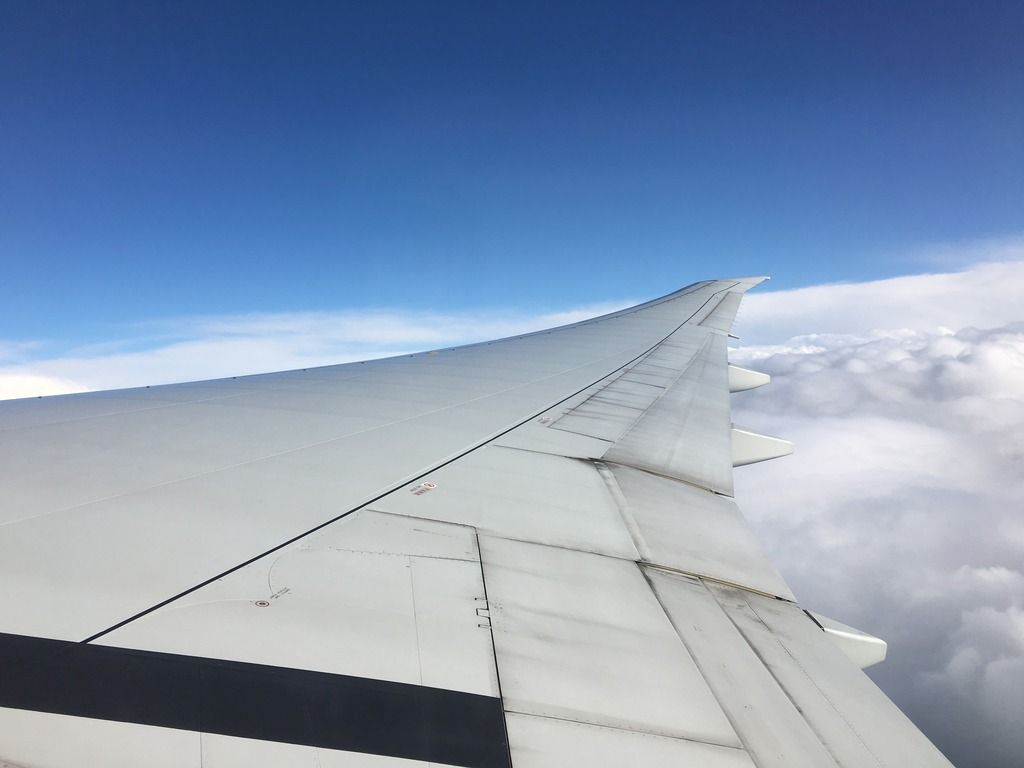 Daylight!
Not too long after, dinner was served.  Again we were given a hot towel, which was quite refreshing and we were given a choice of filet of beef, pasta, and prawns.  I chose the beef and have to admit, it was prepared very well and quite filling.  Every time I eat on an airplane, I tend to lower my expectations but this meal far exceeded them.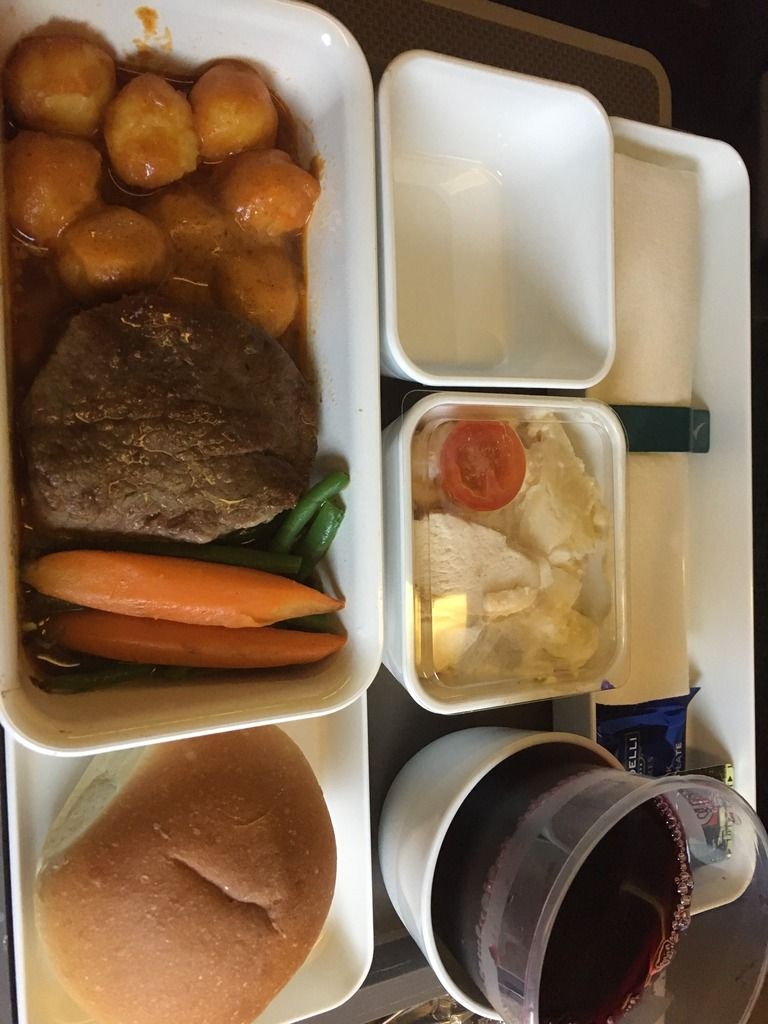 Filet of Beef, Carrots and Potatoes
Not too long after, the sun began to set, and the flight attendants asked us to close the window shades to ensure that everyone could sleep comfortable should they decide to.  I did have a plan in place to stay awake for the whole flight.  This was in an effort to mitigate against the impending jet lag I was sure to feel after crossing 12 time zones.  The plan was going relatively well until the flight attendant offered me a glass of wine.  Which turned in two more additional glasses.
So I slept for a few hours.  Like seven.  When I woke up, the sun was beginning to rise and the map showed that we were over Russia.  We had stepped climbed up to 34,000 ft.  The in-flight entertainment on board had a lot of documentaries, new Western movies and classics as well as catering to the asian base with numerous shows, movies and documentaries from the Far East.  I felt it left it a little to be desired as I didn't find the movies to be that impressive but, I did find a few movies to settle in for.
IMG_2166
by
Jonathan Hanna
, on Flickr
Daylight over Mother Russia.
The flight attendants did come around and give out bottles of water and if you were hungry prior to the next meal service, there was ramen and other snacks that could be taken at any time.  With about two hours to go until we landed, the next meal service began and I chose the chicken this time.  While it was fairly good, it wasn't as impressive as the first meal.  Not too long after, the sun began to set again and the Captain informed us that we would be beginning our descent into Hong Kong shortly.  He stated that we may have to hold briefly prior to landing however, it shouldn't be too long of a hold.  Once the descent began, the flight attendants began their pre-arrival checks and we were placed into a brief hold before we began the approach.  We were treated to a beautiful sunset over Hong Kong.
IMG_5780
by
Jonathan Hanna
, on Flickr
Soon after, the sun set and we were on approach to Runway 07L at HKG.  We landed just after 7PM local time and had a quick taxi over to the gate.  As much as I love to fly and to be on airplanes, I was happy to get off and stretch my feet and walk around.  Immigration and Customs were a quick process and that's where the real adventure began.  Being in a foreign country can be quite intimidating especially when a foreign language is involved.  I had to figure out how to get from the airport to my hotel in Tsuen Wan.  My plan was to take a taxi from the airport to the hotel however, the information desk told me the more affordable way would have been to take the train and a taxi.
I decided what the hell.  Let's have a little adventure.  I decided to take the train into town and then to hop on a taxi.
The lady at the information desk was nice enough to write the name of my hotel down on a piece of paper so that I could show it to the taxi driver and I was on my way.  After a quick train ride to the Tsuing Yi station, I got in a taxi.  After some initial struggles of me communicating to the driver where I was going, despite the having the address on the piece of paper, I was on my way to the hotel.
Check-in at the hotel was quick and easy.  I was staying a bit further from the city proper, but the area that we were in was nice and a quick 35 minute to the city by train.  I asked one of the hotel staff where I should go to get something to eat.  He guided me to an Italian restaurant and a McDonald's but rest assured, there was no way I had just flown halfway around the world to eat McDonald's or Italian food.  I walked down the street a few blocks and stumbled upon a few different restaurants.  Utilizing the advice I've received from all the traveling shows I've ever watched, one restaurant had a ton of locals outside eating on the sidewalk.  I figured if it was good enough for them, it would be good enough for me.  The gentleman quickly got me a seat and a menu, and I had a great dinner.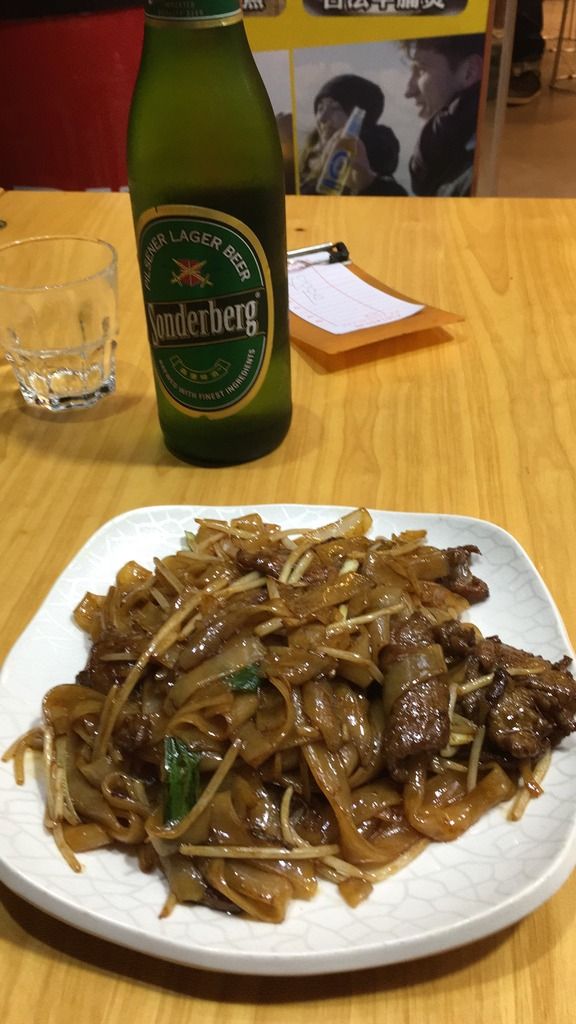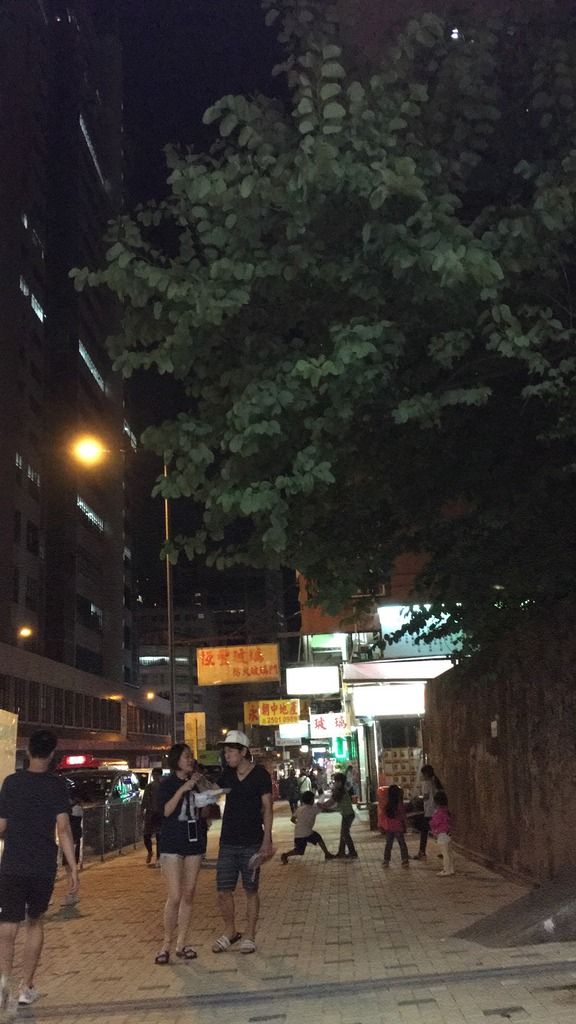 My chopsticks skills probably left a bit to be desired however, I got it all down.  Right down the street there were some kids playing soccer and that's when it hit me that I was so far from home.  No one knew me, knew who my family was, what I did for work, nothing.  Nor did they care.  It was perfect.  I enjoyed the solitude and relaxed.  The adventure had only just begun.