Hello and welcome to my trip report about my trip to China just this summer. This time my family didn't take a US carrier to China (Ugh Delta Econ seats,
!) and rather fly to a long and skinny destination, Shenzhen, and fly the Boeing 787 Dreamliner for the first time
. (This report took 4 months to write, lol!)
Very Excited and Almost Not able to fall asleep the night before.
July 10th, 2017
BOI-SEA
DL4453 Operated by SkyWest Airlines
Embraer E175LR
N252SY
Depart: 8:20 (9:10)
Arrive: 8:59 (9:13)
Duration 1:39 (1:03)
Seat 12A
Since this flight was rather early, an early start was needed. Upon arrival at the airport, we learned our bags would not directly transfer to our next flight since Delta only transfers bags to itself. Nonetheless, it was done pretty quickly, and the staff, fortunately, were positive.
Boarding pass
After security, I looked at the time and told my family to hurry as boarding was already commencing since it was 7:40, but however, our gate B20 a scattered field of passengers looked odd.
The scene at Gate B20
Unfortunately, B20 offers zero views of the aircraft you fly, and so no photos can really be made.
Boarding commenced at around 7:50 with a very slow call for each group, and we were in Group 3, and so a patient wait for us.
Once onboard and through the first cabin and into our cabin, I noticed AC power available from the signs on the overhead lockers, and sure enough, there was a port between our seats. Legroom was alright at 31" or 78cm since this was an hour- long. The tray table was very large, but however, the table would not be able to move back. In the seat pocket were safety instructions, 2 airsickness bags, and Delta literature.
Legroom Shot
Seat pocket stuff
New WiFi logo
Minutes into our seats the pilots announced a delay due to low clouds at SEA or Seattle and so all flights not airborne would need to be delayed until the issue cleared up. Fortunately for us, we had a solid 4.5 hours until our next flight, and a solid hour could be shaved off our wait. But for others, luckily our gate agent Natalie was busy making sure those with tight connections wouldn't miss their flights and jokingly hoped some people brought running shoes since their flight was up to the Concourse from our arrival gate (which seriously is a very long way from). I really love the staff who care and the ones at BOI are phenomenal at their job.
The view outside to another DL E175LR
Finally, at 8:55 we began pushing back from our gate, we began our long taxi to our runway.
Takeoff roll began at 9:10 and we were airborne promptly.
https://www.youtube.com/watch?v=aNrklL4 ... e=youtu.be
Our path today was through Western Boise and through the Western Idaho landscape.
Snake River
KLWS or LWS I believe
Above the clouds
Around a (long) 20 minute wait and the seatbelt sign was turned off and the flight deck welcomed us to walk about the cabin.
Cabin service started for First Class, and eventually to the Y+ and Y cabin. The service consisted of a complimentary drink and a snack.
A snack was offered of Biscoff Cookies or
a Kind bar, and I chose the latter.
Delta Service
The service took most of the flight and was very slow, and the snack followed nearly an eternity after the drink service.
Luckily my side had some views of the high Cascades, which happily made up for the delay.
Mt Adams
Mt Ranier and Hood
Mt Ranier
After passing Mt. Rainier the crew announced a small slowdown along the way and proceeded to descension into SEA.
The crew today chose the rather boring route heading towards Everett before turning a 180 towards runway [] (probably due to the low-cloud issue). This route, however, flies over the Museum of Flight and you can barely make the image of the first ever Boeing 747 stored there.
https://www.youtube.com/watch?v=aNrklL4 ... e=youtu.be
We touched gently at 9:13 and had a long taxi to our gate A13, with a slow arrival announcement welcoming us to Seattle and an apology for the delay and reassurance of a flight for those connecting.
We let the passengers in 11 C and D who joked earlier about not flying DL ever again for the delay and had a tight connection go first to deboard.
And finally, we were at SEA
Our flight hadn't been on the board as it was still 9 in the morning and our next one was at 13:25, so off to claim our bags since DL won't transfer our bags to XiamenAir, MF.
Uneventfully our flight's bags were all delivered and we had to look at the luggage service center to find them side by side.
Soon afterward we walked over to the XiamenAir counter. There was no line and our bags were speedily checked, we got our boarding passes, got some questions answered, and off (again
) to Security.
Afterwards, we headed to the food court for some food and some last (uncensored) web surfing.
July 10th, 2017
SEA-SZX
MF846
Boeing 787-8 Dreamliner
B-2763
Depart: 13:25 (13:50)
Arrive: 18:15 +1 (17:18 +1)
Duration 13:50 (12:28)
Seat 43E
Boarding Pass
After a good while at the court, I asked if we could go to our gate A12, which was forever from our table. They let me check the area, and they would leave at 12:00 to get there. I did the round trip in 20(!) minutes. By the time I was back I told them the gate area looked full but it was from the B763, DL167, boarding at A13 to NRT. Along the way, I saw our first flight (N252SY, who completed the round trip to SAC!) close for BOI, and saw B-2763 be towed from the S gates for customs to A12.
ANA R2D2 B789 to NRT with HU and DL in the background
Our bird, B-2763
UA B738 Next door
We were there about 12:20 and waited for boarding which didn't begin until 12:25, 5 minutes late.
Boarding began with Sky Priority and the aft section of Y, and then finally our front section of Y.
Oddly I witnessed during boarding was the removal of the left small stub rather than the right or giving us a stub. I really dislike when they try to destroy our BP's and still scan our passes (why the need for extra verification
!).
Down the jetway, it was with my backpack, suitcase, and a woman who tried to open her suitcase was told not to open it (both in English and Mandarin) and a salutation by the wonderful crew at door L2.
I was directed to the right aisle and was greeted with a handsome, young male attendant at my seat.
[Sorry I didn't include a picture of the seat, so caught up in the moment of being on a 787
)
In the seat pocket were a bottle of water, socks, an airsickness bag, safety card, menu, and Chinese literature.
[img]https://imgur.com/YJ3ZySu[\img]
Socks
Clean Bag
Safety Card
Mostly Chinese Literature
Menu, sorry about my hand and that it is from a video
Lunch Choices, obviously misspelled, and sorry the dinner choices weren't shown clearly from my filming.
Drink List
The seat had a 9 inch/25cm screen, remote, tray table, cup holder, USB ports and a clothing hanger.
In the armrest was the 3.5mm headphone jack, and below it was the 110V AC power port, which would be reserved for my camera battery for the flight, as I wouldn't be able to use my phone during the flight due to a heavy CAAC ruling that is still ancient.
The legroom was very nice at around 32 to 33 inches or 81-84cm although the seat was tight around 17.5 inches or 44cm, but it was nicely padded and was very comfy for the 12-hour ride.
There were some empty seats I wanted to move to on row 41, but it seemed the other Xiamen crew were shuttling those seats.
At around 13:30 the door was shut, and the crew did a bow to the customers. Following this was a simple safety demonstration, followed by a very over-enunciated safety video my brother and I poked fun at.
Shortly we were off on a slow taxi and at 13:50 we began our takeoff.
Shortly after takeoff, the lights were dimmed and the windows shades were all locked at a dark purple.
A drink was offered shortly, followed by a meal service. The choices were Pork and Rice, Seafood Pasta, or Kung Pao Chicken with rice. I chose the middle. My mom chose the former.
My Meal
Mom's Meal
During the meal the servers passed out nuts and dried fruits, warning small children of small potential choking hazard.
Nuts and dried fruit
My meal was absolutely delicious and was served some bread, butter, cake, fruit, and a potato salad. This was probably the best airplane meal I probably had ever and was very full.
After the meal, I explored more of the IFE and tried to catch some Z's and got about 2 hours of it.
In the middle of the flight, the attendants passed out sandwiches.
Ham, Mayo, and Cheese on White Bread Sandwich
The sandwich was surprisingly tasty even on white bread. They went through 2 hours later giving away more, but I decided to wait for the next meal.
I tried sleeping again and then decided to watch and listen to some more IFE. The IFE was very responsive and had decent content for both Mandarin or Western sides, but there wasn't very much interesting content for both. The games were interestingly nice and had multiplayer with other strangers or seatmates. The music selection was plenty enough for my tastes and so I listened to a couple good artists.
Nearing the Mainland
Approaching Shanghai
About 2 hours prior to landing at Shenzhen (SZX) the lights were turned on and the 2nd meal service began. A hot towel was given, and another beverage service.
Hot towel and drink service
The choices for the final meal was pork with rice or Tomato Pasta with Meat Sauce. I chose the former and my Mom and brother the latter. My meal consisted of rice, pork, vegetables, A side of Cajun Chicken salad, yogurt, fruit, pretzel bread with butter and carrot cake for dessert.
Again my meal was very good, and since my brother had a 2nd sandwich earlier and so he couldn't finish the pasta, so I tried some and it was very chunky and the meat was ground and a bit cold, and my mom wished she had tried my meal.
My IFE broke before the service and told the senior cabin manager and nicely restarted mine.
Soon we were 30 minutes away from SZX, and the cabin was set for arrival. The cabin mood lighting cycled the entire rainbow and the windows were set back to normal, the crew made some announcements on the Arrival process and handed out immigration cards for non-citizens of China.
A man in row 41 (whose family switched back and forth through the right Business Class seat) was snoring very loudly and I hoped we would have a rough landing to wake him up.
Sure enough, the plane landed near the end of the runway with a loud thud, startling a few passengers like me at 17:18 a day later.
We had a quick taxi to our gate at the International section next to a CZ A332.
Passengers heading to Xiamen on this flight were told to disembark later, and with the tiny 787 cabin I was squeezed for a little bit as the First Class and Business Class passengers disembarked, and after 10 minutes I managed my way to the right aisle and disembarked through L2.
The crew on this flight were exceptional and after reading a lot about their services, these crews were hand-picked, and I appreciated this nod for better service. This airline exceeded my high expectations and was looking forward to flying them back to SEA.
The 787 was very quiet, had excellent mood lighting, and with the carbon fiber body allowing for lower cabin pressure and higher humidity, it felt like I was on the ground the whole flight.
Off to Immigration was next at SZX, a fairly new and expansive terminal met us.
Immigration was speedy since we were foreigners and we disembarked rather early.
Afterwards, we claimed our baggage, and it took a long time since we checked in early.
Shenzhen's terminal is very beautiful on the inside and outside. We moved after our bags were claimed to an almost empty ZH, Shenzhen Airlines, counter.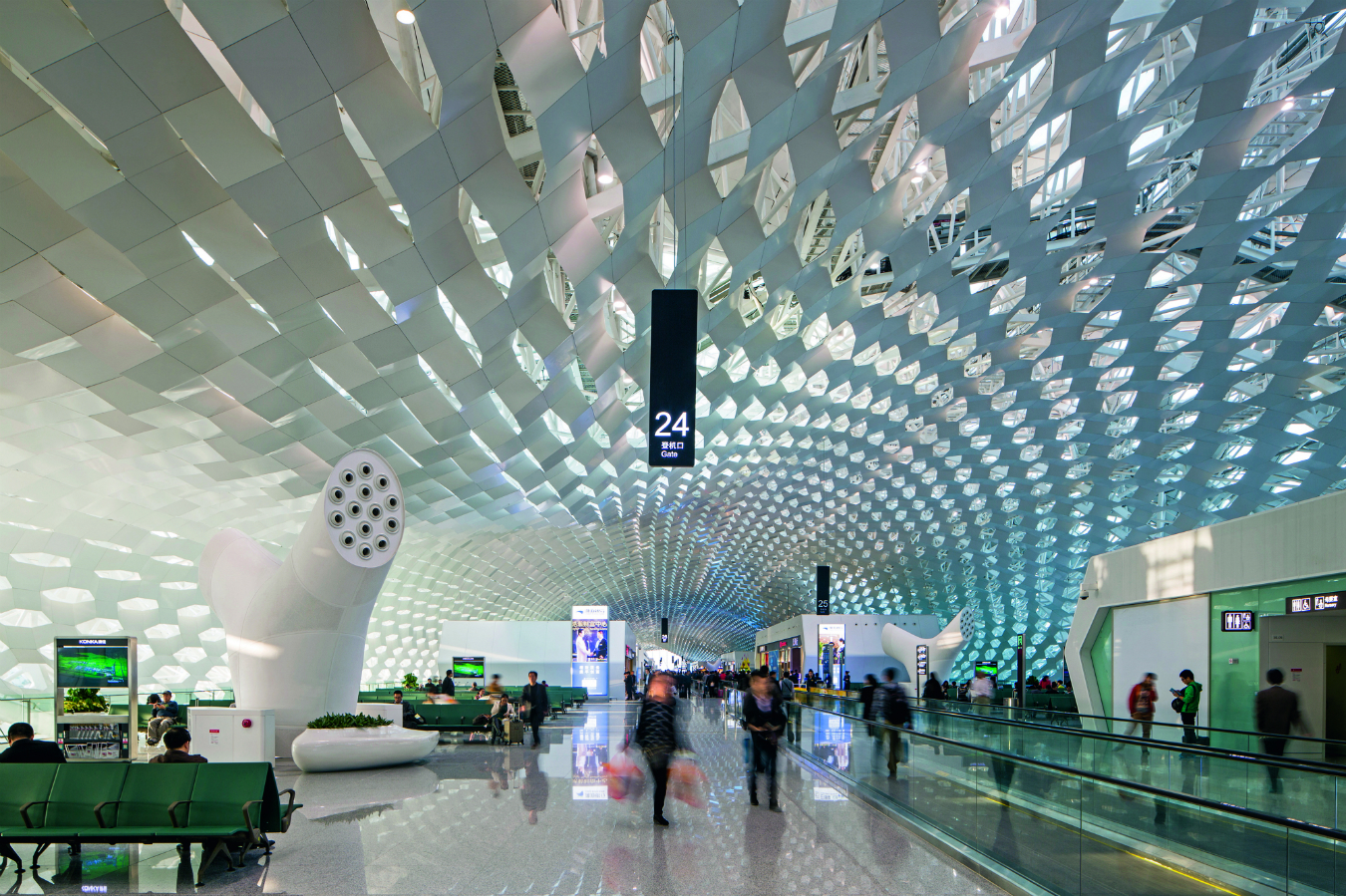 SZX from Monte Cristo Magazine
July 11th, 2017
SZX-NNG
ZH9325
Boeing 737-800
B-1759
Depart: 21:10 (23:05)
Arrive: 22:30 (0:10 +1)
Duration 1:20 (1:05)
Seat 18F (D)
Boarding Pass
During security, an officer questioned my portable charger likely for its capacity but luckily it passed although it took a few minutes.
We walked through the terminal all the way to the end at gate 59, which was a quick 10 minutes.
Looking at our flight on FlightAware, our inbound aircraft was delayed around 40 minutes from Zhengzhou, and we would have a good hour or so waiting. Then the automated announcements "regretted to announce the delay of our flight" about 10 times.
At the airport, I was able to use the Wi-Fi by clicking the "use WeChat" button, which should have led me to a sign in but this was not the case. My VPN sprang to work and let me access YouTube and Instagram, but most of the time the network was pretty slow and didn't work.
Weird cloud shapes outside SZX (which is right by the sea)
After a good while the automated announcements announced a gate change to gate 62A downstairs, and luckily it was not a remote stand gate. Pretty much every flight got delayed as the airspace is busy due to the proximity of CAN and HKG.
B-1759 at gate
The area got very crowded as soon as our Boeing 737-800 arrived at our gate.
Queue at gate 62A
Boarding fully commenced at 22:08 and then we were on rather new Boeing 737 with a blue mood light.
Once at row 18, a Cantonese couple occupied seats E and F and there an opportunity to do a takeoff video went out, although it was completely dark. They might have believed that seats went F E D.
Seat photo
Pocket Stuff
The seat was a nice 32 inches or 81 cm and was significantly tighter than XiamenAir's 787 seats. In the seat pocket, there was a magazine and airsickness bag.
After a long while and again another ATC congestion delay later we pushed back at 23:05 and shortly we were off onto runway.
The couple beside me were rather noisy and since I was very sleepy, and I tried to sleep on this flight.
Shenzhen Service
Surprisingly on this late flight, they served a Valentine's day themed box of a wet towelette, banana, cupcake, and bottled water
After the service, they announced that were doing some stretch exercises but they never did so and instead prepared for landing.
We touched down at 0:10 the next day with an awkwardly long final and gently touched down in NNG.
In conclusion, I'd say all three flights were enjoyable, especially my first Dreamliner flight with Xiamen, but the delays at almost anywhere in China are unavoidable, especially the scary evening rush hour at SZX.
As always, leave me something from you, and I'll catch you with more later.
-bgboiflyer