Southwest Boeing 737 MAX 8 Inaugural with a "Spoiler Alert"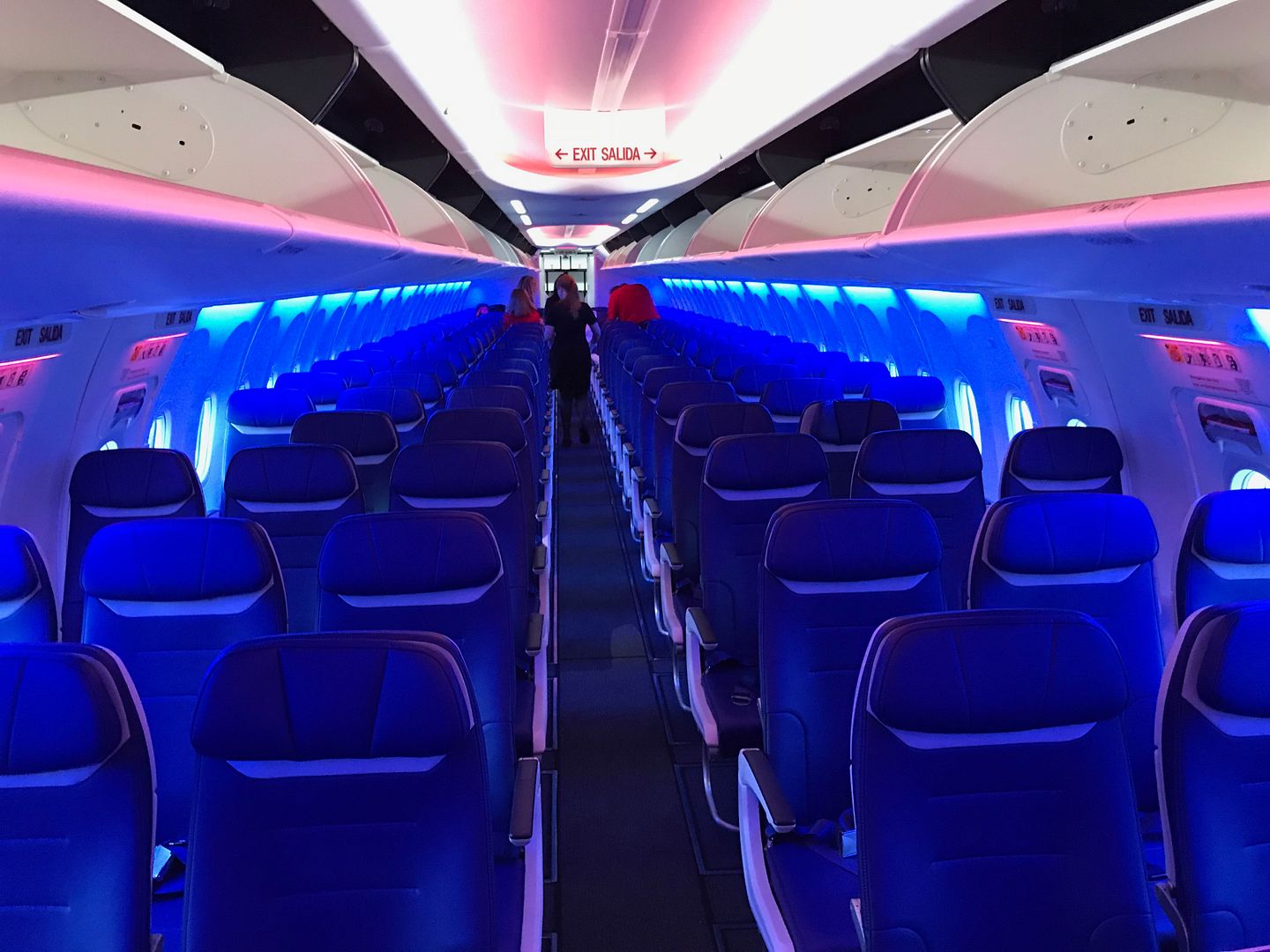 Southwest is the first US carrier operating the Boeing 737 MAX 8, and unlike Norwegian, Southwest is more conservative with its launch date. At the same time, Southwest chose to start using the 9 Boeing 737 MAX on the same day. The obvious inaugural flight was of course the flight with the prestigious flight number 1. As an attempt to honor its history, Southwest decides to use the new Boeing 737 MAX 8 on its original triangular flights: Dallas Love – Houston Hobby – San Antonio – Dallas Love, with the corresponding flight number of 1, 2 & 3. Honestly other than the "spoiler alert" on my flight, the other 8 Boeing 737 MAX 8 did very well. In terms of festivities, Southwest did a few nice things. While it was a hip party like Virgin America or a bigger production over in JetBlue, Southwest's inaugural is also fun and I really appreciate how Southwest chooses to celebrate the inaugural with its employees. There are no fancy cakes or cocktail parties, but the atmosphere was excellent and the Southwest team was at least willing to talk to passengers. About the aircraft itself, the interior is nothing extraordinary, as the same cabin and galley are featured on some of the newly delivered Boeing 737-800s. The seats are comfortable with 32 inches of legroom, and compared to Boeing 737-700s, you can tell the slight difference. The only difference is the mood lighting, music playing during boarding, and the much quieter plane ride thanks to the new LEAP-1B engines. I will compare those two cabins on the next section. They are really identical. As the title suggests, things did not go smoothly but Southwest handles the situation pretty well.
Before sharing my story, I want to link to a more professionally done report.
There is also a link to my personal full album.
Professional link to Chris Sloan of Airways Magazine's report:
https://airwaysmag.com/special-flights/ ... ler-alert/
I had the pleasure in briefly meeting Chris Sloan of Airways Magazine, as I was deplaning at Houston Hobby airport. I decided to provide a link to the article because it was a great report and provided a professional account of the Boeing 737 MAX 8 inaugural.
Album Link:
http://s1213.photobucket.com/user/Carfi ... x8FirstDay
Booking:
I wasn't really sure whether to do this MAX 8 inaugural flights, but when I decided to do so, it was already late May. While I had no problems to book WN 2 and 3, WN 1 was fully booked to no surprise. On the day of inaugural, I heard from fellow passengers that they pretty much booked the moment it was put on sales. Many Southwest employees actually bought a revenue ticket on this special flight. I kept on checking periodically, and on the end of the July 4th weekend in the wee hours, one "anytime" seat suddenly showed up. Despite its $239 price tag, I immediately bought the ticket because it might be the only chance. My theory was that someone had to cancel and I just happened to be checking at the right time. Of course, after studying the schedule of the 9 737 MAX, I wanted to fly a second 737 MAX 8 flight, and it was sort of my back up. I noticed that there was a 2:55pm 7M8 flight from Dallas to Orlando, and with a 3 hours layover at Dallas Love Field, it sounded like a very pretty safe flight to book. Then I continued onto Fort Lauderdale, which was my final destination, on a regular 737-800 flight that connected easily to this flight. So, my final itinerary was all set – WN 1 2 3 4197 DAL-MCO 2180 MCO-FLL. I even splurged for business select for WN 3, so I could grab a cabin shot. Southwest has a great website and I purchased early bird check in for all flights, but of course due to the large load, my boarding number was towards the end of A group.
October 1, 2017
WN 1 DAL-HOU Lv0700 Arr0805 Boeing 737 MAX 8 N8707P
I arrived at Dallas Love at around 5:15am, and it was already a pretty busy place.
[On a side note, it was sad to see the nice Virgin America's premium lounge disappeared.]
When I arrived at gate 16, where our flight would depart, there were already plenty of activities. You should see plenty of Southwest employees, including one wearing his cowboy hat, along with plenty of Boeing MAX t-shirts. There was even an enthusiast carrying a Southwest 737 model, in which Gary Kelly signed onboard later during the flight. Most passengers with a few exceptions were definitely here for the first flight.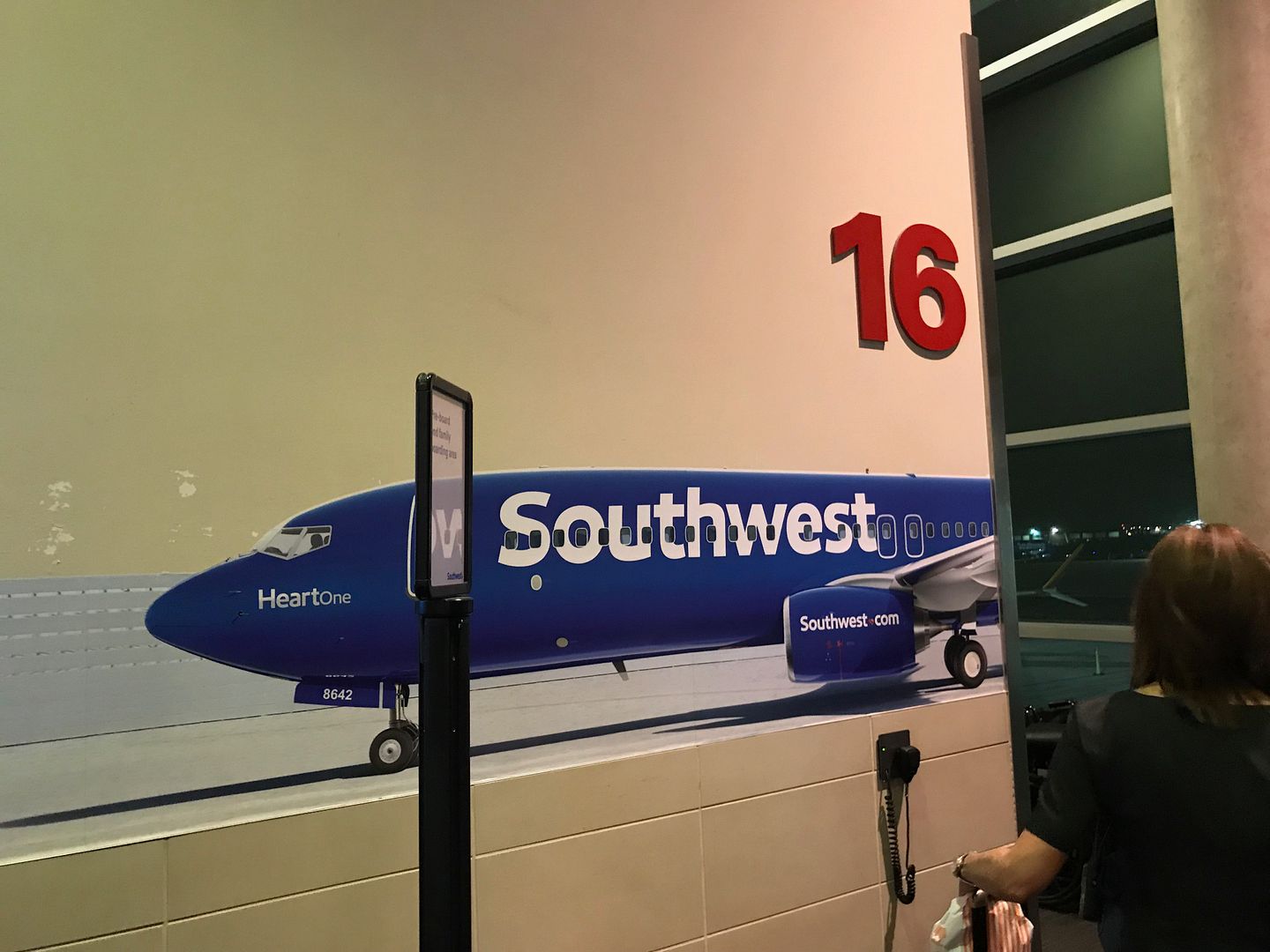 Southwest set up a photo booth, which was a nice thing.
There was also a table featuring a few souvenir items that I have already seen on the Cincinnati inaugural flight.
While all the festivities were going on, N8707P was quietly sitting here with blue mood lighting turned on.
Announcement time:
Arrival of Gary Kelly and his welcoming remark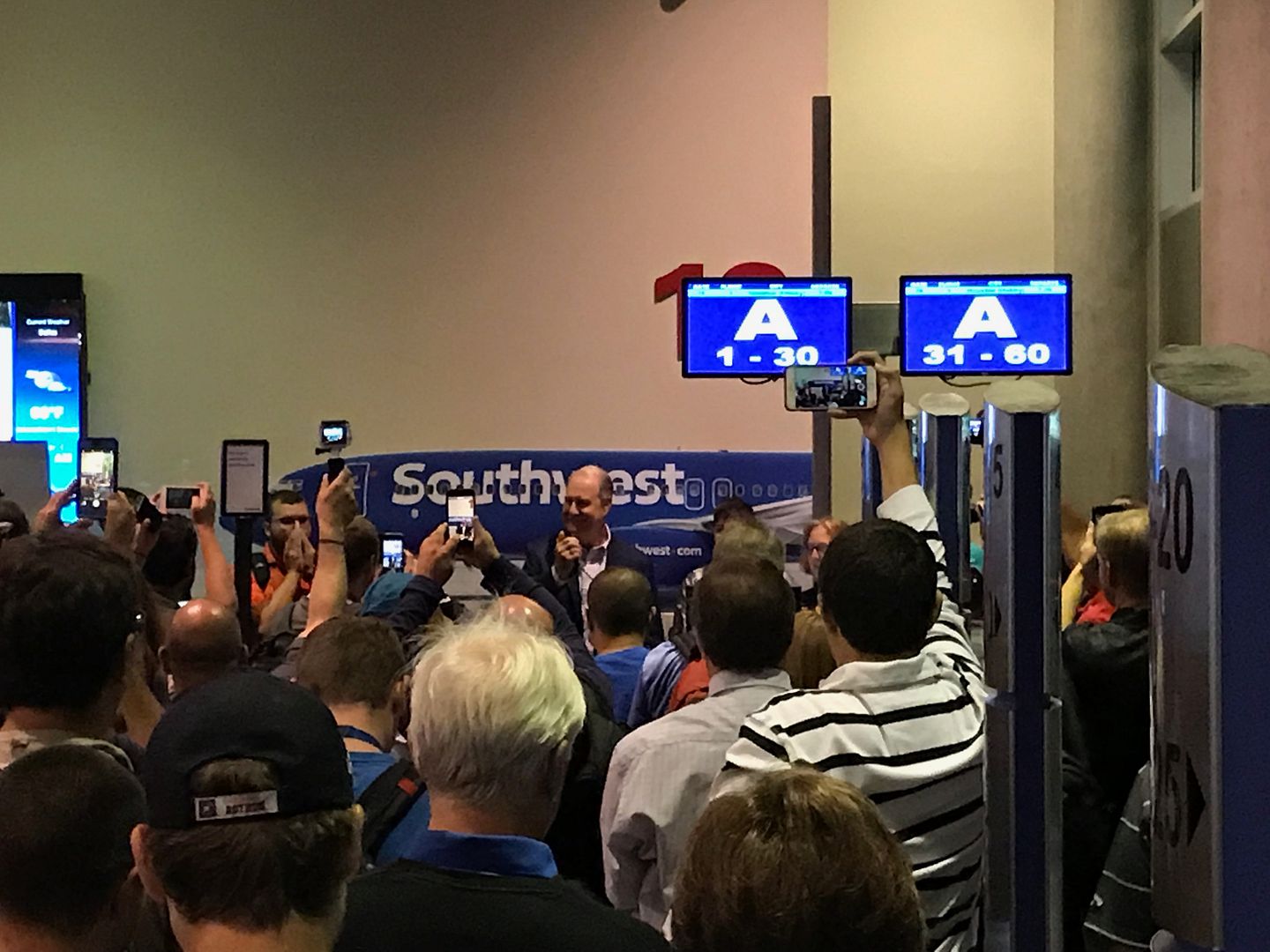 It was nice that they mentioned that Boeing 737-300s had just been retired a few days ago and September 30 was the first and only day that only the Boeing 737-700 and 800 on the fleet. Of course, October 1, 9 737 MAX 8 officially joined the network.
Boarding began at 6:36am and of course things went a bit slower than normal. The gate agent, Daryl, who was the major cheerleader at the gate, playfully asked us to speed up.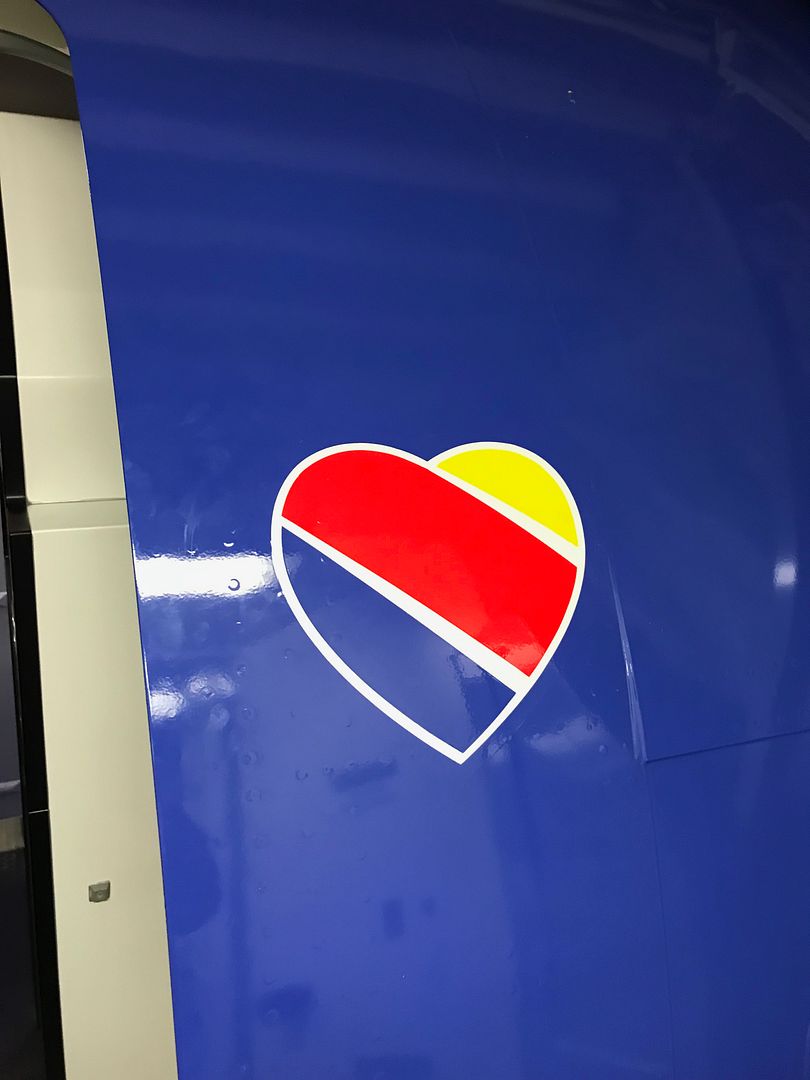 First impression of the plane – very "blue"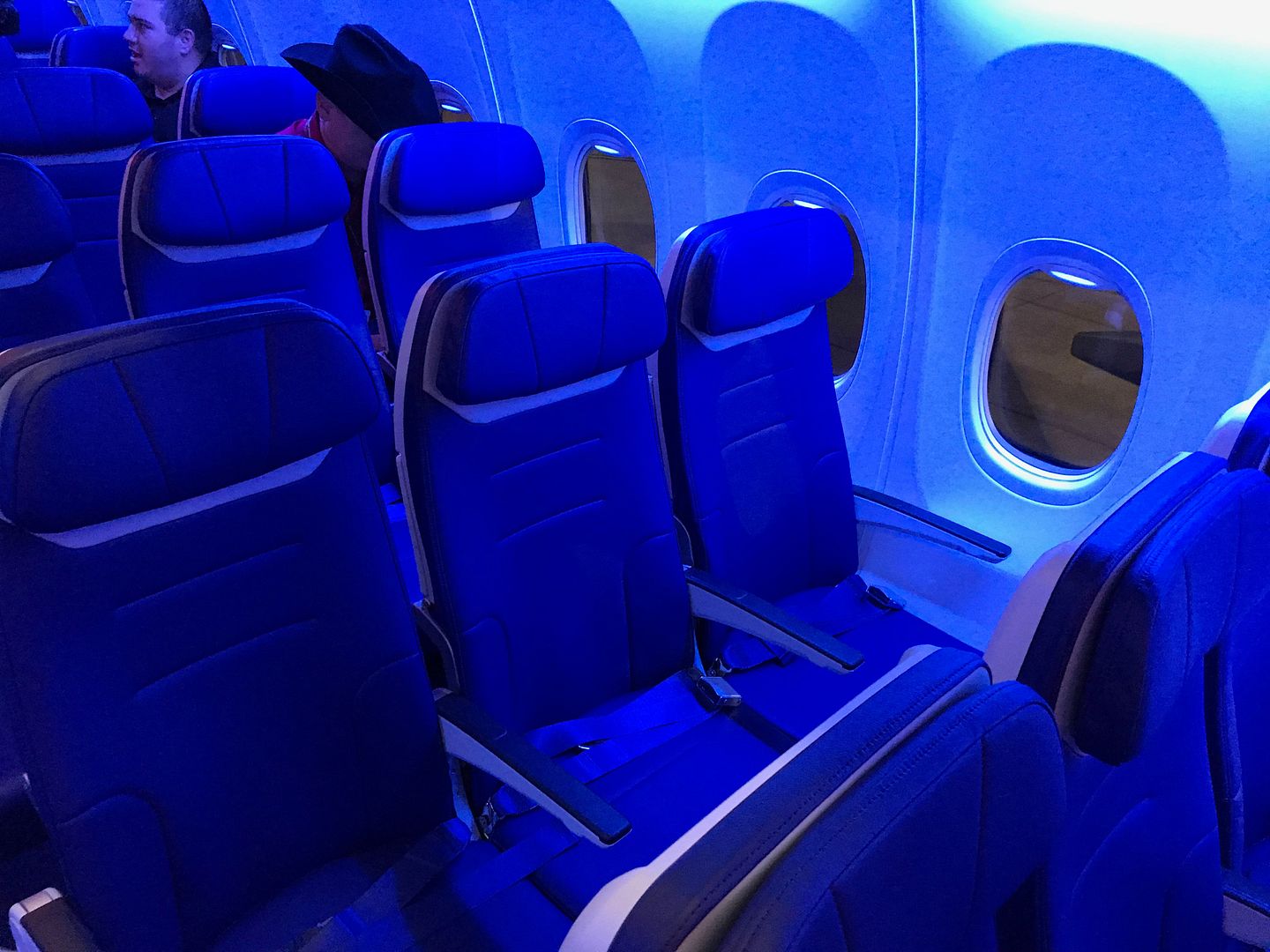 Overhead bin – Boeing interior – same as newer Boeing 737-800s
My seat – 18A
I was sort of expecting a full flight but in the end, it was not booked to 150. I got an empty middle seat, and 18C was a Southwest employee working for the social media team. We had a quick chat.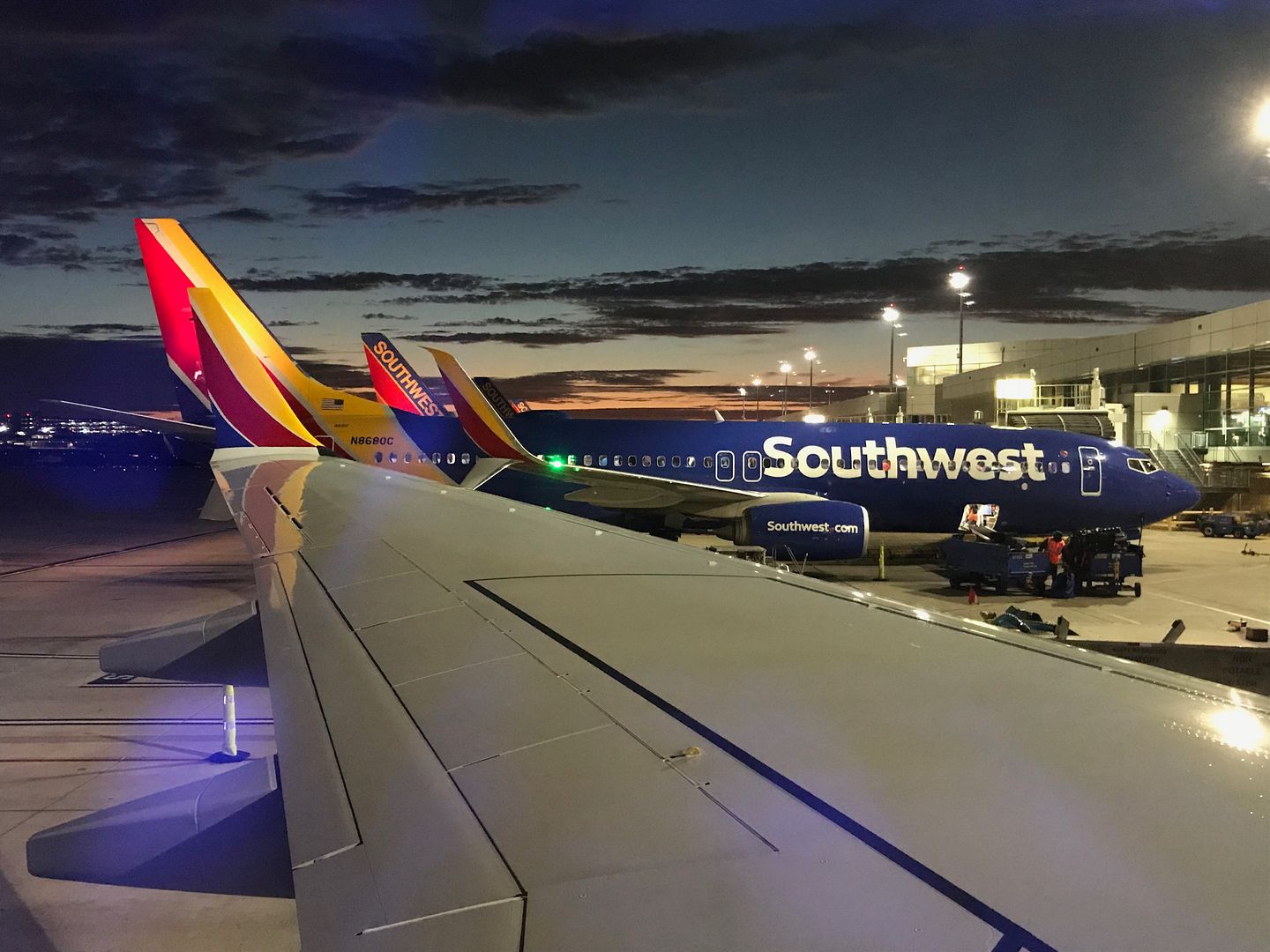 Another mood-setting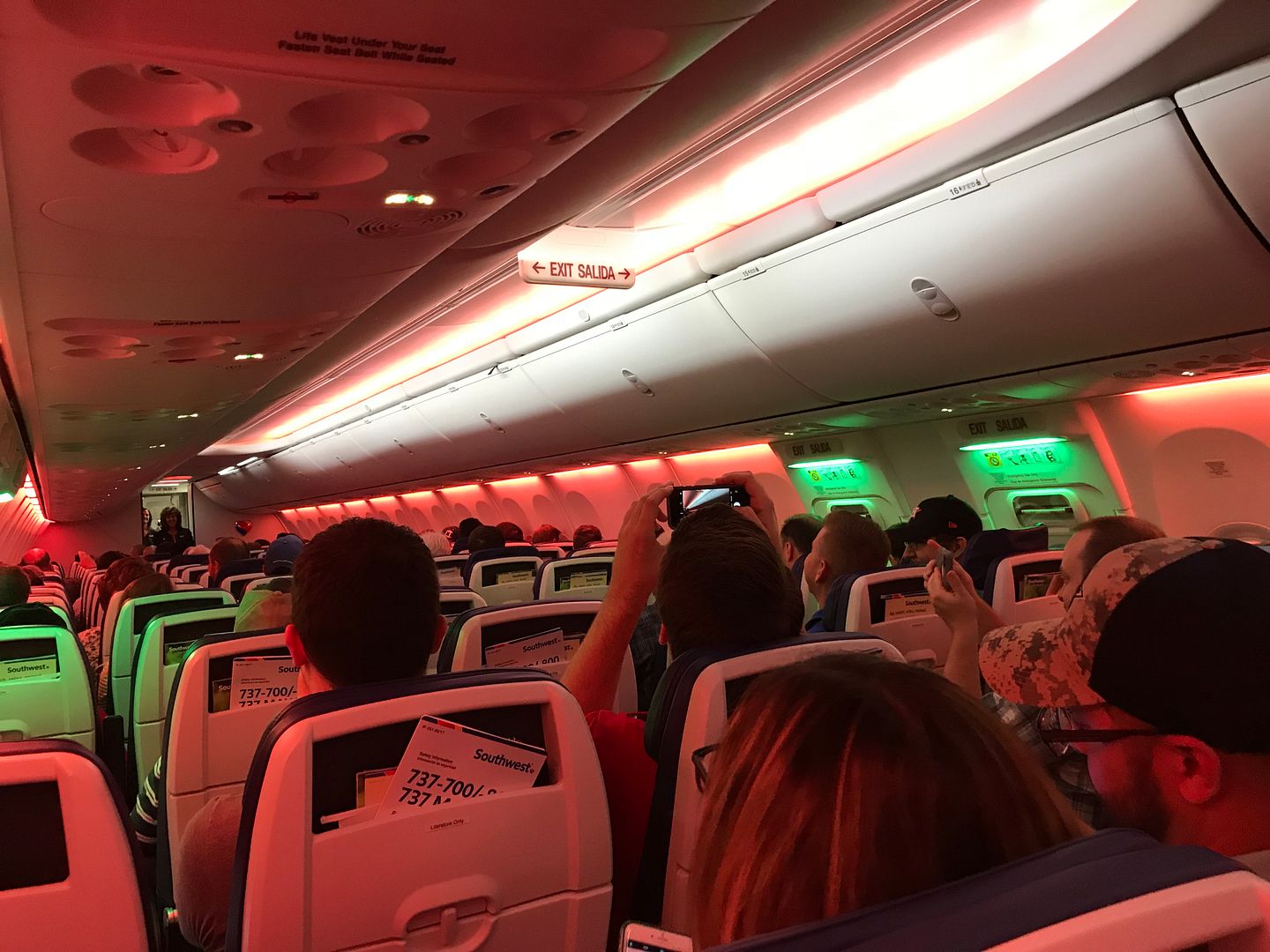 Boarding was a bit slower than usual despite not people have heavy carry-ons. There were some paperwork delays, but nobody was bordered by it, as there were plenty of special announcements. Kelly also took the opportunity to award two passengers (through lucky draw) with 25,000 Rapid Reward points each. Door was closed at 7:06am, and we pushed back two minutes later. We taxied towards R/W13R.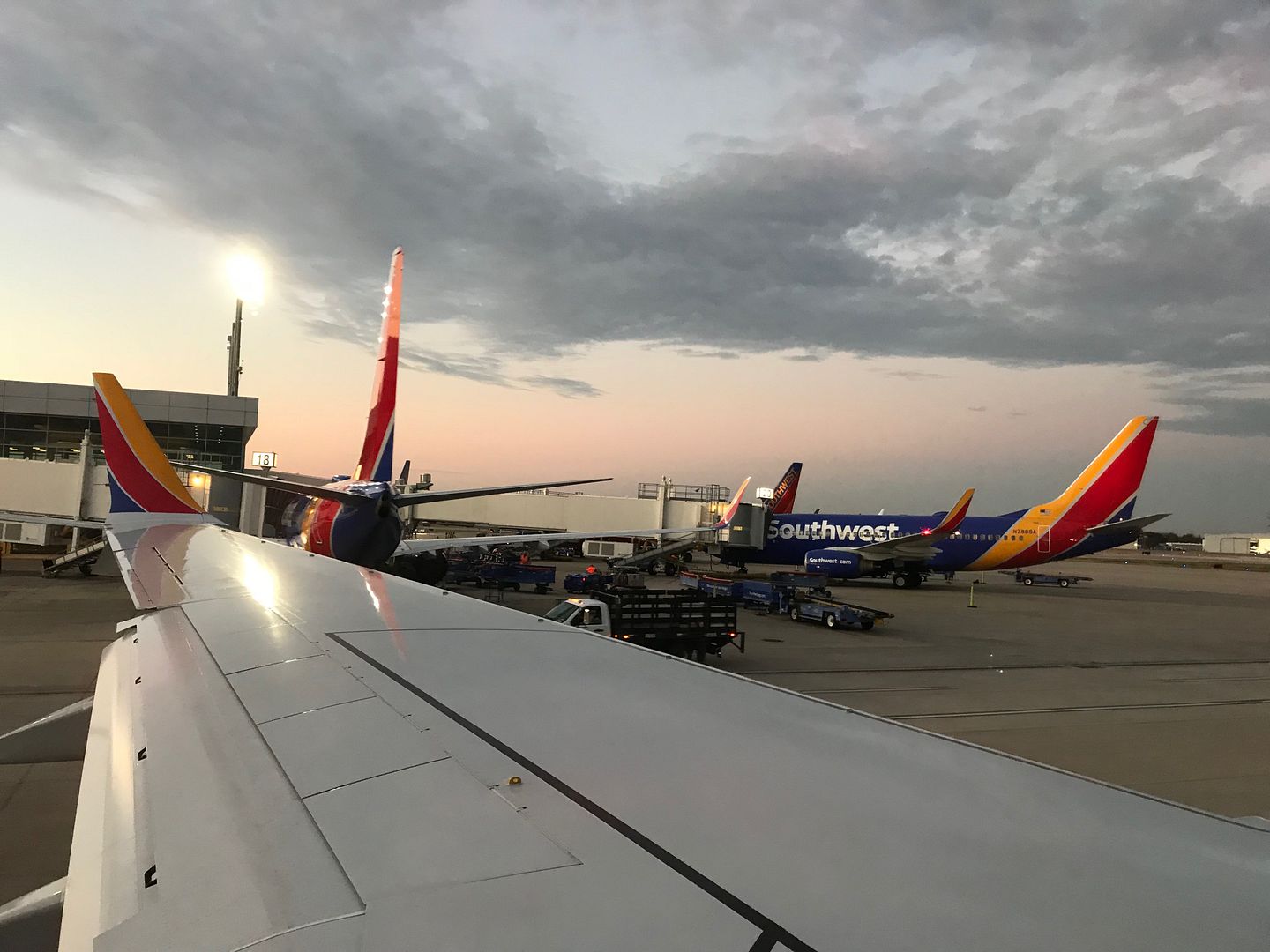 We took off at 7:17am for our short forty-two minutes flight towards Houston Hobby. We climbed up to 31,000ft.
Safety card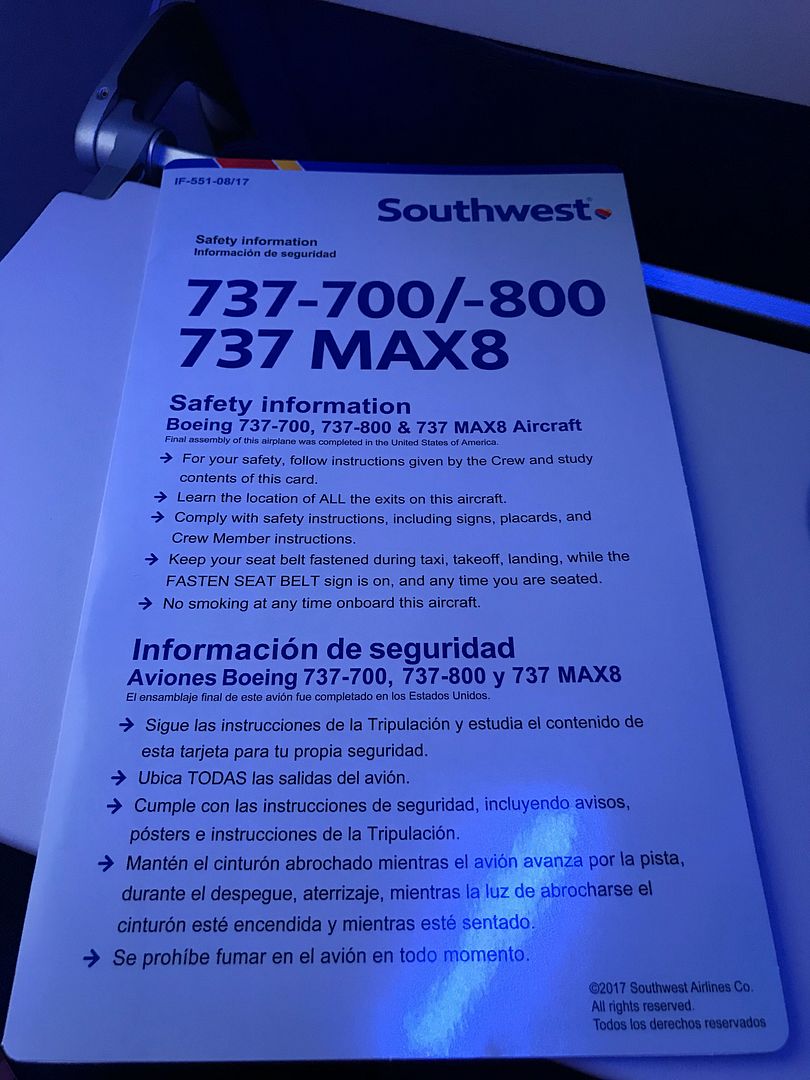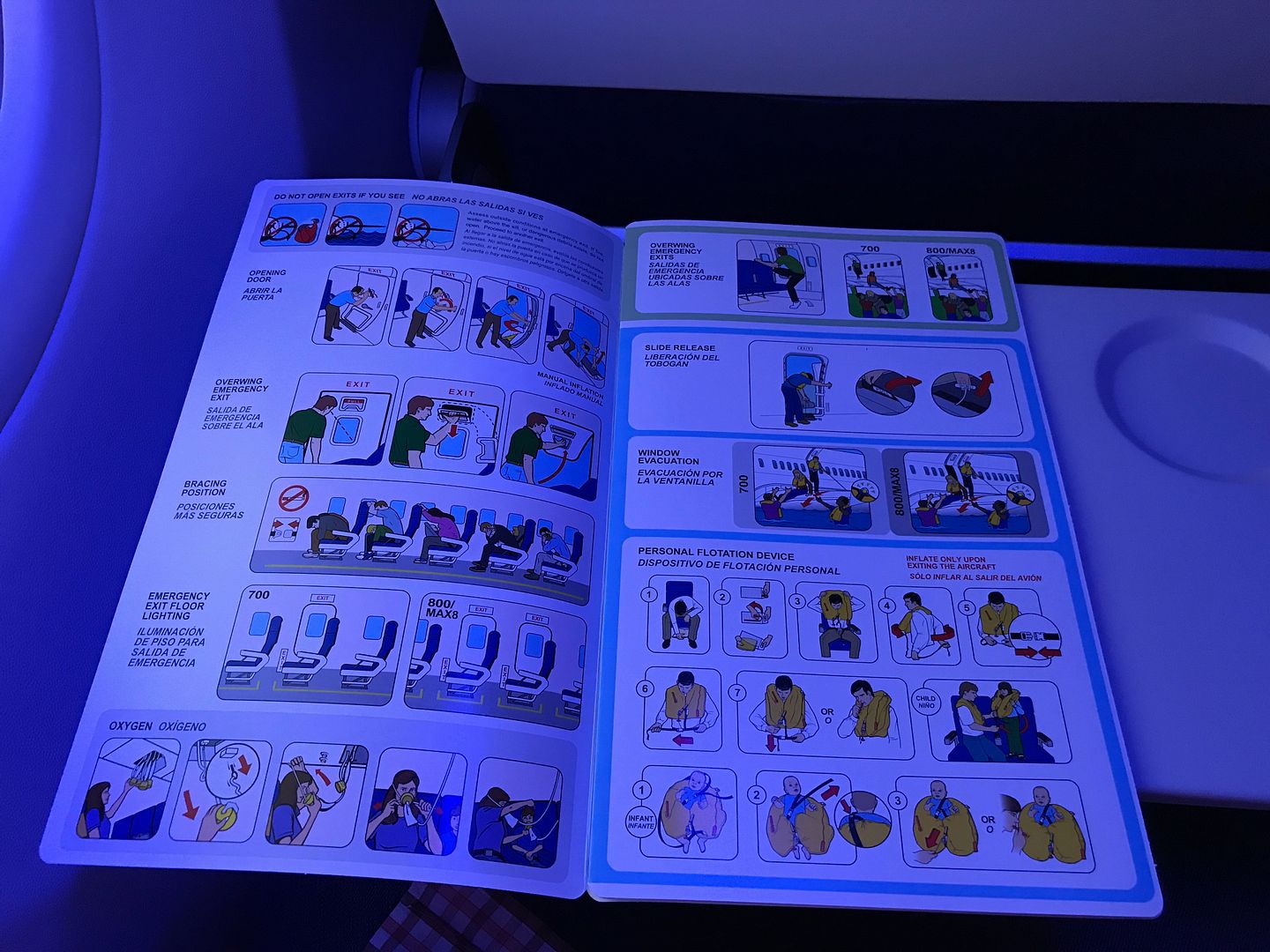 Hint for future Hawaiian flight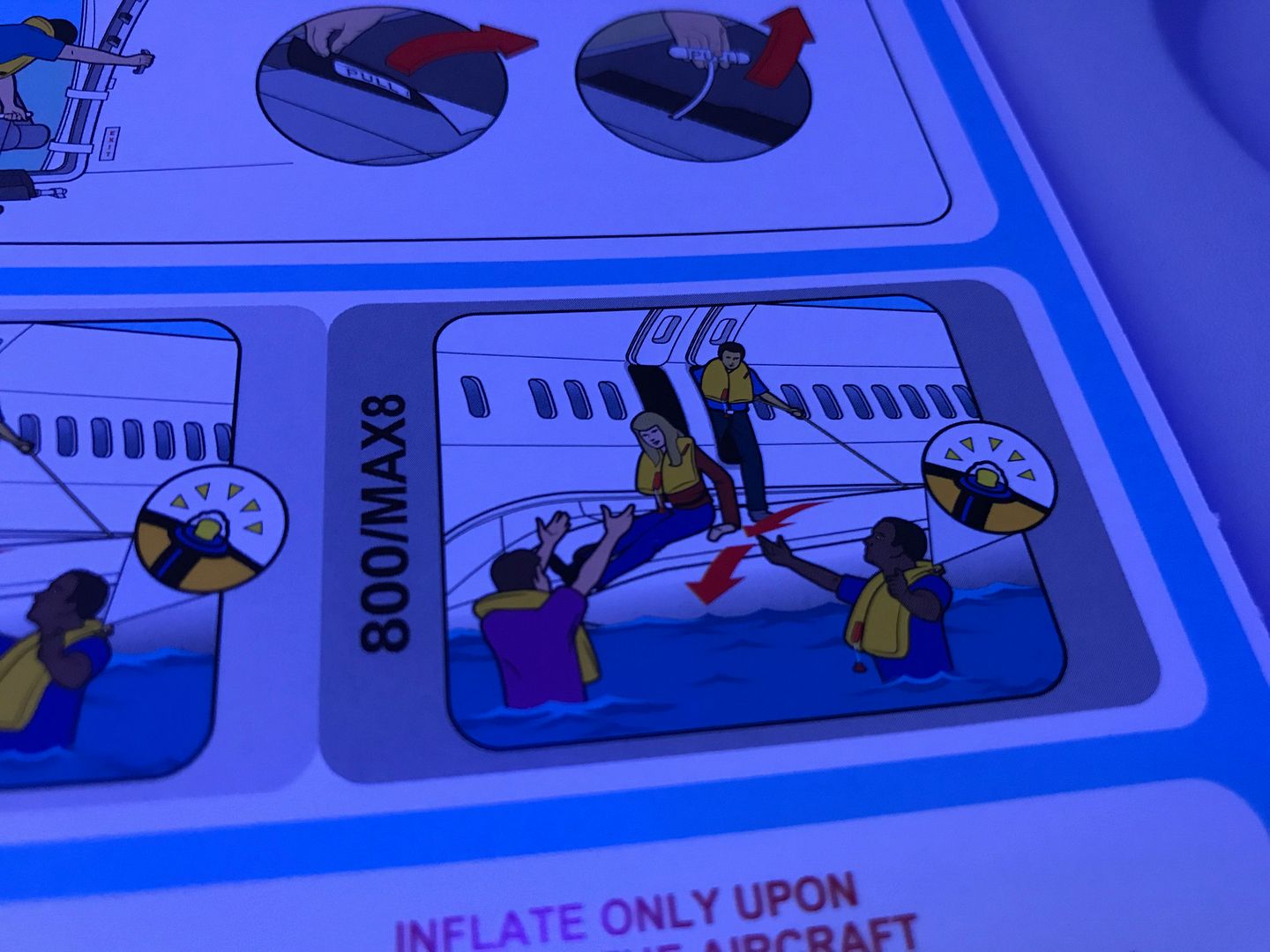 The same seat featured on the new Boeing 737-800s
Overhead panel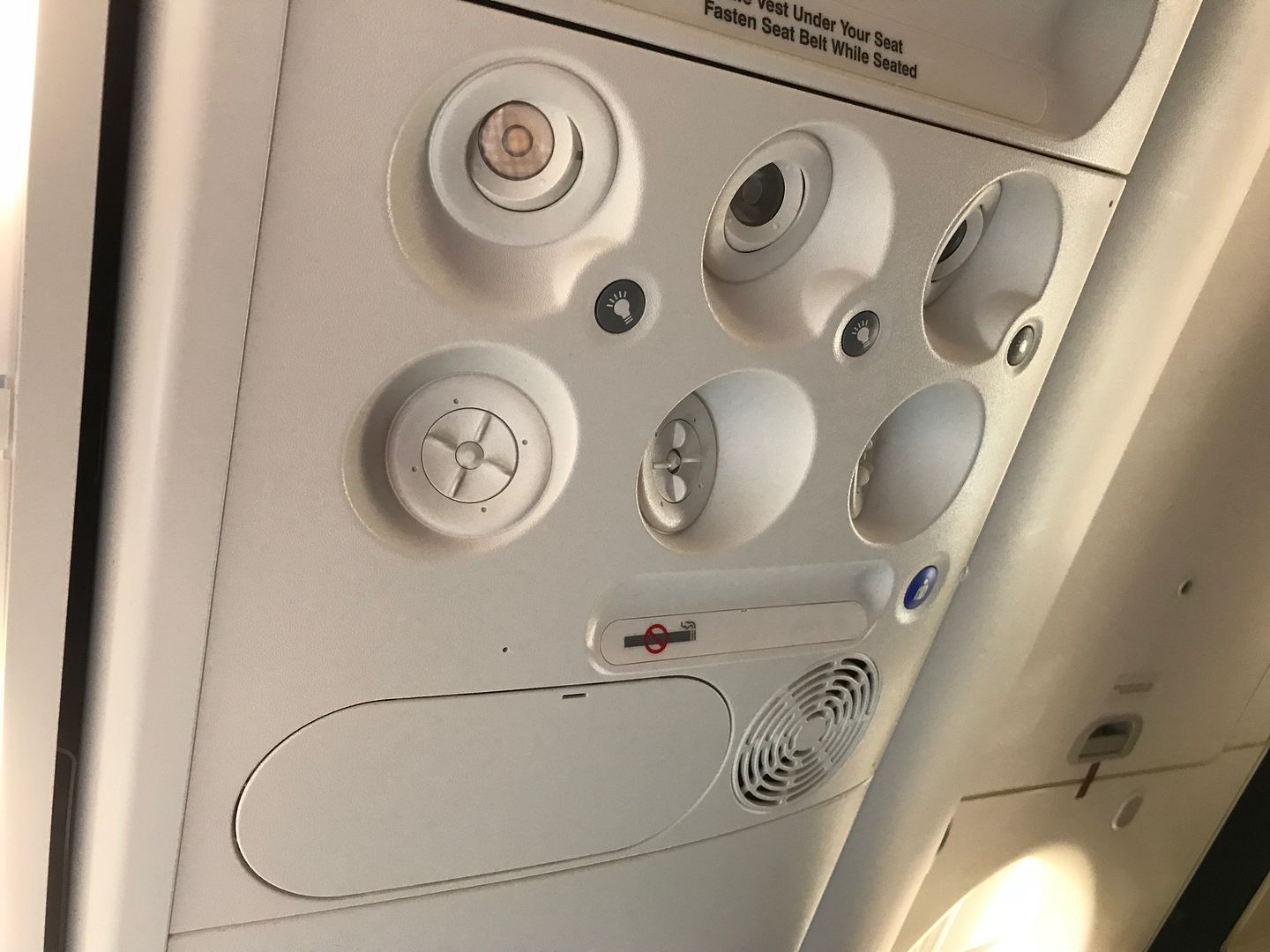 I was honestly a bit disappointed that Southwest chose not to install power outlets of any kind. I think USB power outlets are pretty much a common amenity these days. The twitter team replied that it was due to weight, but if you wanted to use this MAX 8 to go to Hawaii, it will be nice to keep the phone fully charged. It was really an oversight and I think Southwest will regret it down the road.
Because of the inaugural flight, free WIFI was available but as I logged on rather late, the speed was not particularly impressive. However, I managed to get on flightradar24.
F/As had already taken beverage order during the short delay on the ground, so the service was carried out relatively quickly. I was impressed that Southwest continues to offer full beverage service even on this short intra-Texas flight. For the other major airlines, there will be no beverage service in economy or just a water run if you are lucky. Of course, honey roasted peanuts were served too.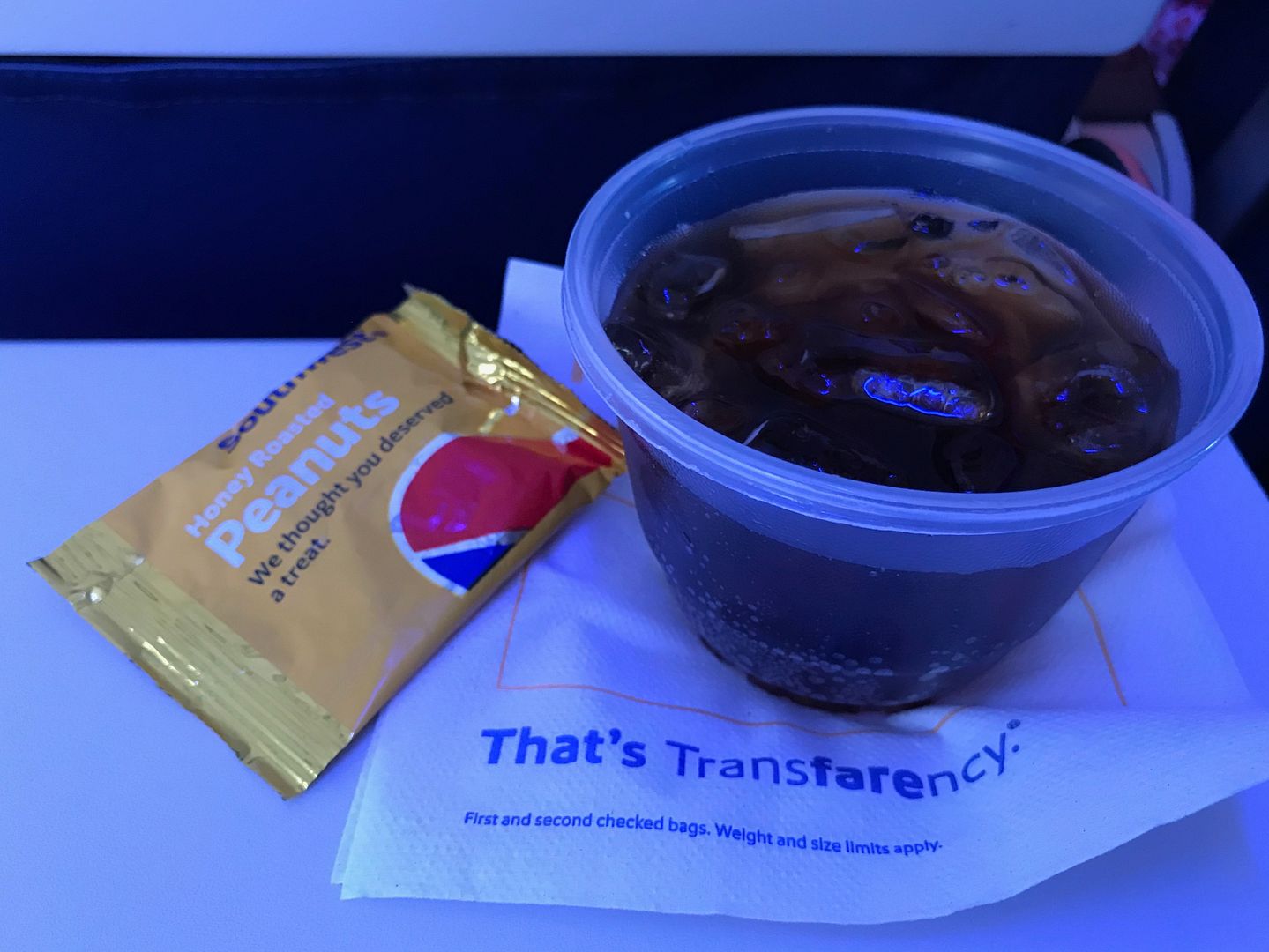 CEO Kelly came back on the P/A and one lucky passenger got an Apple Watch, and then he made his round in the cabin talking to passengers and signing boarding passes. He was a very friendly CEO.
Soon we began our descent at 7:36am.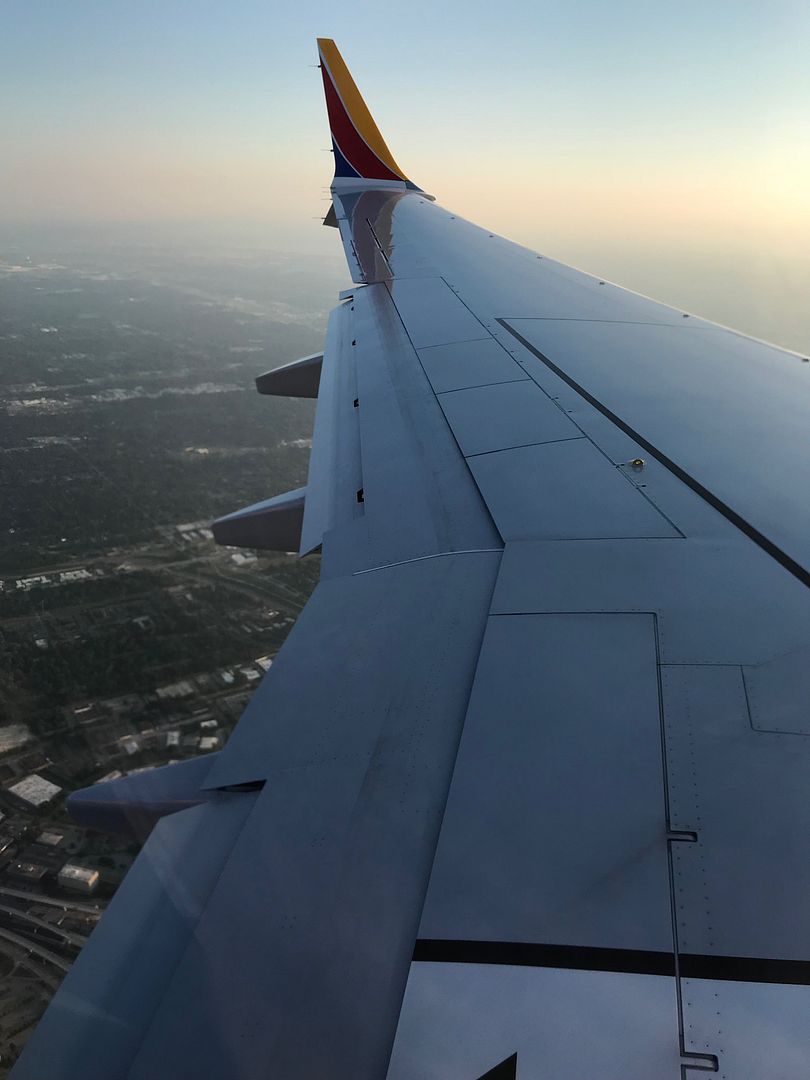 We landed on R/W13R at 8am.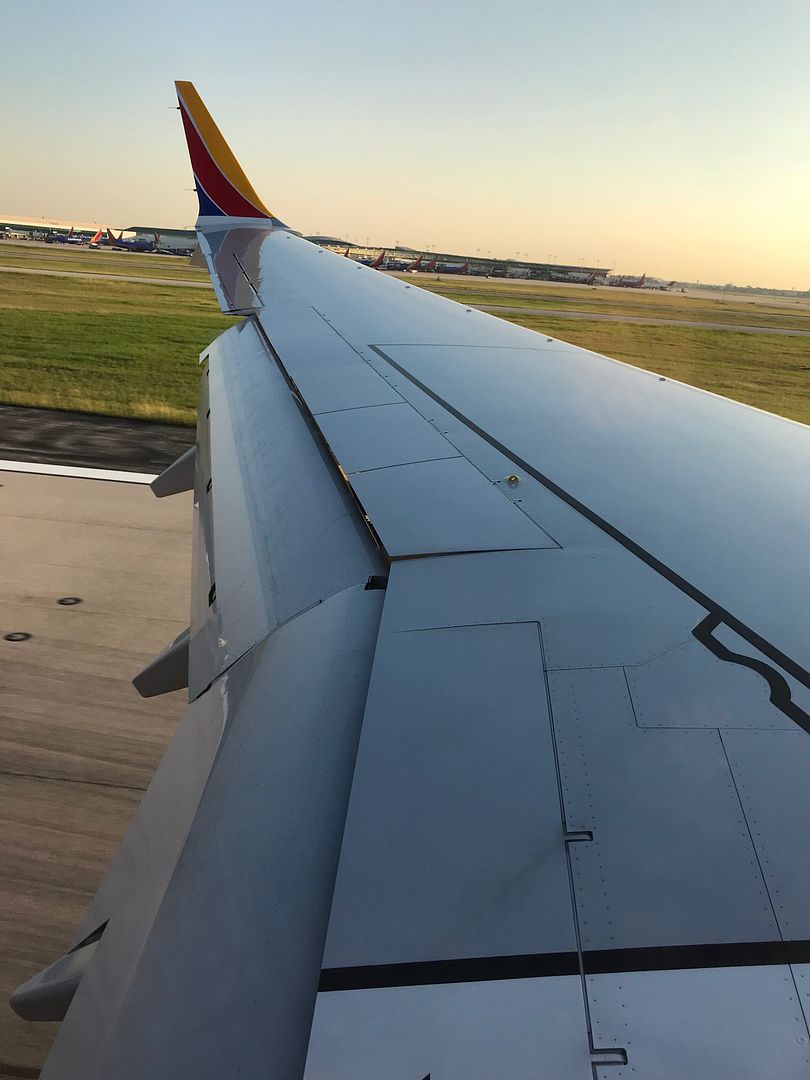 I was half-heartedly expecting a water canon salutes, as both Cincinnati inaugural flights got them. I was a little disappointed that it did not happen. I wonder if it had to do with the recent hurricane.
We parked at gate 4 in the new "international/west" concourse here at Houston!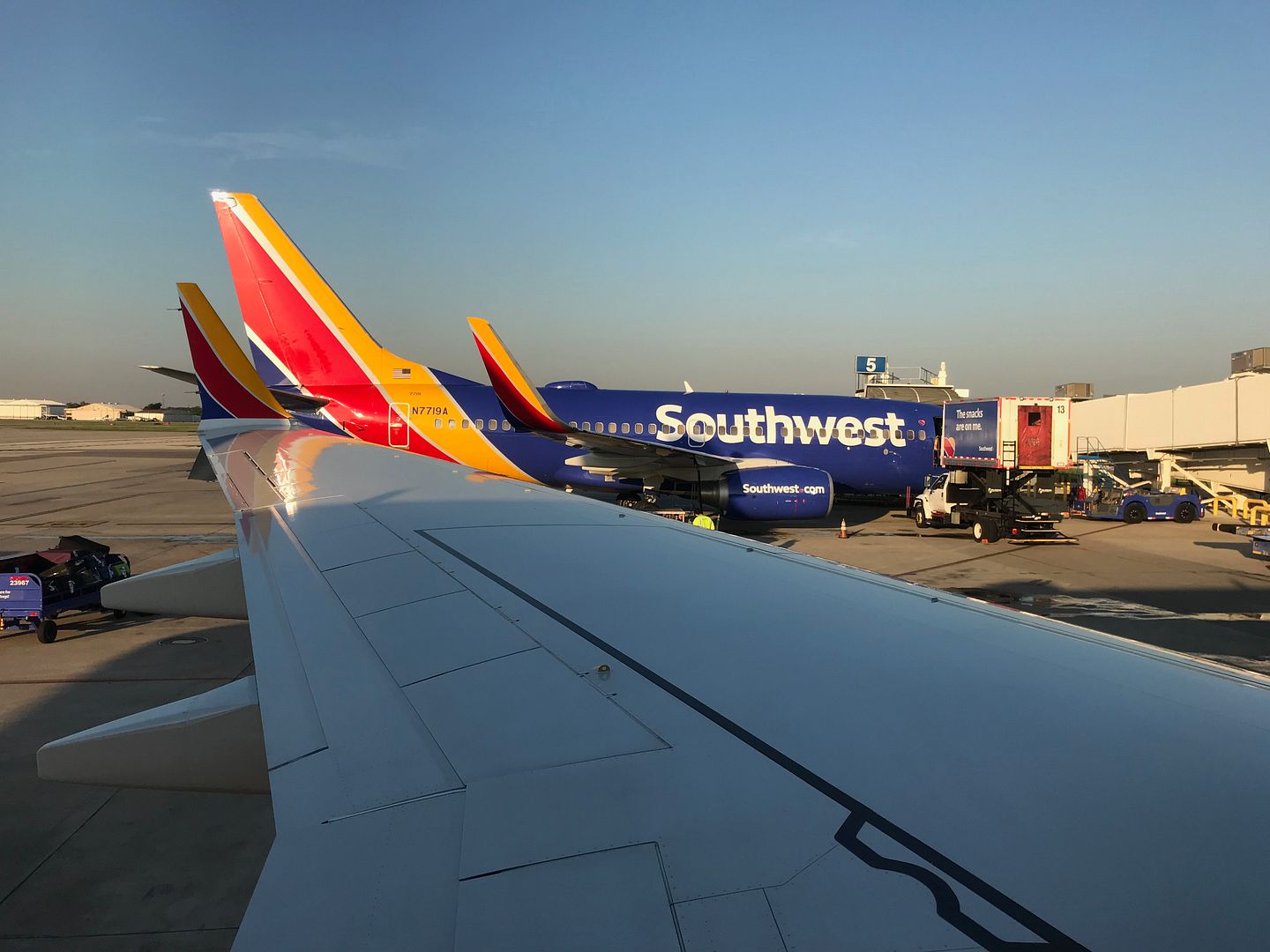 N8707P
Other than some employees welcome, there was not much ceremony here at Houston Hobby.
More peanuts and pretzels
WN 2 HOU-SAT Lv0855 Arr0950 Boeing 737 MAX 8 N8707P
Boarding resumed at 8:26am and the loading was even lighter on this flight. I decided to stay in the back so I can take pictures of the winglet of the MAX 8.
CEO Kelly was very excited about this flight because it was a flight to his hometown, San Antonio.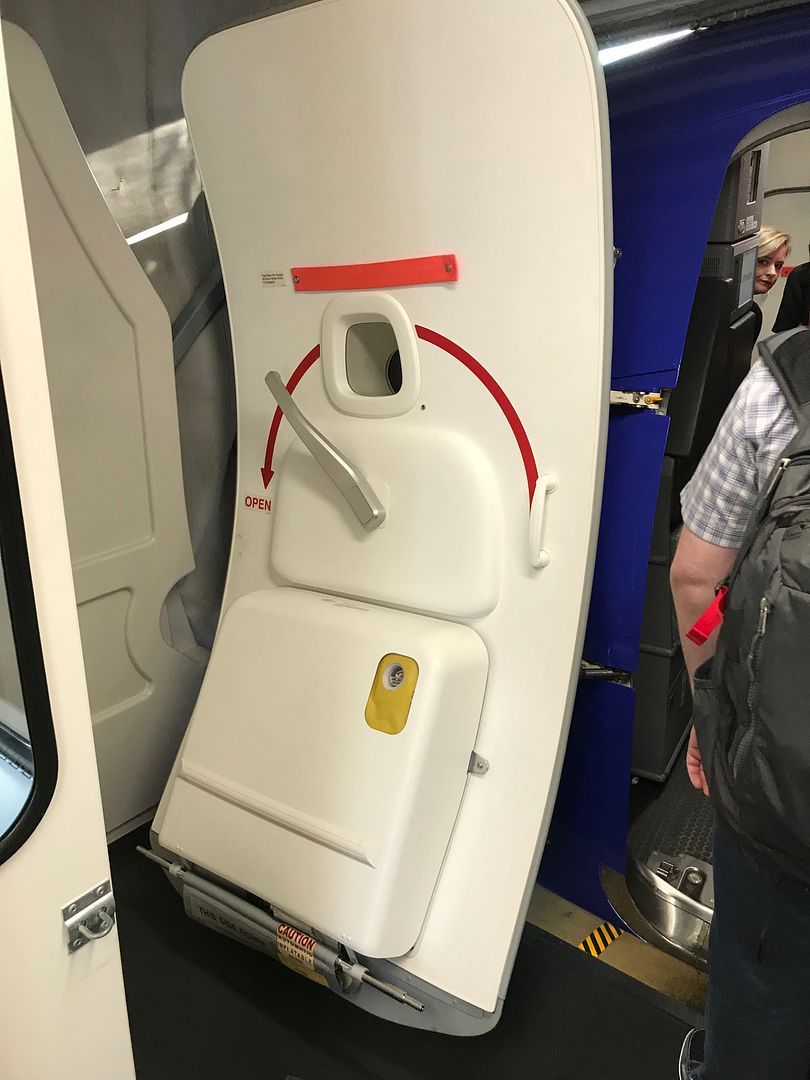 Cabin shot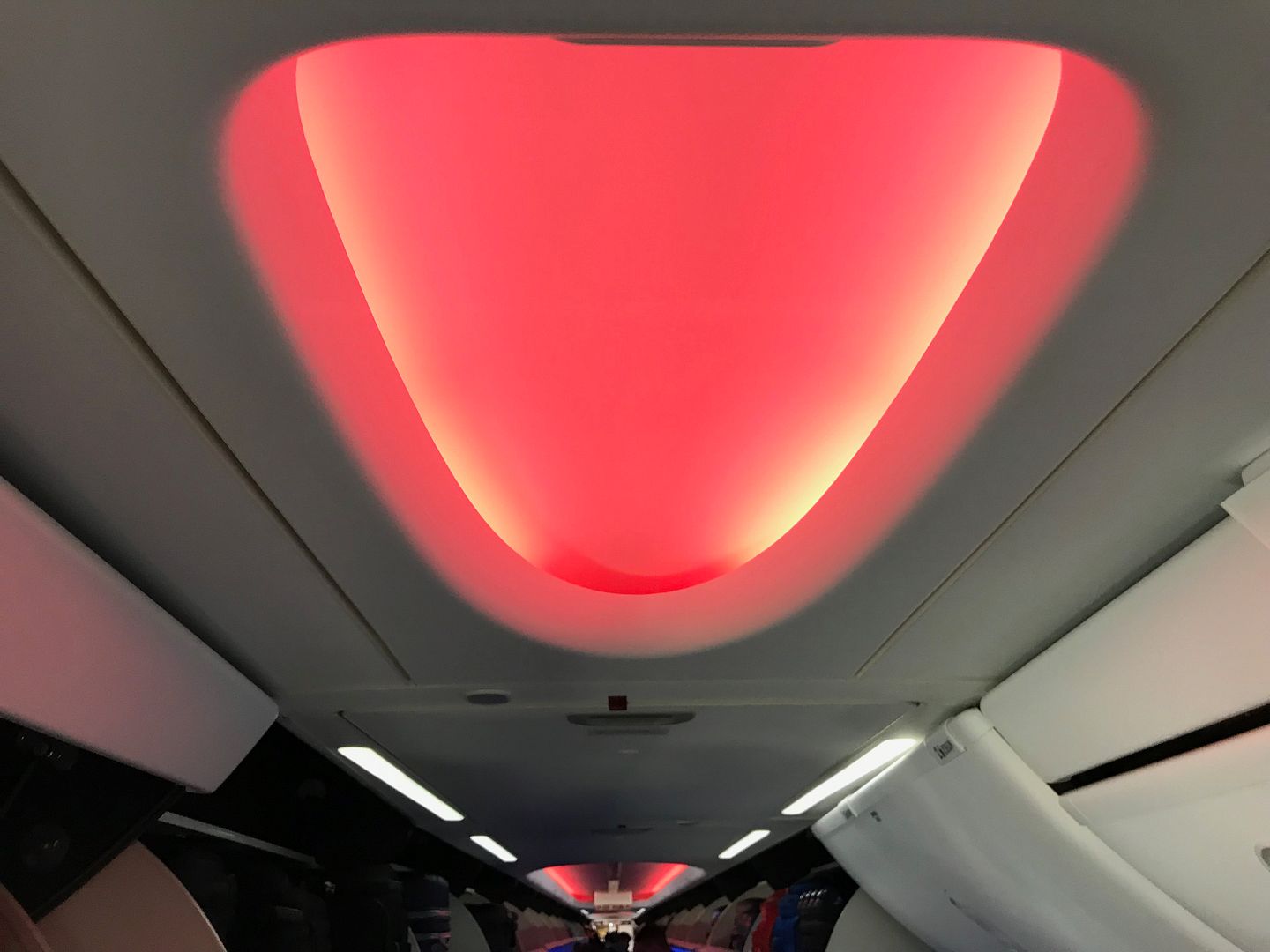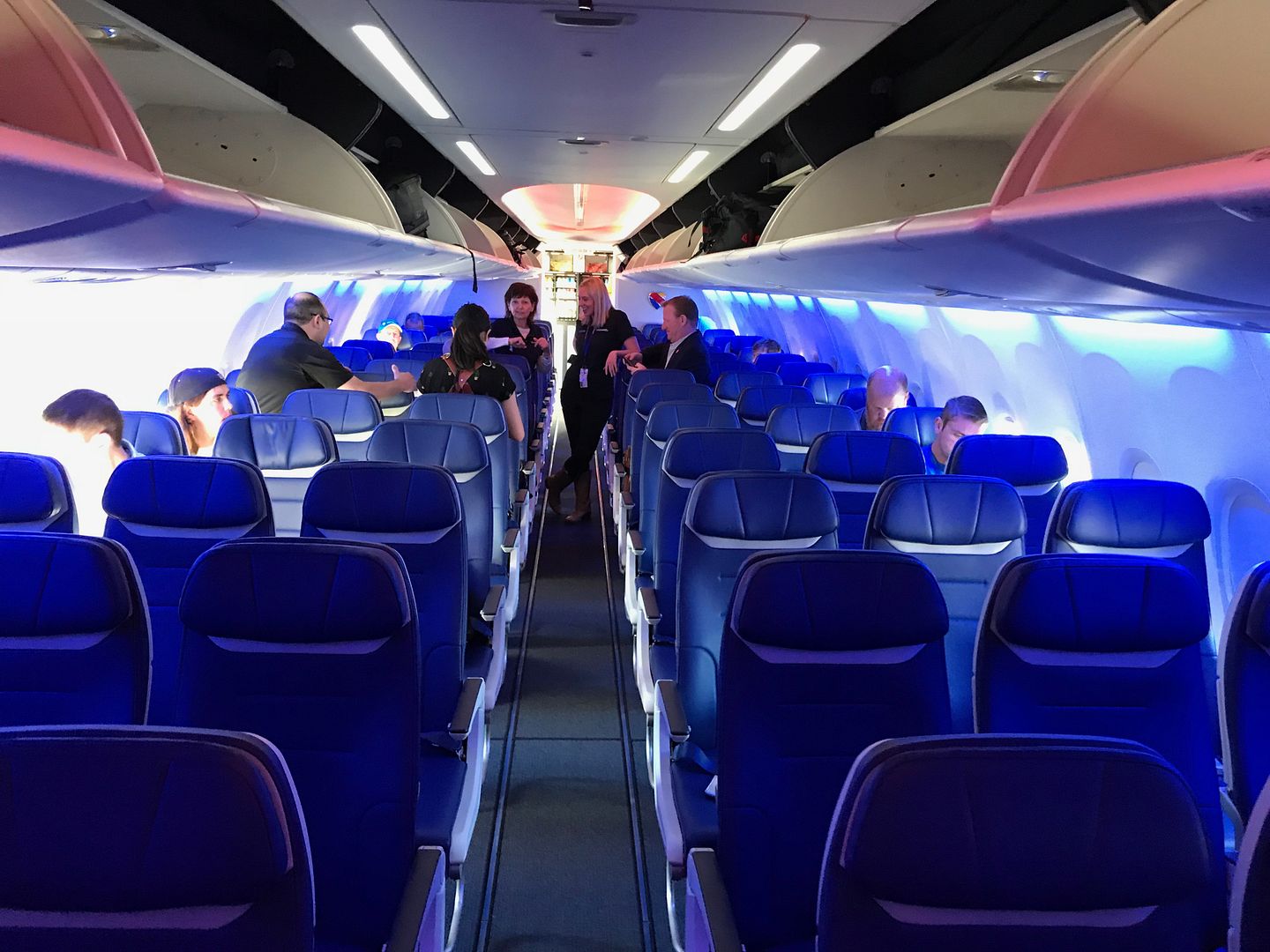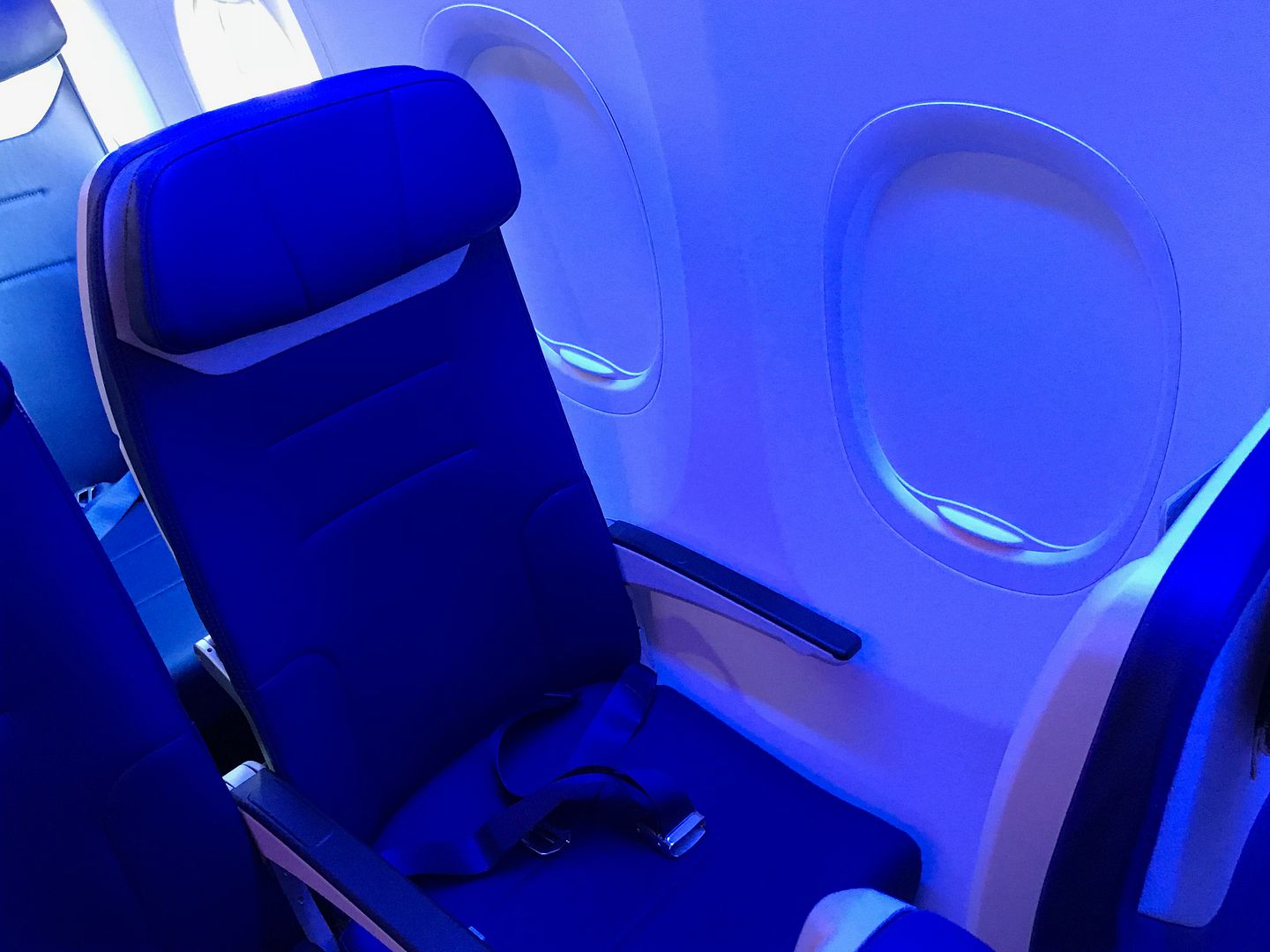 Not sure if you can detect the difference
Seat in upright position
Seat in recline position – really little recline, as these seats are mostly "pre-reclined"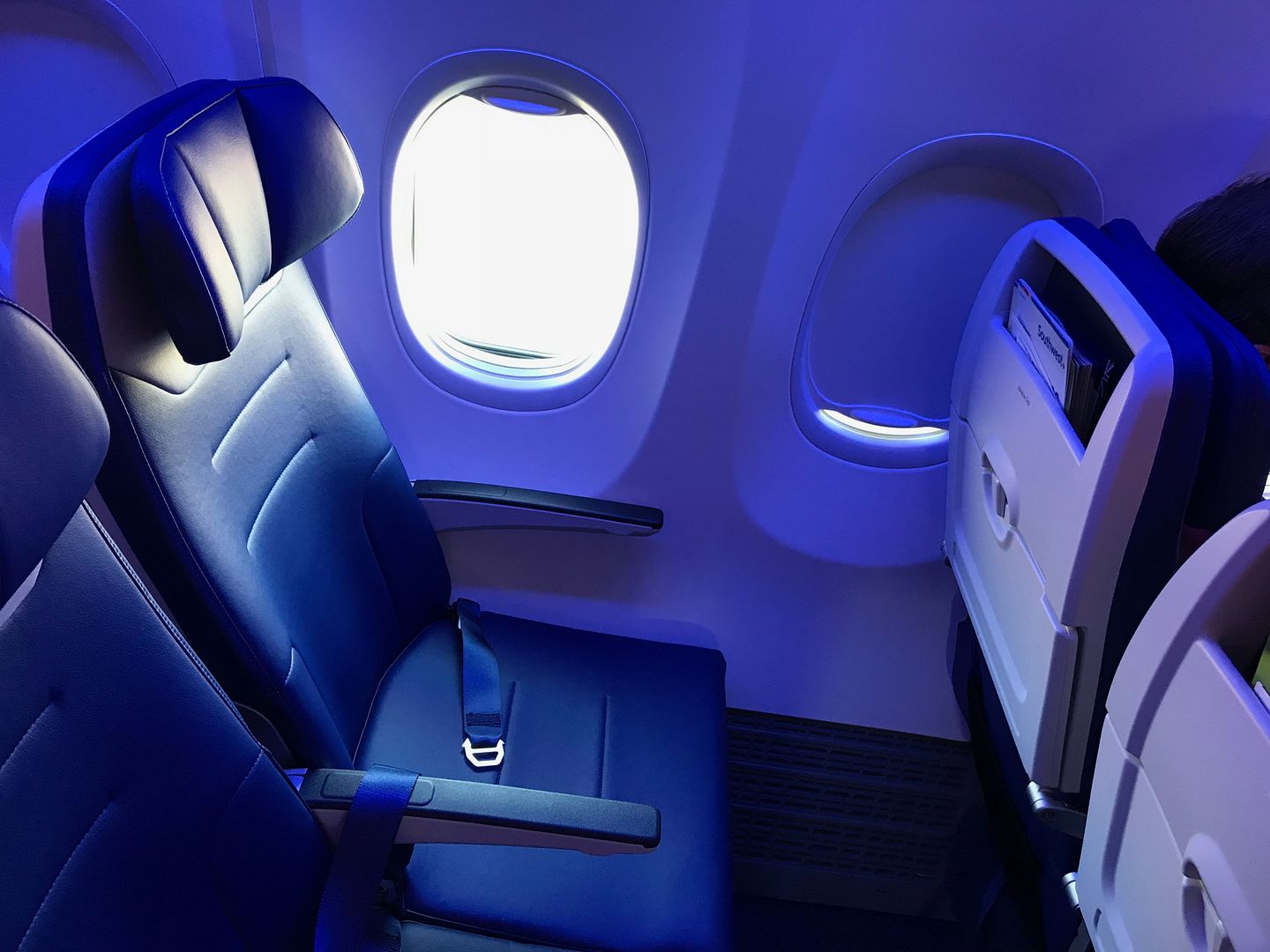 Comparing the winglets
Wing shot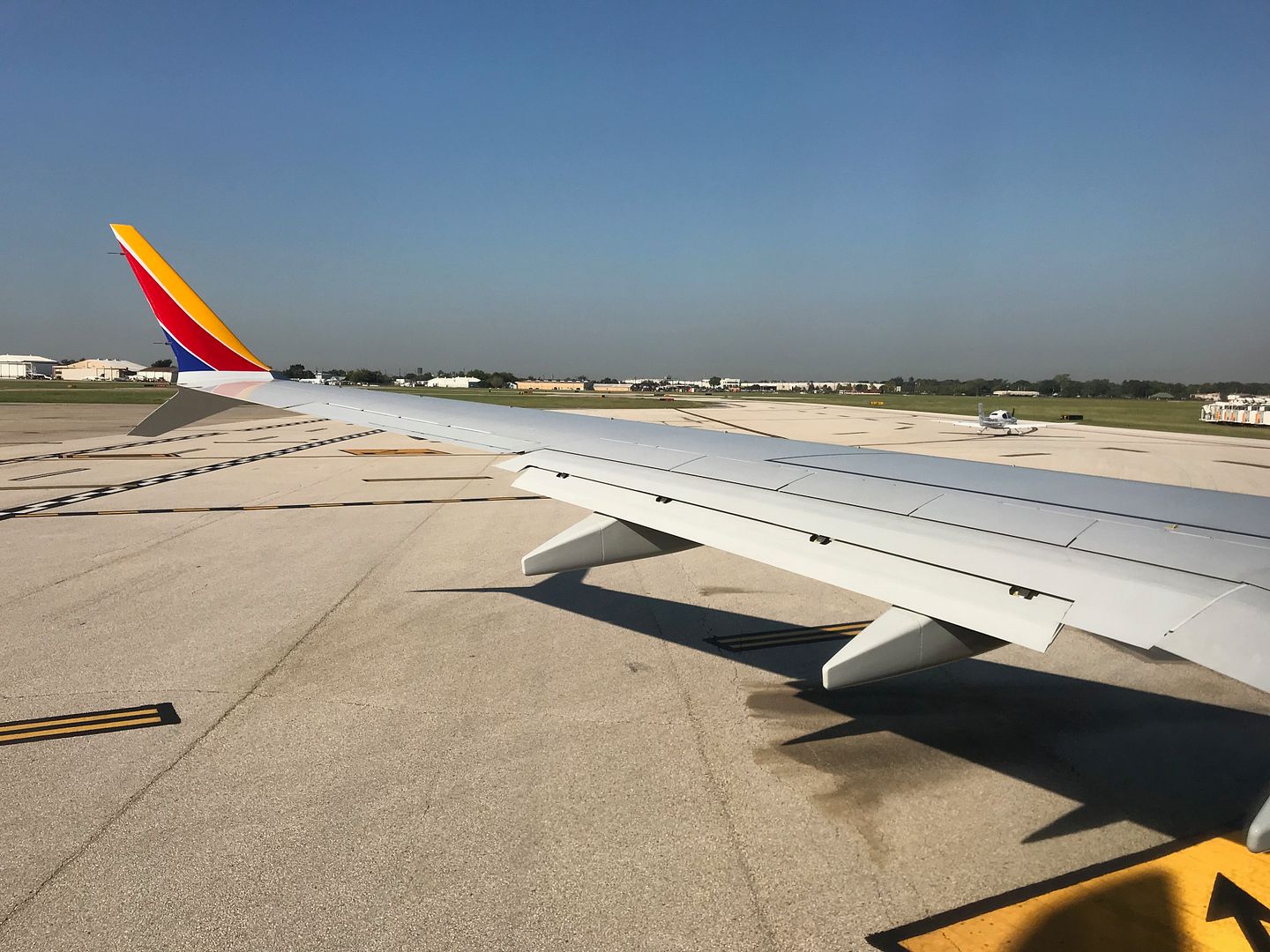 Door was closed at 9:33am because there was some indication light issue that they need to be resolved. Similar to the other flights, two passengers got 25K Rapid reward points. We pushed back at 9:39am and taxied towards R/W13R, but ten minutes later, the pilot informed us that there was an issue with the spoiler so we had to return to the gate. This time we had to move to gate 49.
The F/As passed out peanuts and pretzels and I took the opportunities to take a few pictures of the cabin, as well using the toilets.
Lovely cabin
Tiny bathroom – I understand why they want to save space but this is a bit extreme.
Tiny sink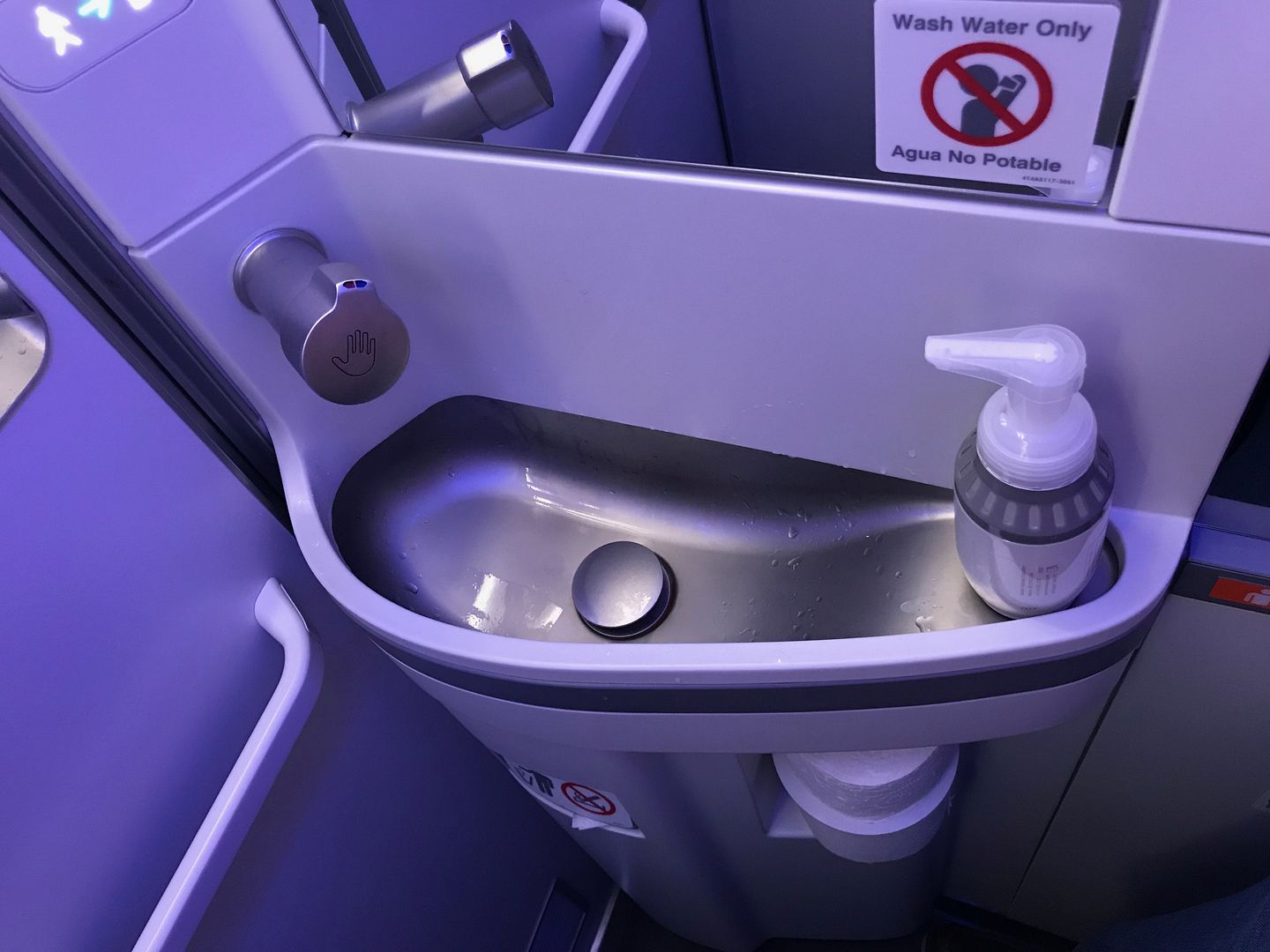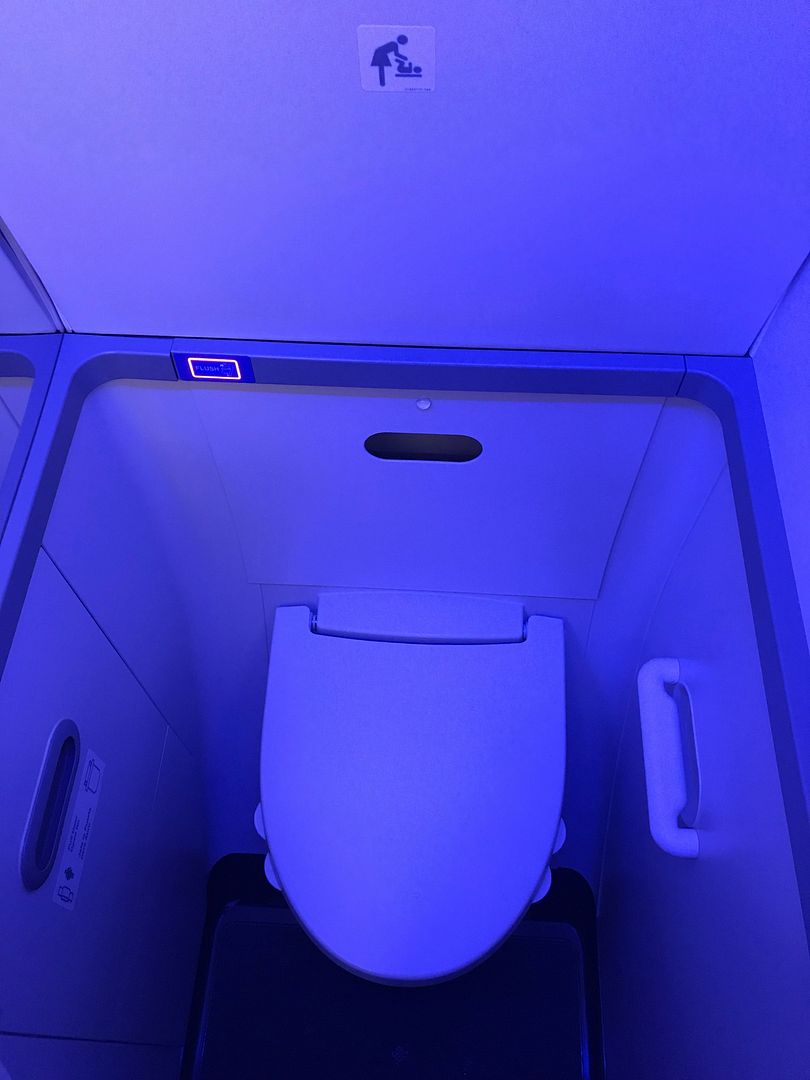 Baby changing table – only a newborn could use this table – I always feel that most designers don't have children.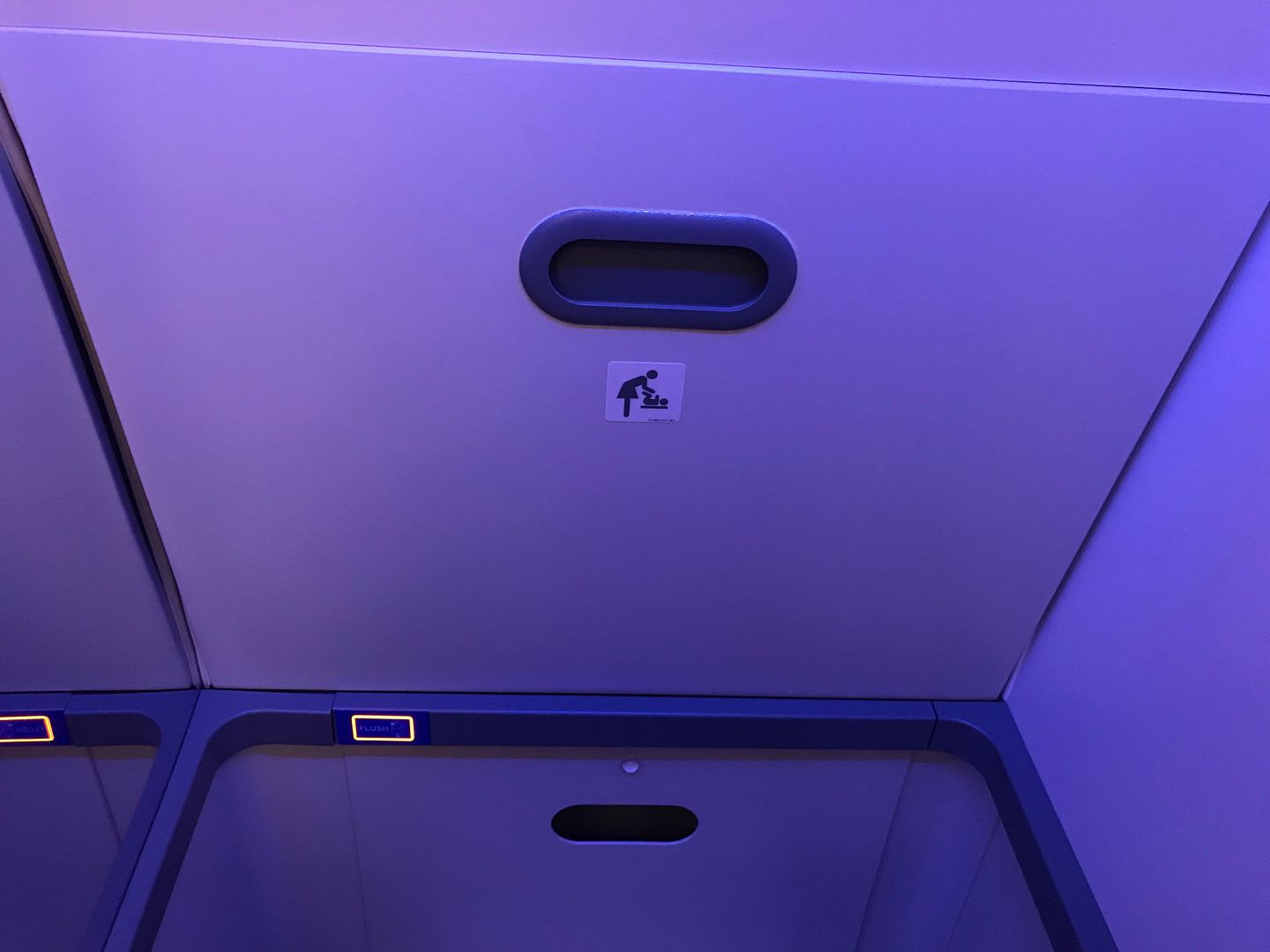 We really hide the tissues and napkins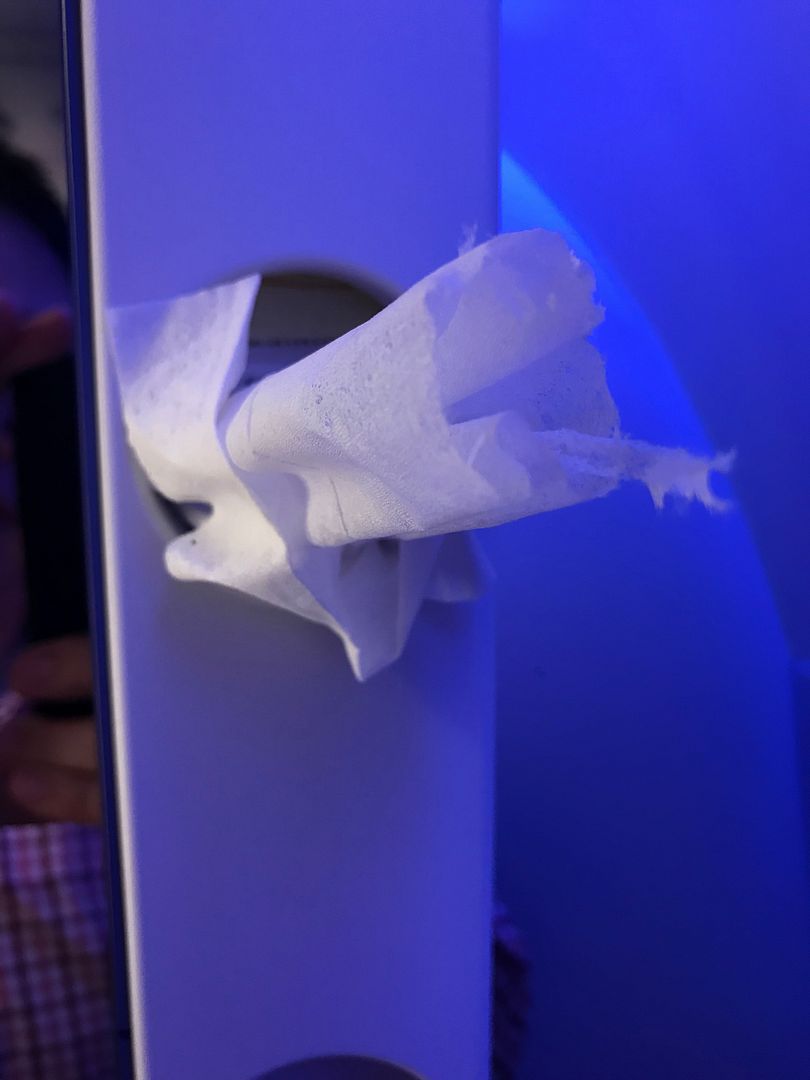 Legroom shot
As time continued to pass by, I began to weigh my option. We attempted to close the door at 10:44am but the spoiler issue kept on returning. The pilot was pretty honest and told us that he could not give us an estimate departure time. We were given options to leave the plane to grab lunch and agent at the gate would also rebook your flight for free. Finally, at 11am, I decided that it was wise to fly straight to Dallas Love Field and at least I could take my second 737 MAX 8 flight to Orlando. I was lucky to get rebooked before seeing this tweet.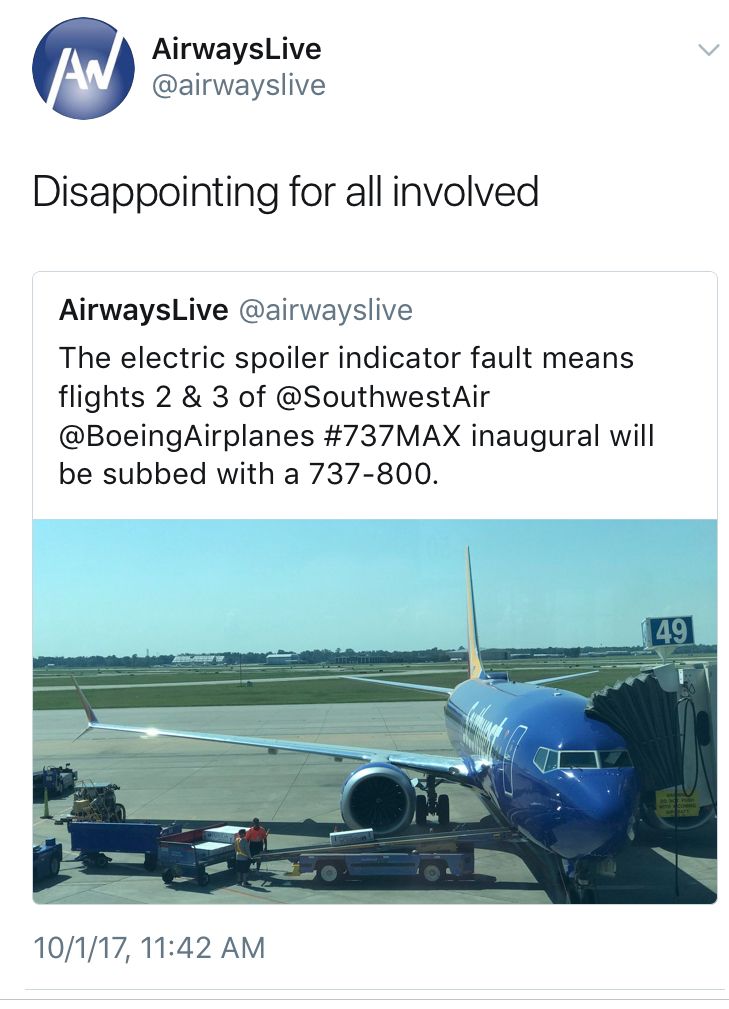 My 12pm flight to Dallas went out 100% full because many people tried to get on this flight. At least I got some layover time at Dallas to get lunch. I was back at Dallas at 1pm.