Background
As part of my short, long weekend trip to Yunnan I wanted to leave Kunming and explore the region a little. However due to my tight schedule I would have to minimize travel time and select only one other place to visit. After doing some research, I opted for the historic city of Lijiang in the north of the province. As the crow flies, the distance between Kunming and Lijiang is a meagre 200 miles however despite this, the two cities are very well connected by air with Beijing Capital Airlines, China Eastern, China Southern, Kunming Airlines, Lucky Air and Tibet Airlines all operating the route. For those not wanting to fly, there are very frequent and cheap bus and train services between the two cities taking seven hours and up to ten hours respectively. These also have the added advantage of being more convenient for reaching the main attractions in both Kunming and Lijiang (I think!). Had I had more time, I would have probably saved money and caught the train back to Kunming.
Booking
For a non-Chinese speaker lacking a Chinese bank card, booking on many of the nation's 'smaller' airlines (aka those that don't have a large international route network) can seem like an impossible task. However I usually find that Ctrip provides the best fares from a wide variety of airlines whose tickets would be un-bookable for many a foreign traveller attempting to navigate through an airline's website. I thus used the travel agency's app and was presented with a host of airlines, the cheapest three being Kunming Airlines, Lucky Air and Tibet Airlines. Having always been intrigued by the latter and only ever encountered one of their aircraft once before (an A330 at PEK) I knew I had to try them as soon as they popped up. Due to my tight schedule, I was left with little option but to pick LCC Lucky Air for the return journey, not that I am complaining as this is an interesting airline for me!
The Airline
Backed by giant Air China, Tibet Airlines began operations with brand new A319s in 2011. Since then they have expanded their fleet rather significantly and now operate a total of 23 aircraft including A319s, A320s and A330s. There is relatively little English language information available on the airline and their website can only be viewed in Chinese. Despite the airline's name, one does not have to travel to Tibet to sample their service with an extensive route network flying to 22 destinations across China from their hub in Chengdu as well as to plenty of other destinations across the nation. In 2016 they operated their first international service from Chengdu to Koh Samui and in March 2017 began flying between Chengdu and Kathmandu via Lhasa on the return journey. In 2016 the airline mentioned its plans to fly an A330 service from the Russian Black Sea resort city of Sochi to the Chinese resort city of Sanya via Chengdu.
Journey
I arrived at Kunming's Changsui Airport the previous evening from Incheon and after having a bit of a disaster when attempting to take a taxi to my prebooked hotel, I was left with no choice but to splash out on the airport's onsite 'Best' hotel. On the positive side I had spent the previous night in more luxurious surroundings than I had expected, received a free breakfast and of course I no longer had to worry about getting back to the airport. After a pleasant stay I checked out just after 1000 and was offered a bus ride to the terminal on the condition I waited for 20 minutes however considering that it was only a 10 minute walk to the terminal, the weather was good and I had no bulky luggage I passed on this offer.
The hotel's lobby
After leaving the hotel I headed up a small mound to the main airport terminal. This journey consisted of a short walk up a small hill lined on one side with mostly expensive cars and on the other, a resting China Postal Airlines Boeing 757 and a Kunming Airlines Boeing 737. After passing through what seemed to be a staff car park I arrived under the concrete elevated road of Kunming's Changsui Airport. Being on the ground floor no good views of the rather impressive terminal building could be had but this wasn't too much of a problem as I would pass through the airport another couple of times over the next two days. I entered the airport on the ground floor arrivals level where I received a short security check, something that all those who have been to China will be familiar with before entering the large and spacious arrivals lobby of the airport. First stop was the arrivals board to check the status of my inbound flight, according to FlightRadar24 the aircraft had departed Lanzhou for Lijiang on time however given the common ATC delays in China this didn't necessarily guarantee an on-time arrival in Kunming. After browsing through the list of arrivals which consisted of a wide range of destinations across China, I found my flight, flight TV6007 from Lanzhou via Lijiang was set to arrive on time. Perfect!
Seeing no reason as to why I shouldn't check in, and wait airside where a more enjoyable view could be had I headed up two levels to the check in area. Upon my arrival I found this to be fairly busy and the check in areas for all flights not operated by China Eastern were absolutely packed with passengers taking amounts of luggage that would make a large, slightly overweight suitcase seem like a small shopping bag. One thing I've noticed during my travels in China is the tendency of many people to carry with them a large number of cardboard boxes when travelling, something that didn't seem to speed up check in at all. Having found a relatively small queue I waited and guarded my position, eventually reaching the front twenty minutes later. The check in agent didn't seem to speak English although she did understand my request for a window seat and I was handed a Yunnan Airport Group Co. Ltd. boarding pass with seat 7F, admittedly a little too forward for my liking but I could hardly complain. Afterwards I headed straight to security which took a short ten minutes including a thorough frisking, something which appears to be compulsory in China whether you set the metal detector off or not. On a side note, I recently noticed red ink marks appearing on the photo page of my passport which was a little worrying as in theory it could void my passport. I wasn't too sure about where these were coming from however after some thinking I realised that when passing through security at Chinese airports, the workers stamp my boarding pass with red ink before putting the undried inked boarding pass into the photo page. This was done again leaving even more red marks on my passport.
The busy check in area
After this I entered the large, modern airside area of Kunming Airport. Being one of the largest airports in China, there are plenty of shops, restaurants and cafes and enough space to sit down whilst you wait for your flight. However it isn't all perfect as the airport seemed to be plagued with two common problems I have noticed at airports across China, firstly the airport was largely clean however the toilets were in a pretty bad condition and secondly in order to use the airport wifi you have to have a Chinese mobile phone number.
The modern departures area
Due to my lack of wifi, there was little to do to pass the time seeing as I had already eaten bar watch the constant stream of traffic. Not that this was a problem to a passenger such as I. Much of this traffic consisted of the large three airlines that have a base in Kunming aka China Eastern, Kunming Airlines and Lucky Air however airlines from across the nation could be seen. The more interesting of which (in my opinion) consisted of China West Air, Hongtu Airlines and local airline Ruili Airlines. At the international terminal examples from HK Express, Laos Air and Thai AirAsia could be seen. After waiting for some time at gate 25 for the arrival of our aircraft, I was a little surprised when the pink and white colours of Ruili Airlines popped up and a Boeing 737-700 pulled into the stand. A short while later our Airbus A320 showed up and pulled into gate number one confirming that the gate for our flight had most likely been changed.
A China West Air A320, an LCC I would like to try although probably won't get the chance
I made my way to the gate a couple of gates down and was pleasantly surprised to find that this was perhaps the most photo-friendly gate in the entire terminal allowing for full shots of our brand new, sleek sharklet fitted Airbus A320. The aircraft taking me on the short hop to Lijiang was B-8843, this Tianjin built Airbus was built less than a month before my flight and was only delivered to Tibet Airlines 15 days prior making it the newest aircraft I had ever flown on. As one would expect for such an aircraft, the aircraft's exterior looked absolutely spotless. In the past week, the aircraft had flown 39 flights, travelling around 27000 miles visiting Chengdu, Guiyang, Harbin, Hefei, Kunming, Lanzhou, Lijiang, Shenyang, Taiyuan, Wanxian and Yantai.
Our brand new aircraft
By this time the gate area was absolutely full, however the gate change had not been formerly announced and so these passengers were all bound for Mangshi on Ruili Airlines. As soon as all passengers had disembarked our aircraft I became a little suspicious that our departure would be delayed, firstly, several of the crew members appeared to disembark the aircraft and head into the terminal, secondly, once all bags had been offloaded there was no sign of any ground personnel around our A320 and finally, it wasn't until just before our scheduled boarding time that the gate change was announced, which led to an exodus of every single passenger waiting at the gate, a few minutes later the Lijiang and Lanzhou passengers arrived, the crew re-boarded the aircraft and boarding was announced. As it turned out I had over analysed the delay signs a little.
About to head down the jetway
I was one of the first to board the aircraft and, after having my boarding pass scanned and then checked again by a security guard I headed down the jetway.
Sadly, it seems that all jetways in Kunming are covered in promotional vinyl stickers which almost completely block the view passengers can receive of this fantastic aircraft as they board. After a short queue at the aircraft's door I stepped onto the aircraft's welcome carpet which seemed to be identical to that of China Eastern. I then received a quiet and reserved sounding 'hello' and was handed a bottle of Tibetan spring water (coincidentally this was sold for a priced 20 Yuan per bottle at a hotel in downtown Kunming), this was the beverage service for the flight however I could not complain for a flight less than an hour. I then headed through business class and was pretty surprised, this featured two rows dark red/purple seats in a 3-3 configuration which I had never seen in China (expect China Southern's W+), the economy class cabin consisted of rows of blue fabric covered comfortable looking seats which contrasted to photos seen online of these seats in a red/orange colour. Each seat featured a white headrest cover with the airline's logo.
Modern yet comfortable looking seats
The aircraft appeared to have been well cleaned (apart from a stain on the head rest cover of the seat in front). The seats themselves were as comfortable as they looked however the legroom was pretty mediocre for a full service airline, comparable to China Eastern. One thing I did notice was the airline's lack of random advertisements which seems to be a feature of every Chinese airline which gave Tibet Airlines a slightly classier, non-LCC feel. Inside the seat pocket was the safety card, sickbag and 'TBAL' inflight magazine, the latter was only in Chinese. Considering that the airline probably doesn't see a great number of non-Chinese speaking foreigners flying with them, the fact that all literature provided was only in Chinese was understandable. Outside, the loading of baggage had only just seem to have commenced and inside passengers were continuously streaming into the aircraft which was getting noticeably and uncomfortably warmer by the second. By 1310, all passengers were onboard, the flight appeared to be 100% full with all passengers bar myself appearing to be Chinese, most of whom appeared to be leisure travellers heading to Lijiang. There were two pilots, four flight attendants and one uniformed security guard onboard the flight that day, all of whom were Chinese.
Looking outside
The newly printed safety card
And already battered looking magazine featuring an A320 rising above Lhasa's Potala Palace
The inflight catering
Shortly after all passengers were onboard, newspapers were handed out as were blankets and pillows. Whilst newspapers are often placed on the jetway, I have never seen the crew hand these out on any flight within China nor have I ever been offered a pillow or a blanket on any non-long haul flight with a Chinese airline. Just before pushback an automated welcome and electronics announcement was made in Chinese, English and Tibetan and the safety video was played in Chinese and English with Tibetan subtitles. We pushed back at 1312 as the safety video continued to play which was interrupted by a welcome announcement by the crew in Chinese and heavily broken English. Our engines were started immediately after our tow truck stopped and a couple of minutes or so later we were gentle propelled forward by our engines. Our taxi then took us past a long row of aircraft consisting mostly of Lucky Air, Kunming Airlines and Sichuan Airlines with an ACJ and a Hongtu Airlines A321 slotted in between these. After our quick taxi we reached the end of runway 21 where several spotters could be seen admiring our aircraft. We then taxied straight onto the runway and at 1324 our engines roared into life and we went flying down the runway.
Making our way to the runway
We made it up into the sky after a short takeoff roll and made what seemed like a shallow climb up into the skies above Kunming. Our departure first took us over a quarry before heading out over the centre of the city before rising above the clouds. The screens then came down showing our route which would take us directly west to Dali before making a 90 degree right turn to take us north up to Lijiang where we would arrive 44 minutes later. Beneath us lay some pretty impressive scenery although the clouds meant that this could not be seen. Honestly, there isn't really much I can say about this short flight other than that the crew remained in their seats for much of it and that most of the passengers fell asleep. The curtain to business class remained open and no service appeared to be given to these passengers.
Kunming
The clean and modern toilet
Virtually no time after reaching our cruising altitude, the crew announced our descent, the overhead screens were retracted and we were thanked for flying with Tibet Airlines. We then sunk back through the turbulent clouds and were immediately greeted by a fantastic view of the blue water of Chenghai Lake as we continued to fly north before making a turn over Lijiang to line us up with the airport's runway 23.
About to sink back down through the clouds
Soon after, mountains came up on both sides of the aircraft and we found ourselves in the valley in which the airport is located. Beneath us were small villages and farms from where many smoke plumes could be seen rising up to meet us, a short while later the sound of the autopilot disconnecting could be heard and we made an incredibly smooth touch down at Lijiang Airport at 1420 which was followed by some hard braking.
Passing over Lijiang
Approaching the airport
Over villages
And farms
Before hitting the runway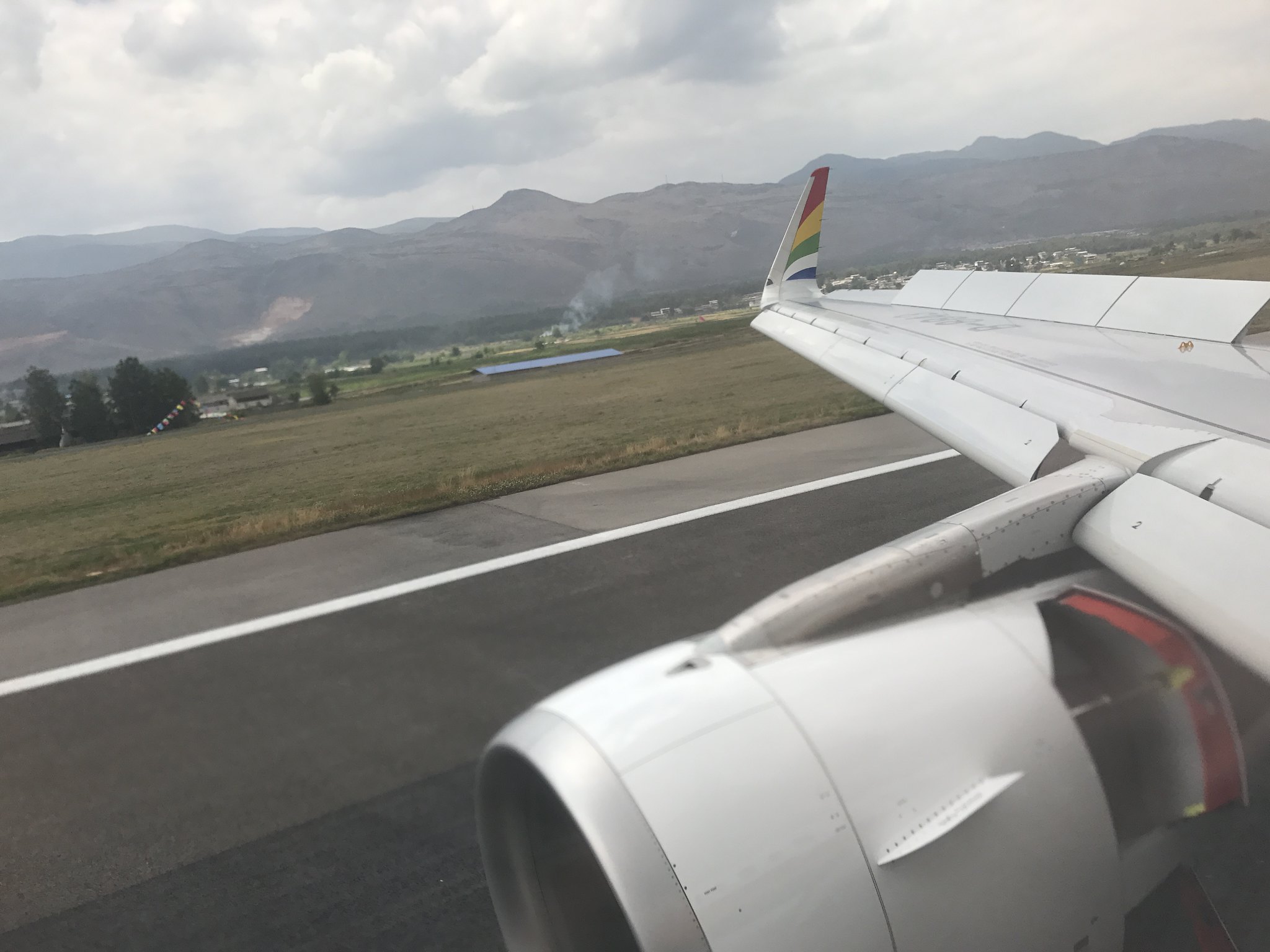 As soon as we taxied off the runway I caught my first glimpse of Lijiang's unique traditional style terminal building where a Shandong Airlines 738, Loong Air A320 and China Eastern 737-700 could be seen preparing for their next flights. Our taxi to the gate took virtually no time at all and before I knew it my first flight with Tibet Airlines had come to an end. Being sat near the front disembarkation didn't take too long, a ground staff member was waiting on the jetbridge to guide Lanzhou passengers back into the departure lounge whilst Lijiang bound passengers were left to walk along the partially open walkway to the arrivals area where I arrived several minutes later. Having no bags I was able to head straight out, I caught the bus to the city centre from outside the terminal.
Pulling into the gate
Walking to arrivals
One last look at the aircraft
The airport's arrival area
Conclusion
Considering the length of the flight, there was little the crew could do in terms of service, however I was impressed with the fact they handed newspapers, blankets and pillows out on the short flight. The seats were comfortable for a short flight and the aircraft had been well cleaned. Overall I was fairly pleased with the service I received and I wouldn't hesitate to fly with them again in the future. Thank you for reading!
Other Trip Reports
Please note, the photos of many reports seem to no longer be working however these photos can be viewed on my blog
Forever in Y
Korea Domestic
Asiana Boeing 767 Gimpo-Jeju
Air Busan A320 Busan-Jeju
Jeju Air Boeing 737-800 Busan-Jeju
Jin Air Boeing 777-200ER Jeju-Gimpo
Korean Air Airbus A330-300 Jeju to Busan
Korean Air Boeing 747-400 Gimpo to Jeju
Korean Air Boeing 787-9 Gimpo-Jeju
Short Haul
Cityjet Avro RJ85 London City-Cork
Far Eastern Air Transport MD-80 Taipei Songshan-Makung
Joy Air Xian MA60 Yantai-Dalian-Yantai
Southern Sky Airlines Antonov 24RV Almaty-Balkhash-Astana
Thai Airways Boeing 777-300 Bangkok-Phuket
Ukraine International Airlines Boeing 737-800 Kiev-Istanbul
V Air Airbus A320 Taipei-Busan
Medium Haul
Air India Boeing 787-8 Incheon-Hong Kong
China Eastern Boeing 737-800 Incheon-Kunming
China Southern Boeing 777-200 Urumqi-Beijing
Korean Air Boeing 737-800 Incheon-Kunming
Vietjet Airbus A320 Ho Chi Minh City-Taipei
Long Haul
China Southern Airbus A330-200 Istanbul-Urumqi
KLM Cityhopper/KLM Fokker 70 and 747 Combi Humberside-Amsterdam-Seoul Incheon
Korean Air A380 Seoul Incheon-Paris CDG
Oman Air Airbus A330-300 and Boeing 787-8 Heathrow-Muscat-Bangkok
Thai Airways Bangkok-Karachi-Muscat
Vietnam Airlines Airbus A350 and Boeing 787-9 Heathow-Hanoi-Seoul Incheon