Background
As part of my trip to the east coast to visit some family for the 4th of July weekend, I really really wanted to try out jetBlue's
Mint
product. Flying from LAX to the east coast on Mint turned out to be a bit pricier than flying JFK - LAX on Mint, so I booked Alaska Airlines on the way to Maryland (trip report
here
) and jetBlue Mint on the way back. Since jetBlue only offers the Mint product on a few select routes, it meant I had to book a flight from Maryland to one of the Mint stations first. Frustratingly, jetBlue's website doesn't let you book mixed-Mint itineraries; when I looked on the site, any BWI/IAD - LAX offered connecting flights, but I couldn't book the entire journey as one ticket.
After looking around for some options, only JFK was viable, as Boston (BOS) and Fort Lauderdale (FLL) were a bit too far out of the way. I could fly out of either Baltimore (BWI) or Washington Dulles (IAD), and Dulles ended up being cheaper, so I booked IAD - JFK on jetBlue as well. My Mint flight was scheduled at 8:04pm out of JFK, and I wanted to (1) give myself enough time so that I wouldn't miss the flight even if my IAD - JFK leg was delayed, and (2) spend some time exploring jetBlue's
Terminal 5 at JFK
. In the end, I ended up booking a flight that had me depart IAD at 10:50am, land at JFK at 12:04pm, and then wait close to 8 hours until my Mint experience. (Gulp!) As an avgeek though, I thought I'd find plenty of ways to entertain myself at JFK, which offers amazing airline diversity.
IAD - JFK
I wanted this trip report to focus on the Mint / jetBlue JFK T5 experience, so if you
really
want to read about this part, it (and the whole trip report) is on my blog:
https://planespottingandmore.wordpress.com/2017/07/27/trying-out-jetblue-mint-iad-jfk-lax/
The Terminal 5 Experience
Immediately after exiting my aircraft that was my ride from IAD, I headed over to the main terminal area post security, where there are lots of food options. I wasn't particularly hungry yet, but wanted to see all the options I had. Most of them were pretty crowded, and I wanted the midday rush to die down, so I decided not to eat right then.
Of course, the main area also has this (full-scale?) model of the IAE V2500 engines used on jetBlue's A320 family fleet:
20170708_120401
by
Ne Ni
, on Flickr
20170708_120409
by
Ne Ni
, on Flickr
Having read about the T5 experience, I walked around as much as I could. There is the
Airspace Lounge
, which is open to all passengers for a flat $25 entry fee. It has a number of perks and since I had 8+ hours, would have been a perfect place to spend time. However, (and this pretty much killed it for me,) it has no views of the apron or the taxiways or the runways. JFK is such an amazing airport in terms of airline and aircraft diversity; I wasn't going to spend my time there in a lounge with no views!
I also briefly stopped at the
T5 Rooftop
, which jetBlue advertises as "the only post-security outdoor space at a New York airport" and has a little grassy area for pets to walk around in. It was a nice space for sure, but it was smallish and more importantly, did not offer any good views of the apron. I was a little disappointed by that.
There is also the
Moroso Lounge
 listed on the jetBlue website, but as far as I could tell, this wasn't exactly a lounge at all; rather, it was just an open area between gates 14 and 15. All the furniture seen in pictures
here
 aren't there anymore. Instead, there is just a big open space with carpeting. It's a shame, the furniture looks really cool in the pictures. I ended up spending most of my time here, since this place offered pretty good views of the taxiway and of aircraft landing and taking off at runways in the distance.
I spotted some pretty interesting aircraft along the way, including a jetBlue A320 wearing the "New York's Finest" livery as a tribute to the NYPD:
20170708_122638
by
Ne Ni
, on Flickr
This A320 "Idlewind Blue" sports the Tartan tailfin design:
20170708_132622
by
Ne Ni
, on Flickr
... and a panorama:
20170708_132649
by
Ne Ni
, on Flickr
This E190 named "Blueprint" was looking sharp!
20170708_133813
by
Ne Ni
, on Flickr
While I was at the Moroso area (I hesitate to call it a lounge), the Virgin America A321neo taxied past - apologies for the bad picture; the windows were annoyingly reflective and the aircraft was pretty far away.
20170708_130722
by
Ne Ni
, on Flickr
Sometime around 2pm, I started getting hungry and walked back towards the main terminal area:
20170708_142238
by
Ne Ni
, on Flickr
The usual fast food outlets were still very crowded, so I decided to treat myself and eat at AeroNuova, an Italian place. I asked to be seated well away from the noise, and they seated me well inside the restaurant. There was only one other patron in this area beside me. The restaurant itself is tastefully decorated:
20170708_135527
by
Ne Ni
, on Flickr
My waiter was friendly but professional - referred to me as "my friend", and kept refilling my water glass promptly, which I greatly appreciated. I ordered the Carbonara; it had been a while since I'd eaten Italian.
20170708_140246
by
Ne Ni
, on Flickr
It tasted fine, nothing super special but nothing bad either. I'm not sure why the restaurant had a stainless steel fork, but a plastic knife!
I spent the rest of my time at the Moroso area, switching between watching planes and browsing the internet. Here are a couple of shots:
jetBlue A320 sporting a "Blueberries" tailfin design:
20170708_142812
by
Ne Ni
, on Flickr
jetBlue A321 sporting a "Prism" tailfin design, while an A320 in "Tartan" lands in the background: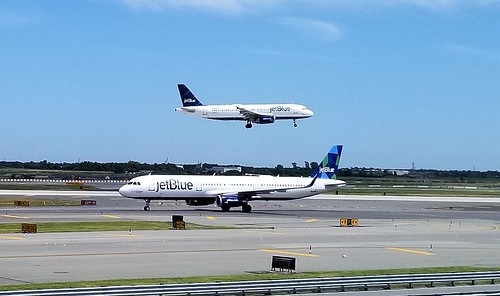 20170708_143945
by
Ne Ni
, on Flickr
Lots of international carriers at JFK:
20170708_143016
by
Ne Ni
, on Flickr
20170708_143053
by
Ne Ni
, on Flickr
20170708_143030
by
Ne Ni
, on Flickr
20170708_143605
by
Ne Ni
, on Flickr
20170708_143739_001
by
Ne Ni
, on Flickr
20170708_144655
by
Ne Ni
, on Flickr
20170708_144907
by
Ne Ni
, on Flickr
20170708_174830
by
Ne Ni
, on Flickr
20170708_175154
by
Ne Ni
, on Flickr
20170708_180914
by
Ne Ni
, on Flickr
20170708_182252
by
Ne Ni
, on Flickr
20170708_184226
by
Ne Ni
, on Flickr
20170708_184609
by
Ne Ni
, on Flickr
20170708_185310
by
Ne Ni
, on Flickr
20170708_185430
by
Ne Ni
, on Flickr
The new American colors are really growing on me!
20170708_175514
by
Ne Ni
, on Flickr
One of the AA transcontinental 3-class A321s. I really want to fly one of these someday! 
20170708_175923
by
Ne Ni
, on Flickr
Right underneath the windows, jetBlue parks its Tech Ops vehicles, and apparently stores spare tires (for aircraft!) as well:
20170708_175740
by
Ne Ni
, on Flickr
For most of the day, gate 14 next to me was occupied by this Aer Lingus Boeing 757 heading to Shannon:
20170708_144050
by
Ne Ni
, on Flickr
After it departed, a jetBlue A320 "Idlewind Blue" that I'd seen earlier at another gate taxied up to gate 14, having completed a roundtrip:
20170708_190409
by
Ne Ni
, on Flickr
While I was waiting, I got a bit of good news - the time for my delayed flight had been pulled forward to 9:30 pm instead of 10:15 pm! I was tracking the A321 (tail # N978JB) that would have been my ride, and it was en route to JFK from Barbados (BGI), and was scheduled to land at 10:09 pm, which
really 
made me doubt we'd make the 10:15 pm departure time. But, jetBlue managed to substitute another A321 (tail # N964JT) that was en route to JFK from Port-au-Prince (PAP) and scheduled to land at 8:25pm. I was really encouraged by this substitution, and hoped the newly revised 9:30pm departure was doable.
I left the Moroso area around 8 pm to go to my gate, were I hoped to see the incoming aircraft taxi in. But that gate turned out to be horrible for pictures (as you'll see later), and instead settled myself a few gates ahead to watch it taxi past. From this gate, I could see that there was a substantial queue for takeoff:
20170708_201325
by
Ne Ni
, on Flickr
This jetBlue A321 taxied past:
20170708_202555
by
Ne Ni
, on Flickr
Then, around 8:30 pm, my ride to LAX finally taxied past, but I couldn't get a good shot. I decided to walk over to the gate. I wanted to enjoy my Mint experience and wanted to be the first one to board!
Gate 26 is pretty bad for photography; here's my A321 parked:
20170708_204713
by
Ne Ni
, on Flickr
It took a
loooong
time for boarding to start. The scheduled boarding time of 9 pm came and went, and gate agents announced a 30 min delay before we would start boarding. At this point, the lady I was seated next to tried to go up to the counter and get a (free) Mint upgrade, but came back fuming and calling the gate agent a "B*tch" after she didn't get upgraded. I really didn't get her sense of entitlement. She was very clear to another passenger she had befriended that she wasn't willing to pay for an upgrade, and when she got denied, she got pissed off at the gate agent.
We
finally
started boarding around 9:40 pm, and I was one of the first ones to board. I was getting quite hungry at this point, but still really looking forward to my Mint experience. Past the terminal, I finally got a good look at my aircraft, a one-year old A321 named "Make a Statemint":
20170708_214105
by
Ne Ni
, on Flickr
Mint Flight Details
Date:
 July 8th, 2017, Saturday
Airline:
 jetBlue
Flight:
 B6 1123
Aircraft:
 Airbus A321 with Sharklets
Aircraft Reg
: N964JT (named "Make a Statemint",  
Prism
tail pattern)
From:
New York Kennedy (JFK)
To:
 Los Angeles (LAX)
Departure:
Scheduled 20:04, Actual 22:16
Arrival:
 Scheduled 23:20, Actual 01:44 (+1)
Flight Time:
 06:28
Seat:
 4A (Mint, Suite)
The
Mint cabin
consists of alternating rows of 2-2 and 1-1 seats. I had seat 4A, which was one of the 1-1 seats, meaning a suite, a window and an aisle seat. I'd booked this seat specifically as soon as I booked the flight itself.
Legroom was great, of course, since the seat extends into the two seats ahead, just as the two seats behind me extended into my row.
20170708_214536
by
Ne Ni
, on Flickr
I had three windows to myself - below you can see two of them. The crew had placed a blanket and a menu, as well as a note signed by them on the seat which I put on the countertop to the left of the seat:
20170708_214608
by
Ne Ni
, on Flickr
Mint cabin crew for this flight, Tanaya and Patrick, were lovely, attentive, and cheerful.
20170708_220931
by
Ne Ni
, on Flickr
As I was one of the first passengers to board, I had plenty of time to explore the features of my seat. Patrick walked around asking each passenger if that was their first time on Mint, and I turned out to be the only Mint virgin!
So, he explained all the features of the seat to me, before taking my drink order. On Mint flights, jetBlue offers its signature RefreshMint drink, which is a honey and mint infused limeade, and can be had with or without vodka. Since it was my first Mint experience, I opted to try it both with and without. Patrick quickly got me the non-alcoholic one:
20170708_214754
by
Ne Ni
, on Flickr
It tasted delicious! I could taste each ingredient, yet they blended together very well. A perfect drink, in my opinion, not too sweet and simply divine!
The right side of the seat contained the seat controls and housed the remote control for the touchscreen PTVs as well:
20170708_220658
by
Ne Ni
, on Flickr
The seat controls were pretty interesting. There were three preset modes - upright, a lazy-Z relaxed and a flat bed position, but you could also manually control recline and leg support and so on. There was an option to set cushion firmness, which I set to my liking, as well as a massage option that I tried out after takeoff, but didn't really keep it going for a long time. The massage options felt pretty gimmicky.
20170708_221349
by
Ne Ni
, on Flickr
On the same side, there were also: a reading light, a power port with USB connection, a phone compartment, and a water bottle compartment. Behind these was yet another compartment for storing small items, including the amenity kit (peeking out at the left close to halfway up at the picture below) that was already there when I boarded. At the left corner, you can also see the tab to pull up the tray table:
20170708_220628
by
Ne Ni
, on Flickr
On top of the right panel, there is a button (circled below) that lights up blue when you press on it, and signals to the crew that you want to be woken up for the meal service in case you fall asleep. I pressed the button immediately after Patrick pointed it out to me.
20170708_220717_LI
by
Ne Ni
, on Flickr
There are also safety instructions printed on the right hand side panel, as well as a pocket for the magazine and the safety card:
20170708_220752
by
Ne Ni
, on Flickr
On the left hand side, there is the huge countertop space, with two power ports and USB ports on the side (making a total of THREE power ports/ USB ports per Mint suite!).
20170708_220613
by
Ne Ni
, on Flickr
As you can see, I could really stretch my legs and still not hit the end of the seat:
20170708_220738
by
Ne Ni
, on Flickr
By this time, boarding was mainly complete. The Mint cabin was less than half full, I suppose due to the delay and the fact that there was another 9:30pm jetBlue flight to LAX. The mood lighting on the A321 looked really cool:
20170708_221659
by
Ne Ni
, on Flickr
I asked Patrick for some headphones and he brought them after the crew finished their safety briefing. The headphone and the glow-in-the-dark Mint logo look great:
20170708_221934
by
Ne Ni
, on Flickr
jetBlue sources these headphones from
Grado Labs
, a local NYC company that maked handmade headphones. Sound quality was great, no complaints at all, and the headphones were very comfortable to wear.
After the safety demo, the captain came on to say that we were 60th (!) in line for departure. Shortly after, Tanaya came by to offer me the RefreshMint, this time with vodka.
20170708_222347
by
Ne Ni
, on Flickr
She warned me that it was a little strong, and it was! To be perfectly honest, I liked the version without the vodka; the vodka killed all the other flavors in the drink for me. Next time, the non-alcoholic one for sure!
We had a long taxi and a longer wait before we finally turned onto the runway:
20170708_224249
by
Ne Ni
, on Flickr
... and took off powerfully into the night sky. From a scheduled departure time of 8:04pm, we finally took off around 11:10pm! Here's a bridge a few minutes into the climb:
20170708_231128
by
Ne Ni
, on Flickr
... and some more views out the window:
20170708_231138
by
Ne Ni
, on Flickr
20170708_231244
by
Ne Ni
, on Flickr
20170708_231413
by
Ne Ni
, on Flickr
Patrick walked past and showed me how to close and lock the door to my suite (although I left it unlocked):
20170708_231721
by
Ne Ni
, on Flickr
Here's what the cabin looked like as we reached cruise altitude. The blues look surreal:
20170708_233238
by
Ne Ni
, on Flickr
I explored the NourishMint menu in more detail:
20170708_214613
by
Ne Ni
, on Flickr
A pretty good selection of wine was on offer:
20170708_220429
by
Ne Ni
, on Flickr
The eats on offer for this flight:
20170708_220442
by
Ne Ni
, on Flickr
Tanaya came by shortly to take my order. You can choose three out of the five items on the mains, served tapas-style and sourced from
Saxon + Parole
, a local NYC  restaurant. Since it was a lightly loaded Mint cabin, and since it was my first time, I asked her if I could try all five. (I was also hungry from the longer wait!) She said, "Sure, honey, let me see what I can do!"
She returned quickly with the appetizer ("Welcome Taste") of Asian sesame dip with wonton chips, and my drink of choice - the sparkling wine:
20170708_234432
by
Ne Ni
, on Flickr
Okay, this is where I gush about how delicious the sesame dip was.
Words do it no justice! It was exquisite! I have never tasted anything as good on a plane! I ate every last bit of it, using the last wonton chip to scoop up all the bits of the dip until the dish was clean!
Tanaya returned a while later to set the table, and she apologized for taking a little long with the entrees, as she was having a hard time fitting all of them on a tray!
20170708_235031
by
Ne Ni
, on Flickr
The full tray, with four entrees:
20170709_000059
by
Ne Ni
, on Flickr
A top view; from top left counterclockwise, the pork tenderloin porchetta; the bread with extra virgin olive oil and a snazzy salt-and-pepper shaker; the heirloom tomato salad; the lobster risotto; the vegetable pot pie:
20170709_000123
by
Ne Ni
, on Flickr
I was satisfied with each dish. The pork was a bit dry, but understandably so. My favorite out of the four was the lobster risotto. All in all, it was a delicious and filling meal. As someone who loves trying out different kinds of food, this type of dining suited me perfectly!
I was comfortably full at this time, but when Tanaya came to collect the tray and asked if I wanted dessert, I couldn't say no!
She returned a while later with three scoops of
Blue Marble
(another local NYC company) vanilla ice cream:
20170709_002654
by
Ne Ni
, on Flickr
... hands down the best ice cream I've had on a plane. I made my way through the ice cream while starting to watch
Kong: Skull Island
, a movie I'd been meaning to watch for a while.
After polishing off the ice cream (and suddenly super full and sleepy), I turned my seat from the reclined position:
20170709_005152
by
Ne Ni
, on Flickr
... into the flat bed:
20170709_005224
by
Ne Ni
, on Flickr
... and settled in to enjoy the movie:
20170709_005427
by
Ne Ni
, on Flickr
The next thing I know, we were preparing for landing. I'd managed to fall asleep halfway through the movie and woke up just before Tanaya came around to ask us to put our seats upright.
At some point, the crew had left a cookie for me:
20170709_161159
by
Ne Ni
, on Flickr
Interestingly, we landed over the ocean at LAX, which I guess makes sense due to noise restrictions - it was around 1:30 am when we landed!
20170709_013352
by
Ne Ni
, on Flickr
Here is the cabin shortly before landing:
20170709_013357
by
Ne Ni
, on Flickr
LAX was the sleepiest I've ever seen it. We taxied past some parked jets at the Bradley International Terminal before parking at our gate. From there, it was a brisk walk curbside and a Lyft ride home (on which you can earn TrueBlue points, btw) to my comfortable bed.
Conclusion
Overall, the flight was great! Apart from the delay, it met and exceeded all my expectations. I had really been looking forward to trying out Mint, and I have to say I was more than impressed! The hard product was great, easily the best thing flying transcon out there if you manage to snag one of the suites like I did. Tanaya and Patrick were warm, attentive and seemed to take pleasure in their work. Props to jetBlue for an amazing flight!
Bonus: Amenity Kit
I didn't explore the contents of the amenity kit until the next day, but here it is:
20170709_161227
by
Ne Ni
, on Flickr
Contents, clockwise from top left: screen cloth; toothbrush and toothpaste; postcard with a mint shaped paper clip; Vitamin C serum; chapstick; amenity kit bag; body lotion; eye shades;  earplugs; moist towelette; mints; and at the center, the card describing the contents:
20170709_161446
by
Ne Ni
, on Flickr
-----------------------------------------
Also, as I mentioned earlier, the entirety of this trip report can be read on my blog:
https://planespottingandmore.wordpress.com/
You can also follow me on twitter, where I mainly post pictures of me planespotting at LAX, and retweet other pics/ aviation news that I find interesting or cool:
https://twitter.com/NeBaNi3