I just got back from an amazing two weeks in China, and the icing on the cake was that I got my first 747 flight. I'll start from the beginning!
ITH-DTW July 5 DL 7359, Operated by OO
CRJ-200
N935SW
MSN 7725, Delivered 3 Jan. 2003
Flying out of ITH is very easy because of its small size. It doesn't take more than 15 minutes to get through TSA, and once you get through, the gates are right in front of you.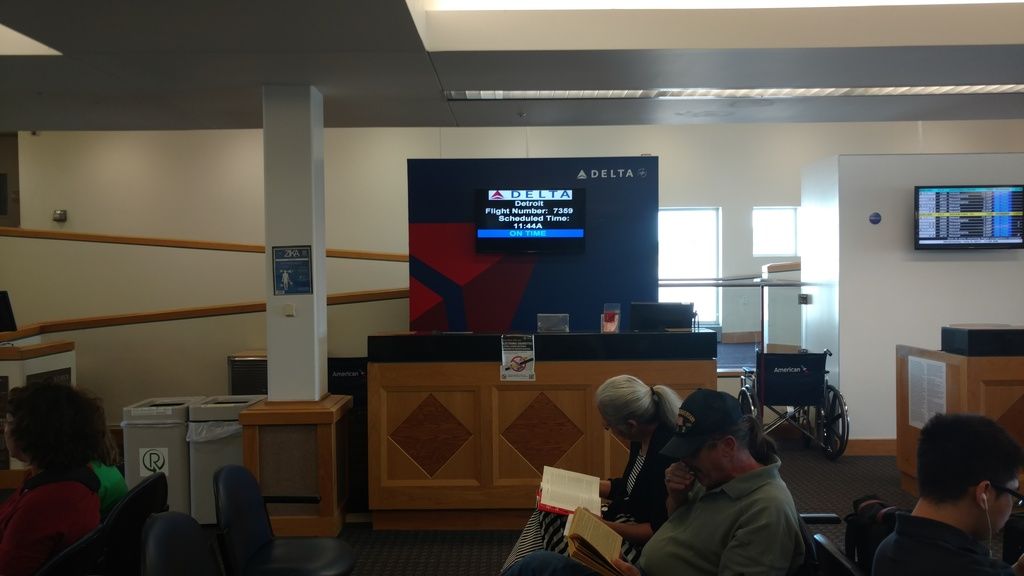 The flight boarded on time, and another advantage and as there were no elites on this flight, my girlfriend and I were the first to board when they began boarding Zone 1.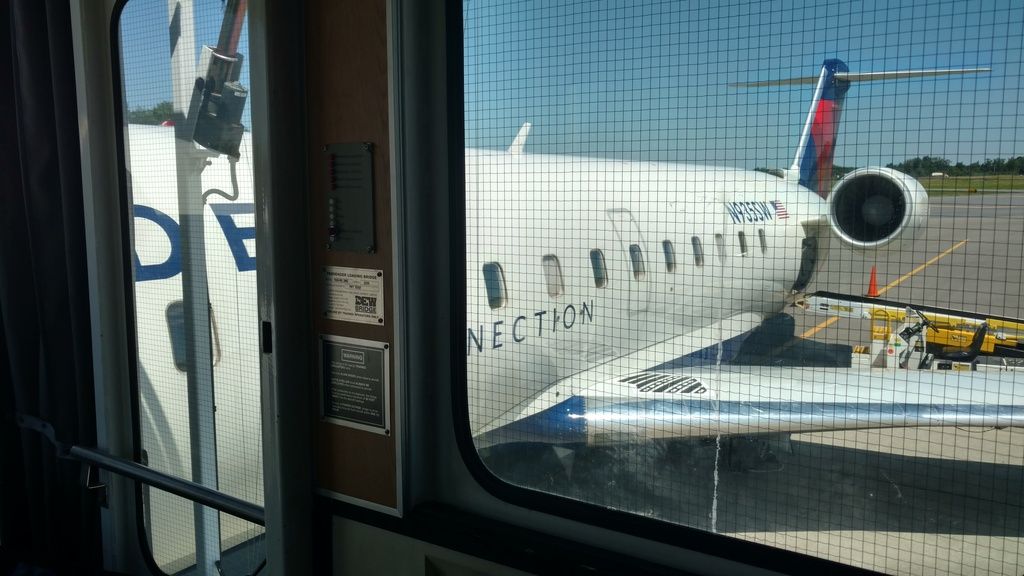 My seat, 10D, was pretty standard for a CRJ, nothing special, but not too bad for a one hour flight.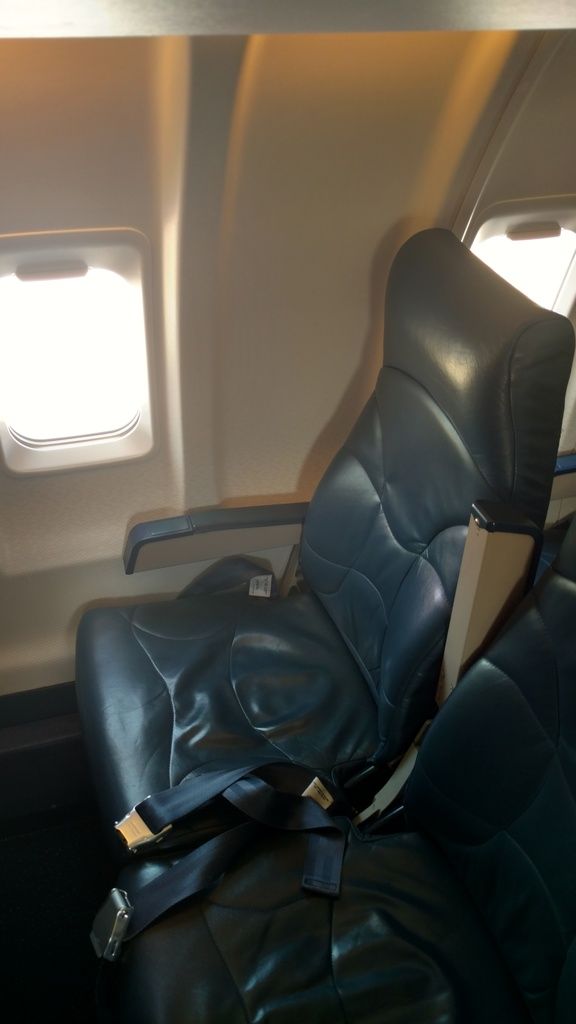 Legroom was adequate for my 6' frame
Looking out the window at the fuel truck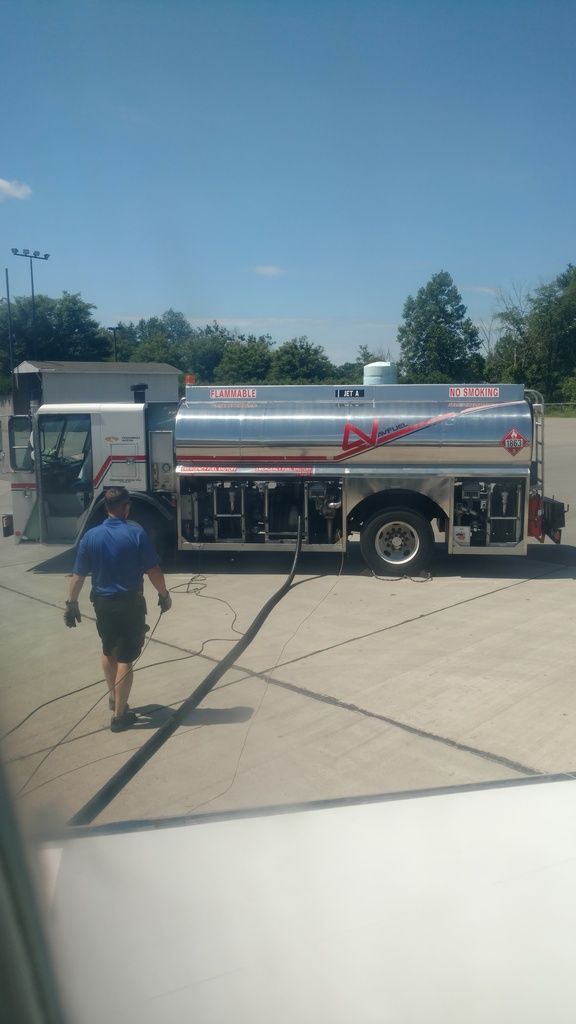 DL CRJ-200 Safety Card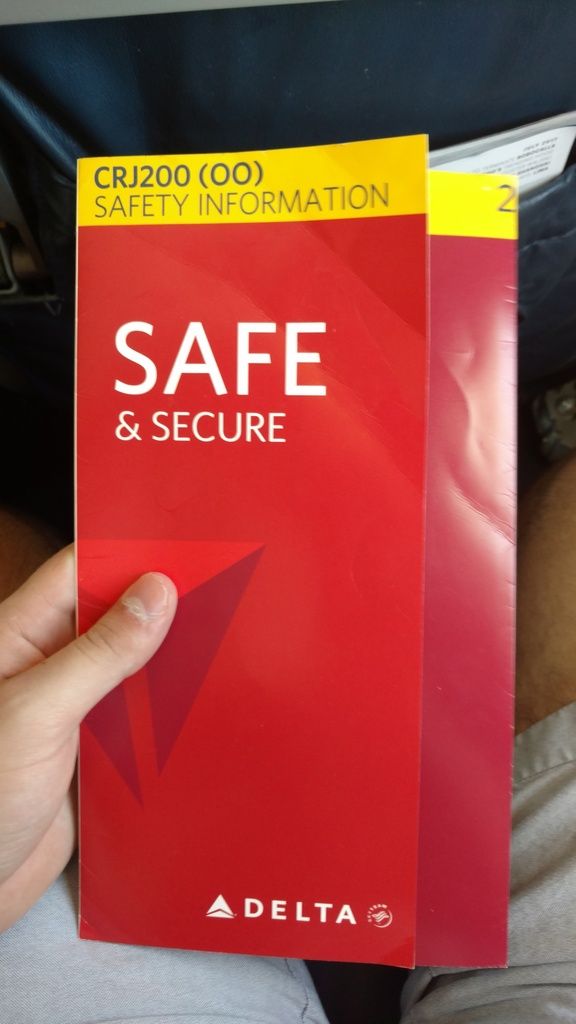 We took off on time, for our 55 minute flight to DTW, and once at cruise, were served DL's standard domestic snack and drink.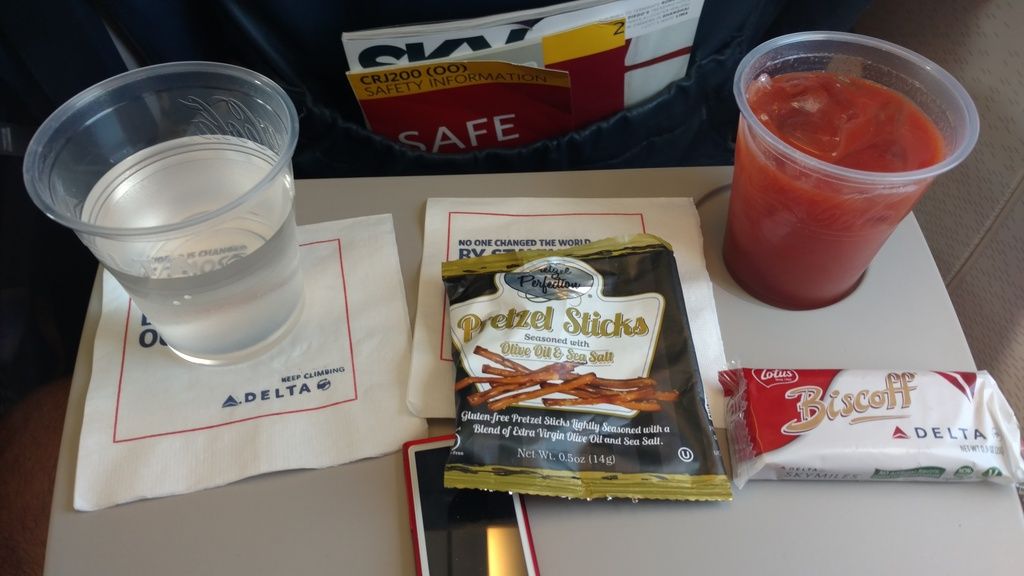 The hour flight passed quickly, and we landed smoothly in DTW on time. I know the CR2 gets a bad reputation, but this flight and the many I have had before it demonstrated that the CRJ is a perfectly fine plane for the routes it is intended to fly.
We had a roughly three hour layover in DTW, so there was no stress making it to our connecting flight to PVG.
DTW-PVG July 5 DL 583
747-400
N666US
L/n 742 Delivered 18 August 1989
At the gate in DTW. Boarding was about 20 minutes late because our plane was a bit late arriving from NRT.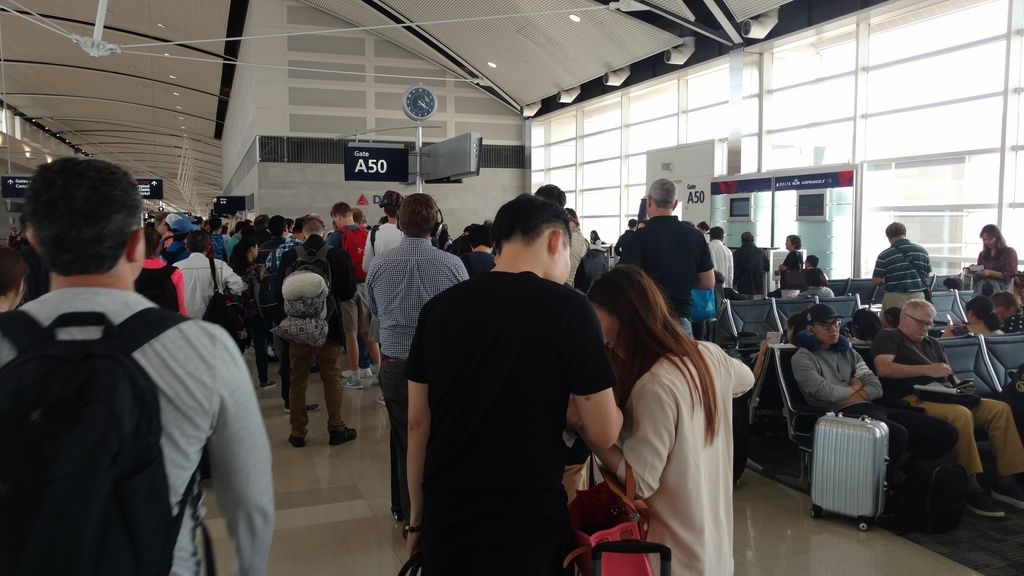 This was my first ever 747 flight, and I am so glad I was able to catch the Queen on DL before she is sent to pasture later this year. DL has done such a good job maintaining and upgrading the interiors of the 744s they inherited from NW, I doubt many people know how old these birds are. My seat, 64K was in one of the four rows of twosomes, which was perfect since I was traveling with my girlfriend. The extra space between the wall and seat was also really nice.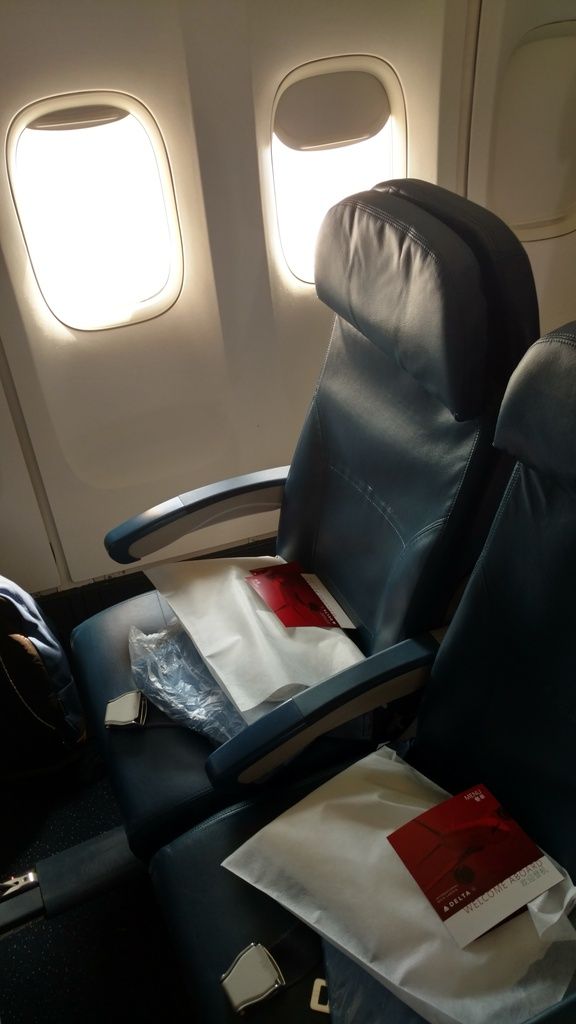 The one thing that is not quite up to today's standards are the smaller overhead bins.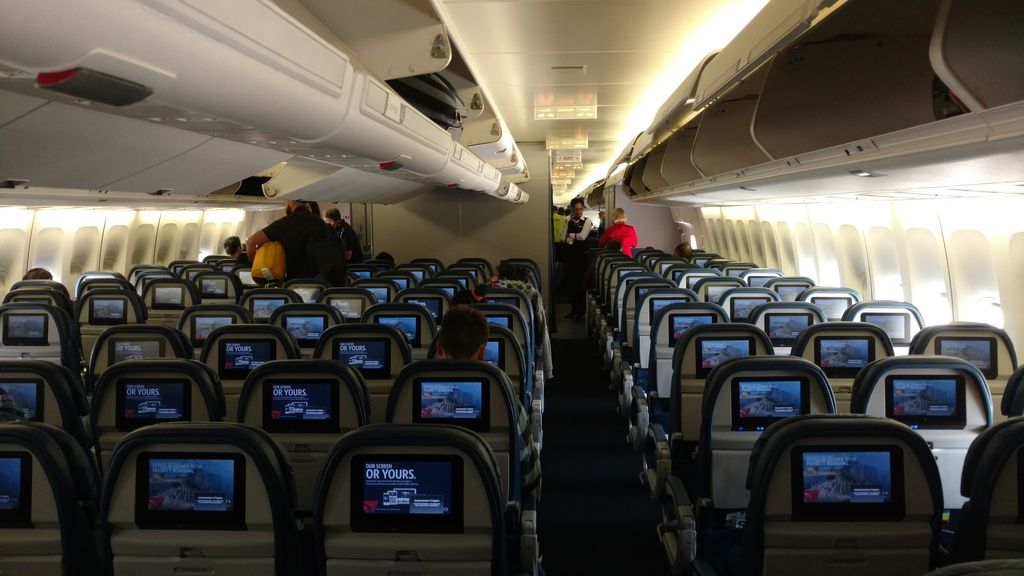 Safety Card
Adequate legroom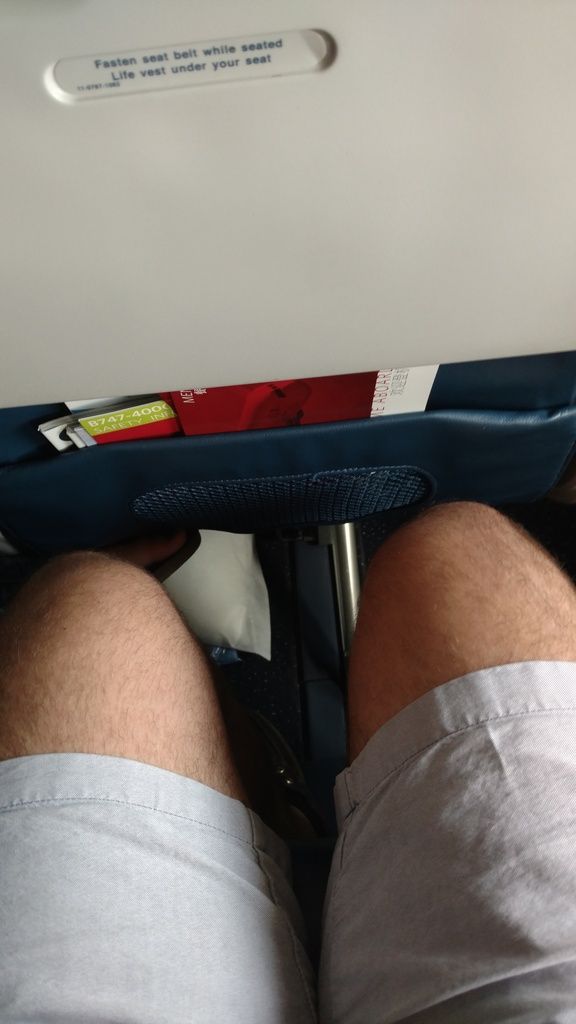 The IFE screen was large, and the selection was good. There was USB power, but one drawback of the 744s is that only Y+ and Delta One have outlets. As it stood however, the USB power was perfectly fine for charging my phone.
Pushback was about 20 minutes late, but taxi was not too long, and we were cleared for takeoff quickly. I've flown many types before, from the Dash 8 to the 777, and nothing prepared me for how awe-inspiring a B747 takeoff is. Sitting at the rear of the plane, behind the engines as they spooled up to takeoff thrust was a truly amazing experience. As we gathered speed, the roar of the four PW4000s sent shivers down my spine, and in those few seconds as we rumbled down the runway, I got why the 747 is the Queen of the skies.
The first meal was served about an hour after takeoff, after the crew had already come around with hot towels and beverage service.
I chose the rice and seafood, which was tasty and filled me up. After a few hours, there was a mid-flight snack of flatbread pizza and ice cream, which was so good I forgot to take a picture of it before I ate it. About 1.5 hours prior to landing, meal service was offered again, and this time I selected the farfalle and chicken, which also exceeded my expectations.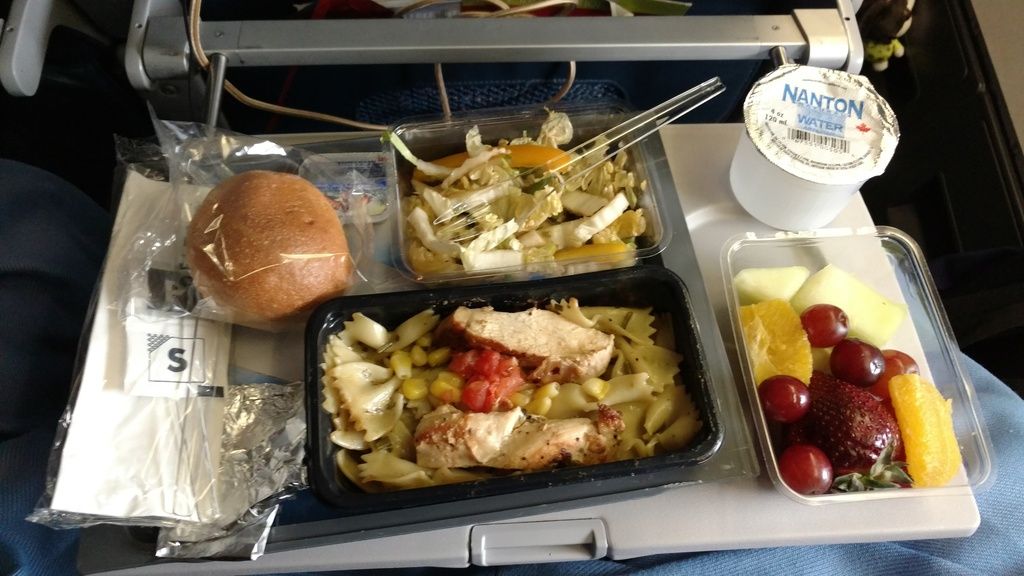 Soon after the meal service ended, we began our descent into PVG
Despite taking off about 20 minutes late, we landed in PVG only about five minutes after our scheduled 6:55 pm arrival time. I was a bit surprised that we deboarded at a remote stand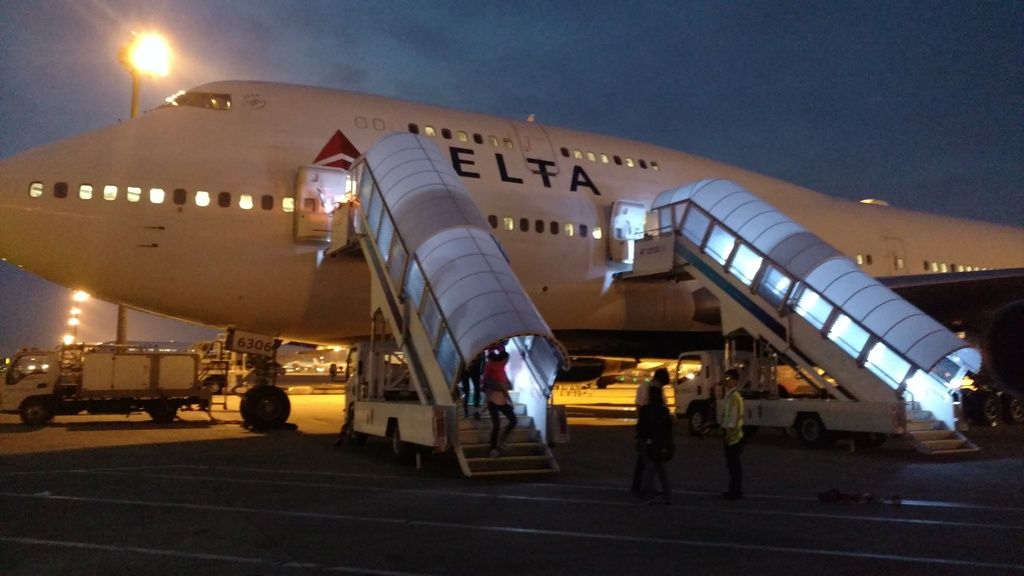 We were bused to the terminal where passing through customs and immigration went smoothly.
My time in China was absolutely amazing, I could write a whole other trip report about it. I spent time in Shanghai, Beijing, and Xian and got to experience China's bullet trains, which are really amazing. Before I knew it, two weeks were up, and it was time to head back to ITH. The nigh before our departure, we stayed in a hotel near PVG to make our trip to the airport in the morning as stress free as possible. The shuttle got us to Terminal 1 in no time, and check in went smoothly.
PVG-DTW July 20 DL 582
747-400
N674US
L/n 1232 Delivered 18 October 1999
Once again, we boarded at a remote stand, and the waiting areas for remote stand boarding are not that impressive. So while PVG seemed very nice, because we boarded and deboarded via remote stands, I didn't really get to experience the good side of PVG. For this flight, I got the dreaded SSSS on my boarding pass, which was a bit of a pain in the you-know-what. I had never gotten the 'SSSS' before, and to me it really seemed a bit excessive. It delayed my boarding by over 10 minutes, and even though I was Zone 1, by the time I got through the extra screening, they were boarding people in Zones 2-3 and I had to wait longer to get on the plane. Altogether a thoroughly annoying experience that really serves no purpose IMHO.
But I did get nice views of our aircarft!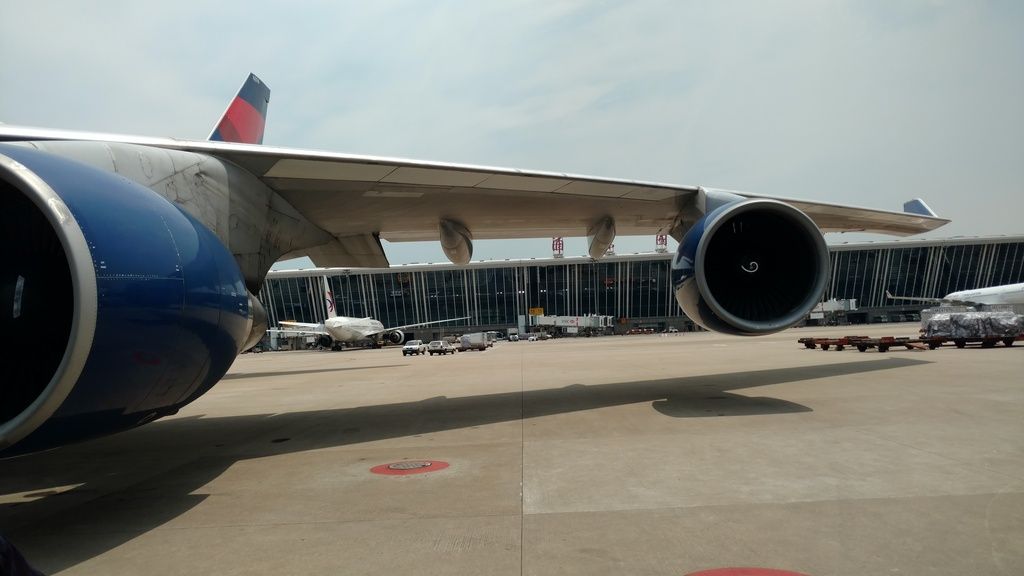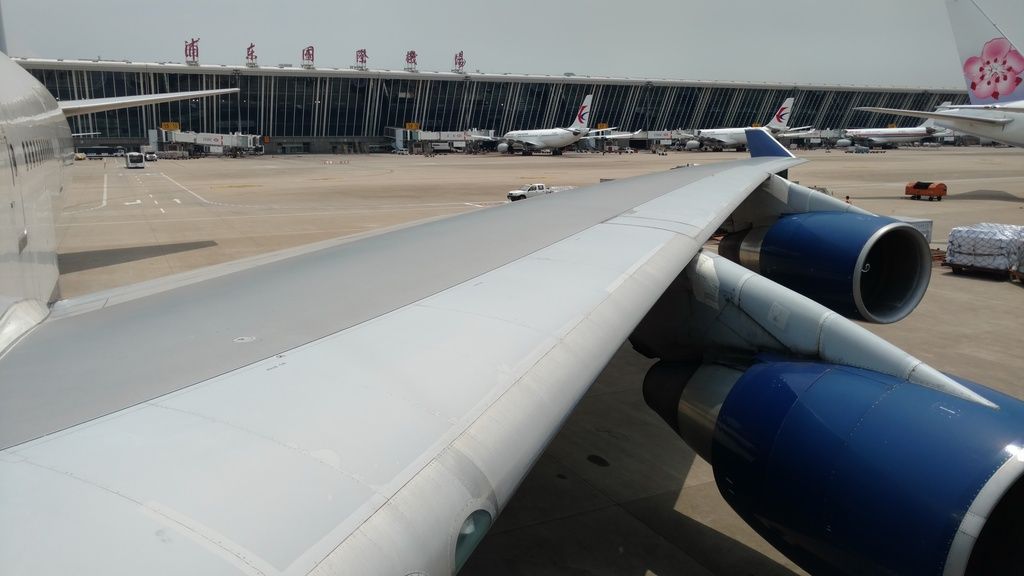 I wore an NW shirt I got from skyshirts.com, which was a huge hit with the former NW crewmembers. One of the very friendly FAs wanted the pilots (who were all former NW) to see it, and took me up to the flight deck! The pilots all loved it, and the captain let me sit in his seat while he snapped a few pictures of me. I chatted with them for a little while before heading back down to my seat.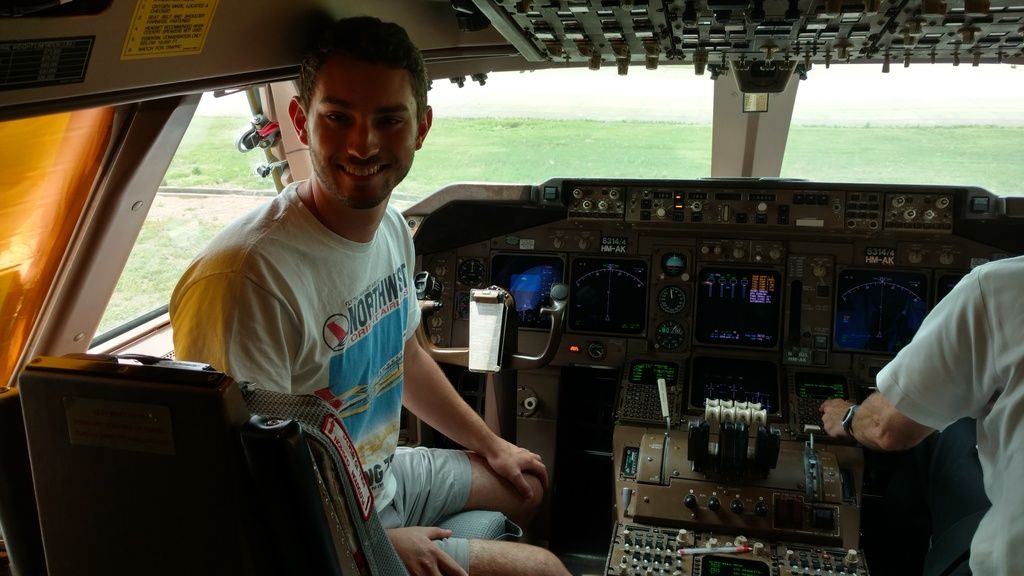 For this flight, I had seat 64A. Although 6314 is 10 years younger than 6306, you really couldn't tell the difference in age from looking at the interior. Pushback and takeoff were right on time, and once again, takeoff was truly a breathtaking experience.
Meal service was about one hour after our 11:45 am takeoff. For the first meal, I had the rice and chicken option, which tasted good.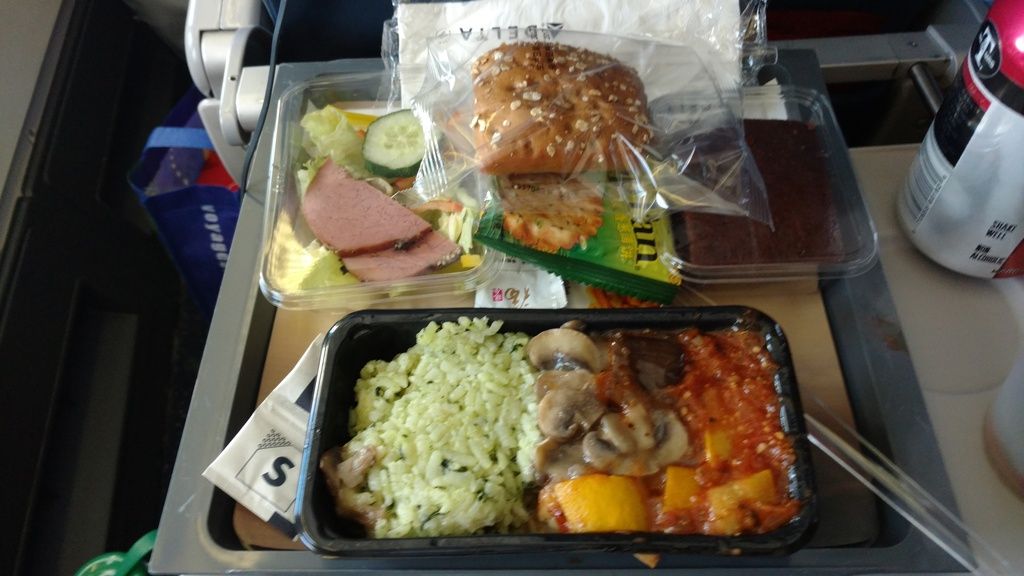 I read and slept for a bit before the FAs came through with snack service that consisted of a chicken and herb flatbread sandwich with ice cream. This time, I remembered to take a picture of my snack before eating it!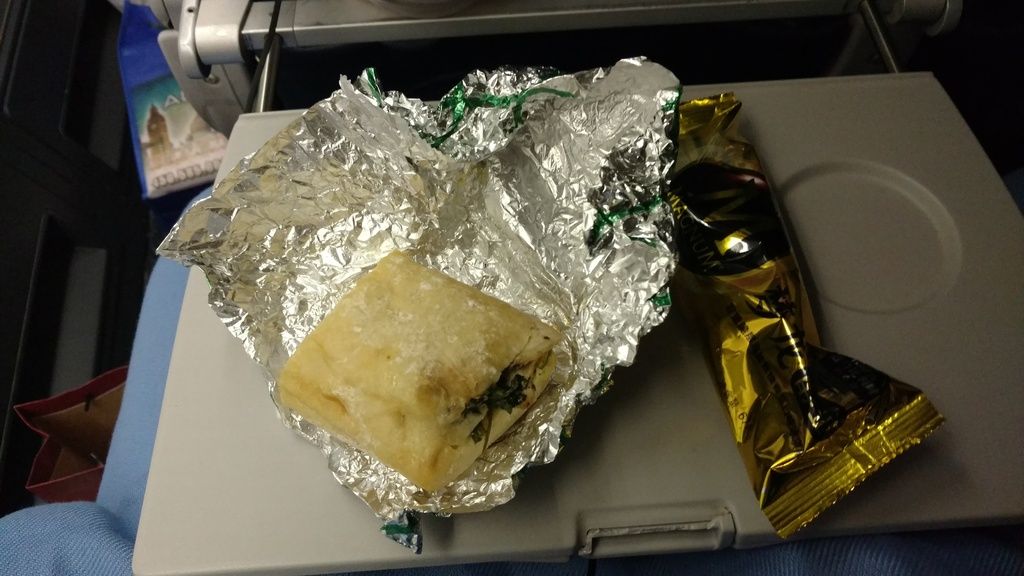 After the snack, I watched Gone With the Wind, which was a good way to kill almost four hours!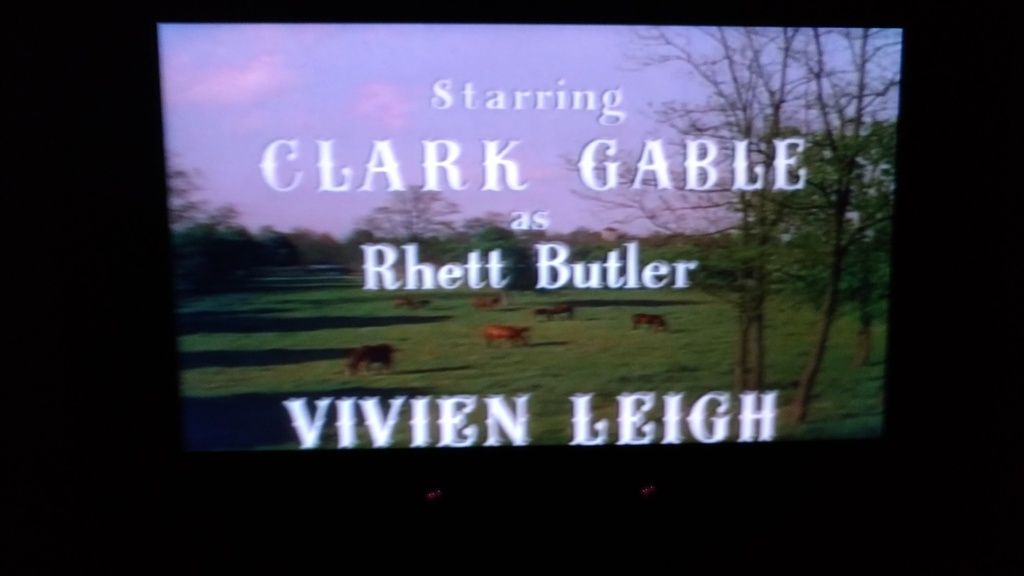 Soon after I finished my movie, the FAs came through with hot towel service, and then the last meal service, for which I chose rice and dumplings.
Soon after the meal service ended, we began our descent into DTW, which was rather bumpy. We touched down gently, and were parked at our gate about 20 minutes early.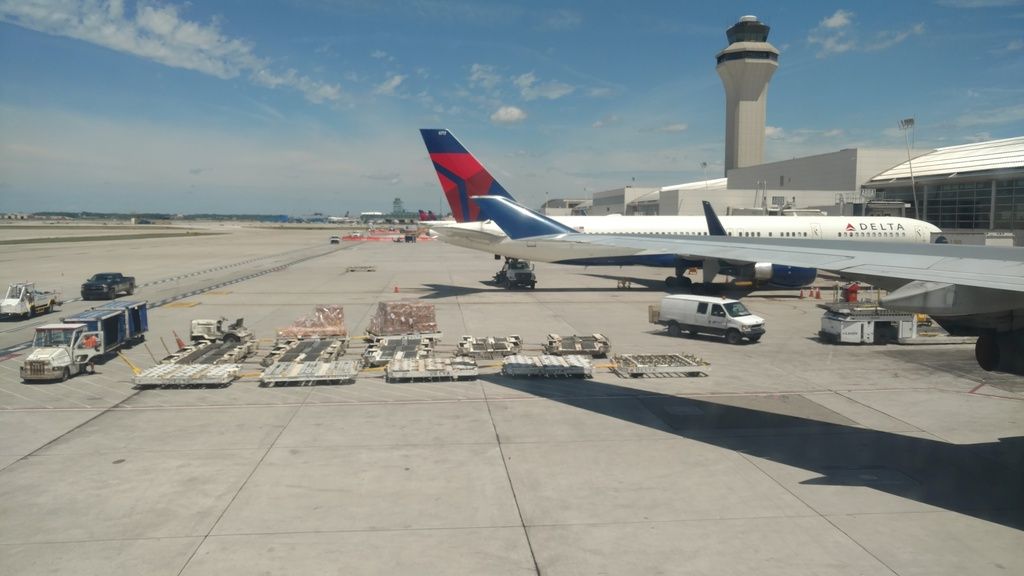 Passing through customs and immigration took a while because they didn't have very many lanes open. Also, I am not a big fan of the new kiosks they have. In other countries I've been to, the kiosks completely replaced immigration agents, but in the US, it is just another step to wait in line for before seeing the agent anyways. I would rather just fill out the immigration card on the plane and wait in line only once in the airport. In any event, we made it through and rechecked our luggage in plenty of time to make it to our gate for our connecting flight to ITH.
DTW-ITH July 20 DL 7433 Operated by OO
CRJ-100ER
N881AS
MSN 7496, Delivered 25 May 2001
Boarding began on time, and the seats on this plane looked like they had been reupholstered recently, my seat, 5D, was comfortable. The flight took off on time, our FA was friendly, and the roughly 45 minute flight to ITH was uneventful. We landed about 10 minutes early, and deboarded quickly via jetbridge. I waited at baggage claim about seven minutes before my luggage arrived.
In summation, my flight experience with DL (and OO) was very good. From the service, to the condition of the planes I flew on, everything met or exceeded my expectations. It is experiences like the the ones chronicled here that make being a DL FF worth it for me, despite the fact that the Skymiles program has been devalued in recent years. My biggest complaints (SSSS bp and US Immigration) really had nothing to do with the airline, but the security charade that is post 9/11 travel. On a personal level, I am so glad I can now say I've flown on the Queen of the skies, and I give credit to DL for not only keeping the 747 in service this long, but investing money on the interiors to keep their hard product competitive, especially when the 744s are used on mostly 12+ hour routes. I will be happy to see the A350 enter service, and I'm sure it will offer a better hard product than even updated 744s can, but deep down, I will miss seeing the 747 in DL colors. When the 747's time with DL comes later this year, all I can say is rest well old friends, and thank you for the memories.