Wednesday was a significant day on the International Front in Australian Aviation. Australia's #2 Airline was launching new direct flights between Melbourne to Hong Kong as announced 4 months ago. Virgin is starting the route 5x weekly from Melbourne and it was announced on the day they have applied for a further 21 slots to get Sydney/Brisbane to Hong Kong up and running by November pending slot allocation verdicts. Currently the Australia-Hong Kong market is a large monopoly with just Cathay and Qantas. Virgin are also looking at launching a Shanghai/Beijing service from one city but due to continued slot issues this is still being investigated but was quoted as starting this year. Exciting times!
Virgin has a fleet of 6 A332's that currently have been flying transcontinental routes across Australia, but recent strategic reviews and Chinese investors buying a stake in Virgin no doubt led to expansion into China. HNA Group is now a Virgin partner and part of this includes code sharing across Hainan, Hong Kong Airlines and HK Express.
I must say after flying alot globally in the last few years what Virgin has done product wise really sets the bar, simply sensational product (especially 'The Business') with great attention to detail. Virgin has invested enormous amounts of cash in its fleet, product, lounges, staff in the last 5 years which definitely shows. Here are the two cabins.
The Cabin is configured:
-255 Economy (2-4-2)
-20 'The Business'
The IFE has recently been updated from the originally founded Virgin America 'RED' to the new 'Virgin Australia Entertainment'.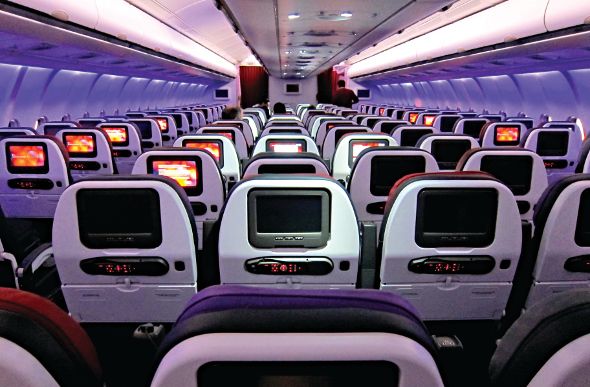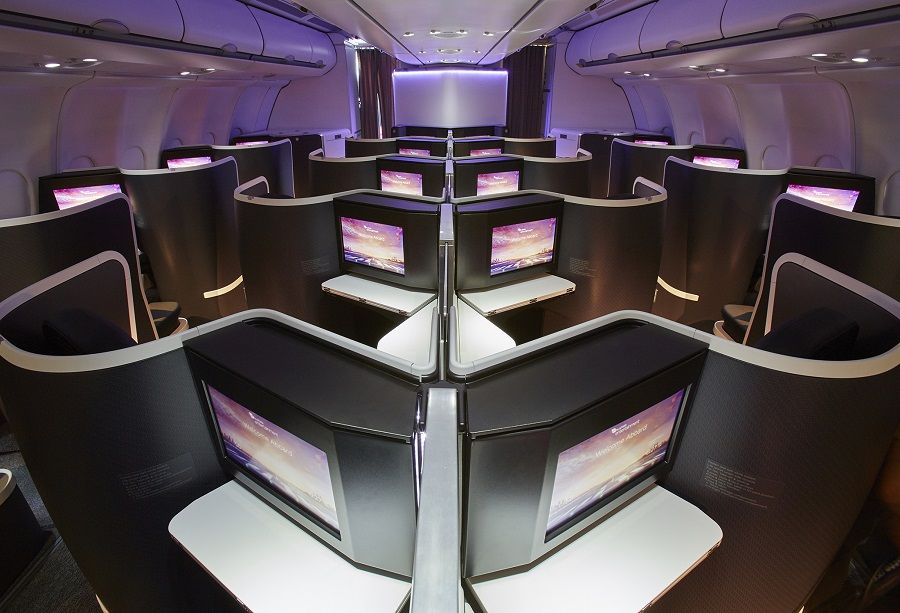 The Flight: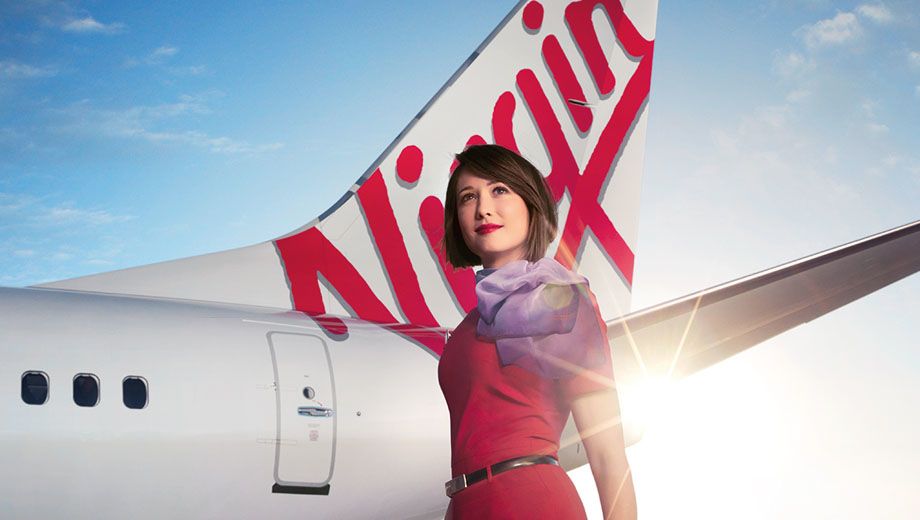 Flight Number:
Sector: VA87
Date: Wednesday 5th July 2017
ETD: 0940
ATD: 0944
ETA: 1720
ATA: 1732
Duration: 9hrs 20mins (flight time)
Class: Economy
Aircraft: A330-200 VH-XFD 'Bells Beach'
Date Delivered: April 2012
Richard Branson was on Australian TV the night before discussing the flight. Other notable people onboard was the CEO Virgin Group John Borghetti, Australian Politicians, Media and quite a few senior travel industry officials.
Just casually getting dropped off at the front of the terminal while I was just arriving myself.
Richard was going to lead in a 100m long Dragon from the Carpark which led into the Terminal before ending at the Press Area. The Dragon originated from Bendigo, Victoria and is worth A$750,000! The entire Virgin Terminal stopped whilst this was occurring very loud!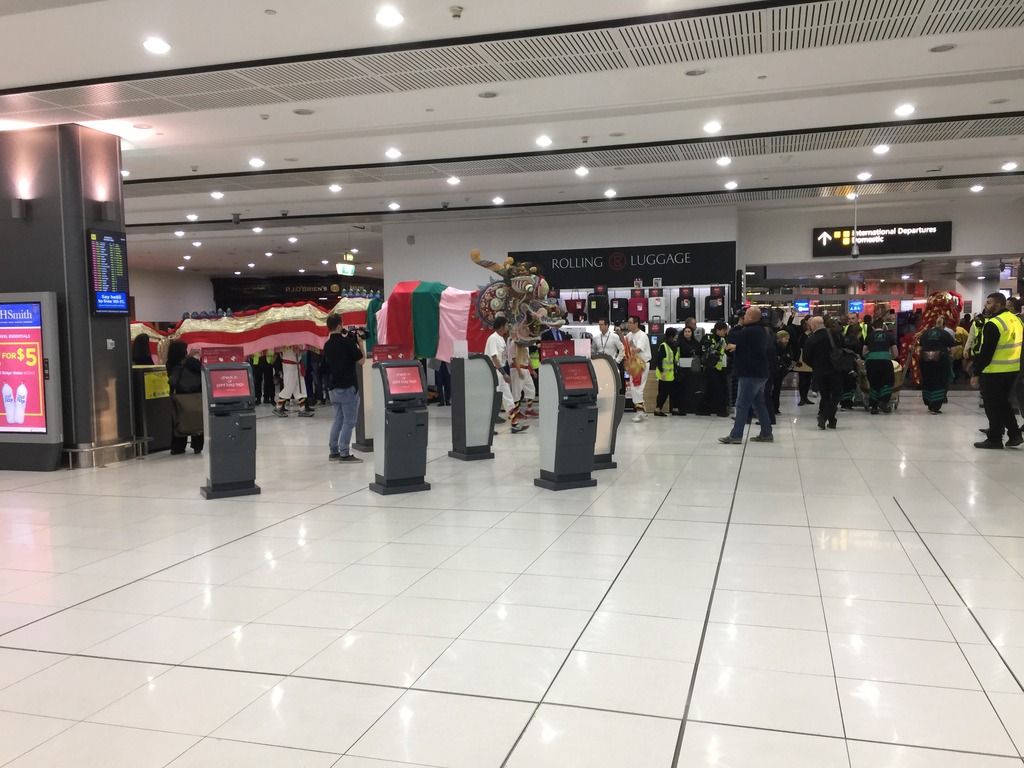 The Dragon ended at the Press Area which was right next to the Checkin. There was a heavy security presence in the checkin area and if you were not checking in you were not allowed through. There were talks from Richard, CEO, Ministers etc once the Media event started.
A few extra things were announced on the day:
-21 slots applied for to start BNE/SYD-HKG
-A new Domestic Business class on the 737s coming later this year
-Expansion for TigerAir Australia
-Airfares have dropped 36% since on this route since Virgin started selling fares.
-Richard reminding everyone that Qantas sucks (on the flight many times too lol)
Press Area
The flight today consists of 3 Captains (1 each of Captain, Check Captain, Virgin Airbus Techical Captain). I was told all Captains need to be certified before flying solo into HKG so all upcoming flights will be crewed by the above until complete. The Cabin Crew in darker uniforms are the Inflight Managers. Also to note on this flight there was x2 Cabin crew members from partner Hong Kong Airlines. They conducted Inflight announcements in Cantonese and assisted the Virgin crew. I'm not sure if this is permanent arrangement.
One thing I love about Virgin branded carriers, is that the staff just love their job. Energetic, Helpful and just genuine people!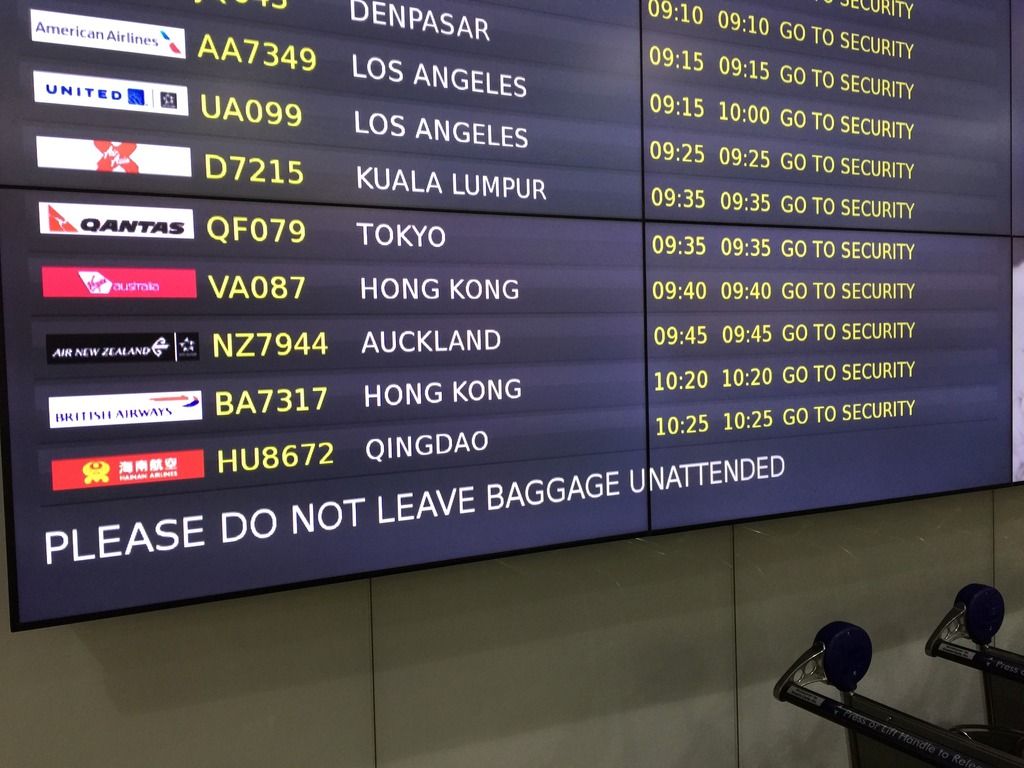 Love the flag on the nose of all jets. This one is named 'Bells Beach'. It's been a Virgin tradition since they started in Australia with the flying Virgin Girl on each nose. Bells Beach is a surf beach about 1.5hrs South West of Melbourne past Geelong.
Hong Kong inspired food being handed out at the Gate.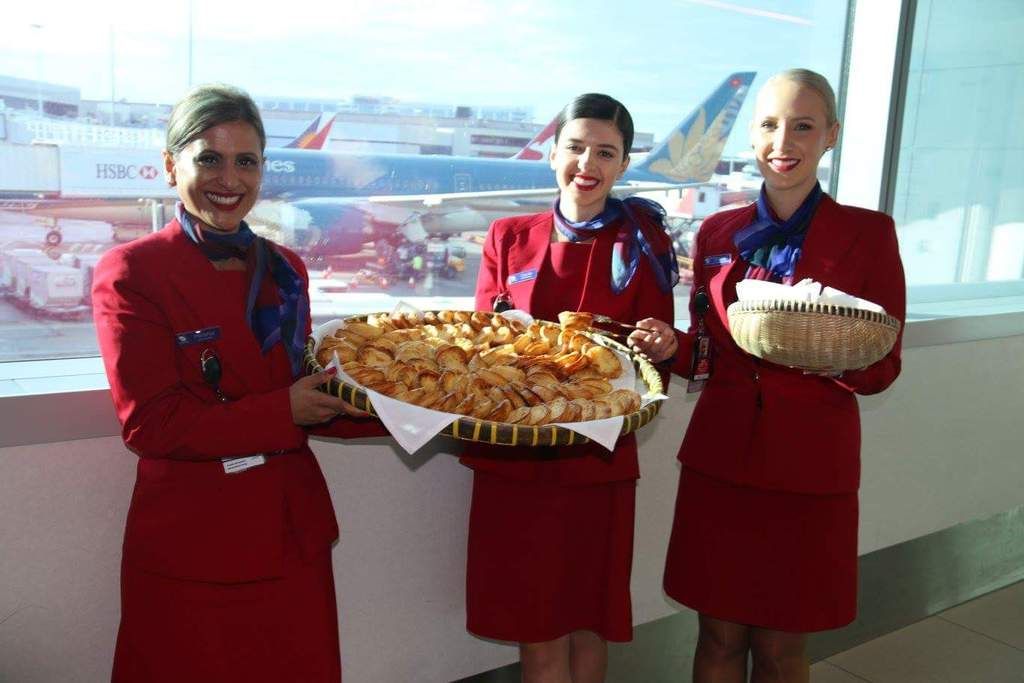 Full Flight today. School Holidays here in Australia, first week of two so a lot of people escaping the winter. Only 7 degrees this morning compared to 32 in Hong Kong!
Pushback!
Water Cannon Salute on our taxi to Runway 34 which is the longer North/South runway at Melbourne.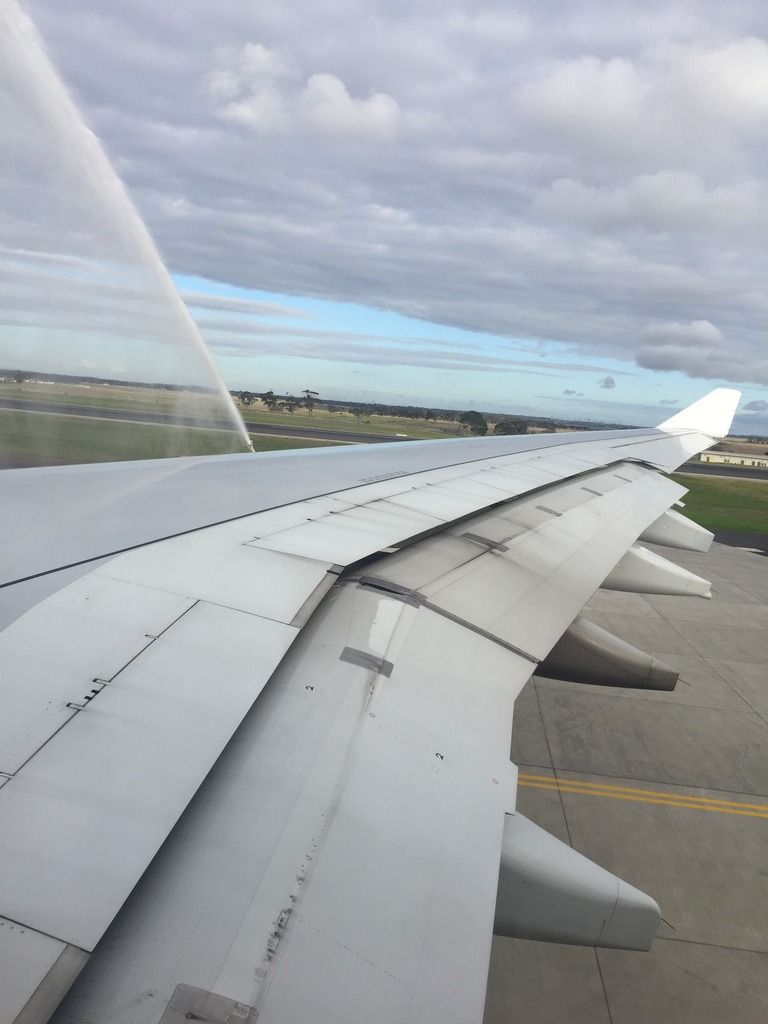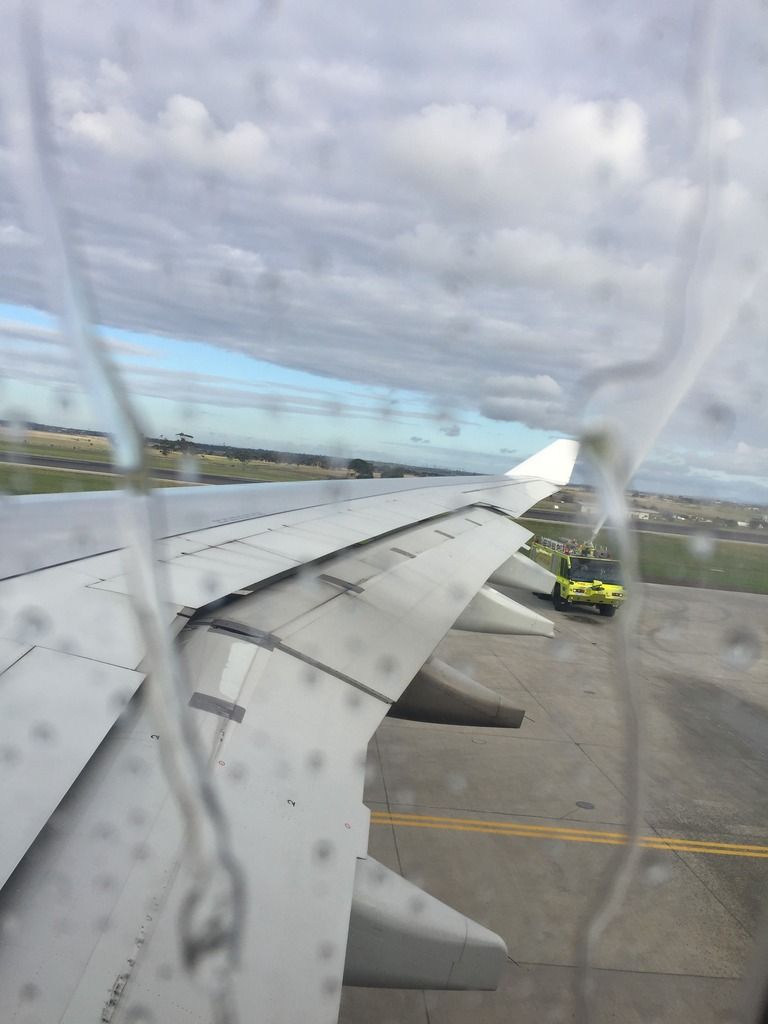 Video of the Water Cannon Salute
https://youtu.be/Il4paGab3j8
Short wait for a AirAsia A330 and Jetstar 787 and we departed.
Brief outline of the flight from the media release.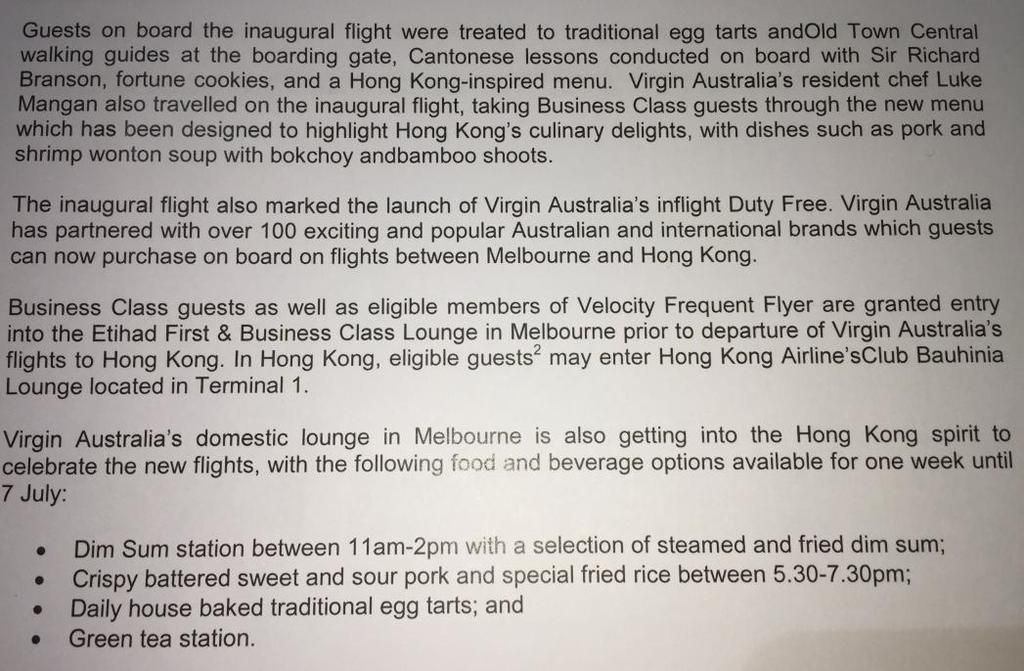 Australian Chef Luke Mangan was onboard today in the Business Cabin serving and showcasing his newly designed Hong Kong menus. Two meals were provided for Economy pax with an open bar open all flight simply just call the crew if wanting more. Only criticism here was lack of snacks available during the flight which they usually provide on Los Angeles flights.
Inflight Magazines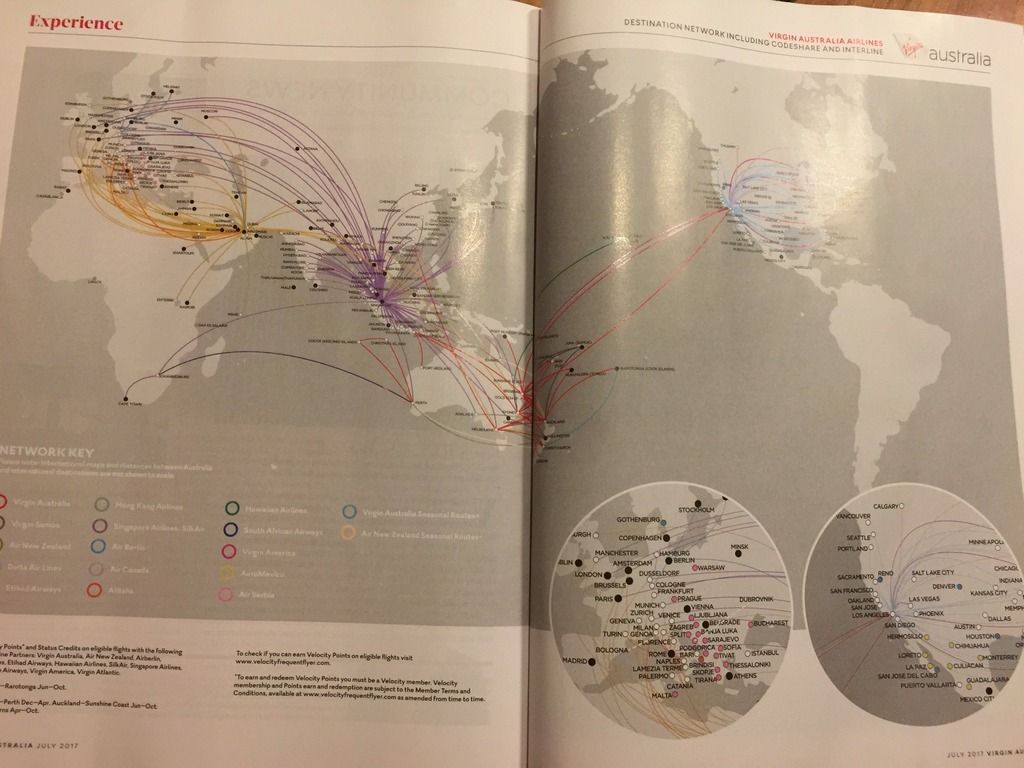 There was an Inflight activity which consisted of trying to pronounce words in Cantonese. Pictured with the crew from Hong Kong Airlines who nailed it if course!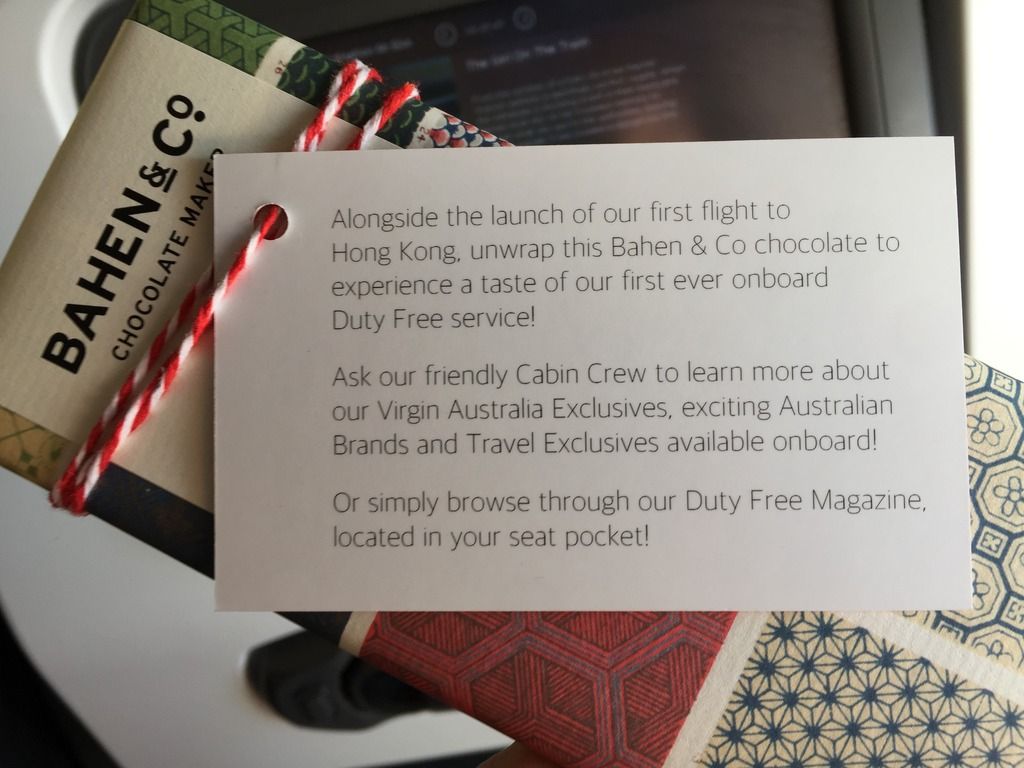 Flying over the Northern Territory. Must see for anyone visiting this great country!
Fortune Cookies were handed out by Richard to all passengers.
Virgin CEO John Borghetti also handing out cookies.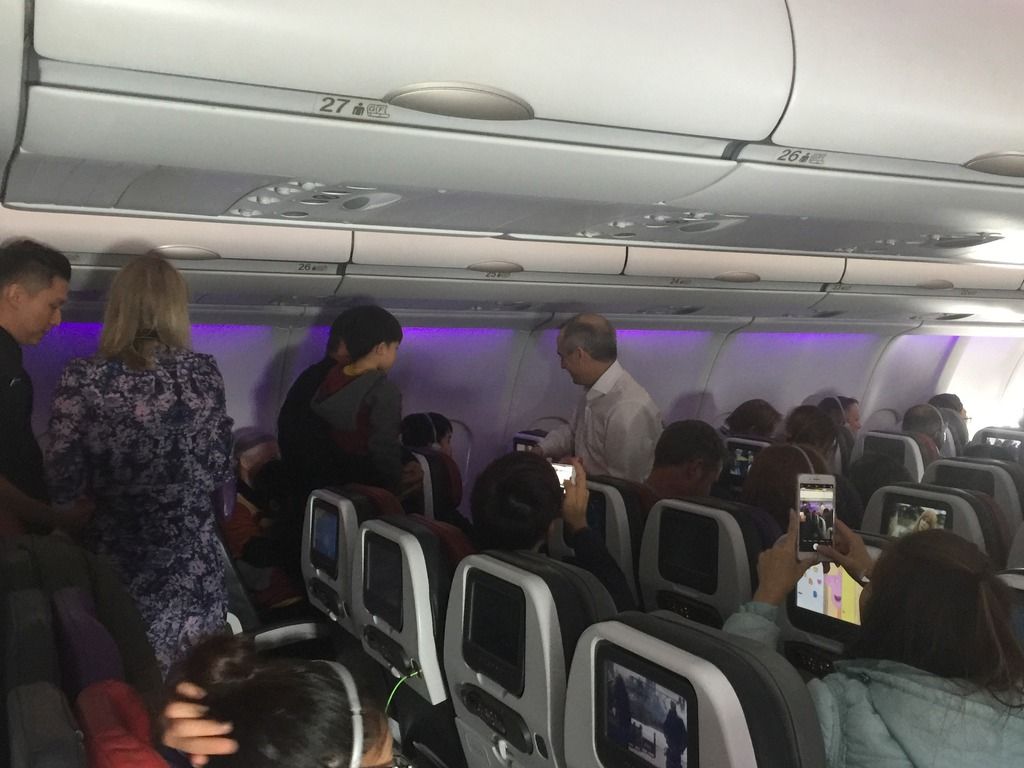 Got put in a hold for a while which delayed the arrival.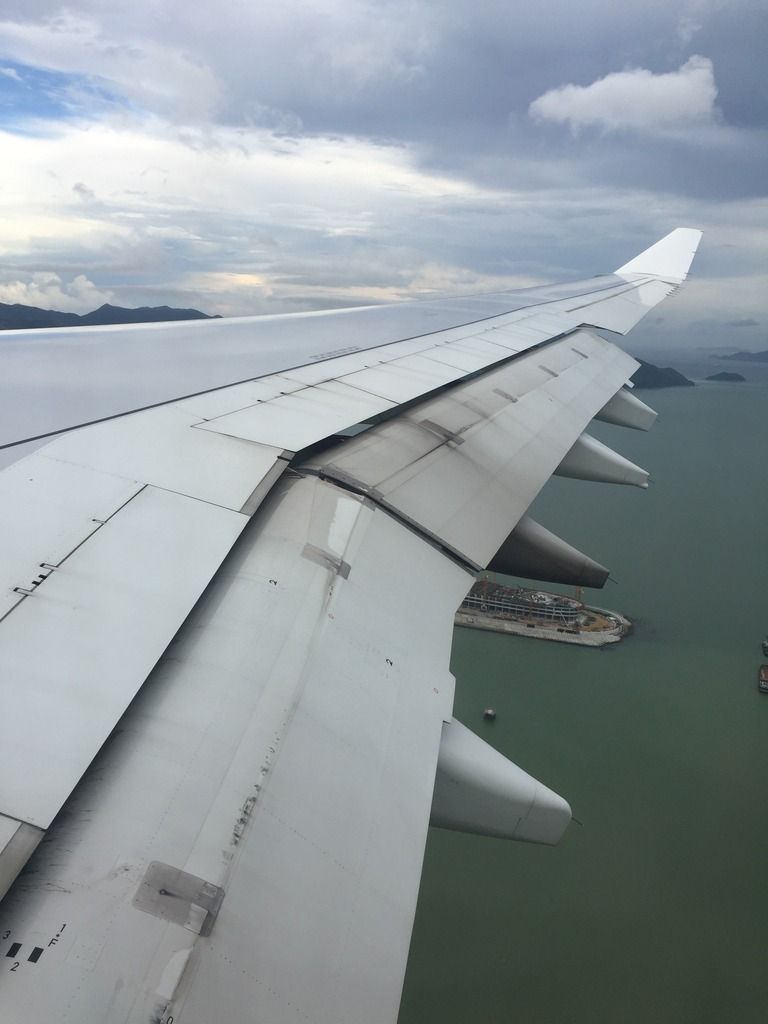 We were welcomed to another Water Cannon!
All ground crew servicing other airlines stopped as we taxied into the Gate taking photos as we kept moving which I found amusing! Indeed it was the first time for most! Virgin appeared to have an Aussie ground crew here in Hong Kong for training, all Australian from ground crew to ramp crew.
On entering the terminal we were greeted by Hong Kong Tourism and given gift bags.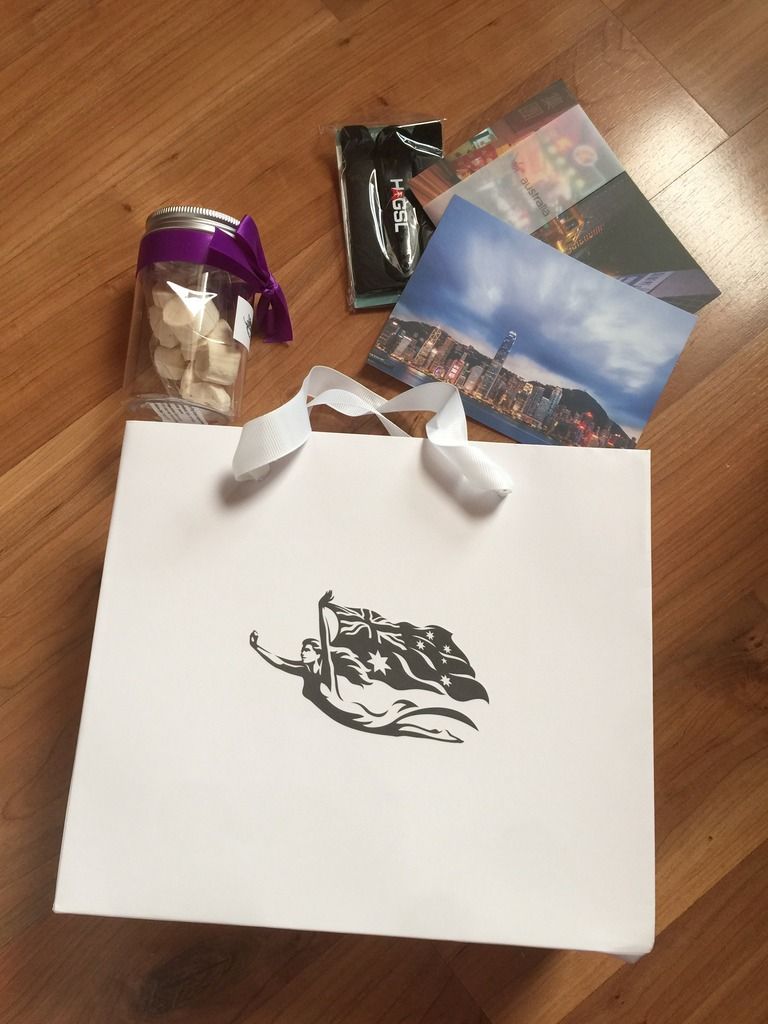 Great Flight overall hopefully the flights work out well for them.