Hi A-netters. After having viewed Carfield's most excellent report of the inaugural Virgin America A321neo service on May 31, 2017 and his return to SFO on June 1st, I still want to share my experience. I don't fly "up front" very often so this flight was rather special to me in that regard.
Late in the evening of May 31st I made the reservation for VX1 through Alaska Airlines and redeemed 25k Mileage Plan miles for the First Class seat. On my flight seats 1C and 1D were available so I naturally took the window seat. As it turned out 1C remained vacant through the flight though the rest of F was occupied.
I flew to SFO from PHX on June 2nd using Alaska Mileage Plan miles and chose a routing PHX-PSP on American Eagle CRJ-700 and Alaska Airlines 737-900ER. I selected a main cabin seat on Alaska during booking but when I got to PSP I found I'd been upgraded to F. Nice
Thanks Alaska!
We parked SFO at Gate 50 and after deplaning I found the Virgin America service desk and asked for a proper boarding card. The gal happily printed one and we got into a conversation about tomorrow's flight. She said she knew the Captain and would tell him he has an avid aviation enthusiast onboard. I thanked her and milled about the gate area, waiting for the arrival of VX #2 from DCA so I'd get my first glimpse of a Virgin America A321.
The counter agent pointed out the banner from the inaugural flight two days prior: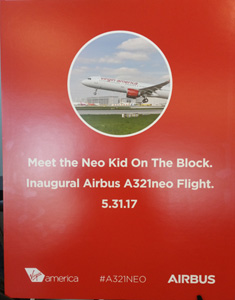 Carfield mentions in his trip report the black-dotted windows of the SFO terminal...yes they are a pain in the butt...but photos can be made through them. Some even come out with barely a hint of the dots.
N921VA arriving SFO from DCA VX #2 on 2 June 2017: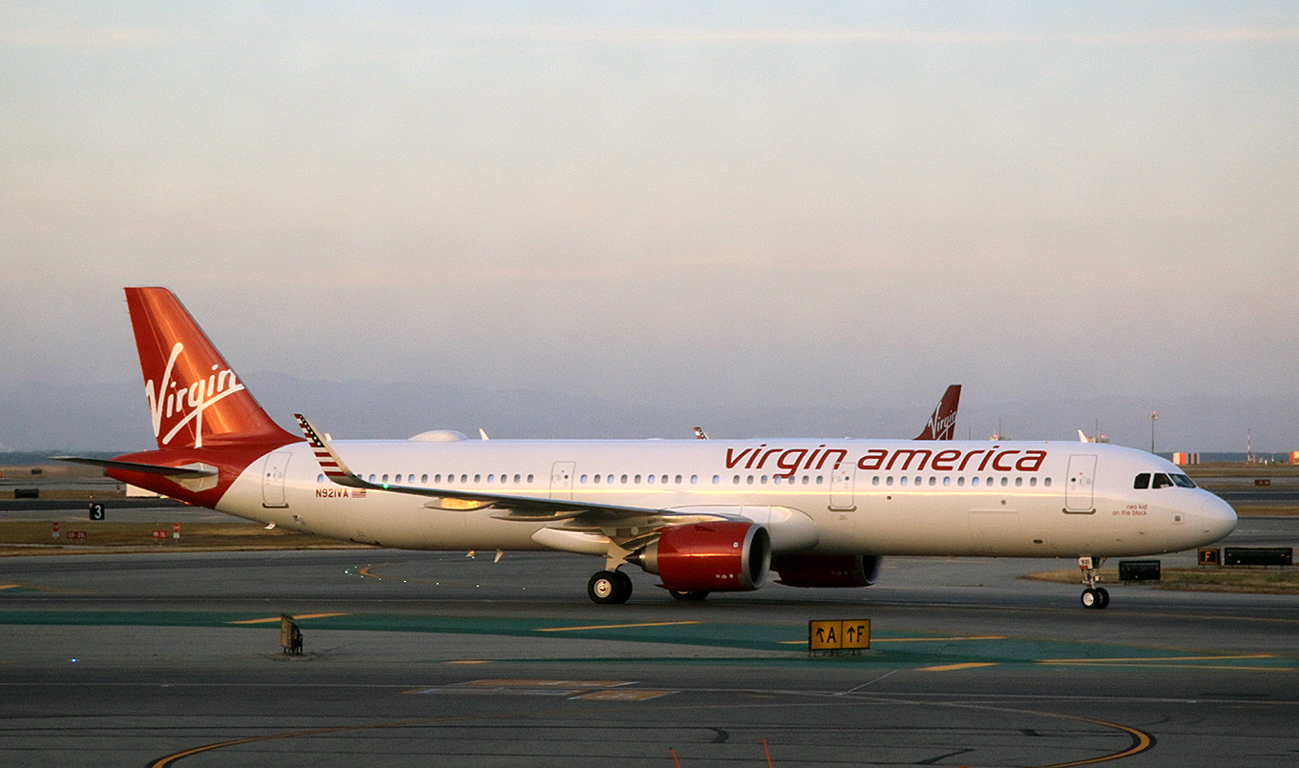 After watching N921VA park I milled about some more in the terminal. I found a spot to continue plane watching in the fading light...
Fast-forward to dawn the next morning.
N921VA awaiting our departure at gate 51A: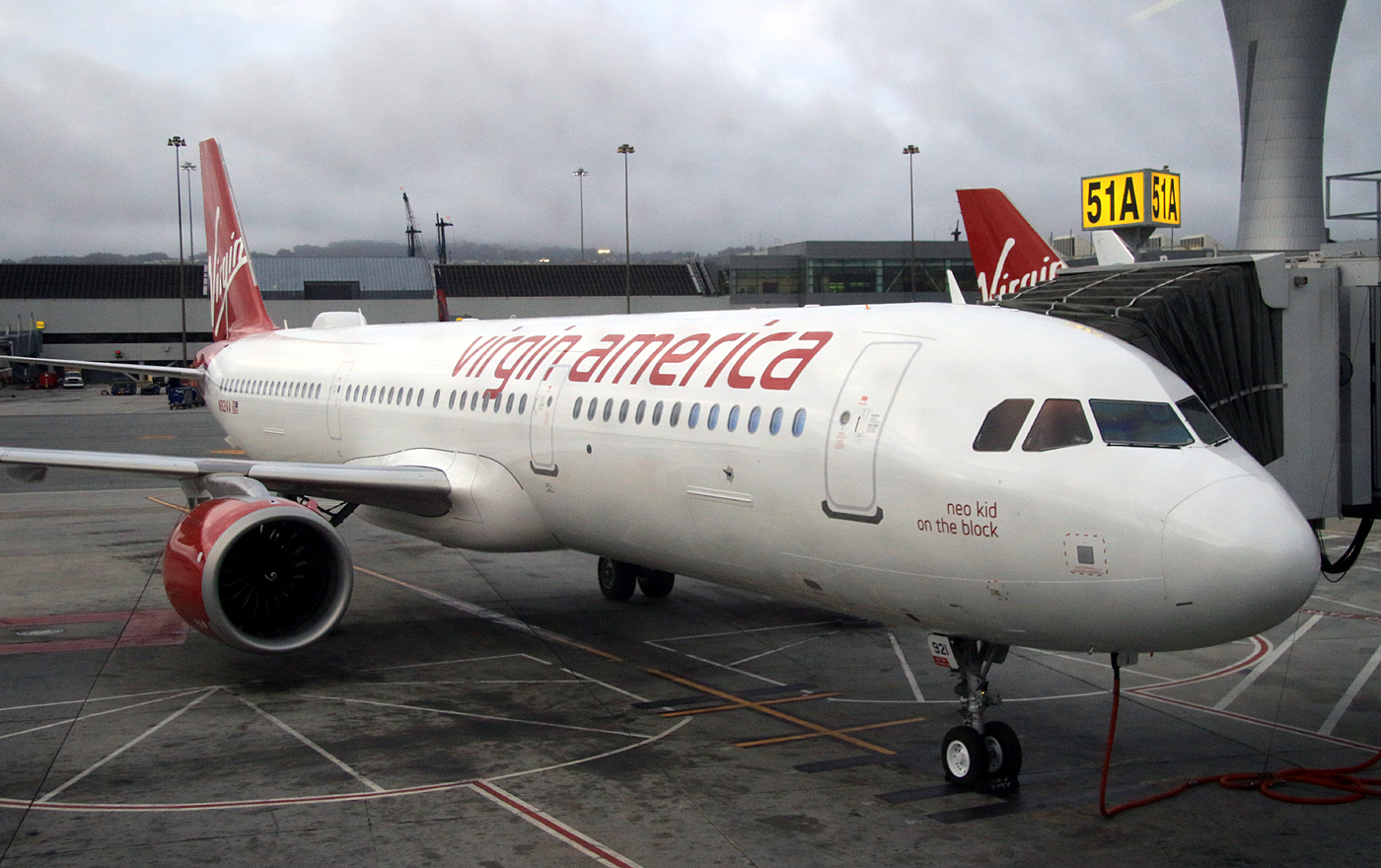 Boarding was called and I made my way down the jetbridge and onboard. No sooner had I stowed my camera bag in the overhead that I was summoned to
the flight deck for some photos. The captain had in fact been made aware of my presence and I spent a few minutes chatting with this fellow. What a nice touch!
Flightdeck photo of N921VA: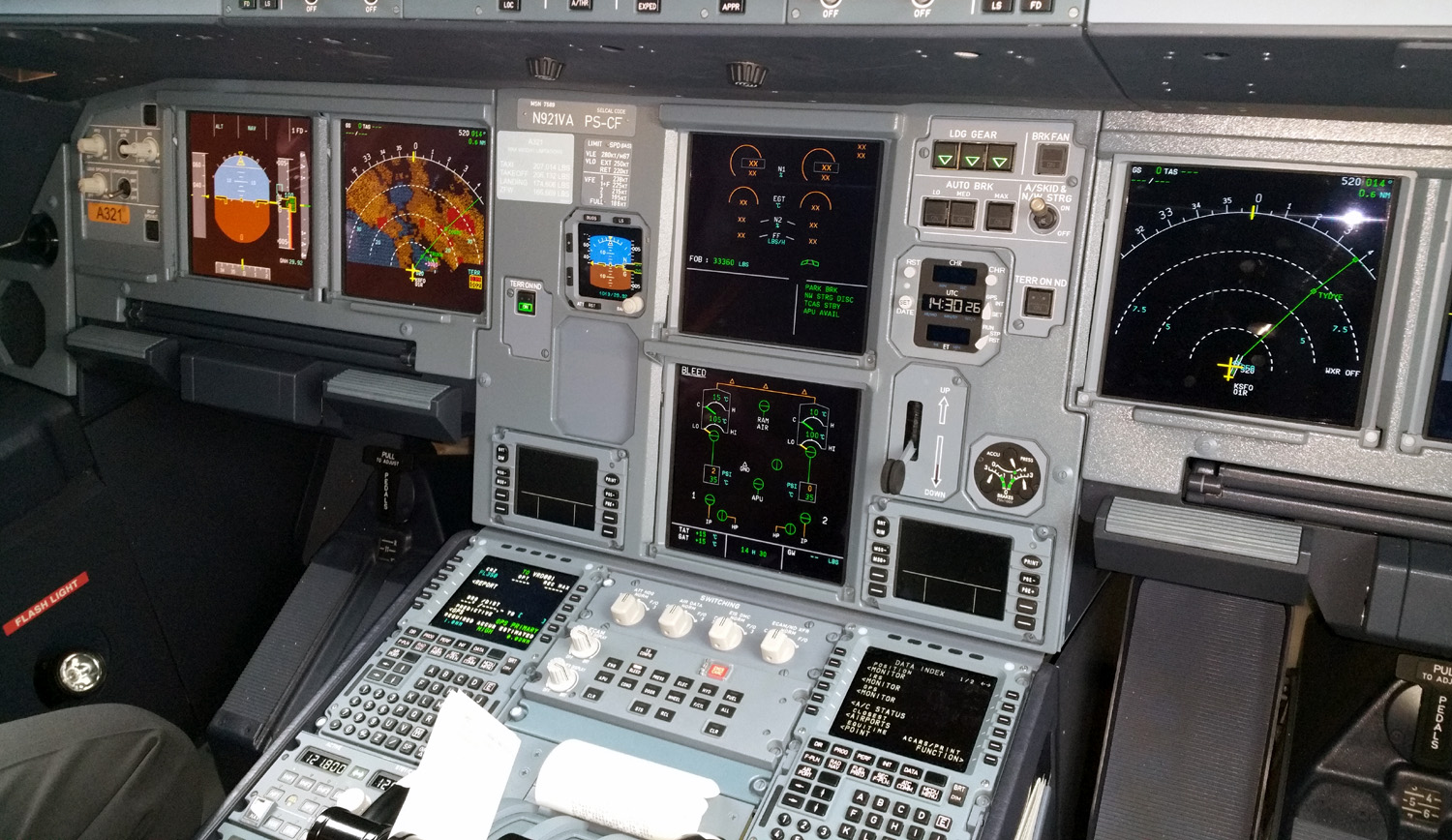 Moe onboard N921VA: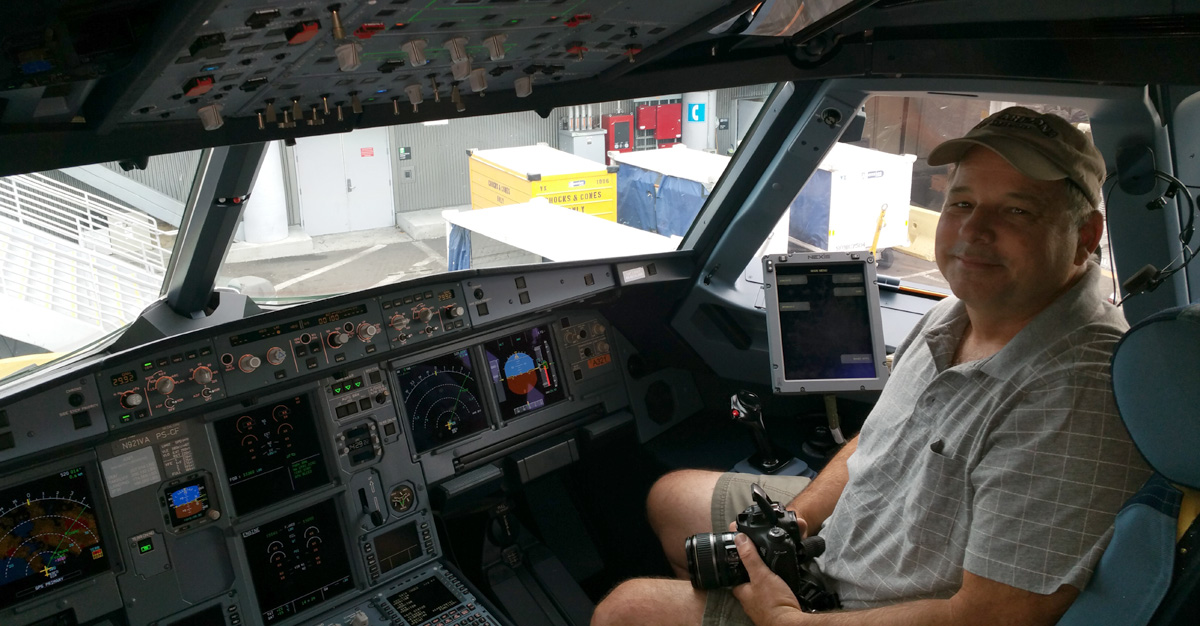 After I made my way back to my seat, Babs introduced herself as our First Class Team Member for the flight and offered to get me a drink. I chose a Mimosa for the occasion, served up in a plastic cup. They were apparently saving the glassware for the actual in-flight service.
Photos of the bulkhead: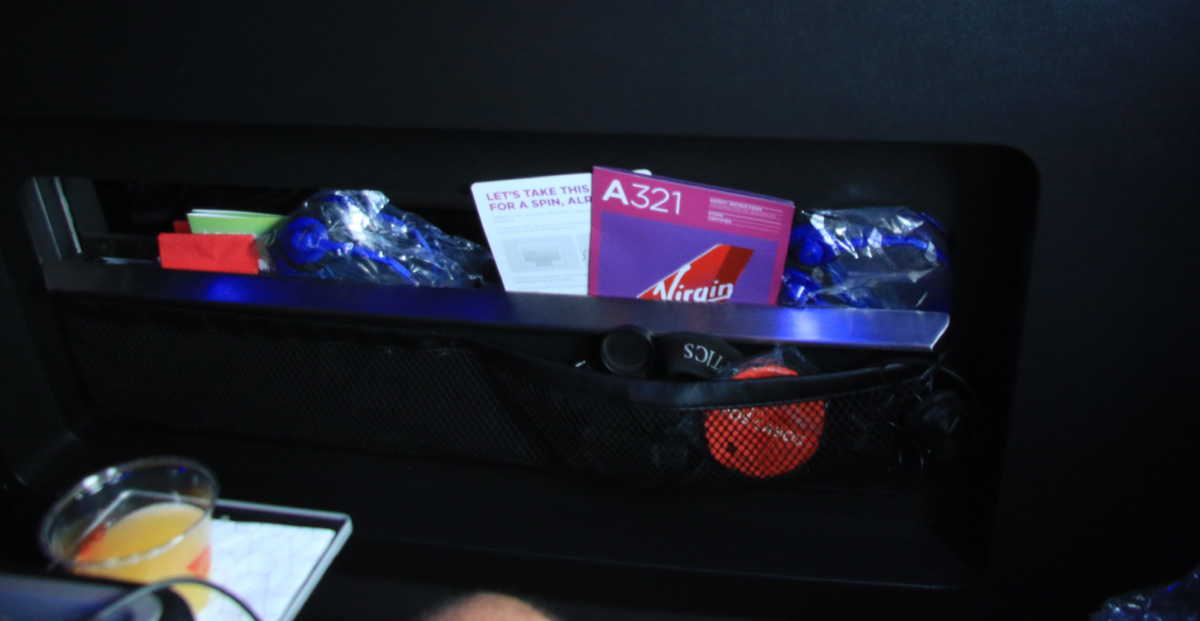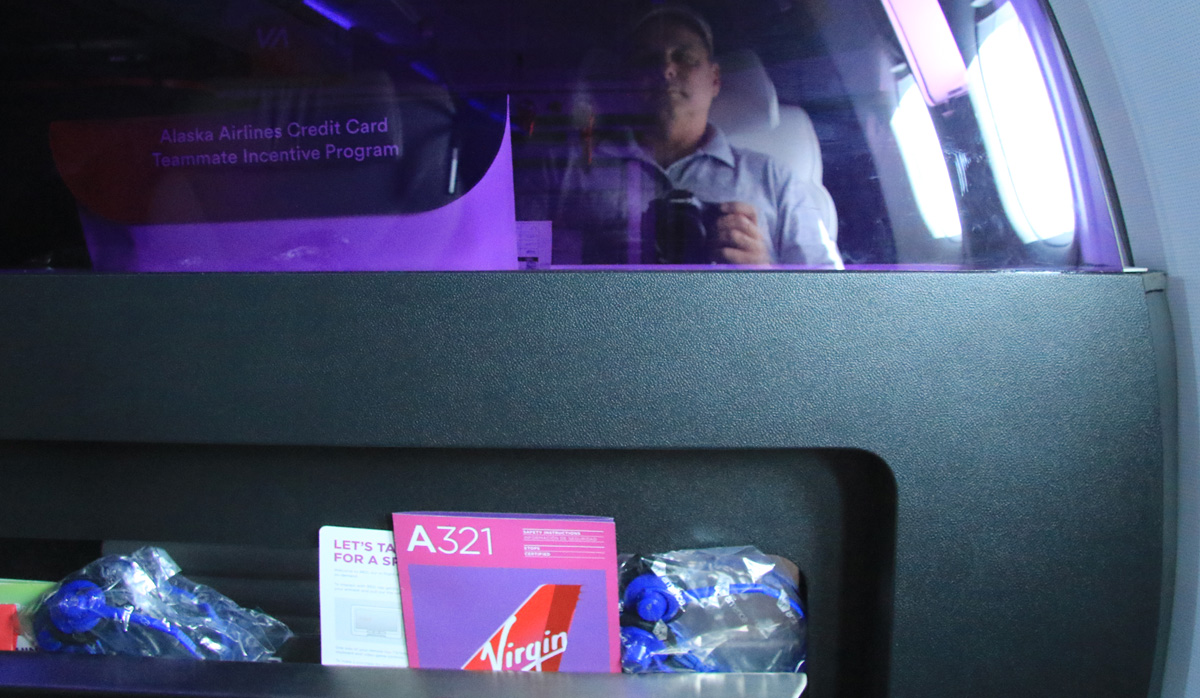 Captain Stephan making his pre-departure announcement: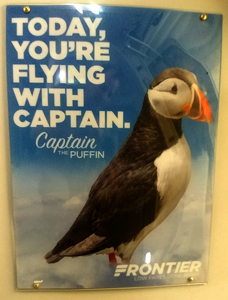 Short YouTube video of takeoff from SFO:
https://www.youtube.com/watch?v=z8dRegEy5Ng
Before in-flight service began I took the opportunity to see if I could get a photo of the big engine on the A321neo. Unfortunately there were no open seats I could
use for the quick moment to snap a photo. I did take a couple photos through portholes in the doors however.
Wing as seen through exit door porthole: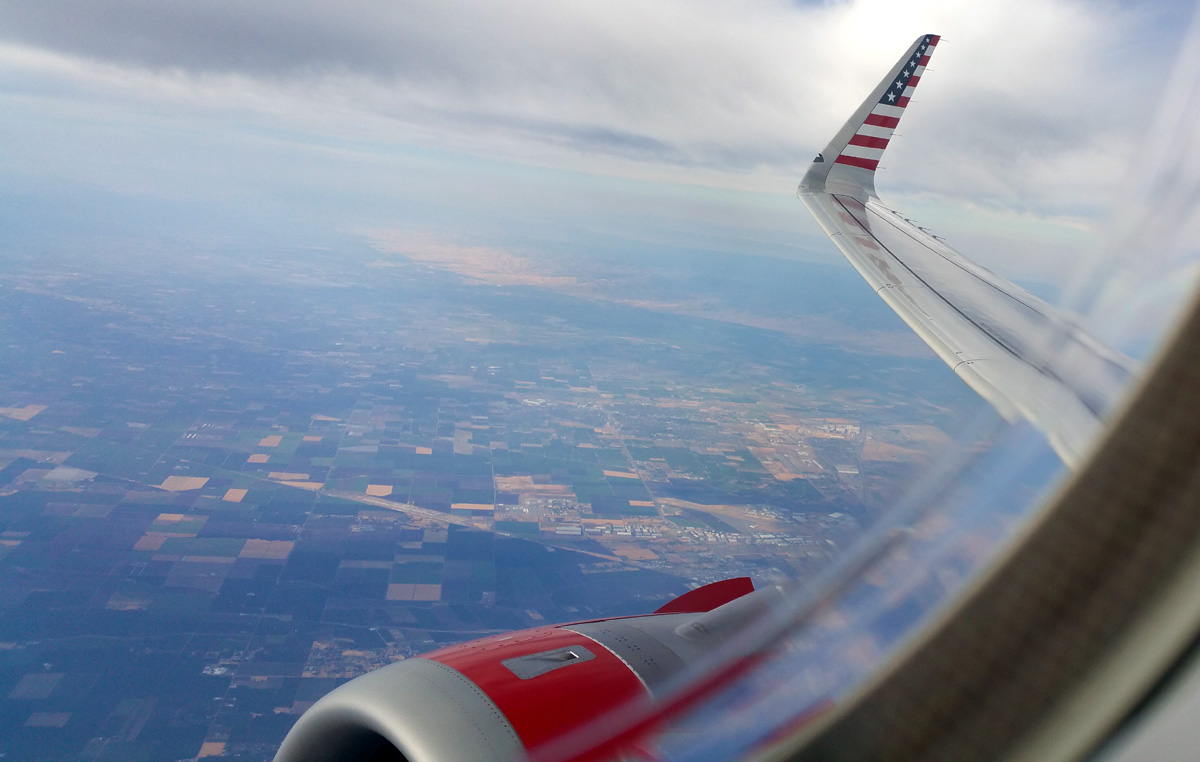 I have to admit I was at a loss on how to retrieve the AVOD screen in the left armrest. I finally asked Babs if she knew and even she had to call someone in the back who told her about the activation button on the side of the armrest. Jeeez...how did I not see that thing? Finally sorted out, I could start to enjoy the offerings. The flight map display was my only choice.
Pop-out AVOD screen: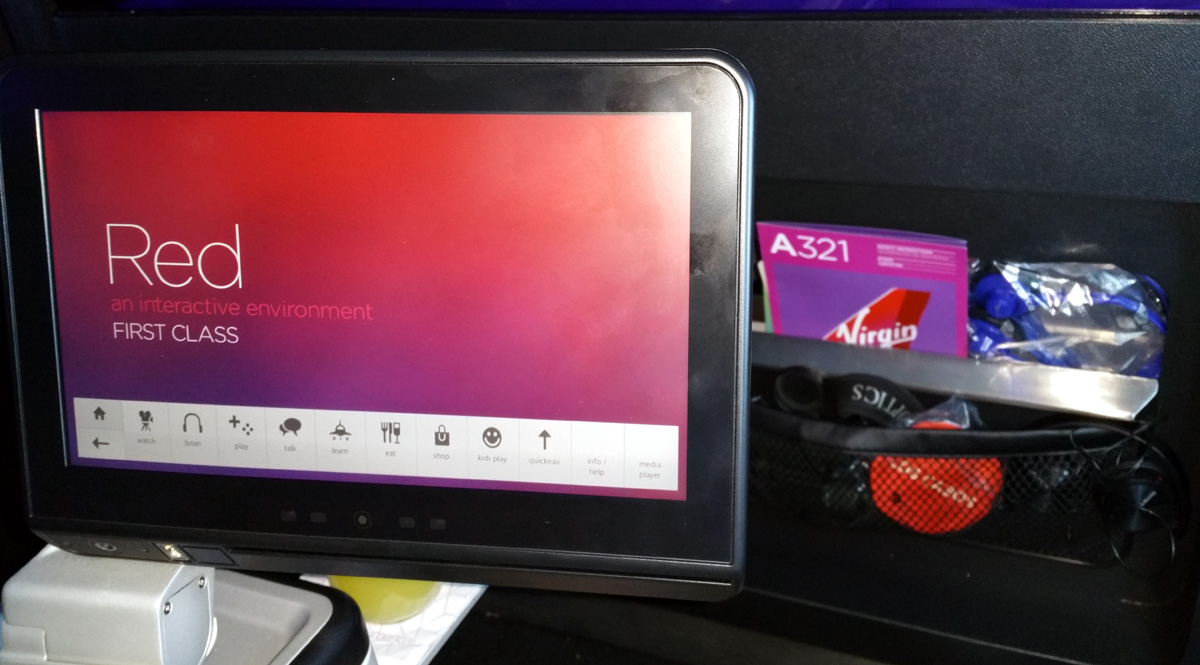 Breakfast: The Frittata option. I enjoyed it.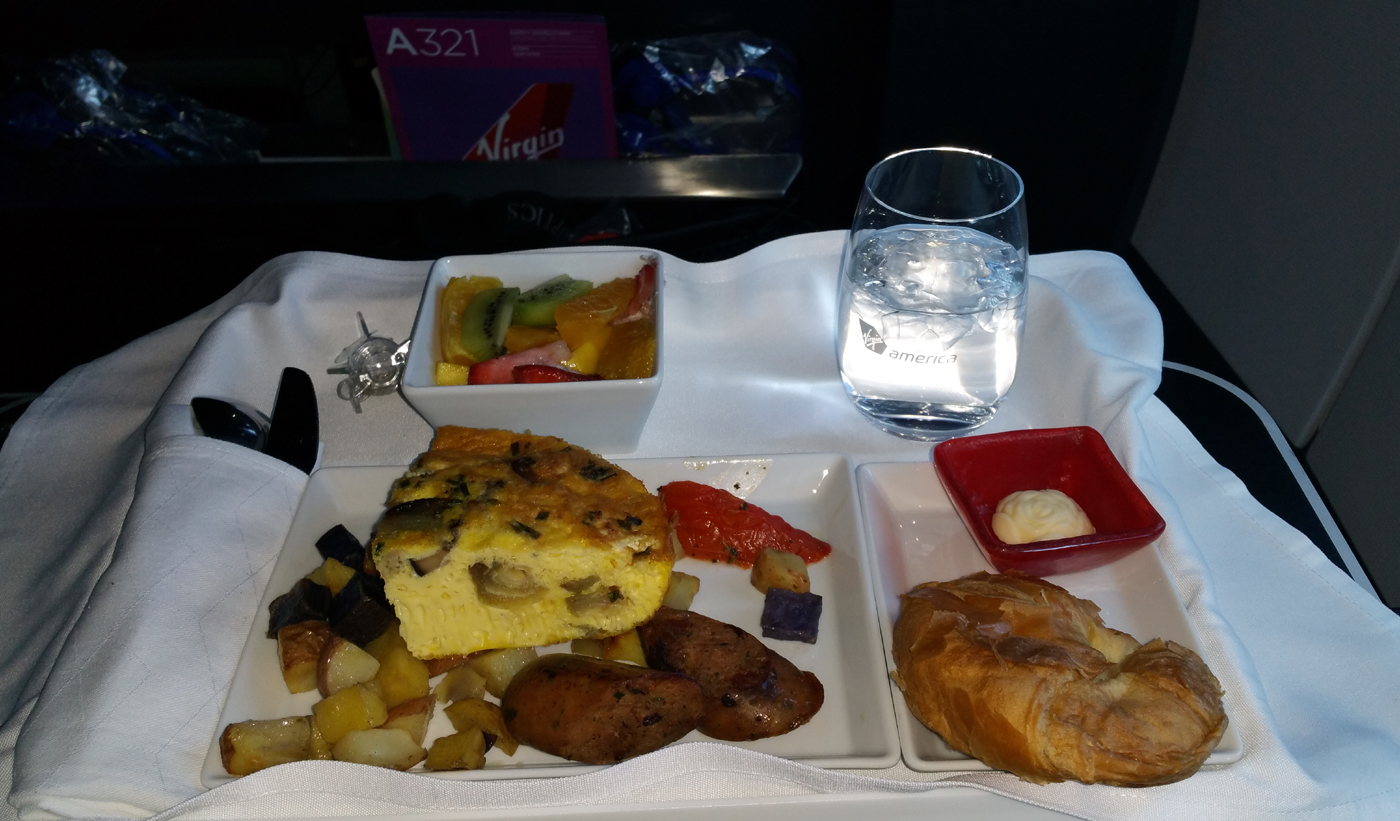 Our flight track carried us just north of Denver, Colorado. DIA was partially obscured by clouds as we cruised past.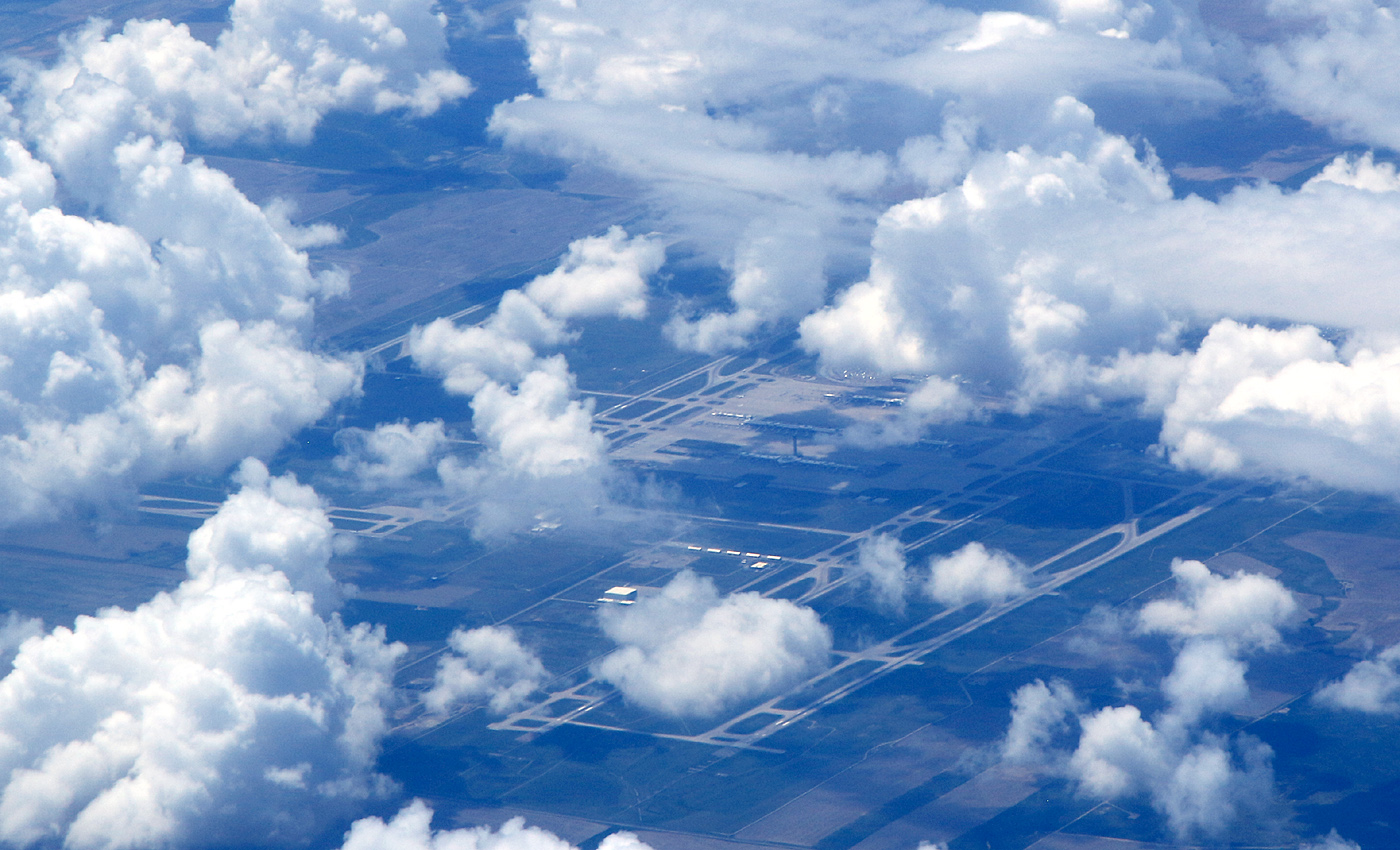 I also saw the Vestas A/S wind turbine plant in Brighton, CO where my sister used to work.
Later in the flight came the warm chocolate chip cookies. Babs offered me a second one...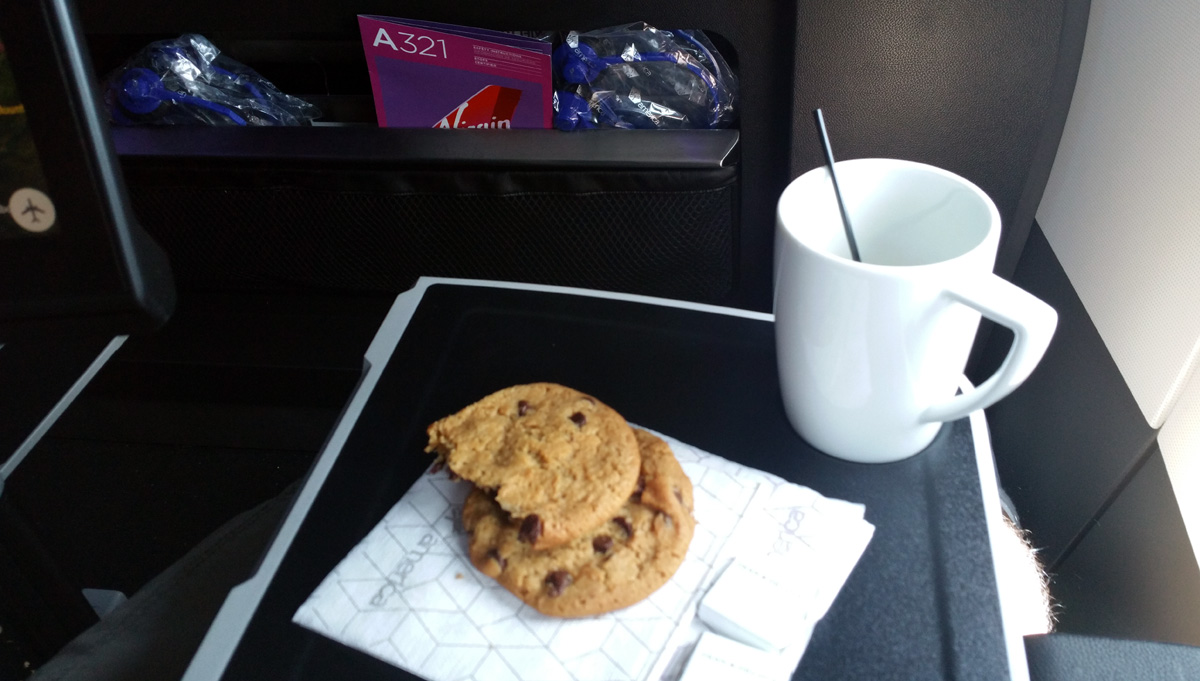 Indianapolis Int'l Airport: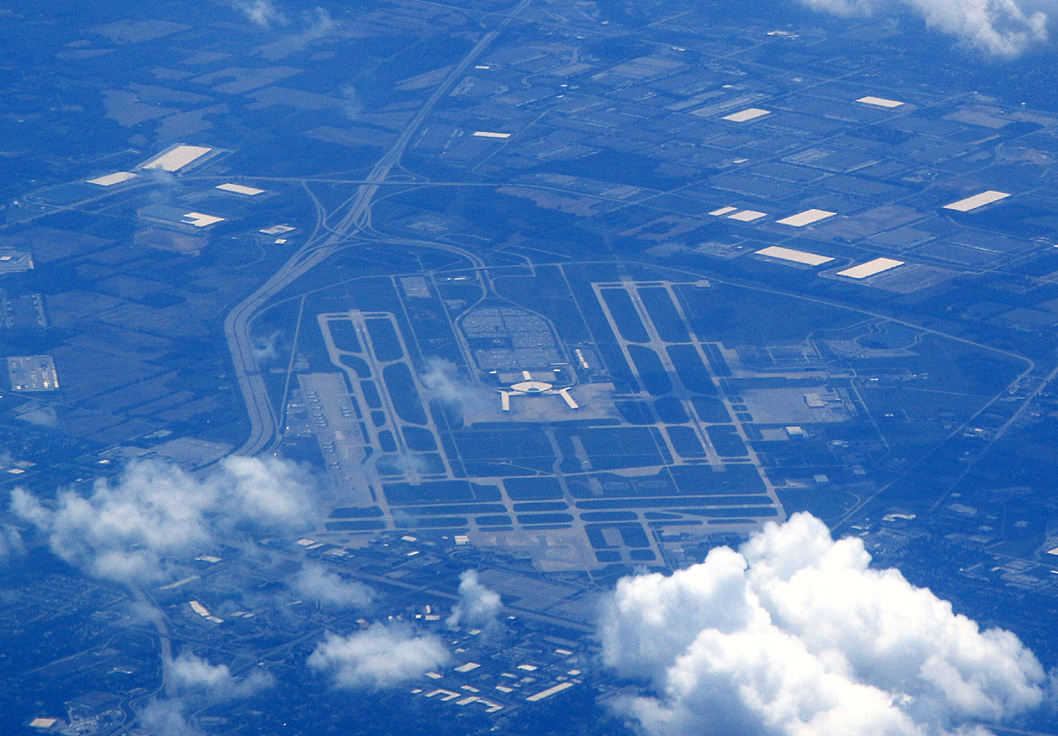 321 miles to go to DCA: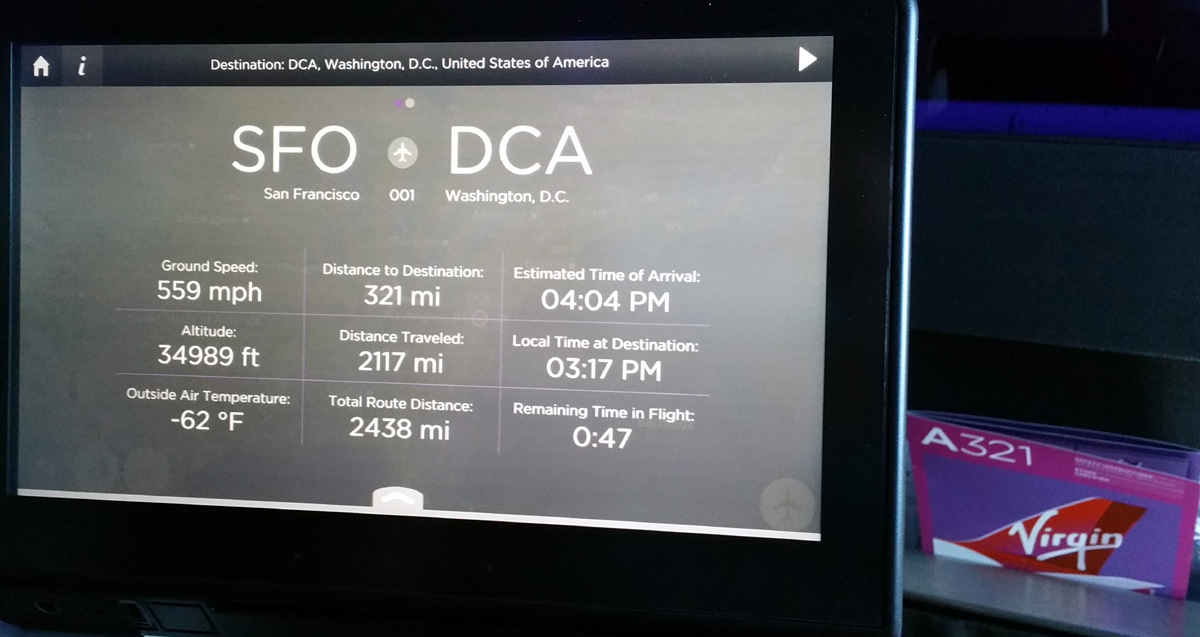 A couple of route deviations were evident on the map display: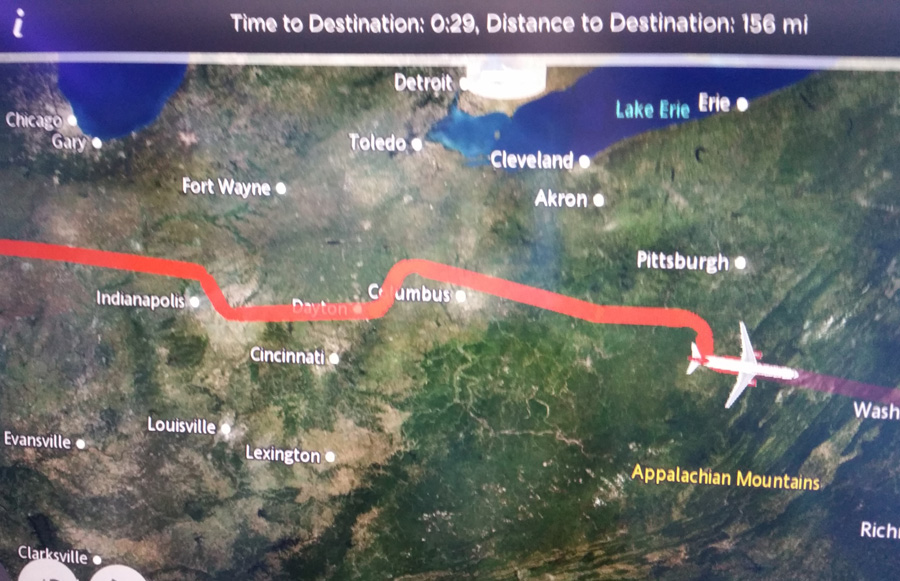 In due course we were descending for our approach and landing at DCA. It was a beautiful afternoon and I enjoyed the scenery as I videoed the arrival with my camera.
YouTube video of the descent and landing into DCA:
https://youtu.be/RgoY93sT6do
As I disembarked I expressed my gratitude to Babs and the flight crew for a great flight and in-flight experience. I don't travel in forward cabins very much at all so any opportunity to experience cabin service above cattle car is special to me.
As Carfield noted, Gate 24 at DCA is quite nice and affords photo ops better than the pesky dark SFO windows. Despite having to get to gate 7 for my Frontier flight to Denver, I spent some time taking a few photos of N921VA before walking away: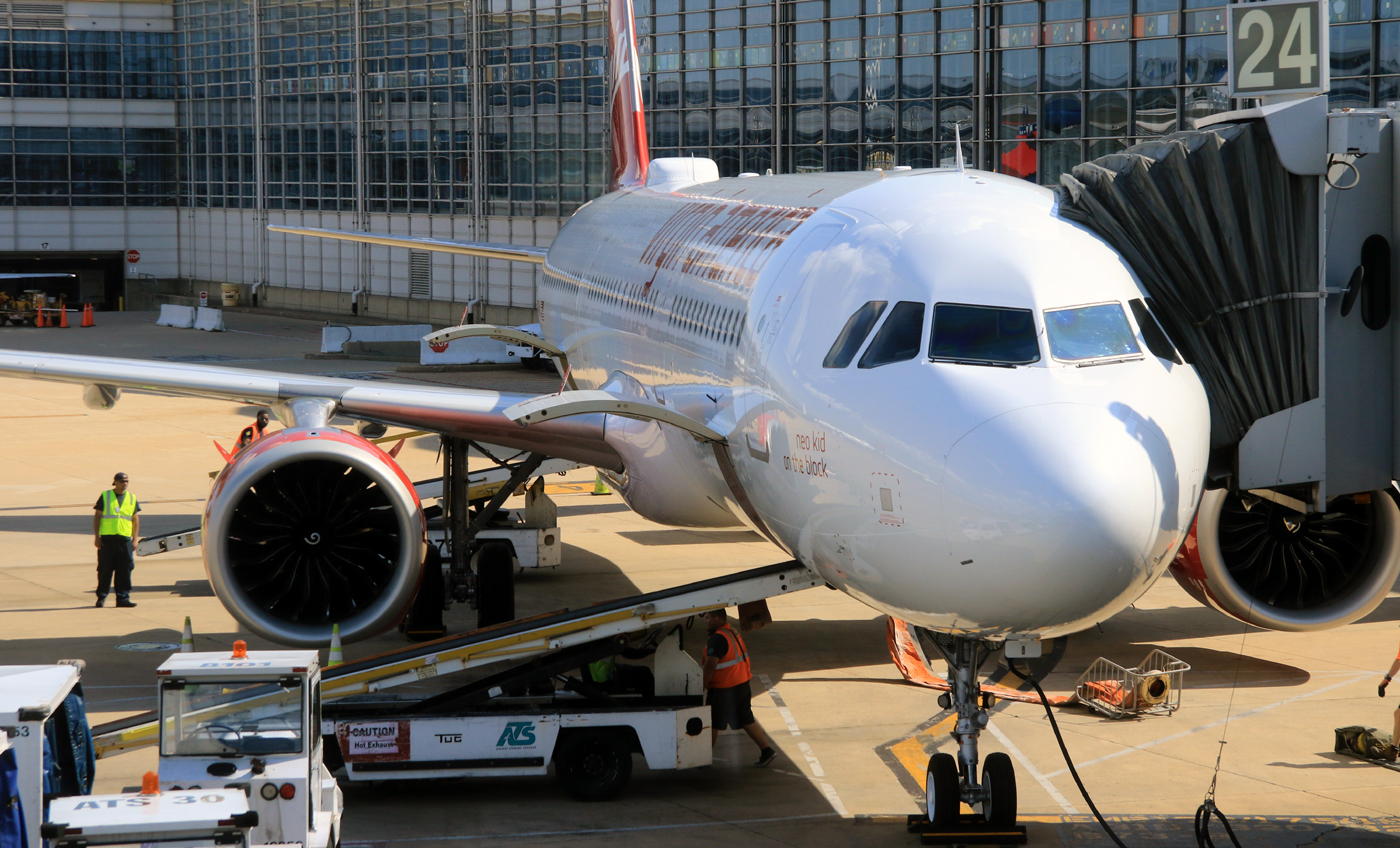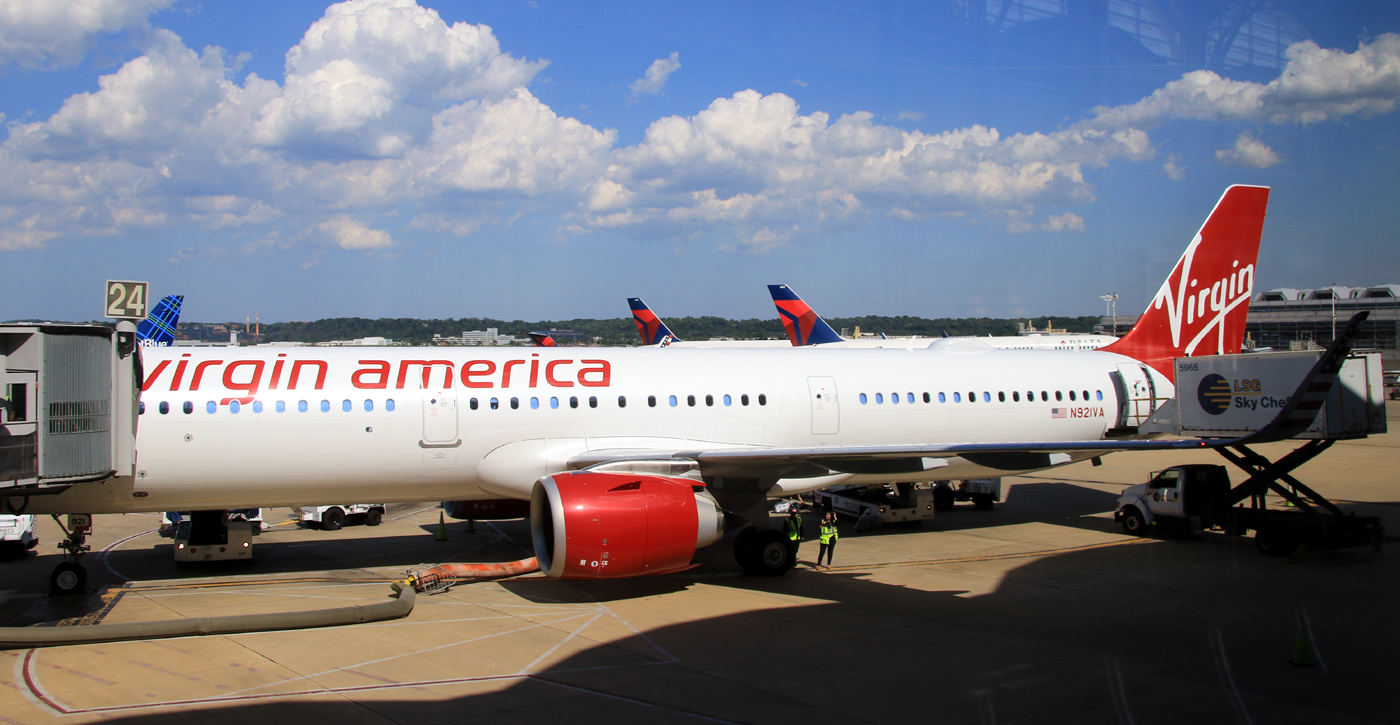 After making my way to the far end of the terminal and re-clearing TSA for the single-digit gates, I found a very crowded waiting area. Thankfully I was able to
use some windows to take a few photos and I even made it just in time to watch my Frontier flight arrive. If Flight Radar 24 was correct, this flight would be operated by a fairly new Frontier A320neo: N307FR Champ The Bronco. I was please when I saw it appear on short final and touch down on Runway 1, just as we'd done earlier on the A321neo. With the Frontier flight I was able to get back-to-back "neo" flights, my first time on both sub-types.
N307FR arriving DCA from Denver as F9 718: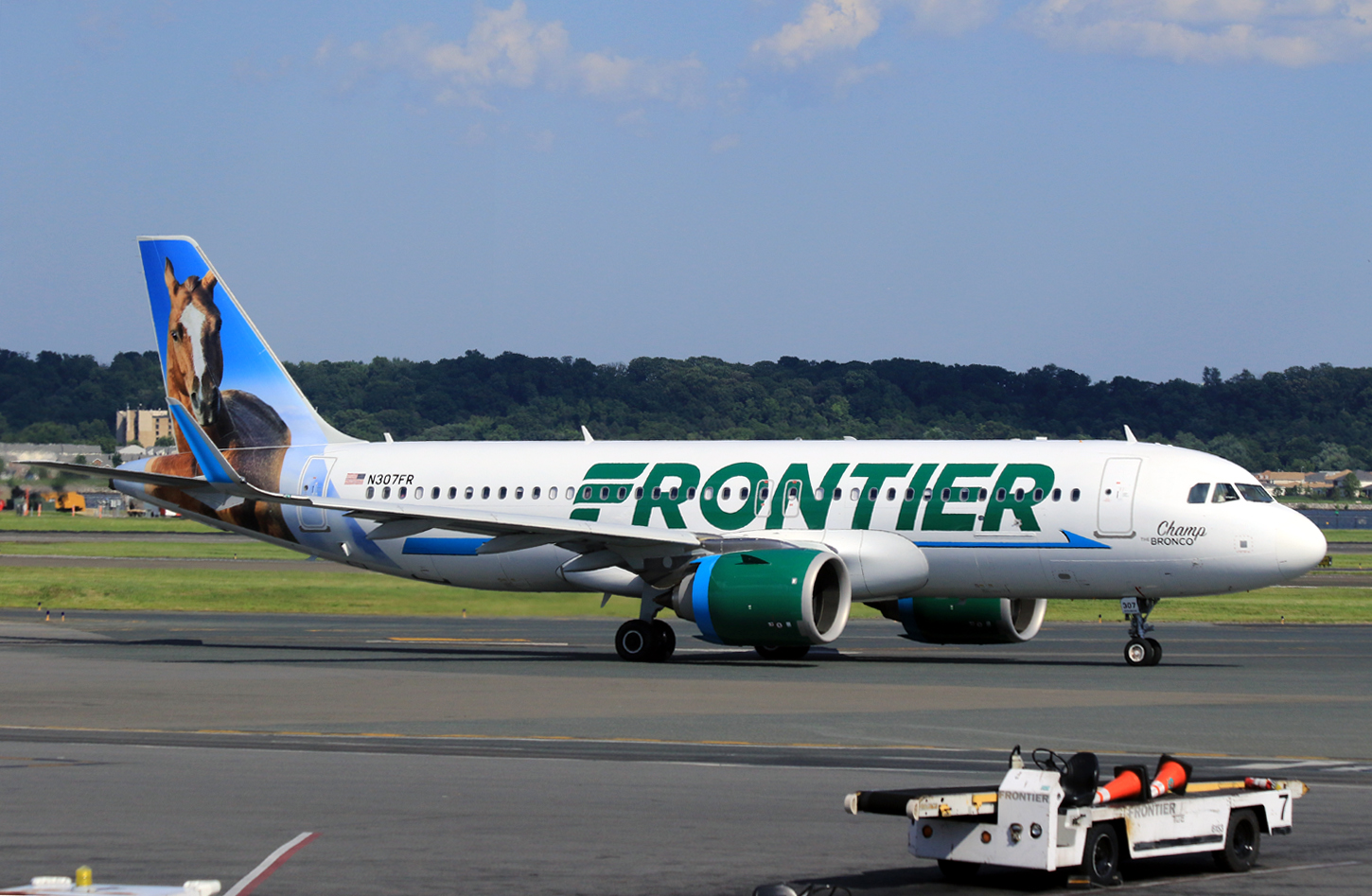 All-in-all I had a nice experience aboard America's latest A321. I've experienced all the A321 operators in the United States and Canada this past year but all in the coach cabins. I've previously flown Virgin America three times on A319 and A320 short-haul flights and I wouldn't hesitate to fly them again. Maybe I'll redeem some more Alaska miles and fly westbound on a dinner flight in the A321neo front cabin.
Happy flying and thanks for reading my trip report.
Moe