For all the pictures of this epic flight, please click here!
After flying from Doha to Auckland, I had completed the first of the two longest flights in the world. At 15 hours and 45 minutes it is a mere snip compared to the return flight which is scheduled at over 17 hours in the air. Checking after the flight, it was almost an entire 18 hours in the air.
Qatar Airways really is something else in Business Class. They feature things such as pyjamas, slippers, and they turn your seat into a bed with linen and a really comfortable pillow. This coupled with the excellent Oryx One entertainment system means there is always something to do on board.
My favourite part is the dine on demand service offered. You can literally have anything on the menu at any time you want and this is the best surprise I have had in all the years I have been flying. I can't rave about it enough!
QR921 - Auckland to Doha (AKL-DOH)
26 April 2017
Boeing 777-200LR - A7-BBG
Seat: Business Class 5F
Departure: 15:07 Arrival: 12:03+1
The menu is extensive with an entire a la carte offering, an extensive breakfast and also light snacks available as well. Here is a look at the breakfast menu.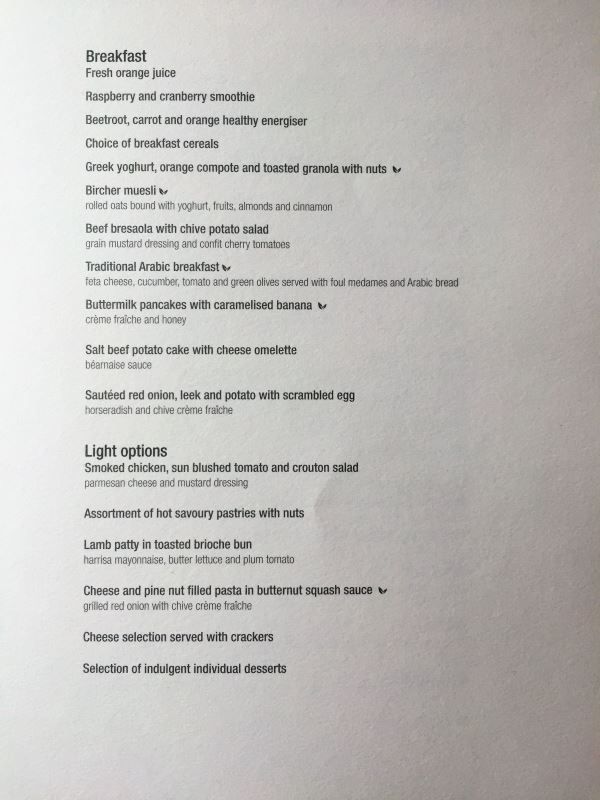 The Boeing 777-200LR features excellent seats which are wide, spacious and have an enormous amount of seat pitch. In between the seats is a console which contains little drawers opened by pushing a button. Inside is a water bottle. If you're lucky to have the seat free beside you, you get to have two. On this flight the seat next to me was free, so I asked the crew to turn that into a bed for me.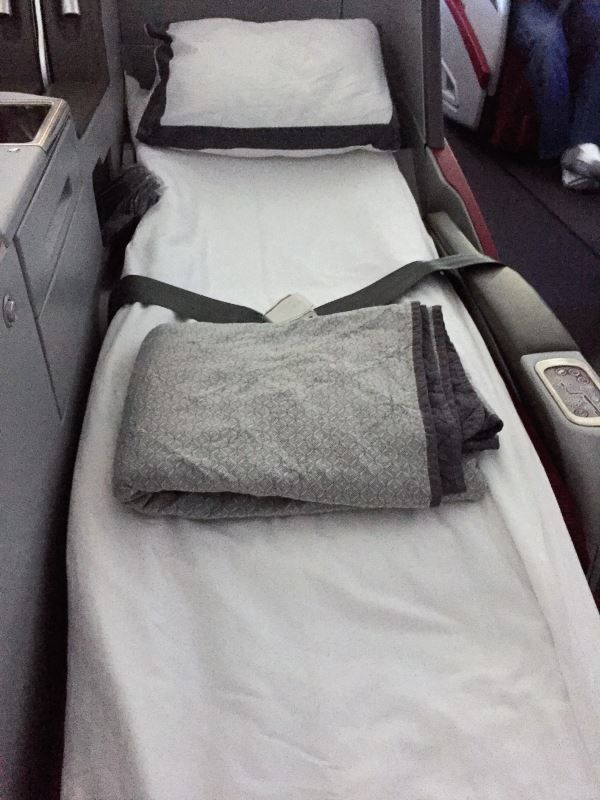 Safety is always important in the aviation industry and as usual there are safety cards in the seat pocket in front of you. As I was seated in the bulkhead row, the seat pocket is attached to the wall. No matter where you sit in Business Class on the 777-200LR, you have to get out of your seat to get the safety card as it's so far forward.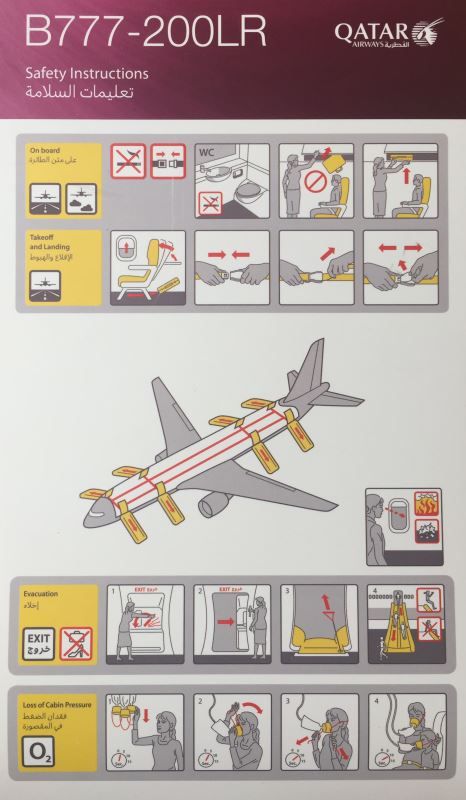 As soon as you're on board, you are offered a welcome drink and a hot or cold towel. I love a cold towel in a hot climate as it feels uber refreshing. Champagne is usually my drink of choice so I had one of those. It is always poured quite full and is served in a proper sized flute.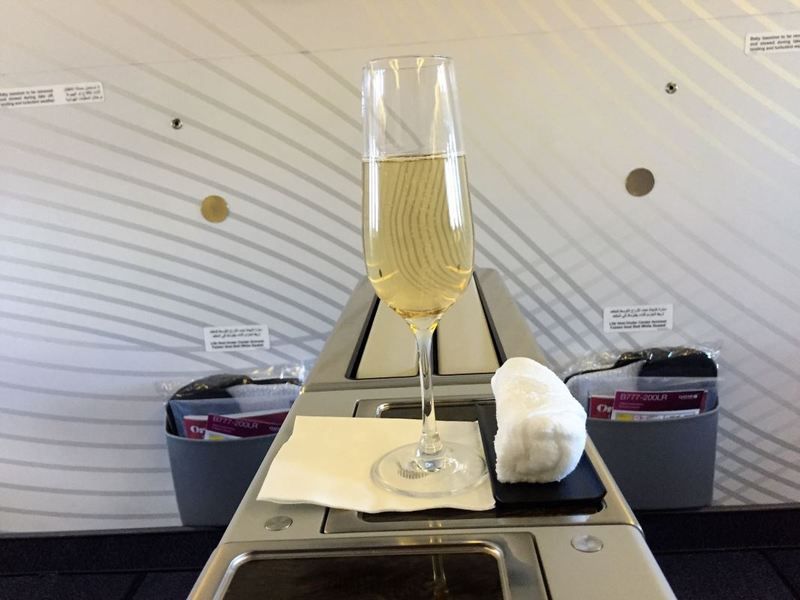 My first choice from the menu once in the air was a burger, which is actually written as a lamb patty in a toasted brioche bun. You can select from tomato ketchup, mustard or tabasco sauce to suit your desire.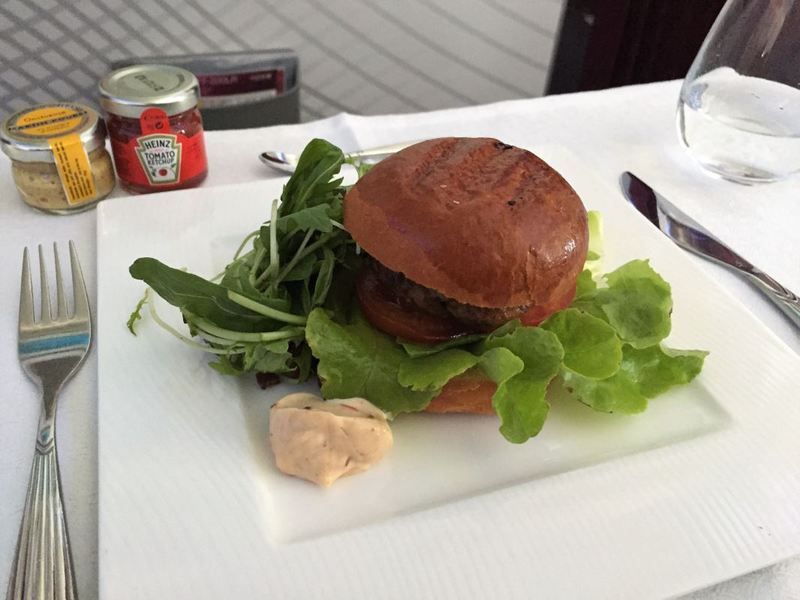 After this, I watched the movie Passengers with Jennifer Lawrence. Oryx One has the whole Star Wars series as well as all the Lord of the Rings movies. I settled in with Star Wars watching both Star Wars and The Empire Strikes Back. Soon it was time for dinner and you are first served an amuse-bouche.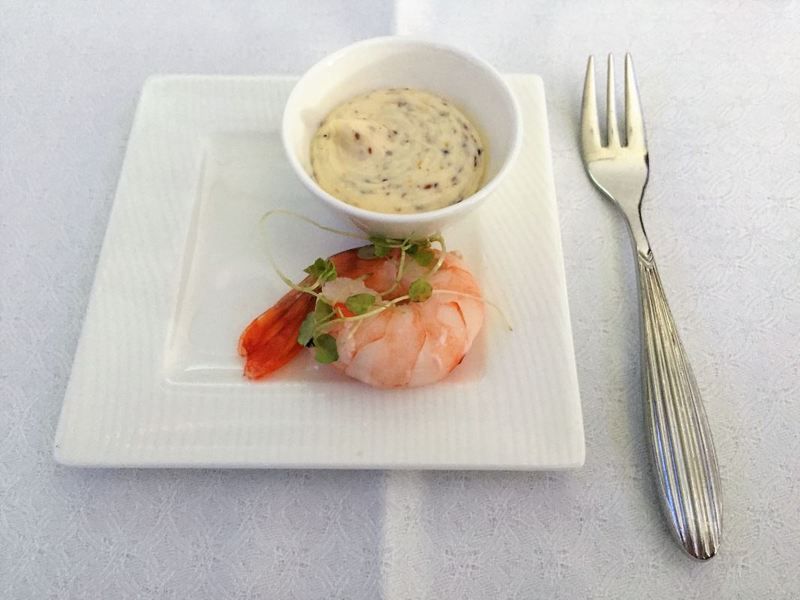 The cutlery is very nice and I then had my main course. This was followed by gourmet ice cream for dessert which looks pretty sweet and really was!
I had more to drink then kicked back in the bed to have a sleep. The ear plugs in the amenity kit come in handy as they really block out any noise in the dark cabin really well. It is a very comfortable sleep all round. Once I woke and near landing I decided to have breakfast. This is also multiple courses and this is the scrambled eggs with potatoes. I also had a croissant and some fruit to start.
Overall, I loved the flight and found the 18 hours passed really quickly.
Remember, if you want to see all the pictures and read much more (and see the flip side of the safety card), please
click here!
Thank you for reading and if you have any comments or questions, please leave them below.
--
My previous Trip Reports -
Now This Is The Way To Fly - Qatar Airways A350 Business Class DOH-FRA
Heading to New Zealand on Qatar Airways - DOH-AKL on the 777-200LR in Business Class
Qantas Domestic Business Class on the Wi-Fi enabled 737 (the only one!) - SYD-BNE
First time experience on Qatar Airways - an A320 with new lie flat seats from Pisa to Doha in Business Class
Crossing The Ditch: A Business Class trip from Auckland to Sydney on the LATAM Boeing 787 Dreamliner
Heading Off To Amsterdam: KLM Cityhopper Business Class on the E175 DUB-AMS
I had the lounge to myself (really!) so I made a video tour with my iPhone! Cathay Pacific LHR T3 First Class Lounge
Today British Airways Introduced Brand New Food In Club Europe! Pictures of the Brunch and Lunch offering are here!
Eating everything in sight when I visited the Cathay Pacific lounge in Paris! Oodles of noodles too!
British Airways Club Europe LHR-DUB - Champagne all the way!
Soaring above the clouds on the upper deck of a British Airways A380 in Club World
Cathay Pacific's Majestic First Class Lounge At Hong Kong - The Pier - The Lounge With It All
Champagne and Being Stepped On - Overnight Adventures on a British Airways 787-9 Dreamliner from BWI-LHR in Club World
Qantas International First Class Lounge Sydney - The Best First Class Lounge In The World?
Three Flights in Qantas Domestic Business Class - Lie-Flat A330 Seats and Boeing 737. SYD-BNE-CNS and BNE-SYD
A Volcanic Eruption in the Toilet - British Airways Club Europe Athens to London Heathrow
Concorde Room: British Airways 777 First LHR-IAD
Concorde Dining: British Airways 380 First IAD-LHR
Oops! I Missed My Flight! American First DFW-BOS
Phoenix Rising? American A321 First Class BOS-PHX