I flew on United 178 last night from KIX (Osaka Kansai) to GUM (Guam). Their meal choices last night were chicken and fish. Fish seemed to be a popular choice among the passengers, mostly Japanese. I think about half the cabin ordered fish. I was the only one to order a special meal.
I have begun trying to order some of the special meals on international flights. On a whim, I decided to order a Hindu meal since it looks pretty tasty from other pictures I've seen and posts I've seen about it. I understand it may not be easy to order some meals and in some places may be up for interpretation. Here are some pictures from my "Cold Meal" on Asiana and "Hindu Meal" in United Business last night along with my thoughts on it. But first, let me show you another interesting interpretation of a meal on my earlier flight that day.
Asiana from ICN to KIX
I was returning from Seoul to Guam via Osaka and used miles and paid 25,000 miles and a few dollars for tax to score a business saver award with a mixed itinerary. This would be the fastest option to get back to Guam. And I wanted to use up all my United miles. I sat in economy on an Asiana flight. The plane was an A320 and was in a single class configuration. On this flight, my itinerary said I would be served a "Cold Meal." I was thinking a salad, but what I got was beef bulgogi and rice served in a box. It wasn't bad. I added gochujang, a Korean spicy pepper paste since I love spicy food.
Nice "Cold Meal."
United 178 Business Class KIX to GUM
Service:
One thing I hear about when flying United is the Guam based crew, usually ex Continental Micronesia crew, tend to be much friendlier than their U.S. based crew. On this flight, our crew was Guam based. They certainly did seem more relaxed. Though I wasn't called by name, the flight attendants were very friendly and came around the cabin offering drinks. No carts either. They went around and asked everyone individually and brought out drinks individually. No condescending tone or attitude. Doing it this way is slower, but I appreciate the personal attention I got.
Pre-Flight:
I don't get to fly in a premium class often, so when I was asked what I wanted to drink, I could've had whatever I wanted. Instead of champagne or beer or juice or water, all of which I had in the lounge earlier, I chose to drink tea.
A Cup of English Tea with sugar and cream (coffeemate) served with almonds.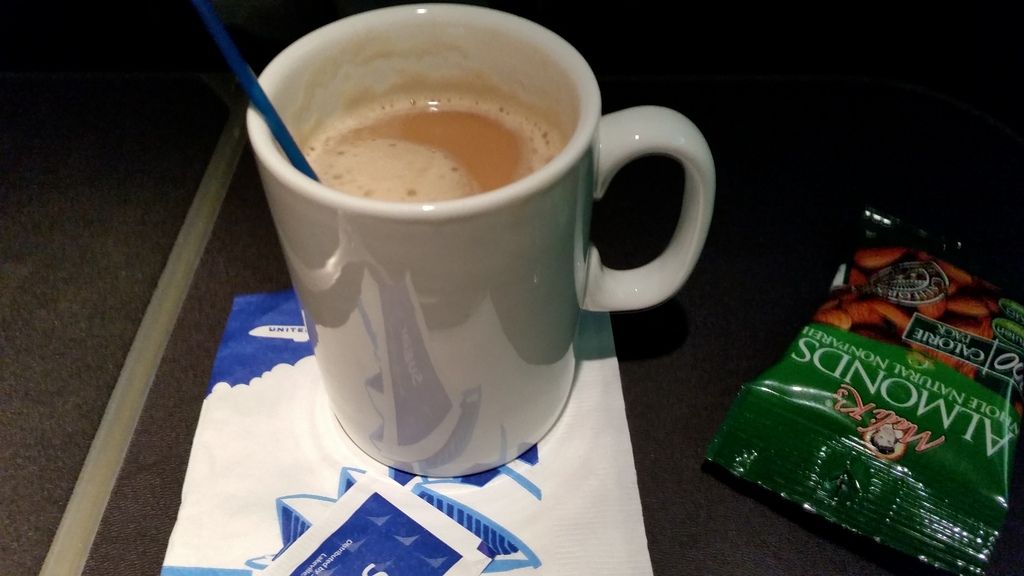 The Meal
The overall presentation. My, what an interesting looking meal. My initial thought was maybe this was how the Japanese or Guam caterers interpret Hindu Meal. I'll review each part of the meal. But it certainly wasn't what I expected. But then again, I had no expectation, either. That's probably why I actually enjoyed the meal as it was different than what the other passengers got. And it certainly was one of the better meals I had on a United flight despite not being what I thought I would get. The flight attendant serving the meal was quite impressed with the meal.
I don't know if she had ever served a Hindu special meal on any of her flights. But she seemed impressed. Mind you in Guam, I can not think of one Indian restaurant, and the best Indian food was made by a local Hindu person for an interfaith prayer night. And I've never really spent that much time in Osaka or any of the cities served by United from Guam, so I wouldn't know if there are lots of Indian restaurants in those places. Again, it's all about expectation and interpretation.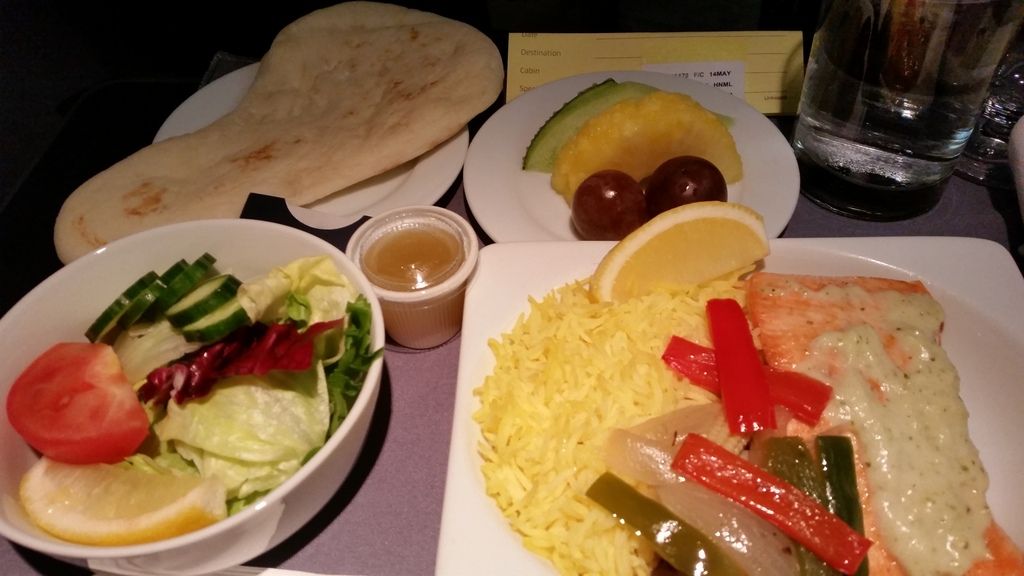 Salad
The salad was a standard salad. Wasn't too cold and the vegetables seemed crispy and not wilted. The dressing was a lemon vinaigrette. I also added some lemon from the wedge. Certainly made it more sour than I needed it to be.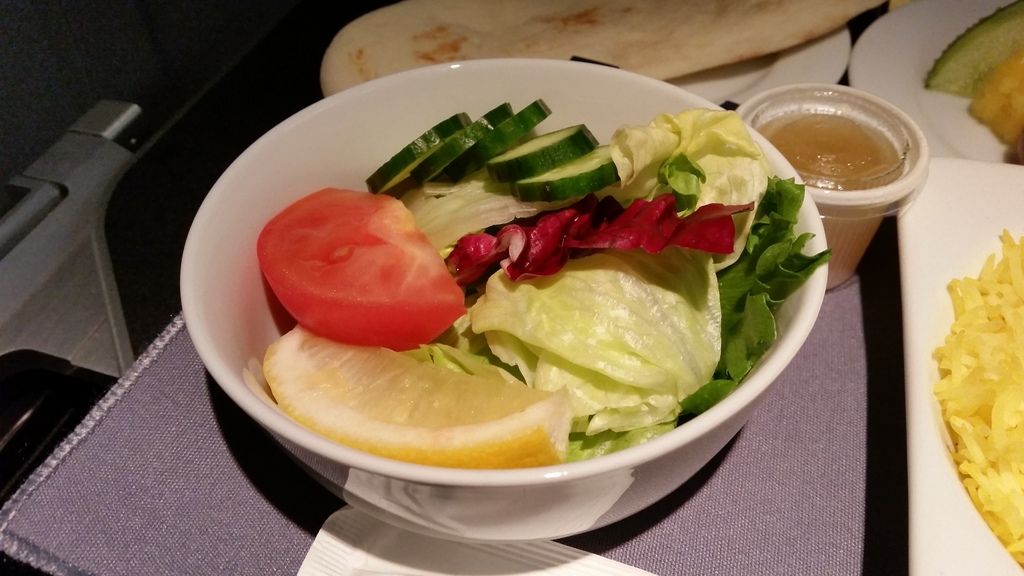 Bread
It was naan bread. And this was probably the only part of the meal that one would consider "Hindu" or Indian. It was cold and not very tasty. However, when I added the vegetables on top or soaked up some of the sauce from the salmon, it wasn't too bad.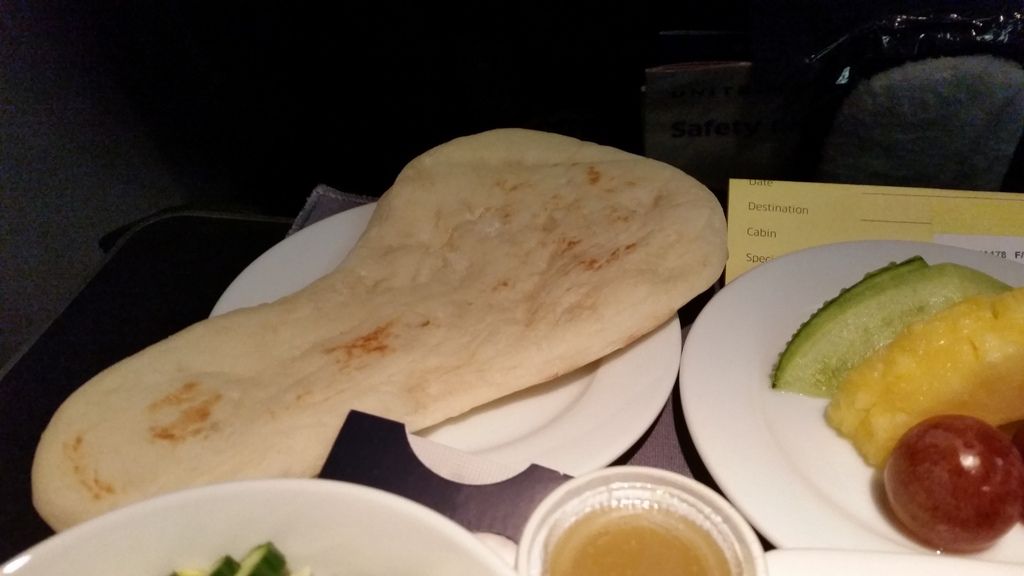 The Main Course
Yes, your eyes are not tricking you. You are looking at rice pilaf, stir fried vegetables and salmon. This is what is considered a "Hindu Meal." My initial reaction was this is going to be interesting. I don't think I've ever in all my times eaten Indian food seen anything like this. But I said to myself, it's part of the adventure of flying United. And I'm going to enjoy it.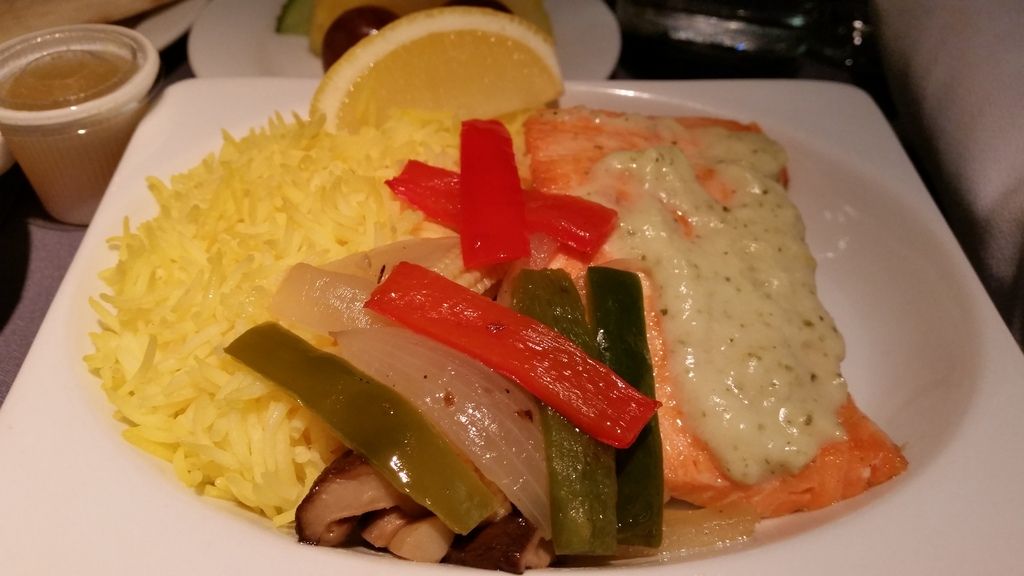 I definitely didn't taste any Indian spices. I added salt and pepper to add taste to everything. The vegetables were stir fried and the rice was long grain. I couldn't tell what flavor the sauce on top of the salmon was. Maybe it was a pepper sauce? However, the salmon was very good. Probably a good six ounce serving. And it wasn't dry or overcooked. It actually was nice. And because of that, the meal turned out fine, though certainly not Hindu by any stretch of the imagination.
Final Thoughts
It was an interesting meal to say the least. I know I'm a flyer that usually carries no expectation, especially flying United now a days. However for what kind of meal it was and the service and attention I got, it actually was all pretty decent. As I continue experimenting with the special meals, I know I think next time I'll stick to Asian Vegetarian on these routes. The one time I had that, the meal actually did have an Indian, curry, taste.