Introduction & Trip Background
After a couple of years lurking around these parts, learning a great deal about the world of aviation, I decided to take the plunge and write my first trip report.
I don't get to travel as frequently as I would like (40-50k NM per year) but I try to make the most of the opportunities that I do get.
Living in Dubai, the scenery at Dubai airport can get just a little bit monotonous and invariably I end up flying the 777. But this trip report won't be about any flights on Emirates – the first part is a pair of flights on British Airways from DXB to LHR and LHR to SEA in Club World where the DXB-LHR leg would be on a 747 in December 2016. BA uses the 744 on one of their flights to Dubai (only in the winter I think) and it was a bucket list item to fly the Queen of the Skies. Since I had already decided to fly CW, I decided to pony up the extra $100 or so to secure a seat on the upper deck.
Every year, I plan a long, somewhat convoluted trip in the winter. These trips usually get planned around a year in advance and for me planning is half the fun.
This time however, with work taking up a large chunk of my time, I reached September and realized that nothing had been planned for the winter - so I made a simple plan to fly to Seattle for Christmas to spend some time with my cousin there. After extensive deliberation (and even some feedback via a.net), I decided to travel on BA's much maligned Club World with a reasonable connection in London. Return J fares on QR were $1000 higher and EK was straight double.
My final itinerary looked like this
BA106 DXB-LHR; 747-400
BA053 LHR-SEA; 777-200ER
BA4924 SEA-ORD; 737-800 (Codeshare on AA)
BA1543 ORD-LHR; 787-800 (Codeshare on AA)
BA107 LHR-DXB; 747-400
I could have taken BA back from SEA to LHR but this would allow me to try AA's domestic first & international business (on the 787 no less).
In this trip report, I will cover three flights: DXB-LHR, LHR-SEA and ORD-LHR though the commentary will draw a bit from the other two flights as well.
Flight #1
Flight: BA106 DXB-LHR
Aircraft: 747-400
Date: December 23rd 2016
Cabin: Club World
Departure: 2:28am (2:25am scheduled)
Arrival: 6:11am (6:25am scheduled)
Having flown in from Riyadh late on Wednesday night / early Thursday morning, I wasn't particularly wide awake or fully alert for this early morning departure from Dubai. The traffic heading toward the airport was incredible given the time of night and my taxi driver knew a shorter route to prevent too much time being wasted. Terminal 1 was packed to the brim though check-in took around five minutes and I was through immigration & security just a few minutes later. I was eager to check out the dedicated BA lounge in Concourse D – I usually see it when walking toward the nearby Marhaba lounge - and I have always found the lounge to look quite smart from the outside.
Entering inside, the aesthetic quality continued and overall impressions on the quality of the lounge were favorable.
However, the lounge was PACKED. There were no free sofas at all. I managed to find a seat at a bar table and decided to catch up on my reading. I wasn't hungry at that time having gone for a nice dinner with some friends earlier in the evening so I just had a ginger ale. Around 45 minutes later, I decided to head to the gate.
Looking at the 747 parked in front of me, it was hard to quell the excitement at finally flying one of the most beautiful aircraft to take to the skies. That I would get to sit in the upper deck was even more special. Boarding commenced on schedule following the usual sequence of those requiring special assistance, followed by first, business / elites, etc.
As I walked into the aircraft, what struck me was the interior which was noticeably different from anything else I had ever experienced. I was led to the stairs and went to the upper deck where I was greeted by the crew members and directed to my seat right at the front of the cabin. The upper deck of the 747, as has been remarked by many, is probably the closest experience to flying private in my opinion. It feels like a cocoon of solitude and you don't experience the normal hassle of the boarding process with bags smacking your face, people struggling to find their seats, etc. It just felt so civilized.
The yin-yang seats took some getting used to. The design seems to be well suited to flying with someone rather than flying solo. The divider vastly improves the situation but until that can be raised (which is after take-off I guess) it is just a bit awkward. I suppose more seasoned flyers have developed their ways to manage. The seat was comfortable in its default mode though the overall functionality wasn't great. The one storage box is in front under the TV which is not that great if you want to keep your stuff somewhere handy. You can open the tray table but that won't work during take-off/ landing and also when sleeping lest you bump it when asleep. Minor annoyances but nothing that can't be accommodated.
What really annoyed me was the placement of the USB & audio ports near the shoulder and never got used to this at any point. My arm kept pushing against whatever cable was connected there and it would become lose or entangled.
The process of popping out the TV for the safety briefing and then stowing it for take-off also seemed impractical.
Other than the cable situation, most of this was stuff that didn't bother me – based on the general hate for this product seen on different forums, I went in without any expectations.
My usual reason for flying J whenever I do, is to get a good flatbed for sleeping.
In terms of sleep quality, the seat delivered in spades. The pillow was more comfortable than it gets credit for, the cabin temperature was just right and I didn't need to cover myself fully and I woke up feeling quite well refreshed – ready to face the horrors of connecting at Heathrow (part of my "no/ low expectations mantra").
A glass of champagne was served before departure & there were two light meals served on this flight – an Arabic mezze platter after takeoff and a breakfast before landing. Both meals were palatable – not restaurant quality but not airplane food either.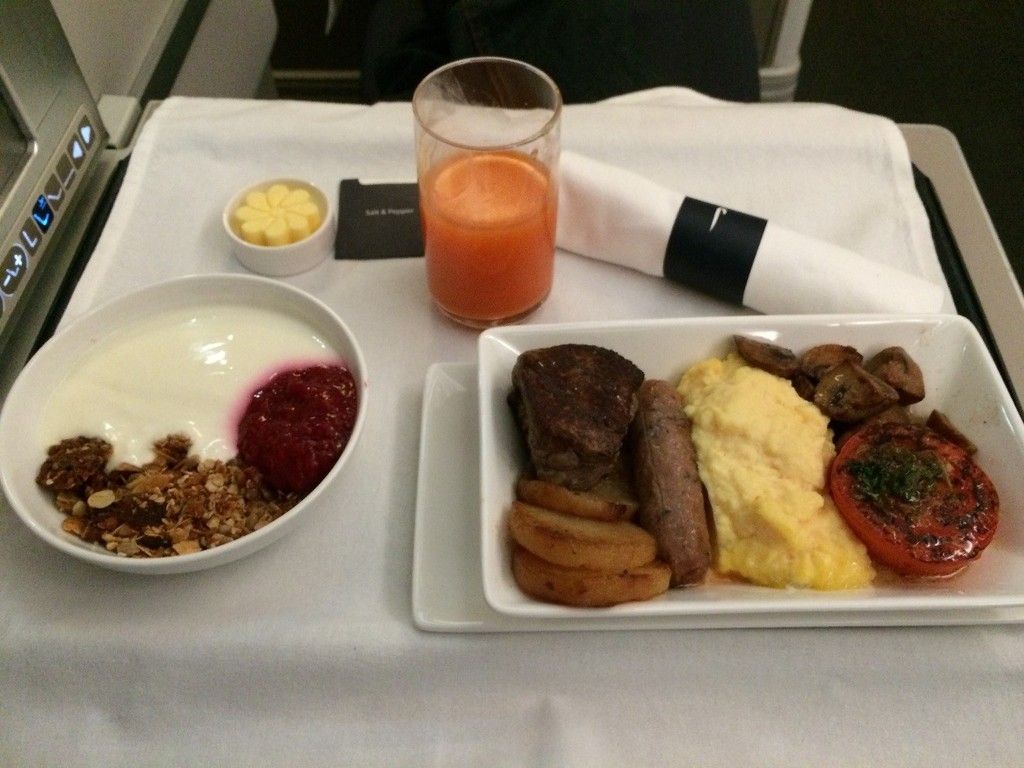 We landed at Heathrow 14 minutes early and were assigned a gate at T5C. I never knew that a jet bridge could be as long as the one used. Walking that distance at 630am in the winter was a great wake-up call.
This being my first time in Heathrow, arriving at T5C didn't help paint a great picture as a gateway to a global megacity. The fact that my connecting flight was from T5B meant that I didn't see T5A until my return trip. The train connection was quite straight forward and I only had to get off at the next stop and then head toward security. There was just one person in front of me at security which took just a couple of minutes after which I headed to the lounge. The concourse was deserted at that time in general and the lounge was no exception. I freshened up, had some coffee and caught up on my mails from work in the meanwhile.
Half an hour later I decided to walk around the concourse a bit and explore the different shops & restaurants there. As I made my way to the gate, there weren't too many passengers there and I assumed that the loads would be pretty light on this flight.
Flight #2
Flight: BA53 LHR-SEA
Aircraft: 777-200ER
Date: December 23rd 2016
Cabin: Club World
Departure: 8:49am (scheduled 8:45am)
Arrival: 10:40am (scheduled 10:35am)
Boarding commenced fifteen minutes prior to scheduled time of departure and we still managed to pushback on time. That was followed by around 20 minutes of taxiing before takeoff.
As I expected, it wasn't a busy flight and I actually didn't have anyone sitting adjacent to me (the yin to my yang?). The cabin was quite empty overall - maybe 50-60% full though I'm assuming that it had to do with it being a couple of days prior to Christmas. As the crew were going thru the cabin offering a pre-departure drink, I spent a few moments fiercely considering whether I should have champagne at 8am. Reflecting on the fact that in some time, I will be 37,000 ft in the air with just a few inches of metal separating me from the firmament (and ground) – I decided to go ahead and have that champagne so kindly offered.
I was extremely excited about the prospect of flying over Greenland during the day & getting some awesome Arctic views. What I did not anticipate was that it would be twilight conditions for most of the flight and that was a total facepalm moment.
I decided to make the most of it and get some images of the beautiful colors that were on display at that time.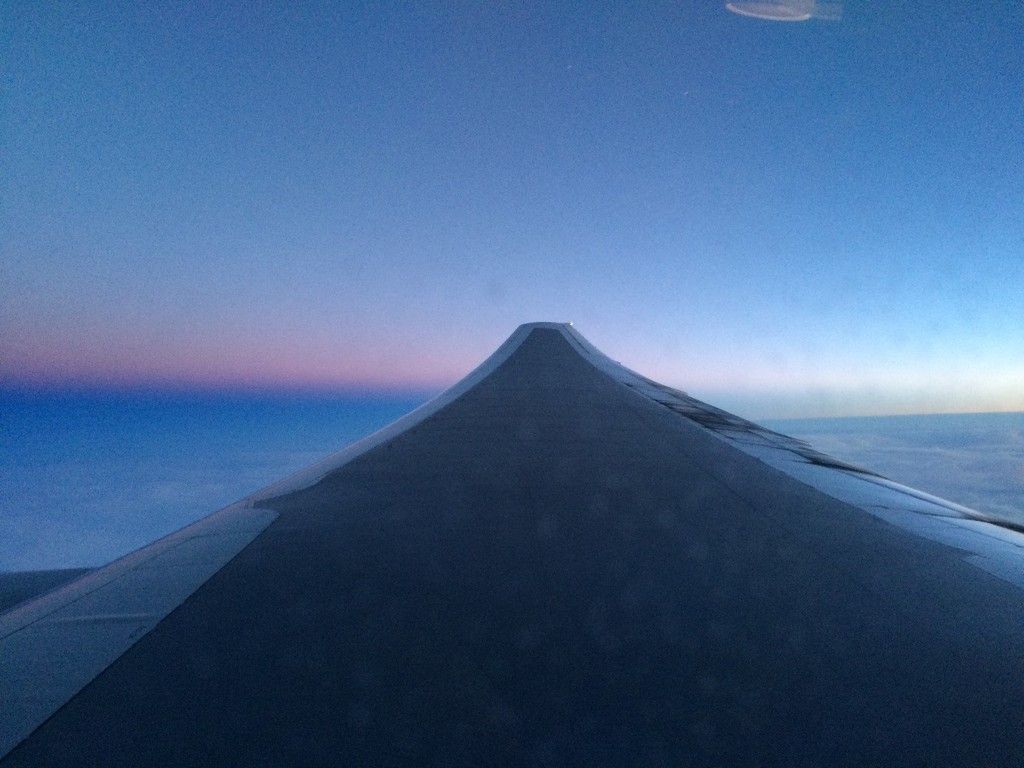 The full English breakfast was an utterly decadent way to start the day. It tasted pretty great and I was thankful for skipping food in the lounge. A little while prior to landing, tea was served. I absolutely love scones & clotted cream and enjoying it in a comfortable seat at 37,000 feet was one of the more enjoyable experiences in my life so far.
In terms of seat & food, I would give it a solid 7/10 and would gladly fly it again. The differentiating factor was the service which would easily sway me in BA's favor every single time.
Given that I was flying during the week when the crew threatened strike action, I wasn't really sure what to expect and went in as neutral as possible. After the flight I realized that there was nothing to worry about. The crew were fantastic! Admittedly, they were not overly friendly but were still extremely polite, courteous and thoughtful throughout. Crew members also kept checking if anyone needed water / snacks / drinks throughout. I have had great experiences with Qatar Airways as well but I find at times that their service is just a little bit servile. In addition I have found that crew Etihad & Emirates are quite cold & distant and I just can't really engage with them.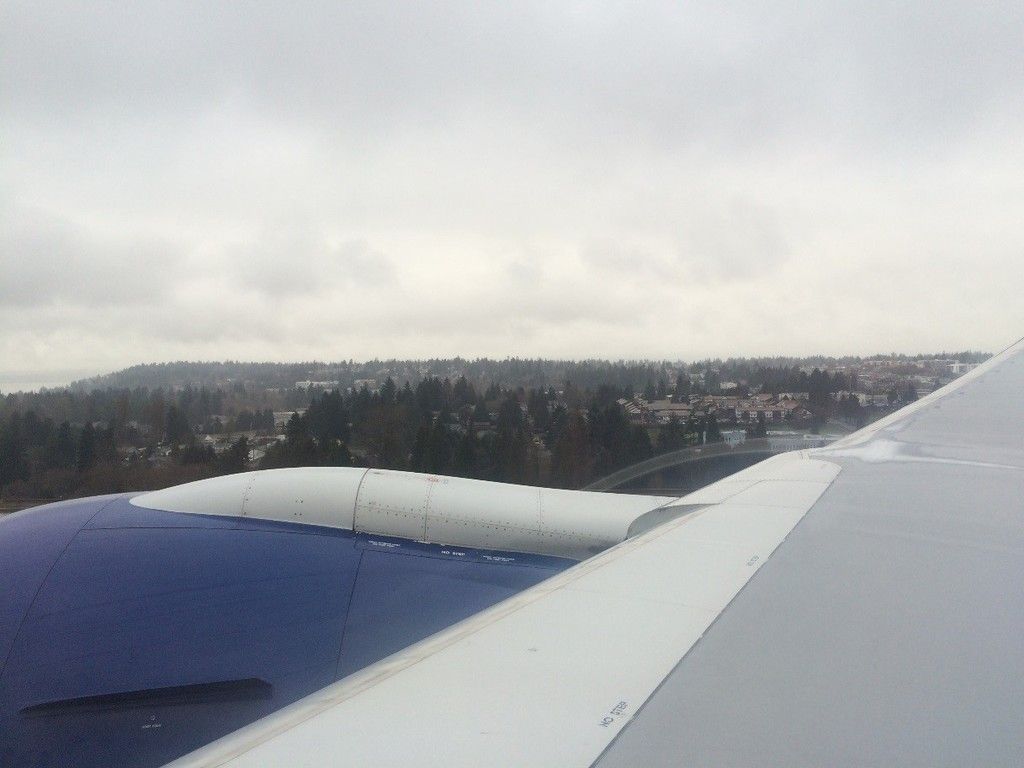 We were welcomed by the cold, grey skies of Seattle as we landed and taxied to the satellite terminal.
Summary: Adequate hard product, good lounges and outstanding service make BA a compelling proposition in J when the price is right (should be at least 15% lower than QR).
BA106/7 is well timed for departure from Dubai, arrival into Dubai and also into London if that is your final destination.
I will cover my return trip on AA in part 2.
Ro