I heard that BA were operating the 772 on the LHR-MAD flight on the daily BA458/BA459 rotation. I also wanted to get on the Iberia A340-600 so this was a perfect opportunity to get the 772 and the 346 on one day. Fortunately I had a few Avios points and was able to get the outbound 772 flight in J for just £60, with flat bed seats! I booked straight away for the following weekend and before long I was heading down to Heathrow at 3am for the early morning BA flight.
The day didn't start off well. On entering Heathrow fast track security I fell foul of a very rude security guard, who thought I was filming her. I explained that I wasn't, I was just holding my camera as I was in the line for security, but she wasn't having any of it. After security, I was pulled aside by a manager in a suit who said he'd had a complaint about me filming the security woman, and asked me why I was filming her. I explained that I wasn't and that my camera had been turned off. He said that they would review the CCTV footage and would 'take appropriate action'. This left me shaken up for my entire trip through Heathrow, so I wasn't able to enjoy the lounge as much as I would have liked as I just felt like I was being watched for the entire time. This experience aside, the journey through Heathrow was pretty simple and I got the train over to the C gates where our flight was to depart.
After my awful experience with staff at Heathrow, the BA staff onboard were the polar opposite. They were really interested that I was filming my flight and were asking all about my YouTube channel, and talking about how it was for them operating the 777 on such a short flight with a different configuration. The staff onboard were truly wonderful and a credit to BA. The F cabin was shut off for the entire flight with no passengers there, there were J passengers in Club World and economy passengers in WT+.
I like to film a full length video of all of my flights, so that you can either experience the whole thing in real time or pick and choose the parts you wish to see, so without further ado, here is the video!
Airline
: British Airways
Flight
: BA458
Aircraft
: Boeing 777-200ER G-VIIN
From
: London Heathrow (LHR)
To
: Madrid (MAD)
Departure
: 07:56
Arrival
: 10:47
Flight Time
: 01:51
Seat
: 11K
Flight Path
:
http://infl.it/b7hv4
Full Length Flight Video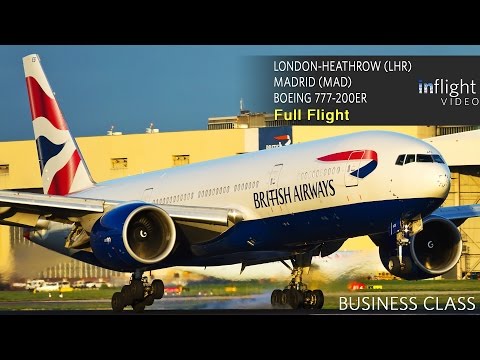 Our journey today begins at the pod parking at Heathrow's Terminal 5. We take the 4 minute journey on the Heathrow Pod from our parking space right into the terminal building, before heading through the airport and making our way to the British Airways Galleries South Lounge. After breakfast we take the shuttle train to the C concourse, where our aircraft for today, Boeing 777-200ER G-VIIN is waiting for us to board.
We board the aircraft, taking our seat in the Club World cabin, in seat 11K. This is a rear facing flat bed seat just in front of the engine. We are given a hot towel prior to pushback, and the captain welcomes us aboard, explaining that the route is normally operated by a smaller aircraft but we are lucky today to have the long haul Boeing 777. We push back and make our way to runway 9R, before the powerful GE90 engines spool up and quickly lift us away from Heathrow and to the south. From there we are given a clearance direct to Southampton, after which we are handed from London Control to Brest Control over the English Channel.
Breakfast service today is a full English breakfast, served as we cross the Channel. We head towards Britanny and Brest, hitting an area of moderate turbulence over Britanny. From there we head across the Bay of Biscay, being handed off to Madrid control. We cross the Spanish coast overhead Santander, before we commence our approach towards Madrid. It's unusually cloudy and rainy in Madrid, as we descend through the clouds getting a fantastic view of the mountains to the north of Madrid. We make a smooth touchdown on runway 18R, before being cleared to taxi to our remote stand. Once on stand we are treated to disembarking via air stairs in front of the huge GE90 engine, and getting the bus to the terminal before we take the underground train from the satellite pier to the main terminal, and exiting the terminal to the taxi rank in front of the terminal.
TIMELINE
0:00:03 Taking the Heathrow Pod to Terminal 5
0:06:38 Walking through Terminal 5 to the fast track security
0:09:35 British Airways Galleries South Lounge
0:13:15 Walking through the A concourse, getting the underground train to the C concourse
0:26:43 Boarding the aircraft and taking our seat in 11K
0:43:38 Overview of the seat area
0:44:14 Club World Cabin overview
0:54:42 Captain welcomes us onboard
0:56:16 Captain requests pushback from ATC, before cancelling and requesting again a few minutes later
0:57:58 Safety video
1:11:03 Pushback and engine start
1:16:51 Taxi clearance, taxi to runway 9R
1:30:47 Cleared to line up and wait
1:31:54 Takeoff clearance, takeoff from runway 9R
1:57:37 Breakfast service - Full English Breakfast
2:05:53 Overview of IFE - just the 3D Maps on this flight
2:13:02 Detailed look around seat and controls
2:22:25 Another look at the seat
3:13:45 Contacting Madrid Approach, radar vectors for ILS runway 18R
3:17:02 Established on localizer runway 18R
3:21:01 Contacting Madrid Tower, cleared to land
3:23:59 Landing on runway 18R, exit to left and cleared to taxi to remote stand
3:32:35 Holding short of remote stand due to no marshaller on stand, contacting ATC to request guidance
3:36:15 Disembarking through steps at the forward doors, bus to terminal
3:46:46 Train to main terminal
3:56:40 Exiting terminal to taxi ramp