You can find all the other pictures for this report here.
My only experience flying with LATAM was several years ago when I flew on LAN between MAD and FRA to try them out. I had to check
my FlightMemory page
as I didn't think it was in business class either - and I was right, it wasn't.
For many years LAN have been flying from Santiago, Chile to Sydney, Australia with a stop in Auckland, New Zealand. The airline has rights to carry passengers between Sydney and Auckland and vice versa which provides people with another option (in addition to Qantas, Air New Zealand and Emirates) across the ditch. The Ditch is the colloquial name for the Tasman Sea between Australia and New Zealand.
I booked my ticket using points on British Airways so the fare was a couple of hundred Euro less than it would have been booking direct. My flight LA801 was on 14 April, which is yesterday. It departs around 7:30am from Auckland and I was in Sydney for 9am. LATAM use the Boeing 787-9 on the route and it is quite a comfortable aircraft. The seats are two by two by two, lie flat, with massage function and are very comfortable.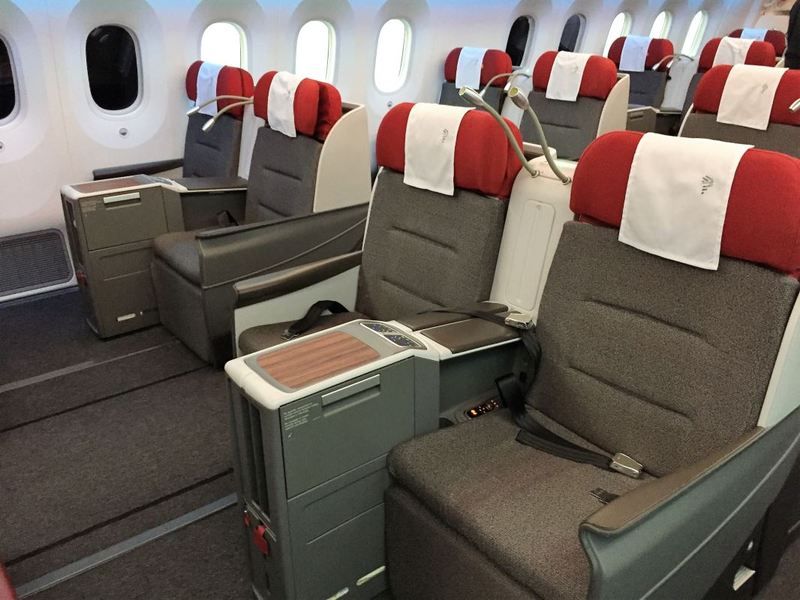 A feature of the 787 are the large electrically dimming windows. These are a blessing in that they're bigger (though they could be set lower - I find them too high up) and a curse in that the cabin crew can control them when they want to. You can guess it - on this flight they were dimmed for almost the entire flight.
Pre-departure drinks are orange juice or water, I took a juice. What a shame there was no Champagne!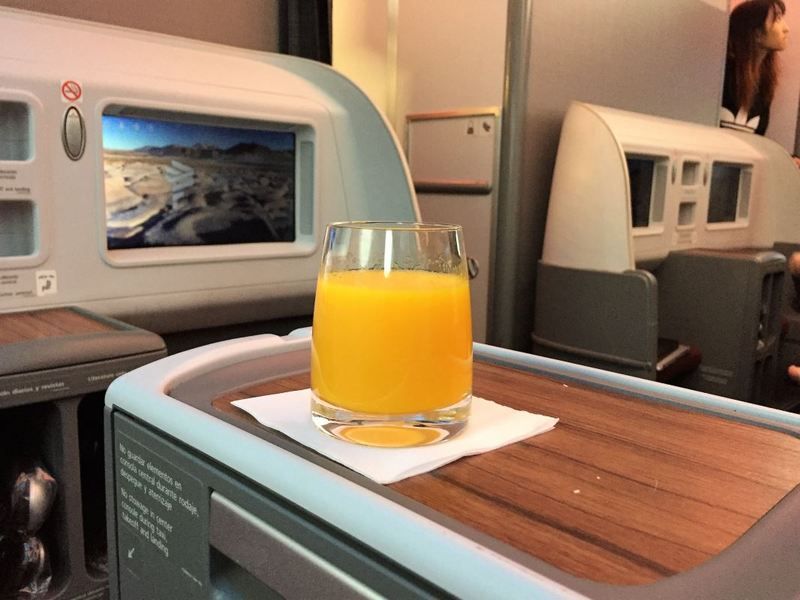 Breakfast is either a hot one or cold one and I chose the hot breakfast. I don't really like airline omelet's very much - this one was pretty standard flight fare. The rest of the meal was quite delicious, especially the croissant.
These gourmet jams from Chile were particularly brilliant, and I ended up having three croissants because of them.
Notice the blue hue on all the pictures? That is basically how the cabin looked. I had to use the lights between the seats, the overhead lights and sometimes the flash in order to get good pictures.
Extremely blue! Anyway, as I mentioned, for the full set of really hard won photos (thank you blue), please
click here.
Thanks for reading and if you have any comments or questions, please leave them below
My previous Trip Reports -
Heading Off To Amsterdam: KLM Cityhopper Business Class on the E175 DUB-AMS
I had the lounge to myself (really!) so I made a video tour with my iPhone! Cathay Pacific LHR T3 First Class Lounge
Today British Airways Introduced Brand New Food In Club Europe! Pictures of the Brunch and Lunch offering are here!
Eating everything in sight when I visited the Cathay Pacific lounge in Paris! Oodles of noodles too!
British Airways Club Europe LHR-DUB - Champagne all the way!
Soaring above the clouds on the upper deck of a British Airways A380 in Club World
Cathay Pacific's Majestic First Class Lounge At Hong Kong - The Pier - The Lounge With It All
Champagne and Being Stepped On - Overnight Adventures on a British Airways 787-9 Dreamliner from BWI-LHR in Club World
Qantas International First Class Lounge Sydney - The Best First Class Lounge In The World?
Three Flights in Qantas Domestic Business Class - Lie-Flat A330 Seats and Boeing 737. SYD-BNE-CNS and BNE-SYD
A Volcanic Eruption in the Toilet - British Airways Club Europe Athens to London Heathrow
Concorde Room: British Airways 777 First LHR-IAD
Concorde Dining: British Airways 380 First IAD-LHR
Oops! I Missed My Flight! American First DFW-BOS
Phoenix Rising? American A321 First Class BOS-PHX
Speedbird From Sweden: British Airways Club Europe
Aer Lingus Business Class Review Part 2 - BOS-DUB
Aer Lingus Business Class Review Part 1 - DUB-BOS
British Airways Club World London City Review
American Airlines First Class - JFK-DCA-JFK A321
Mm Scones! British Airways Club Europe DUB-LHR-DUB
To Sydney On BA WT Plus - QF HKG Lounge And More
The Details About Cathay Pacific's Premium Economy
New Pre-Order Meals On Aer Lingus (DUB-CDG)
Three Flights In First Class On American Airlines
Destination Washington - BA World Traveller Plus
Aer Lingus - DUB-LHR-DUB - Lounges, Food, Flying!
Aer Lingus Business Class - JFK-DUB
Aer Lingus Economy Class - DUB-JFK
Champagne Across The Atlantic - BA 772 Club World
Extremely Disappointing - AA - MCO-MIA-MCO
Perfect Day For Flight - Aer Lingus LGW-DUB
Random Happenings... Easyjet A319 LGW-SXF
A Perfect Flight - Cathay Pacific Business
Aer Lingus: They Upgraded The Lounge At Last
Hello A380! Qantas Premium Economy SYD-LHR
Qantas Premium Economy! Yes! LHR-SYD B744
EI - DUB-SNN-DUB - The Lounges Make Me Cry
Royal Jordanian And Malev Business
Crown Class On Royal Jordanian
Slumming It Down In Economy On BA
1100km/h In A Qantas Skybed?! Wow!
The Midnight A310 To Bangkok!
Flying Royal Jordanian's Baby Zay!
Struck By The Upgrade Fairy! Yes!
Basic Lounges? Welcome To Aer Lingus!
DUB-LHR-JFK / QE2 / LGW-DUB Y/WT+/J
My previous Trip Reports (with airliners.net pictures only) -
I Broke The MD11! - Finnair J - SIN-BKK-HEL-LHR
BA Club Europe - London To Istanbul
AtlasJet - IST-JMK (Istanbul To Mykonos)
My previous Trip Reports (no pictures) -
Two X Economy - Qantas SYD-LAX, Aer Lingus LAX-DUB
Alaska Airlines First Class - YVR-LAX
American Airlines First - LAX - ORD & SFO - JFK
British Airways Club World - LHR To LAX
DUB-LHR On Aer Lingus
British Airways Club Europe - London To Russia
DUB-LHR-DUB - Detailed Report On Aer Lingus
HKG-LHR Qantas Business Class
LHR-KEF-LHR On Icelandair Economy Class
LGW-AMS On British Airways Economy
AMS-HEL-DUB - Finnair Business / Economy
PEK-HKG - Cathay Pacific Business Class
KIX-TPE-HKG-PEK - Cathay Pacific Business Class
HKG - NRT - Cathay Pacific Business Class
SYD - HKG - Qantas Business Class
Qantas Domestic - SYD-BNE-SYD
Qantas Transcontinental - SYD-PER-SYD
Avalon Hell! - Jetstar Experience - SYD-AVV-SYD
SYD - MCY - SYD On East-West Airlines - May 1985