Meridiana/Air Italy from Munich to Milan Linate
I have been trying to fly into Milan Linate Airport for a while and after going through the list of airlines and destinations on Wikipedia, I discover that Air Italy flies between Munich and Milan Linate twice daily (on the weekdays), and the schedule ended up working well for me. I decided to give it a go. The flight itself was really cheap especially I did not have baggage. I spent 30Euro for an exit row seat, which was almost as expensive as the flight itself. I was not expecting much at all in terms of catering and service, and in the end, I am more than happy with this regional airline.
IG 262 MUC-LIN Lv0945 Arr1100 Boeing 737-700 EI-FFM
Booking:
Meridiana has a functioning website and is relatively easy to book the ticket and to pay for a reserved seat, but it refused to print me an eticket in English. There were a couple glitches that did not allow the website to translate from Italian to English, but in the end, I was able to book my ticket and to pay for my seat. However, it can use some improvement.
Check-in:
Meridiana has an online check-in system, but since I had time at Munich this morning, I decided to go all the way to Check-in Area Z, which was closed to the train stop but far from the gates. The flight was obviously not busy, and the friendly agent, who was the gate agent later, verified that there was no aircraft change and my exit row was still good. She printed me a new copy of the boarding pass and then I was off to the A gates, which were used mainly by Air Berlin. Please note that there is no priority lounge at these A gates.
Boarding:
There was really nothing to do at these gates except grabbing a late breakfast. I was not sure if there was any onboard service, so I played it safe.
Some shots of this Air Italy's Boeing 737-700 EI-FFM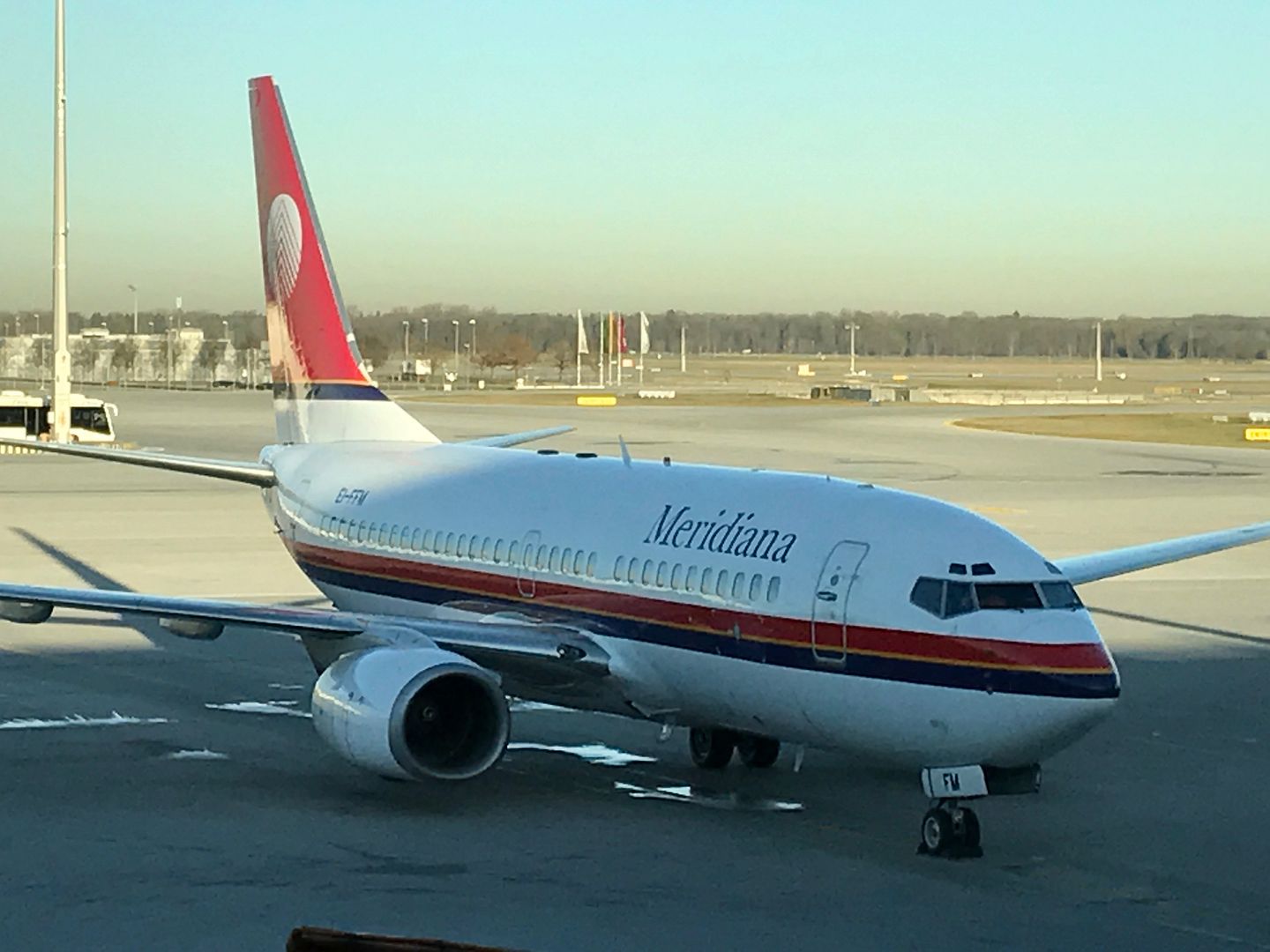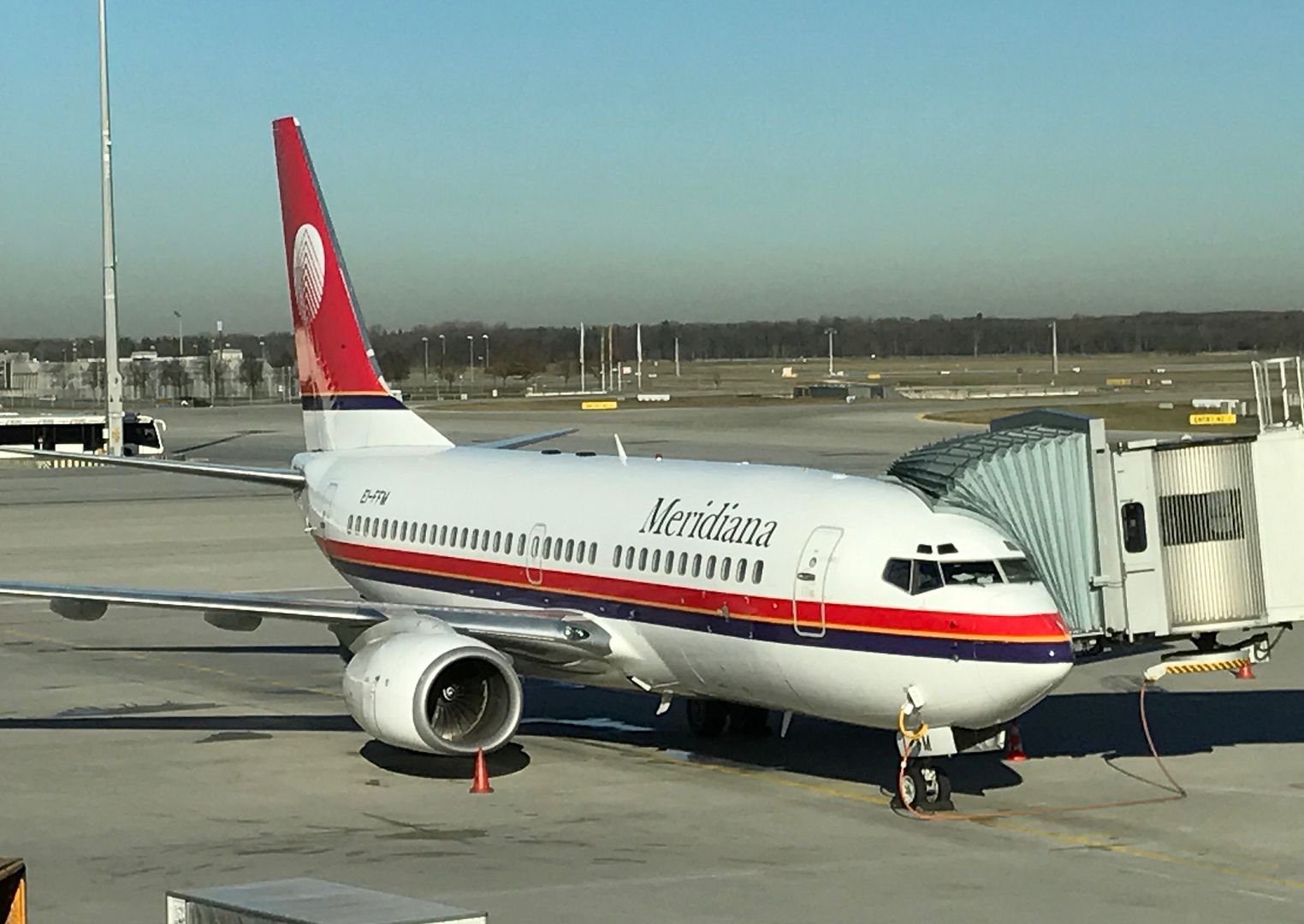 EI-FFM basically flew the double daily Munich flights, as well as a mid-afternoon rotation to Marseille every day.
Boarding began at 9:20am. The loading was very light this morning with only one passenger in business class, along with about 50 passengers in economy class. The whole aft section is almost empty. I got the whole exit row section to myself. Door was closed at 9:35am and we pushed back five minutes early.
Interior shot
Red headrest cover marks business class and extra space seats.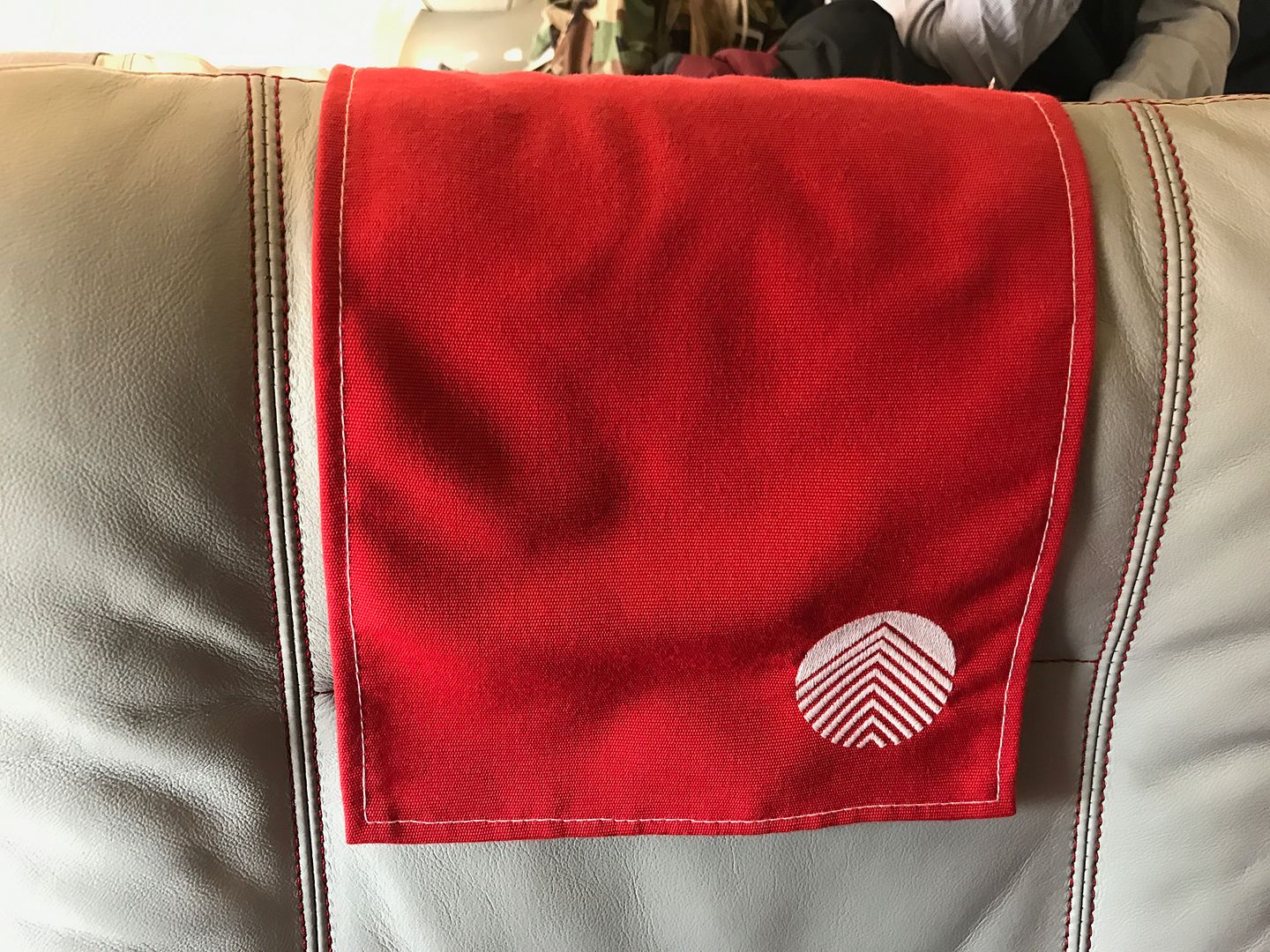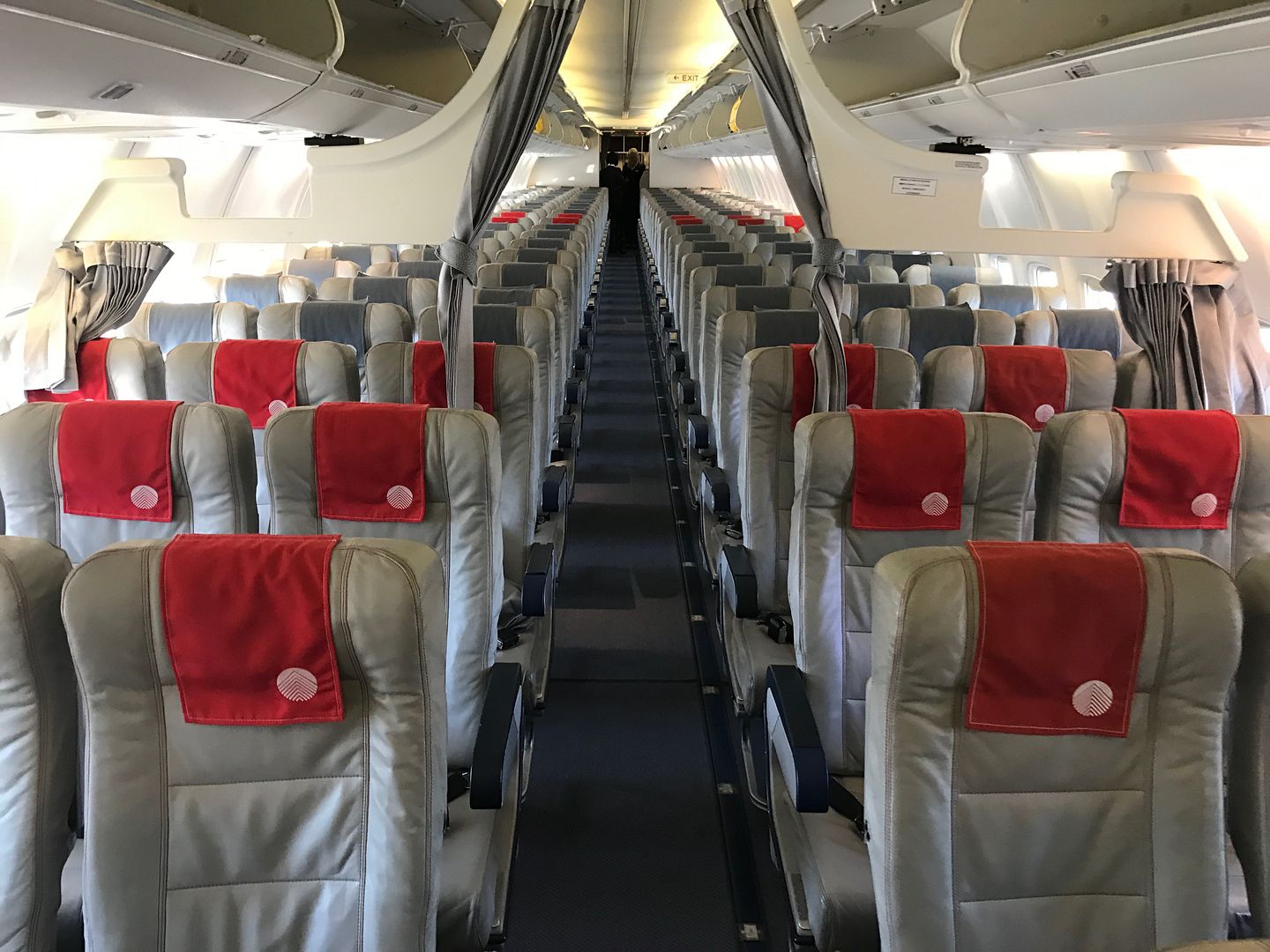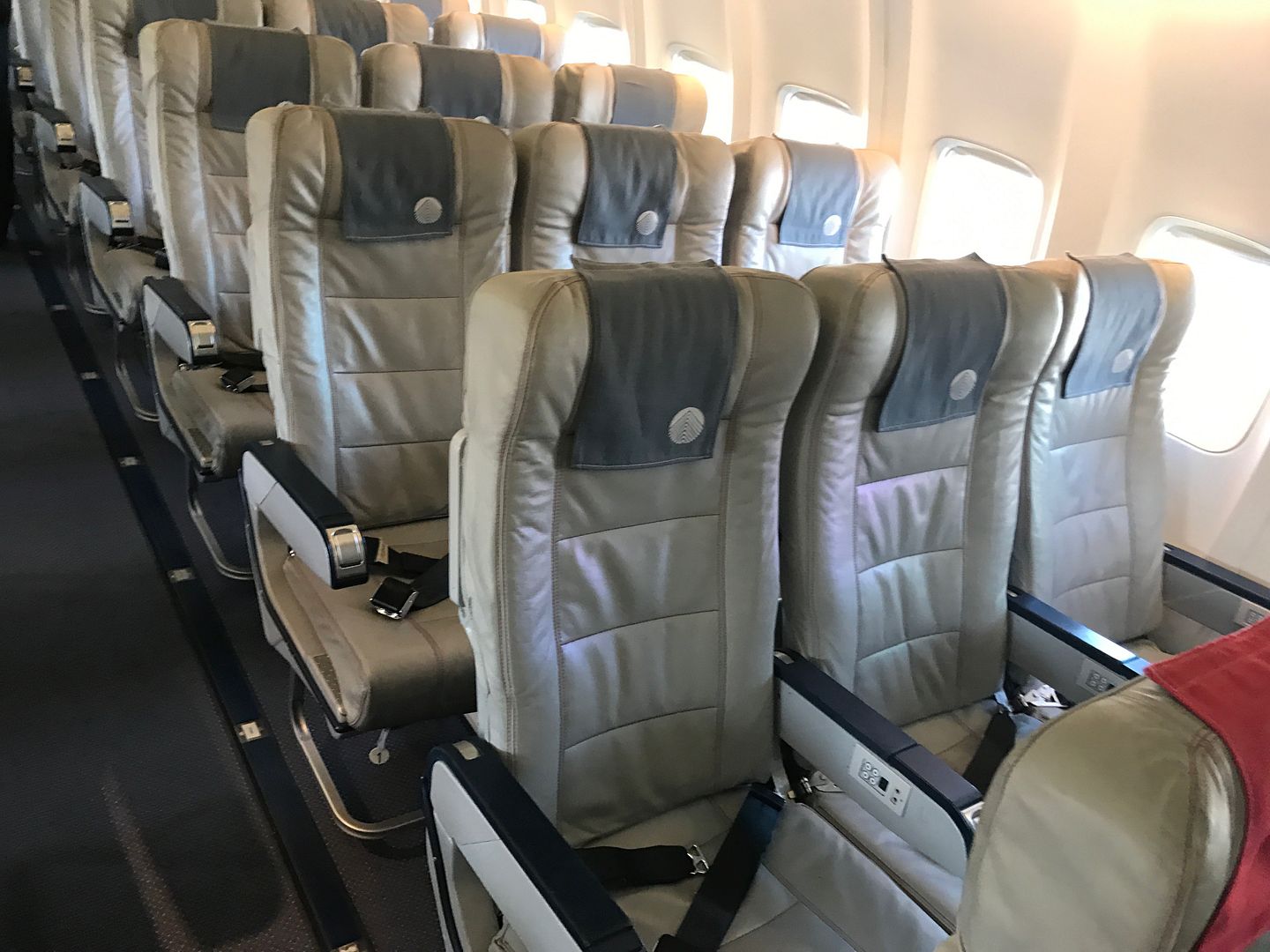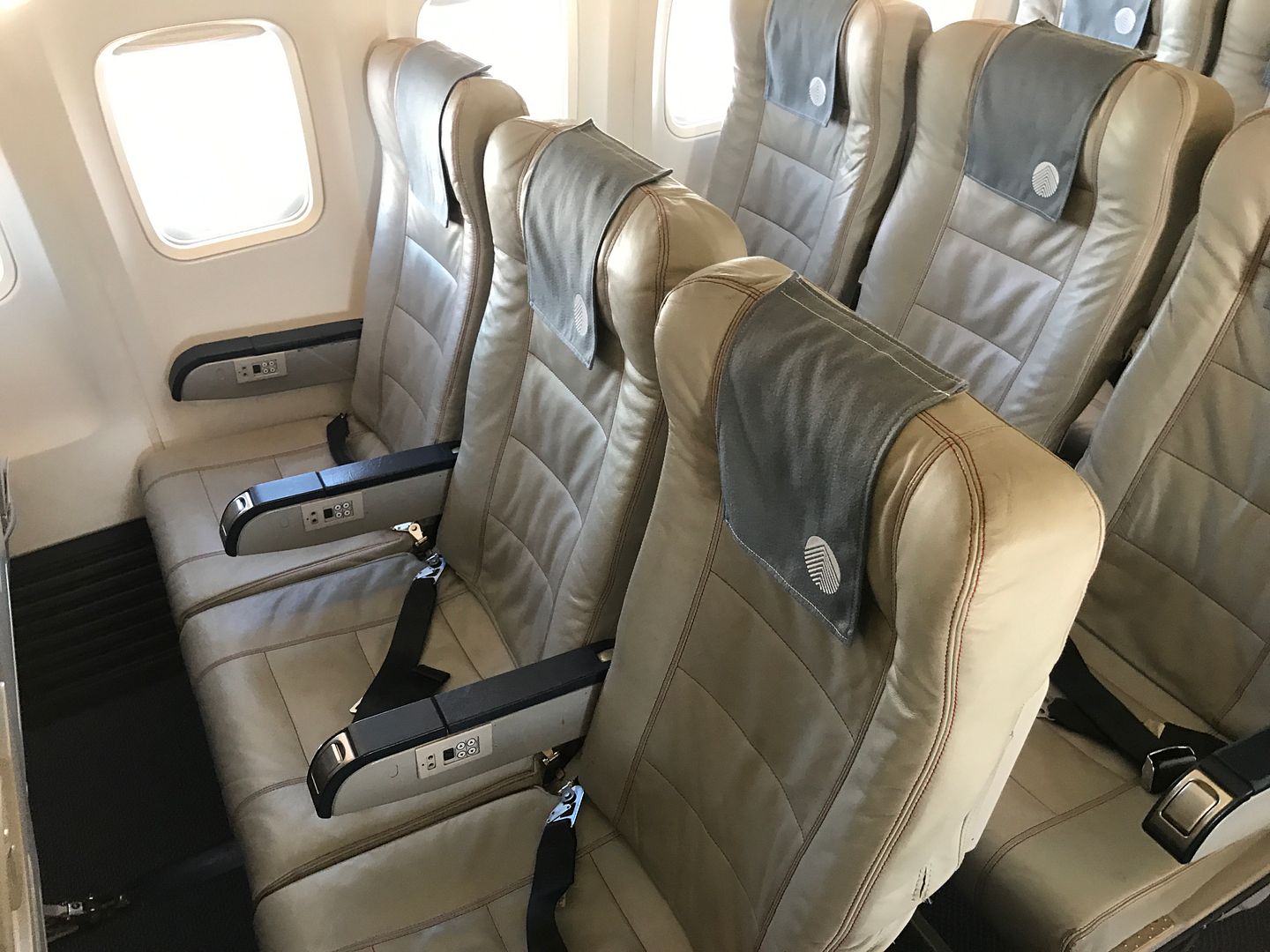 Exit seat legroom – 13F
Meridiana logo
A bit tired looking
Munich airport was quiet during these mid-morning hours, and with little wait, we took off from R/W26L at 9:51am.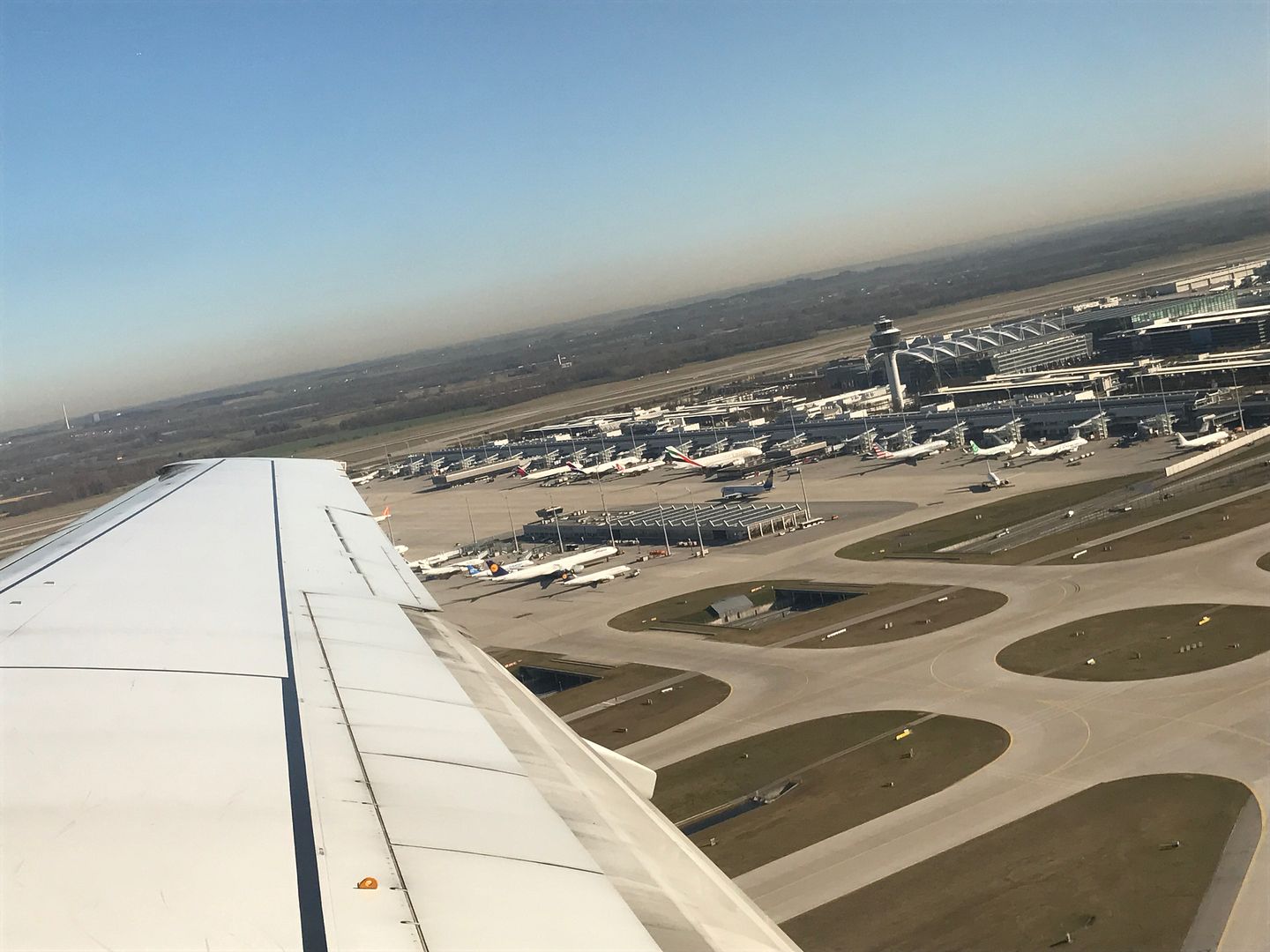 Flying time was a short forty-three minutes and we climbed to 31,000ft.
There was no in-flight entertainment except their in-flight magazine.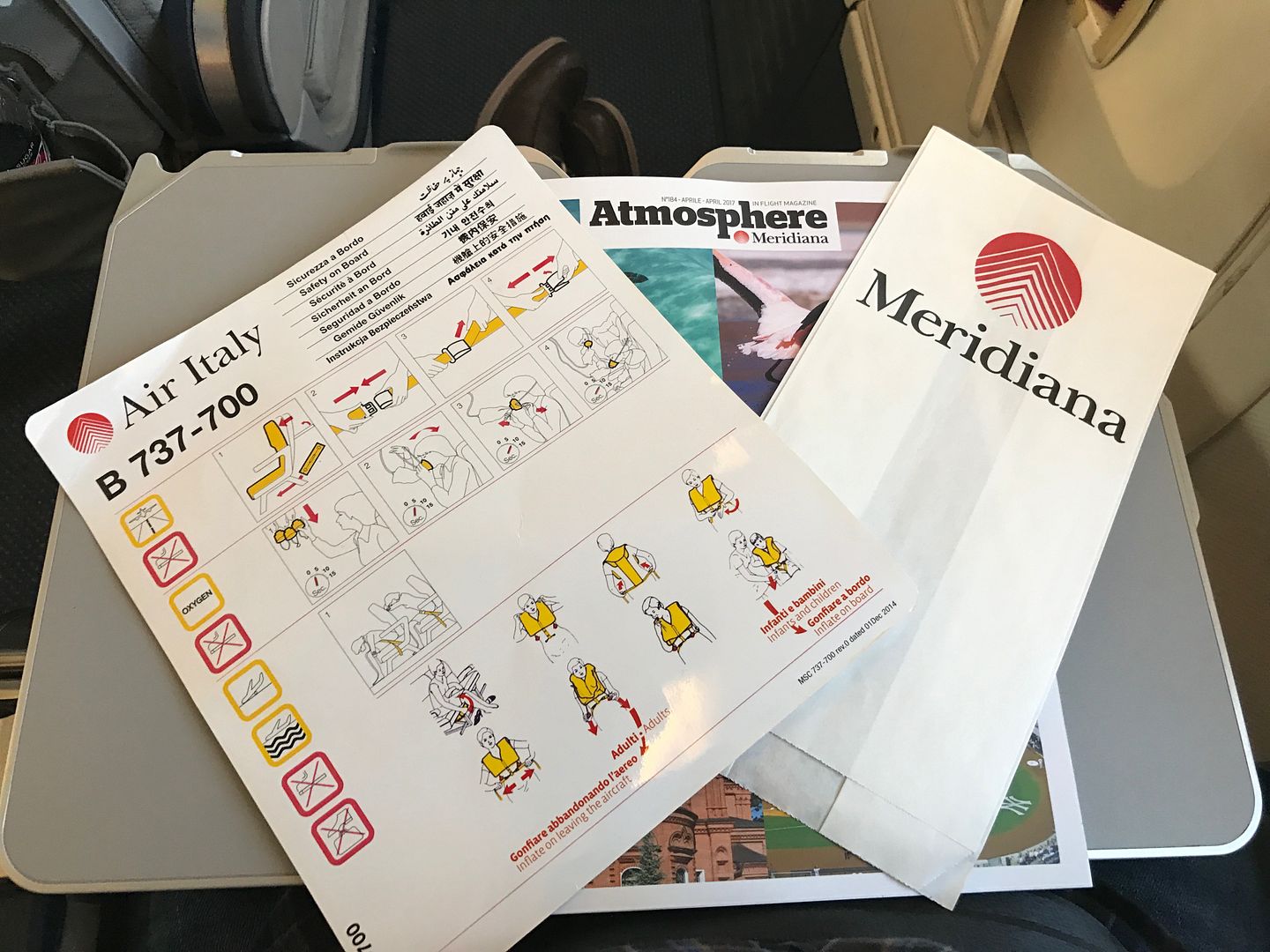 Beautiful morning to fly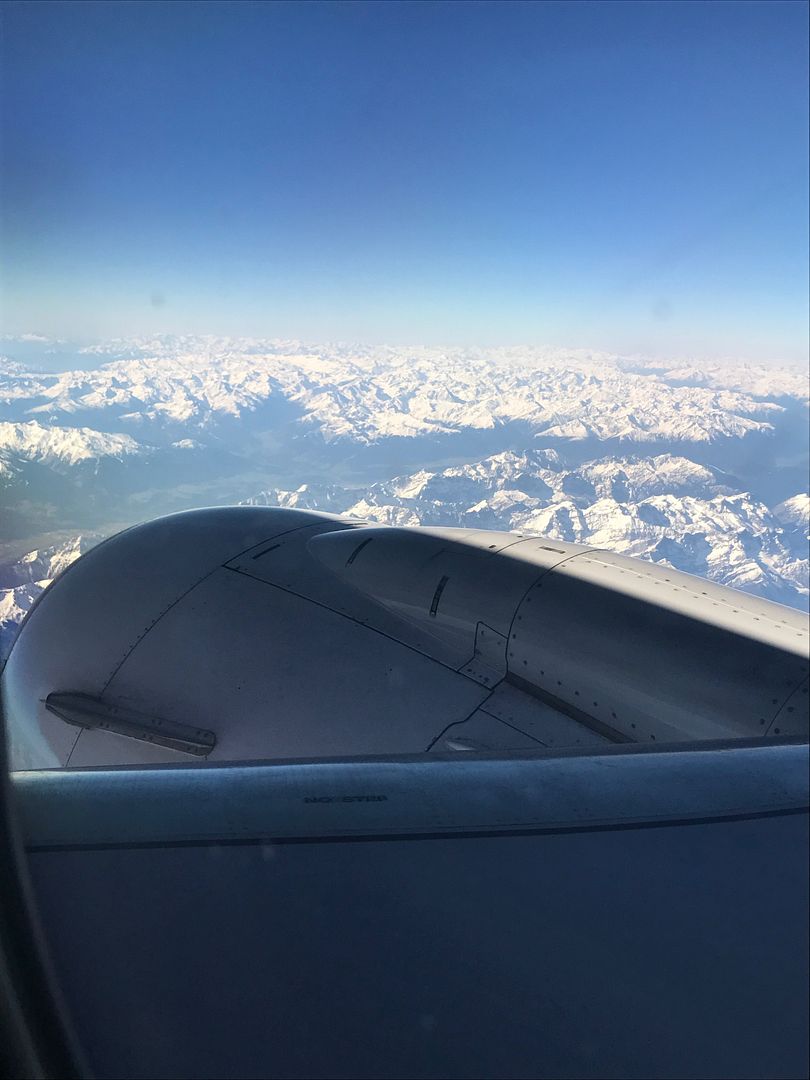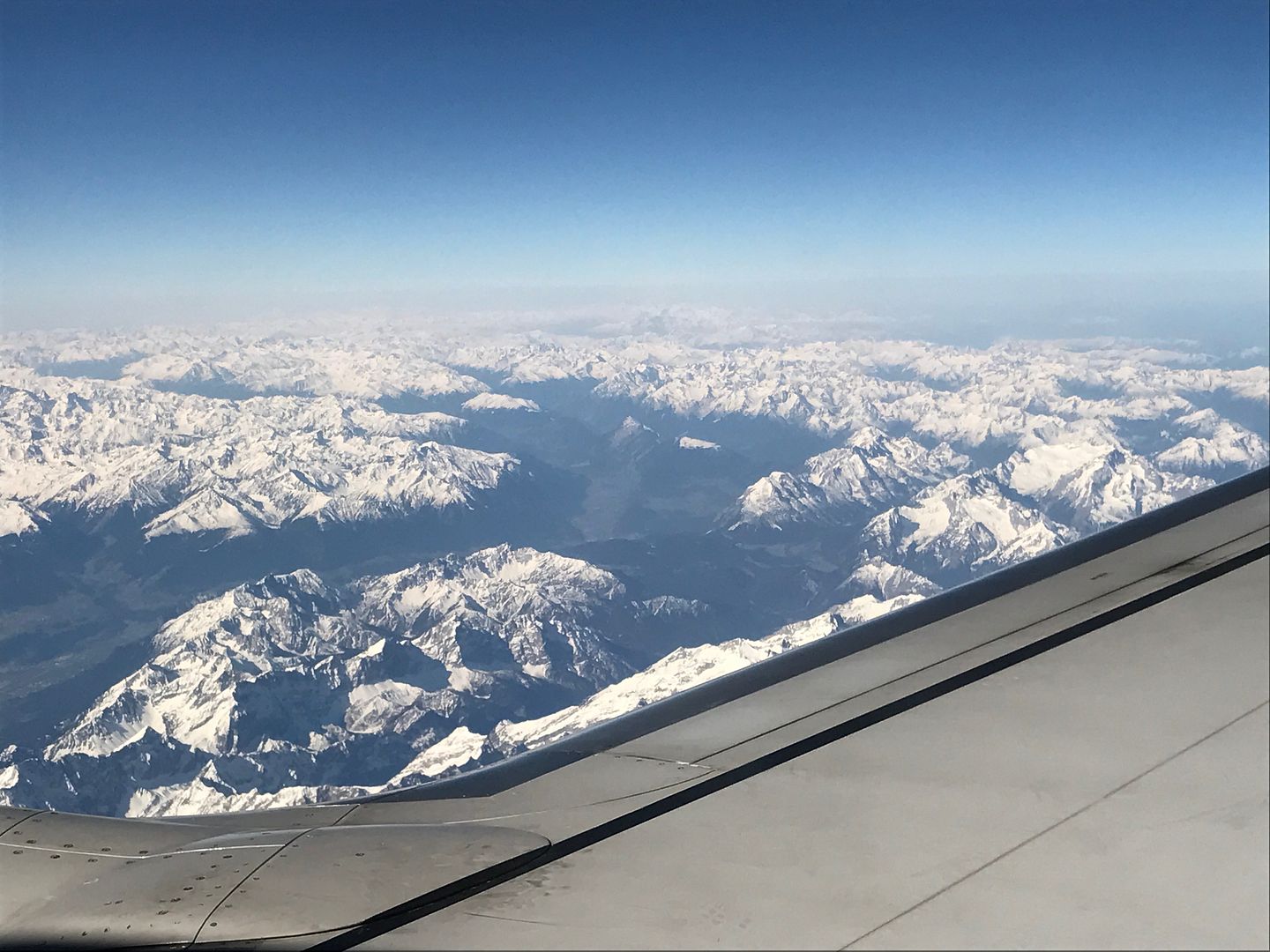 To my surprise, there was actually a free inflight beverage service, and the choices including soft drinks, juices, tea and coffee, and you got a choice of orange biscuits or crisps. When I asked for tea, they even had this lemon essence packet. You can't ask for more these days. Even Alitalia has cut the snack service and is going to switch to buy on board soon.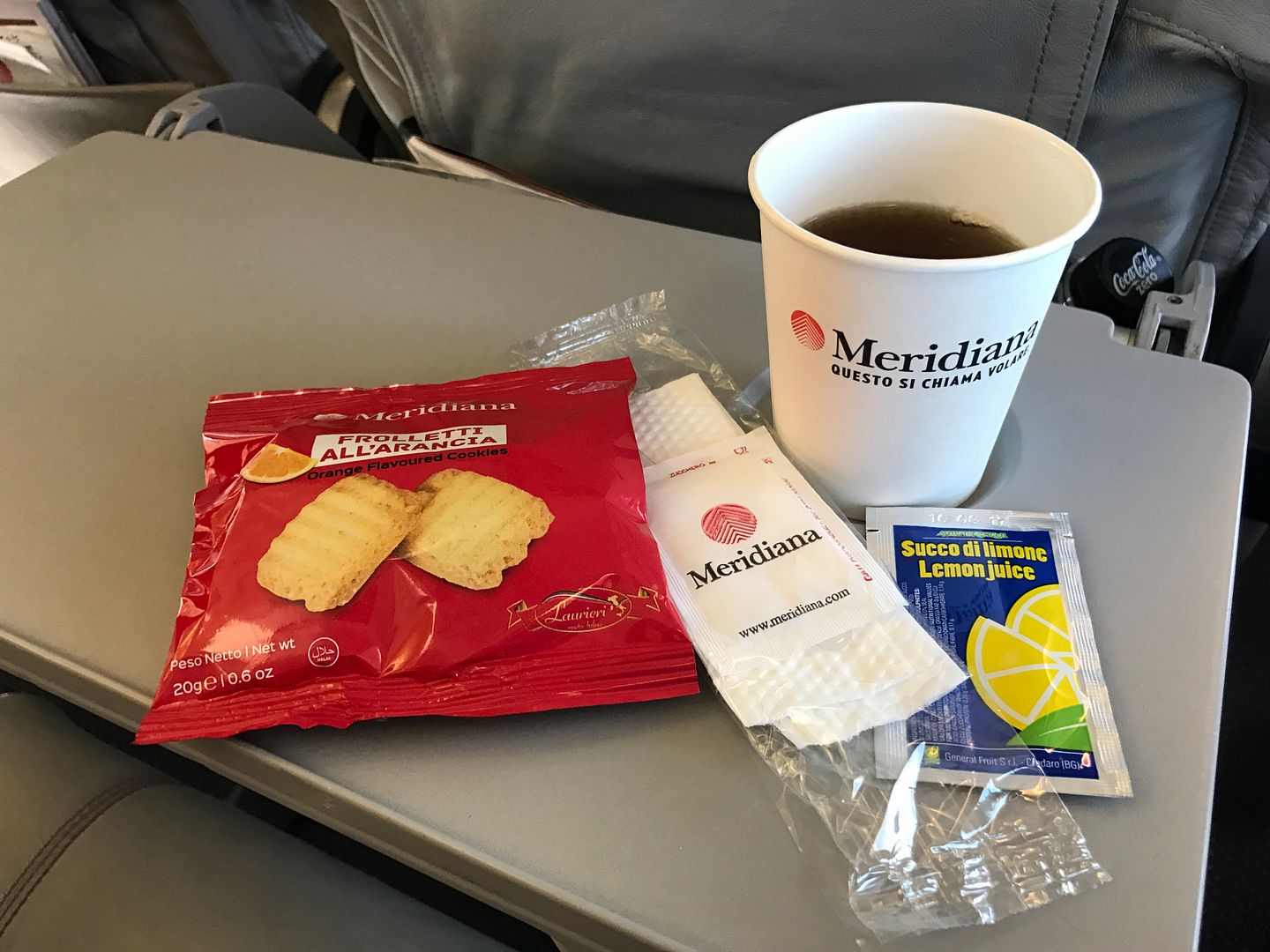 Descent soon began at 10:15am.
We landed on R/W36 at 10:34am and parked at spot 06 a few mintues later.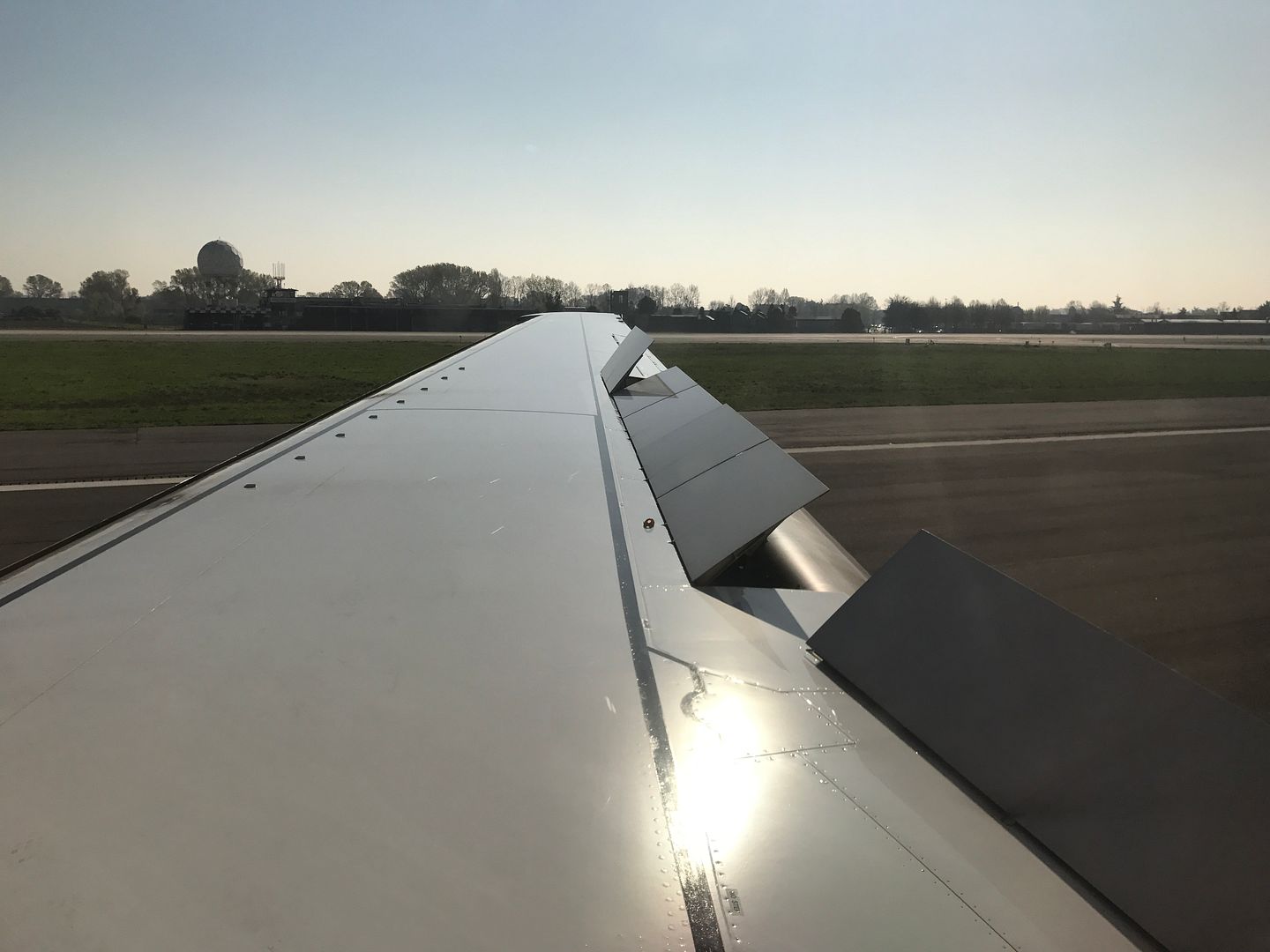 I love Bus gate, but the light load meant that I did not get much time to take pictures of the plane.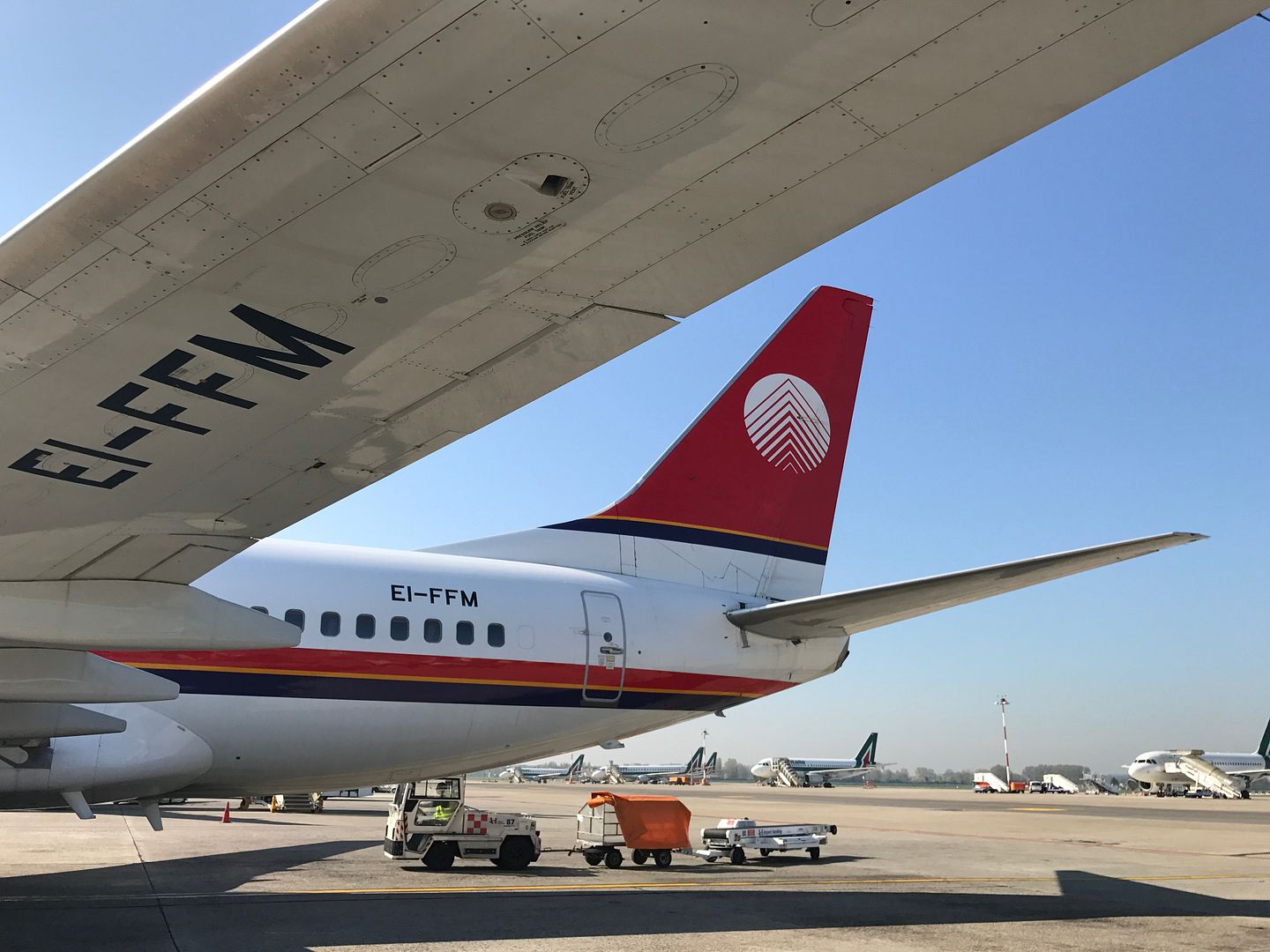 In conclusion, I highly recommend this Italian airline to anyone who needs to fly between Milan Linate Airport and Munich International Airport. The light load worried me a bit, but then I flew on an off day, so things might be busier during normal times. Honestly a free soft drink with snacks is a nice touch. The seats are fairly comfortable while the legroom was not particularly generous. At least they use those classic seats with better padding. I hope you enjoy this short report!
Carfield