You can find all the other pictures for this report here
SkyTeam. The word almost sends shivers up my spine. As a dyed in the wool
one
world frequent flyer, I rarely fly with airlines outside the alliance. The oldest airline in the world, KLM, is one I have always wanted to try and now they fly their own metal between Ireland and the Netherlands it was high time I gave it a go.
Business Class one way cost over €500 and there was no way I was paying that. Even if I was flying return (I was coming back on EI) it was still the guts of a grand. Not a chance. Happily when I was checking in, I got an offer for upgrade for €59 which I snapped up very quickly.
KLM fly the E175 between Dublin and Amsterdam. Business Class got me Fast Track in Dublin as well as lounge access in Terminal 1. KLM use the 200 gates at Dublin which appear to be being renovated. This meant at boarding time I had we got a bus which made priority boarding useless. I was in row 1 which looks like this.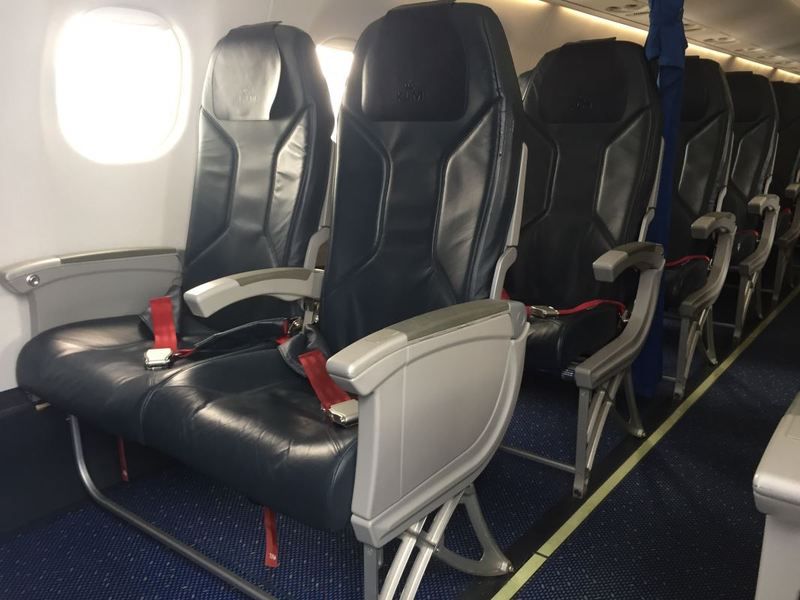 Two rows of business class and all full. Loved the red seat belts. We headed off the to the runway and once in the air it was lunch time. I chose the Club Sandwich which came on a skewer, along with a salad, dessert and some crisps.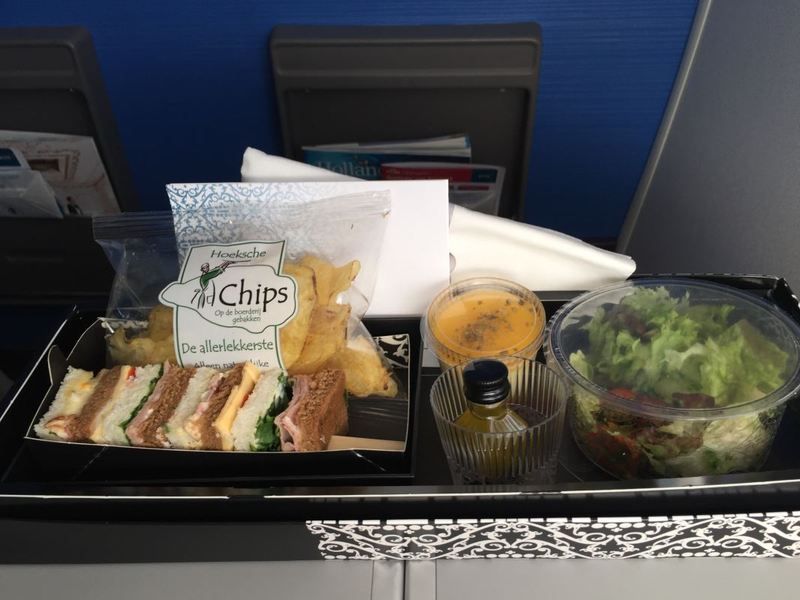 The sandwich was pretty delicious so was the rest of the food. The only thing that was bad about the on board service was the Cava. It was pretty terrible and far worse than the Champagne offered on British Airways.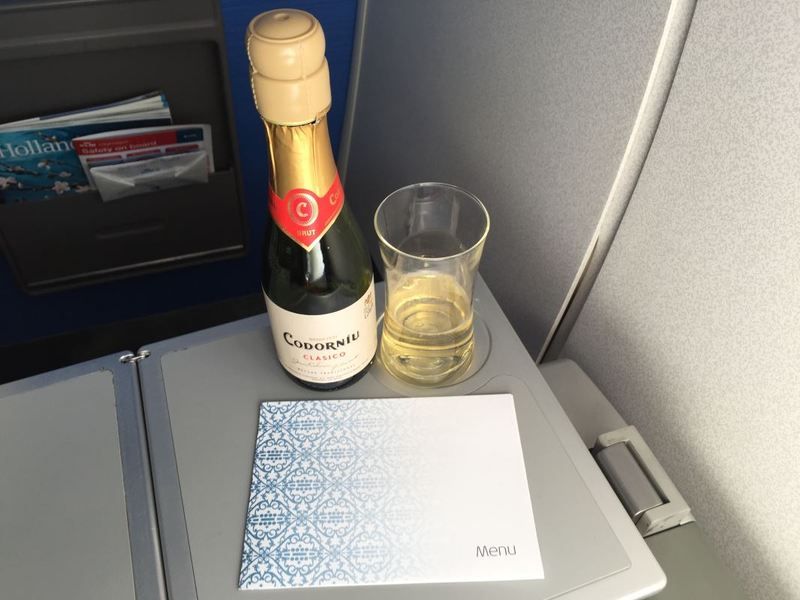 It was a really lovely day for flying with great views both in Ireland and along the way to the Netherlands.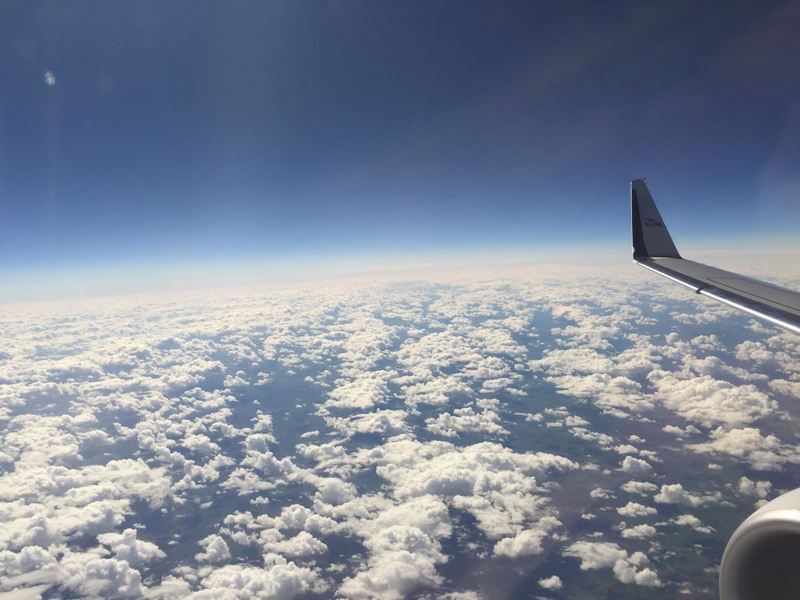 We landed without incident in Amsterdam and taxiied what seemed like all the way back to Dublin before arriving on a remote stand. Yes, it began with a bus and finished with a bus. Never the best. Still, I enjoyed my first flight with KLM. I'd certainly try them again. Remember, to see all the pictures you can
go here.
Thanks for reading and if you have any comments or questions, please leave them below
My previous Trip Reports -
I had the lounge to myself (really!) so I made a video tour with my iPhone! Cathay Pacific LHR T3 First Class Lounge
Today British Airways Introduced Brand New Food In Club Europe! Pictures of the Brunch and Lunch offering are here!
Eating everything in sight when I visited the Cathay Pacific lounge in Paris! Oodles of noodles too!
British Airways Club Europe LHR-DUB - Champagne all the way!
Soaring above the clouds on the upper deck of a British Airways A380 in Club World
Cathay Pacific's Majestic First Class Lounge At Hong Kong - The Pier - The Lounge With It All
Champagne and Being Stepped On - Overnight Adventures on a British Airways 787-9 Dreamliner from BWI-LHR in Club World
Qantas International First Class Lounge Sydney - The Best First Class Lounge In The World?
Three Flights in Qantas Domestic Business Class - Lie-Flat A330 Seats and Boeing 737. SYD-BNE-CNS and BNE-SYD
A Volcanic Eruption in the Toilet - British Airways Club Europe Athens to London Heathrow
Concorde Room: British Airways 777 First LHR-IAD
Concorde Dining: British Airways 380 First IAD-LHR
Oops! I Missed My Flight! American First DFW-BOS
Phoenix Rising? American A321 First Class BOS-PHX
Speedbird From Sweden: British Airways Club Europe
Aer Lingus Business Class Review Part 2 - BOS-DUB
Aer Lingus Business Class Review Part 1 - DUB-BOS
British Airways Club World London City Review
American Airlines First Class - JFK-DCA-JFK A321
Mm Scones! British Airways Club Europe DUB-LHR-DUB
To Sydney On BA WT Plus - QF HKG Lounge And More
The Details About Cathay Pacific's Premium Economy
New Pre-Order Meals On Aer Lingus (DUB-CDG)
Three Flights In First Class On American Airlines
Destination Washington - BA World Traveller Plus
Aer Lingus - DUB-LHR-DUB - Lounges, Food, Flying!
Aer Lingus Business Class - JFK-DUB
Aer Lingus Economy Class - DUB-JFK
Champagne Across The Atlantic - BA 772 Club World
Extremely Disappointing - AA - MCO-MIA-MCO
Perfect Day For Flight - Aer Lingus LGW-DUB
Random Happenings... Easyjet A319 LGW-SXF
A Perfect Flight - Cathay Pacific Business
Aer Lingus: They Upgraded The Lounge At Last
Hello A380! Qantas Premium Economy SYD-LHR
Qantas Premium Economy! Yes! LHR-SYD B744
EI - DUB-SNN-DUB - The Lounges Make Me Cry
Royal Jordanian And Malev Business
Crown Class On Royal Jordanian
Slumming It Down In Economy On BA
1100km/h In A Qantas Skybed?! Wow!
The Midnight A310 To Bangkok!
Flying Royal Jordanian's Baby Zay!
Struck By The Upgrade Fairy! Yes!
Basic Lounges? Welcome To Aer Lingus!
DUB-LHR-JFK / QE2 / LGW-DUB Y/WT+/J
My previous Trip Reports (with airliners.net pictures only) -
I Broke The MD11! - Finnair J - SIN-BKK-HEL-LHR
BA Club Europe - London To Istanbul
AtlasJet - IST-JMK (Istanbul To Mykonos)
My previous Trip Reports (no pictures) -
Two X Economy - Qantas SYD-LAX, Aer Lingus LAX-DUB
Alaska Airlines First Class - YVR-LAX
American Airlines First - LAX - ORD & SFO - JFK
British Airways Club World - LHR To LAX
DUB-LHR On Aer Lingus
British Airways Club Europe - London To Russia
DUB-LHR-DUB - Detailed Report On Aer Lingus
HKG-LHR Qantas Business Class
LHR-KEF-LHR On Icelandair Economy Class
LGW-AMS On British Airways Economy
AMS-HEL-DUB - Finnair Business / Economy
PEK-HKG - Cathay Pacific Business Class
KIX-TPE-HKG-PEK - Cathay Pacific Business Class
HKG - NRT - Cathay Pacific Business Class
SYD - HKG - Qantas Business Class
Qantas Domestic - SYD-BNE-SYD
Qantas Transcontinental - SYD-PER-SYD
Avalon Hell! - Jetstar Experience - SYD-AVV-SYD
SYD - MCY - SYD On East-West Airlines - May 1985