Tarom Romanian Airlines A318-111 round trip London LHR - Bucharest OTP 22/23 February 2017
Hello A-netters! My first trip report here after reading many on the forum. As of early 2017 the only Airbus type I'd not flown in yet was the A318. Despite photographing them I missed out on Frontier Airlines while they were flying them around the USA. Wanting to right this wrong I decided to book a trip this year and finally get a ride in a "Baby Bus".
With only 4-5 airlines flying A318s the options are limited. I live in the USA so an international trip was inevitable. I could try for South America but with Avianca also flying the other Airbus narrow bodies the chance of an equipment swap was possible. Same with Air France, right? British Airways? Way above my pay scale at the moment for a business class ride across the Atlantic, cool as it would be though! That left me with the option I selected: Tarom Romanian Airlines.
Searching the Tarom website was quite friendly and easy to navigate. What I thought was the advertised 129 Euro fare for the London-Bucharest round trip turned out to be just under 200 Euros but it was still good value given the flight duration and relatively rare equipment.
The trip across the Atlantic to London Heathrow to set up this day/night trip to Bucharest is the subject of another trip report yet to be written. I flew on a combination of American Airlines A330-200/737-800 and Virgin Atlantic A340-600 to get to LHR and Virgin Atlantic 787-9 and Delta Air Lines 717-200 to get back home.
Arriving LHR from JFK on Virgin Atlantic afforded me the opportunity to transfer via airside bus from Terminal 3 to Terminal 4. Some Google Earth exploration ahead of time made me aware of the "View Heathrow" indoor observation deck on the north end of T4. Once inside T4 I asked someone how to find the deck and within minutes I was there.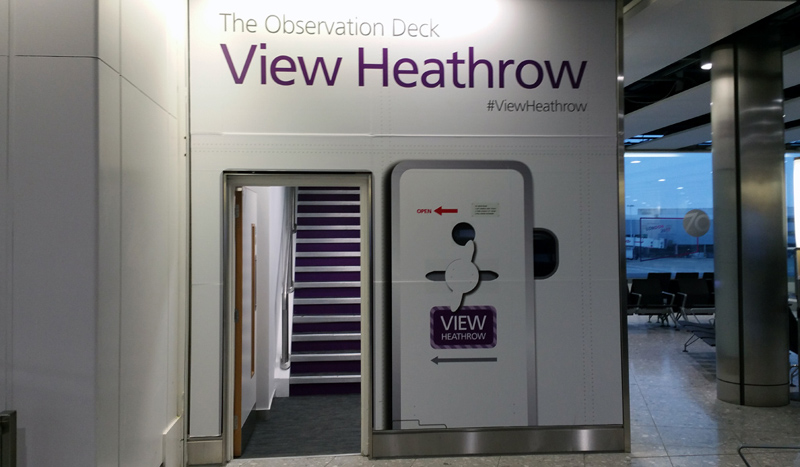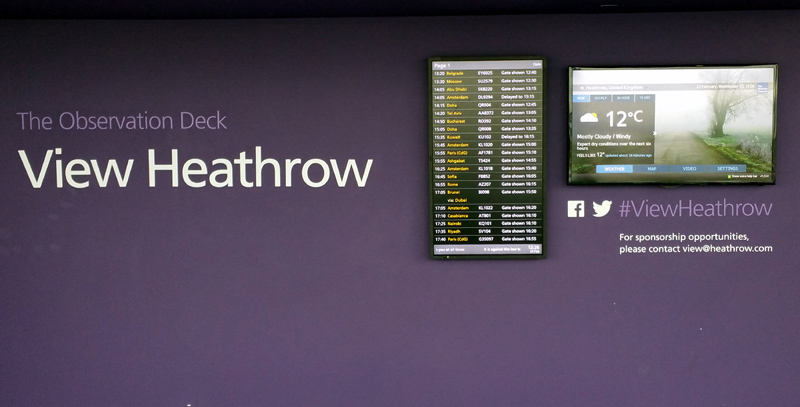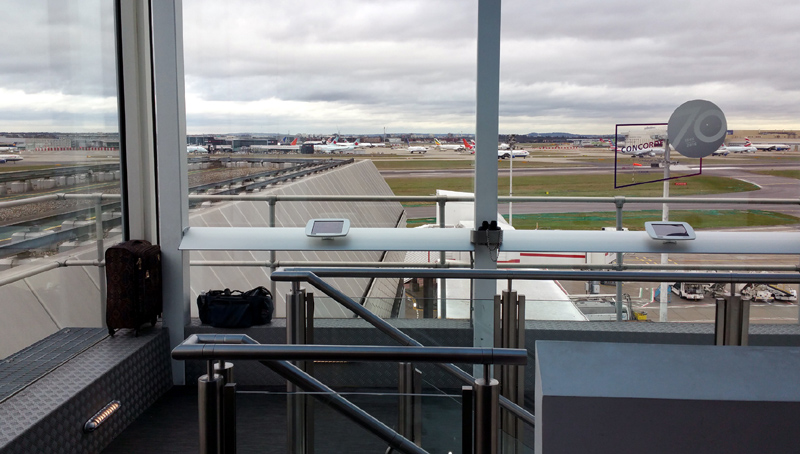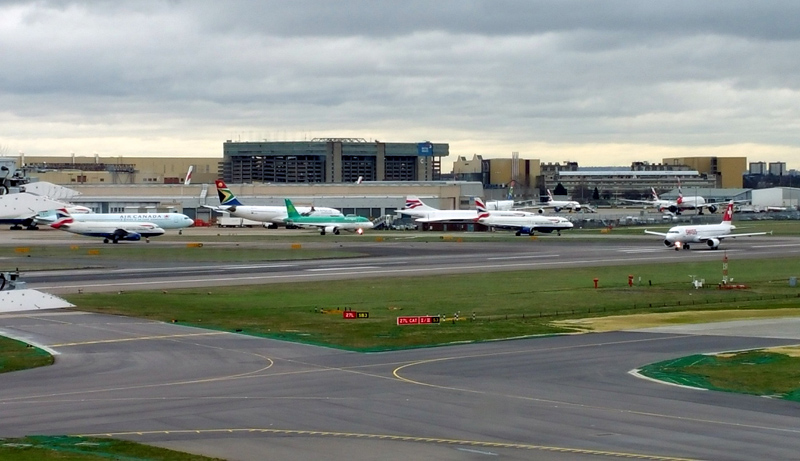 How cool it is for LHR to set up an indoor viewing area for people to pass the time. I spent over seven straight hours there watching planes while awaiting the arrival of "my" Tarom A318 from Bucharest. There are also a couple tablet devices with a flight tracking app installed so one can monitor air traffic.
The view of the arrival end of 27L is second to none. One can also view some of the south side of T3 and T2 as well as some of the engineering areas at this east end of the airport.
Eventually I was able to get one of the tablets working so I started tracking RO #391 inbound from Bucharest while it was over the North Sea. In due course it was on final for 27R and I was able to photograph YR-ASA over the numbers from a distance of 2 kilometers.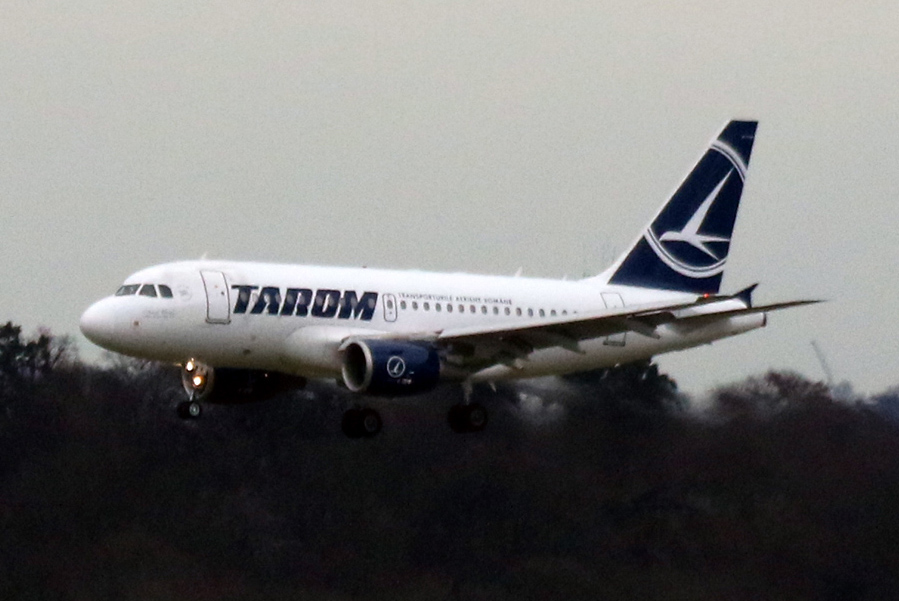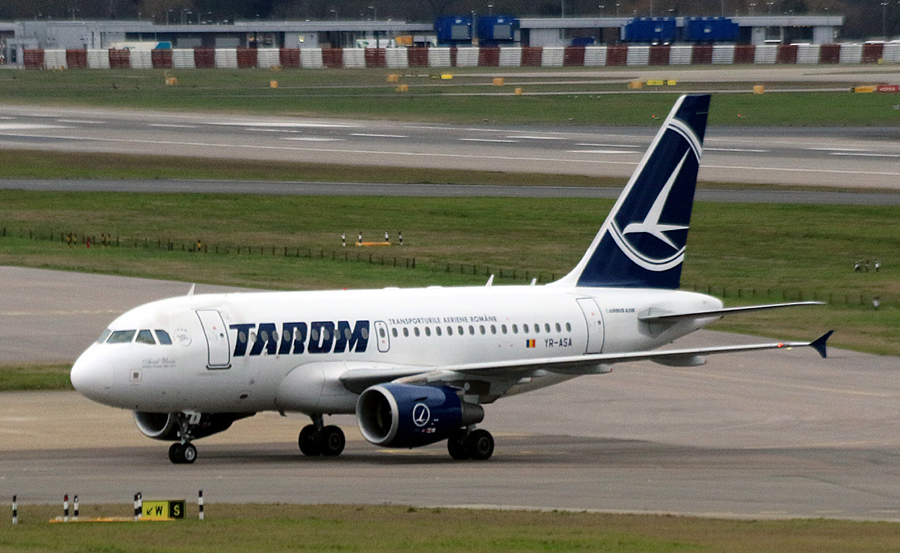 Not knowing the gate it would park, I took several photos of YR-ASA on the taxiway before it disappeared from view and eventually parked at Gate 2, out of sight from the viewing area. It was only now that I reluctantly departed the awesome "View Heathrow" observation deck and headed for my next aerial adventure: a flight aboard an A318.
22 February 2017
Tarom Romanian Airlines
London Heathrow (LHR) - Bucharest (OTP)
RO #392
A318-111 YR-ASA
Scheduled flight time: 3:15
Once at the gate I only had to wait a few moments before boarding began. I made my way down the jet bridge pausing to snap a couple obligatory photos of YR-ASA through the windows. Onboard, I found my seat...6A...and stowed my gear. A beautiful Kuwait 777-300 was pulling in next to us and an El Al 777-200 was pushing for departure beyond that. After everybody boarded we pushed back for an on-time departure for Bucharest. There was no one in the middle seat so my next door neighbor was on the aisle...a comfy arrangement.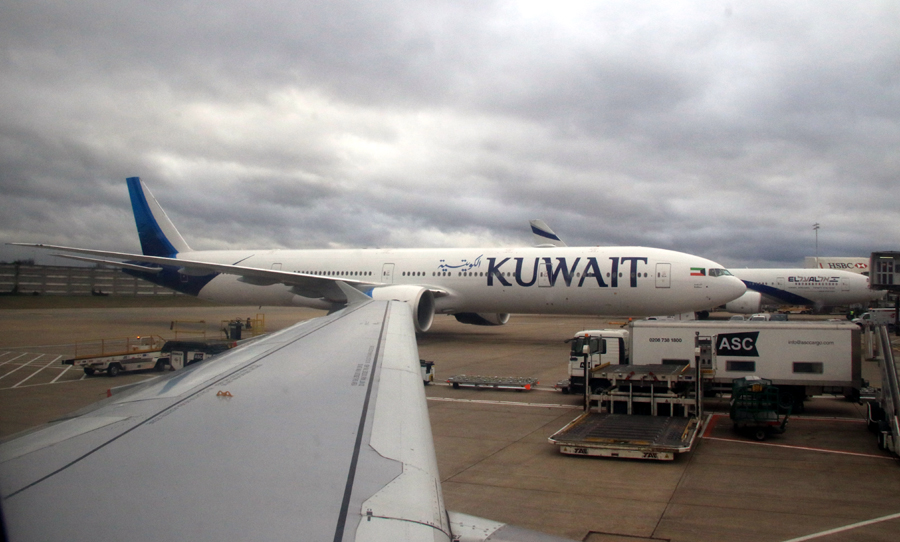 During boarding the runways switched over to departures from 27R so we had a decent taxi to get there. Being on the port side of the plane I was able to see some planes parked at T2 remote stands and gates.
Once we got to 27R for departure we didn't have to wait long as we did a rolling takeoff. We "jumped the queue" ahead of a few planes taxiing for takeoff: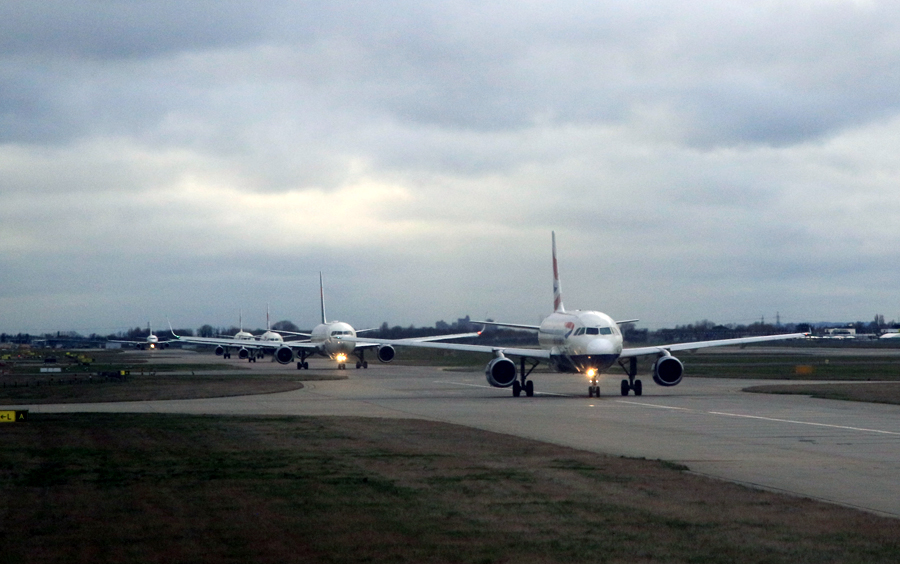 My YouTube video of takeoff can be viewed at:
http://www.youtube.com/watch?v=15R_9e25ftw
At cruise altitude we were served our choice of beverage and a small meal. The meal was OK and just enough to write A.net about. Chicken chunks in a cream sauce with rice and vegetables. Palatable.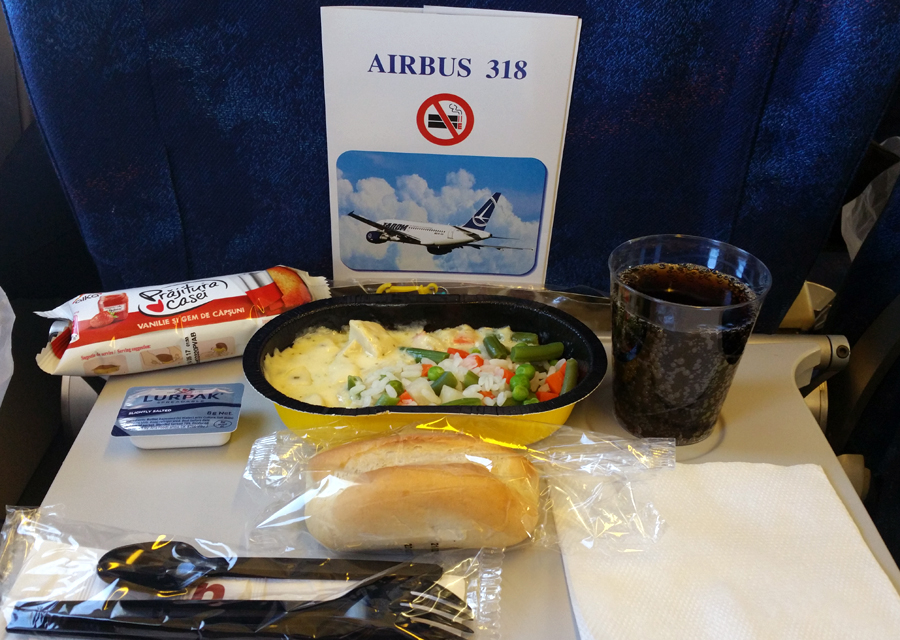 After mealtime I just settle in, watched the fading daylight through the window and watched the small overhead screen showing our flight progress. I didn't leave the seat at all during the flight.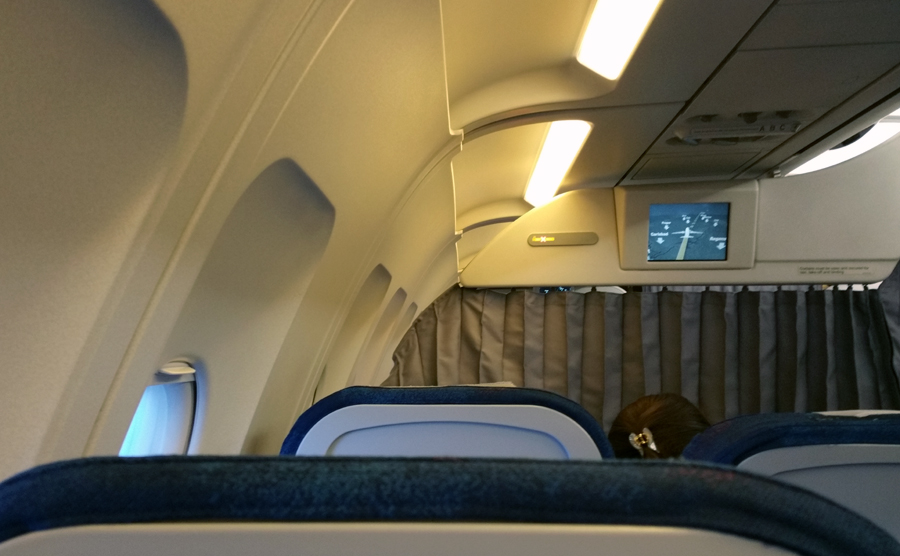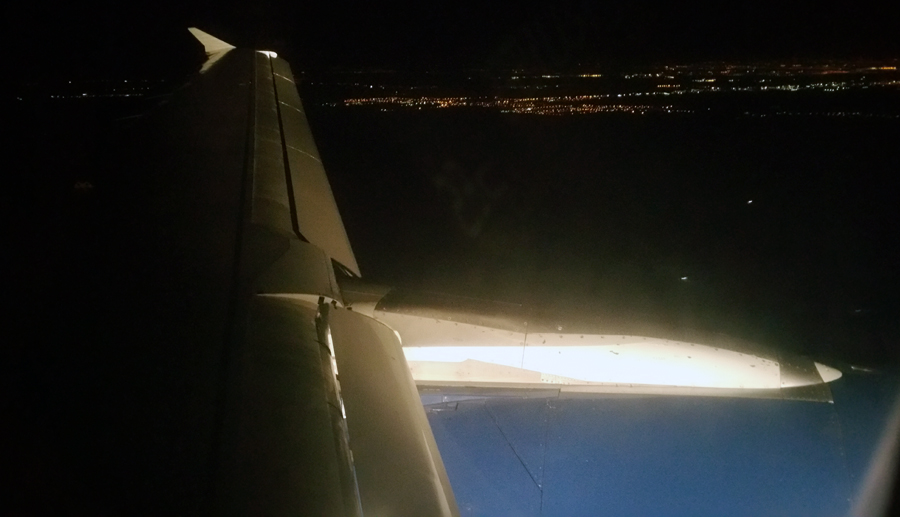 Before long it was dark as night outside and eventually we started our gradual descent into Bucharest. We touched down on Runway26R and taxied to our gate, parking next to a Turkish Airlines A321. Deplaning was quick for me as I was seated relatively close to the front. No photos of the plane at the gate...in fact I was leery of taking ANY photos in the airport during my time in Romania.
Made my way through Customs and Immigration with no problem and found my outside where I was trying to find a way to get to the Rin Hotel. They do have a shuttle bus that operates hourly but by now I'd been travelling for a couple days and just wanted to get to the hotel. I managed to share a ride in a taxi with another American (who wasn't going to the hotel) and it cost me an affordable U.S. $10. I checked in and got to the room for some much needed sleep in a bed. For 49 Euros a night it was adequate.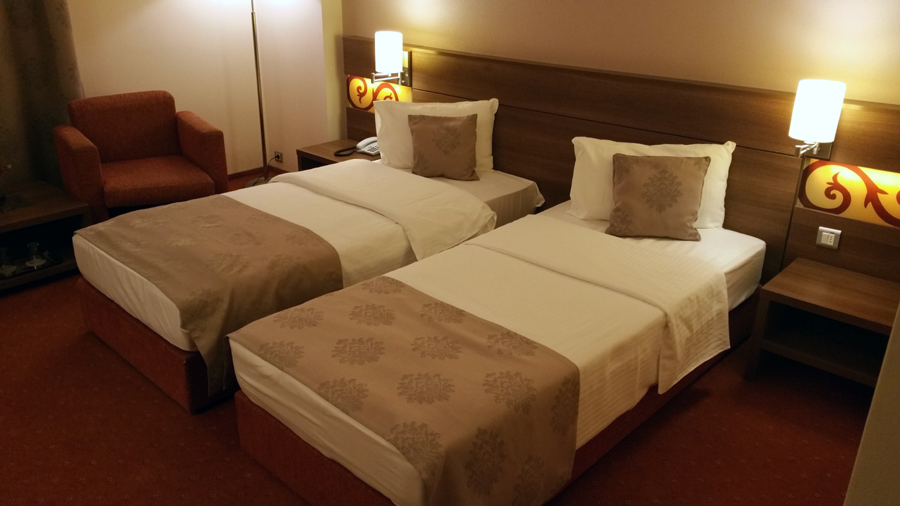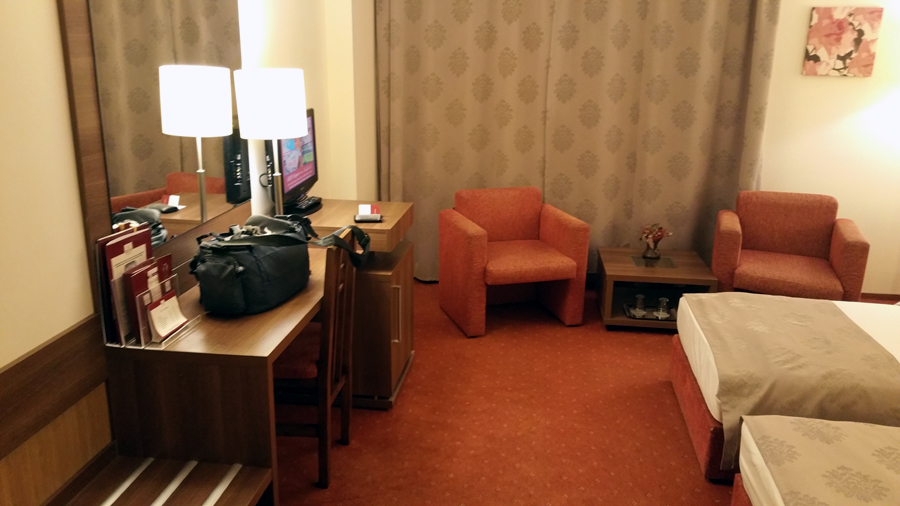 Before I departed I asked the front desk to update the departure board display and show the departures beginning at 0600. I was still in bed at 0600 but I was aware of these flights going out as they passed right by the Rin Hotel during climb out.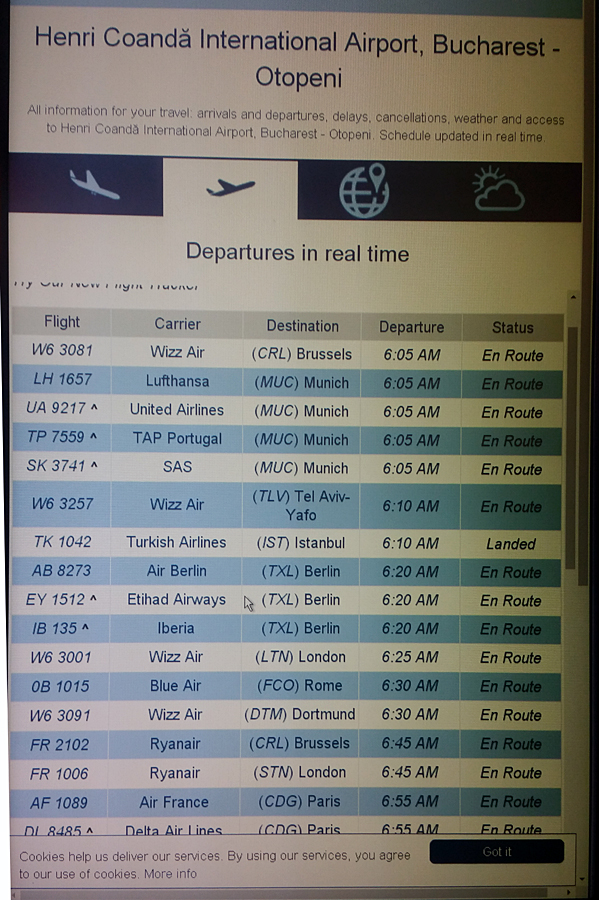 Unfortunately I didn't take any photos of the breakfast set up. It was a very nice setting with a nice variety of continental, Mediterranean, and English options. I partook in a variety of breakfast delights. After breakfast I went up to the room and gathered my gear. The bus service to the airport is hourly so I decided to take the 8am bus I believe to give me plenty of time to explore the airport. But before I got on the bus I took a photo of the hotel entrance: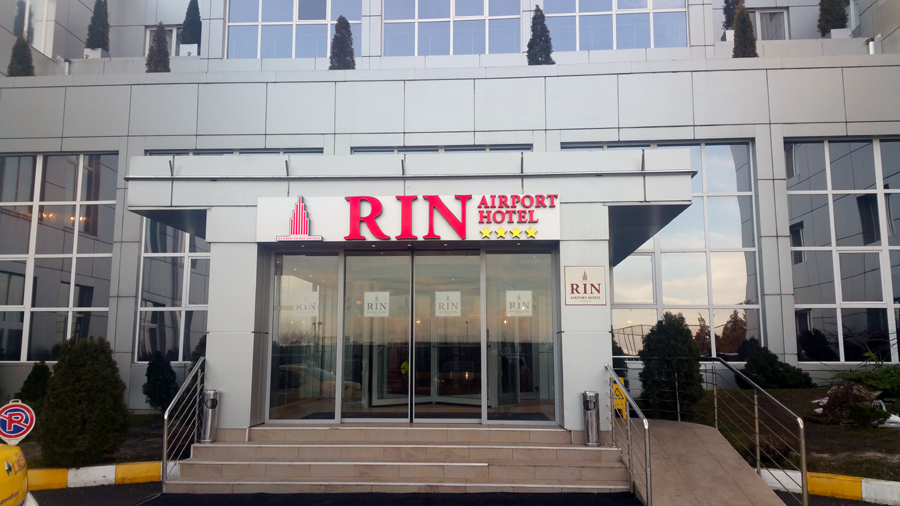 23 February 2017
Tarom Romanian Airlines
Bucharest (OTP) – London Heathrow (LHR)
RO #391
A318-111 YR-ASB
Scheduled flight time: 3:35
Once through security and immigration I found my way to the gate area. There were a number of flights at the gates. I was really tempted to take more photos but leery of what the authorities might do. I really didn't want to get in trouble at OTP and screw up the rest of my vacation for the week.
One photo I did manage from the inside the terminal at OTP was of YR-ASA departing for Munich as RO 315.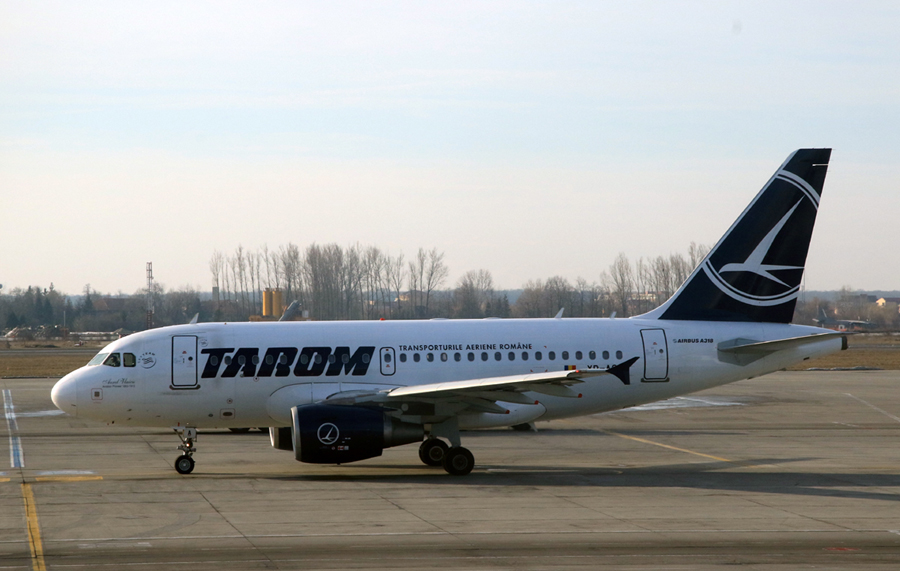 I did find some fascinating Dracula themed items for sale in the duty free shops: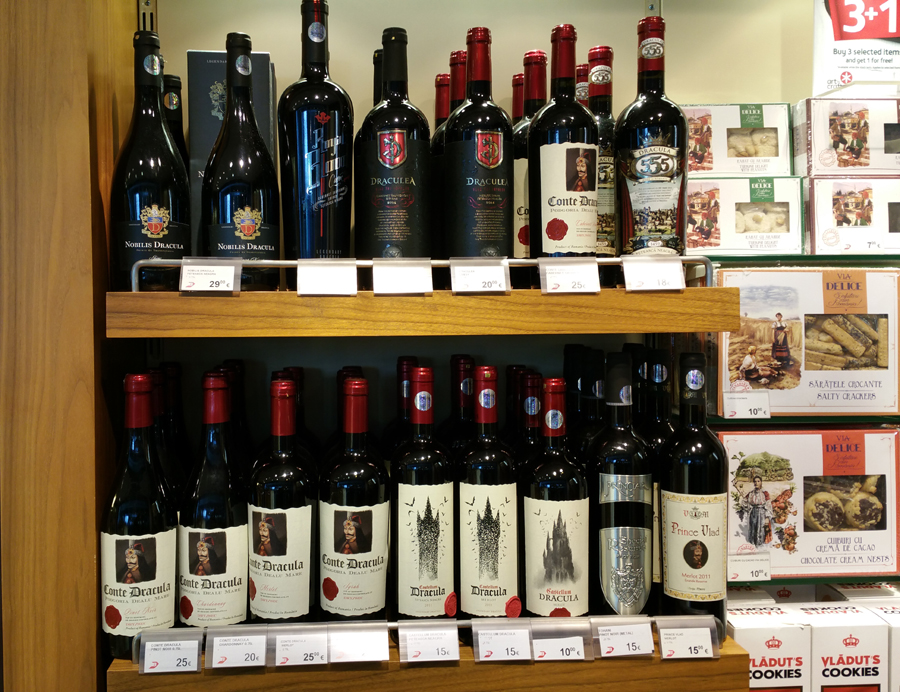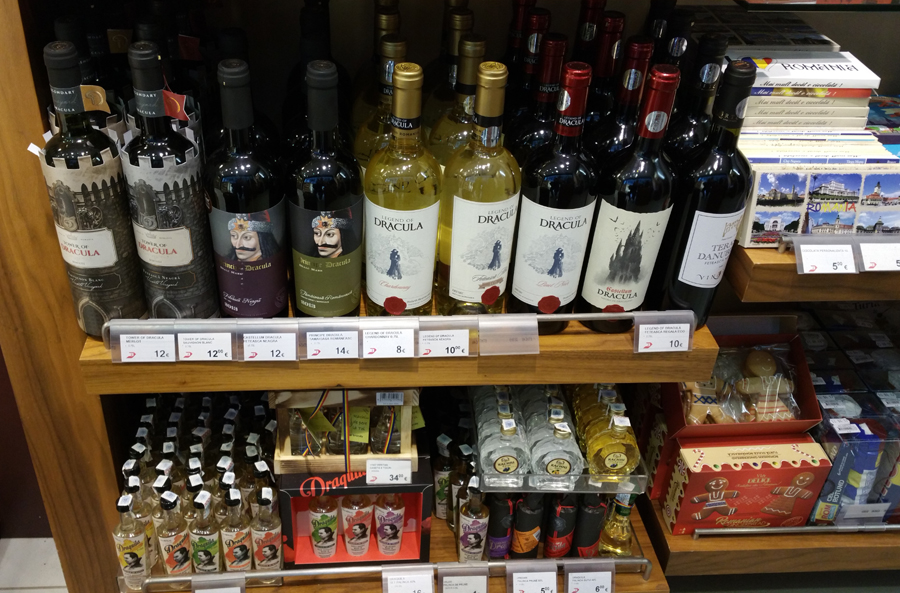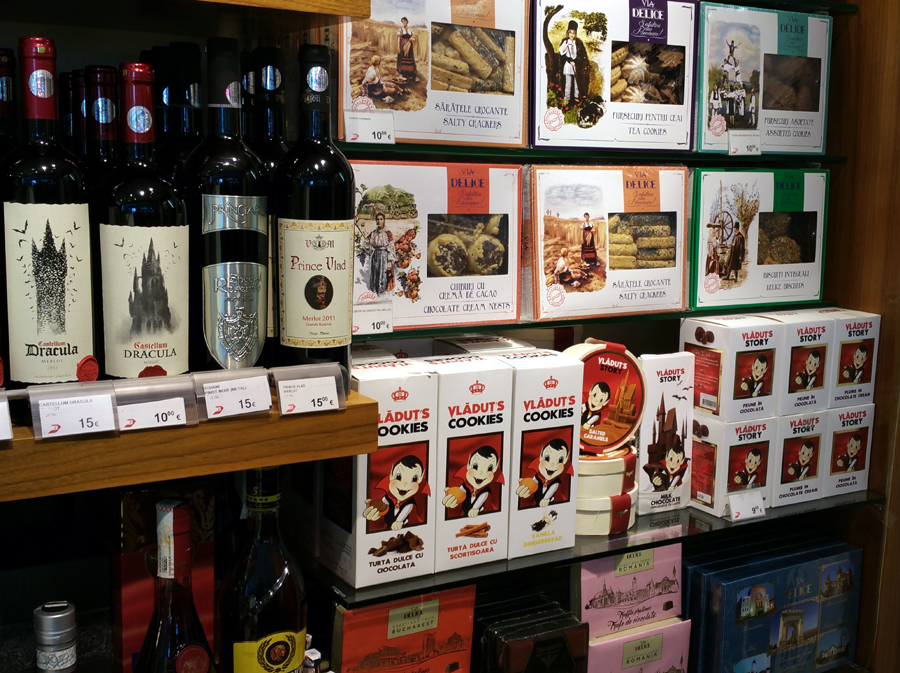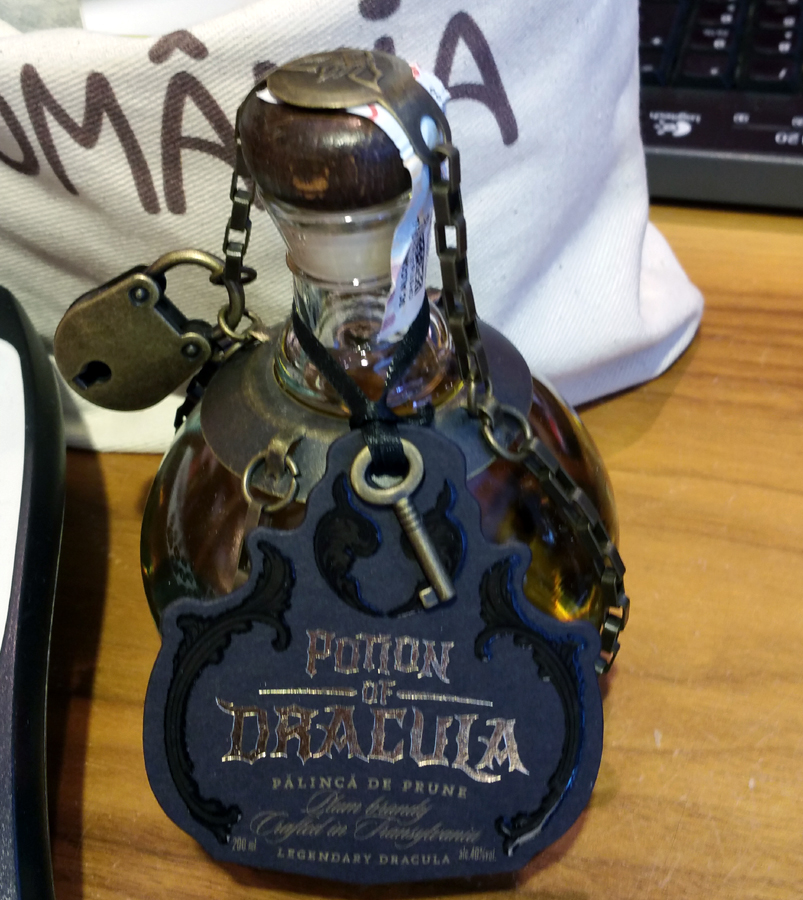 Some of the airliners seen during the visit at OTP:
Wizz, BA, LH, TK A321
RO 73G, A318, ATR42 & ATR72
Blue Air 737-400/500/800
El Al 737-900
SU Sukhoi Superjet
Ryanair 737-800
Flight time once again and the departure gate: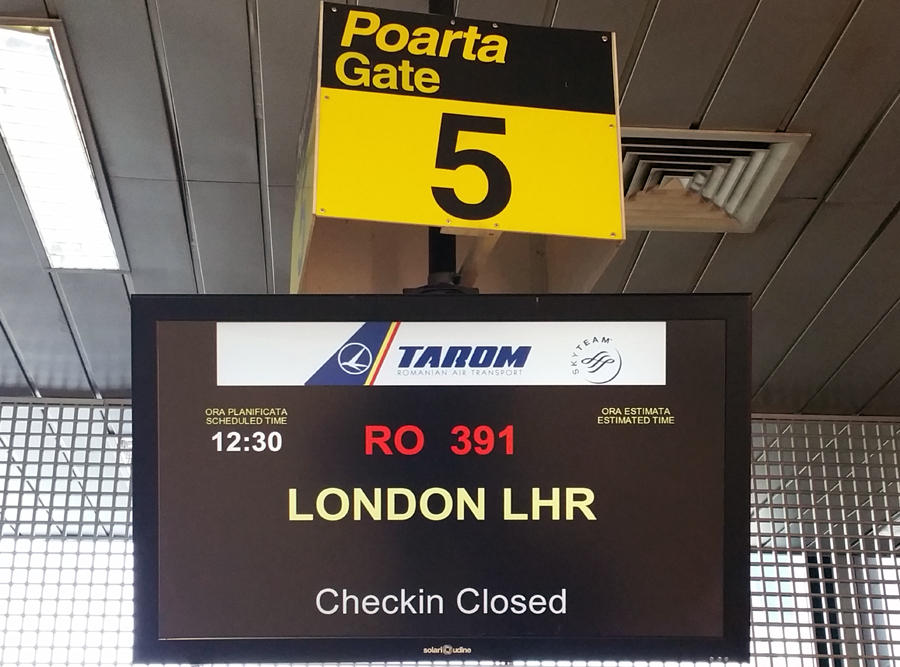 Once onboard and in my seat behind the wing we were informed we would be delayed one hour due to weather in London. As it turned out, Storm Doris was moving through the British Isles and affecting many flights and causing much trouble around the country. Thankfully our flight was not severely affected and in fact we did push for departure about one hour late.
YR-ASC as seen from inside YR-ASB while waiting for departure. I totally missed getting a photo of YR-ASC as it pushed back from the gate.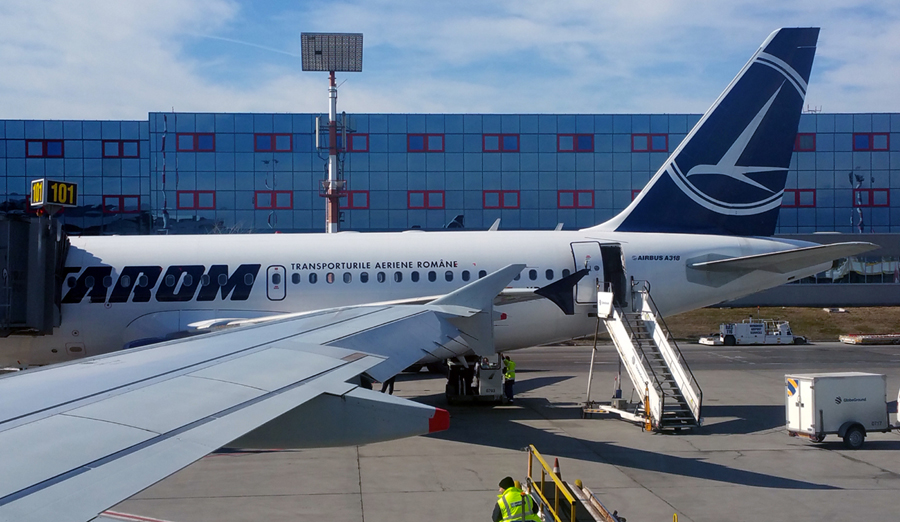 The reflection of YR-ASB as we push back for LHR.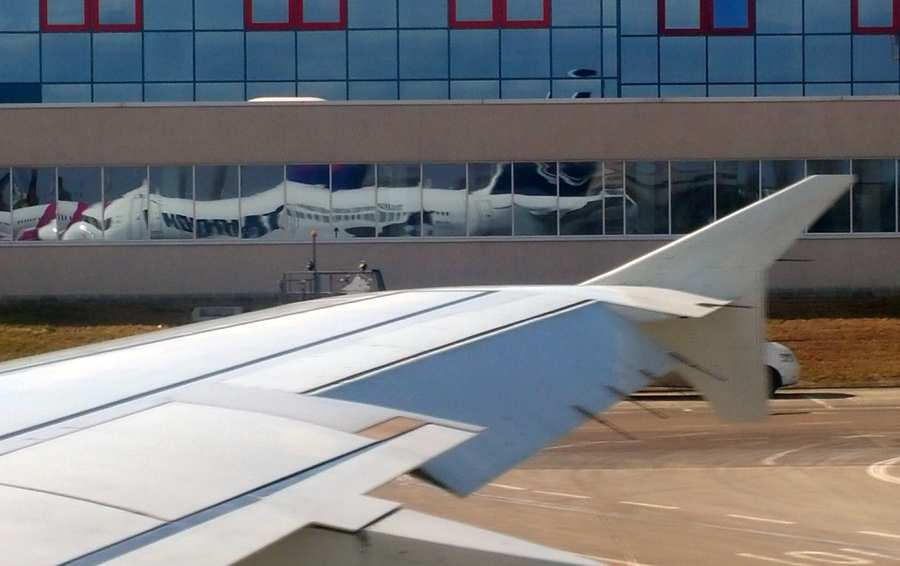 Outbound from Bucharest: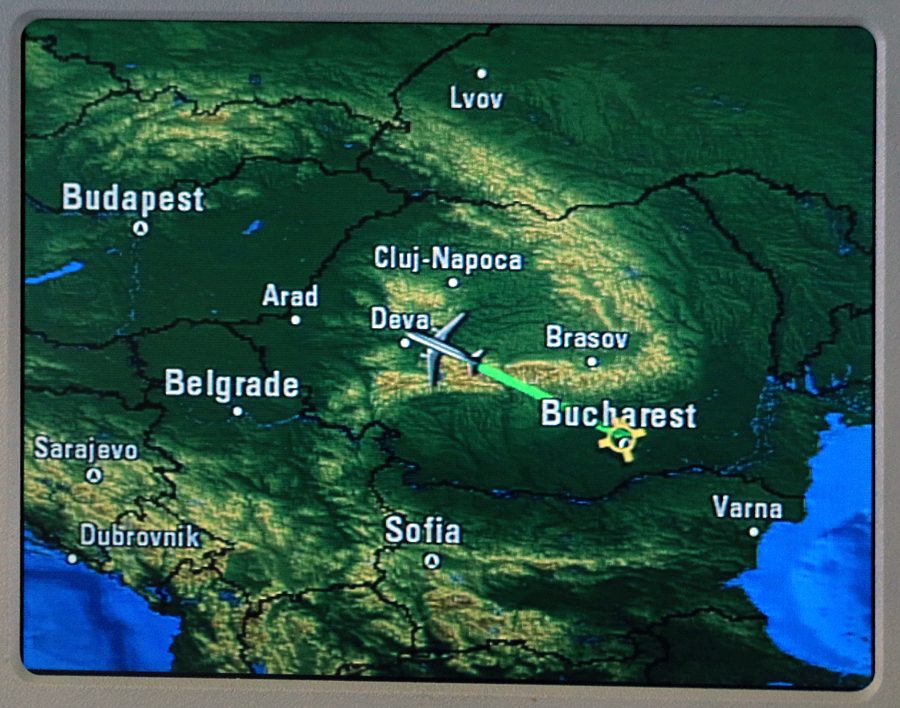 The meal service aboard the flight to Heathrow was identical to yesterday's flight. I guess Tarom aren't much for variety from day-to-day. I wonder if they cater from Bucharest with enough meals for both flights?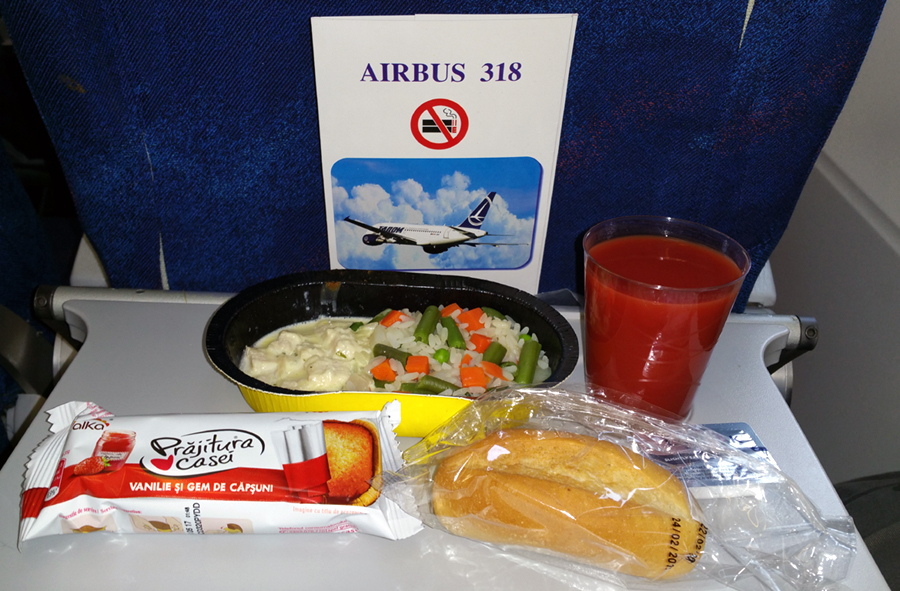 Nice image of an A318 we are flying in: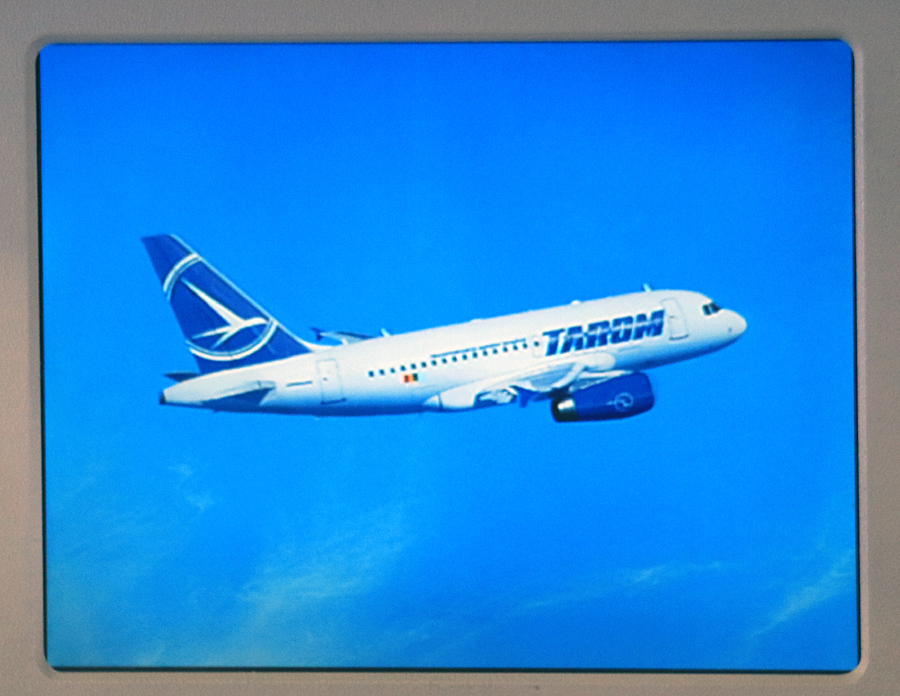 Inbound to London: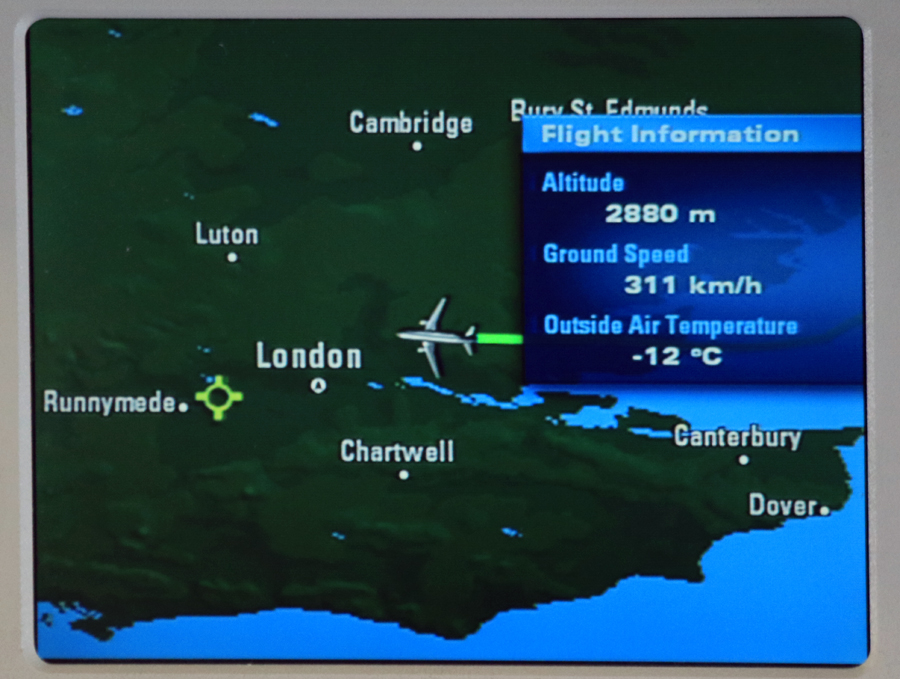 We were in a holding pattern for LHR at 10,000 feet for a few minutes before being cleared for approach to Runway 27L. Once we descended through the clouds we were over the city of London and treated to spectacular views. The turbulence was quite active and we were jostled about the entire way to the airport.
My YouTube of the bumpy descent and landing:
http://www.youtube.com/watch?v=miaftQmeRQo
Over London during descent for LHR.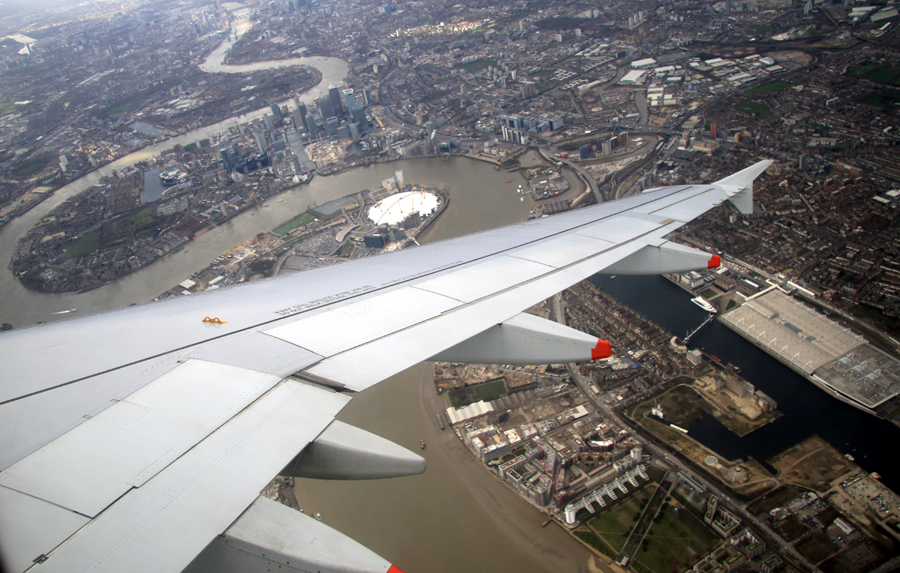 After deplaning I took my time making my way to immigration. At least it wasn't raining and there were a few planes to see and photograph along the way including this "lifer" for me:
UAE 777-300 A6-SIL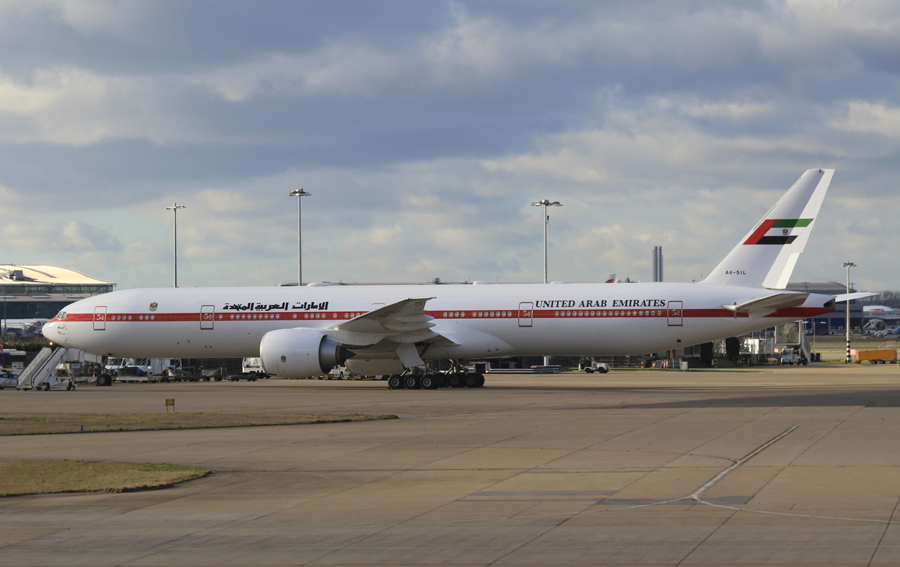 YR-ASB at the gate after I cleared immigration at LHR. This was taken through a fence outside T4 on the departure level.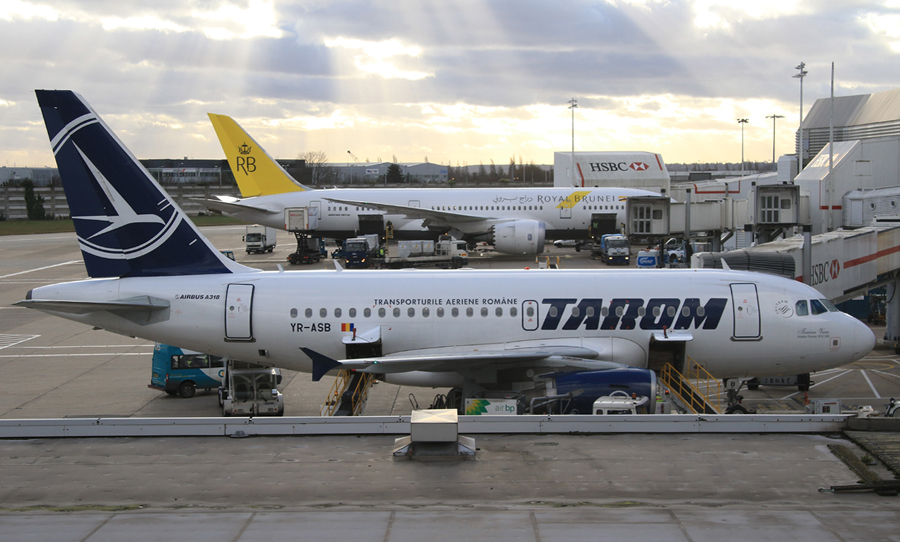 All-in-all the flight experience on Tarom Romanian Airlines was OK. Service was adequate, staff were courteous and the aircraft I flew in were both pretty clean. Since I didn't visit the restroom / loo onboard either flight I can't comment on that aspect of the cabin. The flight delay heading back to LHR was in no way their fault and the pilot gave an explanation for it.
Bottom line is I got to fly the equipment I expected to and experience the last major Airbus type I'd been missing out on. Now all I need for sub-types are A340-300 and A340-500 and the NEOs for the remaining sub-types at this point…and I'm too overly concerned about those A340s as much as I love watching them. Oh, and just in case you're wondering, I never did get a flight in an A320-100 over the years...missed out on that one!
Thanks for reading my trip report.
Aeromoe