I'll be the first to admit, when it comes to travel, I'm not really a spur of the moment guy. I prefer to book things well in advance and then meticulously plan every single detail of my itinerary. Obviously the big negative to this is the seemingly endless waiting between the time I book this and the time I depart. Now picture this. It's 2330 on Saturday night, I'm laying in bed, tired and I've just recovered from a night out with friends the previous evening. Having spent much of the day asleep, my body clock is messed up and sleep just won't pay me a visit. Although not intending to fly anywhere I decide to play about with Skyscanner and various other flight search engines before I end up at Korean Air's website.
It's the 11th of March, Korean Air had taken delivery of their long awaited 787 on the 23rd of February and since then they have been flying it around on training sorties between Seoul Gimpo, Incheon, Jeju, Muan and Tokyo Narita. Despite having been scheduled to have entered service flying three daily round trips between Gimpo and Jeju from the 7th of March, these never commenced. However according to the airline's website, Sunday morning's Jeju bound KE1209 was meant to be operated by the airline's 787-9 at 0900. It really did seem as if this was the inaugural flight! Surprisingly, despite being less than 10 hours from the departure time, the flight costed a pretty average 60000 won. Now, something you should know is that I'm a pretty average traveller, I'm sadly not someone who can fly around the world taking every inaugural flight possible. I'm a university student who avoids taking the subway wherever possible in order to save money. And so, in the spur of the moment I booked it. It was an opportunity too good to miss. The only slight down side to this was the fact that because I booked late all window seats appeared to be unavailable. After booking I was left with the small problem of making my way back to Seoul. Many flights appeared to be sold out and those that weren't were only the expensive end of the spectrum costing at least 90000 won. I narrowed down my options and chose a 1210 Korean Air Boeing 777-200ER flight to take me back to the capital.
After trying my best to get some sleep, I awoke at 0600, had a quick shower and was out of my room by 0620. I was travelling light that morning with only my winter coat, no bag. At this time on a Sunday morning the streets and subway were mostly full of Saturday night drinkers stumbling home after a heavy night. I made it to Hongdae station just before 0640 which seemed to be quite nicely timed in order to catch a train to Gimpo Airport where I arrived at 0655. Anyone that's taken the train to Gimpo Airport will know that the walk between the station and the terminals is quite far and so it was another 10 minutes before I arrived at the departures level. Having had my boarding pass sent to me via the messaging app KakaoTalk, there was so need to check in again. However wanting a paper boarding pass I headed to the check in area to get one printed. Sadly the machines couldn't do this as I had already checked in and I didn't want to queue so I just headed airside. There was no sign of anything special happening that day at the check in areas although perhaps that was because I was a little early. I did however notice far more KE staff than usual and there were a number of people with large DSLRs hanging about both landside and airside.
Gimpo Airport station just before 7AM
The ID check and security areas were devoid of passengers and so by 0711 I was airside with an hour and a half to spare until my flight began to board. Usually at Gimpo's domestic terminal, Korean Air, Jin Air, Eastar Jet and T'Way usually use gates 1 to 13 on the east side of the terminal and Asiana, Air Busan and Jeju Air use gates on the west side (13-20) and so I was a little surprised to find that my flight would be departing from a traditional Asiana gate (gate 17). These days modernisation work in the terminal means that many areas here look like a construction site. I'm looking forward to seeing what Gimpo will look like when these are finally complete, that said I don't really have any problems with the terminal as it is now, there's usually ample amounts of seating and everything is always kept clean and tidy plus I've never had to queue for a long time anywhere in the airport.
Airside – Old Style
Airside – New style
Looking Eastwards
The variety of destinations from Gimpo's domestic terminal isn't that great
Outside plenty of aircraft were readying for flights to Jeju, Busan, Yeosu and Pohang. My Boeing 787 could be spotted resting at stand near the Korean Air hangars. After the Air Busan A320 occupying our gate pushed back, our aircraft began to be towed to gate 17. There were a reasonable number of enthusiasts of all ages both male and female waiting there for the aircraft, snapping away as it was pulled into perhaps the worst gate for photography. On the ramp our aircraft seemed to be attracting a lot of attention with what seemed like far more people surrounding the aircraft than one would usually see. Our aircraft for the flight was Boeing 787-9, HL8081 which was built in Charleston and delivered to Korean Air at the end of February 2017.
Making its way to the gate
As time passed the gate area became busier and busier, in fact most of the seats being taken. However there was nothing here to suggest that this flight was special, bar of course the unusually high number of enthusiasts and the senior looking officials watching the boarding process. Boarding began on time at 0840 and after a short queue I found myself heading down the jet bridge. I received a friendly greeting at door 1L by one of the cabin crew members who advised me which aisle to take, not that I really needed advising. Looking back, I'm pretty sure that was the only time I've ever boarded a 787 through the 1L door and not the 2L door. As I made my way down to seat 50G I received a warm greeting at various locations along the aircraft. On board plenty of people were taking photos and this seemed to cause no problems with the crew who I guess were expecting a large number of enthusiasts. The interior features 24 sleeper suits, 6 in first class and 18 in Prestige class, as some of you already know these have caused a bit of a stir for being identical. There are also 245 economy class seats in two cabins, the first cabin features these in a blue colour and the second in a brown colour as is the norm on Korean Air aircraft. Personally, I find the colours used and the seat patters in their economy class pretty boring and prefer that Asiana. The economy seat itself was rather comfortable with plenty of legroom. The modern looking PTVs seemed to be the same model as those used on Vietnam Airlines' 787s, which I recalled as being pretty high quality and responsive. As one would expect the aircraft appeared to be very clean. Surprisingly the flight wasn't incredibly full with a load in economy of around 65%. The window and middle seat next to me remained empty for most of the boarding process until someone came at the last minute to take the window seat. On the other side of the aircraft however, 50A remained completely empty and so after asking the crew I was given permission to switch seats.
Making my way down to the aircraft
A nice mid wing wingview
The seat
Looking inwards
The view from my new seat
Looking upwards
Boarding was completed by 0855 and the crew performed their welcome speech in Korean and English before an automated announcement was played in Chinese. The flight time for today's flight was announced as a pretty standard Seoul-Jeju flight time of 55 minutes. After this the rather dated looking Korean Air safety video played and we began our pushback at 0906. The cabin fell near silent as the electrical whirring began and engines began to roar into life after which we began our long-ish taxi to runway 14L. As we made our way there a KE 777 and 739, Jin Air 738 and T'Way 738 all departed. At 0918 after a short hold, we taxied onto runway 14L and two minutes later we made a powerful takeoff into the murky Seoul sky. Many people seem to go on about the quietness of the Dreamliner's engines however the only airliner which I have found to be noticeable quieter than others is the Airbus A350. Sorry Boeing!
Time for the safety video
Making our way to 14L
Up, up and away!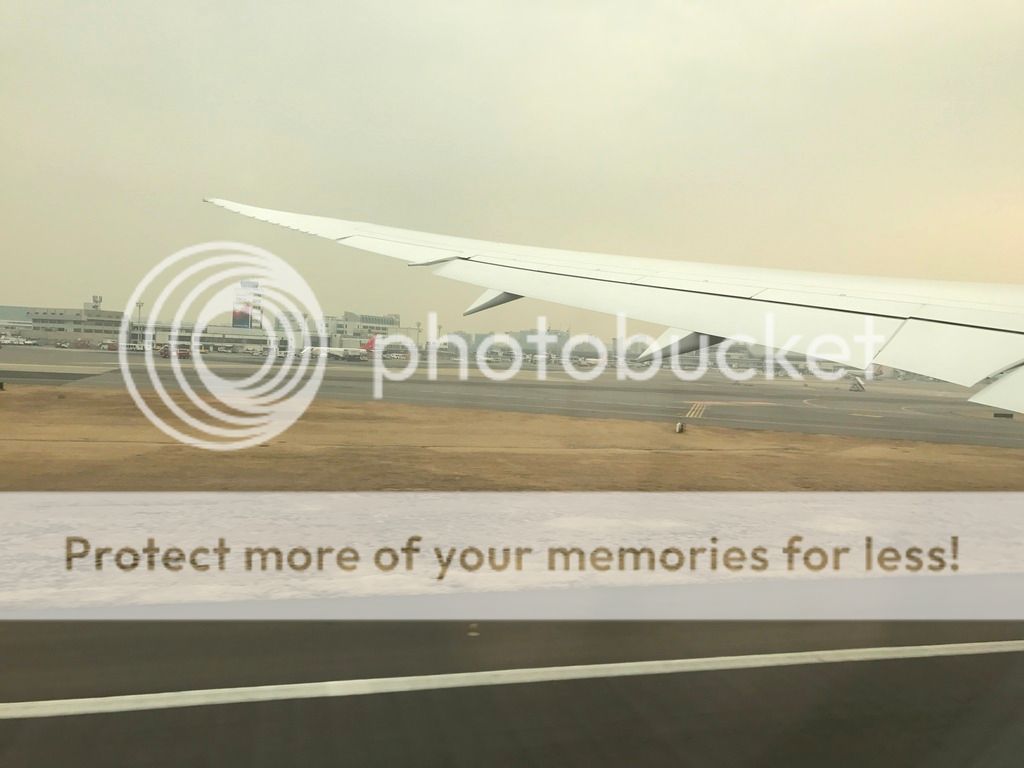 Climbing higher…
…and higher
A quick look at the safety card – there were two in my pocket, perhaps they were expecting enthusiasts to take them. Not that I did though!
The climb to 27000 feet didn't seem to last too long and featured the occasional lump and bump as did the entire flight, however this was never significant enough to justify turning the seatbelt sign on. Fifteen minutes or so after departure the inflight service began, as expected this consisted of a drink of the passenger's choice. Throughout the flight the PTVs remained on the welcome screen, as seems to be the norm for PTV equipped aircraft operating Korean Air domestic flights whilst the overhead screens showed a moving map. Our route was pretty standard and pretty much followed Korea's western coastline down to Jeju. The skies were rather cloudy until we reached Gwangju, from there on good views were offered as we headed down to Jeju. Before we commenced our descent I made a trip to the bathroom which was clean and tidy, one thing I noticed which I haven't on previous 787 flights was how loud the flush is on this aircraft. Something else I experienced throughout the flight was electric shocks every time I touched the seat backs. Usually when flying in Korea, the captain will usually make an announcement as the aircraft climbs or as it reaches cruising altitude however this didn't happen on my flight until we reached the southwestern city of Gwangju, 30 minutes into the flight just before we commenced our decent. The American captain made an announcement informing us that this was the first revenue flight of the 787 with Korean Air as well as the usual information about our speed and altitude.
Definitely on a 787
Inflight service
The rear galley
The mountains of southern Korea
Our descent was very scenic offering us good views of the islands of Jeollanam-do and of Mount Halla's peak (the tallest mountain in South Korea). As we descended a constant stream of aircraft flowed above us at cruising altitude heading to/from Seoul. The crew made their final checks as we continued to sink lower and lower. Despite the fact that aircraft had been landing into the west that morning, which would mean good views of the island's North shore, our approach seemed to line us up for runway 07 which meant I would not receive these views. That said, I'm not complaining considering how I didn't expect to end up next to a window on the flight! That said some nice views were offered of the island during the final stages of our approach.
Commencing our descent
Mount Halla in the background
Mount Halla and the Chuja Islands – home to around 2000 people, a 2 hour ish ferry ride from Jeju. Pretty remote for Korea
Above dry land
At 1019 we made a smooth touchdown on runway 07 which was followed by some heavy braking. We turned off the runway slowly and I was expecting our aircraft to receive a water cannon salute however there was no such fanfare and instead we made a simple taxi to gate 13 where we pulled up beside the same Jin Air aircraft that departed whilst we made our taxi to the runway at Gimpo. After our arrival at the gate it seemed to take a while before disembarkation began. After thanking the crew I made my way up into Jeju's Incheon style gate, the walk to arrivals seemed to be pretty far however this may just be because we were halted several times on our way to allow departing passengers to make their way to their aircraft. Almost down
Heavy braking
Pulling into gate 13
Last look at the seats
Sadly I won't be flying in these seats any time soon!
Goodbye HL8081
CONCLUSION
Given that the aircraft was brand new, it'd be a little strange if the interior appeared battered and thus, as expected the aircraft's interior appeared to be in perfect condition and clean. The seats were comfortable and the legroom was very good. I can't really make any comment about the IFE other than that the screens seemed to be of a good quality judging by the safety video and my experience with the model whilst flying with Vietnam Airlines. As for the crew, they were standard for Korean Air, friendly and went about their job in a professional manner so no complaints here. The biggest surprise about the flight was the apparent lack of any celebration given the fact that this was the first revenue flight of the Boeing 787 Korean Air. Were it not for the many enthusiasts taking photos on the aircraft or the fact that the captain briefly mentioned it during his announcement then perhaps your ordinary passenger would have no idea that this flight was in any way special. I imagine there was some celebration when the aircraft arrived in Korea and perhaps there will be when it makes its first revenue flight from Incheon. And finally, would I be willing to fly long haul on a Korean Air Dreamliner? Yes! Of course!
Thank you for reading and I hope you enjoyed the report!
Final view of our new aircraft
Other Trip Reports
Korea Domestic
Asiana Boeing 767 Gimpo-Jeju
Air Busan A320 Busan-Jeju
Jeju Air Boeing 737-800 Busan-Jeju
Jin Air Boeing 777-200ER Jeju-Gimpo
Korean Air Boeing 747-400 Gimpo to Jeju
Korean Air Airbus A330-300 Jeju to Busan
Short Haul
Cityjet Avro RJ85 London City-Cork
Citywing (Van Air) LET 410 Cardiff-RAF Valley
Far Eastern Air Transport MD-80 Taipei Songshan-Makung
Thai Airways Boeing 777-300 Bangkok-Phuket
Ukraine International Airlines Boeing 737-800 Kiev-Istanbul
V Air Airbus A320 Taipei-Busan
Medium Haul
China Southern Boeing 777-200 Urumqi-Beijing
Vietjet Airbus A320 Ho Chi Minh City-Taipei
Long Haul
China Southern Airbus A330-200 Istanbul-Urumqi
KLM Cityhopper/KLM Fokker 70 and 747 Combi Humberside-Amsterdam-Seoul Incheon
Korean Air A380 Seoul Incheon-Paris CDG
Oman Air Airbus A330-300 and Boeing 787-8 Heathrow-Muscat-Bangkok
Thai Airways Bangkok-Karachi-Muscat
Vietnam Airlines Airbus A350 and Boeing 787-9 Heathow-Hanoi-Seoul Incheon