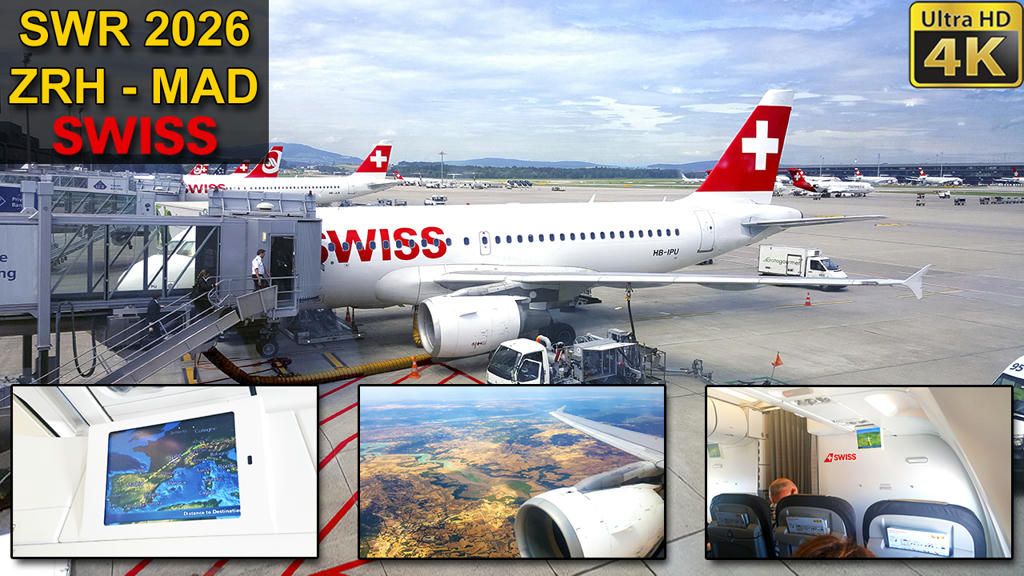 After a quick and easy connection at Zürich Airport (coming from Vienna) we boarded on the A320 (initially an A319 was scheduled) which would take us to Madrid.
The takeoff was from runway 28, heading west. Before taking off, during taxi, we had the extreme luck of seeing a perfectly preserved and operative DC-3, which in its days even participated in the Normandy Invasion. It is incredible to contemplate, nowadays, planes of that time in international airports like Zürich, for example.
About 20 minutes after takeoff, 10 of them in clouds, we leveled at FL370 and started the free catering service (included in the price of the ticket).
The flight passed, well into the Iberian Peninsula, on a sea of ​clouds that appeared to have no end. Finally, we began to see the Pyrenees, which seemed to be the barrier of all that cloudiness.
We landed in Madrid on runway 32R, after a beautiful approach in which we could see perfectly the large number of reservoirs and marshes that are in the area. The light was perfect for it, something that at that time of day is not usually given.
The taxi to the gate took us a lot of time (around 15 minutes), but it allowed us to contemplate a lot of airplanes (especially the big ones at the Terminal T4S). Passing, also, in parallel to the B777 of AeroMéxico and an A332 of Air Europa, that were taxiing to runway 36L to take off, respectively, to Mexico City and Cancún.
Our flight ended at Terminal 3; A place that is increasingly frequented by airlines other than SkyTeam (due, I suppose, to the growing traffic that is experiencing Madrid airport).
I'm sure you'll enjoy the video review. Give it chance!

LINK TO THE VIDEO REPORT: https://www.youtube.com/watch?v=G_75nUrtLX0