This report is written about one year ago. I decided to post this because I think it should be an interesting read alongside another report I wrote recently and would hopefully let more people read about the flight experience on board a now defunct airline. This report was already posted elsewhere so it might seem familiar to some readers. My english is not that good so sorry for any grammatical issues. For the outbound, I chose to fly on Malaysia's newest airline, Rayani Air, which is fully Shariah compliant. I flew back to KUL on MH in business class. I was actually looking to go to Penang again but had noticed some really low fares to Kota Kinabalu which had swayed my desicion. The flight to BKI Malaysia's second busiest airport) takes around 2 h 30 mins to travel across the South China Sea. So, here we go!
Rayani AirRN130
KUL-BKI
Boeing 737-4H6
9M-RKA
Economy Class
Seat 15A27th February 2016
STD: 1245
STA: 1520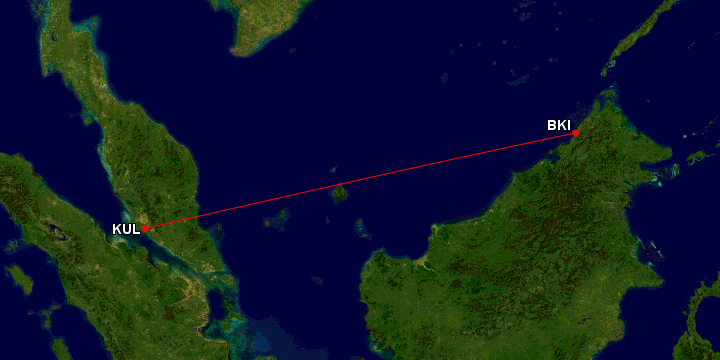 I arrived at KLIA2 about 3 hours before departure to find the check in counters closed.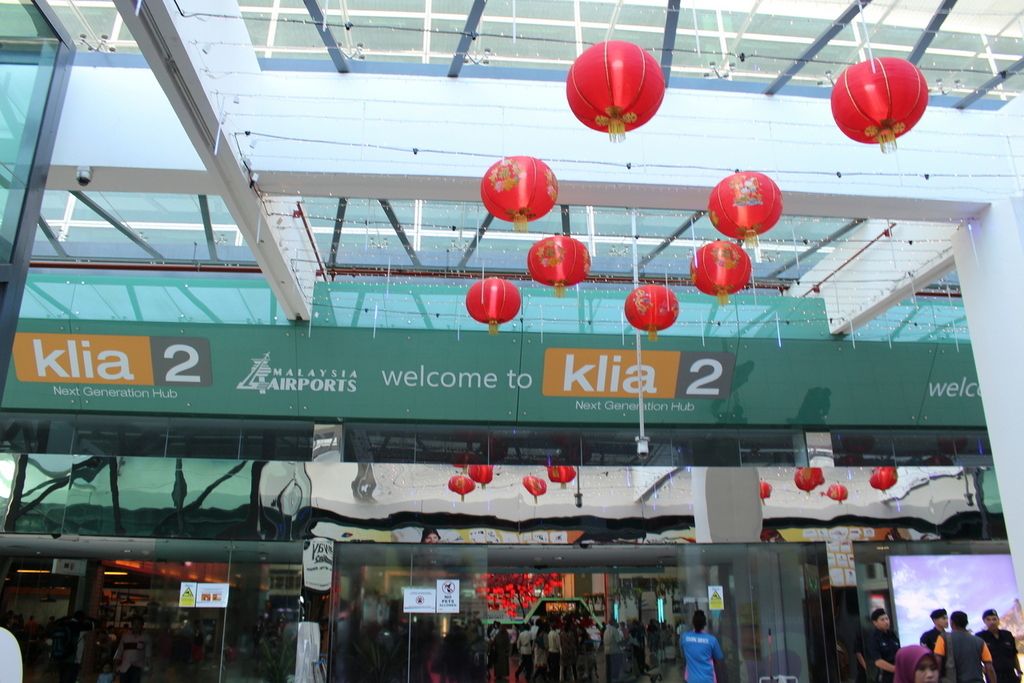 Entrance to KLIA2
KLIA2 Departure Board
A check of the FIDS shows that my flight is still not open for check in. Luckily it is not cancelled or delayed as Rayani has a tendency to cancel flights if the load is too low or the aircraft has gone to tech. Teething problems for a new airline (In retrospective, it proved to be their downfall), especially one with only 2 used ex-MH 734.
2 hours 45 mins prior to departure the agents showed up and a short line has formed at the counters. RN uses row S counters at the far left of the KLIA2 check in hall. Online checkin is still not available on this new airline.
Rayani Air Check In Counters
I have read before that the window seats behind the emergency exit row has extra legroom, which is what the agent has assigned to me. Unfortunately the agent is not well versed on the layout of the plane. As a result, the row assigned was one row behind the one I want. As there are still 2 hours till departure, I took a train to the main KLIA terminal to do some planespotting.
KLIA main terminal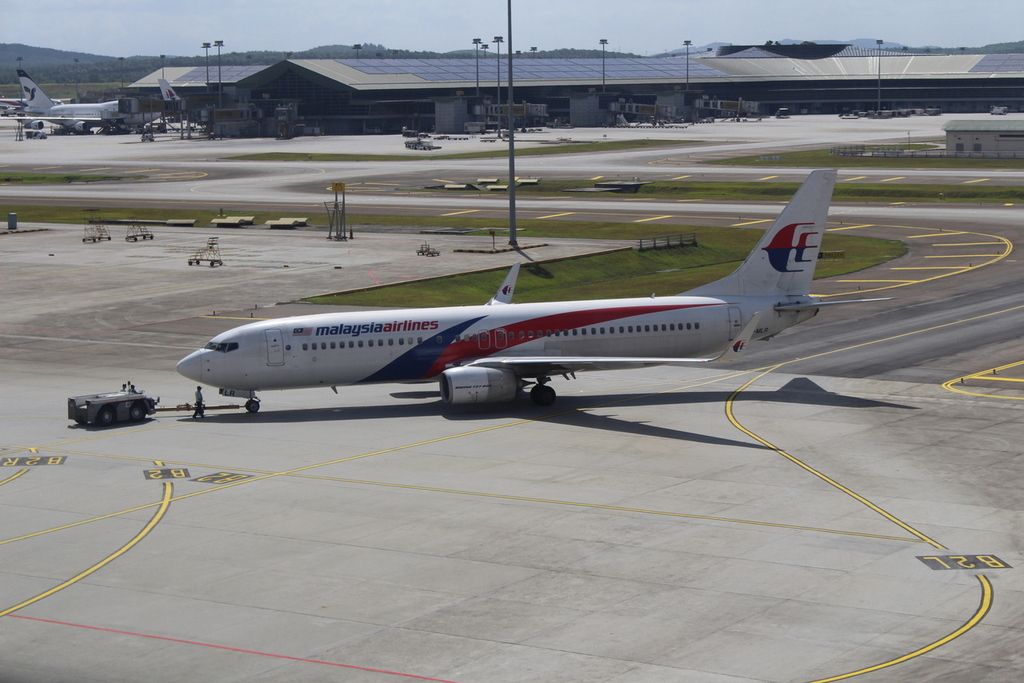 Planespotting at KLIA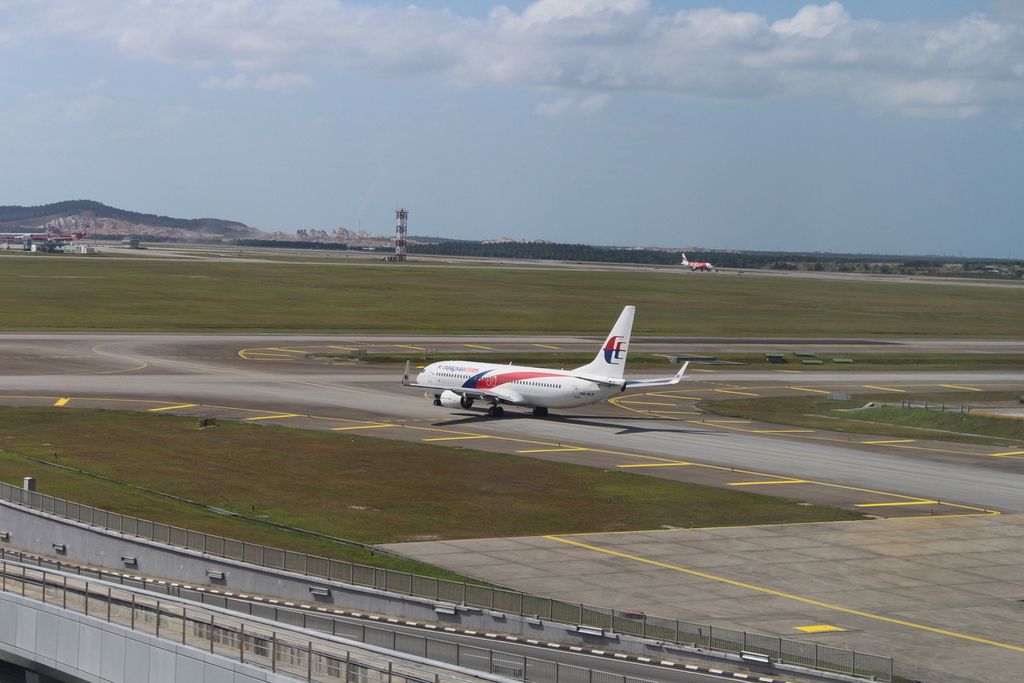 Malaysia 737 taxiing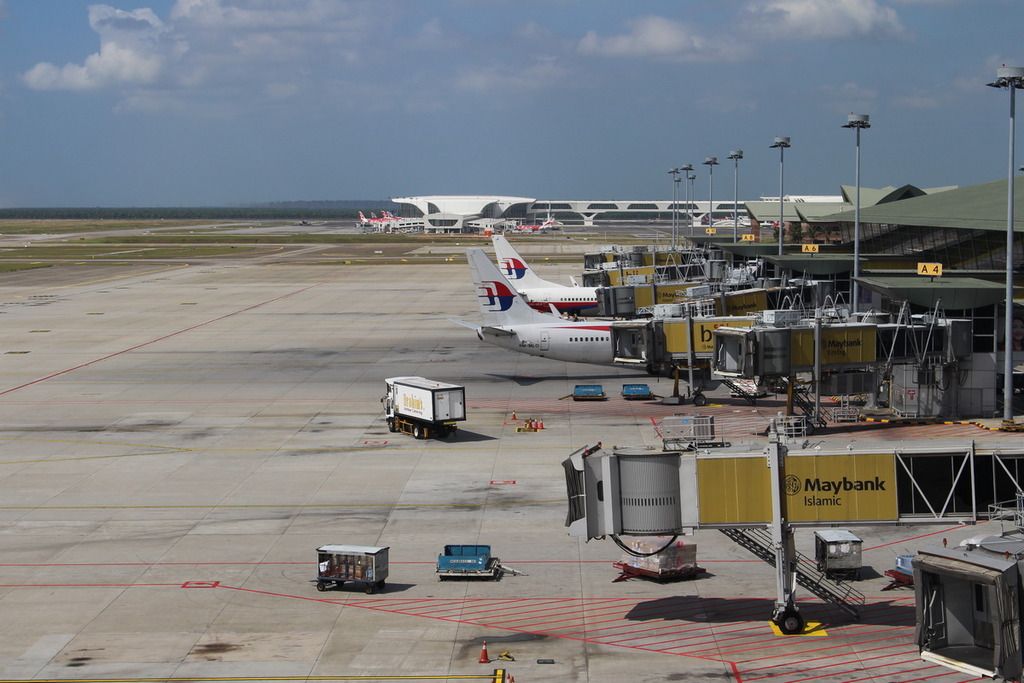 Quiet KUL
As seen in the images, KUL is quite empty at this time.
Malaysia A330 and ANA 787 at Satellite Terminal
The now retired Malaysia Airlines 777
On the way back, I spotted a dash of green among the sea of red and
white. The 734 has arrived from KCH. Pretty neat looking livery too, although they just painted the MH's red cheatline and engine green. It is parked between an OD 738 and an AK A320.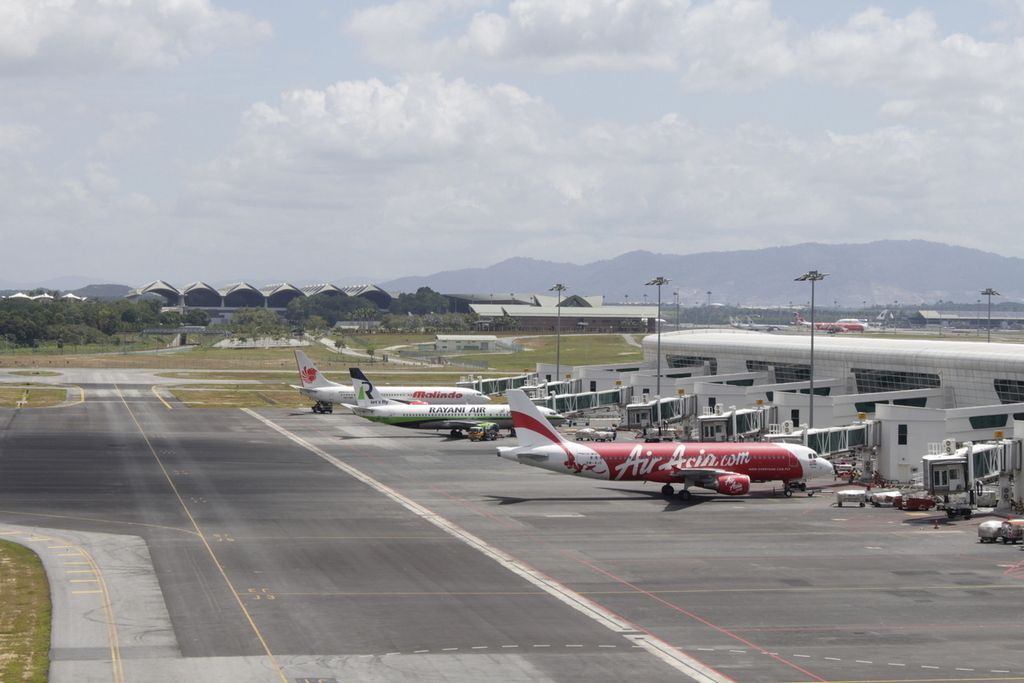 Rayani 737, Malindo 737 and AirAsia A320, a sight never to be seen again
Quite happy to know that my flight is not delayed.
Gate J13 is quite a trek from the departure hall, requiring a 15 minutes long walk.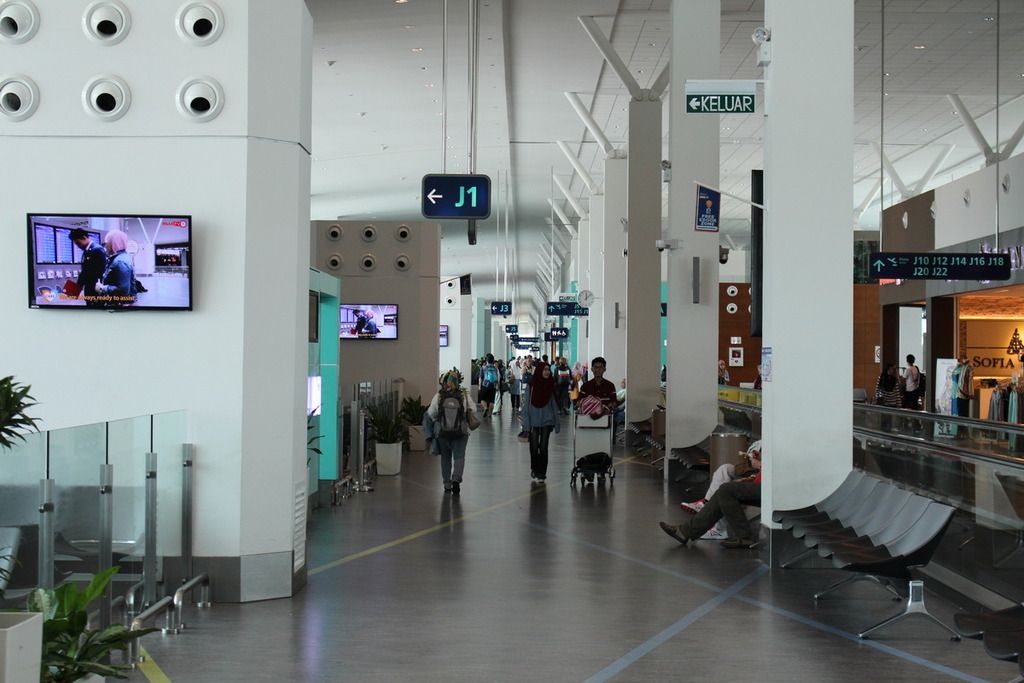 Domestic Departure Hall of KLIA2
Boarding was called 20 minutes to departure but I waited until the gate holding area to be almost empty before boarding, trying to snap more pictures of this unique looking jet. Unfortunately the windows arrangement of KLIA2 did not allow photos from nicer angles to be taken. 9M-RKA was an ex-Malaysia Airlines bird delivered in 1992 as 9M-MMK. It was retired in 2014 before being acquired by Rayani Air.
Rayani Air 737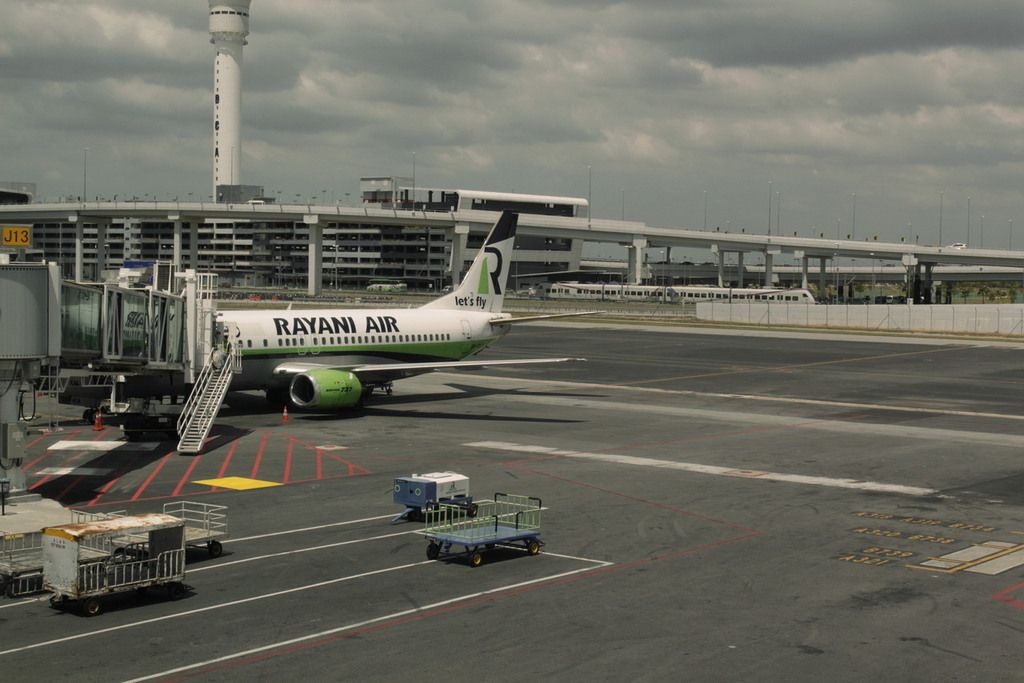 Rayani Air 737
Boarding Process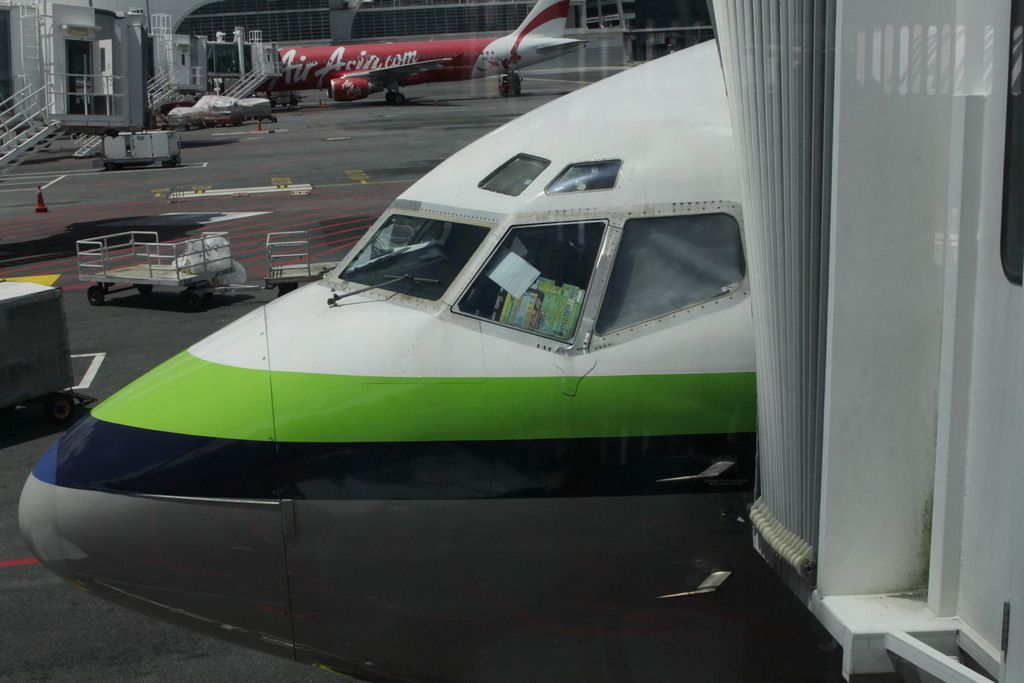 Close up of 9M-RKA's nose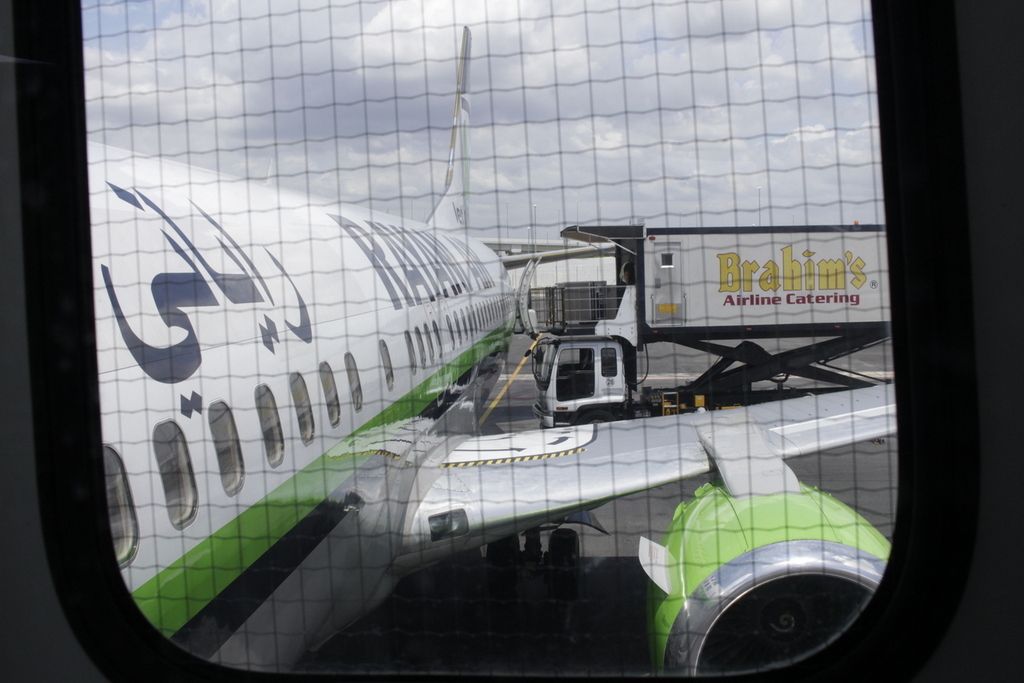 Fuselage and Engine View
The interior is nicely maintained and clean, albeit a bit dated. The seats are identical to those used by MH before they retired the 734s. The cabin is basically a time capsule of MH's 734. Seat pitch is quite generous, more than the 738 used by MH today and comparable to Malindo's 737. The load is quite healthy in Y, but none of the J seats are taken. I suppose they are not established enough to have people willing to pay for J. Seat 14A, the seat that I originally wanted has extra legroom since the row in front consists of only 2 seats. Its compatriot 14F across the aisle also has the additional legroom.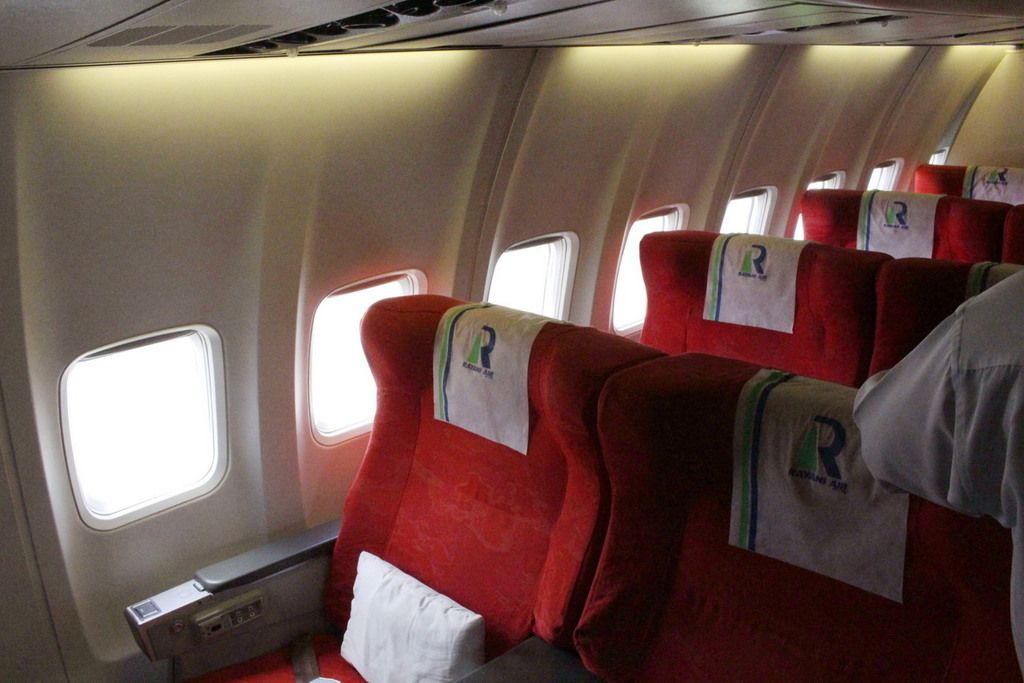 Business Class Cabin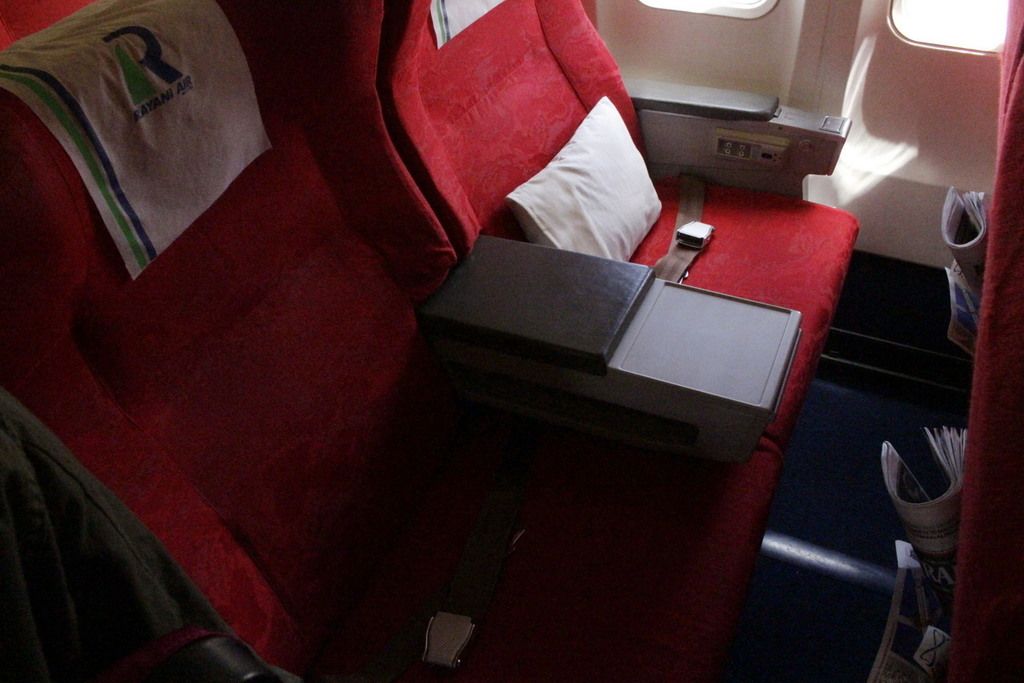 Business Class Seats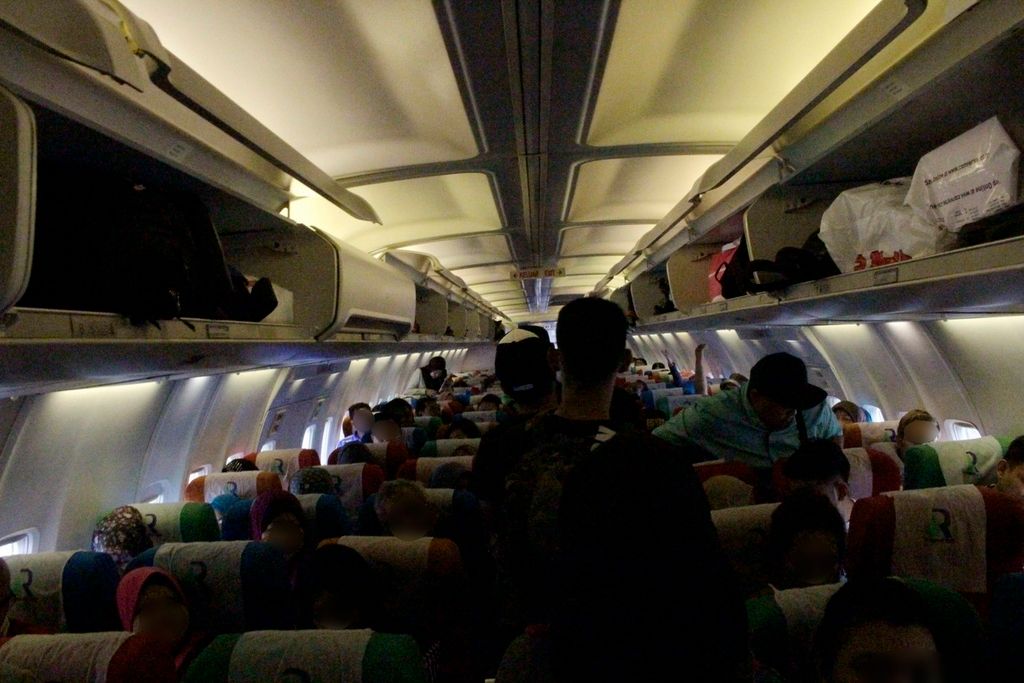 View on Boarding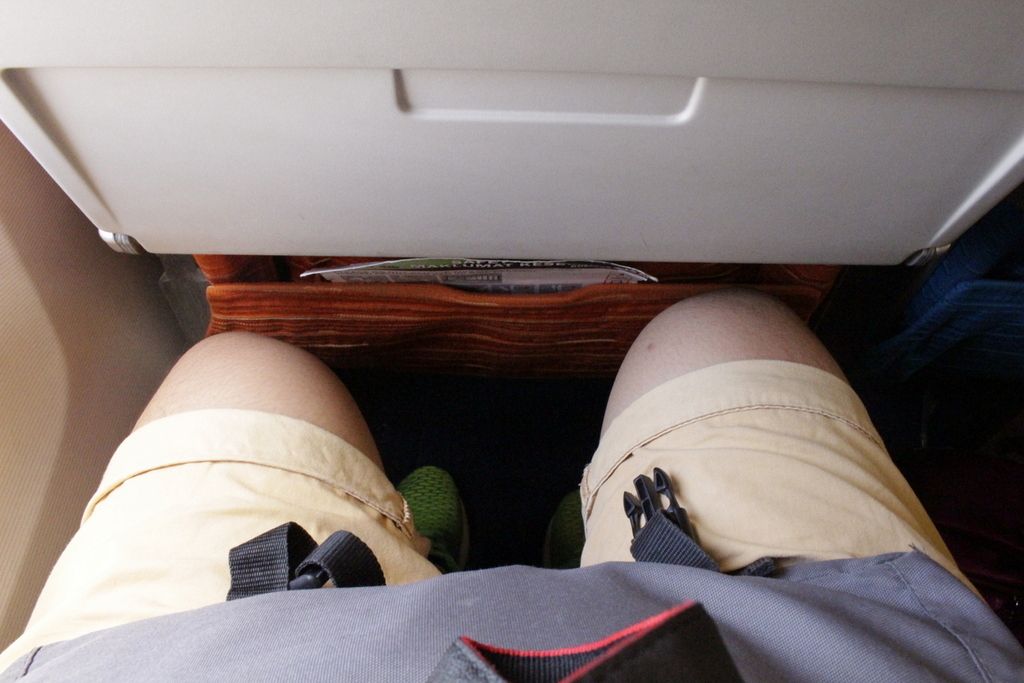 Legroom
An islamic prayer is done by the FA during taxi. The brakes on this 734 made a loud grumbling noise whenever the pilot applied the brakes.
The taxi at KUL took a really long time. We were behind an AK A320 waiting to takeoff and was held at the runway for 2 flights to land.
Video of takeoff:
[url]https://www.youtube.com/watch?v=M7AS4GT_8LI"]Rayani Air 737-4H6 takeoff KUL-BKI[/url]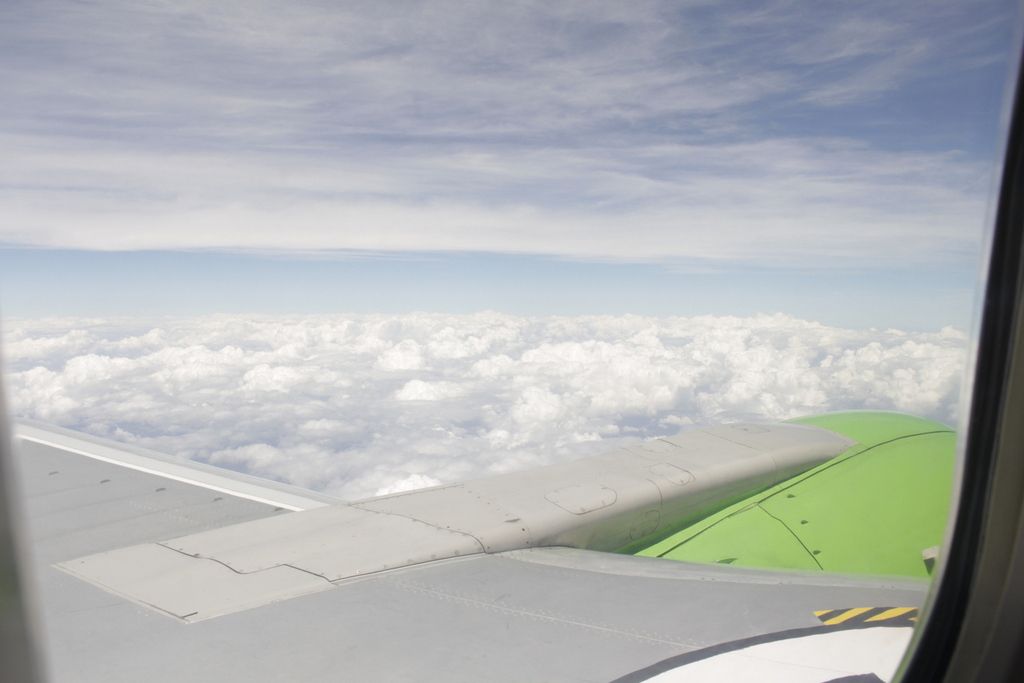 View from Seat 15A
20 minutes after takeoff a snackbox was served. It contained a muffin (decent), blueberry syrup (horrible) and a small pack of nuts. My tray table has some stains which was not cleaned properly.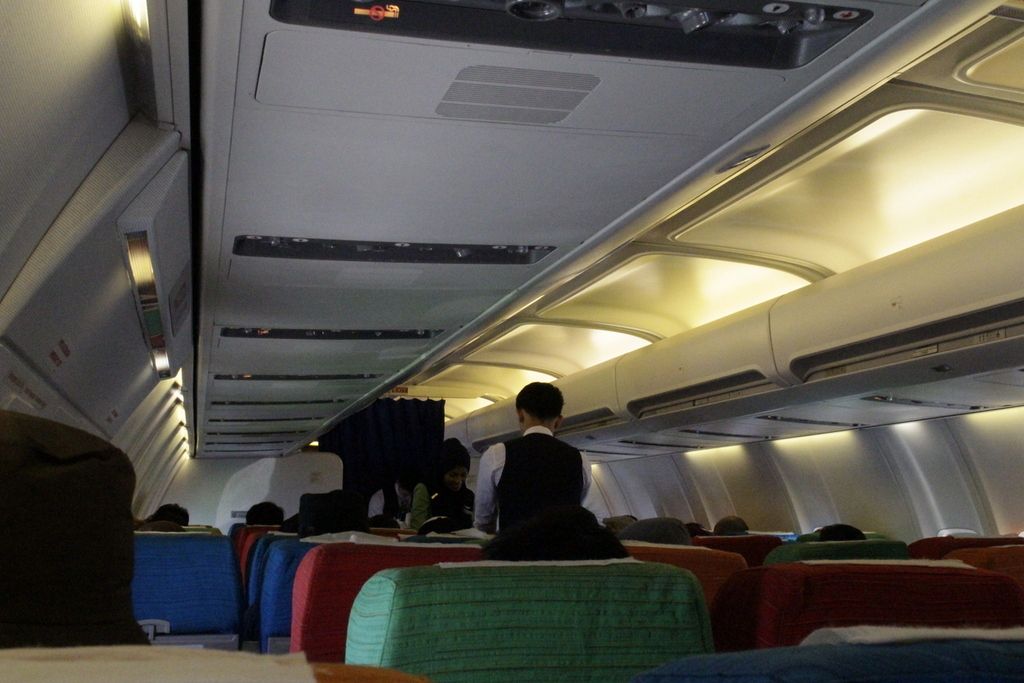 Commencement of snack service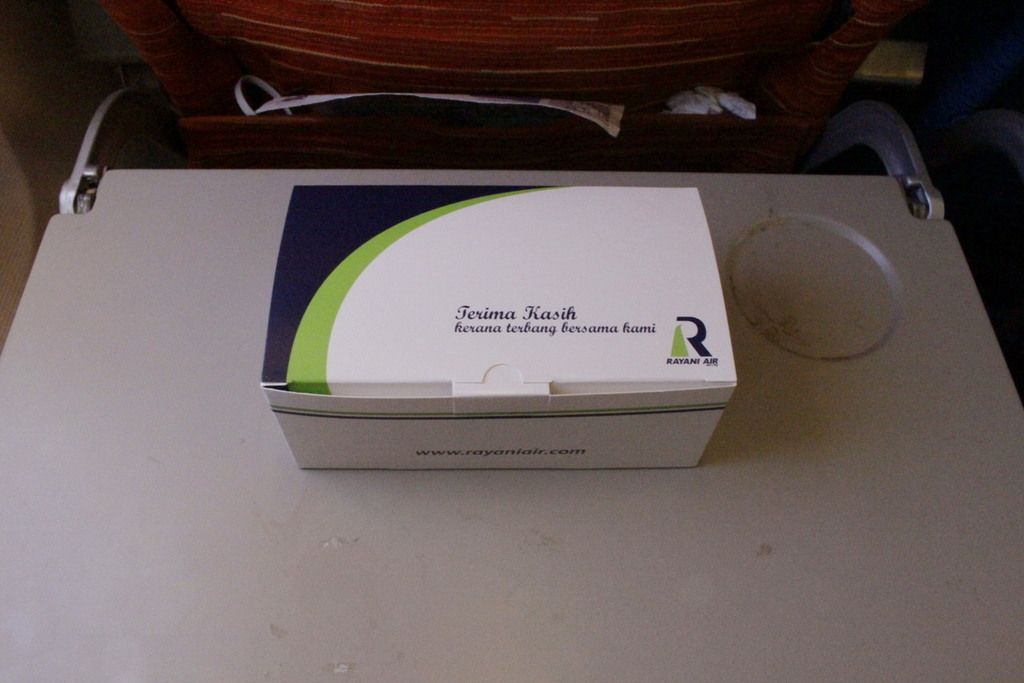 Snack box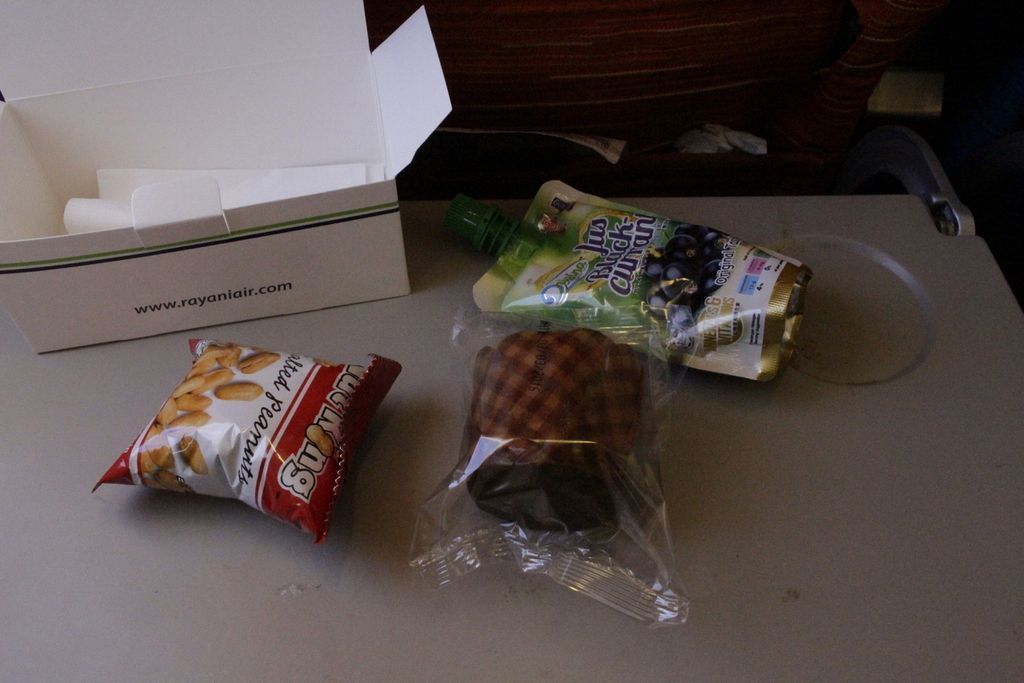 Contents of snack box
The BOB cart was then rolled out after another 20 minutes. Apparently they are not a full service airline as they claim on their website, which was kind of odd.
I did try the nasi lemak (MYR12) with a can of Sprite (MYR5), which tasted decent. The nasi lemak is identical to those found on Malaysia's ETS express train service, just that it costs almost twice as much.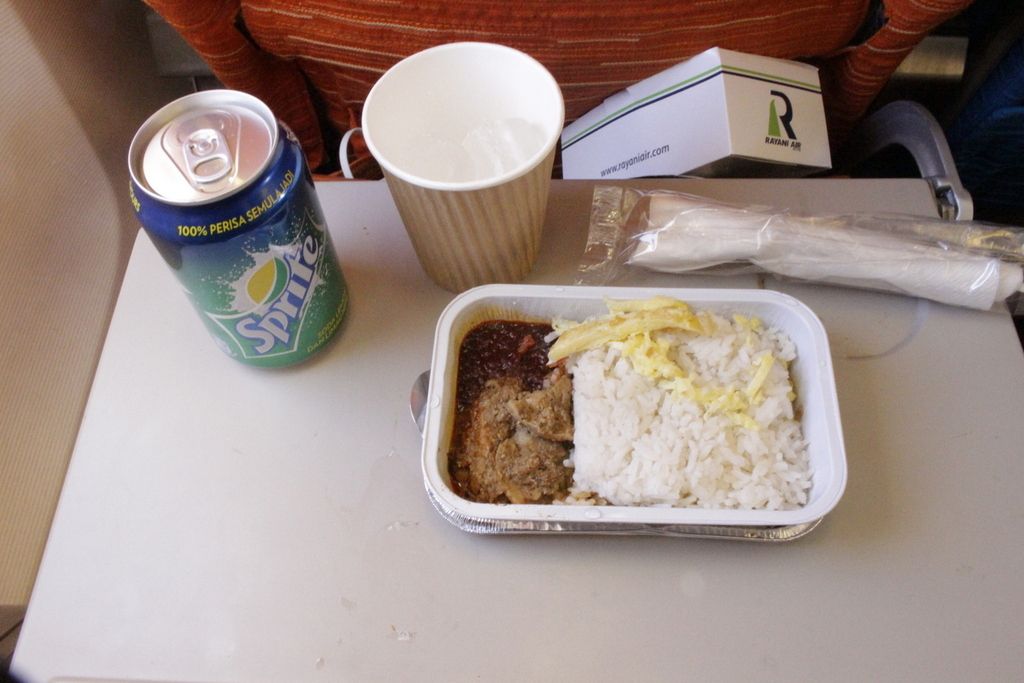 Nasi Lemak and Sprite
The FAs are inexperienced but they did try their best to serve the passengers. They did always maintain a smiling face which is much
appreciated.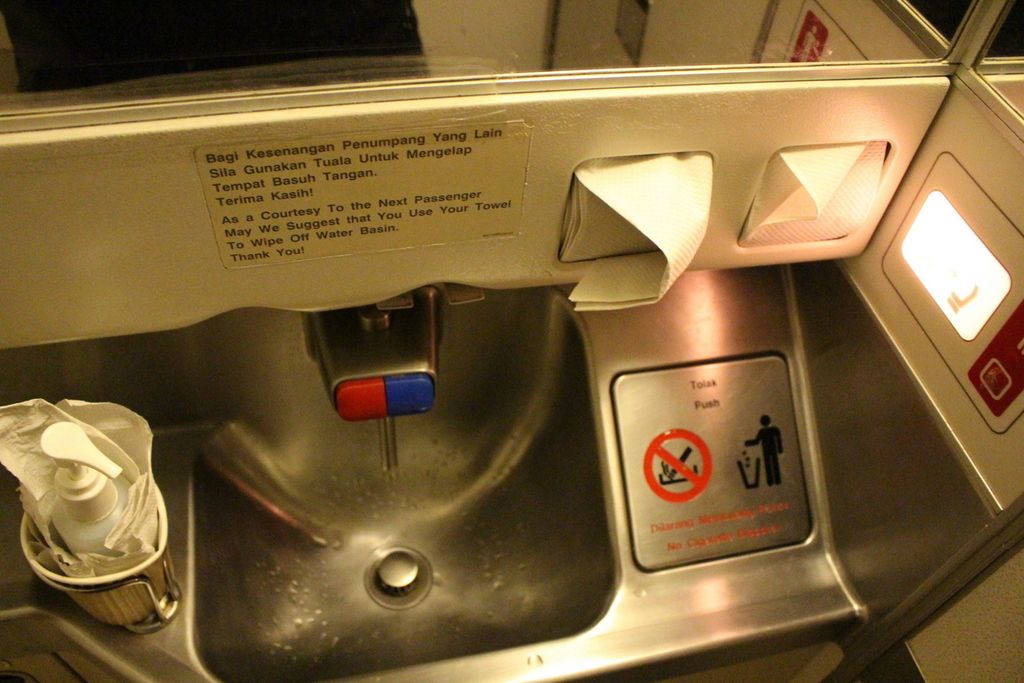 Obligatory Lavatory Shot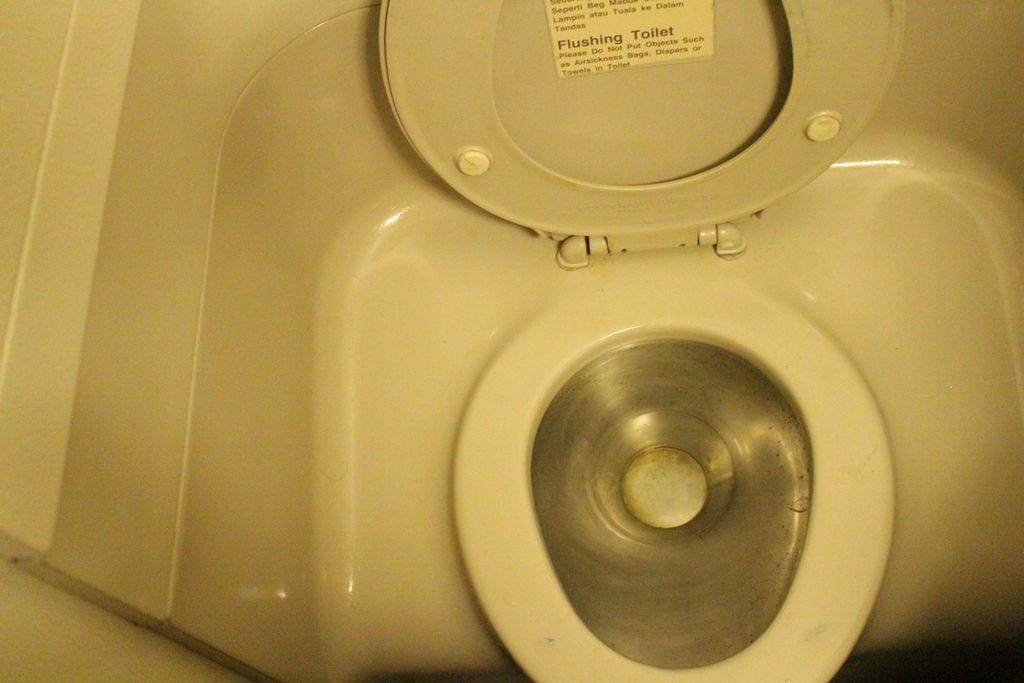 Lavatory Shot No.2
I relocated to the last row of the plane at the end of the flight
after a lavatory visit and a brief chat with the crew about the new
airline.
Cabin shot
Overhead Panel
Sales of merchandise commenced with 30 minutes left to landing. They already had an impressive collection of merchandise for such a new airline including a model plane (which angered me since it would have became a good memorabilia on a now defunct airline).
Merchandise Cart
Passing by Labuan Island (LBU)
View on final approach
The flight arrived at the gate on schedule, marking the end of a relatively pleasant flight on this new airline. There is nothing much to complain about, besides the dirty tray table.
Cabin on disembarkation
9M-RKA at BKI. It will do a BKI-KCH-BKI rotation before returning to KUL.
If they can sort out their scheduling and flight cancellation woes, Rayani Air will provide decent competition in Malaysia's ever growing aviation scene. As first impressions go, this is a good one. However, the airline suspended operations one month after my fight on April 2016 when the cash ran out. Clearly they have underestimated the difficulties of running an airline in the challenging Malaysian aviation market which is unfortunate as more competition will benefit customers in the end.
Malaysia AirlinesMH2617
KUL-BKI
Boeing 737-8H6
9M-MSD
Business Class
Seat 1A28th February 2016
STD: 2200
STA: 0025+1
A day later, it is time to end this short trip to Kota Kinablu. I took the last bus (7:15pm) to the airport for my 10pm flight. Check in for business class is deserted. I was processed by a indifferent agent which is not a good start to the whole business class experience.
BKI Departure Drop-off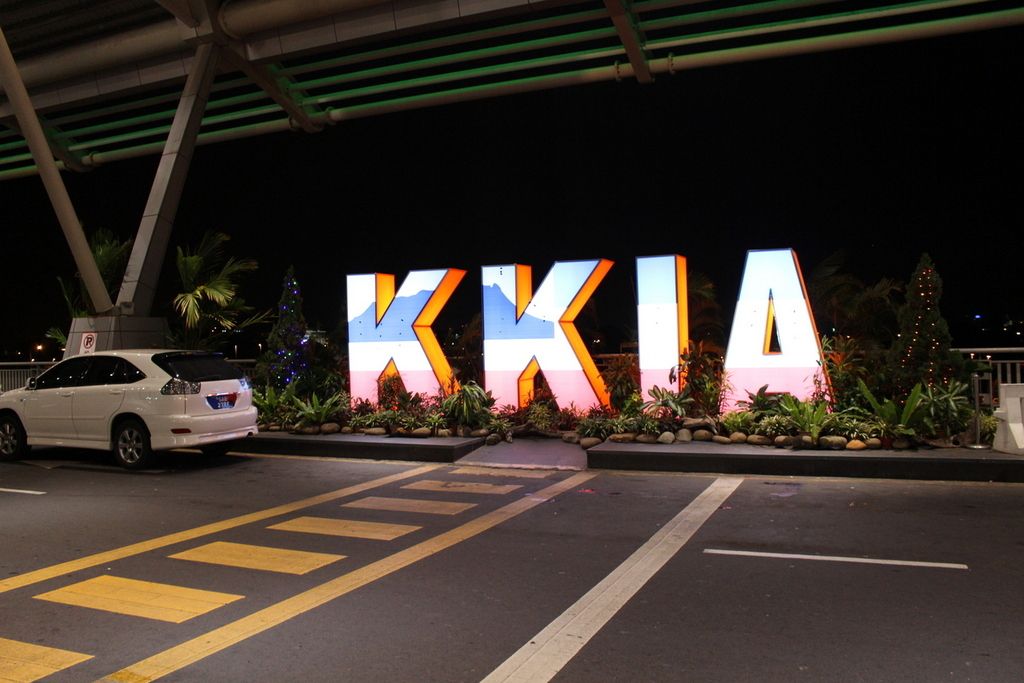 BKI, also known as KKIA (Kota Kinabalu International Airport)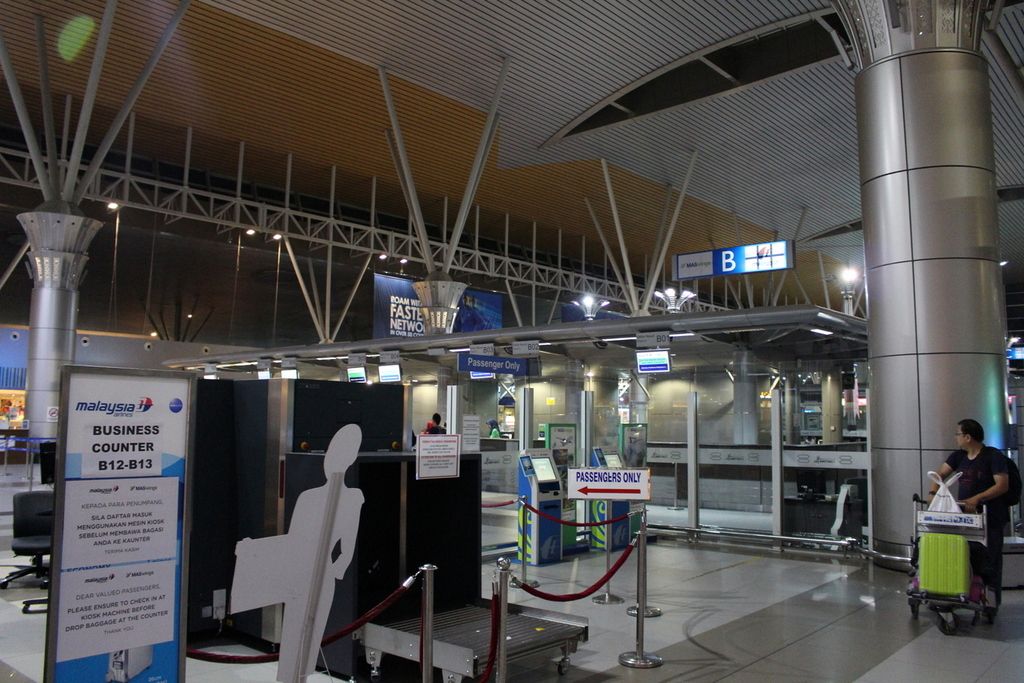 Check-in area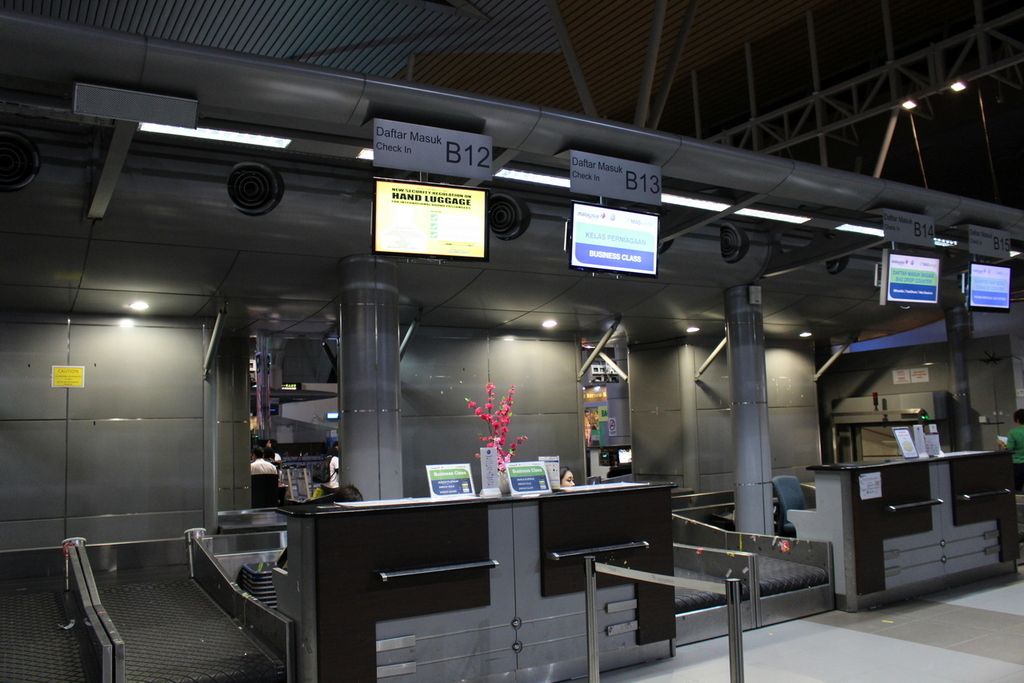 Business Class Counters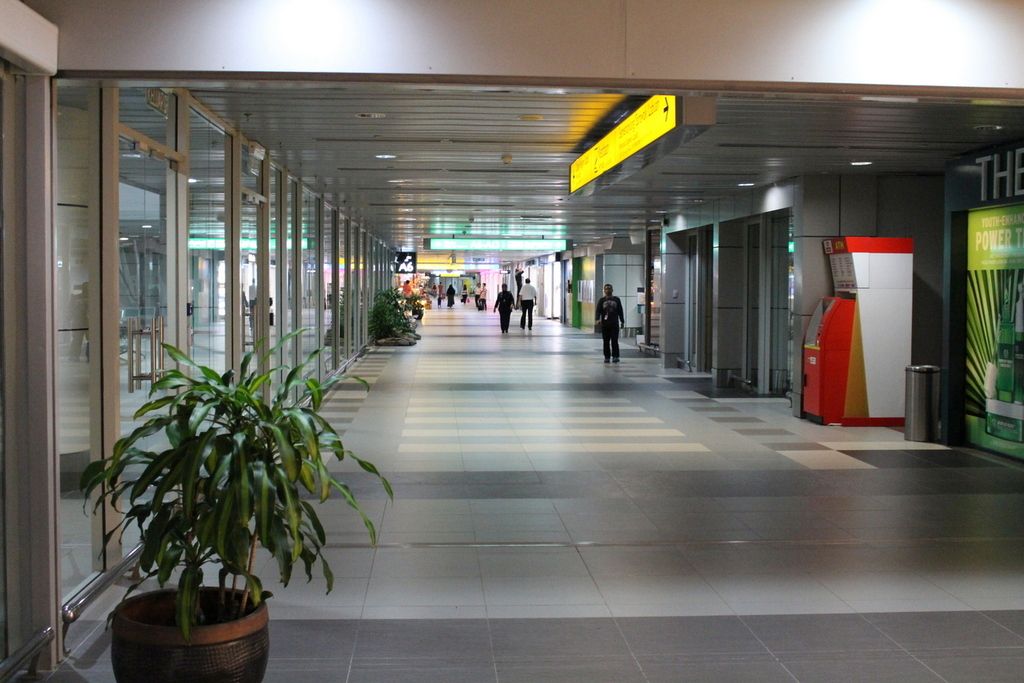 BKI Domestic Airside
I passed by the gate assigned to my flight and saw the plane that will take me back to Kuala Lumpur, 9M-MSD, a 2.9 year old 737-8H6 with the gorgeous Sky Interior and IFE. I was quite pleased that the flight is not operated by the leased, non BSI planes.
9M-MSD
The MAS Domestic Golden Lounge is located at the far end of the terminal, near the gates to the regional turboprop flights. It is located beside the Plaza Premium Priority Pass Lounge.
Domestic Lounges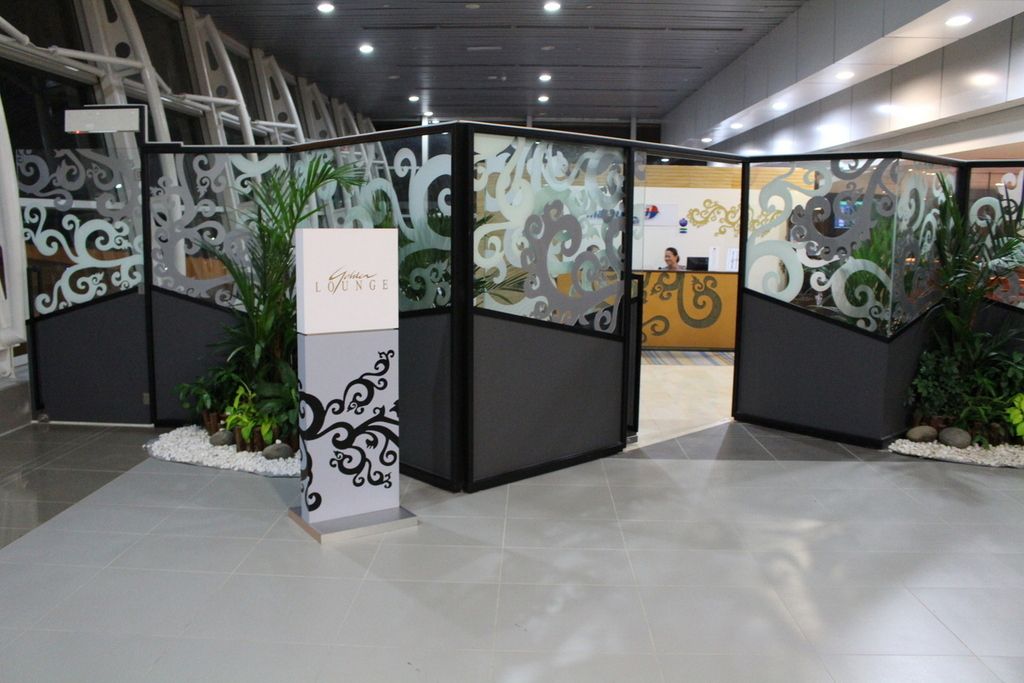 Golden Lounge Entrance
Upon entering the lounge, I was checked in by a friendly agent. The lounge has various type of seats. It is about the same size as the domestic lounge at KUL which I had reviewed before. However, the decor is much nicer. The lounge is quite empty throughout my stay, with only a handful of people inside.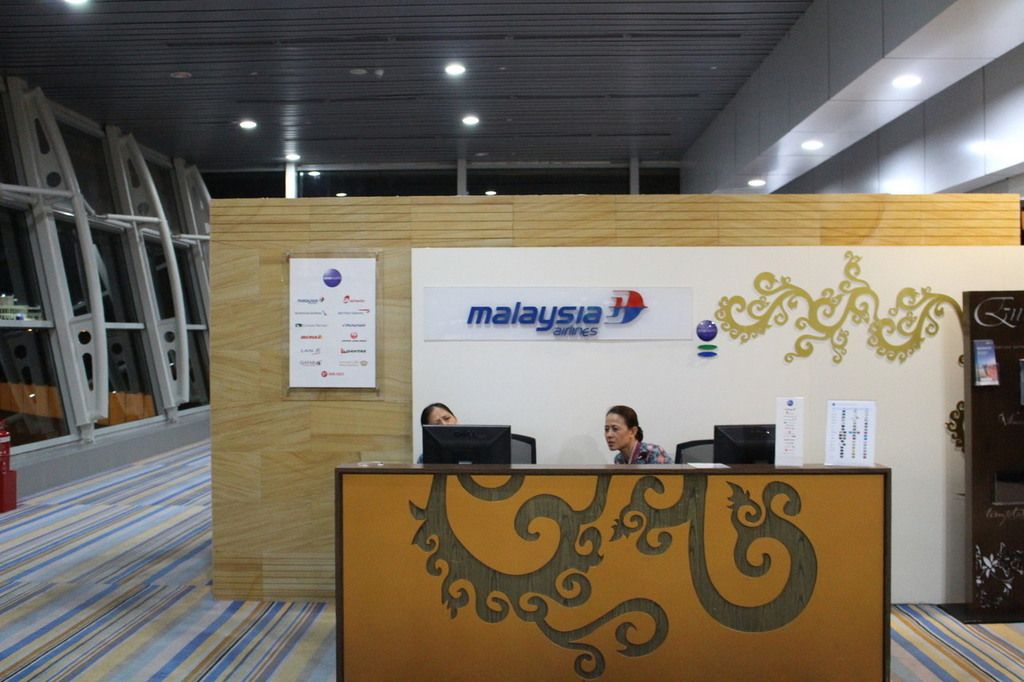 Lounge Entrance
A330 Model
Lounge Seating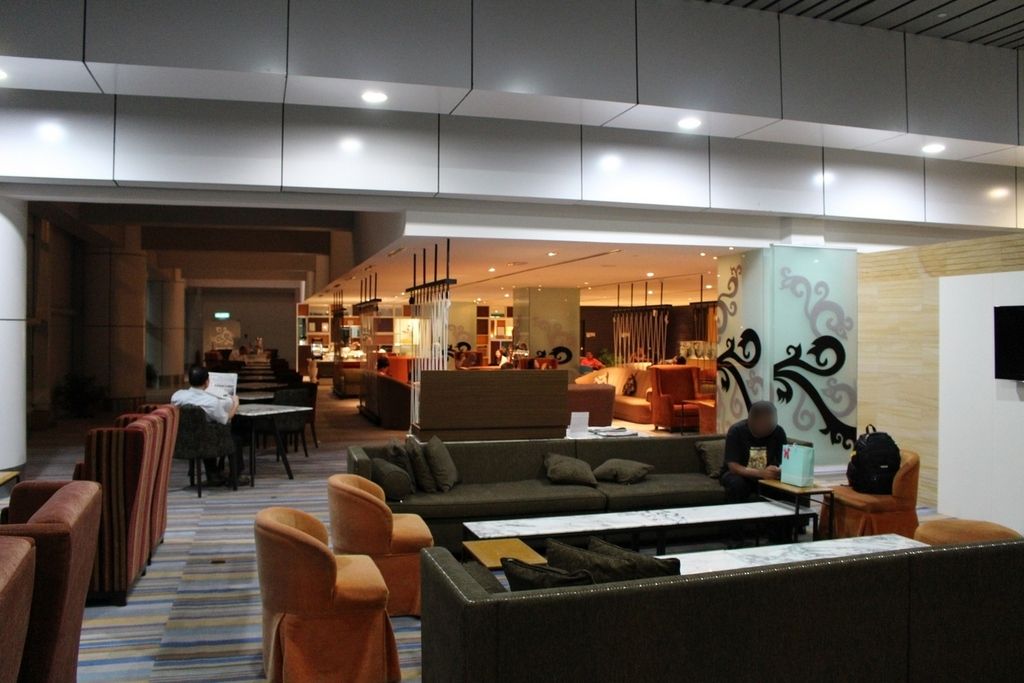 Lounge Seating
Lounge Dining Area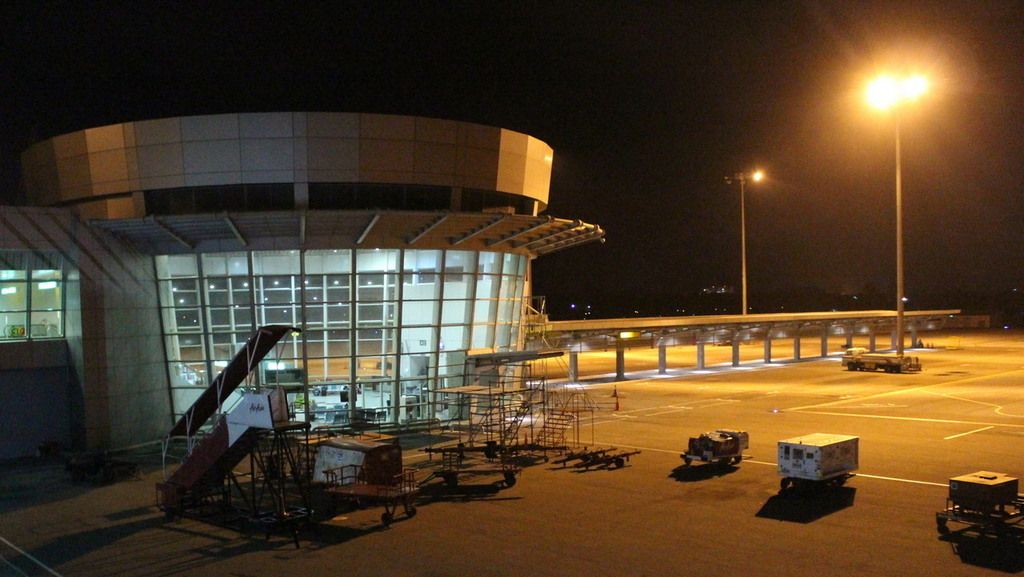 Tarmac Views. The runway is visible when the sun is up.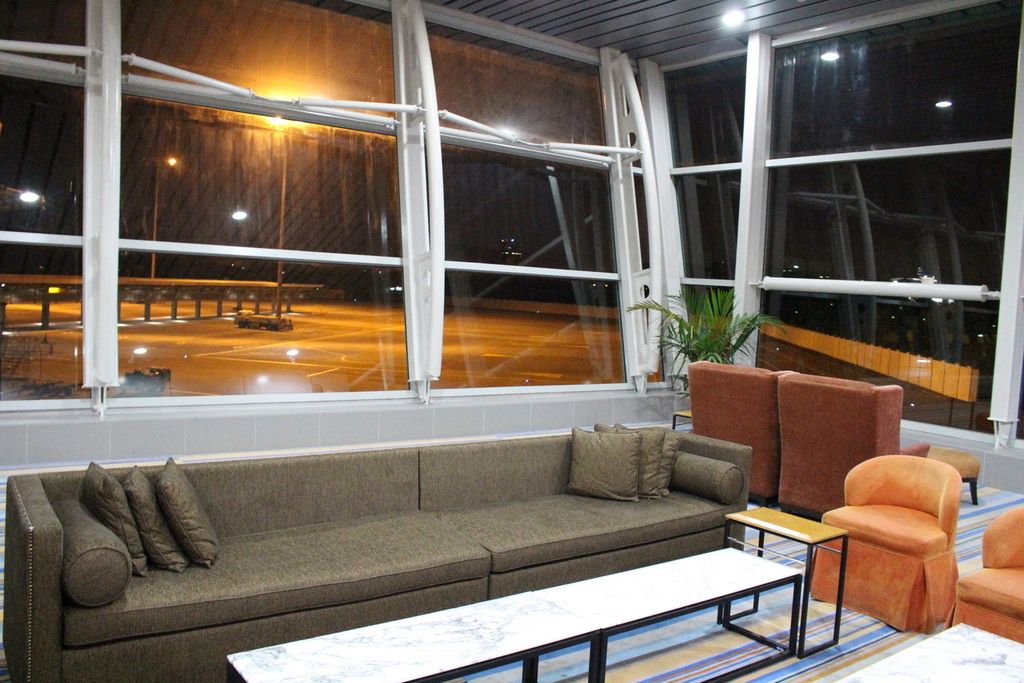 Lounge Seating with Tarmac Views
Indeed, the whole terminal is deserted as my flight is one of the last ones out from BKI. I took a shower before settling down at the dining area. The single shower room is surprisingly nice, better than the one at KUL. The shower room is located within the male washroom.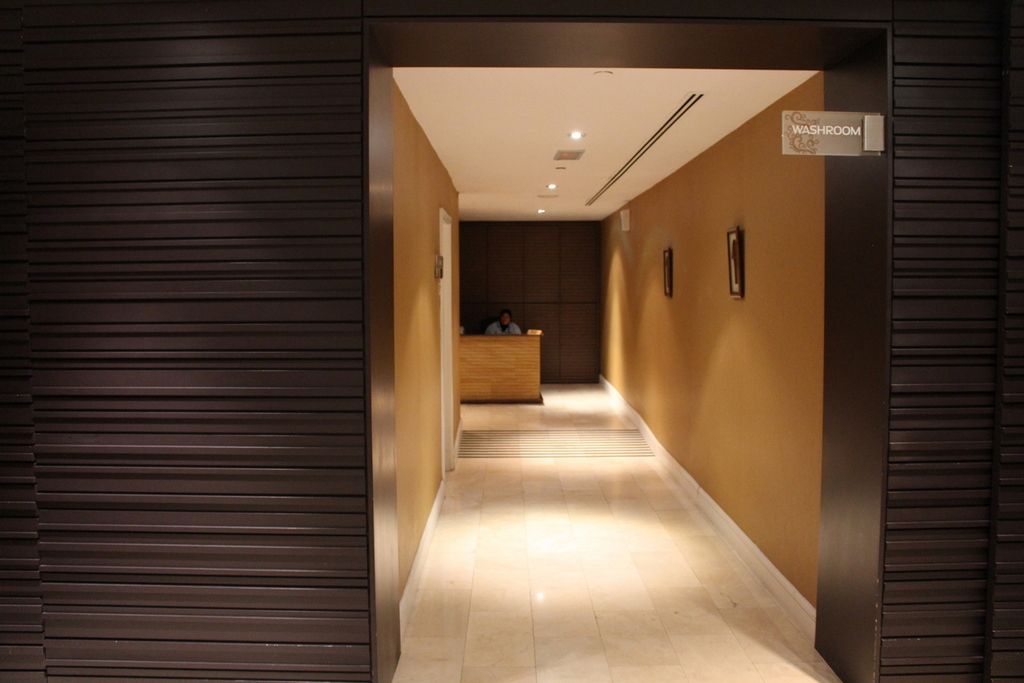 Washroom Entrance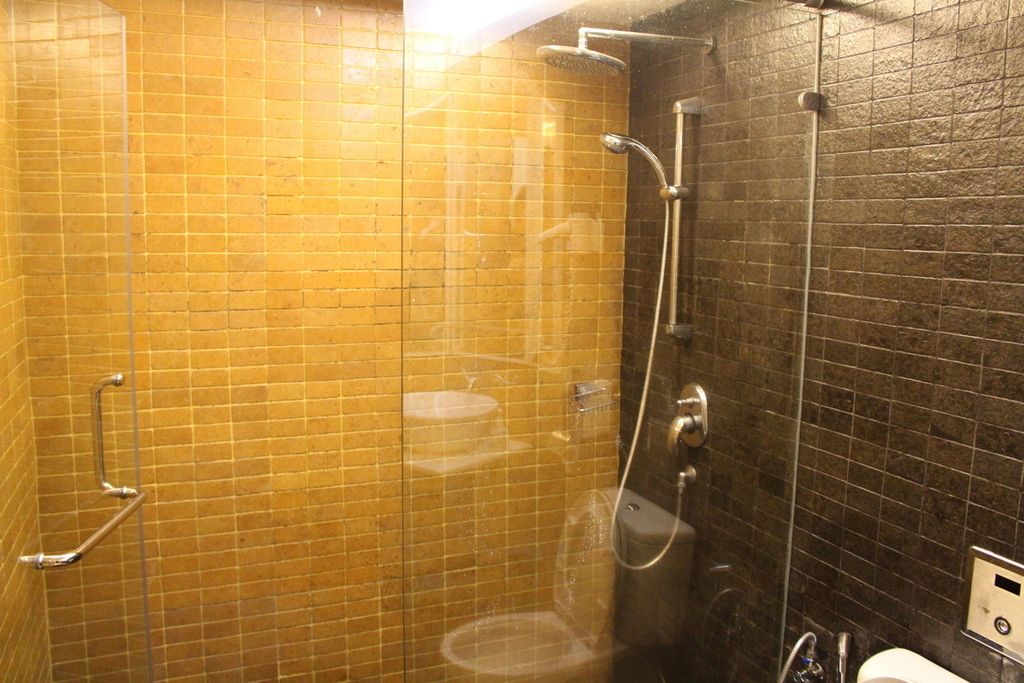 Shower Room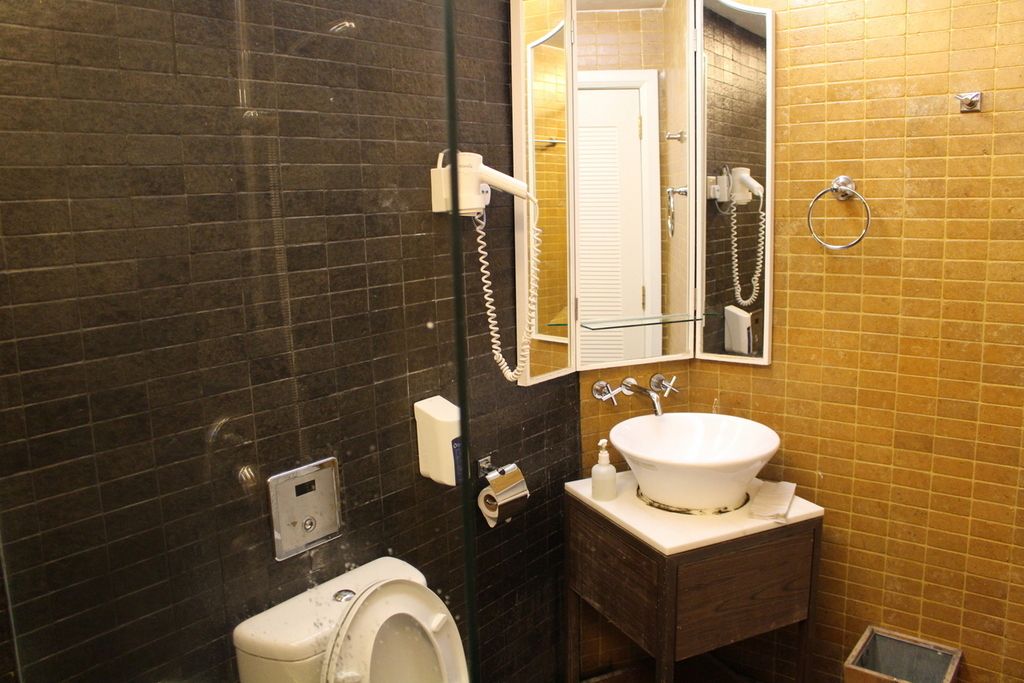 Shower Room
The food spread is a small buffet with only a small choice of mains: steamed white rice with Kapitan chicken, sweet and sour fish and poached vegetables. The food tastes acceptable, but in a bland way. I also had a latte, which is not very good, and some sandwiches. No alcohol is served in the lounge, as is on any domestic Malaysia Airlines flights.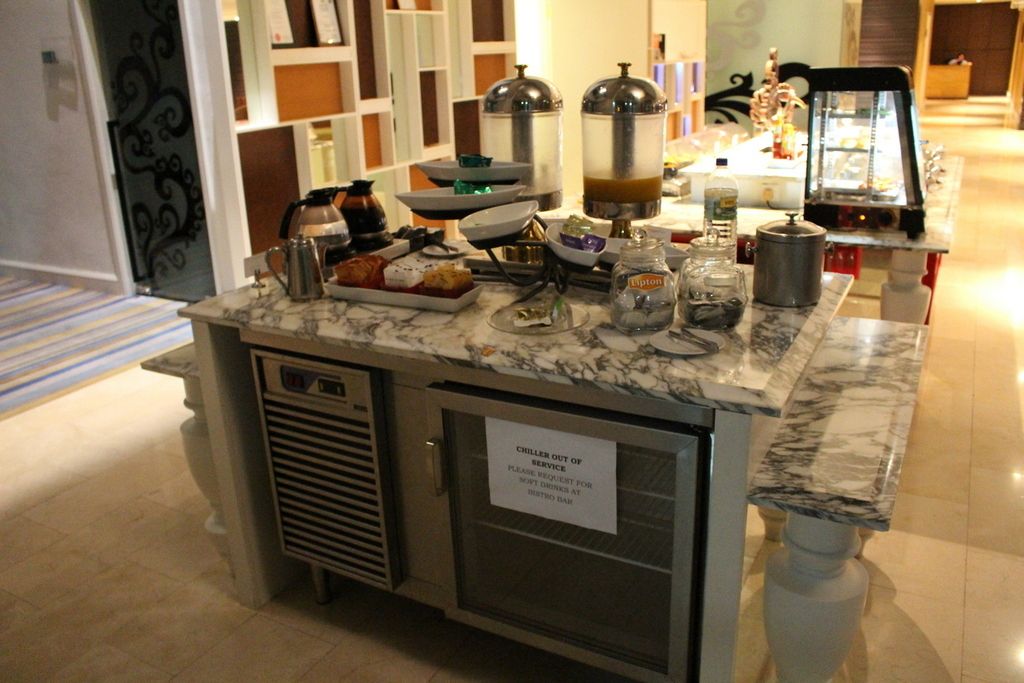 Lounge Drinks Selection
Food Spread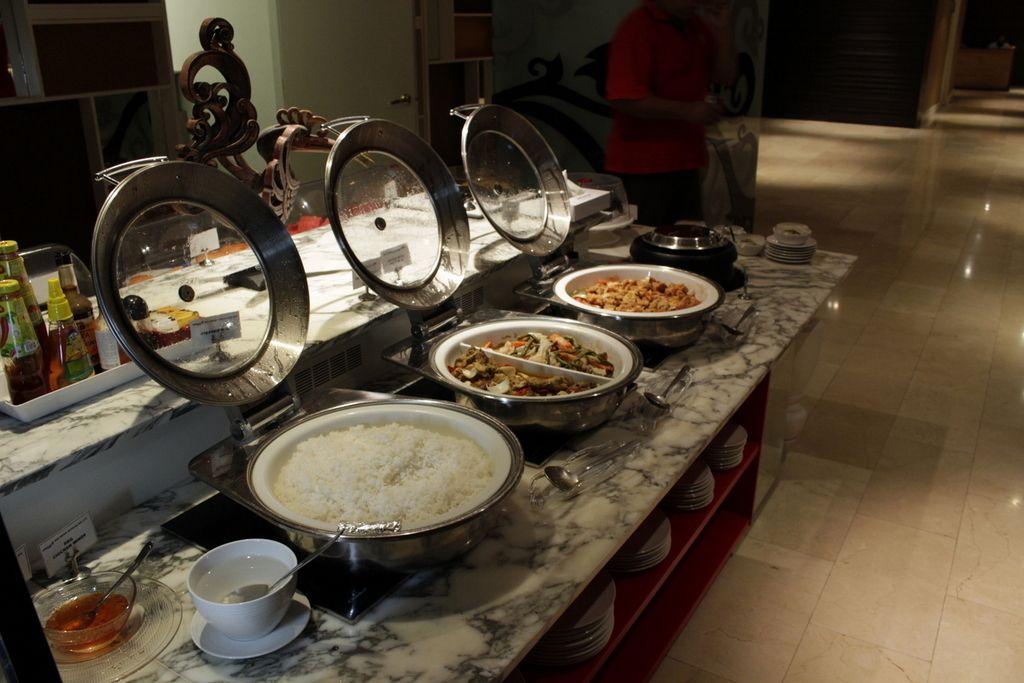 Hot mains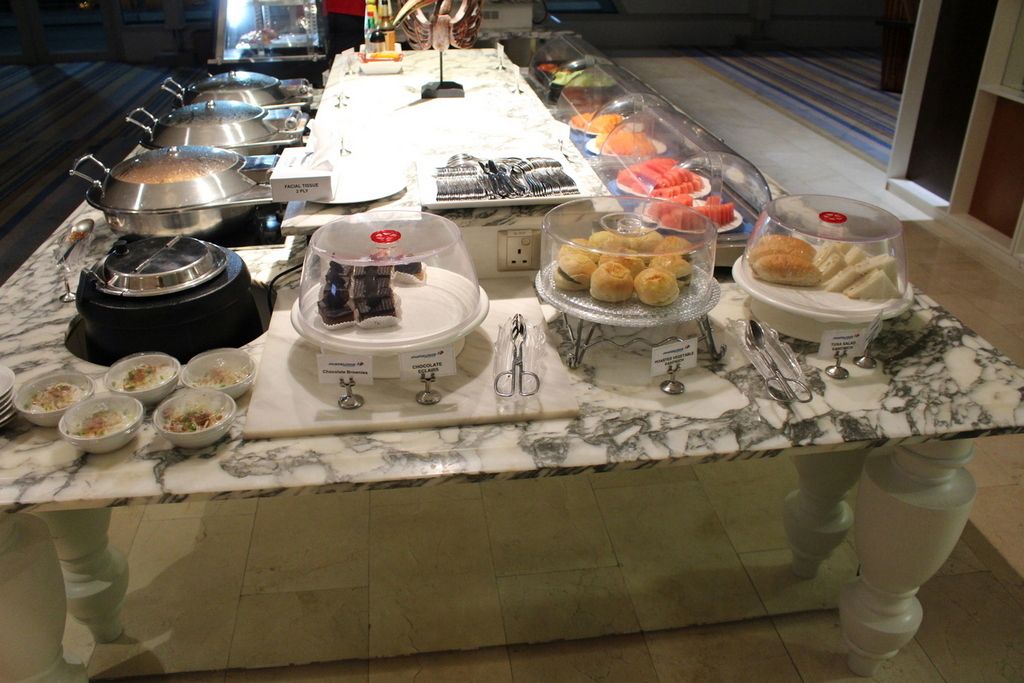 Snacks and Fruits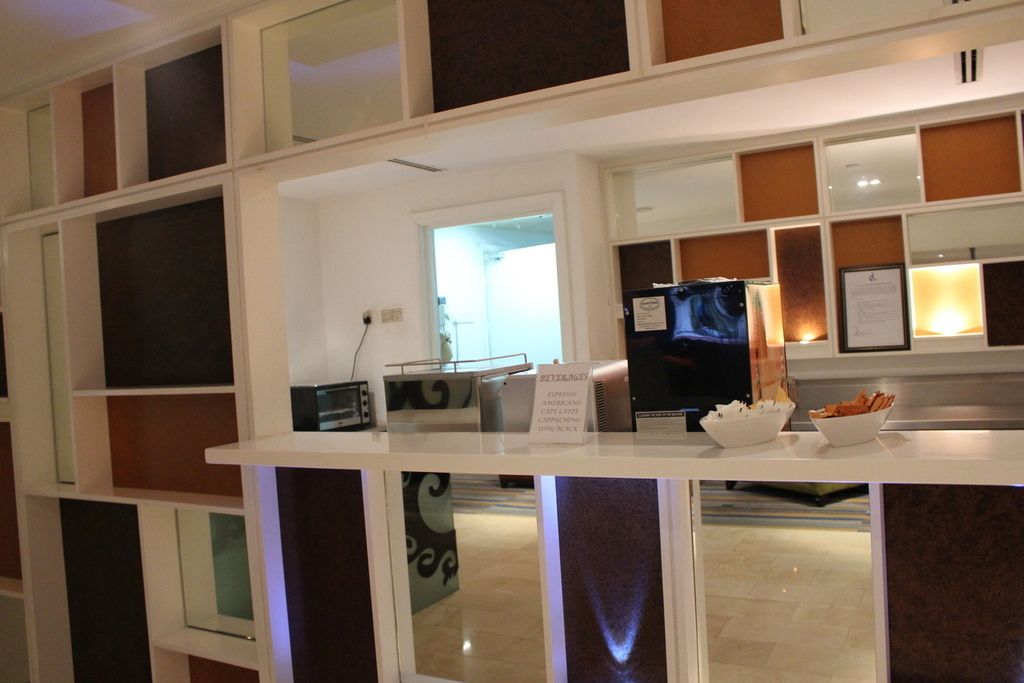 Coffee Bar
Steamed Rice with Kapitan Chicken, Sweet and Sour Fish and Poached Vegetables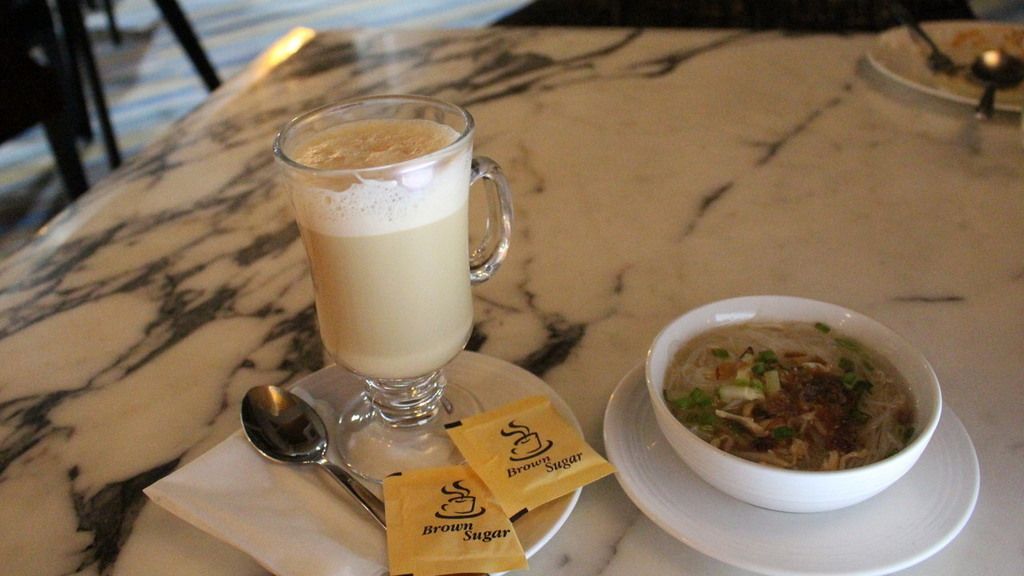 Latte with Soup Noodles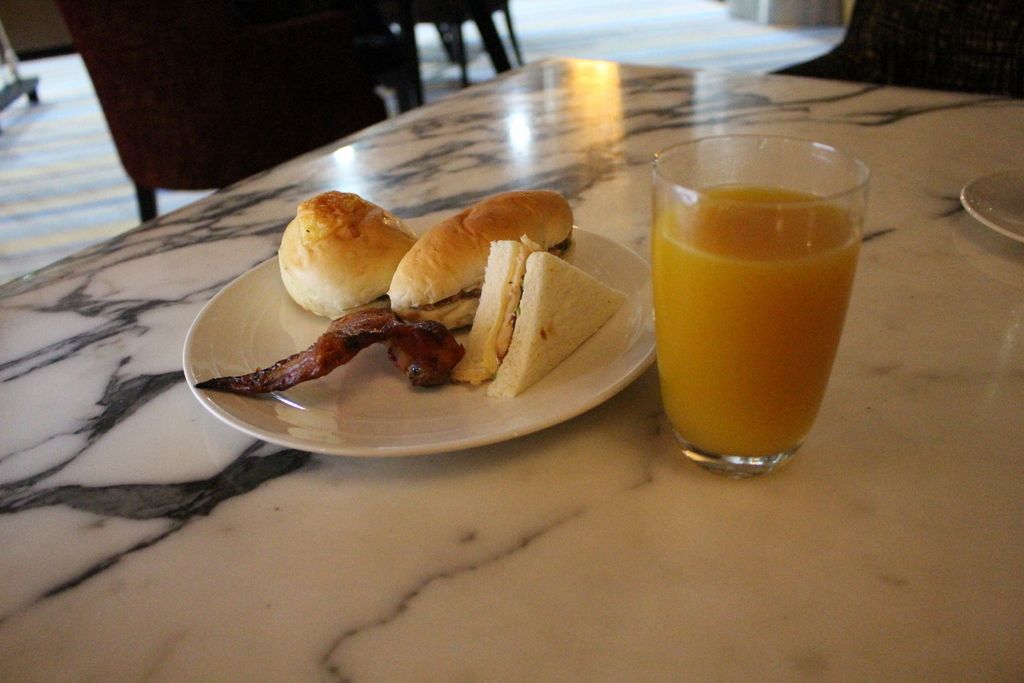 Sandwiches and Mango Juice
I left the lounge 30 minutes before departure, only to see that boarding is already well underway. The whole gate area is almost empty. I was one of the last ones onboard.
"Priority" Boarding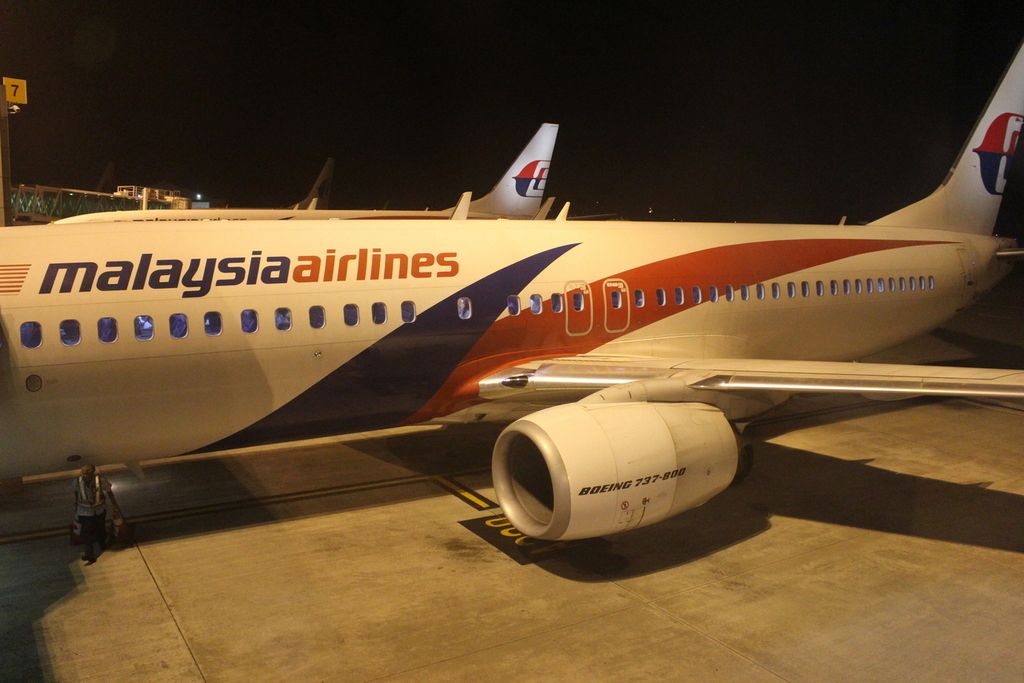 9M-MSD ready to depart
Fuse and Engine
The business cabin has a total of 16 seats in 2-2 arrangement. Pitch is about 42 inches, quite decent for a short flight. The cabin does look phenomenal at night. A pillow and blanket is placed on every seat.
Cabin on boarding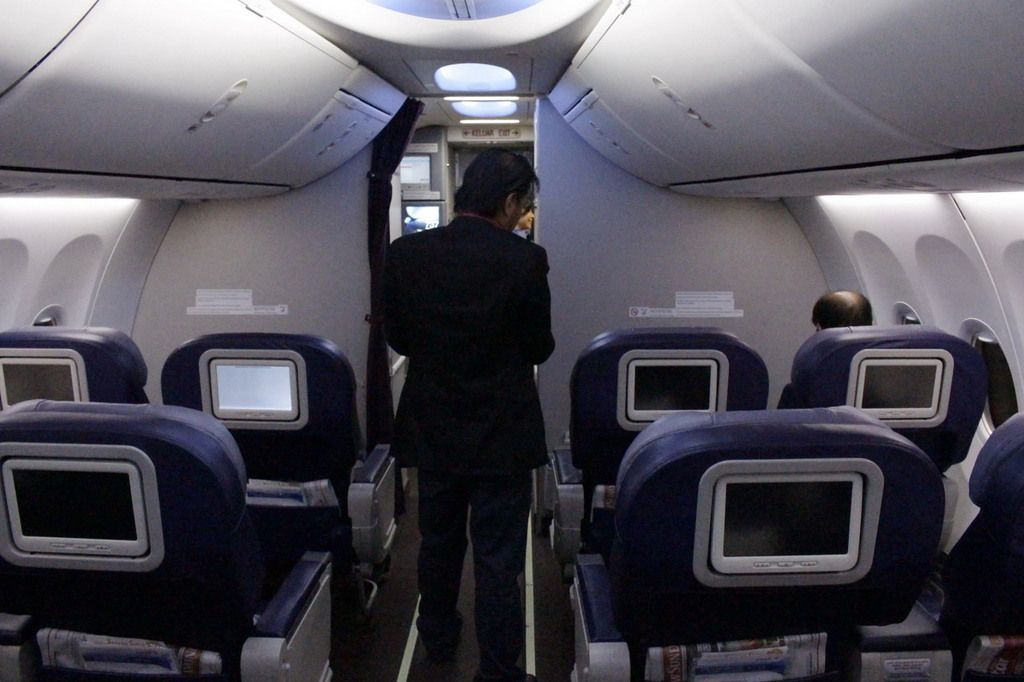 Malaysia 737 Business Class Cabin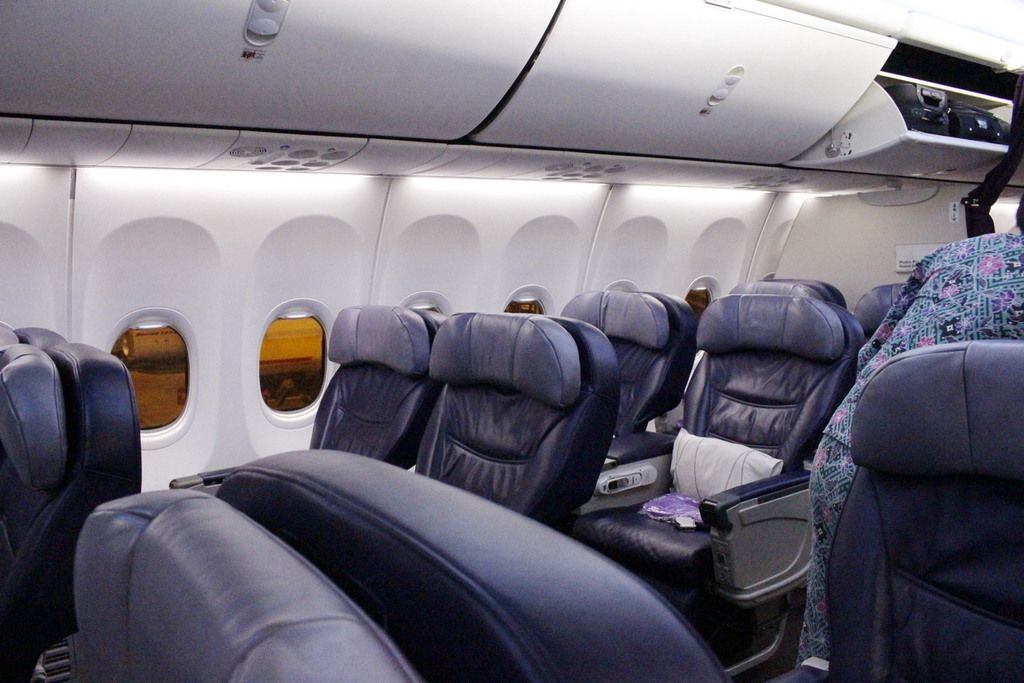 Malaysia 737 Business Class Cabin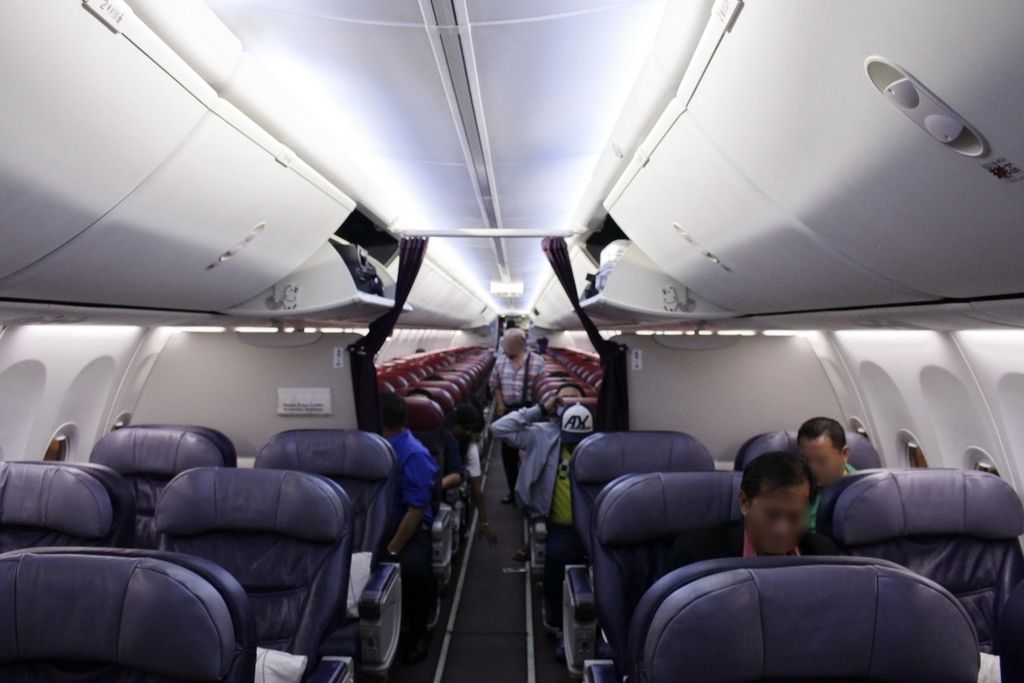 Malaysia 737 Business Class Cabin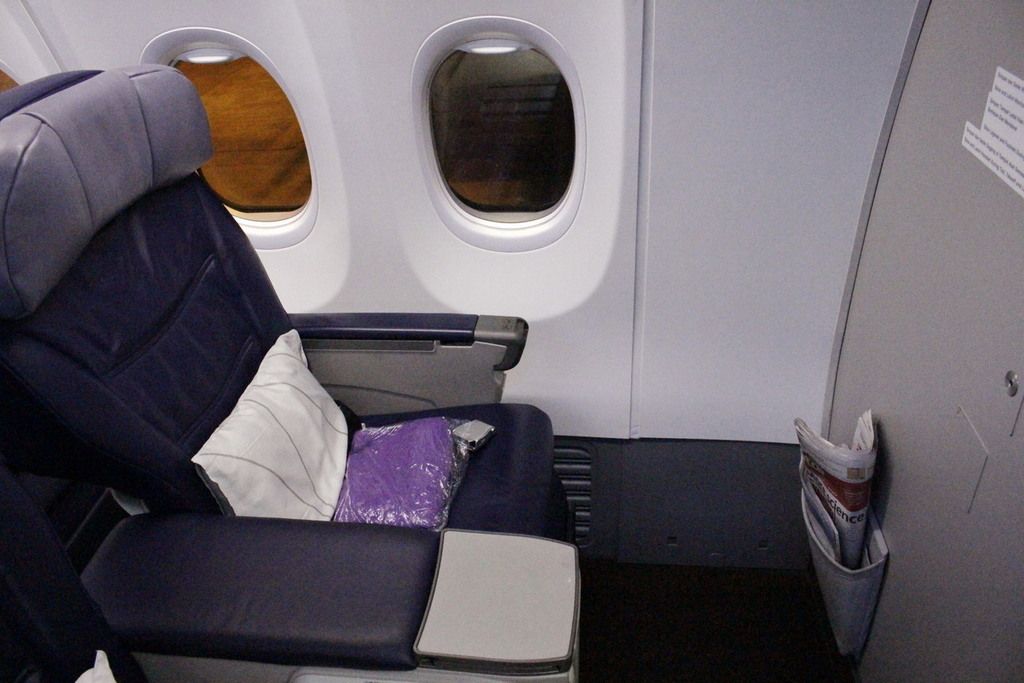 My seat
I had pre assigned seat 1A which sounded good in theory. However, it is not a very good seat as the legroom isn't much improved over the other rows, the IFE screen is at a weird angle, and there are virtually nowhere to store any personal belongings.
Legroom shot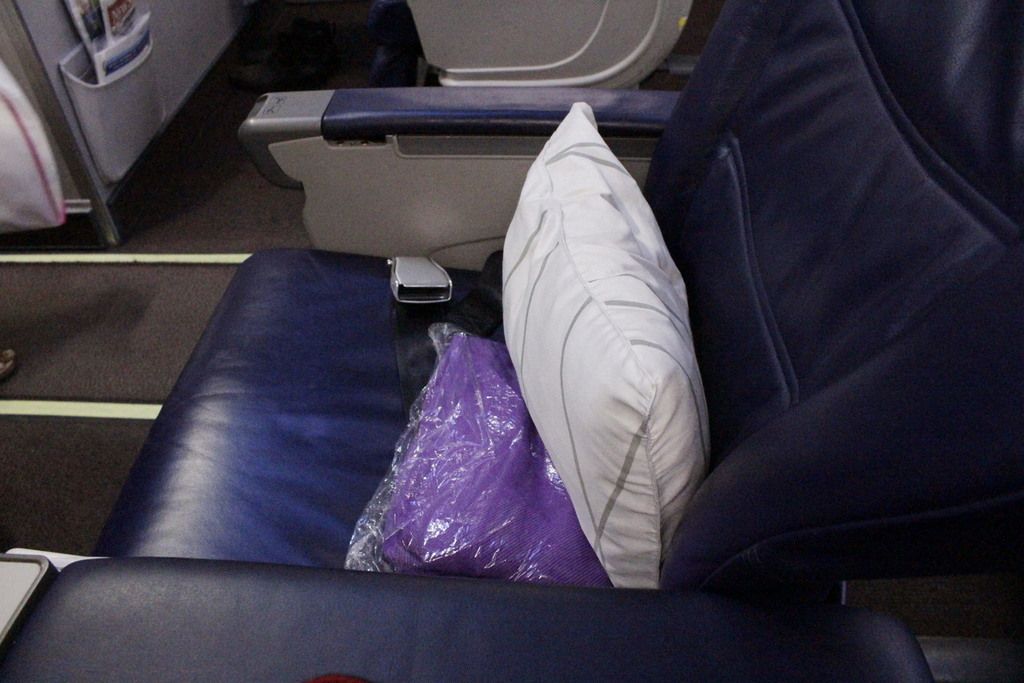 Pillow and Blanket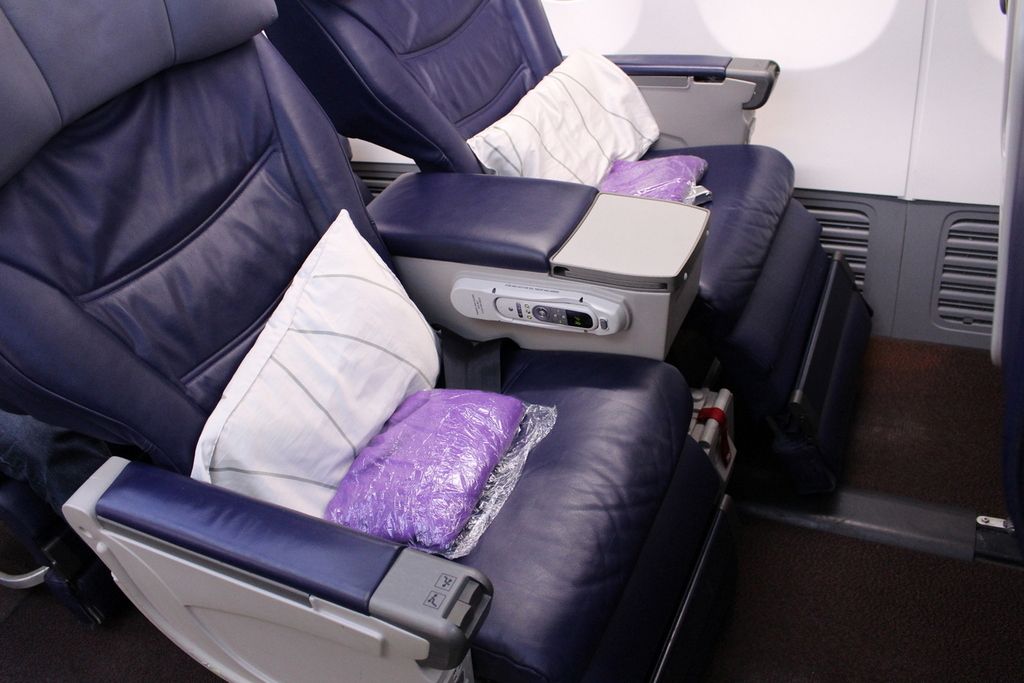 Row 1 seat with legrest up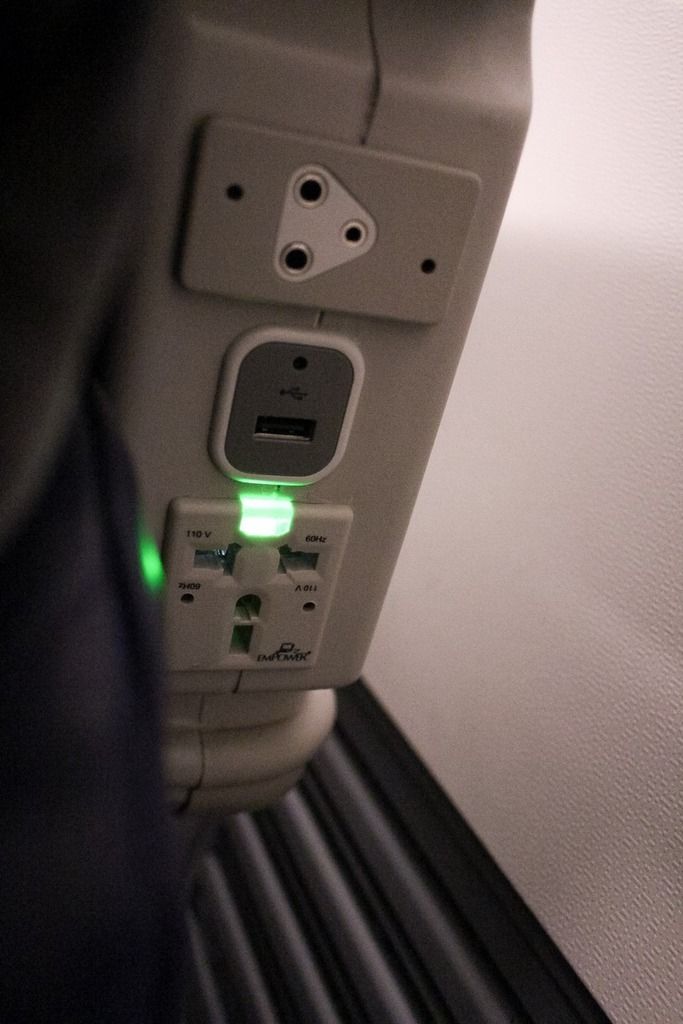 Power outlet and USB port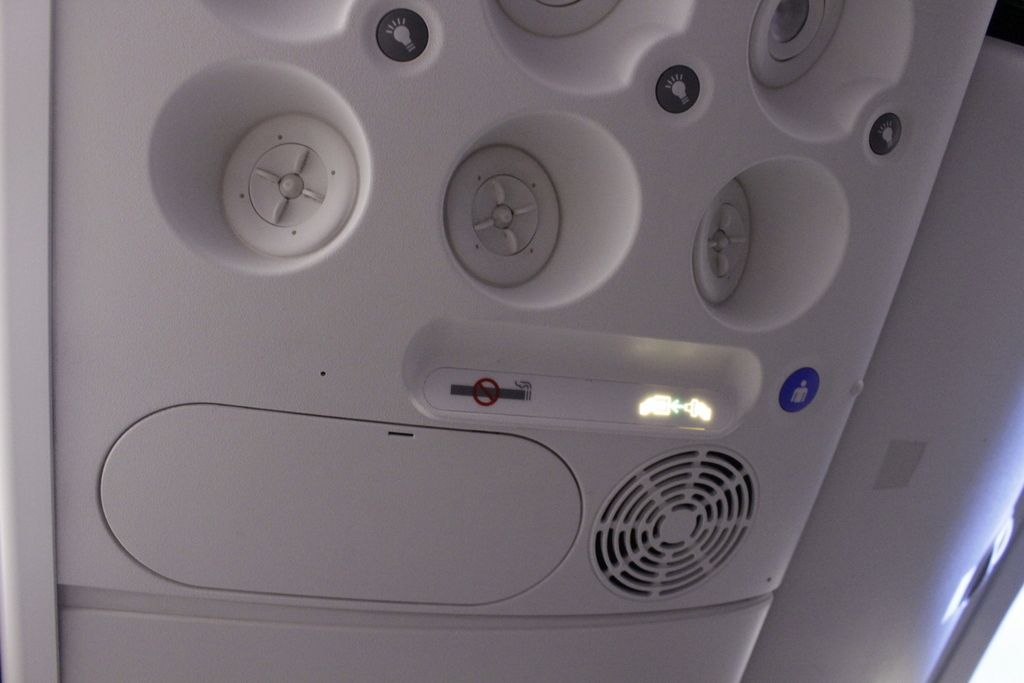 Overhead panel with gasper vents
The load today is very light, just 4 of the 16 seats are taken. The business cabin is served by the Inflight supervisor and another attendant. The crew on this flight is very good. A drink (juices or water) is served on the ground with a hot towel. I chose their "signature" pink guava juice.
Pink Guava Juice and hot towel
The door is closed several minutes before schedule. The taxi to the runway is very quick as the airport is not very big.
Cabin with lights dimmed
The IFE system is decent, but the headphones are atrocious. Unfortunately, the airshow is broken on my flight.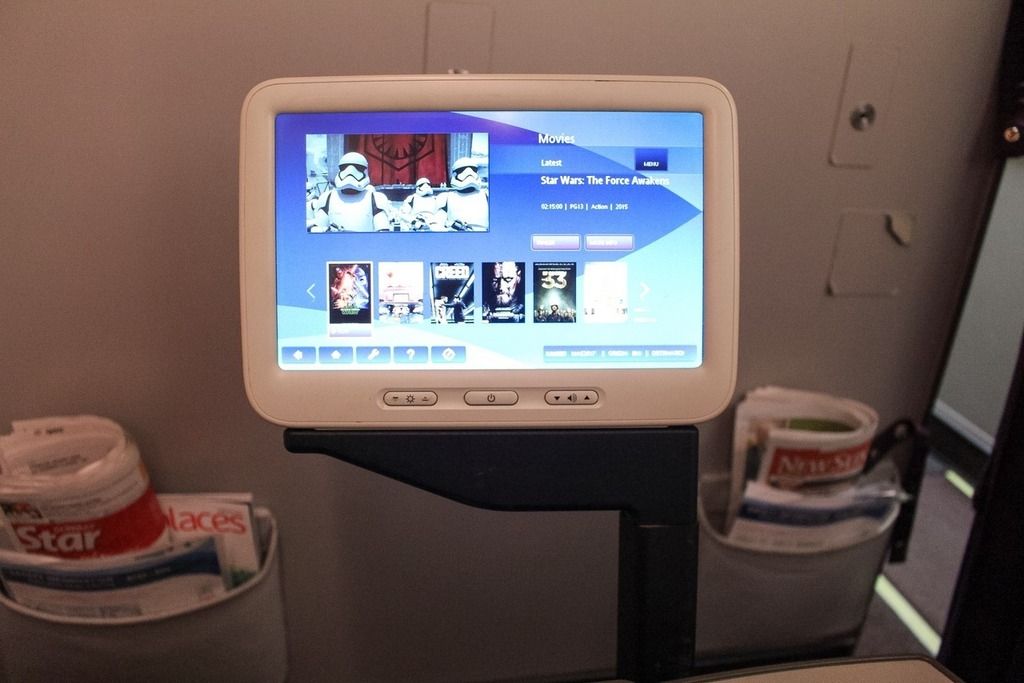 IFE screen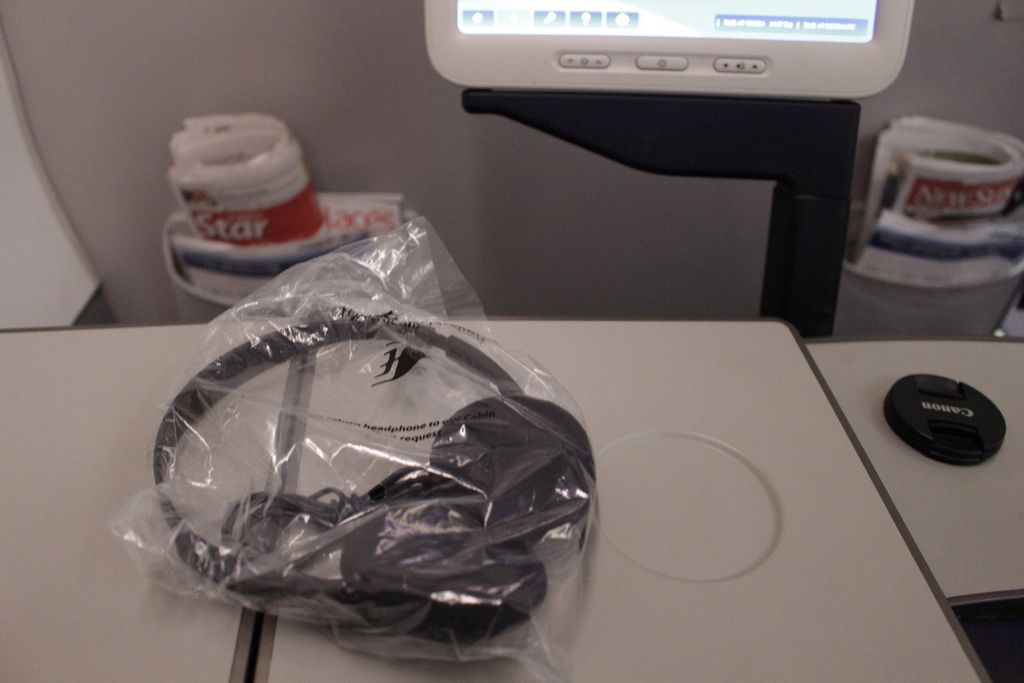 Headphones
10 minutes after takeoff the cabin lights are turned backed on. A drink is first served. I chose the Pulled tea, which was excellent as usual. Do note that MH doesn't serve alcoholic drinks on all flights below 3 hours. It was served with 2 packs peanuts.
Teh Tarik with prepacked nuts
A supper consisting 2 scones, a finger sandwich and a small plate of fruit is served with a glass of water. No menu is provided for this flight. The scones tasted decent albeit a tad dry but the sandwich is not very good. The whole service is served in one tray but with proper china and metal ware. I was quite disappointed that a full meal service is not provided. A later chat with the FAs confirmed that a full meal is served if the flight is at a more suitable time. Something to look forward to in my future travels, then.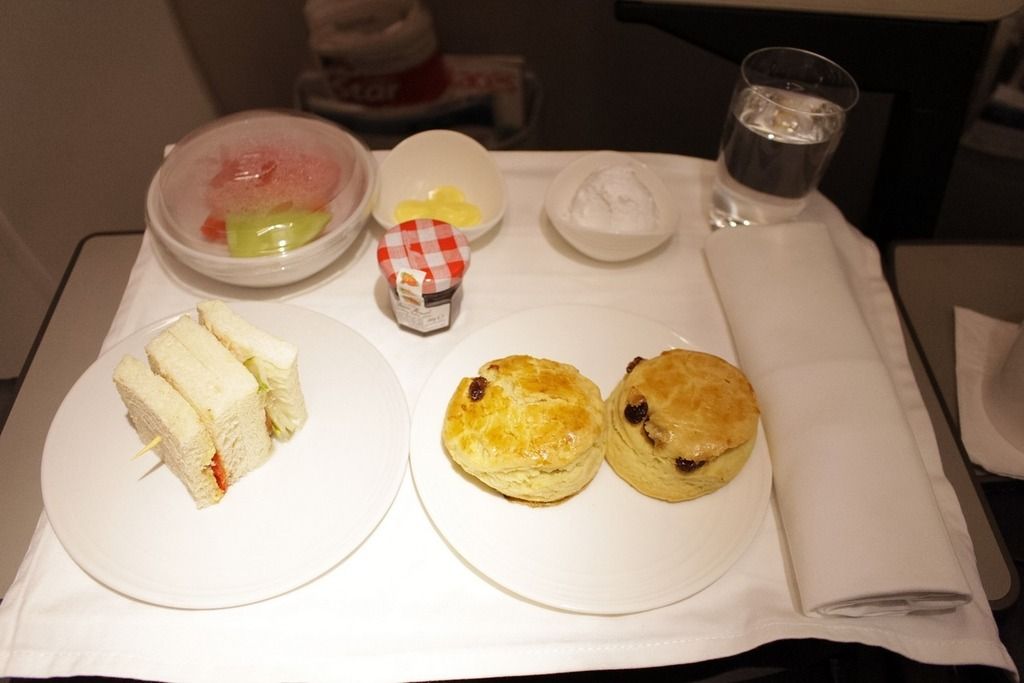 The supper service with scones, sandwiches and fruits
As I was finishing the supper, the FA appeared from behind the curtain and plopped down a hot dish with a chicken pie, egg pie and a kebab. The items were quite dry and not very good, to be frank. I was also quite full from the scones and the food consumed in the lounge so the dish was not finished.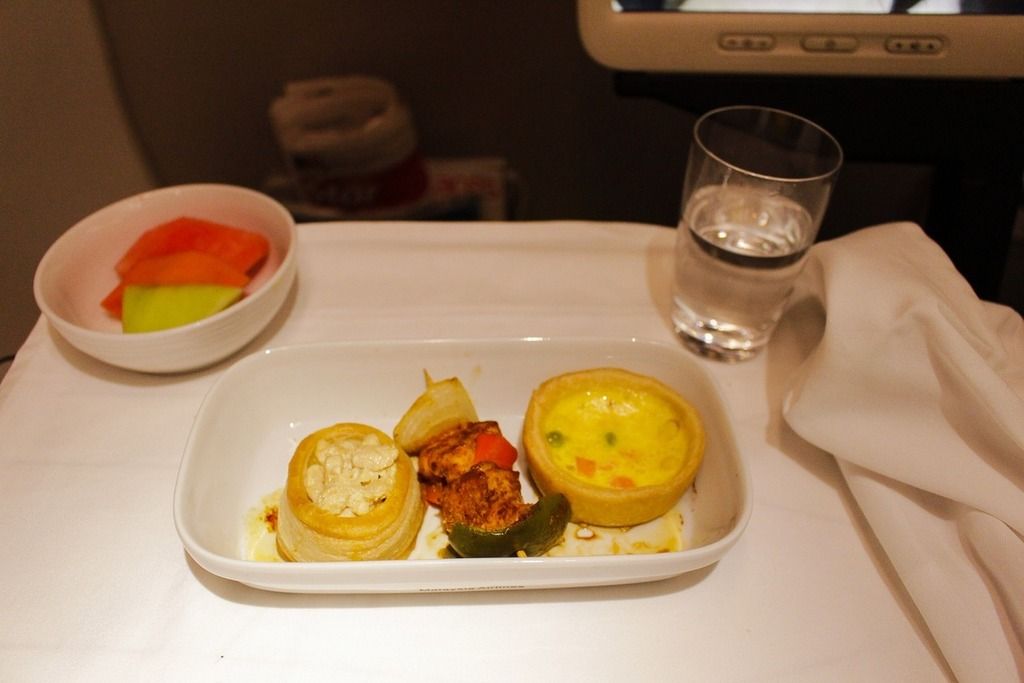 Second course
Post service water with peanuts
Cabin during cruise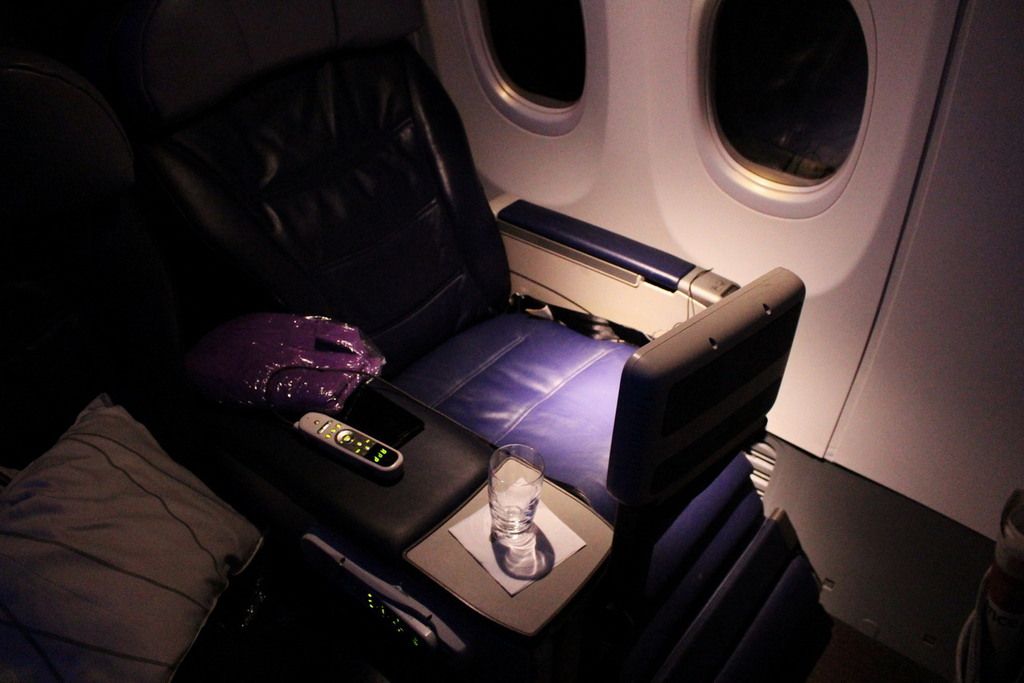 Seat 1A fully reclined
Malaysia 737 Business Class Toiletries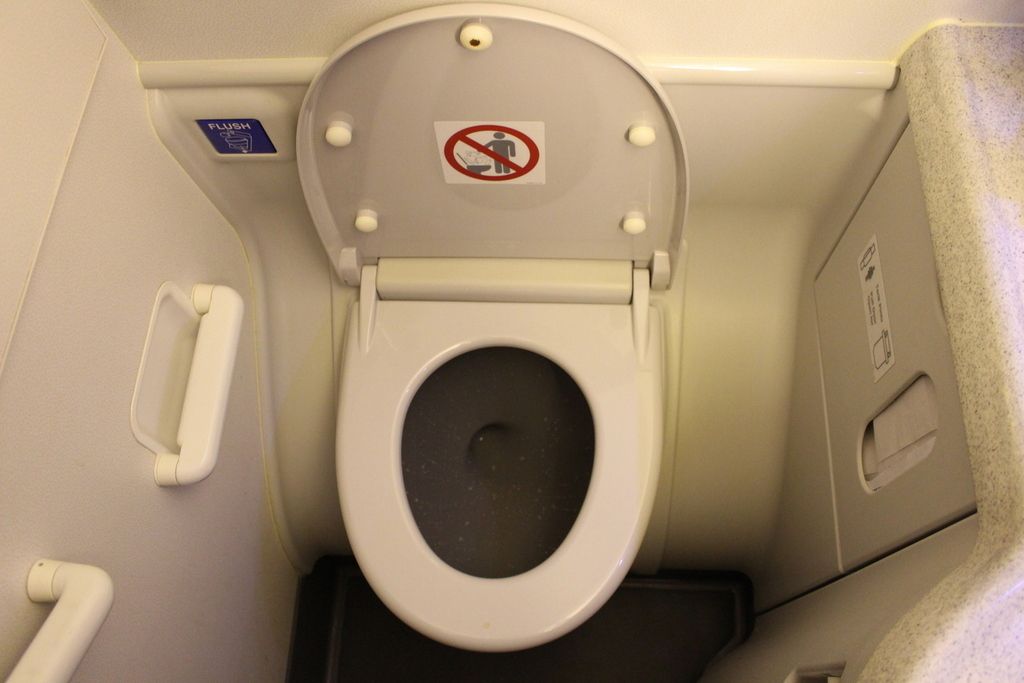 Lavatory shot
I actually spent a large portion of the flight chatting with the crews and gained quite some insight on the restructured Malaysia Airlines.
Seeing my enthusiasm, the FA gifted me a bag of the pre packaged nuts which was well appreciated. I guess this is the kind of personal touch that is crucial in providing long lasting memories for the passengers. Well done to the crew.
Lounging while watching something on the IFE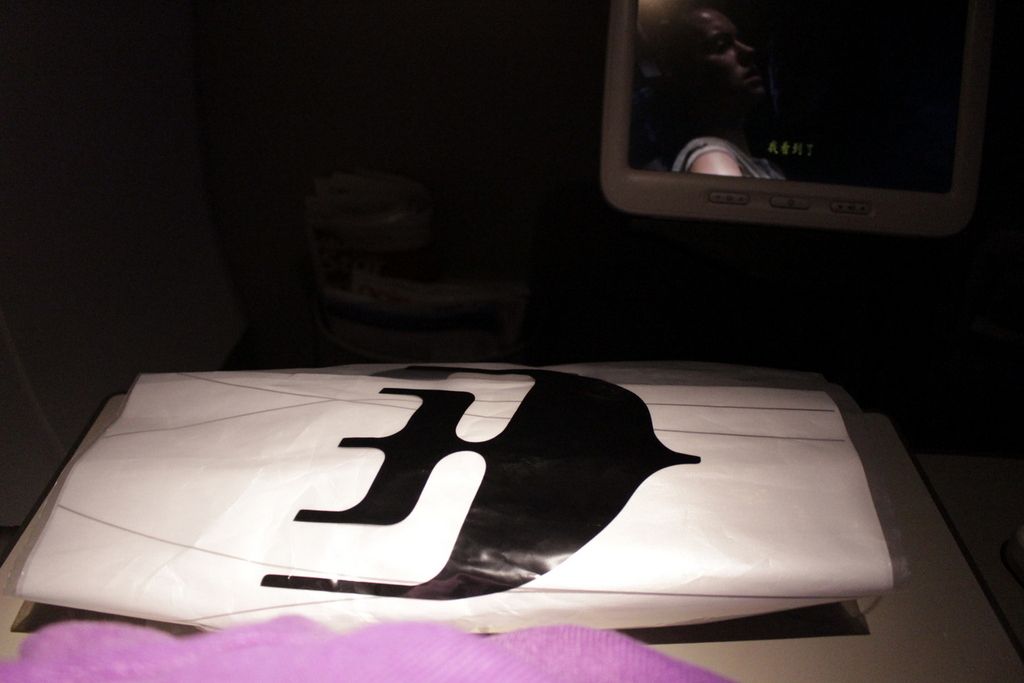 The bag of nuts
I switched to the last row of the cabin before descent. I find it to be nicer compared to the first row, with better window views, less claustrophobic, an IFE screen within the line of sight of a normal human, and more spots to store small bags. The lights are turned backed on while a hot towel is passed out before landing. The lighting effects of the Sky Interior causes the cabin to look unbelievably cool. I really liked the blue theme of the Malaysia 737.
Distribution of hot towel
Hot towel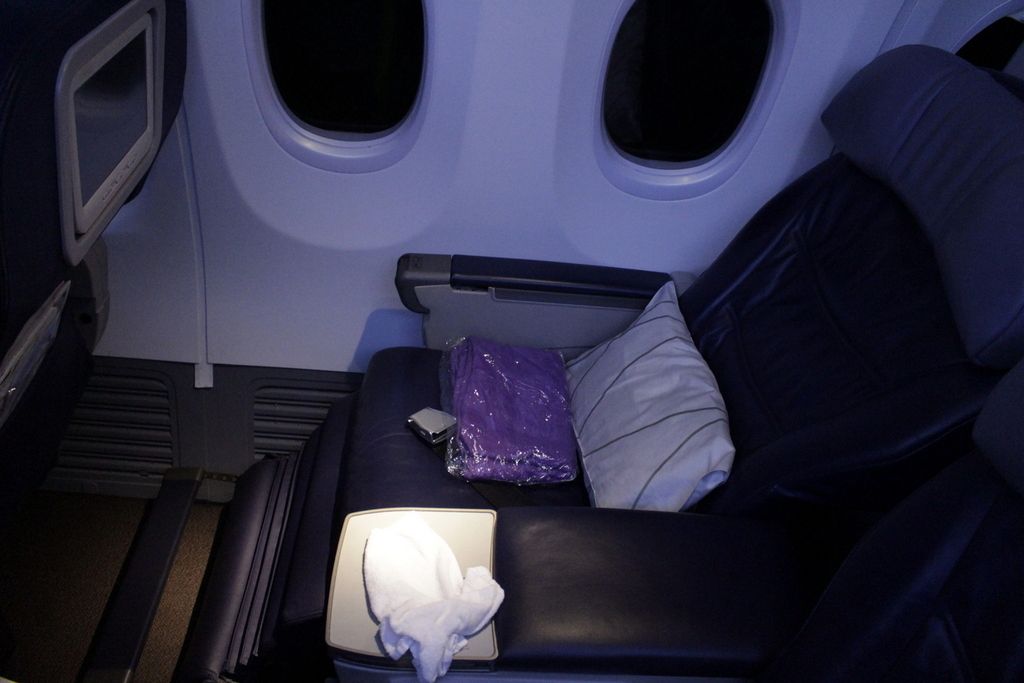 Seat 4F
The flight arrived at KUL at 0013, several minutes before schedule. We are one of the last flights to arrive at KLIA of the day. Almost every gate is occupied in the terminal, which would make a good photo from the viewing gallery. Unfortunately the viewing area is closed during the midnight.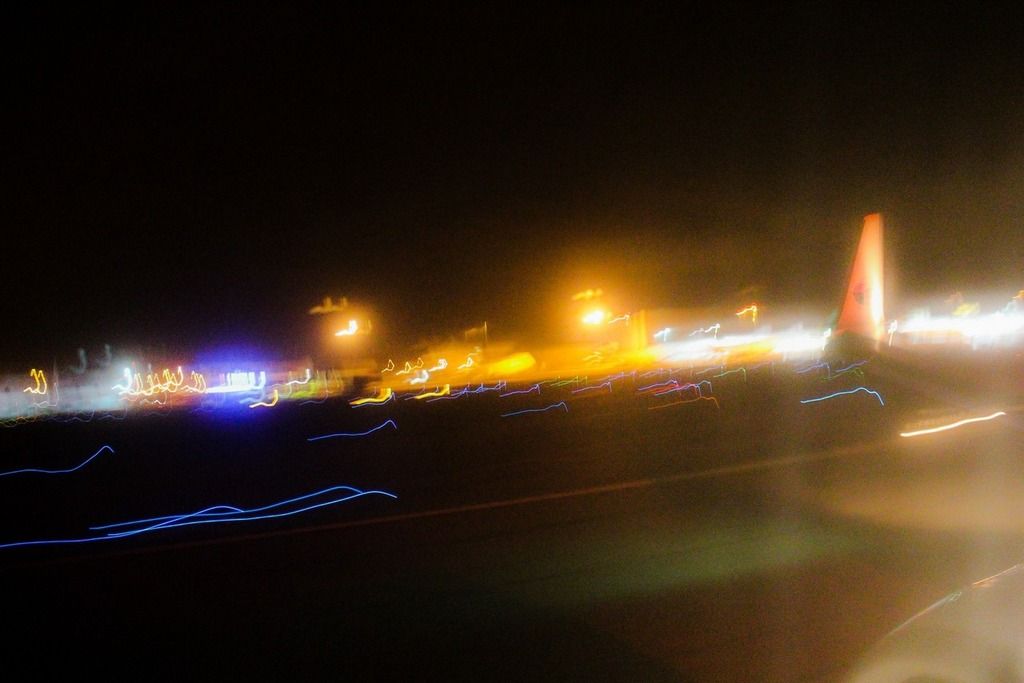 Touchdown at KLIA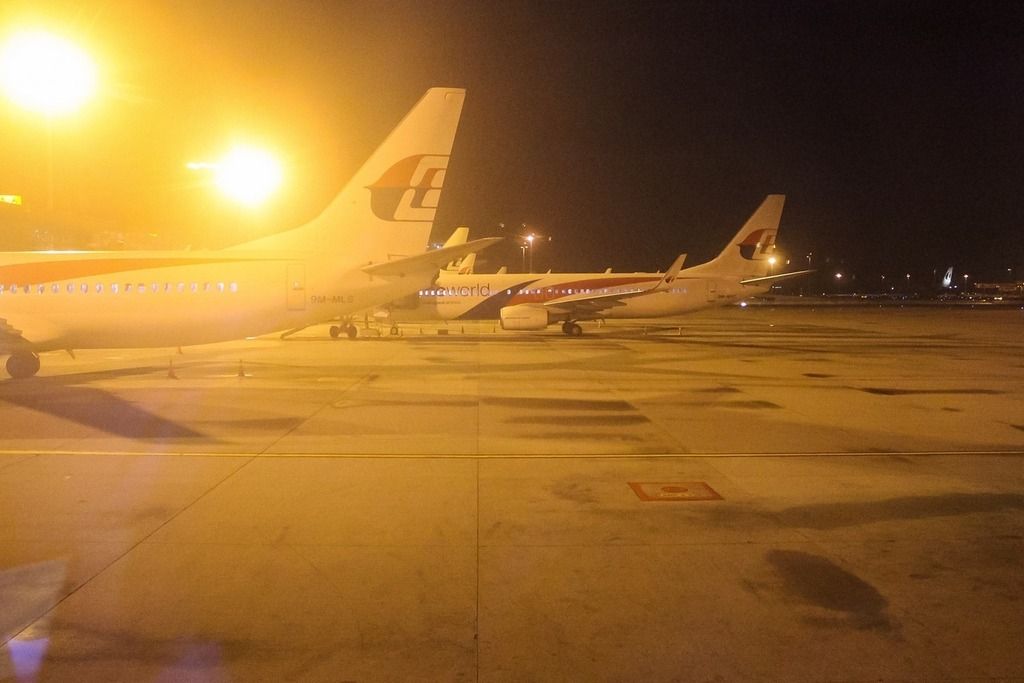 Parked at the gate
Final look at my seat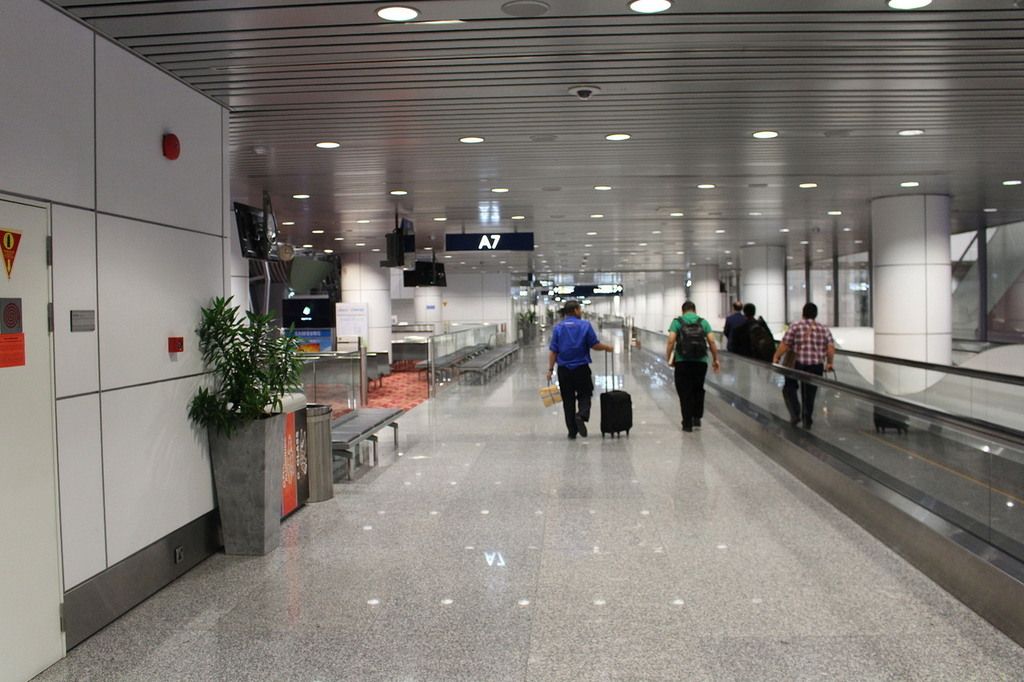 Deserted KLIA domestic concourse
All in all, this is a very pleasant flight in business class for a domestic sector. The crew, seats and the service are all good, maybe lacking a slight bit of polish (menus, more proactive service). I've heard that MH crews are very inconsistent so that is one aspect to look out for. Still, for the price I paid I was very pleased on the whole experience.