The trip was done on September last year but the urge to write about it only appeared now so the information might be a bit dated. The photos are not very good since it was taken by my phone (which was upgraded since my previous report, yay!). This trip was taken with my brother and another friend and it was actually to Kota Kinabalu instead of Labuan. However, a phenomenal promotion by Enrich on several flights to domestic locations, only 1,000 miles and about MYR 150 of taxes enabled us to book a flight on one of Malaysia Airlines' longest flight within Malaysian territory. We then proceeded to Kota Kinabalu by ferry (spend the MYR 100 on the flight there instead, the ferry ride is horribe). In fact, it is the longest flight on MH without the need to pass through immigration on the other end, a distance of 951 miles (flights to East Malaysia generally need to be "processed" by the Sabah or Sarawak immigration due to the agreement when Malaysia was formed in the 60s while LBU is a federal territory). Honestly, LBU is not a very exciting destination unless you are interested in cheap alcohol and the stuffs that usually comes with it. However, there are several historical monuments that may be interesting. This trip report will only focus on the flight as I am not an expert in writing destination travelogue (or writing in general..).
The flight departs at a very early 8:40 am that required us to leave our house before daybreak. The Uber finally dropped us off at KLIA 7 am. KLIA is at its busiest at this time, with long queues at the usually deserted check in counters. However, the lines at the business counters are short and we are processed within minutes.
Crowded check in coutners
Business Class counters
An obligatory trip to the viewing deck yields great sunrise views behind the line of MH and now OD 737s.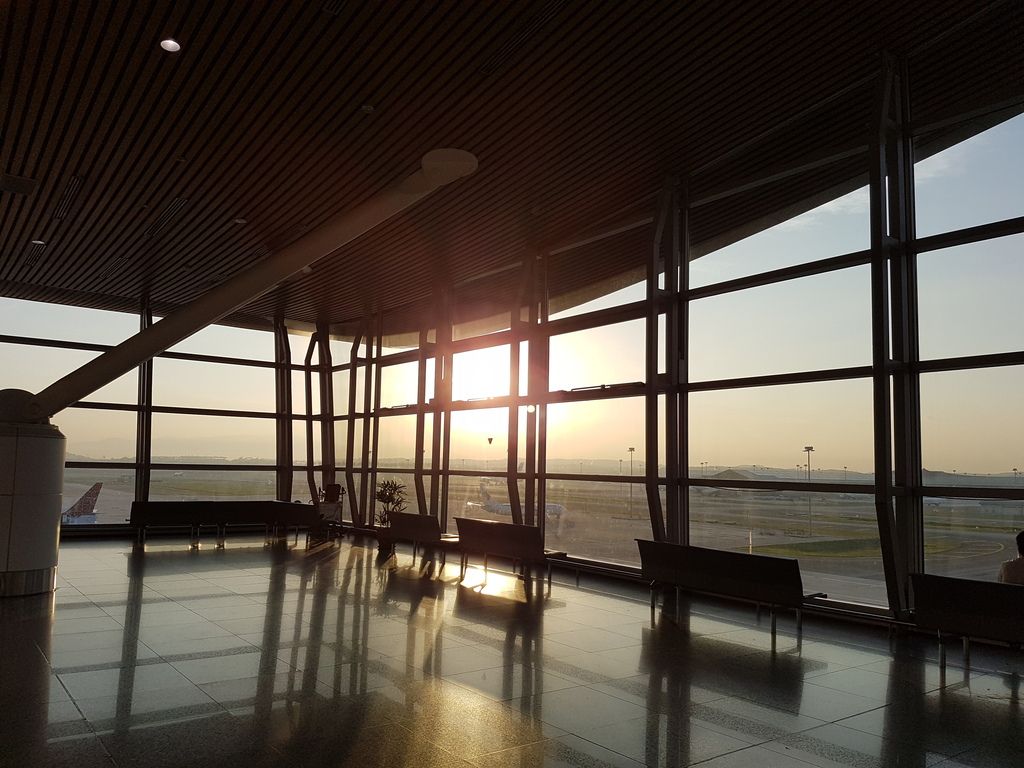 Sunrise
Sea of 737
We only visited the lounge for about 30 minutes since we arrived quite late at the airport. That is still enough for me to enjoy a shower and breakfast while awaiting another breakfast on board. The views from the lounge are as phenomenal as always. Not to repeat myself, but having breakfast so near to a 737 seems kind of surreal and amazing at the same time. The lounge has seen better days though, the decor looks kind of dated. The food options are unchanged from my previous visit one year ago which means it was decent but not memorable. The lounge in the domestic section of BKI is significantly nicer compared to the one in KUL (The shower room in BKI is gorgeous which can't be said on the dated ones in KUL)
Tarmac Views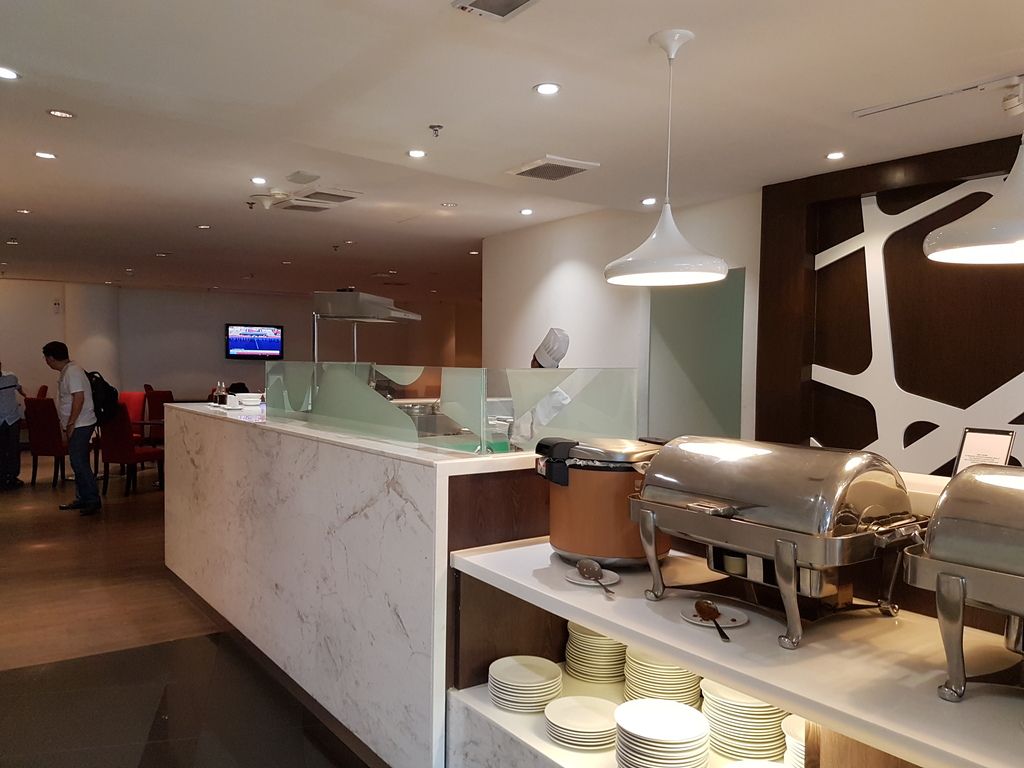 Food Spread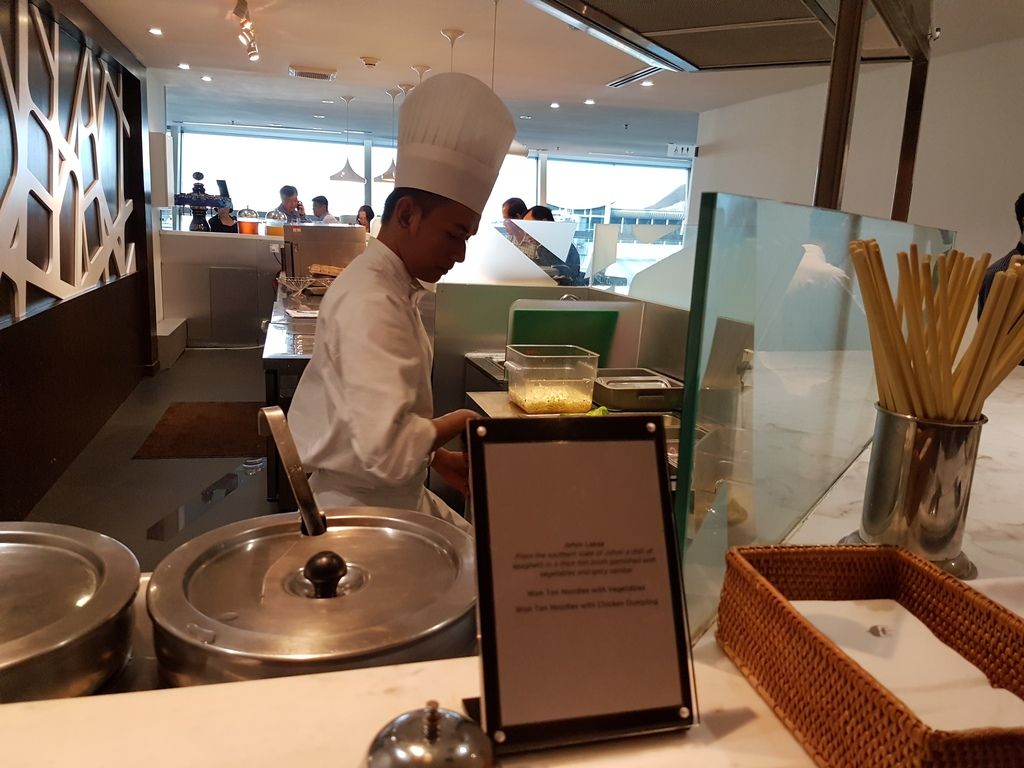 Noodle Bar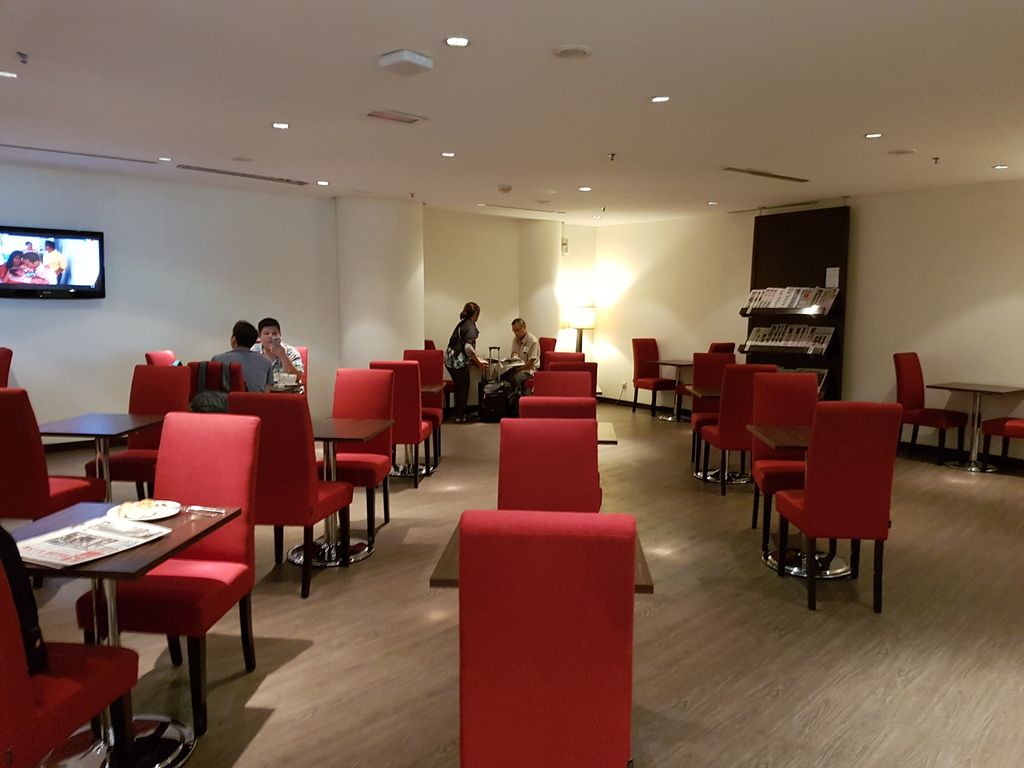 Dining Area
Seating Area
We reached the gate 15 minutes before departure which is a good idea since boarding for business and elite passengers were called not long after we arrived. I saw 9M-MSG parked outside the gate which is great news for my brother since he haven't been on an BSI 737 before.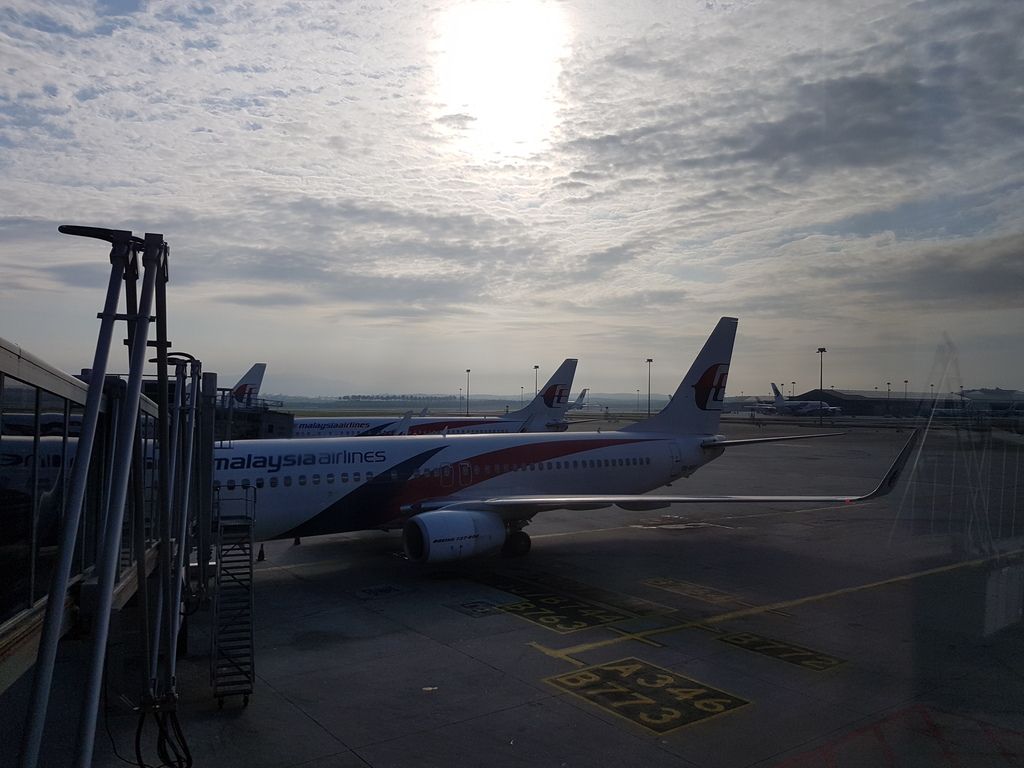 9M-MSG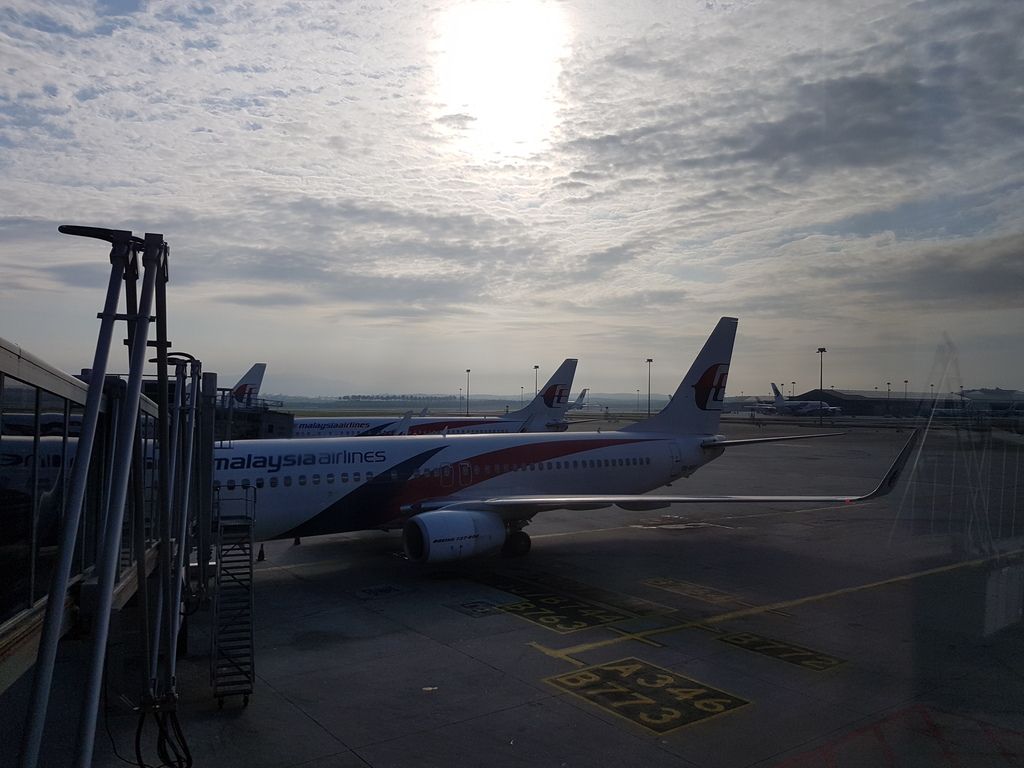 More pictures of 9M-MSG
Malaysia AirlinesMH2608
KUL-BKI
Boeing 737-8H6
9M-MSG
Business Class
Seat 3D24th September 2016
STD: 0840
STA: 1100
The load on the flight was quite light with around 9 seats of the 16 taken. The seat beside me was empty. I prefer row 2 and 3 on MH 738 since row 1 lacks underseat storage while row 4 seems to have limited recline from my experience. Pre-departure beverage was served with a choice of juices. I chose guava juice, as always. I have already been on these seats a few times but to recap, the seats have 42 inches of pitch and decent recline. They are very comfortable for lounging but I can see issues accessing the aisle with another passenger in the way. In comparison with Malindo (OD), the seat pitch is slightly less but I prefer the comfort of the MH seat compared to OD. The small pillow and purple blanket are decent enough for this flight. (Hot?) Towels are provided before departure.
Obligatory Legroom Shot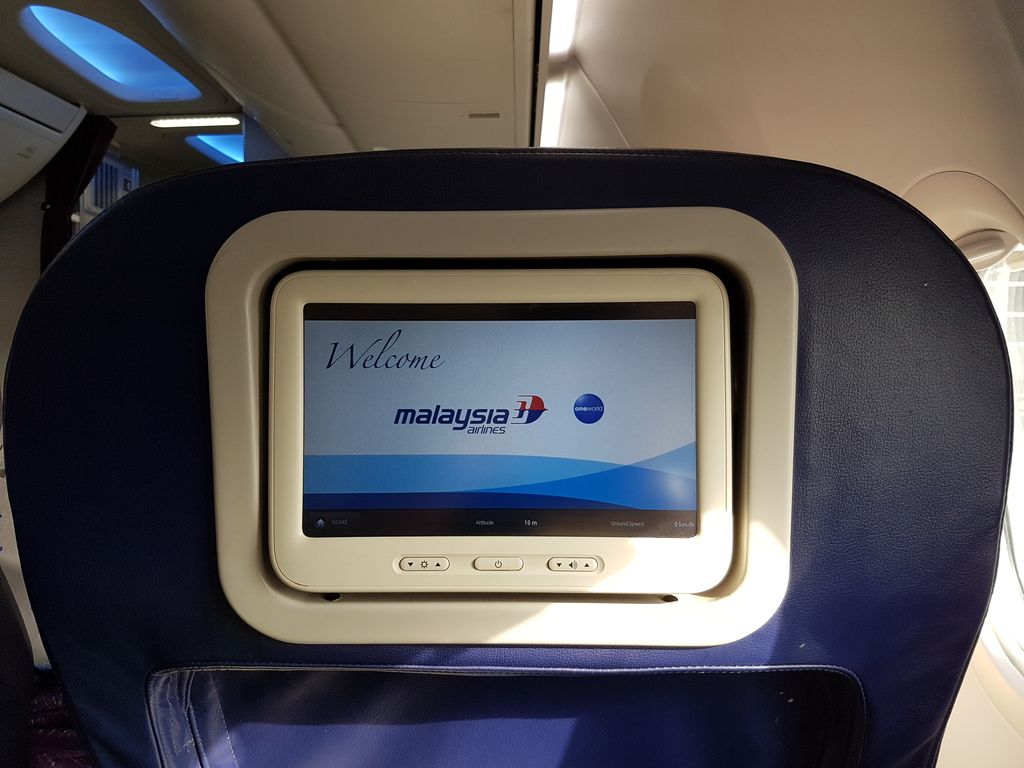 IFE Screen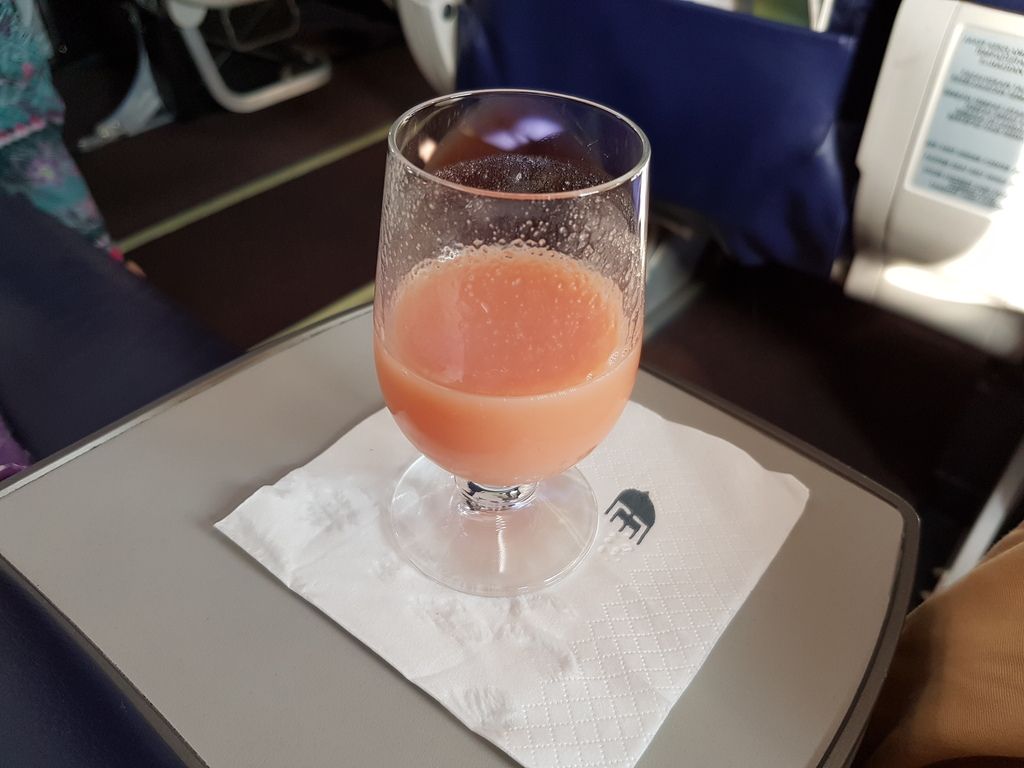 Pre departure Guava juice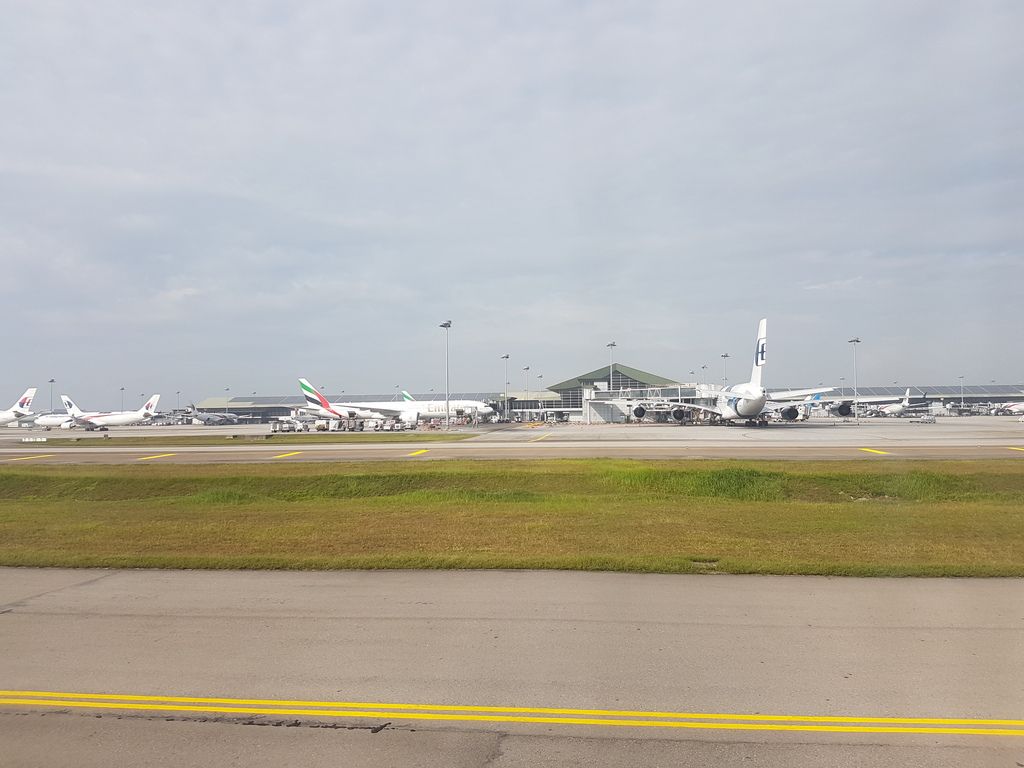 Taxi views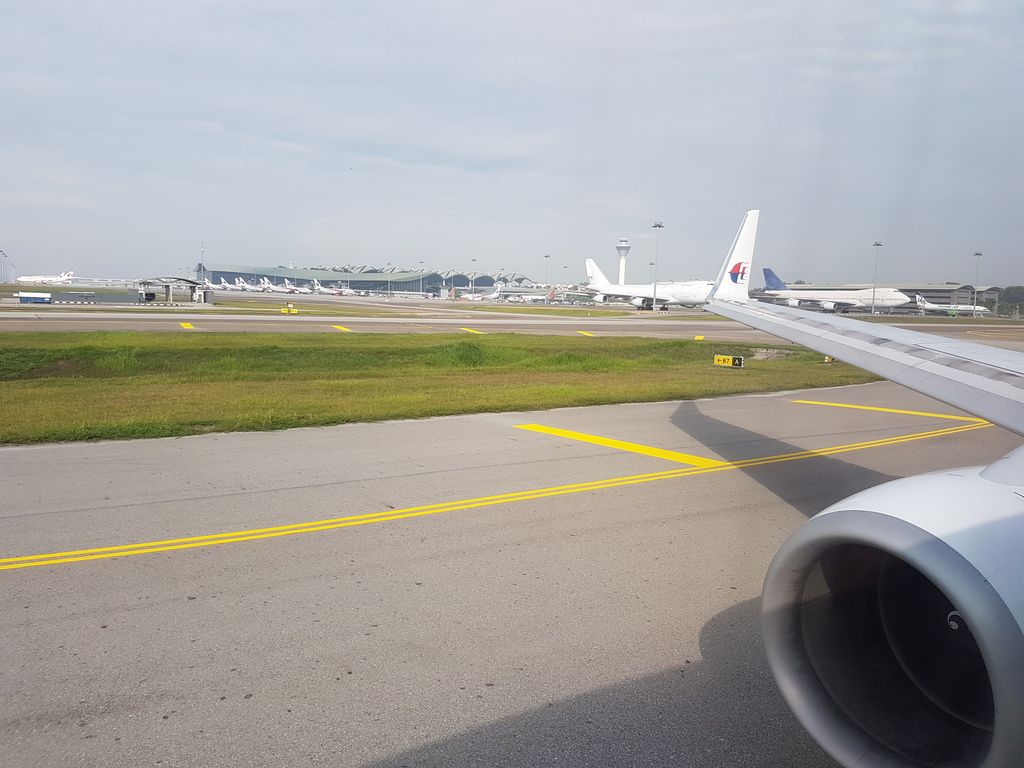 More Taxi Views
Takeoff Video:
https://www.youtube.com/watch?v=bZHLuudZQ_Q&t=125s
The crew on MH are generally better but on this flight they are just average. They are very friendly and professional but the personal touch is slightly lacking. Besides, the crew did not pass through the cabin to proactively ask the passengers for any drink refills but I am sure that a press on the call button will coax the crew into action. Another complaint is that the headphones are just plain horrible (same as those offered in economy for years). The IFE is decent, as always.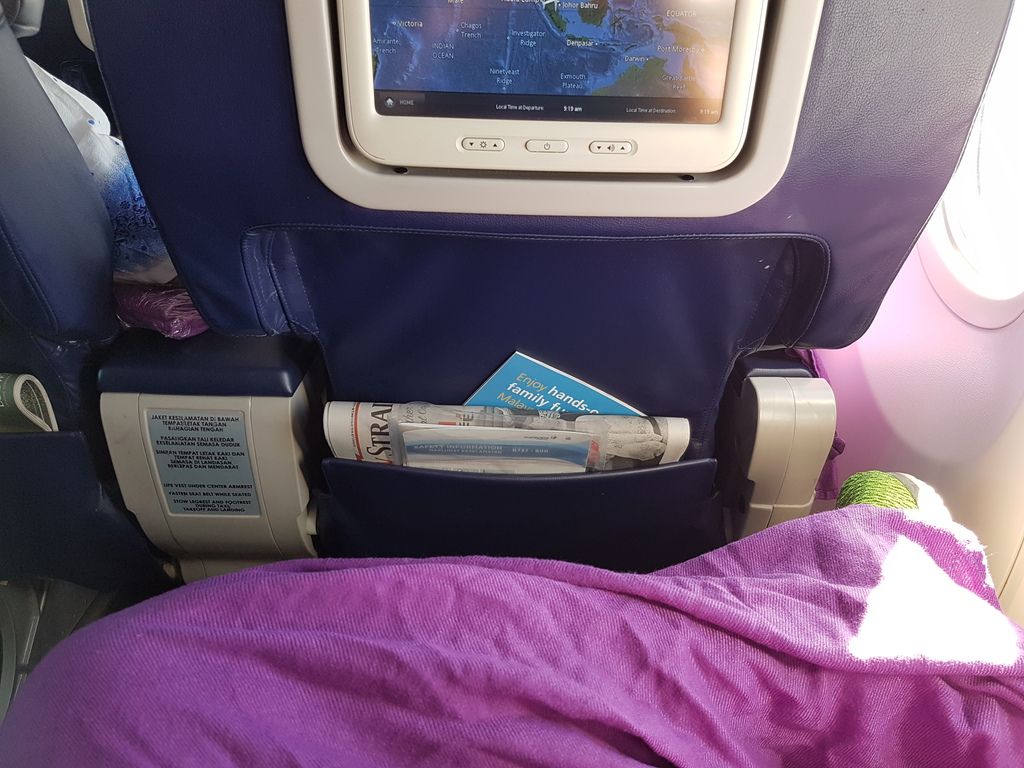 The Purple Blanket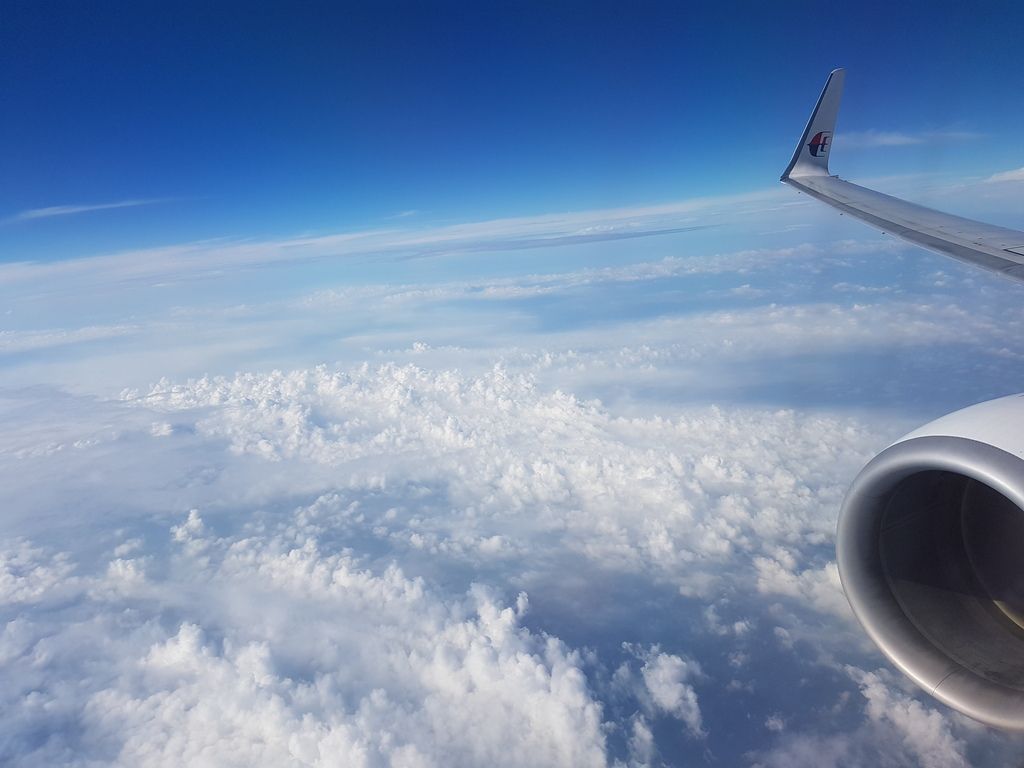 Views after Takeoff
The meal offered on this flight is breakfast with a choice of Nasi Lemak, Continental Breakfast (or English Breakfast, or full breakfast?; as a Malaysian I am not well versed on what is it called) and another option that I unfortunately forgot. A frequent MH flyer in the row in front of me remarked that the meal choices are not changed much during the years. No menus are provided on this flight and on my previous MH domestic J class flight. The only annoying thing about the lack of menus was that I have no idea on the choice of drinks available (alcohol is sadly noticeable by their absence). I chose the nasi lemak while my brother picked the continental breakfast option.
The meal service started with a cup of water and a pack of signature MH peanuts.
Water and Peanuts
The nasi lemak is delicious but the presentation screamed "economy" with the foil container for the sauce and plastic bag for the anchovies and nuts. A fruit plate and a small tub of yogurt are also present on the tray. The nasi lemak is complimented with a cup of pulled tea. Breads were also offered from a basket. They are very good.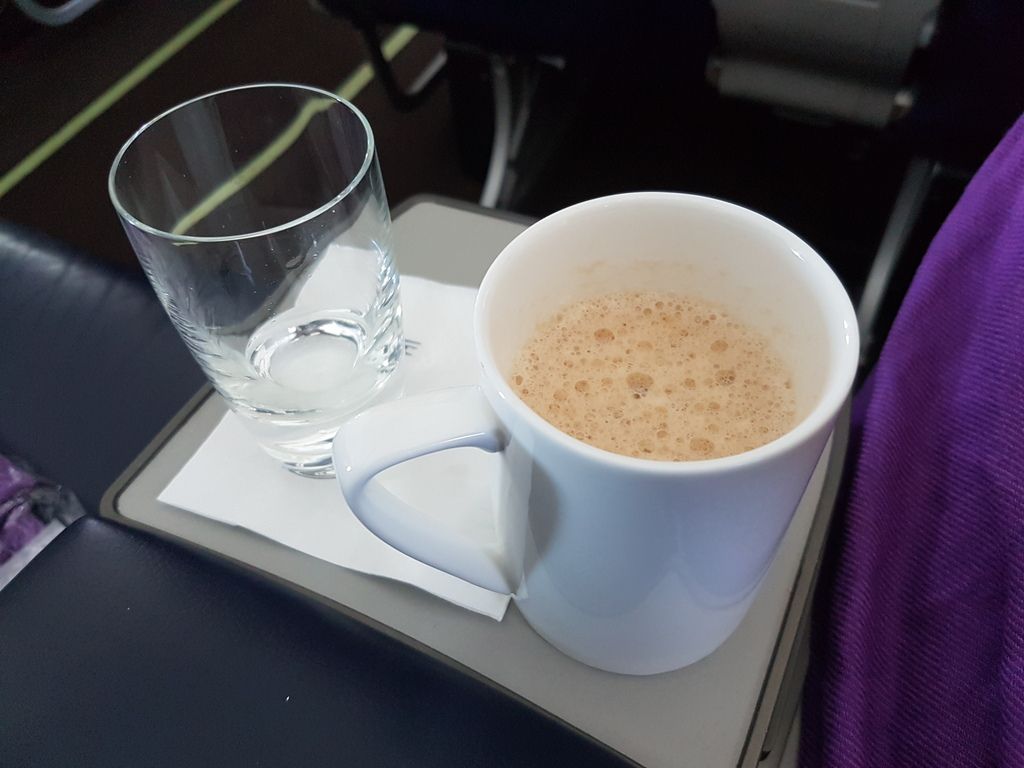 Teh Tarik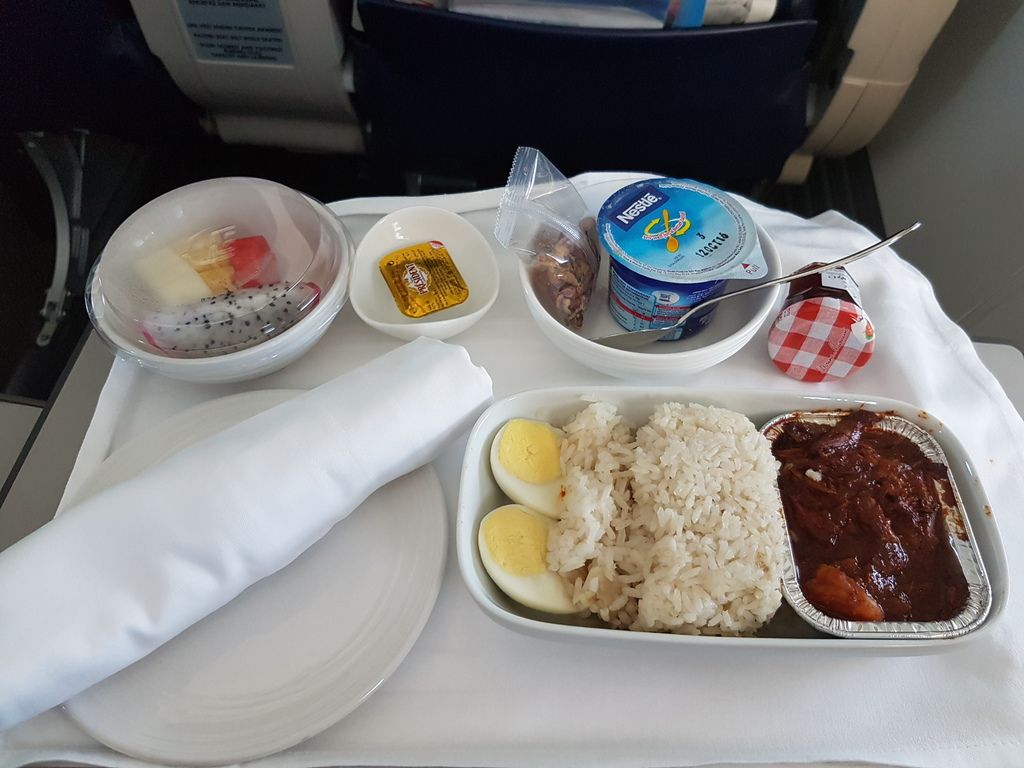 Nasi Lemak
Bread
My brother said the "breakfast" was also good but it was all too familiar looking. I was served this on a PEN-KUL flight in J and SYD-KUL flight in Y.
The Breakfast (Not the actual on served on this flight, this picture is taken on MH1143 PEN-KUL)
I had another cup of orange juice and water after a brief chat with the crew about what they do and Malaysia Airlines' past few turbulent years which is always very interesting and insightful.
Views of unknown islands during flight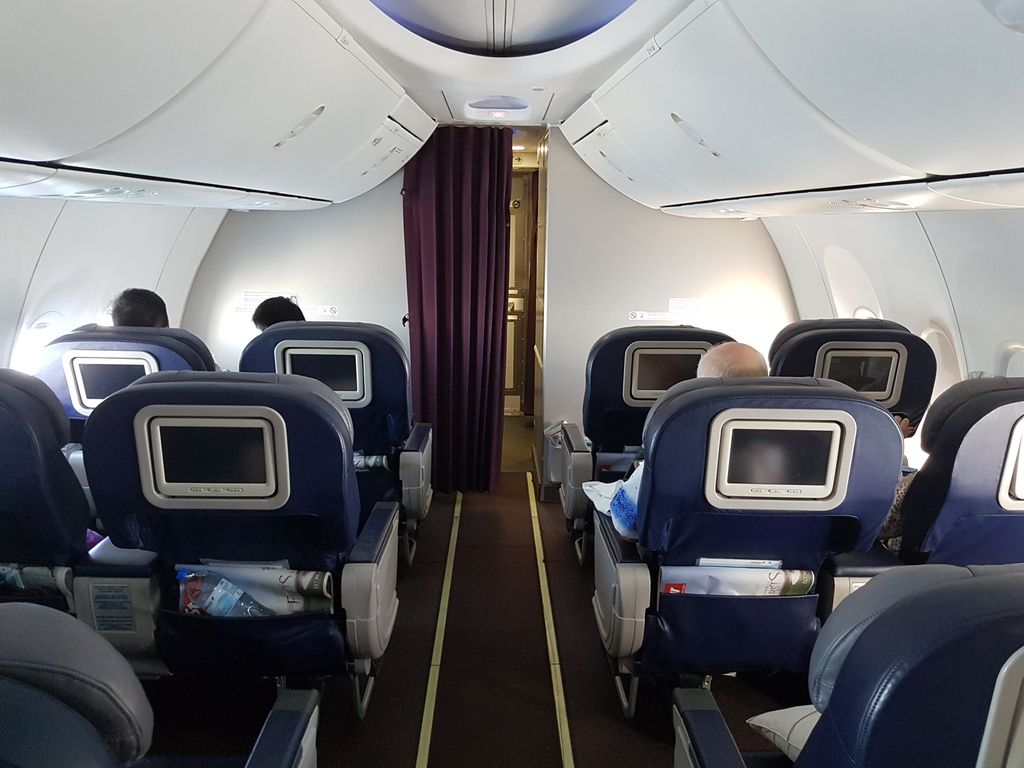 Cabin during flight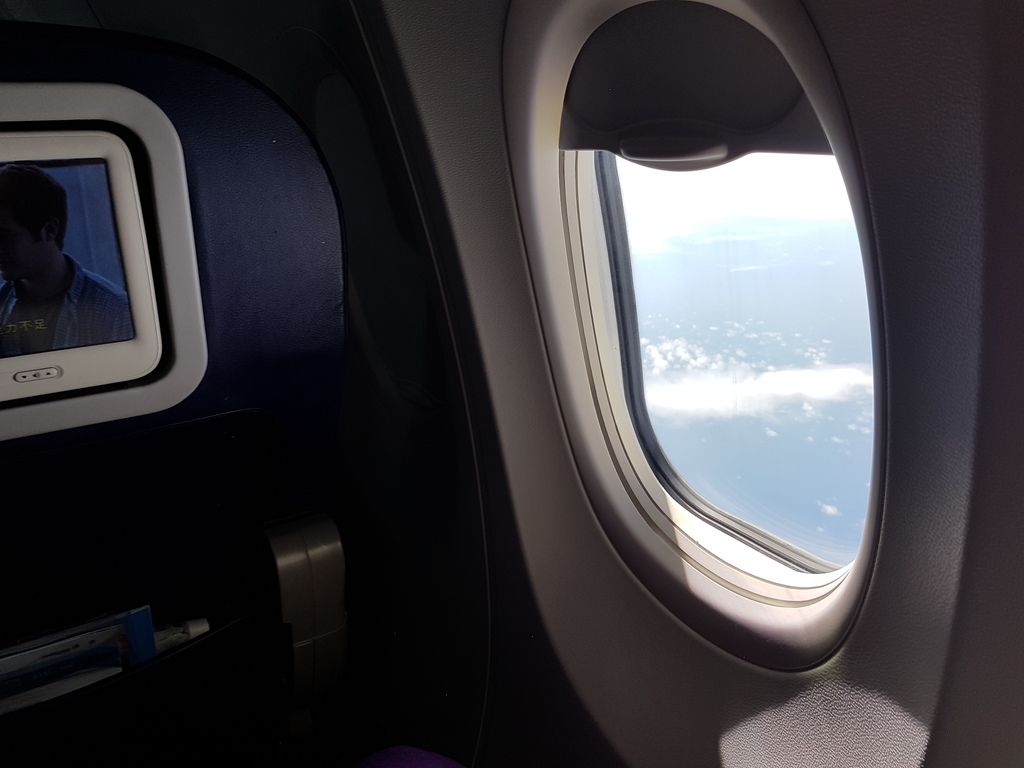 More cabin views
A better view of the seats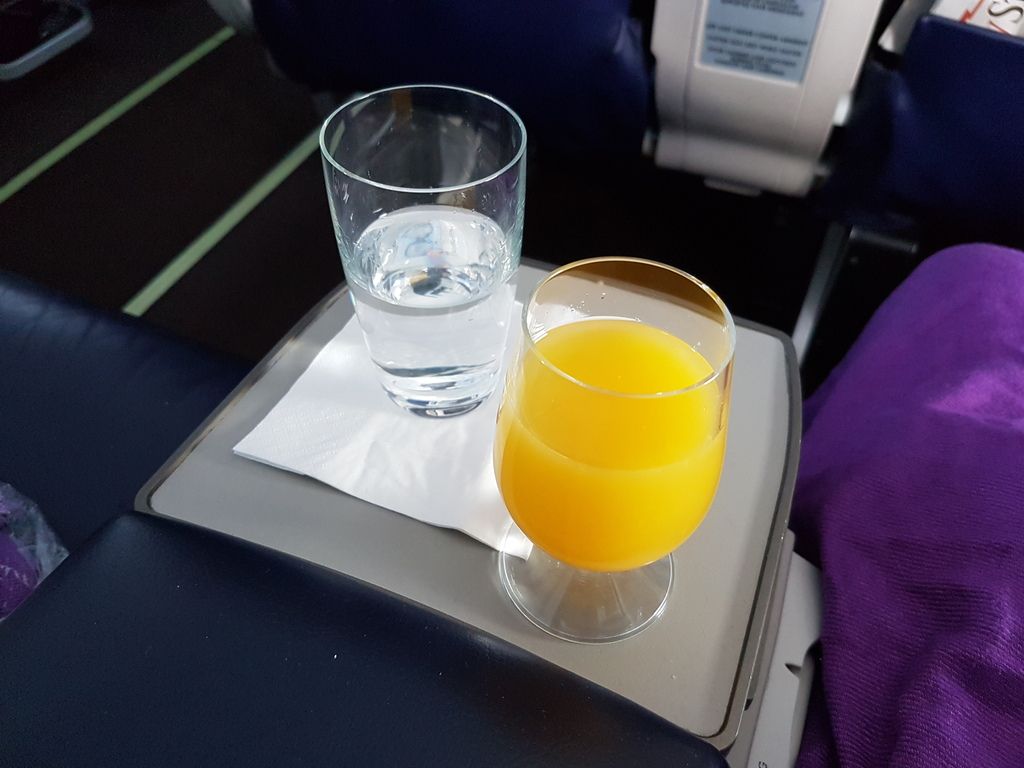 Orange juice and water
As usual, an enjoyable flight is always too short as we began the descend for Labuan airport.
Airshow during descend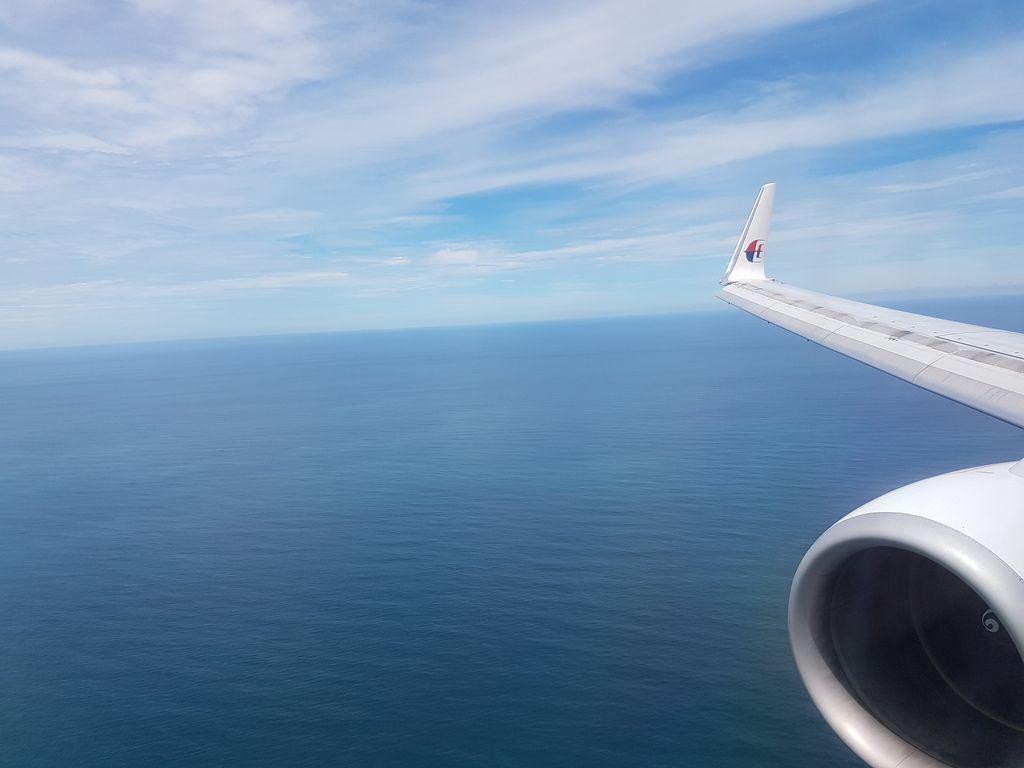 Views during descend
LBU terminal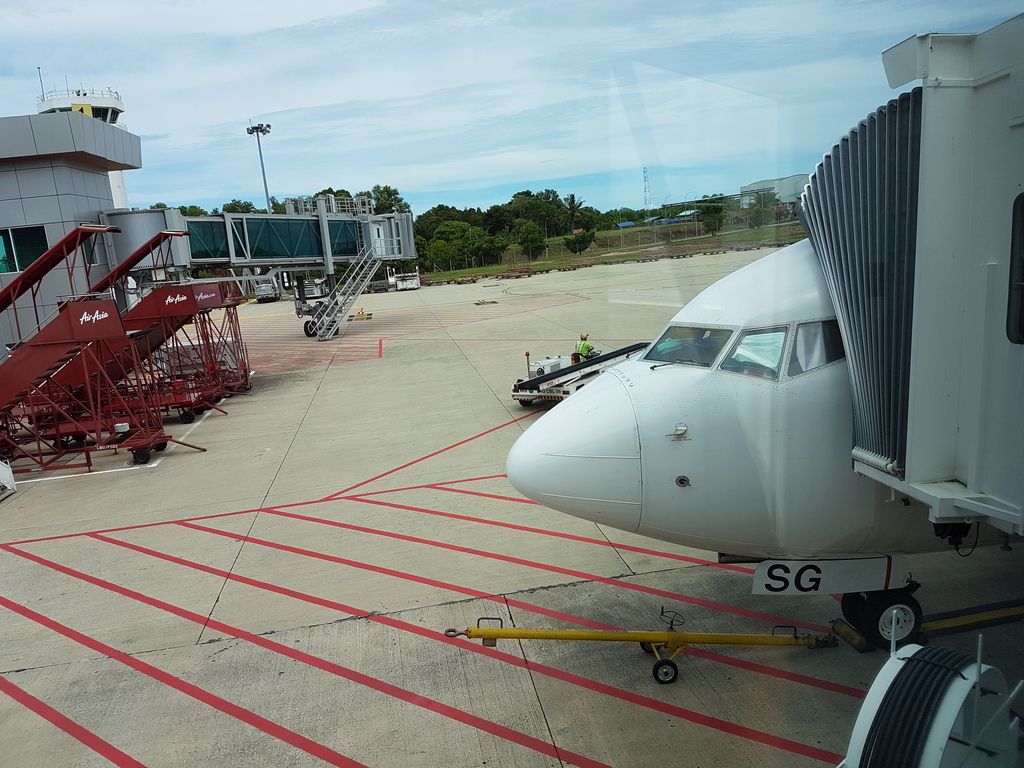 Thanks, 9M-MSG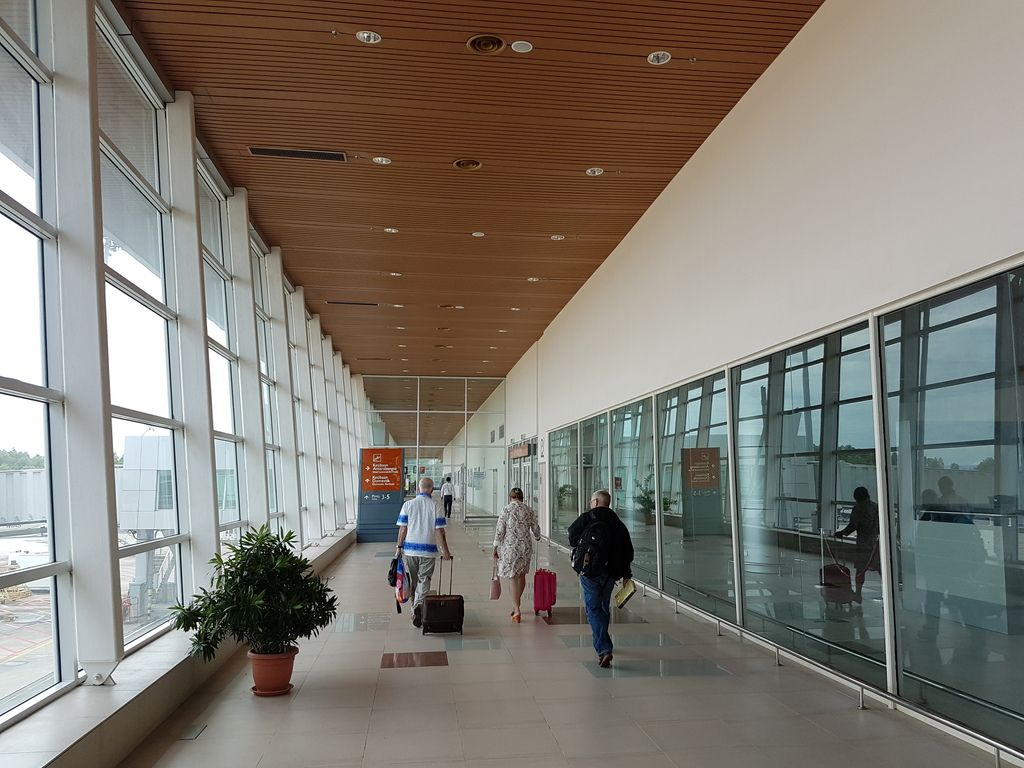 Inside LBU terminal
LBU is a small and quiet airport with 4 jet bridge and around 10 departures per day. Interestingly, it also houses the only McDonalds and Starbucks on the island. I bid farewell to 9M-MSG and embarked on the vacation in Labuan. We flew back to KUL from BKI a few days later on Airasia which was miles apart from what I had experienced on MH2608. I am very pleased with the service and product I got for what I paid but I can see the frustrations on passengers paying the full whack for the tickets. Malaysia airlines does most things right (food, hard product, crew) but there are some caveats (lack of menus, horrible headsets, odd polices) that prevent them from being world class (not that I flew on long haul flights in premium cabins of other carriers, so I guess my thoughts are not that useful?). I still need to fly on Malindo on a longer flight but from my past experience MH is still provides the best product for travel within Malaysia.
To me, a college student and aviation enthusiast from a small city in Malaysia with limited funds and time, any flight in any cabin is an experience to be remembered so I am very happy that MH (and OD) offered me a way to see and try what happens "behind the curtain" at a reasonable cost (Enrich promotion, MH Upgrade and the excellent fares on OD). A lot of my friends asked me why I spend so much on flights to such mundane destinations. While I understand their reasoning, to me it is not just about the destination, but the journey; and why not make the journey there exciting as well?
Previous Trip Report:
http://www.airliners.net/forum/viewtopic.php?f=9&t=1357001
KUL-BKI-KUL Rayani Air and Malaysia Airlines
http://www.airliners.net/forum/viewtopic.php?f=9&t=1349461&p=19222867#p19222867
KUL-PEN-KUL Malaysia vs Malindo