The United Airlines Island Hopper
This is my first ever review, but I hope to write many more in the future. I had the chance to fly on the United Island Hopper. I just moved to Guam and knew I had the chance to fly the island hopper. Why fly the seven and a half hour non stop flight in a boring old plane with no entertainment, when you can do this instead? This isn't for everyone though. It's 14.5 hours with SIX takeoffs and SIX landings. Some of the landings are very hard.
I flew on a Monday which meant I had the chance to stop on all five islands. It was a wonderful experience and I hope you enjoy this review. I didn't notice this until well into the flight, but look closely. Some of the boarding passes say see agent. This will lead to an adventure in Micronesia later.
Our gate was quite busy and I had to do another check once I arrived. But check-in went fairly smoothly and we pushed back on time.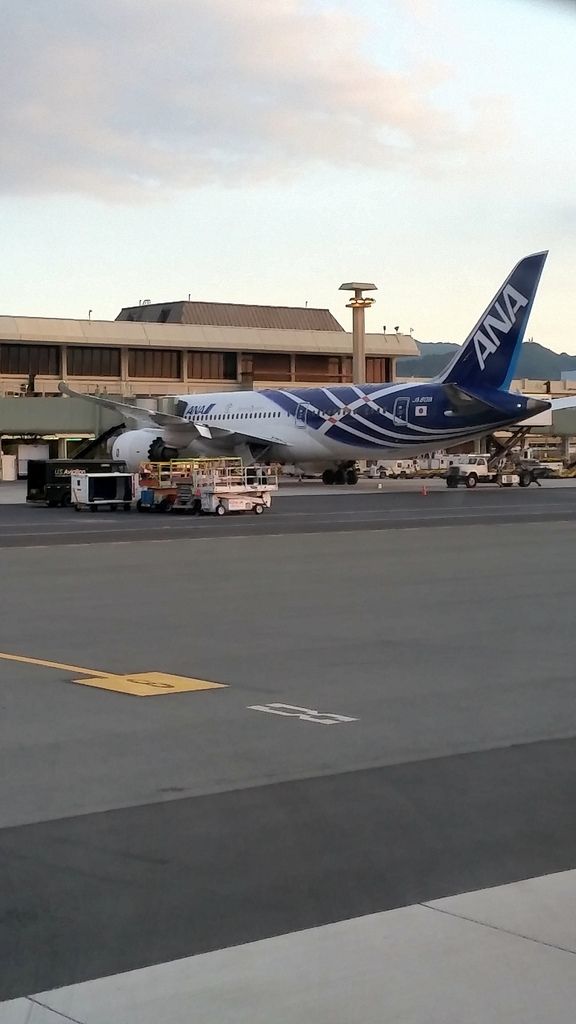 ANA's 787 was right next to our plane.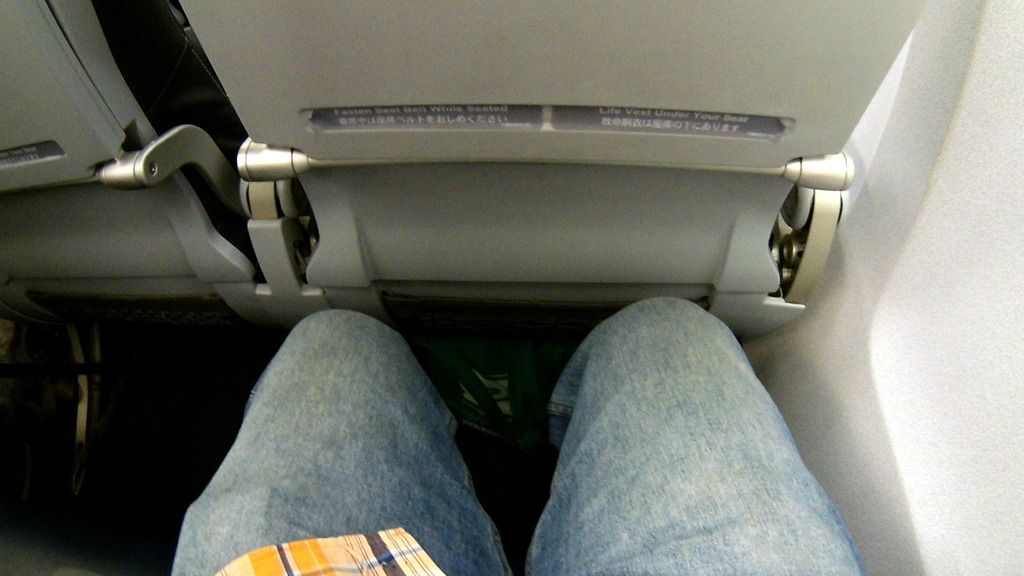 I was seated in economy. Not great legroom, but what do you expect? I tried to snatch a window seat on each leg of the flight. Do try to get a seat toward the rear of the plane if seated in economy. I was seated in row 34 F, well back of the wings. Be aware that there is no electrical plugins except in business and economy plus. Do make sure all your electronics are charged. It's a long day. I was seated with a very nice elderly gentleman going to Kosrae. He told me a little bit about the island and what life was like there. I was lucky in that there was no passenger in the middle seat for the longest leg, which makes it a little more bearable.
The first leg is the longest leg, from Honolulu to Majuro, Republic of Marshall Islands. It's about four and a half hours. Because we couldn't access the internet out here, we were able to watch the tv shows and movies for free in the seatbacks.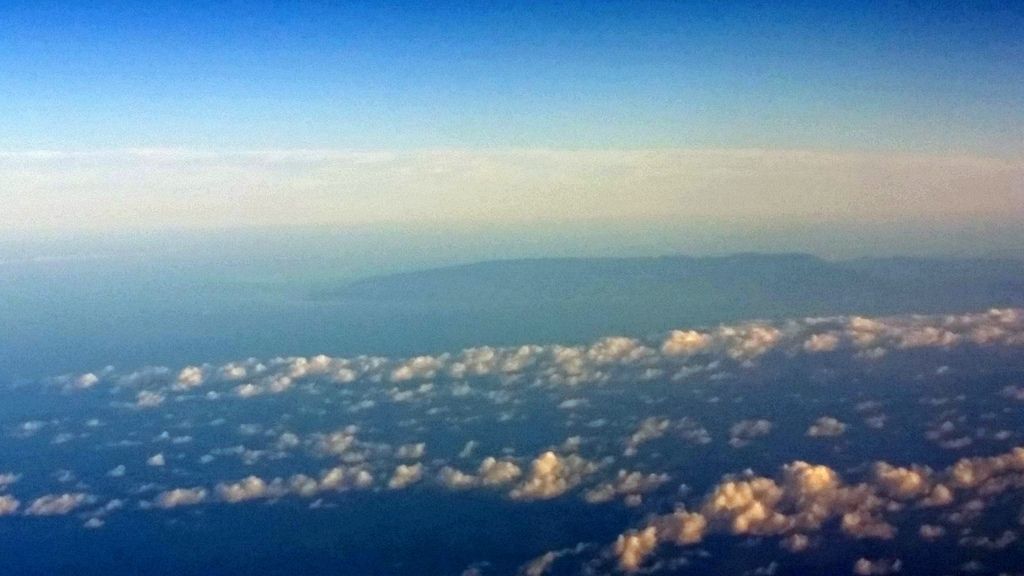 Bye Bye Hawaii! Last land I will see for a while.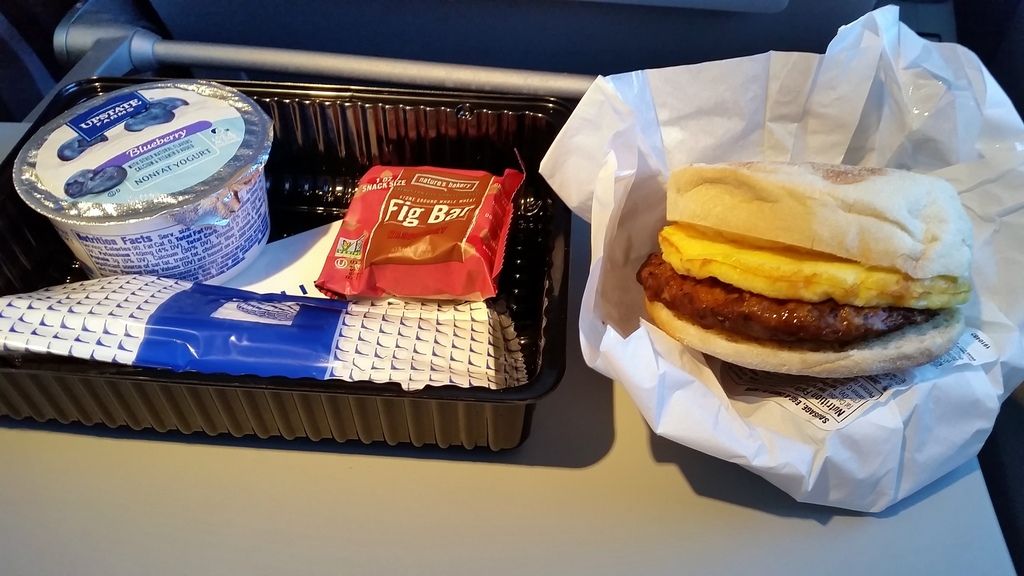 Breakfast was served about an hour into the flight. As has been mentioned before, this is the only meal you will be served. And this wasn't even that filling, but sufficient for this leg. Try to bring your own food if you want something filling. Basically the rest of the legs, you'll be given beverages and nuts.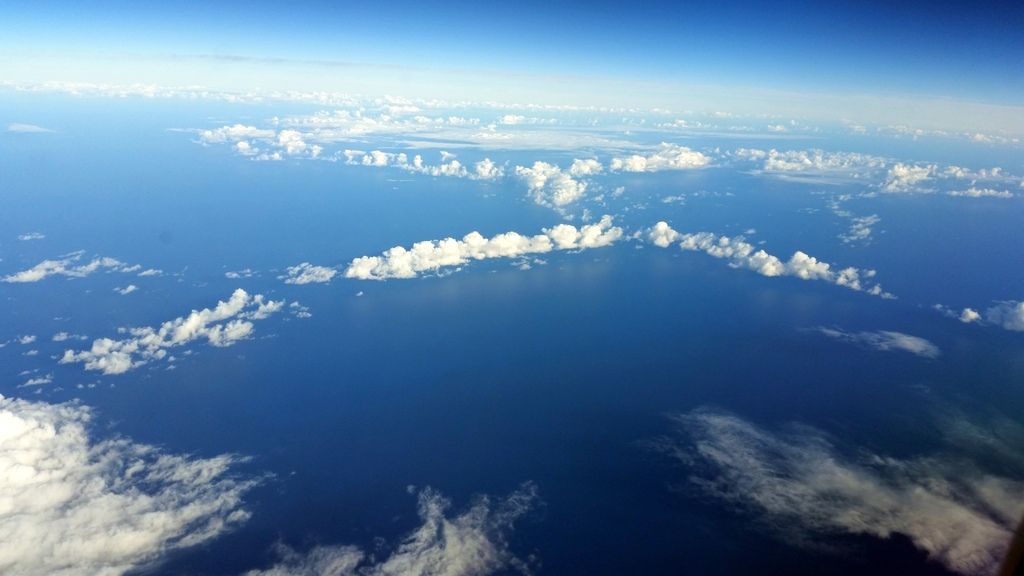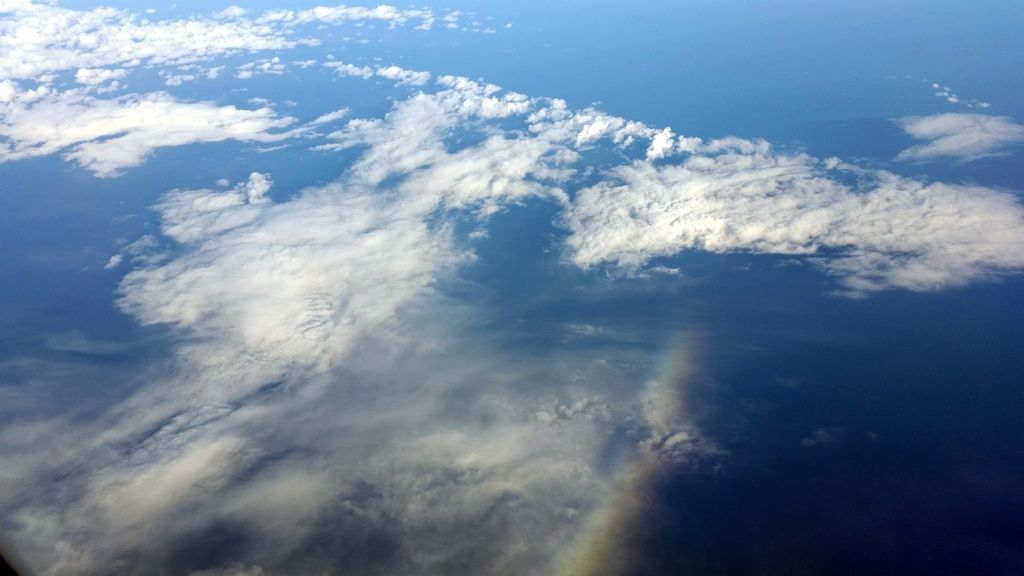 I've seen and read a lot of reviews about this flight, but no one really can explain what it is like to fly this unless you do it yourself. While in the air, I felt like I lost a sense of time and space. For as far as my eyes could see there was nothing but clouds and water. We were the only people out here. I've flown a lot longer flights to far more distant places. But this literally felt like the longest flight I ever took. If you like seeing storm clouds and blue ocean, this is the flight for you. That's what you will see for four and a half hours. We would eventually cross the International Date Line about halfway in and I welcomed in Tuesday morning. Again, you lose a sense of time, space and perspective. Once we cleared Hawaii, there was literally NOTHING until we got to Majuro. NOTHING! No islands, literally one tiny dot I could see which, zooming in from my camera, looked like a small ship. We literally were the only people out here. You are literally in the middle of the Pacific Ocean. And for me, I literally felt like I had reached the ends of the earth. That is how remote the area you fly over is. Thoughts of if something were to happen to the plane crossed my mind, but I watched a couple of movies to pass the time. Some try to sleep, but my general excitement kept me awake in spite of the early morning flight.
Finally! Majuro!
After the longest four and a half hours, some spits of land began to appear. We were making our approach into Majuro. Now unfortunately, from my view I saw some of Majuro, but I recommend grabbing an "A" seat. We made a wide turn and eventually lined up to land. You could see how narrow Majuro is. It's literally one road that goes around the island. The land is just big enough to hold the airport. You could also see the sea wall and some minor inundation. It'll be a sad day as the oceans rise that Majuro may not exist much longer. Transit passengers, like myself, could leave the plane, we just had to take our carry-ons off. A majority of the people got out here. Once inside, we waited at the gate area, basically a waiting room. Not many amenities inside, but there was a lovely lady selling handcrafted items. Do buy something small if you want. About 45 minutes later we boarded for the short hop to Kwajalein.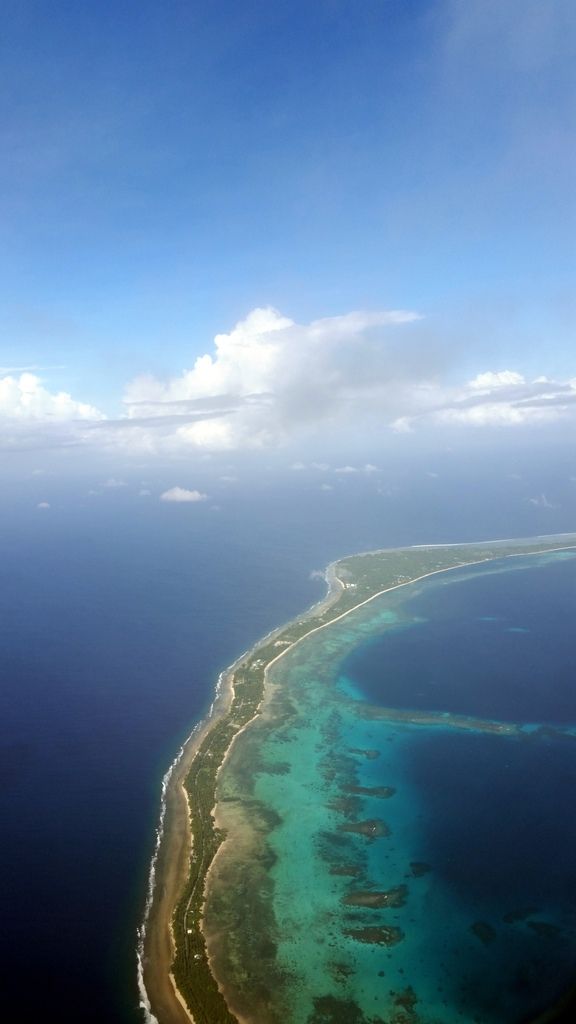 First sights of Majuro!
Had to get a photo in front of the sign welcoming me to the Marshall Islands.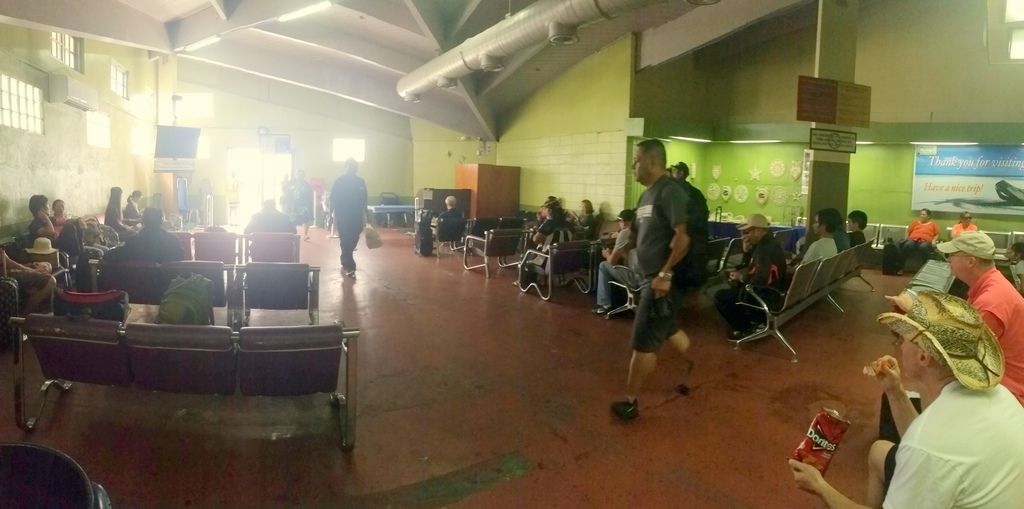 Waiting area inside Majuro Airport.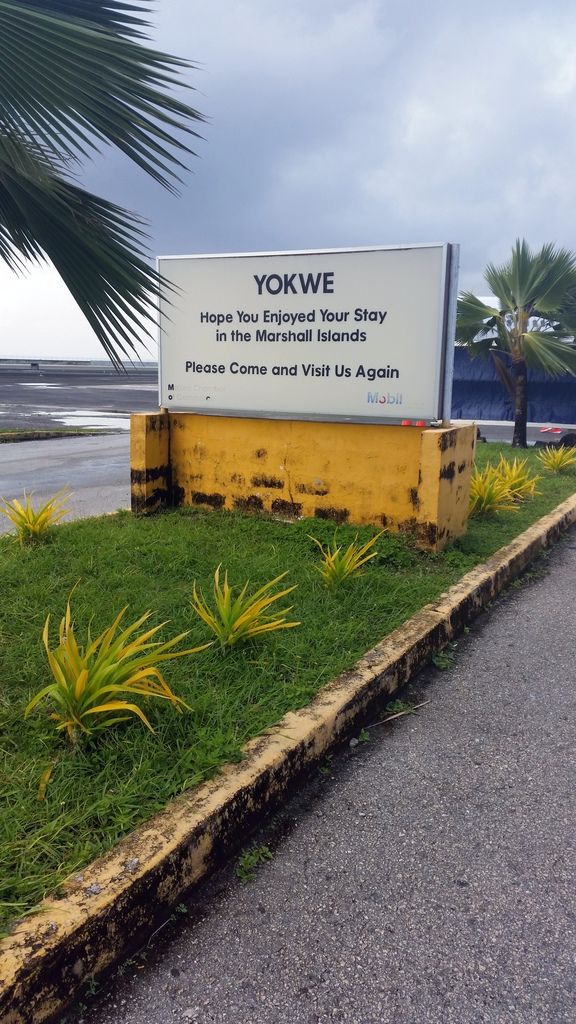 Short stay, time to go to Kwajalein.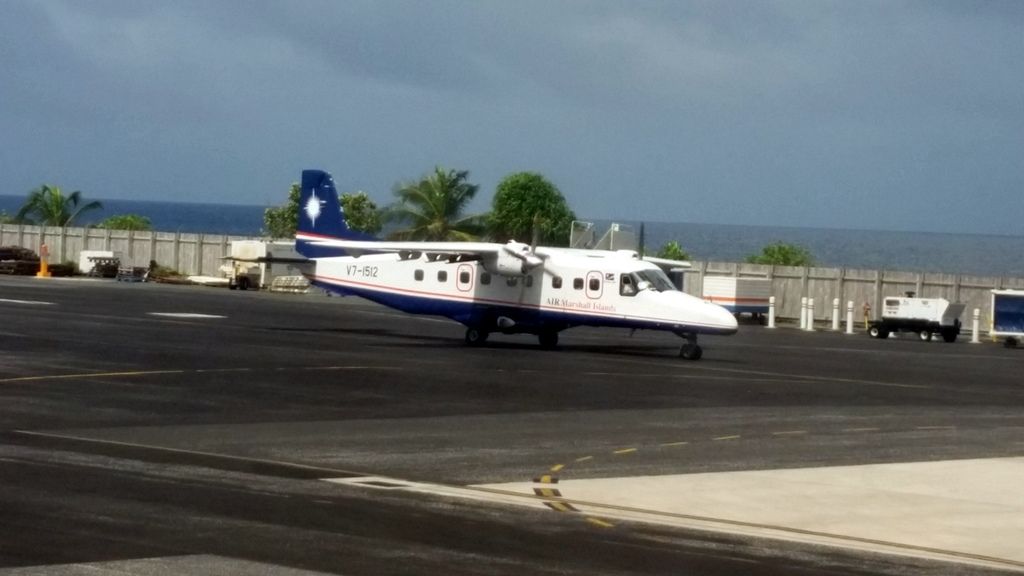 Not often you can see Air Marshall Islands. This plane came in right as we were leaving. This also led to a lengthy delay. We were waiting at least 20 minutes. The runway is also the taxiway and shortly we were airborne and this time those on the "F" side of the plane could see some of the island. Too bad the clouds were building so I couldn't see much.
Bye Bye Majuro. Hope to see you again!
Kwajalein
Not much to say here since only those who have prior clearance are allowed off here. Kwajalein is a U.S. military instillation so technically you are not supposed to take pictures or videos. Also they do inspections so make sure you know where your carry-ons are. By this leg, it was a fairly empty plane. The elderly gentleman and his wife took the empty row, 33, for themselves.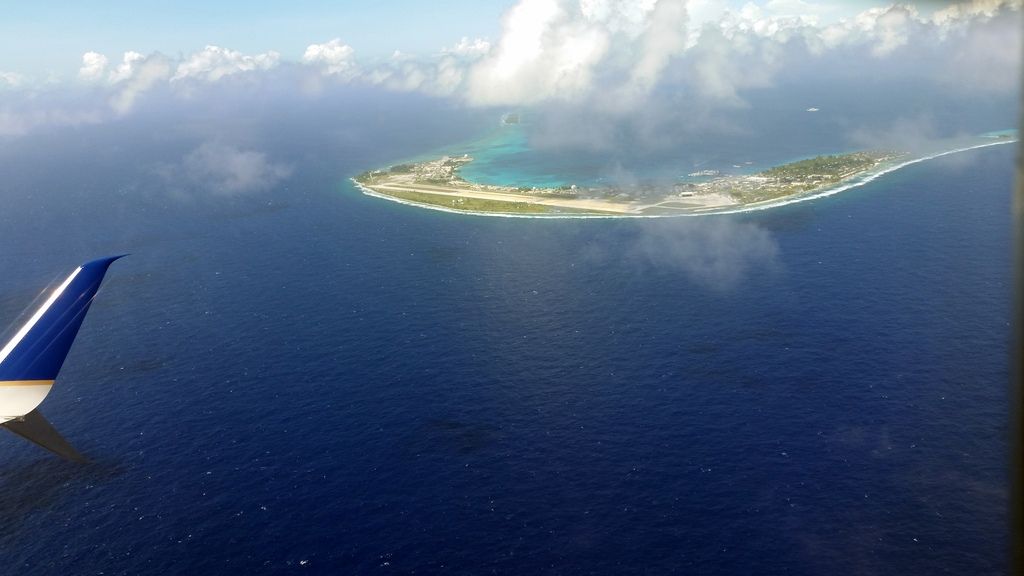 Cool view of Kwajalein on the "F" side of the plane!
Kosrae and Musical Chairs Begins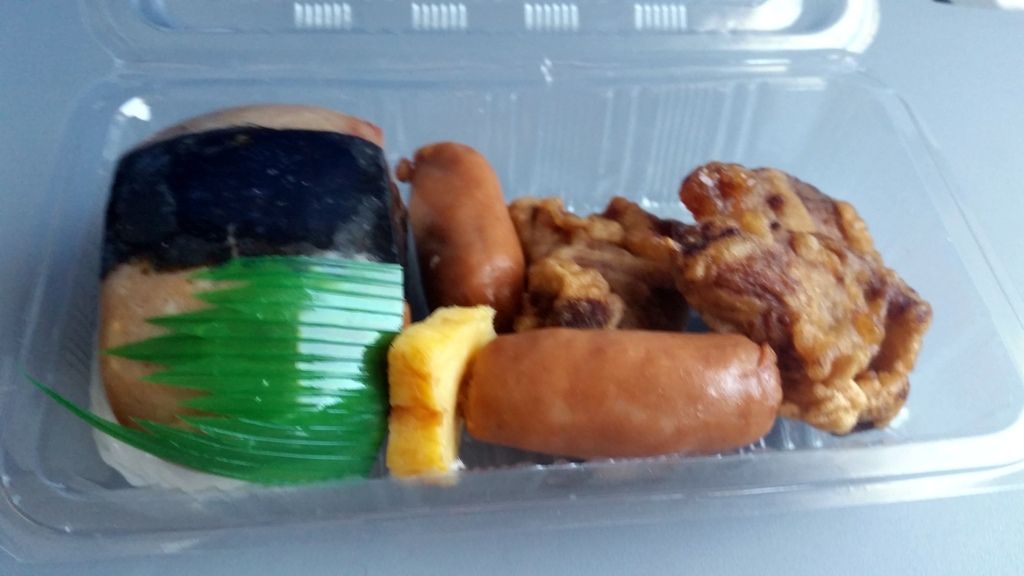 This was my lunch which I brought aboard. Again No real filling food so bring your own.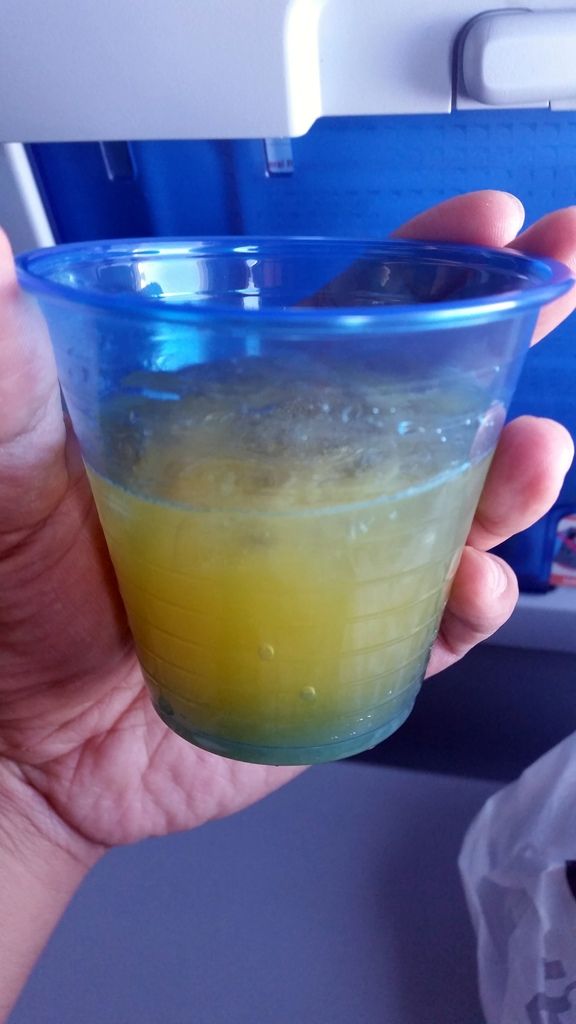 I also got to have some Mango Juice to drink.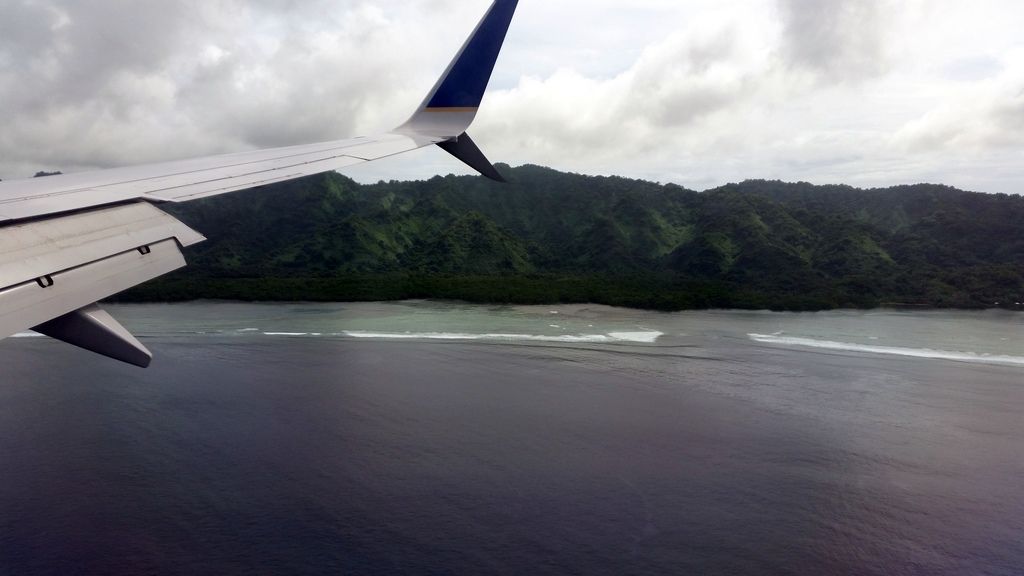 Before switching seats, the elderly man told me about the "Sleeping Lady." I would be able to see it as we were landing. There she is.
See, I am in Kosrae!
This is the inside of the waiting area at Kosrae Airport.
Here, I had to get off the plane and see a gate agent. Unlike in the States where there is always someone at the gate, I had to wait. A gate agent came and handed out boarding passes to the standbys. She had no ticket for me. She looked at my boarding pass which said "see agent." She said, "I've never seen that on a boarding pass before." That's something you don't hear often. She took my pass and handed it to someone. They went off and the agent told me to wait. She started boarding the passengers. About 10 minutes later and group 5 boarded, I was left in the terminal by myself. Not much i could do but wait. It felt like an eternity, but the agent said go to the plane and someone will hand you a boarding pass. At this point I started sprinting towards the plane. Eventually another agent ran and kept telling me to slow down. A ramp agent started laughing and told me not to run. There was still a line. I had a nervous chuckle but was eventually handed a seat assignment, 27 A. I now had a wing partially obstructing my view.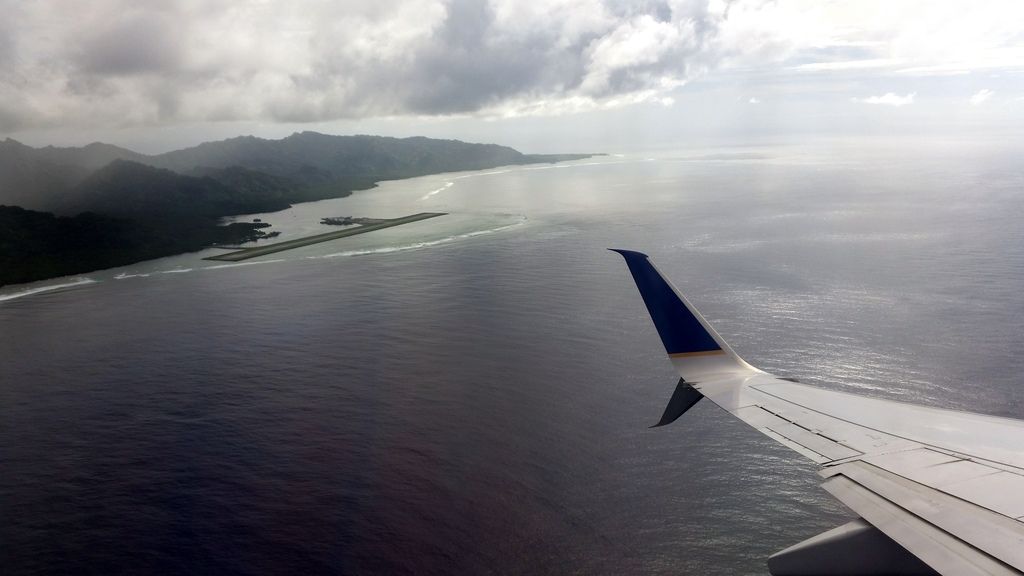 Bye Bye, Kosrae!
Pohnpei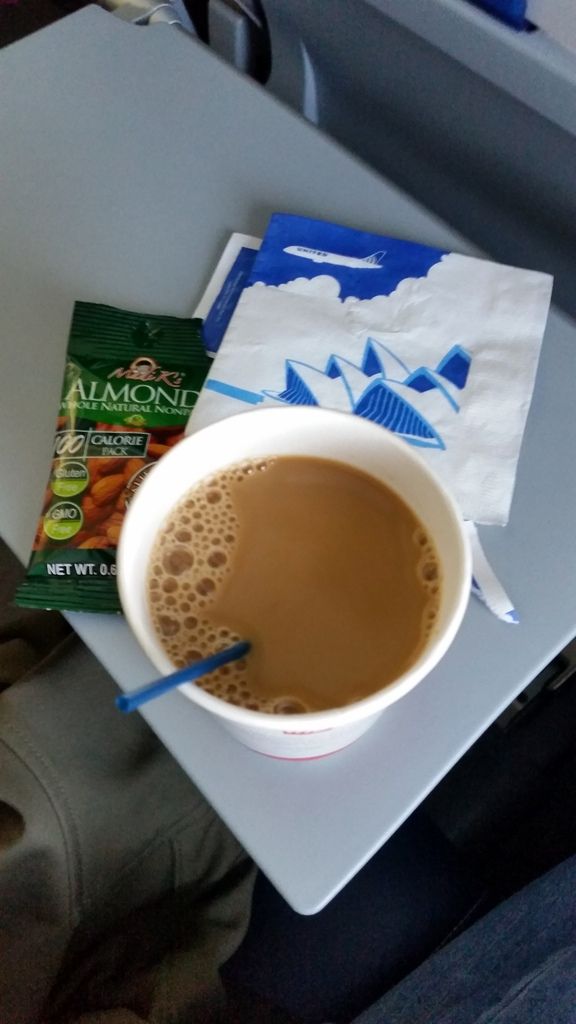 Snacks of nuts and a hot coffee.
Getting ready to land in Pohnpei.
Pohnpei was probably the hardest landing I experienced. It literally felt like the plane dropped out of the sky and the Captain applied the brakes super hard. Once again, my boarding pass said see agent. This time, I told the gate agent I needed a seat assignment. Same situation as in Kosrae, one agent went to another room and boarding began. Once again I was the last one to board, but this time, I had a pleasant surprise. I had been given a seat in Economy Plus. This time I was in 21 A. I got more legroom, but lost out on the views.
Chuuk! Not Much After!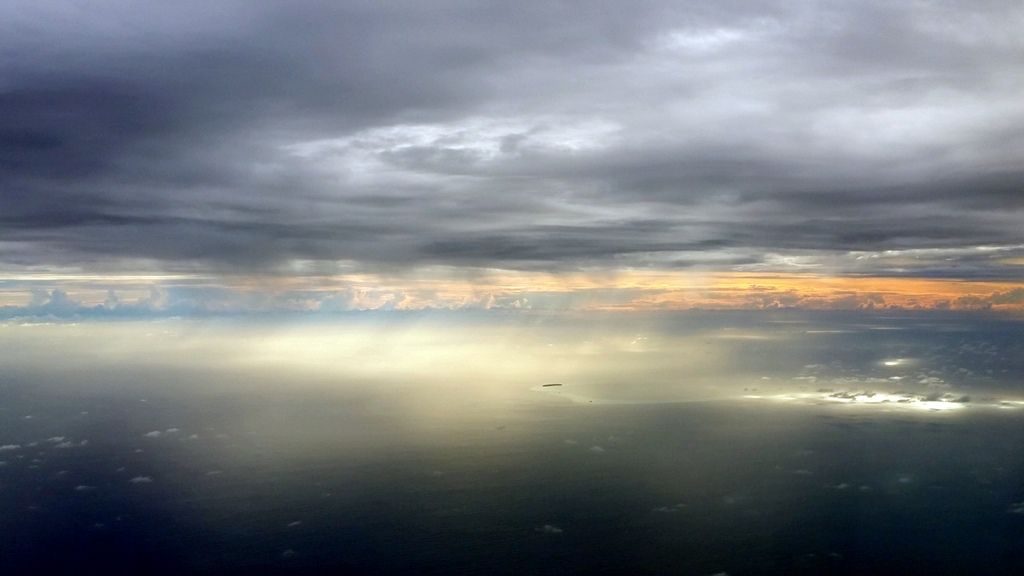 Clouds and water look nice late in the day, right?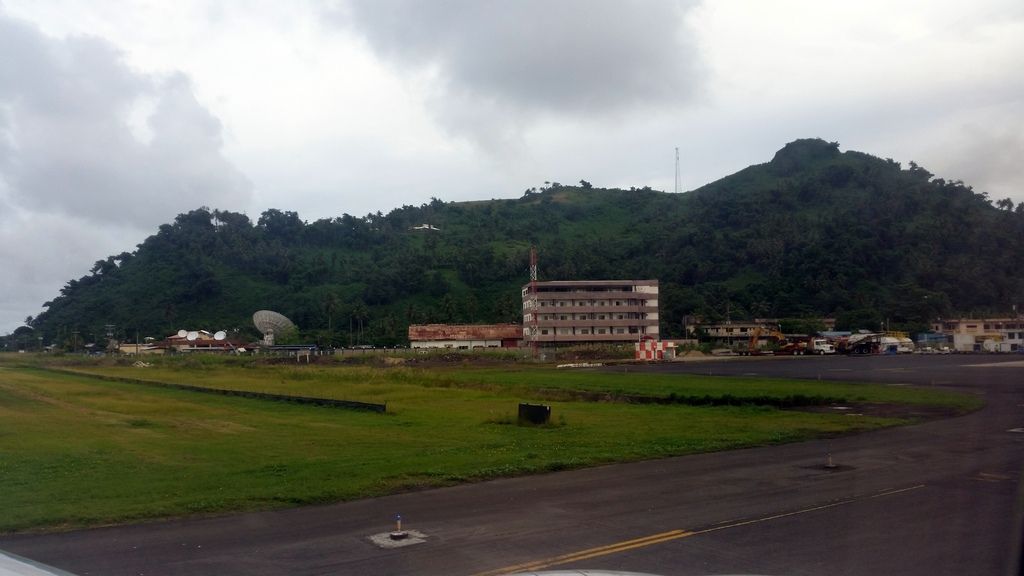 The hotel in Chuuk.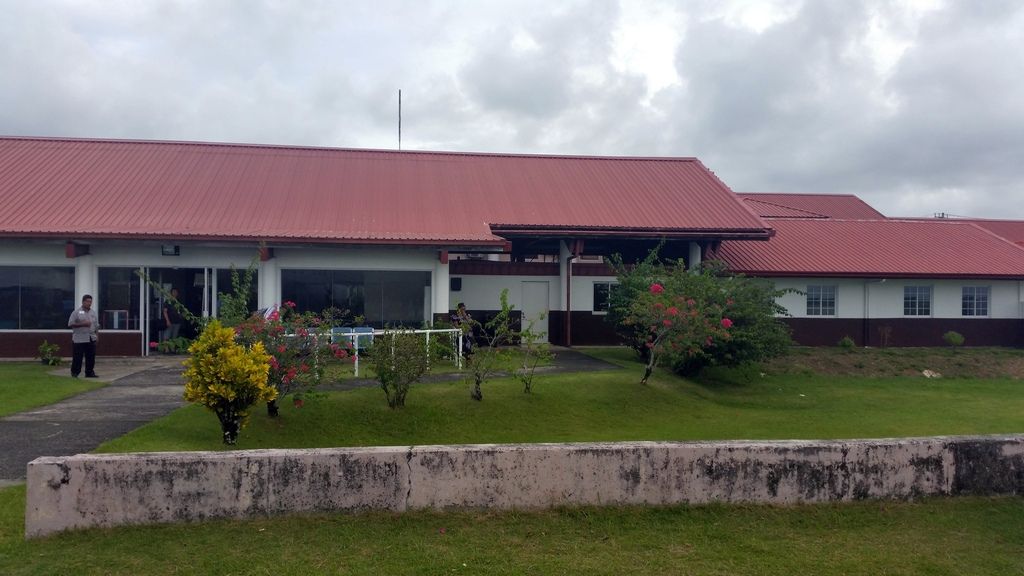 Chuuk Airport terminal.
By this point it felt later in the day than it seemed. And it was. By this time we were about 30-45 minutes
BEHIND
schedule. And once again I had to wait for a seat assignment. And like before, I had to wait and put my trust in the computer to assign me a seat. I was assigned to the 21 B this time. Not ideal but I didn't care as I really wanted to get back to Guam. However, someone had taken 21B. Apparently it is not unusual for people on the island hopper, especially in Pohnpei and Chuuk to take an empty seat rather than their assigned seat. Luckilly for me, 21 E was open and I just took that. The flight was almost completely full, at least in economy, so I might have had the last seat free. I was seated with one of the lead mechanics for United and I think it was his first time flying the island hopper. I saw him taking a lot of pictures at each stop except Kwajalein. Long day for the flight crew too!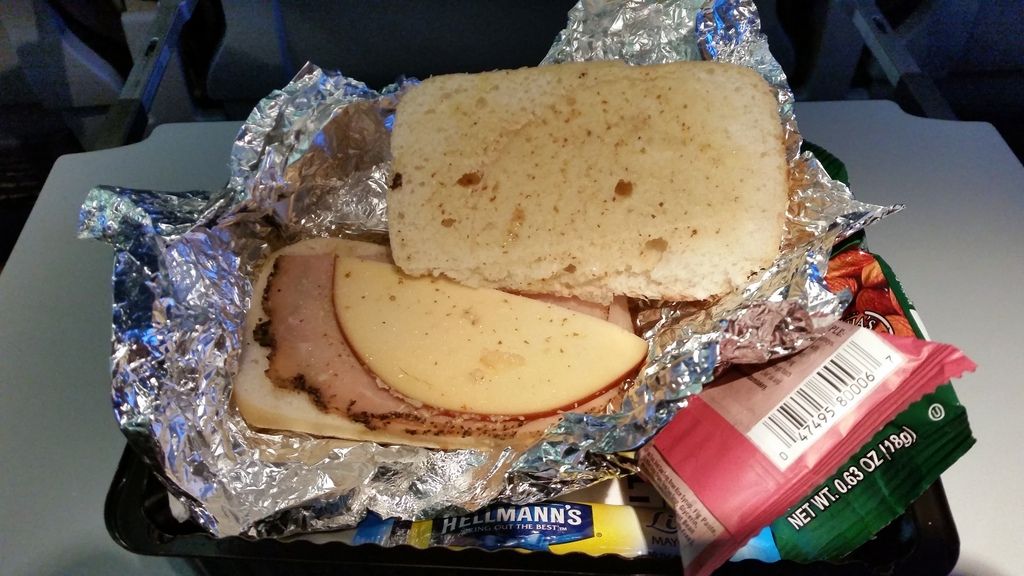 Surprised to get this smoked turkey and gouda sandwich. The flight engineer also gave me his sandwich as he would eat in Guam!
Last photo of the day. We were over an hour late so it was getting dark. Not much to see.
Guam at Last!
It was about 7pm once we landed in Guam. The great thing was the engineer thanked me for flying United. I expect that from the in-flight crew, but to hear that from another employee who doesn't deal with passengers that much was quite refreshing. Hopefully this is a sign of better customer service on United.
I have Global Entry but for Guam, it only covers immigration. Guam has separate customs not handled by USCBP. I had to wait another 15-20 minutes to get my checked luggage. One thing I noticed as luggage started to come out was a lot of ice chests. I was told this is fish and other food people bring from their islands to Guam.
Final Thoughts
What an interesting experience. It is a really long day if you choose to go to Guam this way. But it gives you a great chance to see how people on the islands travel. This flight was more for the locals, not the tourists. You'll see some people wearing traditional clothing. The flight is a source of transportation of goods and people. You'll gain an appreciation of the distances traveled and for a moment you may lose yourself in the moment. To me, to lose perspective of time and space was a little disorienting at first, but as I learn to live in the islands realize this is part of the experience of living here. You adjust to the isolation too. Time, space and distance become relative. And if you can handle that, you can live on the islands. This once in a lifetime experience is worth it if you can do it.