I was very excited to finally have the chance to fulfil my ambition of flying to the Scottish islands with Loganair, and landing on the beach in Barra. I started off with my flight to Glasgow with Flybe which I posted last week, and after a lengthy connection in Glasgow was finally at the gate ready for my flight. My name was called over the tannoy and I was asked if I'd like to be bumped to the later flight as the flight was oversold. Of course I said no as I was booked for a same day return back to Glasgow in the afternoon. Thankfully I was first to check in and then an older couple volunteered to be bumped to the next flight so no bumping was necessary!
We were finally called for boarding and made our way out to our waiting Viking Twin Otter, G-HIAL. After our safety briefing we did an amazing power back from the gate, something that I was not expecting! We taxied out to runway 24 at Glasgow, and I held on tight for what was probably the most powerful turboprop takeoff I've ever experienced! The vibration was so severe that it vibrated the USB cord out of my GoPro, it was awesome! We rotated and made a beautiful departure over the Clyde, as I savoured every moment of flying in the Twin Otter. I loaded up my flight tracker on my phone to track our route.
About 20 minutes into the flight, I noticed us start to make a left turn. Strange, I thought, as it was taking us off track. As the turn continued and we ended up heading in completely the opposite direction, my heart sank. Maybe we were just doing an en-route hold for some reason? Maybe I was just looking for a way that this didn't mean a return to Glasgow! Sure enough we levelled out after our 180 degree turn and were heading back to Glasgow. Most passengers seemed oblivious to the return, until around 10 minutes later when the pilot announced that we were having to return to Glasgow due to a technical fault with the left engine. We made our way around Glasgow as my phone picked up a brief phone signal and I was able to text my wife to say that the plane had a fault and we were making an emergency landing back in Glasgow. I never thought I'd get nervous in situations like this, but despite how calm the situation was I was pretty nervous. The mood in the cabin was one of nervous laughter as we commenced our approach to Glasgow. From the ATC recordings afterwards they were telling the tower that there was no need for emergency vehicles, but of course I couldn't hear this at the time.
We made a completely routine landing in Glasgow, and taxied to the stand where the pilot explained with some humour that we had a problem with the generator in engine 1, which a bit of reading afterwards seemed to indicate that after an hour or so we would lose electrical power to the aircraft which could have been very serious. We made our way back into the gate area where we were given light refreshments. A short while afterward we were told that all flights to Barra were cancelled for the day and we'd have to head back landside where we would be given a full refund for the flight.
The day resulted in an 8 hour wait at Glasgow Airport, but thankfully ended safely and with the compensation offered by Loganair for both cancelled flights, it paid for an upcoming trip to SFO so at least all was not lost!
I like to film a full length video of all of my flights, so that you can either experience the whole thing in real time or pick and choose the parts you wish to see, so without further ado, here is the video!
Airline
: Loganair
Flight
: BE6851
Aircraft
: Viking Twin Otter G-HIAL
From
: Glasgow (GLA)
To
: Barra (BRR) (Diverted to Glasgow)
Departure
: 10:43
Arrival
: 11:13
Flight Time
: 00:30
Seat
: 6C
Flight Path
:
https://goo.gl/pp4Sx4
Full Length Flight Video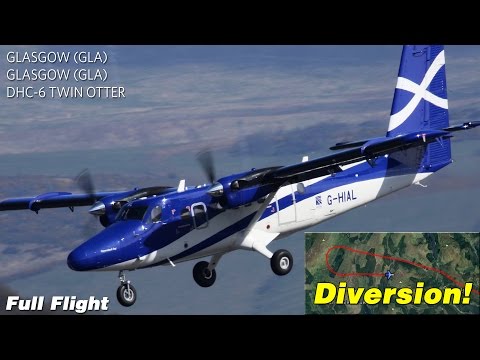 Our video begins outside the terminal at Glasgow on a beautiful morning. We head through the airport to the Loganair lounge, where we board our Twin Otter after a short delay.
We enjoy a power back from the gate, before we taxi out to runway 24 for departure to the west. We make a powerful take off from runway 24, climbing out over the beautiful Scottish countryside. However we encounter a problem around 10 minutes into the flight with the generator on the left engine. We make a sweeping left turn to head immediately back to Glasgow, as Glasgow ATC ask us whether we have an emergency or if it will be a normal approach and landing. We get vectors back for immediate landing on runway 24 at Glasgow, where we thankfully land uneventually and taxi to the same stand we departed previously!
After being offered refreshments, we are told that the flight to Barra has been cancelled, and therefore we have to return to the check in desk to get a refund or rebooked. We walk back through the terminal to the check in area where we are able to get a refund for both flights.
0:00:03 Outside Glasgow Airport, entering airport to check in hall
0:00:46 Walking to security from check in hall
0:02:27 Security
0:03:31 After security, walking to departure lounge
0:06:47 Overview of departure lounge
0:06:55 Aircraft on the ramp
0:07:05 Walking to departure gates 1-12
0:11:12 Walking down steps to Loganair lounge at Gate 1
0:11:45 Overview of Loganair lounge
0:12:56 Boarding aircraft across ramp
0:17:20 Cabin overview
0:17:49 Doors closed and safety demonstration by First Officer
0:19:49 ATC: Start and route clearance to Barra
0:25:43 ATC clearance to power back and taxi from stand, power back from stand
0:26:50 Taxi to runway 24
0:30:14 Line up and take off runway 24
0:36:11 Cabin overview
0:36:53 Cabin overview
0:44:57 Contacting Glasgow Approach to commence divert to Glasgow
0:47:29 Cabin overview
0:45:33 Turning back to airport, Approach asks if this will be a normal approach and landing
0:47:28 Cabin overview
0:51:48 First Officer announces that we are returning to Glasgow due to a technical problem
0:59:30 Contacting Glasgow Tower, final approach to runway 24
1:06:52 Back on stand at Glasgow, First Officer welcomes us back to Glasgow and explains we had a generator problem with the left engine that they did not want to take to Barra
1:07:51 Disembarking aircraft back into gate
1:10:11 Refreshments provided by Loganair
1:11:30 Flight cancelled, instructed to return to check in area
1:11:50 Walking back through airport and exiting the terminal