titleimagegreat
by
Jeff Hernandez
, on Flickr
Hello everyone, and welcome to my trip report, "A Virgin Experience". In this trip report, I will document my travels on a pair of firsts, including my first Virgin America flight, and my first JetBlue A321 flight! This will be a longer trip report for a trip that took place in all of about 12 hours!
For the first time, I've made this entire trip report available as a video trip report. I've divided it into two separate videos- one documenting the Virgin America flight, while the other covers the JetBlue A321. So, if you'd prefer to watch it, the links are here:
Virgin America Flight 500:
http://www.youtube.com/watch?v=pGkgBbjPL30
JetBlue Flight 1201:
http://www.youtube.com/watch?v=kSroWYM9CrY
intro
by
Jeff Hernandez
, on Flickr
On April 4, 2016, it was announced that Alaska Air Group would be acquiring Virgin America. As an avgeek who's never flown VX, I was screaming internally. I knew that I had to fly on Virgin America at least once! I started looking up flights to the West Coast. Being a university student in Boca Raton, that meant flying out of Fort Lauderdale (FLL). Unfortunately, everything was too expensive (upwards of $350 RT). Then, I remembered a conversation I had with my roommate- Christian- a few weeks prior, about the weird Virgin America FLL-JFK route. It's one of those weird routes that don't seem to make sense, because in this case, Virgin's flights on the East Coast, normally end up in the West Coast (with the exception of JFK-DAL). So, I started looking up that flight, but I realized it was only a winter-seasonal flight that ends on April 26th! I saw some much more reasonable fares, and contemplated a weekend visiting my family in New Jersey, but realized it would interfere with my hockey playoffs. I realized that I would have to do an out and back trip to JFK, and considering airfare and my hockey schedule (my school schedule didn't really matter because airplane trips), I would have to settle on flying Virgin America on April 26, the last day of the flight before the summer season schedule.
I convinced my mom to let me do this trip as an early birthday present, (my birthday is May 10) and she thought I was crazy at first, but then when I explained to her it was all that I wanted for my birthday, she agreed to pay for me to do it. With financing for the trip secured, it was time to do one of my favorite things- book airline reservations! Since the JFK-FLL flight departs before the FLL-JFK flight arrives, I would have to fly Virgin America only once on this trip, and return the same day with another airline. I contemplated flying American Airlines (my all time favorite airline) back to Miami, and then ubering back to Fort Lauderdale to get my car, but decided that would be too much. I looked up fares for JetBlue (Christian's all time favorite airline) and saw they were $20 cheaper than American, and I would return back into FLL. That $20 savings would later be negated after I opted to fly on the A321, as opposed to the A320 which would've saved me the $20. I wanted to fly the JetBlue A321 because it would complete my JetBlue collection, as I'd already flown on their Embraer 190 and A320 previously, and because my roommate always told me nothing but great things about it.
Booking process...
IMG_2237
by
Jeff Hernandez
, on Flickr
I love Virgin America's stylish and easy to use website!
IMG_2238
by
Jeff Hernandez
, on Flickr
No extras for me, just the standard VX experience!
IMG_2278
by
Jeff Hernandez
, on Flickr
I originally selected 5A, but I changed it to 6F, for a reason you'll see very soon...
IMG_2280
by
Jeff Hernandez
, on Flickr
IMG_2282
by
Jeff Hernandez
, on Flickr
Full flight it seems. I was surprised that Virgin America charges $20 for advanced seat selection. That's more than Spirit on comparable flights. I really liked the cool characters that showed occupied seats.
confirmed
by
Jeff Hernandez
, on Flickr
Finally the moment I had been waiting for! I was finally confirmed on a Virgin America flight! This would be my first new airline since I flew Winair to SBH in 2014! The booking process on Virgin America was easy and user friendly, but was also very unique looking and definitely had that extra little bit of flair they're known for.
booked
by
Jeff Hernandez
, on Flickr
The Manage Itinerary section on the website. I really love how the cool characters appear once again, in the form of New York City stereotypes, with the Statue of Liberty eating a New York style Pizza, a taxi cab driver, and a character climbing the Empire State Building, as well with what Fort Lauderdale is known for- the beach and the sunsets! It's clear right from booking that Virgin America wants you to know that they're a fun-loving airline that is different from all the others. JetBlue and Spirit have similar mentalities- but aren't nearly as exciting as Virgin. With my outbound flight booked, it was time to go to JetBlue and book my return! I didn't take too many screenshots because JetBlue is pretty standard when it comes to booking.
IMG_2279
by
Jeff Hernandez
, on Flickr
This flight sure looks a lot emptier! I was originally booked for 24F, but when I changed my Virgin America seat, I switched to 26A. I like to sit on opposite sides of the cabin when I book roundtrip tickets.
confirmed b6
by
Jeff Hernandez
, on Flickr
And I am officially "Set to Jet" as JetBlue likes to say!
So within about 6 hours of hearing about the merger, I went out of my way and booked a day trip to New York City for no reason other than to fly on a cool airplane for $190. This day trip was cost $2 more than when I flew MIA-DFW-ORD-DFW-MIA in January (see:
viewtopic.php?f=9&t=980477&p=13174147&hilit=jeffh747#p13174147
), and then I got to log the 777-200, 787-800 and another 767-300! But little did I know that this trip would be worth every single penny. Thanks for the birthday present, mom!
So after a few days, Christian went on his already-planned trip to New York for the weekend to visit his family, taking his JetBlue A321 up and down. When driving home, he saw a Virgin America billboard outside of JFK that said "EVERY FLIGHT DONE RIGHT", with a URL to virginamerica.com/seatview, which is essentially a Google StreetView map of their A320. I had heard about it weeks before but forgotten about it, so I logged on to go see my seat. I was really disappointed when I saw the way it was aligned with the window.
IMG_2276
by
Jeff Hernandez
, on Flickr
The window wasn't aligned really good with seat 5A, so I took advantage of "SeatView" to see which seats would have a better window view.
IMG_2277
by
Jeff Hernandez
, on Flickr
I then saw seat 6F had it aligned right perfectly with the headrest on the seat, and quickly changed to 6F before anyone else looking to potentially change their seat snaps it right up! I was thankful that Christian sent me that picture of the billboard otherwise I would've had a very uncomfortable flight, craning my neck forward to see outside! So with a seat now on the right side of the airplane, I switched my JetBlue A321 seat to 26A. Perhaps this was a blessing in disguise because row 24, where my original seat was, went out completely full, while row 26 was empty at the time I changed my seat!
So the longest three weeks of my life passed, and it was finally time to Check In for my first ever Virgin America flight! Just as the reservation process was fun, the Check In process was even more fun, and looked even more stylish!
checkin0
by
Jeff Hernandez
, on Flickr
Time to check in for VX500!
checkin1
by
Jeff Hernandez
, on Flickr
IMG_2356
by
Jeff Hernandez
, on Flickr
Love everything about the site- the font, the colors, the layout!
IMG_2357
by
Jeff Hernandez
, on Flickr
No need to upgrade my ride even more! I'm already flying in one of the nicest planes! I'm more of a Boeing guy, but Airbuses aren't bad at all- especially if Virgin America or JetBlue are written on the outside!
IMG_2358
by
Jeff Hernandez
, on Flickr
IMG_2359
by
Jeff Hernandez
, on Flickr
I'm not really into buying priority boarding or screening for any airlines. Luckily I didn't in this case!
IMG_2360
by
Jeff Hernandez
, on Flickr
No need for bags for a 17 hour trip!
finally checked in
by
Jeff Hernandez
, on Flickr
Finally checked in for my first Virgin America flight!
e boarding pass
by
Jeff Hernandez
, on Flickr
The first of three boarding passes I would receive. I'm not into using print at home boarding passes (or in this case, print at university xD) unless I'm flying Spirit, but I still downloaded it and saved it anyways. Surprisingly, Virgin America does not have a mobile app, so I was not able to get a mobile boarding pass. It was also cool that even the print at home boarding pass still had that extra bit of Virgin flair! I was happy that I got "Group A", which I assumed to be the first Boarding group following Pre-Boarding, which meant a few more minutes in the moodlit cabin!
It is worth mentioning that for some reason, online Check In was not available for my JetBlue flight, even though I tried checking in 20 hours before. I called them at 11pm the night before asking why and they told me to try again in the morning, which I did, and then it worked.
After checking in, it was time for another day of classes, and time to get ready for the biggest game of the school year. I helped start the ice hockey team at my university, and this was our first season. We were playing in an adult league at the local rink to set the ball rolling and we had made it to the championships, to be played April 25, the night before my Virgin America trip. Our game was at 9, 12 hours before my flight, and I just focused on playing (I'm a goalie), and it was a tough game, but we scored the game winning goal with 30 seconds left in the third period. After a barrage of shots in the last few seconds, I saved all of them and we won our first championship! By the time our celebration ended and I was in my car, it was 11:15 at night, and it was time to drive back to my dorm and go to sleep for 4 hours (after showering of course and then head to FLL.
My alarm woke me up at 04:30. My plan was to leave my university at 05:15, and get to Fort Lauderdale-Hollywood International Airport at 06:00. My best bet was to just drive there and park my car. The economy lot was $6, but I shelled out an extra $8 for the convenience of parking at the Hibiscus Garage, which has a great aircraft observation area. After a quick breakfast at the cafeteria, I jumped into my Ford Explorer and headed off onto a new adventure! I only carried with me a small shoulder bag with the camera my girlfriend lent me, my iPad, my Galaxy camera, and my chargers for such. I also had my JetBlue earphones I bought on a previous flight with them. Nobody in their right mind would ever get to an airport three hours before a scheduled domestic flight, much less so in the morning, but I did it because the airport, like most avgeeks, is my happy place and I am never calmer than I am when I'm at the airport. I left university right on time at 05:15 and drove on a barren i95 South to FLL.
I stopped at a Dunkin' Donuts in Dania to get myself some yummy goodies to hold me over until I decide to go into the terminal. Once I got my order, I drove two minutes up US1 and arrived at the Hibiscus Garage- not before driving around the airport loop once though! I parked at the very top and took in the breathtaking view of the airport. Terminal 1 was right in front of me, with Terminal 2, and Terminal 3 off to my left, and Terminal 4 behind me. It was still pitch dark when I arrived, at 05:36, but I could see a bright, airborne light descending from the West. The light touched down on 10L.
20160426_054734_LLS
by
Jeff Hernandez
, on Flickr
I smiled when the plane got closer and realized it was a Virgin America A320, arriving from LAX. My first picture of the day that I would be getting my first Virgin America flight, was that of a VX plane. I sat in my car for a few minutes before getting out to see a couple departures fly out right in front of me. I took in the view of the terminals and the airplanes resting. It was so quiet and relaxing, and adrenaline pumped through my veins when I thought that soon, I can be here as much as I want, when I'm a pilot myself (only 1170 more hours to go!), and I realized again, that there is nothing else I could do as a career, that I was born to fly airplanes.
I watched a couple more flights takeoff- a Southwest 737 in the Heart livery, and an American Airlines A319. I smiled when I saw the A319, as it was going to my home airport-Philadelphia International, PHL. Soon, the sun became to come up and the airport began to come to life.
20160426_065457
by
Jeff Hernandez
, on Flickr
20160426_065544
by
Jeff Hernandez
, on Flickr
Goin' back home to LAX...
20160426_065731
by
Jeff Hernandez
, on Flickr
I love how you can see the moodlighting from outside of the planes...
20160426_070232
by
Jeff Hernandez
, on Flickr
The sign many of my fellow passengers will be dropped off at within just a few hours...
IMG_4087
by
Jeff Hernandez
, on Flickr
I was excited to fly out of Terminal 1. It would be my first time doing so since 2011 when I flew Southwest to BWI.
20160426_070241
by
Jeff Hernandez
, on Flickr
The giant is slowly waking up...
IMG_4086
by
Jeff Hernandez
, on Flickr
When I saw this Virgin America plane, I was worried that my flight would be out of Terminal 2. But apparently VX just RONs it there and tows it over to T1. When I saw it being towed, I then assumed it would be my plane. Soon after, my excitement got the best of me, so I locked my car, patted the American Airlines sticker my girlfriend gave me, and started walking to the elevated walkway to Terminal 1.
20160426_070317
by
Jeff Hernandez
, on Flickr
General map of the airport terminals and parking garage...
20160426_070644
by
Jeff Hernandez
, on Flickr
20160426_070700
by
Jeff Hernandez
, on Flickr
It was a nice, short walk that brings you to the Departures level, with nearby escalators that can take you to Arrivals. Terminal 1 is really nice and modern and consists of two concourses, B&C. Concourse A, is currently being constructed and will be used primarily by Southwest.
20160426_070840
by
Jeff Hernandez
, on Flickr
I got my first glimpse of the Virgin America Check In desks and excitement continued to build up. I decided to walk outside to get a good view of the ramp action.
20160426_070916
by
Jeff Hernandez
, on Flickr
There's the Jeff-Mobile!
20160426_070951
by
Jeff Hernandez
, on Flickr
20160426_071036
by
Jeff Hernandez
, on Flickr
I was looking at the United action when I heard the reverse thrust from an A320 landing.
20160426_071056
by
Jeff Hernandez
, on Flickr
It ended up being Virgin America A320 N846VA, the plane that Flightradar 24 told me would be operating my flight! I looked in excitement as I saw my first Virgin America plane taxi to Terminal 1. N846VA had just arrived from SFO. Shortly thereafter, I decided to go to the gate. At 07:20, I walked to the Check In area to get my boarding pass. I was originally just gonna get it from the self service kiosks but decided I would rather interact with the Check In desk personnel. I told the man working there that I was travelling to New York and he seemed surprised that I was there that early. Perhaps he assumed I was going to SFO? I heard the sound of my ticket being printed out, he handed it to me and wished me a well journey.
20160426_072055
by
Jeff Hernandez
, on Flickr
Being the avgeek that I am, I decided that I wanted not one, not two, but three boarding passes for the flight, and went to the self service kiosk.
20160426_072527
by
Jeff Hernandez
, on Flickr
The kiosk was easy to use, and had a similar UI as the website. When it printed out my boarding pass, I was surprised that it was just a small square piece of paper compared to the long rectangular boarding pass I got from the desk. I was super glad that I didn't go to the kiosk first, otherwise I would've been disappointed and not tried to go to the desk.
20160426_072852
by
Jeff Hernandez
, on Flickr
I proceeded to a lineless security, but first checked my flight status. I was glad to see it wasn't delayed, and then went through security. Security was super quick. I entered the checkpoint and exited within about three minutes. Good thing I didn't buy the priority security screening!
20160426_073521
by
Jeff Hernandez
, on Flickr
I looked down the concourse and took in the beautiful architecture of this terminal...
20160426_073640
by
Jeff Hernandez
, on Flickr
I walked to the end to C7 and saw two Virgin beauties sitting beside each other. I gazed in amazement that in just about one hour, I would be aboard Virgin America.
20160426_073830
by
Jeff Hernandez
, on Flickr
I found a comfy seat next gate C3, where a United A320 was boarding for ORD.
20160426_073642
by
Jeff Hernandez
, on Flickr
My two boarding passes. Now you can see why I would've been really disappointed! I also liked that even the boarding passes looked really unique! Virgin America really does seem to scream fun at every corner! I connected to the wifi and communicated with the girlfriend and my parents. My parents told me that they would be meeting me at JFK (a good two and a half hour drive from where I live) and be hanging with me during my 8 hour layover. I was super excited to see them for the first time in weeks! I perused airliners.net and iMessaged with Christian information about my flight. I confused one of our friends that I took the wrong flight and ended up in Newark (with all the United 737s), and sure enough it was almost time to board!
VX flightboard
by
Jeff Hernandez
, on Flickr
My Flight Information for this morning's flight. If you'd like to use a template I have for this, let me know! I'd be more than happy to help.
vx500
by
Jeff Hernandez
, on Flickr
My routing for this morning's flight, courtesy of FR24.
20160426_073657
by
Jeff Hernandez
, on Flickr
Glitter Girl ready to take me on her next adventure...
20160426_081914
by
Jeff Hernandez
, on Flickr
Virgin America gate service center...
20160426_075520
by
Jeff Hernandez
, on Flickr
Gate C7: where at the end of this jetway, my first Virgin America flight awaits!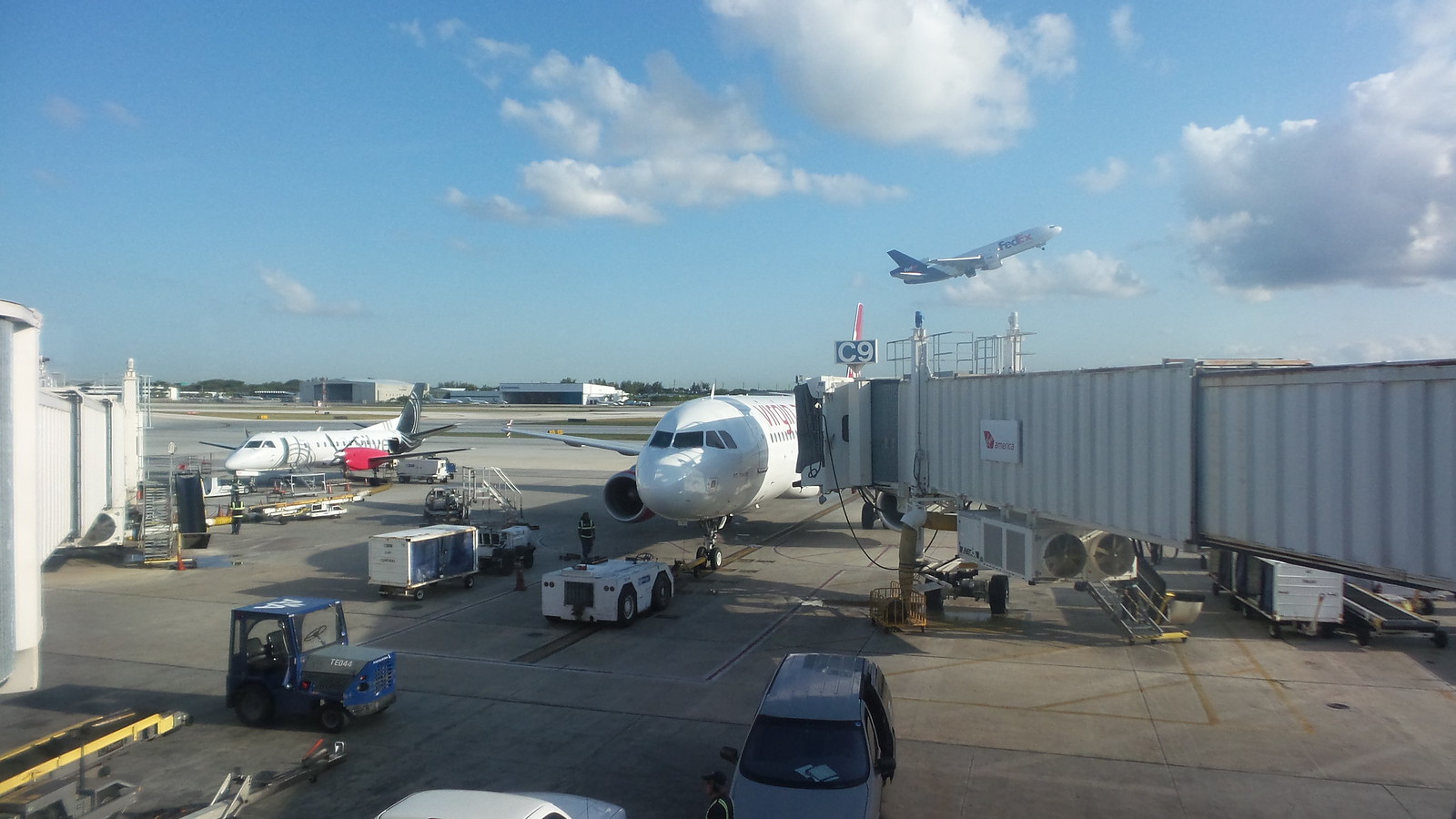 20160426_083218
by
Jeff Hernandez
, on Flickr
Soon after I took this photo, "Mount Hoodie" was preparing to depart for SFO. This is the same plane that RONd and was towed from Terminal 2 earlier. A FedEx MD-10 roared off into the skies behind it, shaking the windows in the terminal as it climbed out for MEM. The Silver Saab next door was going to BIM.
20160426_083241
by
Jeff Hernandez
, on Flickr
Virgin America jetway logo...
20160426_083253
by
Jeff Hernandez
, on Flickr
I imagine those Silver pilots envied those in the A320 next to them!
20160426_083323
by
Jeff Hernandez
, on Flickr
Mt. Hoodie pushing back from the sunny flatland of Southern Florida and the East Coast, to go to the scenic forests and mountains of the West Coast. The West Coast is still a place to visit on my bucket list, as I've never been further west than Dallas. Shortly after I took this photo, it was time to board! PreBoarding began promptly at 08:30, followed by general Boarding at 08:35, starting with Group A. I am, admittedly, one of those gate lice who linger around the boarding line until my group is called. Thankfully I'm always in Group 2 with American, and I was lucky to be in Group A on my first flight with Virgin!
You can find the boarding video in my video trip report starting at 1:18! I walked down the jetway holding my red and white stylized Virgin America boarding pass in hand, and shivers of excitement, and the warmth of home comforted me as I turned the corner in the jetway and a purple and pink light emanated from the aircraft. I patted the outside of Glitter Girl and took my first step aboard a Virgin America airplane. The last time I was this excited to step on a plane was when I stepped onto my first 787 Dreamliner in January! A blonde flight attendant sporting a bright red uniform passed by me into the crew galley to retrieve an item for a passenger. I walked down the beautifully gorgeous moodlit cabin past the luxurious First Class seats, and past my original seat- 5A, to my actual seat, 6F. I took in the beautiful cabin, and settled into my seat and opened my perfectly-aligned window to view a now busy FLL ramp and a glittering ruby red engine. The seat was super comfortable and the pitch was adequate for a 3 hour hop up to JFK (I'm 6'4). It didn't take much effort to get comfortable in my seat. The position of the window in relation to the seat was fantastic and I did not need to crane my neck forward. Note to all a.netters- pick even rows when travelling in A320 family aircraft!
20160426_084344
by
Jeff Hernandez
, on Flickr
I'm not very good at the selfie game!
20160426_084423
by
Jeff Hernandez
, on Flickr
My window view. I noticed in flight that the engine isn't just painted red, it's actually a glittery red and you can see the red sparkles under certain lighting conditions. The name of the airplane, Glitter Girl, certainly matches with the special paint on the engines!
IMG_4092
by
Jeff Hernandez
, on Flickr
"Red", the name of the Inflight Entertainment System.
20160426_084538
by
Jeff Hernandez
, on Flickr
I absolutely loved the moodlighting! I've flown with airplanes before with moodlighting, mostly the American 737-800s with Boeing Sky Interior, and their 787 Dreamliners, but they weren't nearly as enchanting as the lighting on Virgin. The moodlighting I'd experienced before merely complemented the cabin, whereas the moodlighting on Virgin America really made the cabin look amazing. The darkened cabin with purple and hot pink lighting created for an instantly relaxing environment. There was only one person in my row, and they were in the aisle, leaving the middle seat between me and him unoccupied.
20160426_084811
by
Jeff Hernandez
, on Flickr
Always nice sitting by the engine and seeing the reflection of the fuselage...
20160426_085443
by
Jeff Hernandez
, on Flickr
Did I already say I love the moodlighting?
20160426_090401
by
Jeff Hernandez
, on Flickr
Naturally, the first thing I did on the IFE, was go checkout the flight map!
20160426_090408
by
Jeff Hernandez
, on Flickr
A highly detailed Virgin America A320 represented our current location on the map. Soon, it was time for pushback! We pushed back at 09:03, and Virgin America's hip and entertaining safety video, "#VXSafety Dance", played on the screens in front of us.
You can find that video here:
http://www.youtube.com/watch?v=DtyfiPIHsIg
There's been a lot of controversy, particularly here on a.net, about this video. Many negative comments said that it was "unprofessional and that the safety demonstration is not the right time to have a musical." I disagree completely. If anything, it's one of the best ways to ensure the right information reaches the passenger. As opposed to a monotone flight attendant describing what to do in the event of an emergency, the video really captures the viewers attention, and the catchy lyrics help to make sure the different information is somewhat retained. The safety videos on American get boring after the first minute, and few passengers pay attention to the demonstrations on JetBlue and Spirit. Mostly everyone I could see in the cabin were actually watching the video. It was fitting that Virgin Group, known mostly for their entertainment business, was also able to make one of the more boring parts about flying, actually fun. Fun, is the way to make people actually pay attention to something important, and Virgin America made that work to their advantage.
Soon after, one of the flight attendants introduced herself as Kelly (she was the blonde FA I saw when I boarded), and the First Class flight attendant, Jaimie, and the third flight attendant, Marty. I don't normally remember or record flight attendants' names, but on this flight I did, and for a very good reason you'll soon find out.
20160426_090519
by
Jeff Hernandez
, on Flickr
Pushed back, and ready to taxi! The business end of 28R is just left of the stylized American flag wingtip fence. We started a short taxi to Runway 10L and held short for an arriving Bahamasair 737-500.
You can see the FLL takeoff at 4:30 in the video trip report. Unfortunately, I didn't realize until after this trip that my girlfriend's camera was filled with dust spots that only came out in videos. If you know how to get rid of the dust spots or would like to do it for me for a small reward, please do not hesitate to message me.
We roared off into the skies of sunny south Florida and through the scattered clouds and climbed up to our cruising altitude of FL400. I was surprised that we would be cruising at such a high altitude on a routine domestic flight, but I enjoyed it nonetheless! I started playing around with Red and recorded a demonstration of the system- that can also be found in the video TR and contemplated some onboard purchases. I liked the headphones but thought the "Nap Pack" for $20 would be a better buy.
20160426_095903
by
Jeff Hernandez
, on Flickr
I loved the view out the window, as I do on every flight I take. It was interesting seeing a red engine as opposed to the blue, gray, and yellow engines I'm used to seeing next to me. You can really see the glittery effect of the paint in this picture!
20160426_100135
by
Jeff Hernandez
, on Flickr
Zooming in on our little red Virgin plane over a vast blue ocean from above. Soon after this picture was taken, I entered my drink order from the IFE (coolest thing ever by the way) and enjoyed the view outside. Kelly brought me my orange juice, and I inquired about the Nap Pack that was available for sale on the IFE. I asked if it had the Virgin America logo as it did on the picture and she brought me one to see if I liked it. It was this big soft blanket and pillow set that came with it's own little bag that had the Virgin America logo on it. I was sold, and thanked Kelly and told her I would pay for it using the IFE. I sipped on my orange juice, and placed my newly acquired Virgin America nap pack set on the open seat next to me.
I then got up and decided to go see if the bathrooms were cool. The one I went to was not anything special, other than being slightly wider than JetBlue or American. As I exited, I took in the beautiful cabin in it's entirety from the back galley.
20160426_101328
by
Jeff Hernandez
, on Flickr
The moodlighting was now a little faded, and the cabin was a tad bit brighter, so it was nice to see the flight isn't always a dark airplane with moodlighting. Before I headed back to my seat, I saw Kelly sitting down looking through a magazine. I contemplated on striking up a conversation with her (as she looked kind of lonely) or just going back to my seat. I decided the former, and told her the only reason I wanted the nap pack was because it had the logo and I was really into aviation, and that the only reason I was on this flight was purely to fly Virgin America. She was completely awestruck, and said it was the coolest thing. She said that she could get me more stuff if I wanted, and got me their "Autopilot" beauty kit , and the blue Virgin America headphones I had contemplated earlier! I was completely awestruck by her generosity! She even offered me free snacks (snacks on Virgin America are buy on board with the exception of First Class+Main Cabin Select), but I declined, already thrilled with what she had just given me. I thanked her profusely, and walked back to my seat with an ear to ear grin!
20160426_101916
by
Jeff Hernandez
, on Flickr
The two goodies Kelly generously gave me.
20160426_102917
by
Jeff Hernandez
, on Flickr
The views from FL400 are better than any in the world...
20160426_102922
by
Jeff Hernandez
, on Flickr
And it's always really awesome seeing the reflection of the fuselage inflight! Shortly after I took this photo, Kelly walked up to me smiling from First Class and handed me the First Class pillow and blanket set! It's this ginormous and super comfortable purple blanket and a nice and soft purple pillow. My mouth completely dropped. "Am I dreaming?" I thought to myself. I was in complete disbelief! I couldn't thank her enough for her incredible generosity and hospitality!
20160426_103457
by
Jeff Hernandez
, on Flickr
I looked at the flight map and felt sad when I realized there was already only an hour of flying time left until JFK.
20160426_103516
by
Jeff Hernandez
, on Flickr
Noooooo we're getting closer!
20160426_103640
by
Jeff Hernandez
, on Flickr
I love the American flag stylized wingtip fences! As I took this photo, Jaimie, the First Class flight attendant, came up to my and said "Hey, I heard you're a big fan of Virgin. Here's a gift from First Class", and tossed me the First Class amenity kit! I was floored. Jaimie was nice enough to leave her station to come up and give me a gift from First Class! Never have I experienced such great crew members! Marty, the second flight attendant assigned to Main Cabin, later came by and asked me personally if I was enjoying my flight and if there was anything he could get me. I could not get over- and still to this day can not get over- how amazing these flight attendants were, and how well they treated me! Not only were they doing their jobs- assuring the safety and security of passengers onboard, as well as doing their standard services- they were doing it with a special touch, and they really made an even more special effort towards me to help me enjoy my Virgin America flight. I assumed Kelly must have told her colleagues about me, and my reason to be on that flight, because after my small interaction with her, Jaimie and Marty paid special attention to me. To them, it was clear that I wasn't just some man taking a plane to New York City,
I was taking the Virgin America Experience to New York City
. They truly understood me as an aviation enthusiast, and did everything they possibly could to remember this experience.
20160426_104513
by
Jeff Hernandez
, on Flickr
Please, let's go back to Fort Lauderdale!
20160426_104610
by
Jeff Hernandez
, on Flickr
Obilgatory legroom shot...
20160426_104621
by
Jeff Hernandez
, on Flickr
Even the seatback pocket has that extra bit of Virgin uniqueness. It has a small cell phone holder and another holder for another item!
20160426_105233
by
Jeff Hernandez
, on Flickr
Playing with the Seat to Seat chat and describing my emotions...
20160426_112213
by
Jeff Hernandez
, on Flickr
Beginning our slow crawl to ground level...
IMG_4107
by
Jeff Hernandez
, on Flickr
The slight tug of inertia hit me, and a slight rumble emanted from the wings. I knew the speedbrakes were deployed and we were slowing down and descending for JFK.
IMG_4108
by
Jeff Hernandez
, on Flickr
The American flag painted onto the wingtip of a European airliner. How ironic!
20160426_114439
by
Jeff Hernandez
, on Flickr
Passing over Belmont (?) on approach for 22L at JFK. Kelly and Marty made their ways through the cabin one last time in preparation for landing, quickly making eye contact with me and smiling with me, before returning to their stations for landing.
You can find the landing at 16:00 in the video TR.
We touched down at a rain soaked JFK at 11:44 and began taxiing to Terminal 4. This would be my first time being in Terminal 4 (and T5 later), as previously I'd only been in the Terminal 3 Worldport (RIP) and Terminal 8 at JFK.
20160426_114849
by
Jeff Hernandez
, on Flickr
We crossed Runway 22R simultaneously with this Asiana A380 that just arrived from ICN.
20160426_115317
by
Jeff Hernandez
, on Flickr
Etihad A380 with the cool looking Formula 1 stickers on the engines...
20160426_115454
by
Jeff Hernandez
, on Flickr
Close up of those massive engines. One of the pilots came on the intercom and said we would have to power down on the ramp, and then be towed to the gate. I thought it was weird but cool as it was a new experience.
20160426_115531
by
Jeff Hernandez
, on Flickr
Asiana A380 parking at it's gate...
20160426_115624
by
Jeff Hernandez
, on Flickr
N628VA, "Entourage", pushing back from it's gate for points unknown...
20160426_115640
by
Jeff Hernandez
, on Flickr
So many different airlines in one photo!
20160426_115842
by
Jeff Hernandez
, on Flickr
Being towed to Gate A2B...
20160426_120421
by
Jeff Hernandez
, on Flickr
Aaand we're parked. Kelly came on the intercom and thanked us once again for flying Virgin America and that she hopes to see us again soon on a future Virgin America flight...
20160426_115930
by
Jeff Hernandez
, on Flickr
As the seatbelt signed turned off, everyone got up from their seats and rushed to disembark. I lingered until everyone else was off to take some interior shots of the airplane...
20160426_115937
by
Jeff Hernandez
, on Flickr
20160426_115943
by
Jeff Hernandez
, on Flickr
20160426_120653
by
Jeff Hernandez
, on Flickr
Looking across my row...
20160426_121024
by
Jeff Hernandez
, on Flickr
Cabin shot...
20160426_121029
by
Jeff Hernandez
, on Flickr
Looking towards First Class...
After taking a few pictures, I went back up the cabin to where all three flight attendants were congregating, and thanked them profusely for everything they'd done for me. I got down their names and shook their hands. I told them that this was actually my birthday present and that they had really made it special for me. They were the first ones to wish me a happy birthday and Marty went back to get me a "birthday treat" and brought my cookies and M&M's! To say these flight attendants were amazing, is quite an understatement. It wasn't that they gave me free stuff that made me so happy- it's that they did it to make me remember my first trip with them, and because they recognized that I was on that flight solely for the journey with them and not the destination. It was because of the cabin crew that Virgin America now shares my top spot as my all time favorite airline, with American. And it's because of them, that I will always remember this flight. I thanked them one final time and bid them farewell, before making my way to disembark.
20160426_121321
by
Jeff Hernandez
, on Flickr
20160426_121335
by
Jeff Hernandez
, on Flickr
First Class cabin with Kelly and Marty faintly visible...
I took one last breath, and stepped off my first Virgin America plane, and patted Glitter Girl farewell.
20160426_121416
by
Jeff Hernandez
, on Flickr
The purple and pink moodlighting calling my name to return again soon, as I walked down the jetway...
20160426_121509
by
Jeff Hernandez
, on Flickr
Goodbye, beautiful Virgin America
20160426_121544
by
Jeff Hernandez
, on Flickr
I stepped off the jetway and onto the iconic Virgin America red carpet.
20160426_121630
by
Jeff Hernandez
, on Flickr
Looking back on Glitter Girl. This beautiful plane transported me 1063 miles in just under three hours. Aviation is still such an incredible wonder.
20160426_121646
by
Jeff Hernandez
, on Flickr
Glitter Girl resting while Entourage prepares to embark on a new adventure...
20160426_121809
by
Jeff Hernandez
, on Flickr
Such a beautiful flying machine!
20160426_121850
by
Jeff Hernandez
, on Flickr
And soon after, another Virgin America A320 arrived! I then realized that I was no longer a Virgin America virgin, now that I'd finally flown on them!
20160426_122010
by
Jeff Hernandez
, on Flickr
Overview of the goodies I'd been given on the flight. The nap pack is the red pouch in the back.
20160426_124043
by
Jeff Hernandez
, on Flickr
Boarding for Glitter Girl's flight back home to LAX had been called, and soon it was time for her to go off once again through the clouds. I told my parents that I would be taking my time exiting Terminal 4, which worked out well because they were just getting off the Verrazano Narrows Bridge. I then decided that I would walk all of Terminal 4- including down the Delta T4X Concourse.